Yamaha MAJESTY 320 Trial...
Ex Mick Andrews Works Bike.
In The Second of this New series for BSA OTTER by the Justyn's Norek we look at this Superb example of a works Yamaha Trials machine from the Classic era...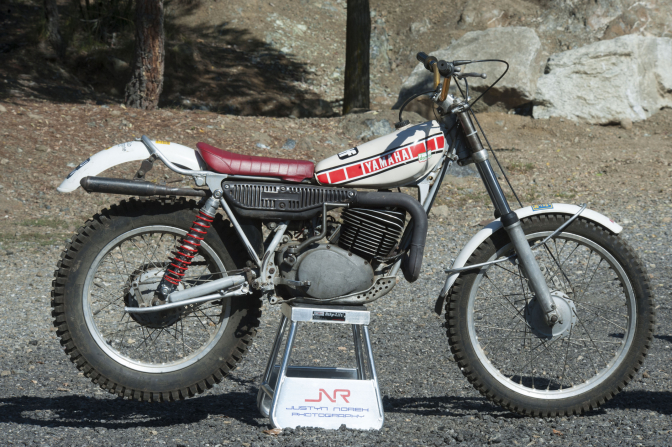 All Photos Courtesy the Justyn's Norek Snr and Jnr...©...
In a long series of trial motorcycle tests that I did for
BSA-OTTER on-line magazine, taking advantage of the kindness and availability
of a friend and great enthusiast of trial motorcycles CARLO RAMELLA, I was able to appreciate several Trial motorcycles made with
the participation of famous British riders such as:
SAMMY MILLER for Ariel and Honda,
PETER GAUNT for Suzuki and Honda,
DON SMITH for Montesa.
and MICK ANDREWS for OSSA MAR.
All I needed was Mick Andrews' Yamaha!
Now, again thank's to friend Carlo Ramella, the possibility has appeared to try another jewel made by Andrews with a
important Japanese manufacturer YAMAHA.
As a test site we have chosen Trials Park in Rubiana near Turin, which has several and varied obstacles.
We arrived on the track with our spacious ULISSE motorhome at 9 o'clock in the morning, and as usual our friends CARLO and
PIPPO BARTORILLA were already there waiting for us with the motorcycle on the stand in the middle of the square ... Mamma Mia,
how beautiful it is !
Immediately after a short chat with friends I started taking static photos, placing the bike here and there and enjoying
of the beauty of the bike seen on the screen of my Nikon D4, thinking if my photos will appeal to visitors of BSA-OTTER site ...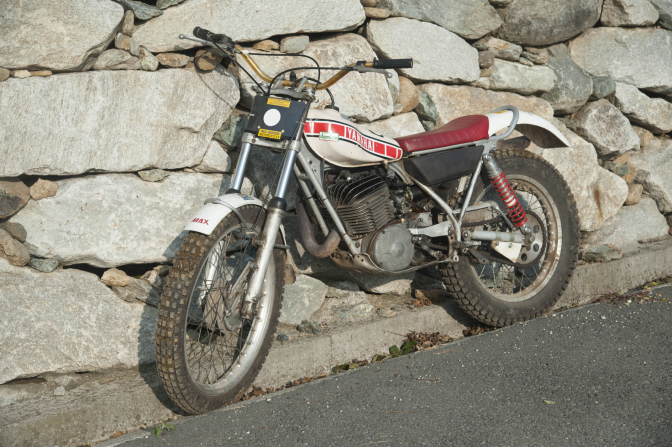 After I finished taking the static photos, I got dressed into my trials gear, measured tire (tyre) pressure as usual and adjusted the handlebars a bit, since Carlo is taller than me. Carlo assured me that he starts first
kick and in fact a kick was enough to hear the engine running.
What a surprise! The sound of the engine was very low, it almost doesn't sound like a two-stroke ... Intrigued, I put the
bike in gear and away ...
As always, I did a few slow laps trying to understand the bike, its balance, and the response of the engine.
This was very distinctive with good bottom end power. I quickly got used to it and started making quite steep climbs and descents. The bike again surprised me with a pleasant response at low revs, almost reminiscent of a 4-stroke.
On steep descents the stability of the bike was perfect and easy to control, certainly thank's to the compact and rigid frame, which even if "open", the under-engine to gain some weight and reduce the height from the ground, made the
Engine casing work very well in addition to the chassis, the suspensions also contributed. Having gotten used to it by now I felt
very good on the bike, I tried increasingly difficult routes with higher and higher steps, loose stones and rocks, wet and muddy ground. excellent response of the engine from the bottom end with a particular base sound from it. I enjoyed jumping on the rocks, single wheels and surplus stones without realising that my mum and my friends had prepared lunch and also that the photographer (my dad) was exhausted from running after my movements.
The bike is large, as is to be expected from Andrews, but it is also very special, a real gem in Carlo's collection.
NO, it's not for sale, but now I understand why Yamahas are so loved by trials riders .
Thank's Maestro MICK, and thank's CARLO for the emotions experienced with this bike!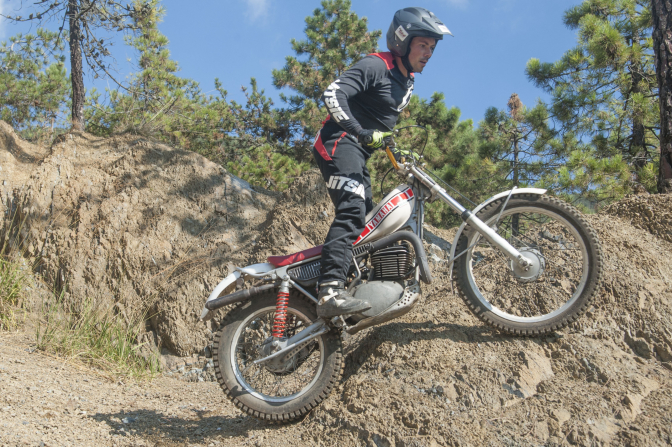 Carlo Ramella tells us how he managed to aquire the
320 Yamaha MAJESTY...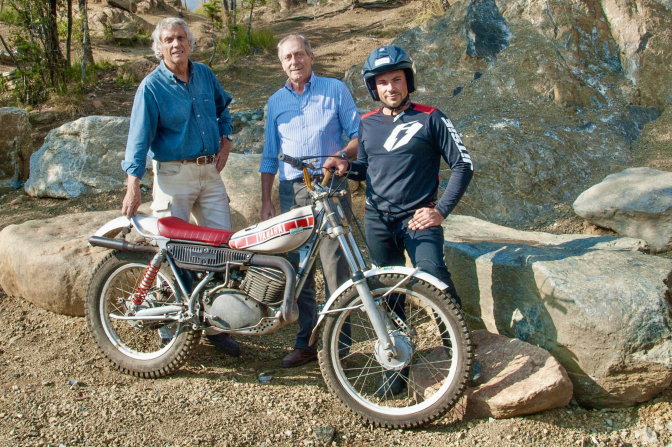 Pippo, Carlo, and Justyn Jnr.. With the Yamaha-Majesty 320...
Way back in 2005… ! I was in contact with people in England always "special" for former official works bikes,
I don't remember who ... gave me contact with Garry Hudson, who worked for Yamaha Netherlands ..
I had some exchange of emails, I was looking for a Honda RTL… and he tells me that he has a 320 cc ex Mick Andrews Yamaha bought by his brother Neil who raced with Yamaha on the track.
As usual I get excited at the thought…. and I ask him for more info and photos of the bike ...
He says that he is always very busy with work, and that he will send me photos of the bike ... which he sends by post ....! explaining to me that the Yamaha costs more than an RTL, but it is an official bike, with a magnesium engine and other details (clutch above and not under the crankcase ..) ... He also attached a photo of the prototype TYZ water, not on sale..
He explains to me that he has 3 options:
To sell the Yamaha ex Mick Andrews as it is,
Two, restore and sell it, but he has little time….
Three, restore and use it .. but also has little time available because of his work….
I receive the photos ... I show them to Pippo and Dario, another friend of mine .. it is a bit ugly, decals not right, mudguards not OK...
well… they are not convinced ...
I do!... the nose tells me that it is a real ex works bike.
I reply that it is OK ... we agree on the price ... and he tells me that he will come to Italy after a few months ... ... bringing me the bike, and payment is on delivery ....
Obviously I'm hesitant ... he could change his mind, or sell it to others, but he doesn't want down payments of any kind and assures me that since I am the first contact, I have the right of first refusal ...
Well…. more than 5 months pass…. then he shows up and tells me that he is going to Spain from Holland and passing by me with the bike ..
He arrives on Thursday with the motorcycle ... that does not start and go into motion ... (has been standing still for some time ...)
however it seems right to me.
At the weekend, Pippo comes to see it and stays there ! the bike is right he says .... my nose (and a bit of "ass") worked another time ...
a real ex Mick Andrews!
I give it to Pippo for a little restyling, and to start it up ..
after a couple of weeks he brings it back to me ... and it looks like another bike... aesthetics are OK and it starts immediately, it turns slow it does not have much reach .. it is more "tractor" but makes you enjoy!
I have used it several times, in Campo, France at Ventoux .. in Caglio the last time a few years ago .. .... And everyone has always admired it ...
Justyn made it "try" again during the test .... then she went back to the garage, and this year. I get a message from Gary who wanted to buy it back, but for the moment I keep it ...
Mick Andrews is a legend for me ... and having a motorcycle of his own ... ... gives me satisfaction ..
Saluta
Carlo Ramella ...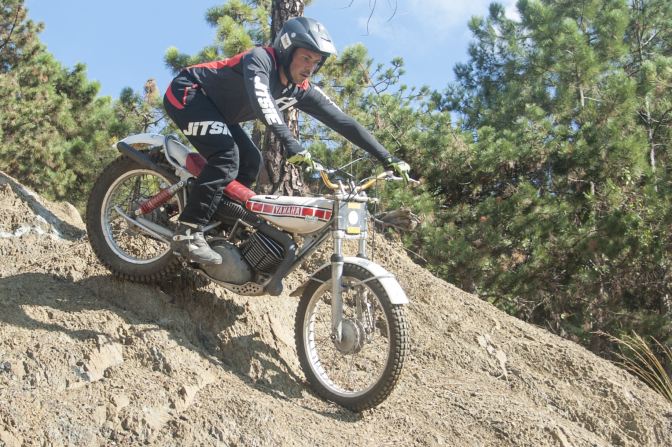 Yes it is a bit like a tractor?
Go anywhere type of bike, built to win proper trials...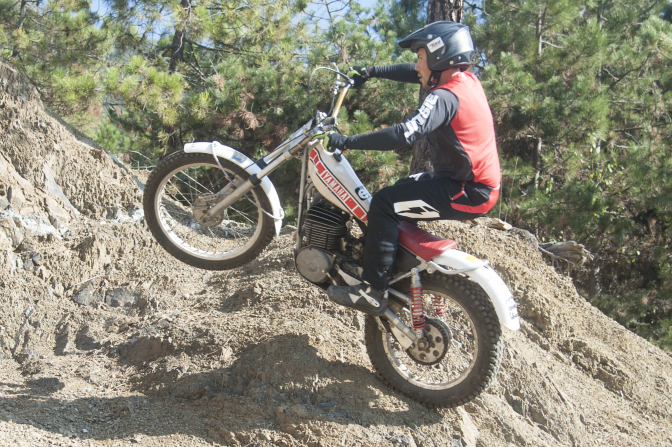 And with the 320cc power the Yamaha MAJESTY is well equiped for every section..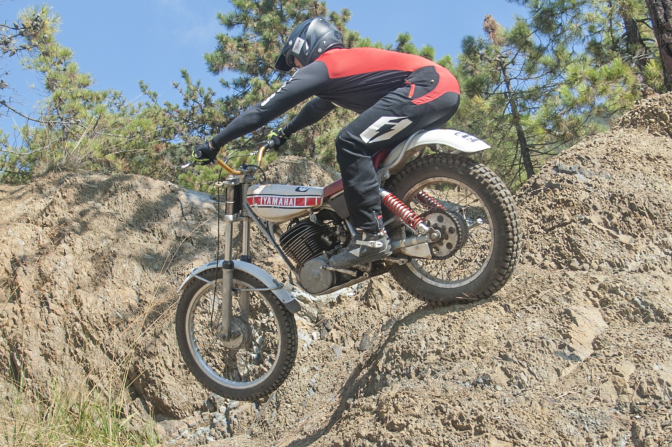 Young Justyn is never afraid to launch any trials bike into the unknown... just got that ability ...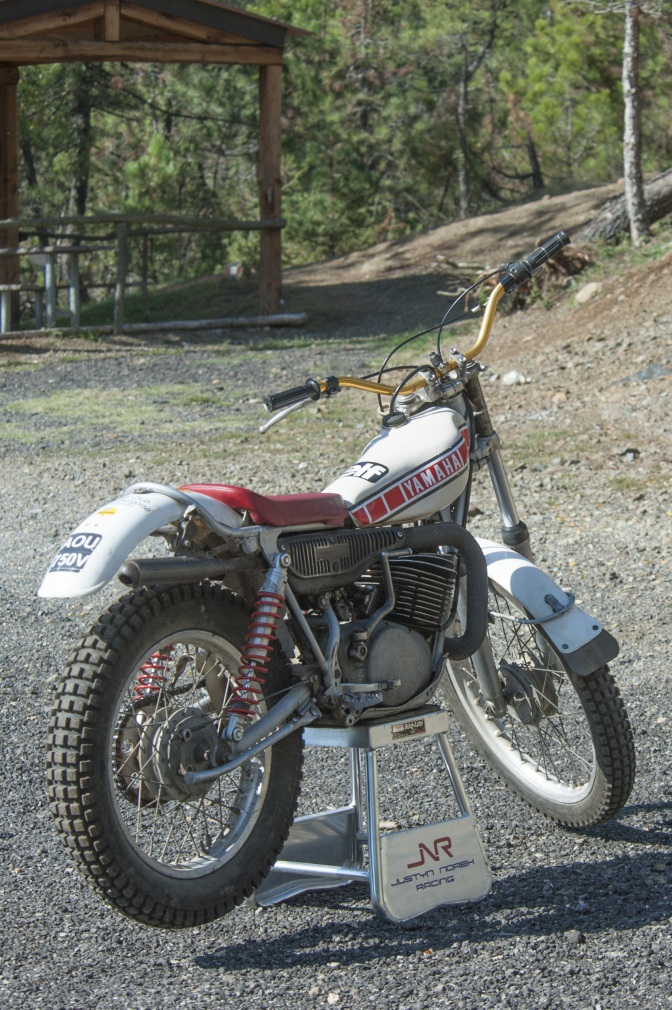 A Proper trials machine designed by a Legend Mick Andrews...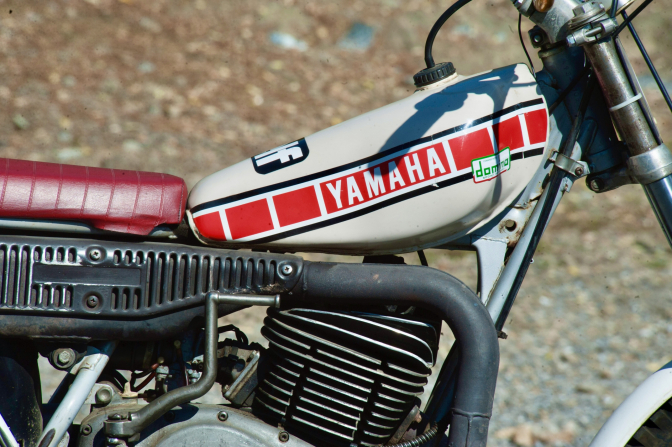 Still think this Yamaha fuel (Gas) tank is very stylish...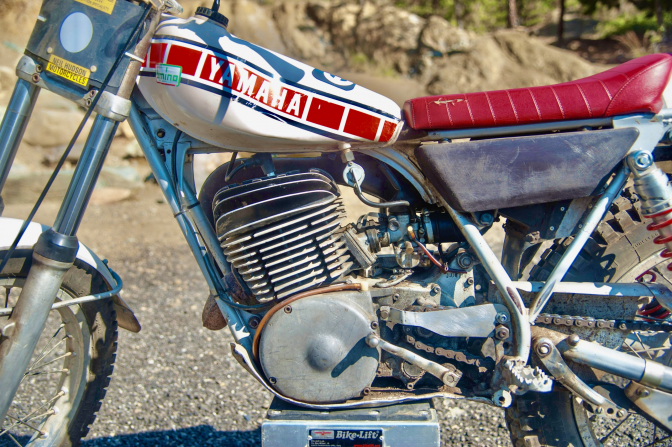 The "Works" 320 Yamaha engine with Magnesium Crankcases...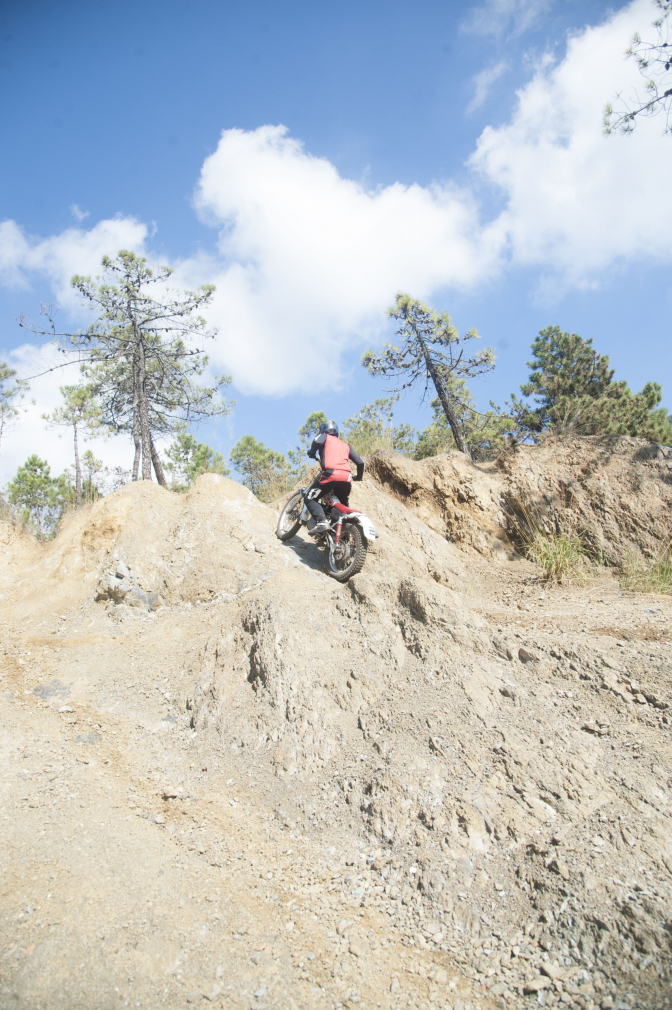 Yes that machine grips like a "Tractor" great "Works" Yamaha...
~~~~~~~
More on the Yamaha Majesty 320 specification later...
YAMAHA MAJESTY 320 SPECIFICATION...
CAPACITY...321.69cc.
BORE& STROKE...80X64mm.
COMPRESION RATIO...8.5:1.
ENGINE TYPE...2 STROKE.
6port cylinder..
BHP...N/A.
MAX TORQUE...N/A.
@RPM...
GEARBOX...5SPEED.
PRIMARY DRIVE...GEAR/WET.
CLUTCH MULTIPLATE.
TOP SPEED...N/A.
AVERAGE MPG...N/A.
WHEELBASE ...51 1/2 INCHES.
DRY WEIGHT...N/A.
GROUND CLEARANCE...13 1/2 INCHES.
FORK TRAVEL ...N/A (6").
SWINGINGARM TRAVEL...N/A (4").
FUEL CAPACITY...1.3 GALS.
PRICE AT TIME OF MANUFACTURE...£1168...PLUS £18.40 DELIVERY.
MANUFACTURER...
JOHN E SHIRT.
THE WORKSHOP.
STABLE LANE.
BUXTON.
DERBYSHIRE... UK...
Another "Norek" Trials bike test brought to you by...

updat2023...05...