Pete Wright's C15 "Foster" "Otter".
Pete Wright, has sent me the story below, We keep getting these Foster "Otter" bikes turning up don't we.
Let me know if you have one, or know of a friend that owns one.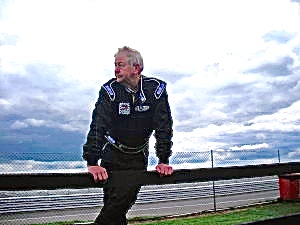 .
Pete Wright pondering buying his Foster Otter?
Hello Charlie,
Forgive the familiarity since we haven't met or spoken, but I thought you might be interested in a couple of pics of my latest toy - acquired only last week.
My main hobby is racing an historic saloon car (A40 Farina) .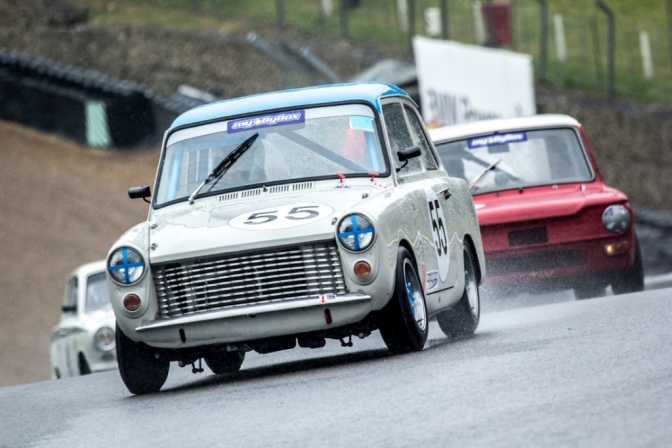 I think this shot is at Brands Hatch, or Lydonn Hill and a damp surface.
~~~~~~
But I've owned a Montesa Cota for a number of years simply because it's a lot of fun.
My car racing days are numbered and I fancied a four stroke trials bike so where better to go than an "Otter" since Harry Foster and me were great mates through car racing...
I first met Harry in 1989, by which time the "Otter" frame production had virtually ceased and although Harry explained the history of it all (more than once!)...
I have to confess that I didn't pay enough attention.
Anyhow, once I'd made up my mind to seek out an "Otter".
I re-established contact with Colin Dommett, whom I'd known for a number of years when I lived on Exmoor.
Colin had two "Otter's", a Faber framed one, and a Harry Foster one, which I went to look at in March.
Actually, he had three, since he still has BOK 228C albeit still in pieces...
The "Harry Foster" "Otter" wasn't finished and I was in no hurry so Colin got it working and we met up last week on the M25 and did the deal.
It's not in concours condition but it all seems to work OK, so during next winter, I intend to take it apart and reassemble it, hopefully looking a bit smarter.
Colin told me that it was originally built for a chap called Mike Ham (Bristol, I think) but that he (Colin) had had it for some time and tried a BSA B40 motor in it, which son Scott Dommett didn't care for so a C15 was substituted.
It's unlikely that I shall ride it in competitions, (although we have a thriving trials club locally), since I'm not really good enough and the knees aren't good, but I'll have fun playing with it - it's a very different animal from the Montesa!
With apologies for my ramblings, hope the above is of some interest.
Best regards, Pete Wright. (West Norfolk).
Charlie:> It is very much of interest Pete... Thank's for sending us the story...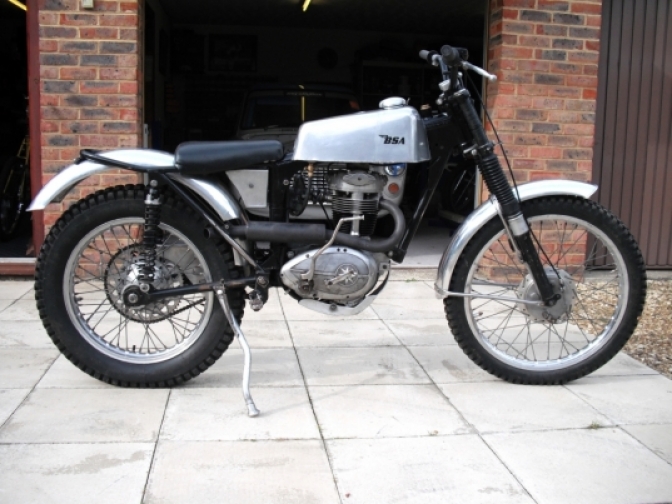 Looks like a good starting point for a restoration Pete, and will have done a service as a proper Classic trials bike with the Dommett's.
Most of the Foster Otters of the time seem to have been fitted with the BSA WD B40 forks and either BSA Bantam/Triumph Cub hubs, or if not a pair of the Rickman hubs like on your bike Pete.
Also most Foster Otters were fitted with the tidy short tucked in exhaust system like on this bike too.
This was a good copy of the exhaust system from the Scott Ellis BOK 228C machine, and made the machine a lot narrower.
Although today's trend is to lower and move back the original footrest position like on this machine, most of the rest including the chain-guard are to the specification of the Foster Frame Kits.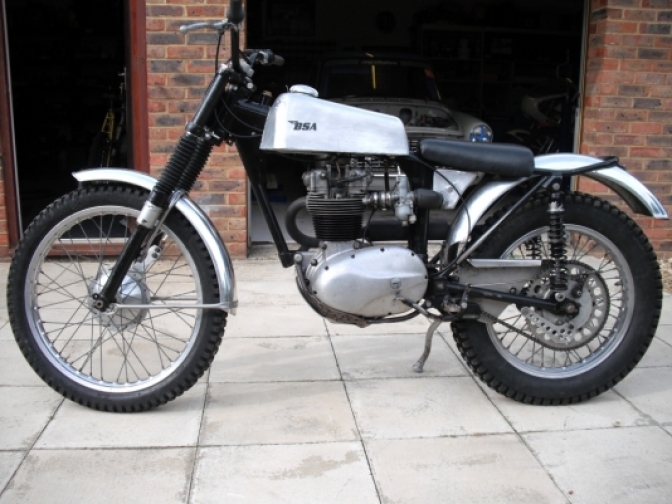 .
A Classic Foster Otter not changed much...
Pete, we will keep this page open to add too, when you do your rebuild over the winter.
Please let us know how you get on.
Thank's for the story, and glad you got the bike of your dreams.
The more you play with a BSA "Otter", the better you like them!
A "Foster BSA Otter" is now fast becoming the "Classic British Trials Bike" to own.
More on this story later.
Updat2023...02