The Ariel HT 5 short stroke build.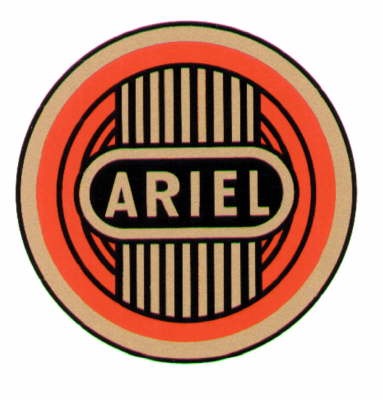 This page is not only for the Ariel build.
But also the "Noriel" further down the page.
OK... I know this is not a very good photo but it is the best I have at the moment...
Ariel "Otter" HT 500 project.
Well you know me by now? I just can't get enough of a good thing.
Over the years I have been collecting parts to build firstly a Noriel with a Model 50 Norton 350 engine (sat on the bench for 3 years) and also a Sammy Miller replica Ariel with a bit of a twist.
So when a Ariel VH-HT 500 cylinder head appeared on eBay last week (the missing link to the Ariel engine parts I have), I could not resist buying it, has I have waited a long time for one of these to come up in good condition (they are like gold dust).
I already have a new head casting but that has been sat for over twelve months waiting to be machined, it is a matter of just catching Paulie Ellis in the right mood and a free CNC mill.
So I bought the head, and it was not cheap, but hey –ho at least I can get on with another project that has been waiting too long.
I know I should finish the ones I am working on, but I hate to miss an opportunity. And I need to get some finished before I am too old, and incapable...
The frame I built for the Noriel is going to be the same as for the HT, this is basically a grown up "Otter" frame to fit an Ariel-Burman engine gear unit.
The head stock is the same construction and angle as the "Otter" frames, has is the 2"inch T45 tubes used for the top and seat tubes, the front down tube is 1 ¾". All oil connections etc are the same, the seat tubes follow the Ariel HT fashion, and will have bolt on seat tube bracing stays? Has I am told these are now a must for that Scottish two day trial.
Frame picture.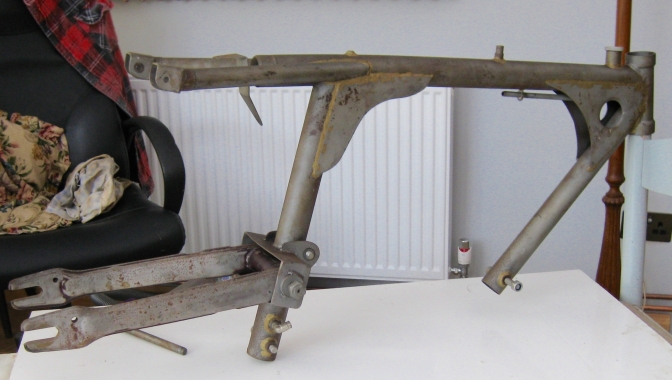 Photo Courtesy"Otterman"
The engine is made up of a Ariel NH bottom end running a Yamaha XT350 86mm piston in a Mick Dickinson alloy barrel. Now fitted with the head I have bought.
The camshaft is rather special, as it is one I purchased some time ago from Don Morley? It is the one he owned that was copied from the rather special works cam fitted to GOV132 when Don had the bike for a while. on
"Like Finding Hens teeth" page.
~~~~~~~
The profile is so different from the standard HT camshaft, but whether it will work in the new engine we will not know until we try it.
Don tells me there is several ways to set the cam up too, and has given me written instructions how to fit it. And tolerances.
Front forks are Marzocchi machined to fit Norton sliders, and fitted into BSA modified yokes both hubs are genuine Ariel Leader alloy units, and are to be fitted to flanged alloy rims.
The tank is glass-fibre from a Sammy Miller mould that I have, and made using Vinylester resin.
Mudguards are also glass-fibre made using period 1960 Ariel moulds.
You can see that the look I am going for is to be an image of the great GOV132 but with my take on the bike.
Here is another take on a revamped Ariel design, from Justyn Norek,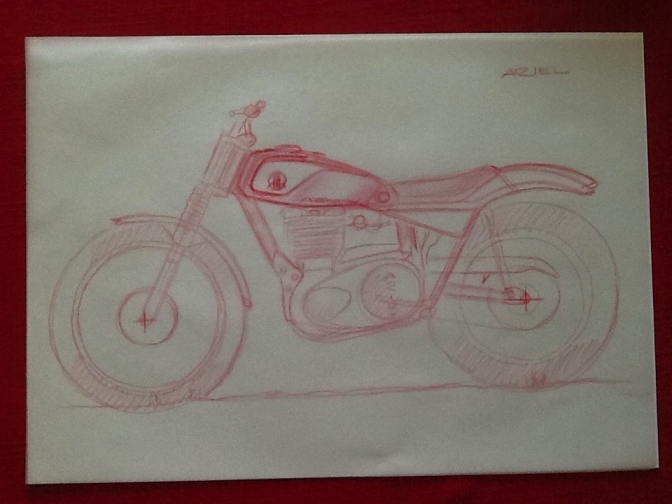 I am trying to find some Vellocette Le brake and clutch levers has these were the ones Sam used at the time.
"Otter" you say? Well this frame is very much like the BSA "Otter" frames I have built before, and just proves a point that the Ariel HT frame was the influence of both Pat Slinn and Scott Ellis, when they built their BSA machines.
Update has progress on the bike continues.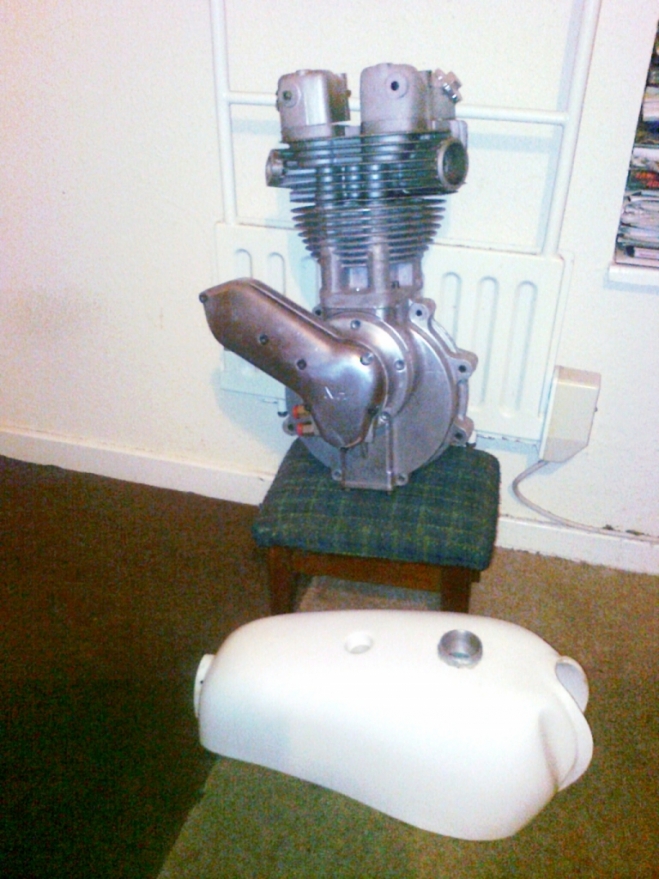 I have just updated the Faber Page, and it looks has if they have gone back to the grass roots of the Otter Frame? Well Howard Fawkes now has a "Bariel" trials bike in his line up "Ariel" Frame crossed with a "BSA Otter"...
Here it is.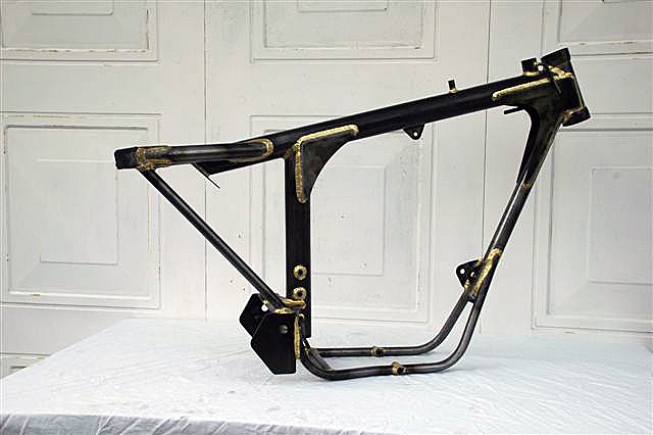 Paul Ellis has now got interested in the Ariel engine and is keen to press ahead with its development
I have a new Glass-Fibre tank for the bike that I am working on, and have now got a pair of alloy Ariel Leader hubs awaiting being spoked up.
The frame is off to the powder coaters in the next week, and we will attempt to machine the Marzocchi forks to fit inside the Norton Sliders. or I may just use the 38mm Marzocchi fork stanchions that fit straight into the Norton fork sliders ... legs....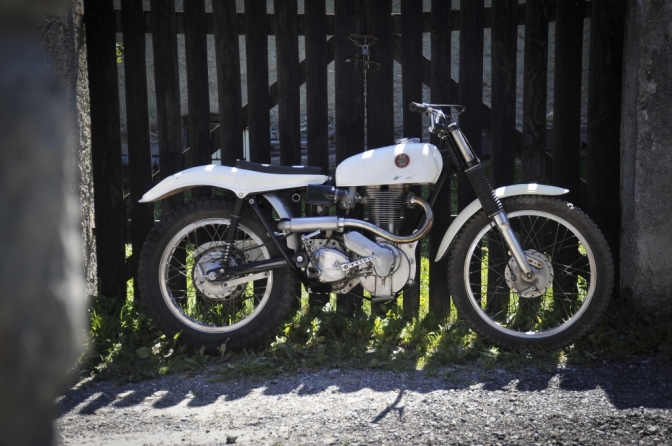 This superb Justyn Norek photo of the ex Sammy Miller 286 GON his so called second bike, but fitted with most parts from GOV132. Is the sort of image I imagine our "Otter" HT 5 to look like when it is finished.
~~~~~~~

I also want to frame my Norton Model 50 engine into a similar frame over the next few
months hopefully.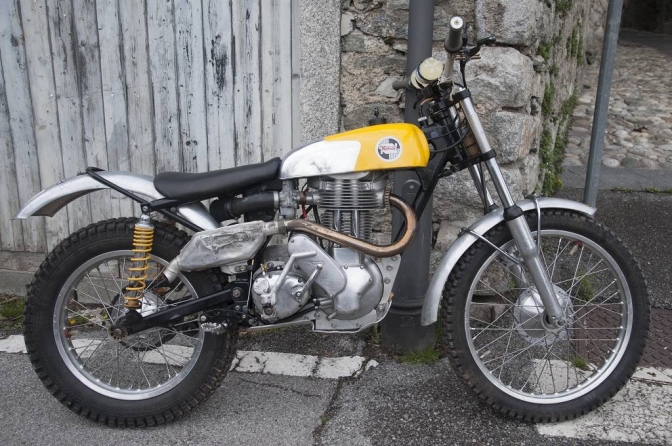 Photo Courtesy Justyn Norek Snr.©...
Seen at Caglio trial recently. 2016.
And I want it to turn out like this machine.
Thank you once again Justyn.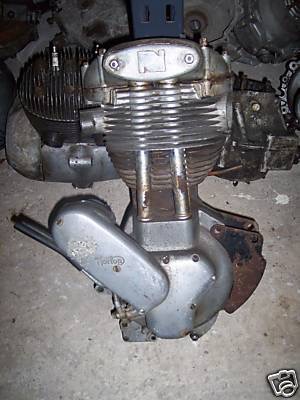 Photo eBay where I first saw the engine for sale.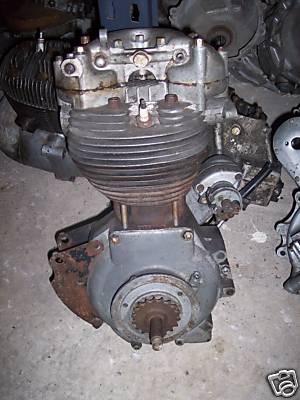 Photo Courtesy eBay.
Yes I did buy it for £500.
"Noriel"Frame.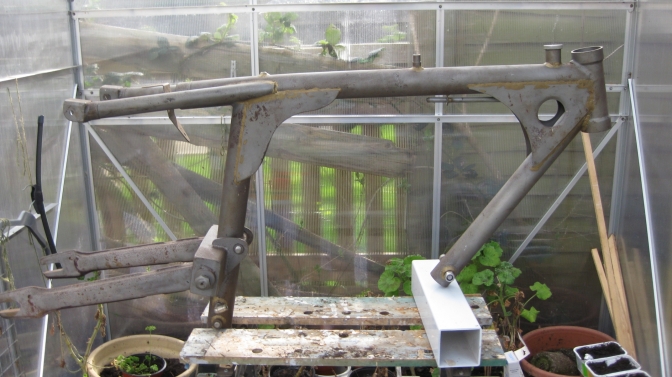 Photo Courtesy "Otterman".
You can see that my frame is very much like an Ariel frame, except for the size of the T45 tubing... I use 2" the same as the "Otter" frames, Ariel HT frames were 1 3/4"... I use that size for the front down tube 18" long. Although the frames on Sammy Miller's "Famous" Ariel's were said to have 2 1/4"? seat tube that carried the engine oil...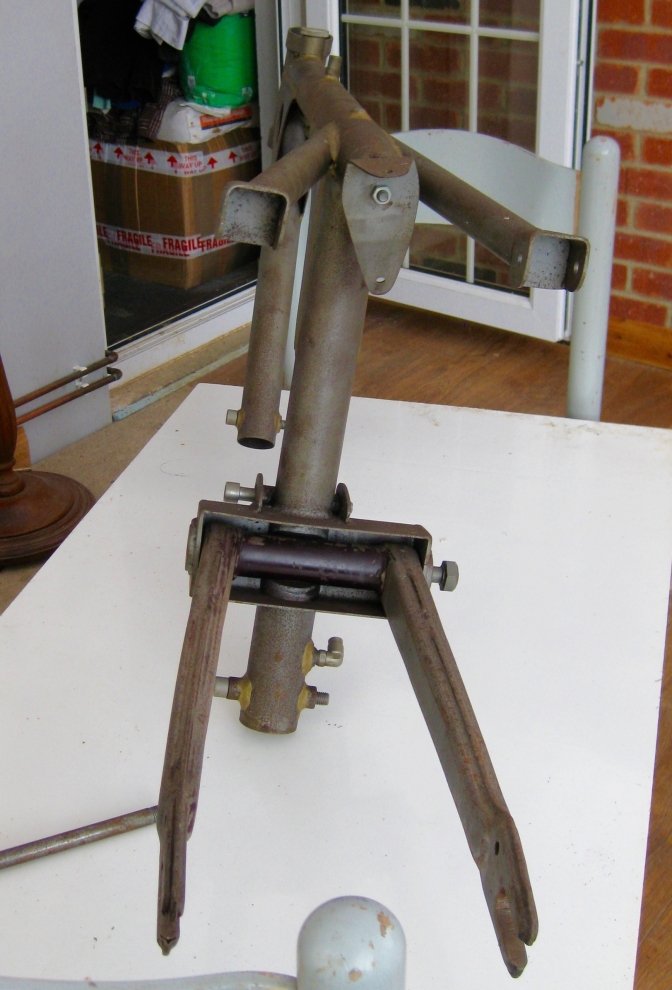 Photo Courtesy"Otterman".
You can see here the Ariel Red Hunter swinging arm that was modified, the front pivot end has to be narrowed as much as possible, not only to fit the narrow box, but this box is the size it is, to get clearance for the chain-case, and to get the chain line correct. That is also why the pivot bolt has to be threaded, to only be has long as the left hand side washer.
The wheel plates are not open ended for the Red Hunter, so these have to be machined to make them not only open ended, but a plate has to be welded in to the right hand leg to reduce the slot size, to the same as the left...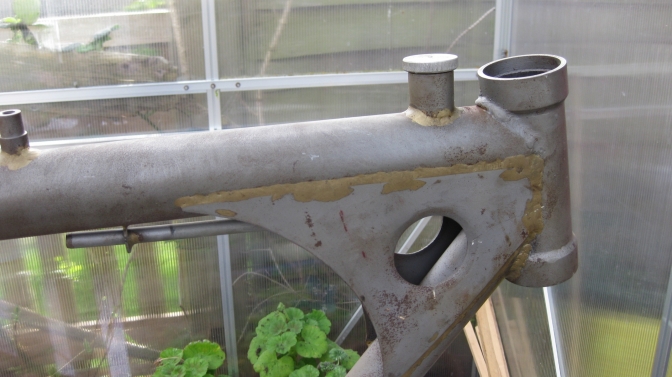 Photo Courtesy"Otterman".
The steering head is the same as the ones I use on my "Otter" frames too.
There is three different types of welding on this frame, just using the best method for each part of the build, the steering head was Mig Welded, but the flinch plate bronzed. The rings for the head bearings were Tig welded firstly.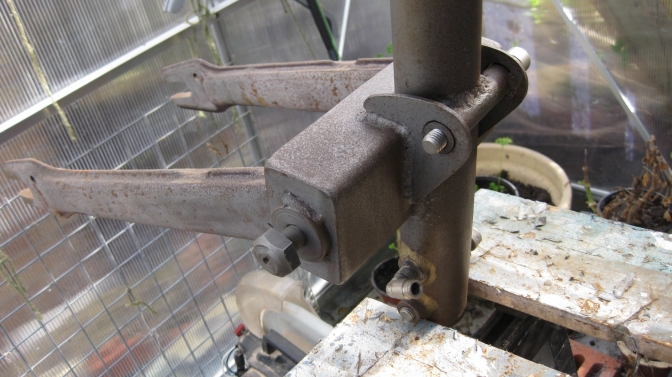 Photo Courtesy "Otterman".
The swinging arm Box was mainly Tig welded,although some was also Mig-ed. All oil connection bosses were bronze welded.
Frame tube sizes and length for you Lindell.
Top tube 2" by 30" long.
Front down tube 1 3/4" 16 gauge 18" long.
Seat tube 2" by 16 1/2" long.
Seat stays milled down, IE, butted to 1 1/4", 15" long.
Head tube is 6" long, by 2" tube, and 2 1/4" wide bearing collets.
Modified Ariel swinging arm is 15" between pivot hole and wheel slots.
Swinging arm box width is overall 7 1/2".
I have photos to place on later for you.
~~~~~~~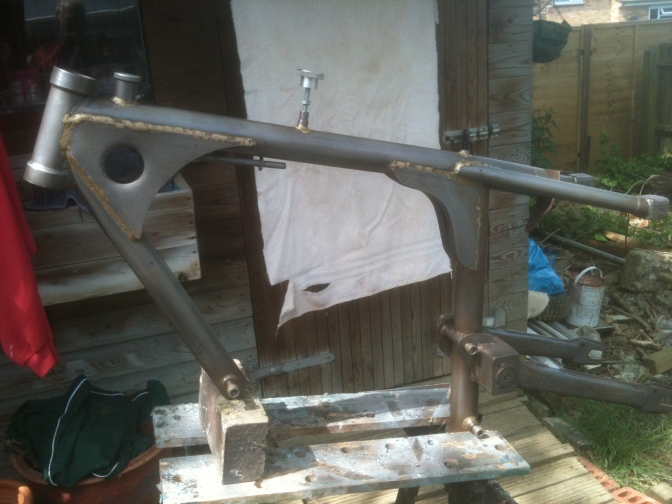 You can see the butting on the seat stays in this shot.
~~~~~~~~~~~~
Patrick's Noriel.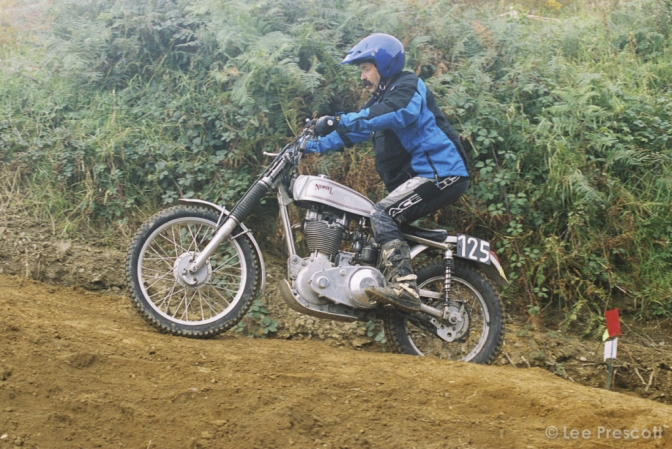 Photo Couresy Lee Prescott...
This is how my Noriel will turn out!!
This Photo was taken by Lee at the 2007 Manx Classic trial...
This is a full 500cc bike built and ridden by Patrick Garcia.
It was the sound of this bike that made me want to build one.
So I searched for an engine, and eventually came up with one that December on eBay, but the price shot up to £500 pound at the last minuets, but I just had to have it.
It is now sat on my bench at home coupled to a rebuilt Burman gearbox with bearing conversion, and a Jawa speedway clutch fitted.
Most of the other parts for the build are sat on the shelves in my stores including a set of Rickman hubs. and Pal mag if I fit it?
Well I am still tying with the idea of fitting Electrex-World ignition, as this would fit were the Lucas alternator was.
I am going to try and get an alloy barrel from "Pushrod Performance" in Lancashire for the engine. I have contacted Mike and I am awaiting his reply. And may use two of his copper push-rod tubes too.
Photo Brunos Noriel.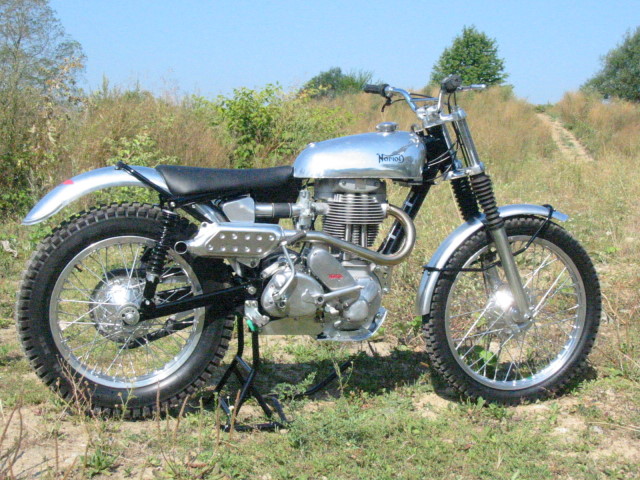 Photo's Courtesy Bruno...
This is Bruno's bike just finished a few years back now.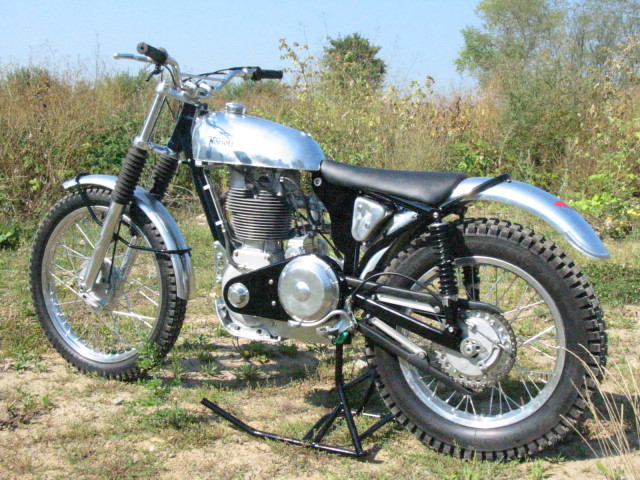 Photo Courtesy Bruno.
And the other side of the magnificent machine.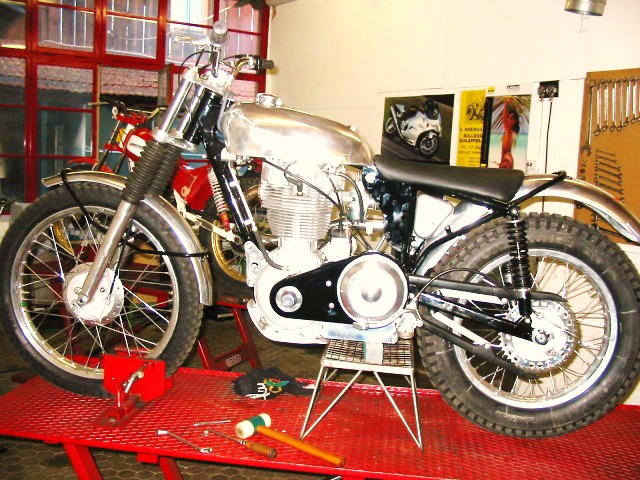 Photo Bruno.
Just about to be released from the work bench.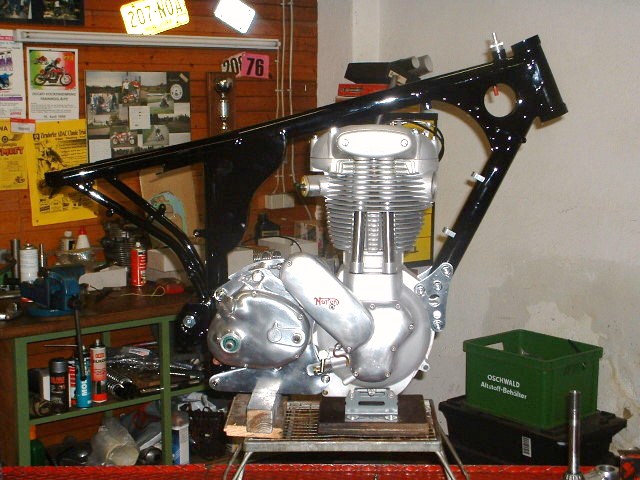 Photo Bruno.
You can see how tightly this frame sits around the engine and gearbox, and how close the box is to the engine.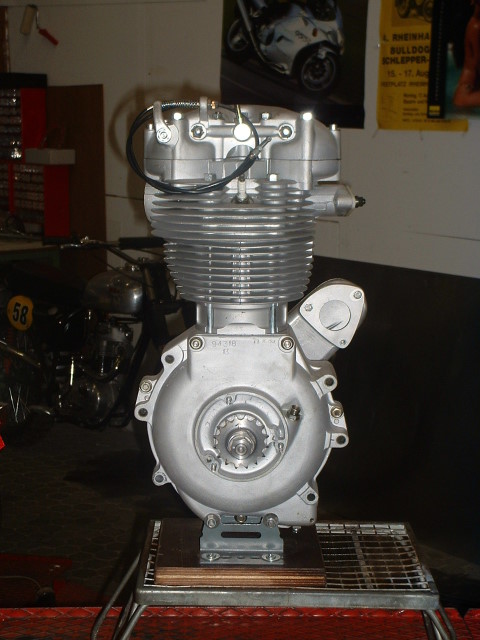 Photo Bruno.
This power unit built up by Bruno using a modified barrel from a German built stationary engine. A lot of work but worth it.
Photo Bruno.
Bruno even went to the trouble of building this jig too, using a bed from the scrap yard of an old milling machine.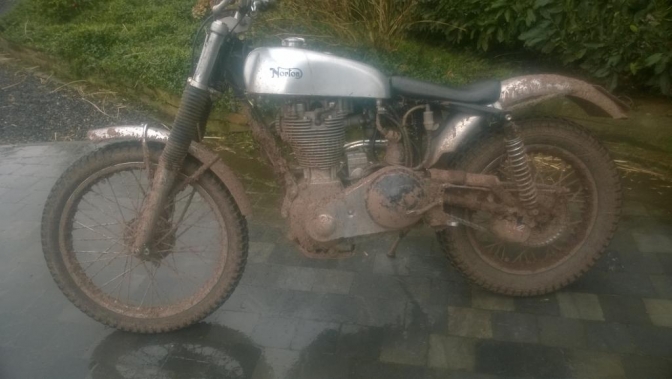 Photo Courtesy Christian...
This bike lives in Belgium and was bought from the Talmag trial about 12 years ago.
The engine lump in this bike is the 596cc Norton Model 19a engine designed for Sidecar work.
Now if you want a bike with some grunt this is it.
Could it be a Jim"Susans" frame though.
Photo Courtesy Jim Susans.
Here is Jim riding one of those "Noriels" he built.
More later on the builds.
Another "Ariel" build I need to get to finish is the replica HS trials outfit build like the one Dan Shorey and I used to ride,
The sidecar frame and Ariel HS frame are powder-coated along with the correct forks for the build, the Gearbox is there, as are the wheels, just need to put an engine together and panel the chair.
Time Again it keeps slipping through my fingers...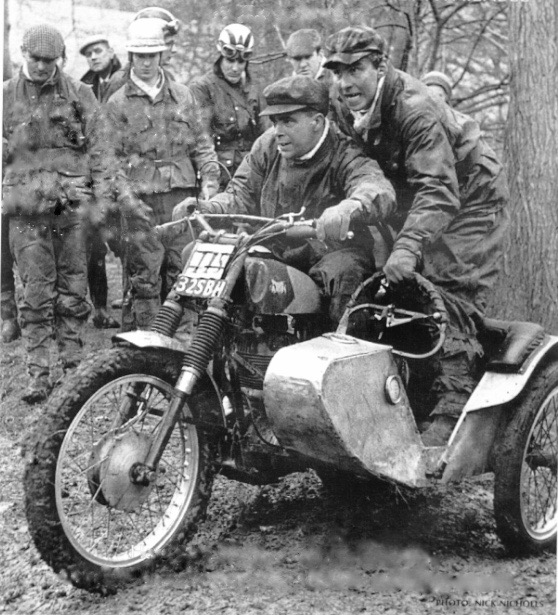 Photo From "Offroad Review" Vol 19. reworked.
More on these build's later.
Updt2023...05...