Mud Plugger "One's",
BSA MK3 Faber Framed BSA "Otter" build...
2014...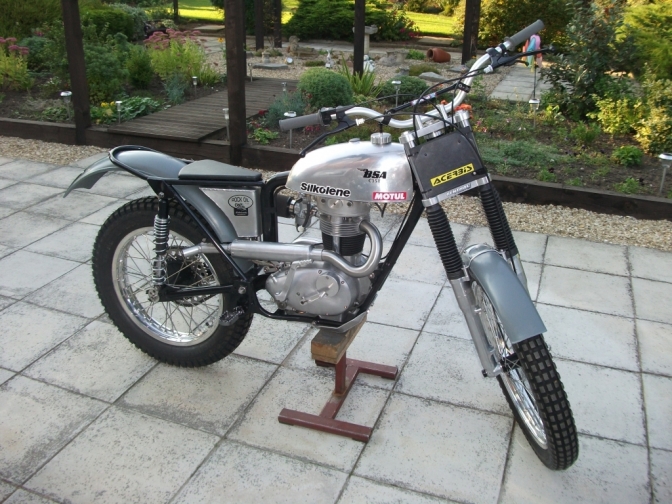 Mud Plugger "One" Has sent me this magnificent build of a MK Three Faber Framed BSA "Otter".
Here below is his story of the build. Wow! And the pictures all credited to Mud Plugger "One"...
To start with has you can see this isn't a standard Faber "Otter" Mk3 frame. I used, I got Howard Fawke's to make mine without any oil unions.
Two reasons for this, the first is that it's a lot easier to make sure the inside of an oil tank is clean compared to the inside of a frame, and secondly when it was in the planning stage, I did it with the intension of trying to get an entry for the Pre65 Scottish. (Pic 5)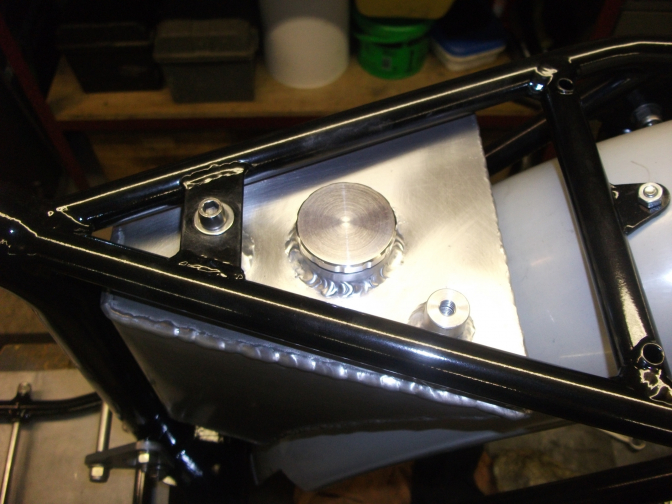 ~~~~~~~
Oil tank between the seat tubes..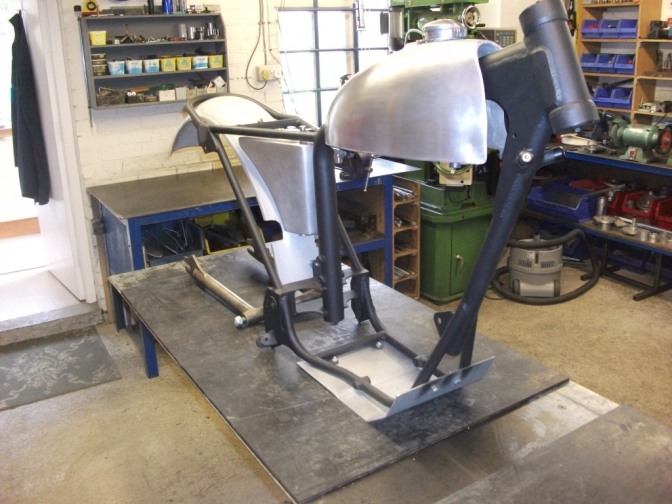 Pic 1
This meant that there were some extra little brackets that I had to fabricate and weld onto the frame, as well as lowering and moving back the foot -rest position...
Here it is with some of the bits offered up to check the positions (pic 1) and then undercoated.
The swing arm wasn't primed at this stage because I intended to put a side stand mounting on to it, but that never happened.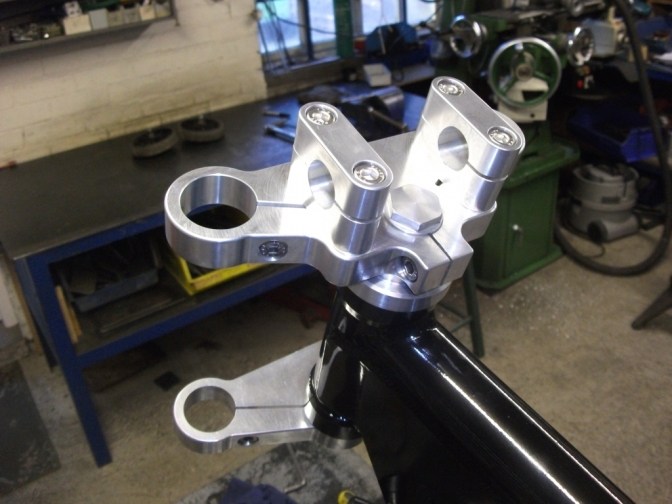 Billet yokes (pic 2) and some Norton fork bottoms with Marzocchi internals were used (pic 3).
I do all this work myself so I can have them exactly how I want them.
The alloy seal holders I screw cut to fit like the originals so that everything can be taken apart again should it ever be required.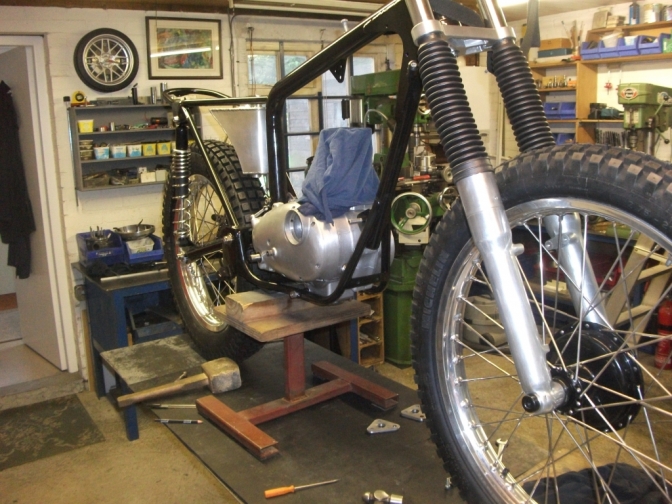 The wheels have been built on alloy rims, and stainless spokes, but I used original steel Triumph Cub hubs, the rear hub was widened by an inch...
An alloy hub upgrade could be done to save more weight, at more expense but these wheels were some I had built up as spares for my other BSA C15, and had never used them.
A 17mm alloy Beta rear wheel spindle was used in the front to save a bit of weight and I even went to the trouble to machine a little off the hub locking rings. (pic 4).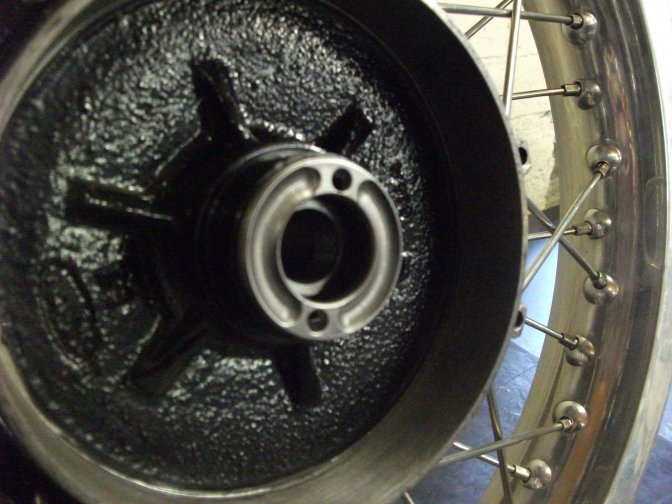 To get the engine I had to buy a complete bike, it was an ex AFS bike that had done less than 4000 miles but the engine was in extremely good condition, in fact I would go as far as to say the best I have ever seen... (pic 6)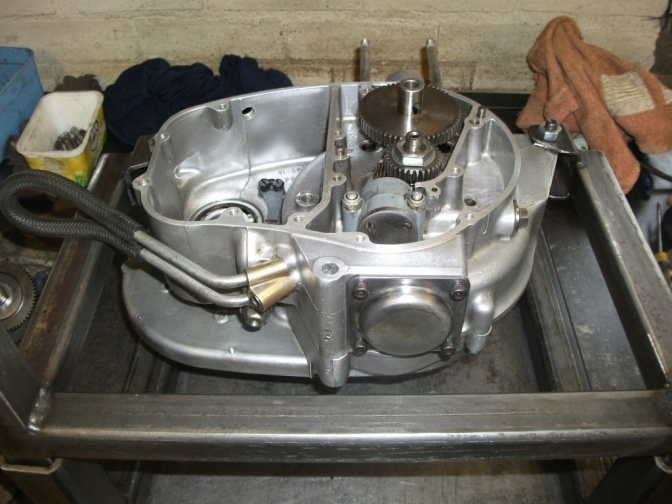 It had all the usual new bearings and seals fitted and a B40GB trials gearbox.
I made a new gearbox and pressure relief valve plug out of stainless and altered the hole positions for the electrical lead. While the casings were apart I machined in a square hole in the top for easy cleaning.
~~~~~~~
The steel barrel was bored oversize to accept a new genuine Hepolite 8.5:1 piston and rings, so it had to have a few lightening holes drilled, this actually saved 6 ounces. (Pic 7)
The cylinder head was slightly reshaped by removing a bit of the fin near the exhaust pipe hole just to be different. (pic 8)...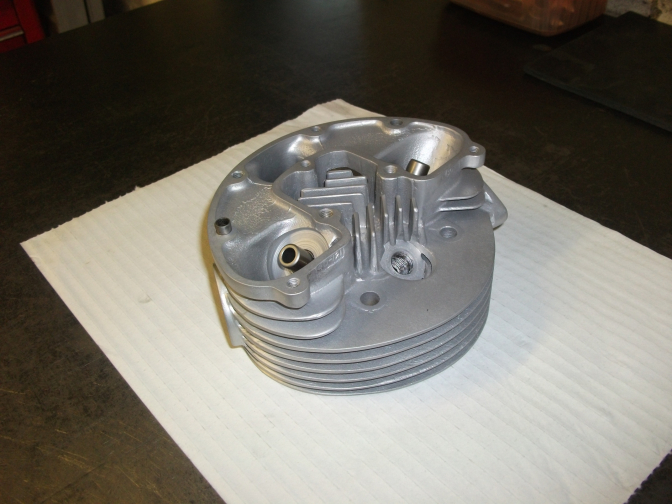 And all the casting marks were sanded off of this and the rocker box. (pic 9)...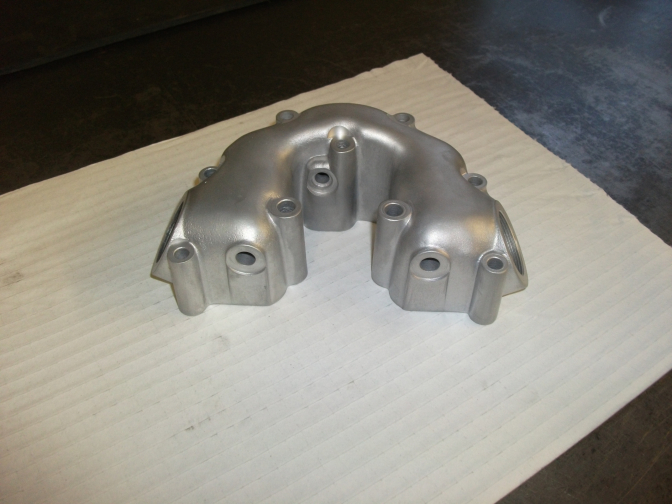 The rocker box was a new old stock valve lifter type, picture before they were vapour blasted.
The clutch is a Pete Kirby Diaphragm clutch with belt drive, and Electrex World ignition is fitted. (Pic 10).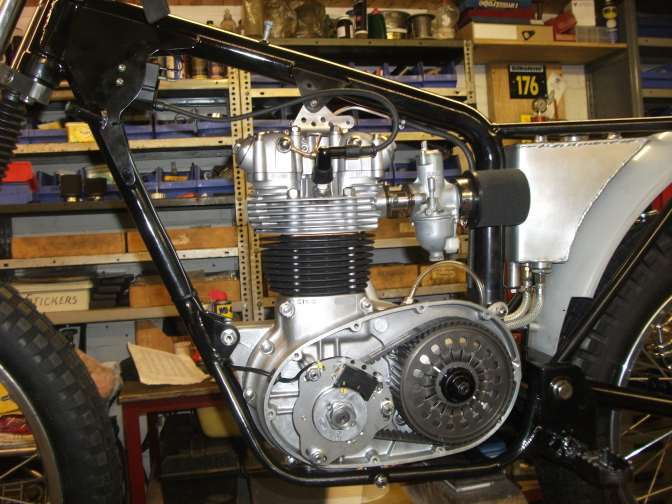 Photo...10
Pete Kirby Clutch and belt drive kit...
With all that money spent inside that engine, I thought I had better protect it. With a decent sump plate. (Pic 11)...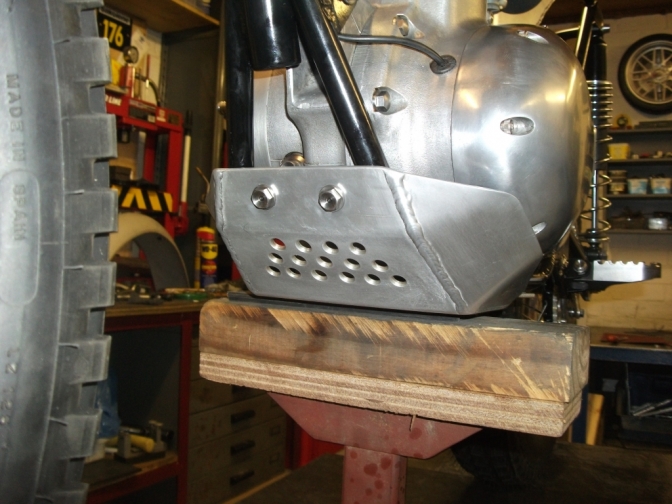 The exhaust box is alloy, with a custom made stainless front pipe...
(pic 12)...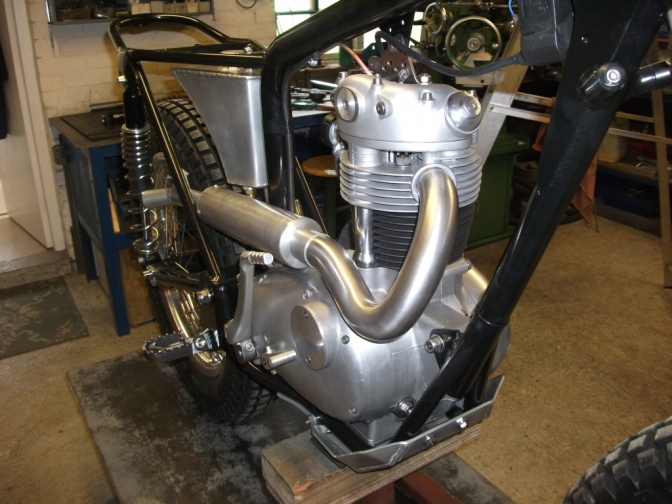 A stainless brake pedal and alloy billet footrests, along with all the usual other goodies, Renthals, Domino levers, etc. The alloy fuel tank is a Commerford Cub replica shape.
The bike has Beta rear shocks, and Stilmoto plastic mudguards fitted.
Nearly all the fittings are stainless and have been drilled through to save weight and done to suit metric spanners, and it was just a fraction under 200lbs on the scales when weighed.
It did look very pretty when finished (pics 13 & 14) and I was a bit sorry to see it go...
But now it's sold I'm using the money to fund my next project.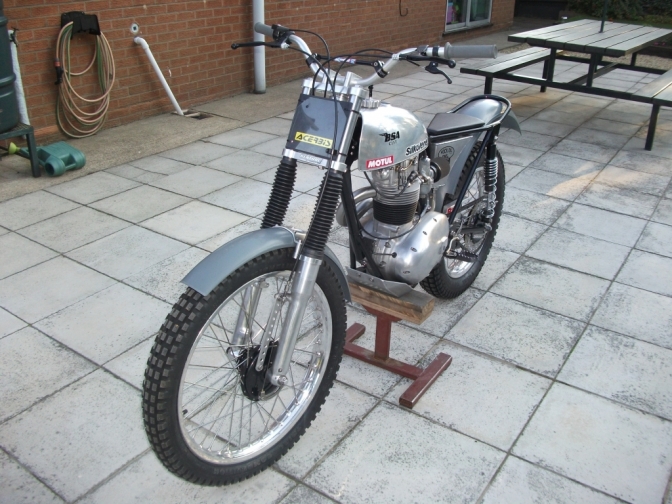 The bike is a credit to your skills, Mud-Plugger...Thank's, Charlie...
~~~~~~~
And The BSA Bantam Built for a friend...
2014...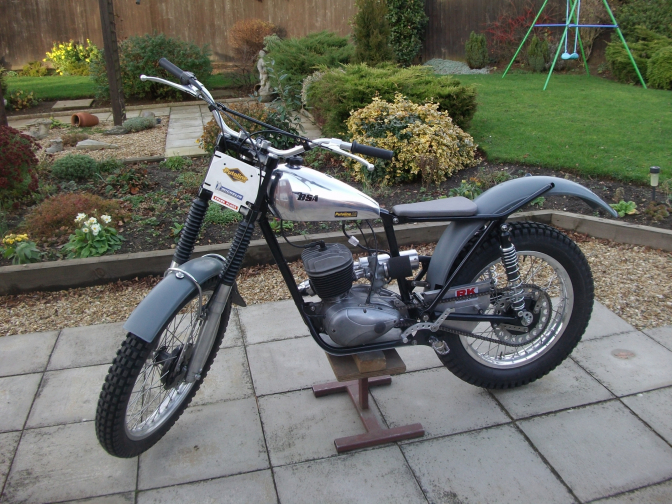 Same quality build throughout as the BSA C15 above...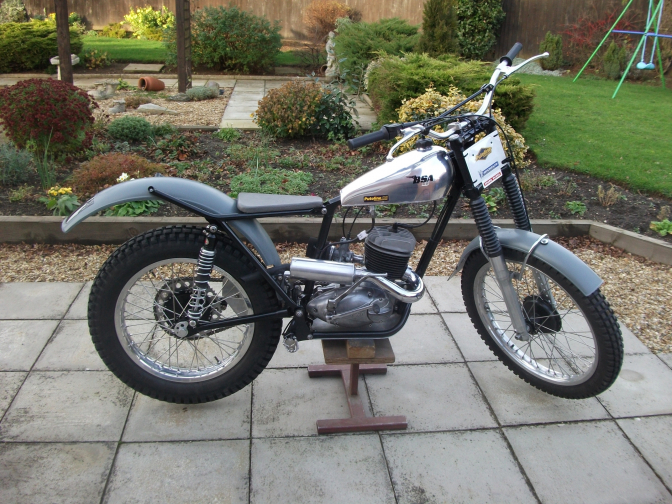 More on this BSA Bantam build later when I have retrieved the story from the old computor...
~~~~~~~
Updat2023...06...