Classic Trials Bike partS...
FOR SALE...
A Page for just that....
Just email me @char7748@tiscali.co.uk
With your parts List and Phone number.
~~~~~~~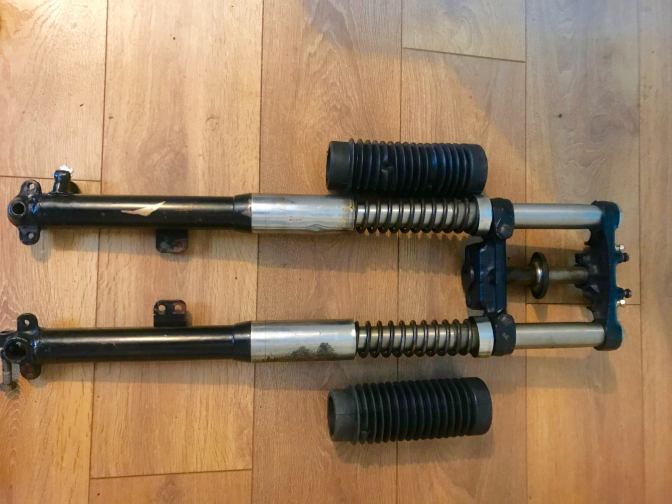 Like BSA B40-44 Forks...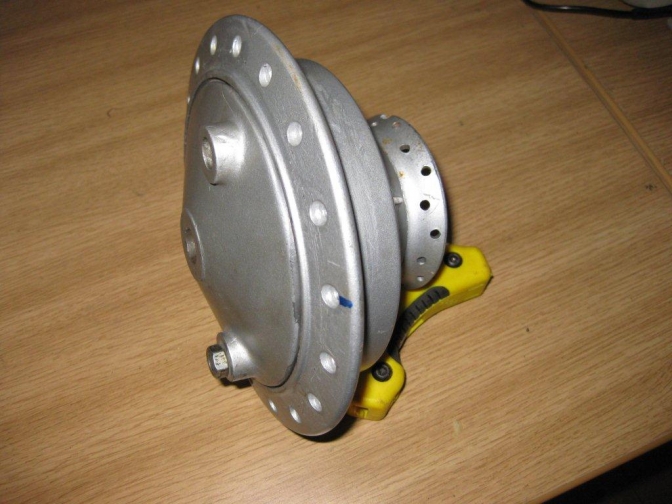 Trials type Hubs...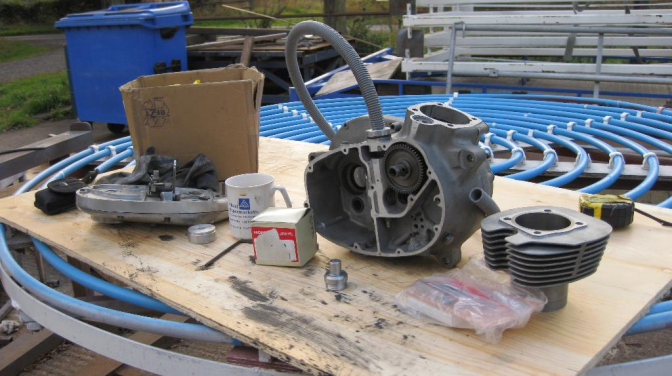 Engines...ETC...
Lists are latest posts first from now......
26/01/2022...
Cotswold BSA for parts or in one. lump...
Sorry now all parts Sold with the bike...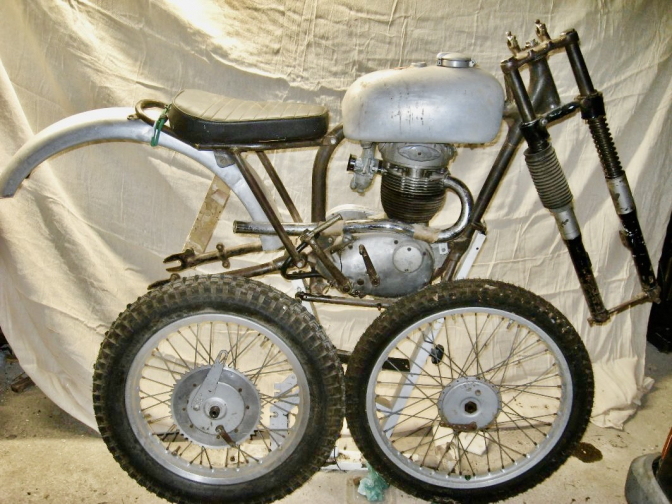 All parts estimated offer £2,700-£3,000...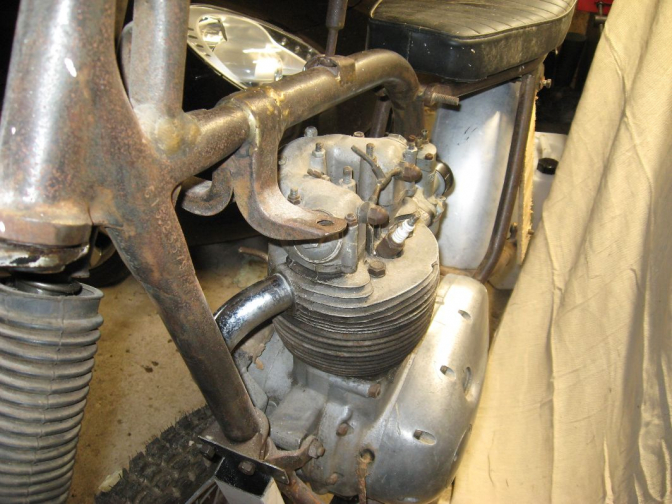 WD GB B40 engine...could be for sale on it's own..
If you are interested in the complete lot or parts please e-mail me and I will pass to you the owners phone number..
char7748@tiscali.co.uk
07/01/2022...
BSA B40 engine complete, C15 CP engine in bits for sale, and other spares. Anybody interested please contact. I can send pictures if needed...
(will be be photo here later.)
Phone 01629732089...
07/10/2020...
So Steven wants a late type Royal Enfield Crusader swinging arm for his Trifield build anyone with one can ring Steven on 01482667457...
So if you are interested,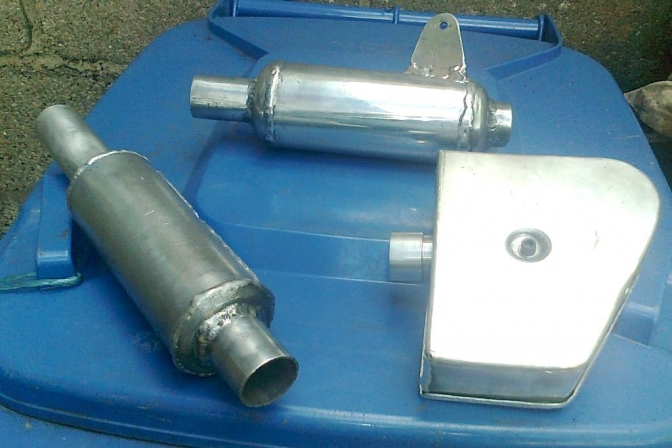 Contact me @ ...
char7748@tiscali.co.uk
With what you have for Sale...
~~~~~~~
For Sale...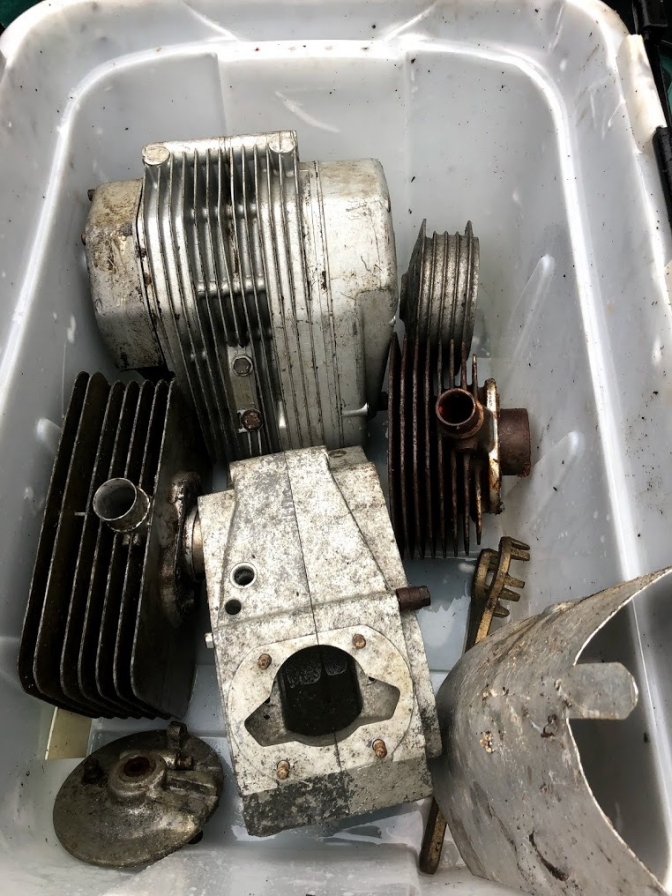 Saracen parts for Sale.
( Now sold and both parties happy.)
And within the Month...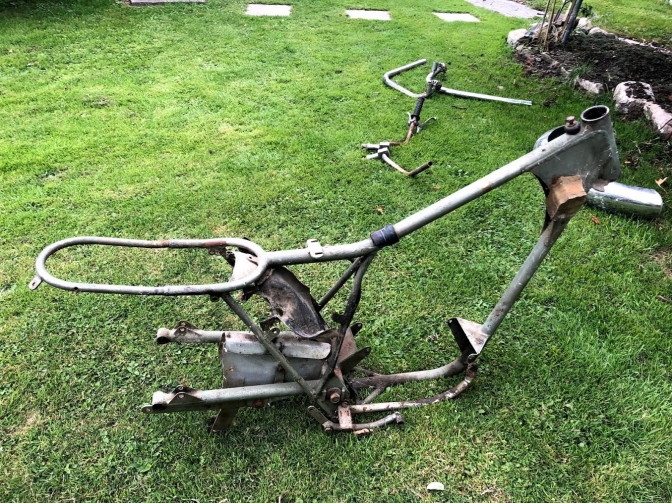 So Was Worth-A-Ring...
20/10/2019...
For Sale.
BSA Bantam B175 new alloy cylinder head, made using the lost wax process & CNC Machined using a cad profile for the combustion chamber area, which can be adjusted to alter compression ratio. LM 25 Aluminium alloy heat treated. Please contact Charlie he has all my details... Or Telephone 07835654227
Worth-A-Ring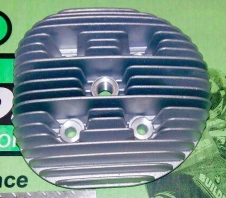 BSA C15 Alloy cylinder barrel for trials use, LM 25 aluminium alloy, heat treated to Tf spec. Bare casting or fully machined with top quality iron liner fitted, bored & honed, pistons are available 69mm, but if you have a new piston std 67mm upwards it can be done to that. See pictures for reference, or contact Charlie he has all the info you require.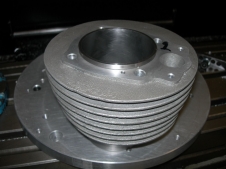 Phone number......07835654227
eMail @..........
Worth-A-Ring...
For Sale.

BSA Bantam D1, log book in my name, the new one V5C it has a non- transferable reg mark, & declared manufactured 1958. I acquired the vehicle on 3 / 4 / 1992. It was purchased originally as a frame & log book by me but after finding most of the missing parts I gave up in the late 90s as parts got harder to find, the engine is from 1958 model & was fully reconditioned all new bearings & seals, new std piston, std exchange cylinder from George yeomans [from bsa] complete new exhaust system, rewired electrics [sparking] I did run her once finished, frame was p/coated wheel rims re chromed [but sadly need rims or re chrome] had new tyres avon front ribbed John Bull rear, hubs are fine & the wheels were built with s/steel spokes but re chromed steel nipples, later I did pick up the correct Avon rear which is included in the sale, the tank is in v good condition with original paint work to copy from, chrome work has been done twice but again sadly not brilliant, I have the rear guard & no plate inc light & original wiring all good condition, every thing I have D1 will go with her. I toyed with idea of braking her up again which would be a shame she would be nice finished off & I would like around £1800.00 for her. I know if I break her ill get more but sad.
Tel... 07835 654 227
Wanted
I have a couple of wants on the site, I'm looking for wide swing arms late Bsa Bantam, also 4 speed layshaft & gears all D14/4 engines or parts of or B175 & Bushman engine parts. Same number as above...Tel...07835 654 227
Charlie~Oo> As this could be for spares I have placed it onto this page it is also on the "Otters for Sale" Page with better photos...
26/11/2019...
Wanted
Not trials, but I race a Sprite Cub in classic scrambles and am trying to source an extra close ratio layshaft. It has a 22T sliding pinion and a 20T output pinion. (I have a mainshaft and output sleeve gear.)
Any pointers would be appreciated.
char7748@tiscali.co.uk
Also Charlie,
For Sale
I have part of a Tigress engine if anyone needs parts.
Terence Fox
02/02/2020...
For Sale.
I have this fork for sale. It´s in Denmark, If anyone is interested i´ll check the post office. Condition is as you can see. Springs and top caps may be expensive to post, lenght is 480mm Price is £220 or near offer.
Regards, John
John Jørgensen mobil 61769510.
Worth-A-Ring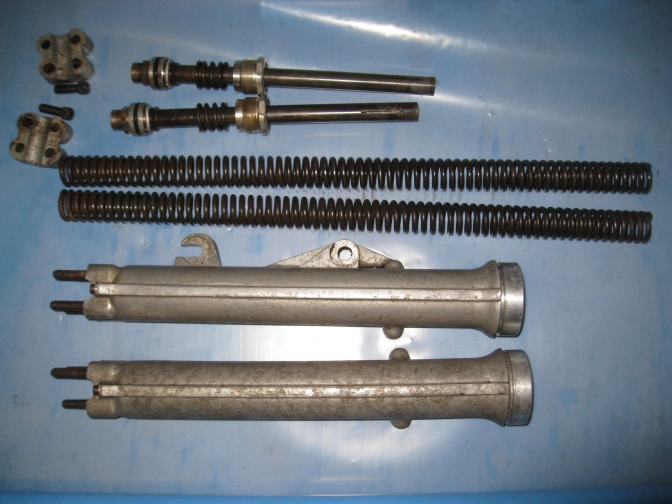 ~Oo> Charlie. The other two photos sent me, show that one fork four-stud cap has a crack in it,
And the other shows that there is very little wear in the sliders.
Hi,
Great website I have just been told about and gotta say pretty comprehensive and informative...
FYI - I have just completed a ground up restoration of a 1967 BSA Bantam D14/4S for a friend, it is now sitting in his office...yes office as a centre piece. Other bikes completed are a 1967 Honda C50, a Raleigh Wisp and almost completed 1978 Suzuki SP370; which was owned by the Royal Corps Signals display team (Given by Suzuki to replace Triumph & never used)!
Over the past months since and before if I'm honest, I have a collection of various parts that need to go to good homes.
For Sale.
List of parts as follows:
1) Bantam D14/4S swinging arm. in good condition & finished in powder coat black (May fit other models) £20
2) Bantam D14/4S rear frame section in excellent condition & finished in powder coat black. £20
3) Bantam D14/4S high rise silencer in very good condition (except for very small dent caused by maligned kickstart). £15
4) Bantam front and rear tyres 300 x 18 in very good useable condition (Bike owner wanted new tyres fitted). Pair £20
5) Suzuki SP400 cylinder head c/w cam and cam cover, with ground valves, springs etc. £70
6) Suzuki SP370/400 crankshaft £25
7) Honda C50/70/90 new oem silencer 19847 £25
8) Raleigh Wisp parts - Recon silencer, front pipe pitted but useble + rear carrier. £20
9) Chrome speedometer with 40 miles on clock c/w bracket. £15
All above items are plus delivery and price given to prospective buyers postcode.
Photos to follow
Kind regards
Ray Doncaster Phone Number to follow...or char7748@tiscali.co.uk
~~~~~~~
Hi...
I was after a rear sub-frame for a BSA Bushman to complete a rebuild and saw someone was selling a B14 rear sub-frame, which I believe to be the same (have same part no 90-4344).
Now I know I am in New Zealand so getting the subframe sent to NZ would be extremely expensive but would be at least interested in looking at options
Would you be able to arrange for me to contact the person via email? thanks
Thanks
Steven...
Charlie~Oo> I have sent Steven the email address......
See, this page works....
It is up to you guy's...
Wanted
Phone number:
Richard... 07790306043 .......22/03/2020...
Worth-A-Ring...
Hi, love the website! I have several twin shock trials projects, TY175, TL125, TLR200, XR200 and a trials Cub. I need some parts to finish some of the projects and will have lots of bits left over on completion of each project.
I need to post wanted and for sale, how do I do this on your website?
Immediately needs are: a TLR200 intake rubber (The bit that connescts the Kehin 22 mm carb and 22 mm head inlet).
I also need a TLR 200 frame for a road going TLR200 project, my existing frame has been modified for trials (Steering head angle altered, so I don't want to cut it and alter it again) looking to buy a replacement or a possible straight swap if interested?
25/08/2020...
NEW For Sale...
Most parts from this bike below are for sale as the bike is getting stripped for spares as the owners son needs a few parts to finish his BSA C15 project.
So get in touch with me and I can pass it onto the owner...if you want items...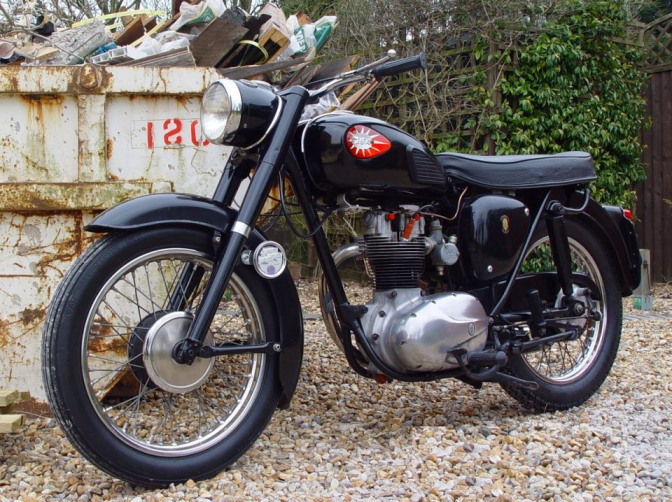 More Later and Link...