1984-1987 Garelli 320 Trials Model.
Made In Italy.
~~~~~~~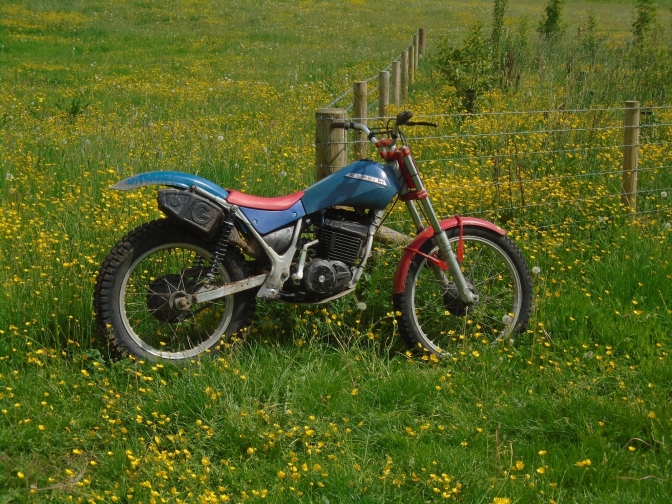 Photo Courtesy Dave Wood.
Dave Wood has added a vary rare trials bike to his collection.
In the four years these machines were built, and the first year was only development by Bernie Schreiber with the Hiro engine unit fitted into a SWM Jumbo frame.
SWM had just folded so Garelli took on chief mechanic, Italian, Dario Seregni as development engineer.
Very few of the production machines came to Britain.
And when Bernie left Garelli because he could not get them to continue with further development of the machine, sales again slumped.
Dave's bike is the later white framed 1987 model that gained a bit more popularity that year because of works rider Donato Miglio's good showing in the world trials championship.
The problem was that these were out of favour as most of the current bikes to that year were now of the Mono-shock variety, although in the end Garelli did make the change to a mono-shock system not dissimilar to the revolutionary Yamaha linked system...
But in the end of that year Garelli pulled the plug on the trials bike, and went back to making mopeds..
Dave.
Hi Charlie, sorry for the delay but with one thing and another I haven't had much time to get on the PC the last few days.
Anyway, the Garelli. Not much of a story to it really, I'd always liked them from when they first came out but apart from a couple running locally at that time, I didn't see another one for about 30 years as they're quite rare.
This one belonged to Steve Goode who acquired it some time ago now and used it occasionally in local classic trials although he hadn't ridden it for a while.
I managed to persuade him to sell it so at last I had a Garelli.
It is pre

tty solid and doesn't look as though it has had a hard life although it is a bit scabby looking cosmetically.
The motor is a Hiro as used in the Armstrong and Aprilia trials bikes but Garelli used their own cylinder and head, changed the clutch basket and idler gears along with the kickstart gears. Ratios may be different on some gears as well.
For some reason they dropped the electronic ignition the Hiro usually has and fitted points. The engine is a lot more pokey than the Armstrong or Aprilia engines which have lots of torque but reasonably soft power delivery.
The Garelli is has a much quicker and sharper response off idle.
The chassis is similar to the last SWM as the SWM people designed it after SWM folded. The steering isn't as quick as the last SWM though which has better steering in my opinion.
A big problem is spares availability which is virtually nil and they were renowned for breaking the kick-start shaft, maybe because of the long levered kick-start placing so much strain on it.
Armstrongs never suffered this problem so Steve had fitted a shorter kick-start to reduce the strain (straight off a GasGas) I'd like to fit a decompresser in the head to reduce it further when starting but there isn't much room at first sight - need to check further. Luckily I managed to source a spare engine from Italy and with it a complete set of plastics - tank, side panels and mudguards.
As for riding, it has 'ample' power, not quite in SWM Jumbo league but more than enough. It's stable under slow speed clutch/brake type riding and is more suited to that than the Bultaco or Ossa which squirm a bit when trying to clutch/brake ride them.
Suspension works well and the bike has a nice feel to it. The only issue is the clutch which doesn't bite hard on initial take up and will slip if abused. It shouldn't but we can't find anything wrong and even swapping the entire clutch from the spare engine didn't cure it. I tried Barnett friction plates, still no good, so now I've managed to get new springs and new drive plates from Steve, which along with the Barnett friction plates and trying a different oil, will hopefully sort it.
I'm running a trial for the

BMCA in a couple of weeks

so I'll take the bike with me when marking out to try it.
Last year I rode it in a couple of club trials, got a second place in the Downland classic national (used to be a round of the Miller series) and nearly won the outright on it, finishing a close third, in an entry that included local riders on modern bikes, so well pleased on that day...

Although it is a bit scabby looking, including an SWM rear mudguard (wrong colour but not too bad a fit) I probably won't bother giving this one a cosmetic overhaul and just ride it as it is, but, it has a white frame (it must have been one of the last batch as usually they were red - there is no red under the white) I don't like it white and would like it red, so who knows how that will end up....

I've remembered to attach photos this time... They're the only ones I have to date

Charlie~Oo>

Thanks Dave we know you will keep us informed to how the bike runs.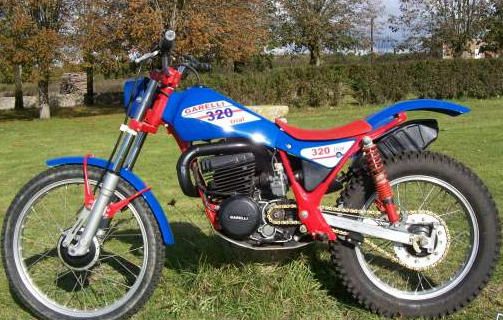 Another brand that could have lasted, and been so much better if there was not the trend, buying small influenced market trials machines, and a lot like the sport has become again today.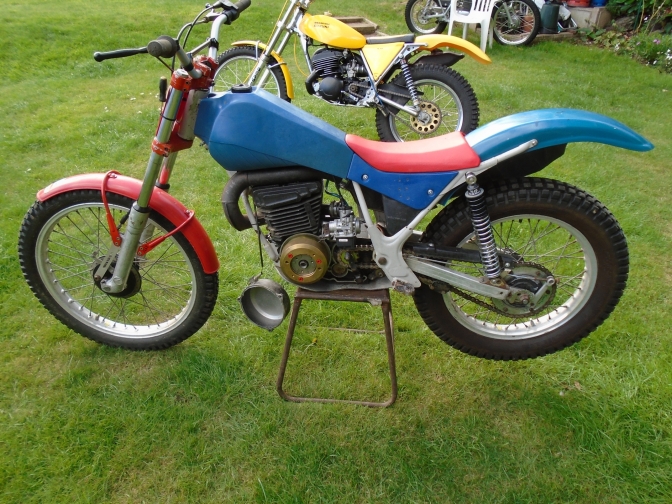 Photo Courtesy Dave Wood.
Dave's

1987

320 with a tinkering going on.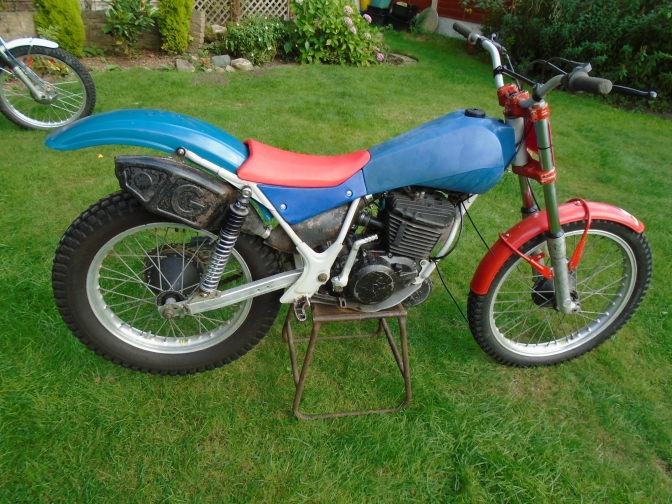 Photo Courtesy Dave Wood..
You know how this goes now, More later, and the page will build.
Another story of a little known Trials Bike Brand,

Garelli..................
The last Garelli update was that I was struggling to sort a slipping clutch so I didn't ride it in the Manx 2 day and took the trusty and well abused 340 Bultaco again instead.
Since then Steve Goode came up with some new old stock clutch drive plates and springs, I already have Barnett friction plates fitted.
This did the trick so I was able to start using it again and have ridden it in a fair few trials from Classic events to modern centre level and club trials, plus a couple of clubman nationals on the easier route.
I've had some good results on it, it handles well and is a nice torquey engine.
I rode it in the Leven 2 day trial in September last year but things conspired again to spoil a decent result.
My mate's bike broke down on the moors on day 1 and you can't just leave them behind, unless it's properly terminal, so we lost time getting him going. Unfortunately I picked up time penalties for this which killed any chance of a decent finish.
Day 2. I made an unholy mess of the top of pipeline for the first time ever and fived it.
I set off in 1st gear when it should really have been 2nd or 3rd.
The one weak point on the Hiro engine is the gear change, which is very notchy and stubborn, so I couldn't risk changing once in the section so had to ride it in 1st which was too low on the Garelli really.
I spun out at the top but my fault, it was still capable of doing it in 1st, just that more speed would have made it easier.
To show how torquey the engine is, towards the end of day 1 when I was rushing trying to stay in time, (pointless as it happens but I didn't know then) at one of the last sections I pulled up, dropped the bike, and ran up the section to inspect it, quite a steep but straight stream with loose rocks.
Ran back down, jumped on the bike and in my haste to get into the section and away before anyone else got in front I forgot that I hadn't dropped the bike down into 1st gear when arriving.
I just got on it, and with the front wheel right on the start card and a nod from the observer launched into the section.
As soon as I dropped the clutch I realised it was in the wrong gear but couldn't do anything about it.
It was in 4th.... but it pulls so well I still cleaned it with a bit of clutching.
It just pulled, no sign of running out of steam.
It was good on the moor crossings and it went well all weekend, no problems with it at all.
The Leven trial is a great event, similar sections to the Pre65 but without the 'fuss' over machines, not as hard, no roadwork so they can't use all of the area covered in the Pre65.
Hopefully I'll get a ride this year again, assuming they can run.
Charlie~Oo>We All hope so Dave...
Report on that trial Later then...
That was the last time I rode it as I have been on the Bultaco and Ossa since as well as riding my TYZ Yamaha in centre events.
I'd like to tidy it up, maybe I'll have time in the coming months as I have no work, nothing on the horizon and I am trying to work out if I can take my pension and retire.
I can but hope... I'd like to put the frame back to red, I don't know why it's white as only the last monos were white, the twinshocks were all red.
Maybe a previous owner did it. I've managed to get a NOS tank from Italy which I'll seal and put new decals on.
The engine seems fine, a tiny rattle from the top maybe. I have a spare engine so I could send that barrel off to Langcourts with a new piston and fit it if I do strip it to tidy it up. It's going to be way down the queue though.
More Later on this Garelli I am sure...
Updat2021...