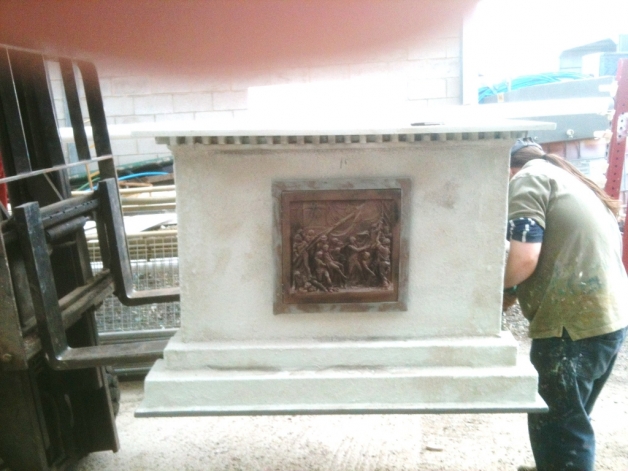 Nelsons Column Bike lift.
Cartoon Time.
From 2012.
For you Richard Clarke.
(Press ban in force) Over now. I think?
OK a couple of months ago I had loads of time on my hands, so thought what could I do that would be a bit different to the norm.
I know! I will build a bike lift with a bit of a difference.
Firstly I got my pall, (sometimes) Mel to weld me up a 1" steel box frame about 3 feet square. Now Mel is not a welder, but does most things badly.
Then Him and Rikky covered this in Buffalo board, the Buffalo was not pleased has he was going surfing down the pond on it later.
For some reason they then decided to stuff a load of old bricks into it before fixing on the last panel, I recon they thought I was going to nick them for me wall, so that's why they hid them. Rikky then had one of his artistic turns come on, now usually he is an out and out boger, but he did make the top edge of the lift- box look pretty.
Ok this is where I stepped in.
Now this lift has got to sit outside most of the time along with the stacker truck it sits on. So I better cover it with something that is water proof.
I had just finished glass fibering up one of me tanks, so thought I will use a bit of that. It was not until I had started to do this, that I realised I was running short of resin. Bug**r, I said to me self.
I know I will use the now famous German method, and put the mat on nearly dry! The grey pigment I used was not to my liking so I tossed in a bit of green to make it look better. Then just has I was finishing it, it started to rain again. Well I then threw one of me Tantrums, and I do have them now and again, you would if you were in the pain I am with me Fibro thing.
Anyway there was a heap of sand that I had used for blasting me frames, along with some tungsten grit that I had used, so I grabbed handfuls of sand and tungsten and threw it at the box. Well it made me feel better!
Standing back I thought the lift needed something more to make it shine.
I had ordered a stone plaque for me old aunts birthday, has she was well into iconic British statues.
So I thought I know I will take a RTV Silicone mold from this and then cast four of them in resin and glass-fiber. Well you know I was short of resin but had found a drop in a couple milk bottles! Well I hope it was resin, it had the yellow look about it.
Anway being short of the resin I needed to bulk it out a bit. Granny had just thrown out her tins of old Crabtree & Evelyn Talcum Powder so I bunged this into the mix, along with some old bronze dust sweepings from the lathe.
Well I must admit that when they were finished they did not look to bad. So I screwed them on.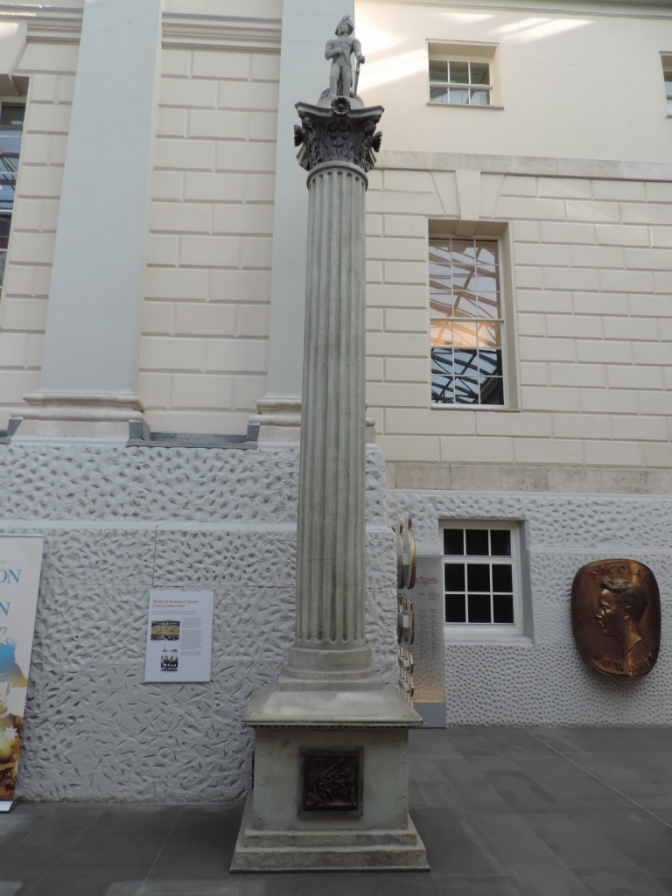 Finished job now in the Maritime Museum in London, after being used for the 2012 games.
Go and take a look, You know you want to!!!
Some lift Hey!!
I had finished the lift and was talking to my mate Neil in his barn across the road.
He is making a boat in two halves in here! Can't understand why he is not just building it has one.
Anyway He told me he had also built a model boat in two halves again. Did I want a look at it? Yes I can take a peek if you like.
Well he pulled back the covers to reveal this little masterpiece the workmanship was incredible.
But like I said he had made it in two halves, bow and stern, I was frightened to ask him why, but plucked up the courage, his explanation was that it would be alright with a pole to join the two halves together.
I thought that thing is never going to sail in a million years.
What's It called I said "Cutty-Sark", Yes I could go with that, but I would have called it "Cut-n-Half" I think.
When you going to sail it, I said. Don't know was the reply.
Well I hope you ent down at the pond the same time as the Buffalo I said, but then Mel had cut his board up hadn't he.
Anyway, has we were chatting, some horsey type came into the yard, just has Neil was hurriedly covering up his little boat.
"I'll buy that" the guy said, brushing the dust from his jodhpurs, I tried to look large to cover up my little lift, "I'll buy that too" he said in his posh Black Country ascent...
Well both Neil and I could not resist the two five pound notes that he was waving, that was more than a week's wages to me.
So the two items have now gone into the land of the Flying horse, or is that the name of guys pub?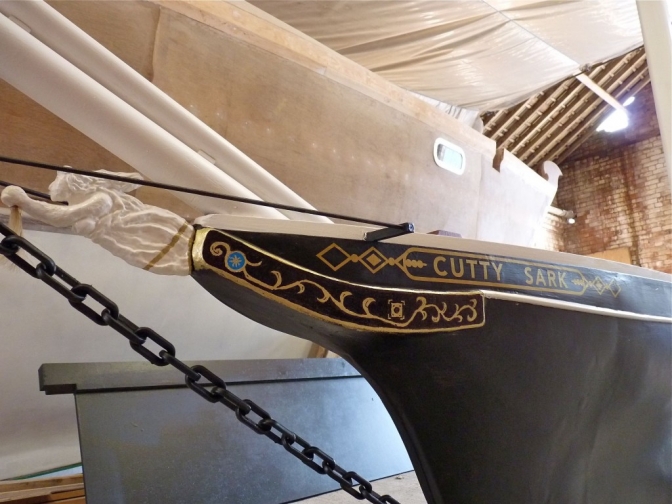 Nice job you made of the figurehead Neil, I was told mine was to tarty to be used, cheek.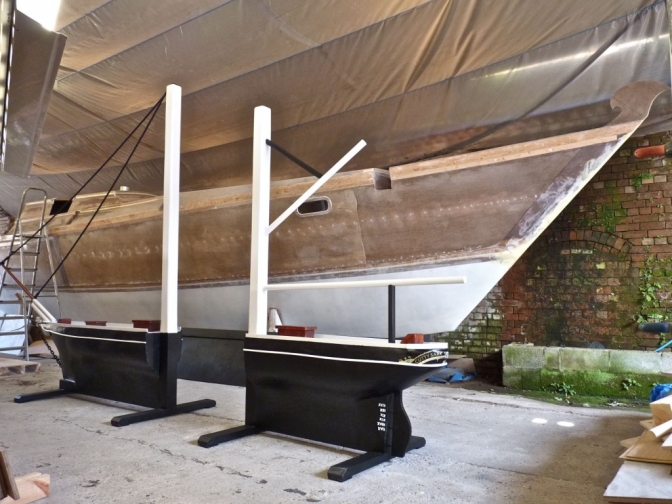 Both the above photos by Neil Hawkesford, who also built the project for the 2012 games.
You Can take a look at Neil's web site just Google "Gleda Project".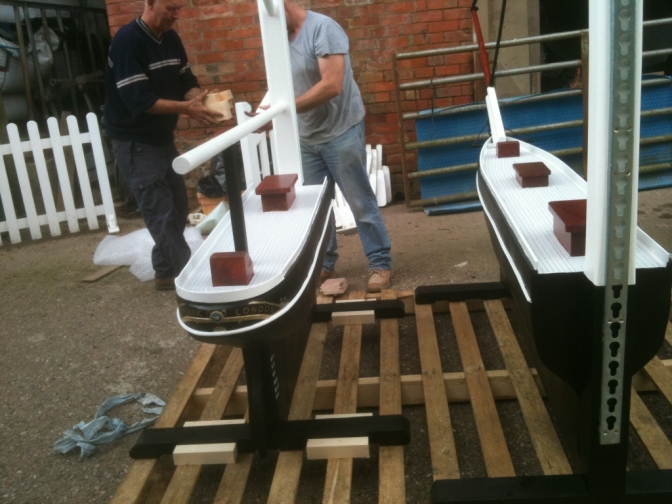 It was always going to be a raft then ? Just needs the oil drums.
Here is Neil leaving with his proper boat of two halves...
He has now sailed across Biscay in it, and is moored for the winter in Portugal.
2018, Now in Spain.
Missed Opportunity?
Another tale.
Well, I spent an afternoon in this big shop "Tie's or bus" or something that sounded like that.
Anyway I spent an hour looking for a push-a-long tractor for George's second birthday.
If you remember he had the Ex works John Draper BSA B40 for his first birthday, but this year he had set his heart on a "push-a-long Tractor".
I looked high, low, and even under the counter, but they did not have a push-a-long item that fitted the bill.
Electronic wizardry yes, but old fashioned toy's no.
So George has ended up with a fully flashing JCB Digger.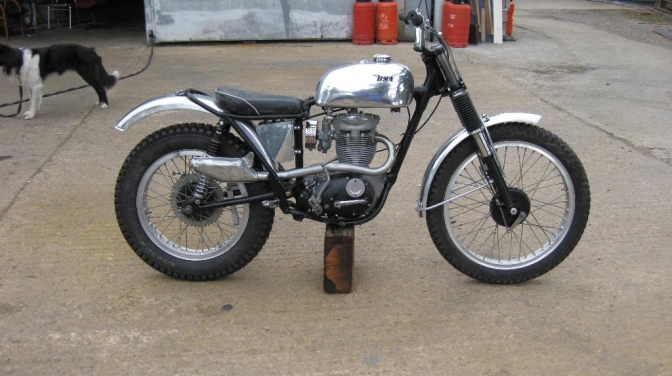 Now my friends daughter Fie-Fie just short of Georges two years, is already into horses I am told.
So I thought what better to buy the child than an item that is current, and in vogue, in 2012.
I know she has a My Little Horse set of toys, so what better to buy her than a set of "MLH Olympic show jumps"; They must have these I thought.
I walked up and down, back and forth until every isle blended into one.
I asked a pleasant young man where they kept the My Little Horse range of toys, and have they got a set of Olympic show jumps in that range?
No sir he said we don't do that, Why not I said, disgruntled and walking towards the door.
"Sir Sir." Was the cry from behind, now what, I thought I have just had enough.
"You might try Stack-a-Bricks, they have nothing in their range at present but I am sure if they were encouraged they may make the item you are looking for in the future".
To Late I said the time will be past by then, and Fie-Fie will be into boys by that time.
Ah well just have to buy them Scribble. What a wasted opportunity?
But we now know that anything to do with the Olympics, has to be vetted by that committee, and if it is deemed to be OK then they take a cut of the items sales, and govern what happens to said item. Are explanation then.
For the Guy's on TC if you type in The Gleda Project . Com in Google
you will see that I wasn't has Pi***d has you thought.
www.thegledaproject.com
More later.
With some more stupid tales that actualy make sense?
Updat 2021...