The Story of a Ground up build of a "Otter"frame, with a Triumph 5TA engine unit fitted, and all built by its owner Jon Griffin.
Jon just loves the sight and sound of Triumph Twins, and keeps on building them...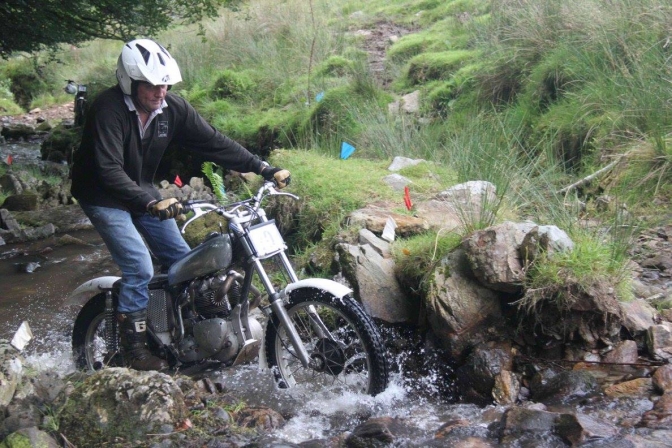 This superb shot of Jon riding his "Triumph Otter" in the 2016 Exmoor Trial...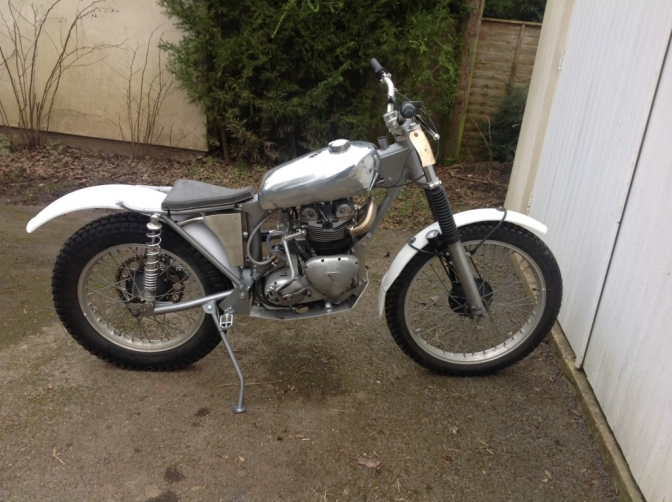 This is the Photo Courtesy Jon Griffin, of the finished Otter machine.
Jon Griffin, has spent Hours he says, on this ground up build, with Triumph 5TA engine fitted,
Growl ... I love that sound...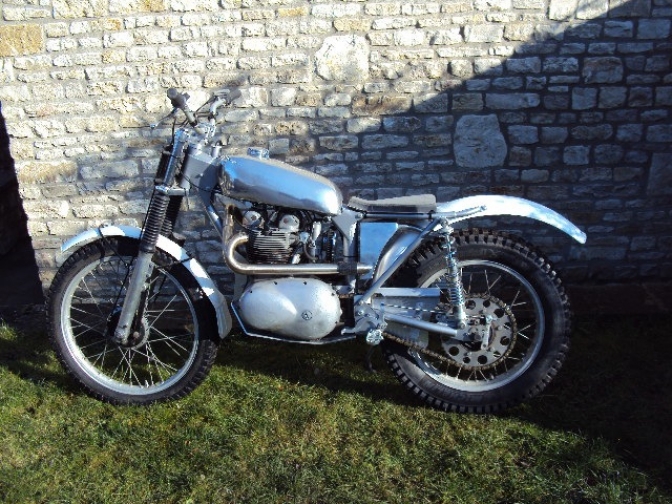 All Photos Courtesy Jon Griffin.
Here is Jon's Story of the bike build.
Hi CHARLIE,
Please find attached some pictures of my first "Otter" build.
I have been competing for a few years, but after watching the trial at the 2012 Red Marley Hill Climb.
As I watched a gent on a Triumph Twin negotiate the section's, I thought, "that looks easy I will give it a go". In my blissful ignorance I failed to understand that it looks easy if you are very good.
I hunted around and bought a C15 BSA from a well-known purveyor of trials bikes with 2 shocks.
After a bit of tinkering I entered a Bath classic trial at Fry's Bottom. Tom a kind and patient chap offered to show me the ropes. I suddenly realised how difficult this trial thing is. After a couple of laps a front puncture (no tyre clamp) put paid to the day.
Back home reflecting on the day I realised two things, firstly how much I had enjoyed the day, and secondly how badly prepared I had been.
After wobbling around a few more trials I bought a C15T, which was much easier to ride.
However I still had a hankering for a Triumph twin, for the noise if nothing else.
There are a few things in life that sound as good, a Triumph Rocket Three with loud pipes, a TR7 V8 rally car in a forest and the peace of a man cave (workshop).
So a long story cut short, and two Triumph 5TA's later, I had a Triumph 500, which I modified to oil in frame with a steeper head angle.
This improved it's handling greatly but with a wheelbase of 55 inches it was a bit long for the trials we have here in Somerset.
Over the last couple of years I have been reading the "Otter" website and was inspired to build my own but with the Triumph engine.
So last November I set too, I already had a frame jig from when I modified the second Triumph 5TA.
I thought a couple of days, and a bit of welding, (I had bought a tig welder) and the bike would be finished.
Anyway after more than a few long days, the bike actually ran in early February.
I initially painted it with an aerosol just to try it out, then after a week I took it apart and had it powder coated.
The main frame and swinging arm are T45 seamless tube while the front down tube is just Cold Drawn Seamless , and all tig welded.
For the tank I took the frame down to Terry Weedy to measure up, and two weeks later the Alloy tank turned up in the post, excellent and very fast service.
The triple trees (yokes) are modified Fantic with Honda forks fitted.
The exhaust manifold,(front pipe) which is all stainless steel, took a couple of attempts to get right.
I originally started with an aluminium silencer but in the end made a thin wall stainless one.
I have enjoyed building the "Otter" immensely it definitely won't be the last.
I already have another set of tubes ready to go and this one will be fillet brazed, for no other reason than I like the look of a nice Fillet.
To this end I went on an excellent Fillet brazing course at the
"Bicycle Academy" in Frome.
The bike rides very well; the 180 deg turning circle is 18" less than the Triumph also the frame is considerable lighter.
I am now working on the engine to calm it down a bit.
Being a 500 it is a bit punchy and trying to find grip on a muddy climb is a challenge, the merest whiff of throttle will spin up the rear wheel.
I have just competed in the bikes first trial, a Bath Classic event, and everything worked very well, only 2 points lost on the B route.
Also I am trying to lose weight (me and the bike) so if anyone knows of an aluminium barrel for a unit Triumph 500 it would be much appreciated. (I will let Jon know if you contact me about the barrel)
I could ramble on but the pictures tell the story way better than I can.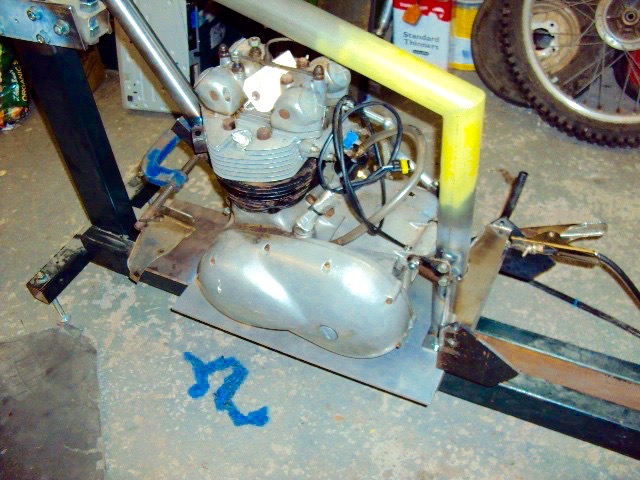 Frame started and sat on the jig, engine bolted in for reference...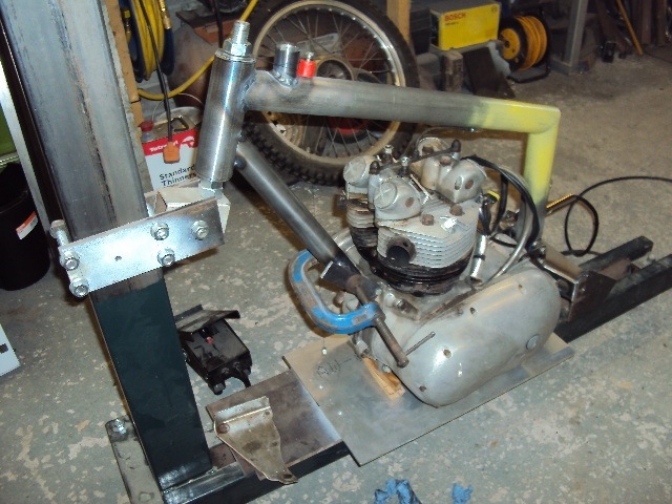 Jon's Jig Looks a lot like my own...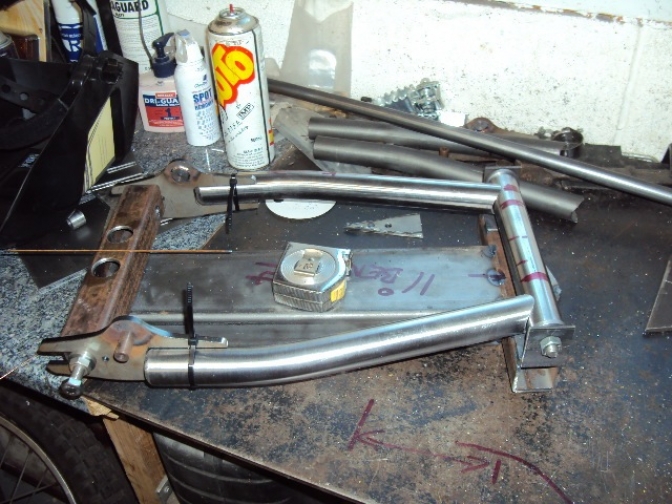 And the Swinging arm Jig. I do like the tube bends.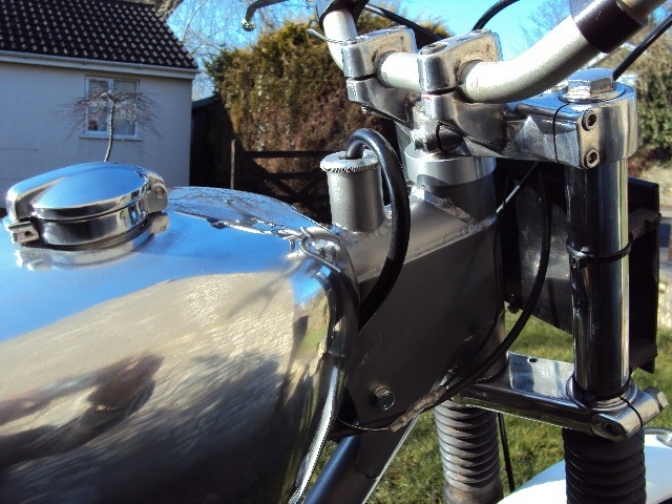 Very clean finish to the steering head.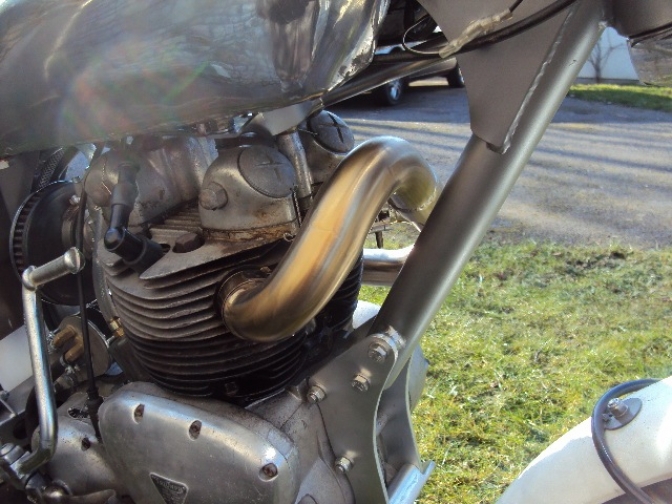 And the same goes for the exhaust system...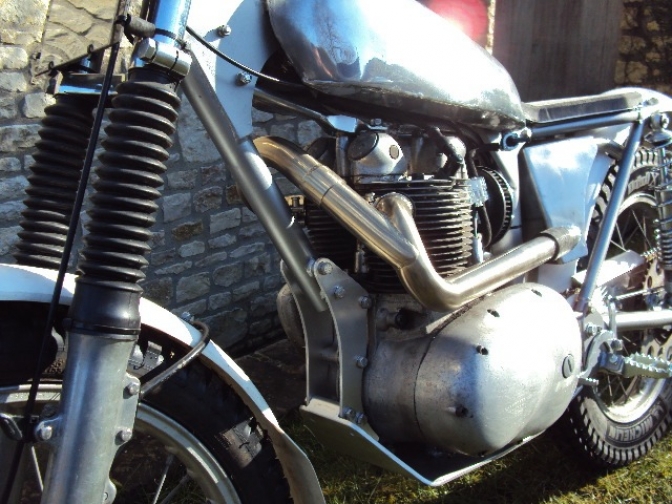 I can here the Growl! from here, Good job Jon...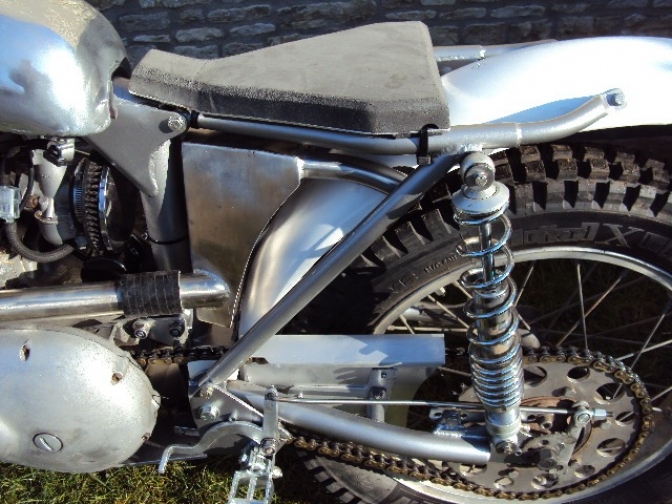 When you build a "Otter" like this from scratch, and then get to ride the dream, that you yourself have created, this is a feeling that only you will know, Just shear PRIDE...
Nice one Jon, we are waiting for the next?
And an update to how the "Triumph Otter" has performed since the build.
~~~~~~~
Grumph.
Jon has now built another priceless trials bike.
And one a bit different from the Norm.
And a truly "One Off"...
It is a Triumph twin engine in a Greeves frame and front forks, with a rigid rear end fitted...
Photo Courtesy Jon Griffin.
Hi Charlie, after the Triumph twin Otter I built here is my next bike, I mentioned this in your survey yesterday.
I mostly get rave reviews where ever I go but a few purists especially of the Greeves variety are not so impressed as they never built a Greeves Rigid.
It's a 350 Triumph twin motor and rides superbly, I even had Sammy Miller blipping the throttle at the start of the Talmag this year.
Keep up the good work an excellent well grounded website.
Best regards
Jon Griffin.
Jon's build story Later.
~~~~~~~
Jon's Third Triumph Built Classic..

Hi Charlie, here is the latest creation from the shed. A 1957 ish Triumph TRW 500 sidevalve.
I built it specially for the excellent Somerton Classic 2 day event near Cheddar.
I managed to clean 72 sections and took the trophy but had the very capable
Jon Cull just 1 dab behind me.
As with all Triumph twins it sounds superb.
Best regards
Jon Griffin.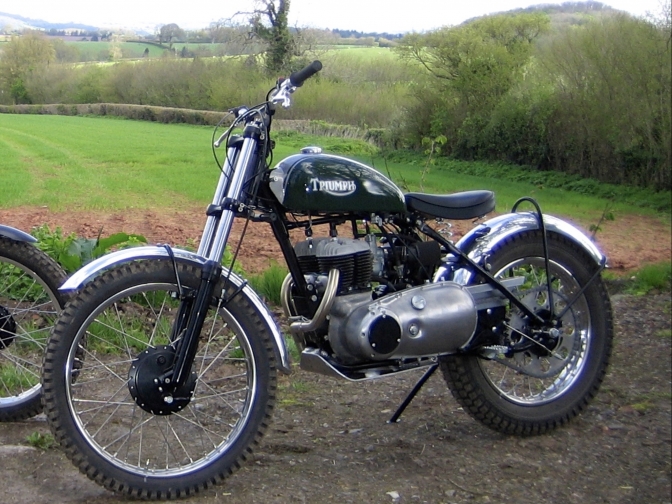 Photo Courtesy Jon Griffin.
What another superb build to have in your stable, we need to see a lot more bikes like this out and about.
thanks Jon, I take it there will be another?
Charlie ~Oo>
Hi Jon, did you start the build by buying parts, or did you buy a complete bike?
~~~~~~~
Hi Charlie, it started last December with a new old stock front frame bought from Greece.
The rest was eBay, or from one of the Triumph specialists in the UK.
The forks are Honda Xl 350 which look a bit like Triumph 4 stud and the tank is Harley-Davidson Aermacchi.
Keep up the good work.
Hi, Charlie, My mistake the forks in the picture are Royal Enfield new from India via eBay, however it didn't steer at all well, so I did a last minute swap to the Honda 4 stud forks which are now fitted.
I will change the yokes to parallel and retry the Enfield forks.
Thanks

Jon,

I have a pair of

Honda

1976

forks and I thought , I know I have an headache, but those forks look like the

Indian Enfield

forks I nearly bought a month ago. And they are a good price, I am sure they will work with a few mods.
Let us know how you get on.
Jon

now has a rigid

James

as-well and is riding that very well too....
More from Jon Griffin later.
Updat2023...05...