| | |
| --- | --- |
| | |
| Length | 32 km |
| Source elevation | 278 metres |
The River Otter rises in the Blackdown Hills just inside the county of Somerset, near Otterford, then flows south for some 32 km through East Devon to the English Channel at the western end of Lyme Bay. The Permian and Triassic sandstone aquifer in the Otter Valley is one of Devon's largest groundwater sources, supplying drinking water to 200,000 people.
The river's source is north of Otterford, where a stream feeds the Otterhead lakes: ST225152 and then through Churchstanton before entering Devon.
The river flows through a predominantly rural area, with small cattle, sheep and dairy farms. The largest town in the Otter Valley is Honiton. Tourism and leisure play important roles in the economy; hundreds of private cottages and farms offer B&B and rented holiday accommodation
Known as the Tumbling Weir, at Ottery St Mary, water flows inwards over concentric circles, returning to the river via an underground tunnel.
The river passes through or by Upottery, Rawridge, Monkton, Honiton (then below the A30 trunk road), Alfington, Ottery St Mary, Tipton St John, Newton Poppleford, Otterton and reaches the coast to the east of Budleigh Salterton, after flowing through the 57-acre Otter Estuary Nature Reserve.
Tipton St John near Alfington, is where Harry Foster had his workshop, the BOK228C copy frames were built here.
And this is why Colin Dommett suggested to Harry that the name "Otter" would be a good choice to put on Harry's products, being so close to the little river
www.answers.com copyright.
10/Oct/2013. Ottery St Mary.
There is a lot more than meets the eye along this stretch of a small river meandering down to the English channel through sleepy Devon, this is where the spirit of the "Otter" trials frame was born,with flame in it's belly. And you can see why.?.
For just up the road from the "Otter"s, birth place , there is a grand festival that takes place every year at Ottery -St-Mary, a tradition started so they say, in 1605, "The Flaming Tar Barrels" can be witnessed, at the end of October every year, and if you live remotely near to Ottery, you should attend for a once in a life time experience,OK.(_)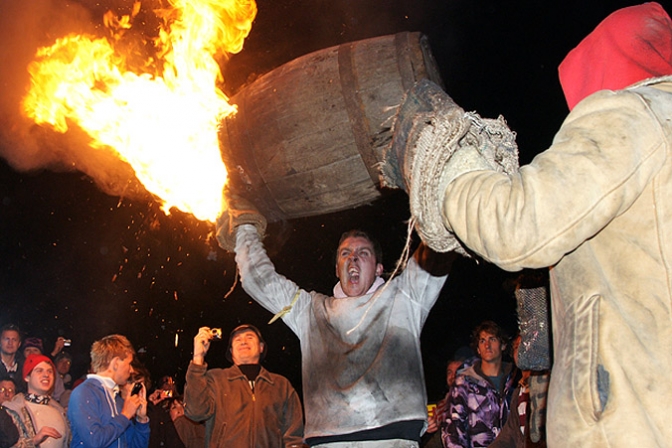 Come on guys you know you would enjoy this week end.
Perhaps you should take in a west country trial at the same time.
What a good idea, only just thought of that.
Take a look at there web site www.otterytarbarrels.co.uk
**********************************************
I have been reading that this river now sports a family of beavers near the end of its run.
So much seems to happen along this little river from its rising in the Blackdown hills.
That now I thought we had better take a better look at what happens along its length.
Here is the falling weir at Ottery-St-Mary.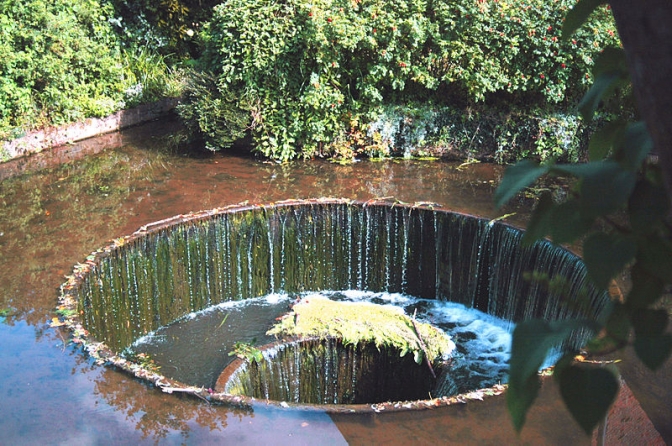 And the rivers exit to the sea via the marsh land .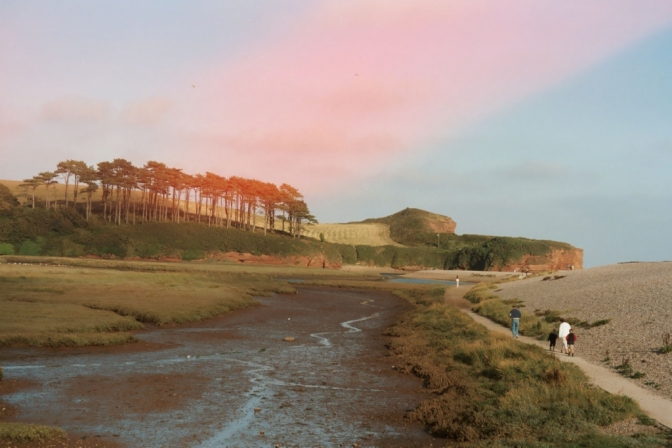 What a great picture this is by Tony of Devon.
There will be more and information as well Enjoy.
Beavers on the River "Otter"...
You can support the Beavers through the Devon Wildlife Trust.
Well did you know there was a pasty war down in the West country?
Well there is, and there always has been so I have found out, and the modern day culprit comes from Ottery-st Mary.
The difference that sets apart a Devon pasty from a Cornish, is the way in which the pastry is crimped.
A Cornish pasty is Dee shaped and should be crimped on the side left or right in what ever hand you are.
But a Devon pasty has to be crimped along the top line of the pastry package........ I did not know that...
The battle seems to get quite fierce at times when in winning awards for the pasties the battle flairs, on which side of the Tamar river the pasty was baked in...
As the picture below seems to indicate.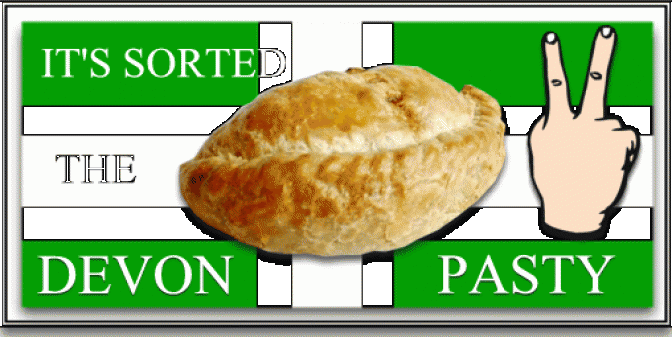 I will give you the recipe for this Little gem of a miners lunch box, from the same page has the fingers.
The ORIGINAL Devonshire Pasty - as first eaten in Plymouth circa 1520!!!
Ingredients:
1lb Shortcrust Pastry
1lb lean, chopped beef - raw or 1lb of scraggy Cornish venison - raw.
2 medium sized, finely chopped potatoes - raw
1 medium chopped onion - raw
1 medium chopped swede - raw
1 beaten egg
salt and pepper
Method:
Roll out pastry to ¼" thick and cut out 4 dessert plate sized circles.
On to each place layers of the above ingredients and season well, especially with the pepper.
Moisten the edges and fold over into a 'Mesolithic hand-axe' shape and then press the edges firmly together and crimp along the join. Forget the Cornish nonsense about 'cock' and 'hen' crimping, that goes back to the days when pasties were poached from Devon and one of each made a brace.
Make a small entry wound type slit in the top to let the steam escape, please note this is not to let the pasties spirit leave the body as some west of the Tamar would have you believe.
Repeat the above process with all four pasties and then place on a baking sheet and put in a pre-heated oven (400ºF) until the pastry turns to a pale golden colour.
Take the pasties out of the oven and brush with the beaten egg and shove back in the oven.
Reduce the temperature to 350º and bake for a further 40 minutes.
The pasties are always best eaten hot but do make for ideal cold meals, please note; there is no need to throw away the pastry after you have eaten the filling. If you do want to do this try making a stew instead, it saves time messing around with the pastry!
This page has meant to be a light-hearted comment on the pasty debate and I hope it has caused no offence to our Cornish neighbours. If it has, then in the words of their very own 'bard' - Jethro - ******k's anyway - the pasty originates from DEVONSHIRE - along with clotted cream!
Now all I can say is, don't go CHUCKing this about in Ottery-St-Mary.
I wonder if there is a North Oxfordshire variety.......?
Maybe we will just have to stick to the "Banbury Cake's"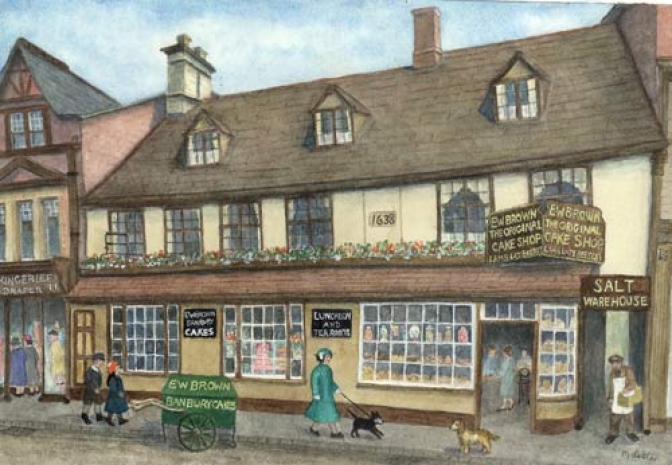 Ok Just for fun I thought I better put this Banbury Cake recipe on while I find out mothers recipe, for Traditianal "Wigginton Pasty Pie".
Recipe for Traditional English Banbury Cakes,
The following recipe will make eight "Banbury cakes" and is a good way to use up any left over, slightly stale bread or cake crumbs and pieces of flaky pastry. The quantity of mixed spice is a guide only – more or less can be added according to individual taste. The cakes will keep in an airtight tin for up to a week.
Ingredients:
8oz flaky pastry

2 oz full rich Jersey butter

2 oz fine sugar

2 oz plump soaked currants

2 oz plump soaked raisins

1 oz candied peel

1 oz fine bread or cake crumbs

½ tsp fragrant mixed spice

1 beaten free range large egg

1 tabsp soft Brown sugar
Method:
Cream together the butter and sugar thoroughly either by hand or in a mixer

Add the rest of the ingredients, except the beaten egg, to the butter and sugar mixture and mix well

Roll out the pastry quite thinly

Cut the pastry into eight evenly sized oval shapes

Divide the fruit mixture between the oval shapes, spreading it across the middle of each piece of pastry

Wrap the pastry around the filling and seal the edges together with a drop of milk

Brush each cake with the beaten egg

Cook in the oven on gas mark 7, 218 C, 475 F for about 15 minutes then sprinkle some soft brown sugar and a pinch of cinnamon and ground cloves over the top once they are out of the oven.

This should then be painted quickly with melted home made Jersey butter, for an Original taste.

Serve cold with a nice cup of proper English tea, Or a pint of Hooky best bitter.
__________________________________________________________________
And why not a "Banbury Apple Pie" Recipe.
Banbury Apple Pie Pastries...
Oxfordshire Double shortcrust pie filled with sliced apple, dried fruit, brown sugar and sweet spices.
The original source of this recipe isn't known. Can you help?
"Probably Mother." It is what she used to bake.
And look out for her "Oxfordshire Spag Boll" recipe? Coming Soon.
12 oz plain flour pinch of salt,
6 oz butter,
1 tbsp caster sugar
1 egg, lightly beaten
1 1/2 lb cooking apples.
juice of 1/2 lemon.
4 oz sultanas.
3 oz soft light brown sugar.
pinch of ground cinnamon.
pinch of freshly grated nutmeg.
grated rind and juice of 1 orange.
fresh milk, to glaze.
caster sugar for sprinkling.
Method.
Put flour & salt in a bowl. Rub in the butter until the mixture resembles fine breadcrumbs.Stir in the caster sugar, then stir in the egg & enough water to bind the mixture together.
Knead lightly on a lightly floured surface. Roll out 2/3of the pastry & line a shallow pie dish.
Put apples slices in a bowl & sprinkle with lemon juice.
Layer apples, sultanas, brown sugar, spices & orange rind in pie dish, sprinkle with orange juice.
Roll the rest of pastry to form a lid, place on top .Press edges together and trim, make a slit in the centre of the pie & brush pie top with milk to glaze.
Bake in a preheated oven 400oF/200oC/gas mark 6 for 30 minutes, until
golden brown.Sprinkle top with caster sugar, serve hot or cold.
Good with Fresh Double Cream??
Well you can burn off the calories on your "Otter" trials bike Tomorrow!!!
Updated 21/Oct/2015
Now trying to find a traditional recipe for the Devon "Hogs pudding",
This is probably as near as you will get, I have never known a recipe be so guarded!
If you taste the best there is, you will never know what is exactly in it.
I will delve further though.
More later I will try my own recipe with the help of friends in Devon.
02/07/2016...
Just updating the pages, and for some reason looking at the "River Otter" page reminded me of some of the food we used to eat in Devon and Cornwall every year when on holiday, superb seafood, and huge plate fulls of Lamb-shank, just has they became popular, fresh lobster from the vaults in Port Issac (Port Wem) Doc Martin.
Fish and Chips in Padstow, and cream teas in the National trust garden restaurants in Trelissick,(NT) Trebah ,Glendurgan(NT) and others.
Steak and Ale pie in the Cobweb at Boscastle, along with that superb atmosphere the pub has...
But then upon returning home with what we had eaten over the past weeks in those Golden counties inspired me to return to my cooking, that I have so enjoyed over the years.
And one of my favourites on a Saturday evening was to cook one of my Balti dishes, Kate loved them, along with most of the food I cooked her.
Looking this morning there was No trace on the internet of the sauce (gravy) used in most Balti dishes so here is mine.
Balti Sauce. (Gravy).
I used to make Balti once a week...
But with the loss of Kate my partner, I have not made one so much in the last five years.
I thought I would Google Balti sauce and see what came up, for the recipe in 2016.
To my amazement the original recipe sauce and the way it is made seems no longer to be a part of the Curry scene.
I take it is much easier to just buy a Jar with branded sauce in.
Well I studied that sauce at the time Balti took off in Birmingham and visited many of the restaurants with Kate and her friends, so know what a proper Balti sauce should be like...
First a pan of boiling water is left to simmer slowly before adding roughly chopped onions garlic and ginger, a pinch of added salt and sugar and a glug of sunflower oil are added, a lid is placed onto the sauce pan, and the mixture is allowed to simmer gently for twenty minuets or so. (water just covering the mix) Check on it!
Meanwhile coriander, cumin, fenugreek, yellow mustard seed, and chilli seed, a couple of cloves, and menthe, are toasted slowly for a couple of minuets in a dry wok...
These when cooled are then crushed in a Mortar and pestle. Or ground in a coffee grinder. You can also make your own Garam Masala, or just add some already ground mixture.
After the mixture in the saucepan has been removed from the heat for a while, it is then placed into a blender or food processor and blitzed until a superb smelling cream sauce is achieved. Now a can of chopped tomatoes and a teaspoon or two of tomato paste can be blended into the mixture and the crushed seeds, and a teaspoon full of turmeric, a bit more chilli powder added if you like it hot, but this will impart the true flavour...
Ladlefuls of this mixture is now added to your par cooked meat in the Wok, or Balti pan, along with a handful of fresh coriander leaves and stalks...
The mixture is stirred and simmered for a while before being served up in the Balti bowels, sprinkled with a bit more chopped coriander, and enjoyed with rice and giant Naan Bread...
Enjoy.......
More about the River Otter later. And more West-Country Recipes if you want them ... let me know...
Updat2021...