Deryk Wylde
Famous for,
"Off Road Review" Magazine.
Now ORR-e
http://www.trialscentral.com/off-road-revue-magazine-index
Here above is the new link to Off-Road-Revue- Magazine.
*******
Deryk pictured here, by Ian Ballard.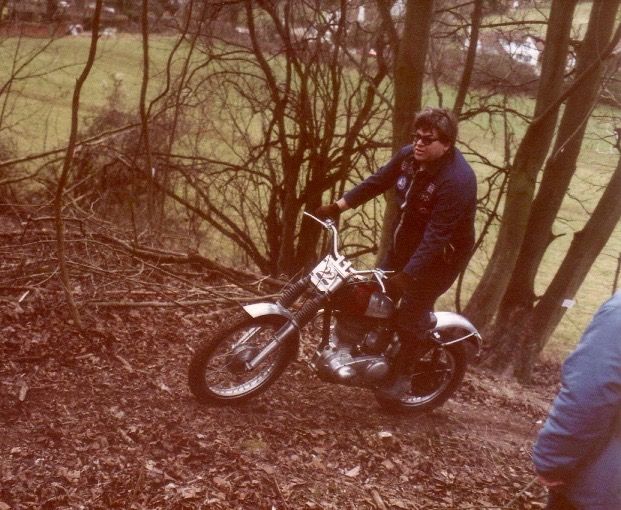 *******
Here Deryk is riding his newly refurbished Ariel HT5 in which he has just fitted the camshaft etc from the famous GOV132.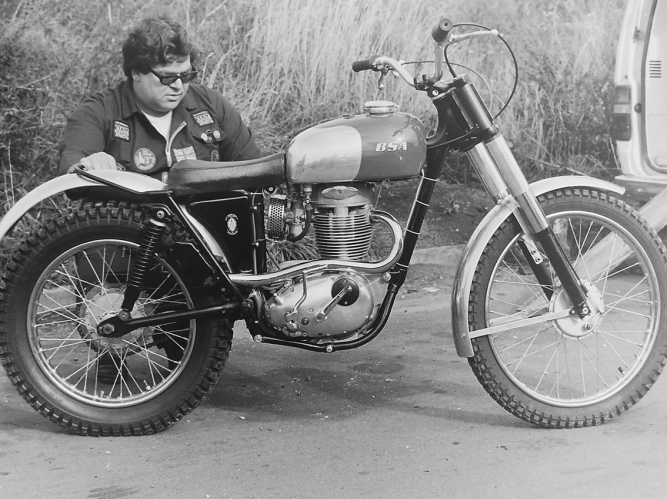 And Here Deryk poses with the first Unit BSA that Jim Susans ever restored. Wow What a bike.
It was ORR that I first got most of my material for the "BSA Otter".
Reading all Ninety Nine copies over a period and then also the hard back Reference Libraries as well ,gave me a good insight to the History of the BSA Competition Department there bikes and the competitions that they competed in. over the years.
*******
And this was the first picture I found of "Mr Harry Foster" and his wife Carol.
Aboard there Immaculate Triumph trials outfit that they finished second in the British Experts trial on.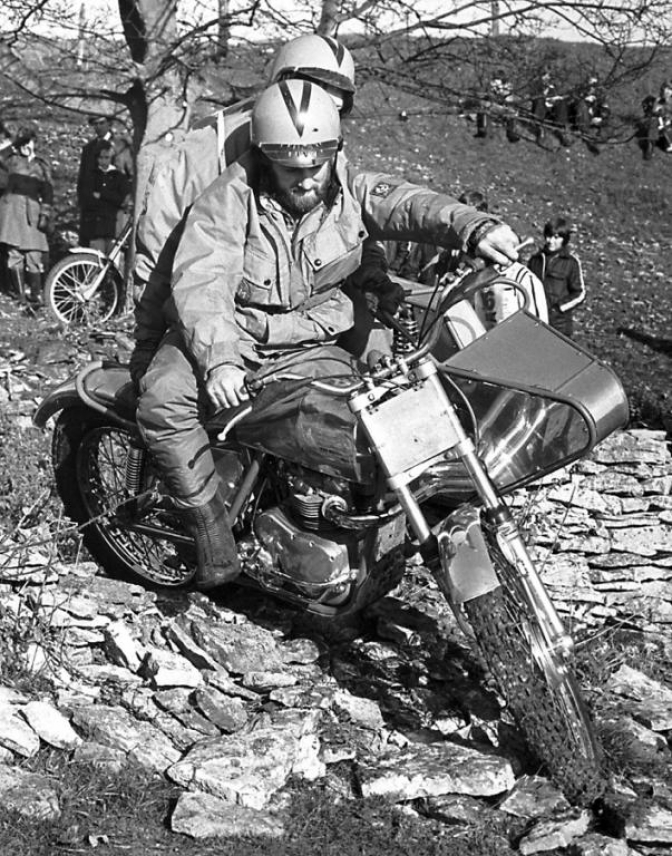 Photo "Offroad Archive"
Well Deryk now in his mid seventies,
Is thinking of trying to use the 13000 photos and all the documentation that goes along with them. in a New e-format-ed version of "Off Road Review" but more has a reference library for individual makes of machine.
This will then probably be available on Kindle.etc.
One can only hope that he gets enough response to go ahead with the idea at his age.
But and It is a BIG but if he does not, will the photos and material he has be lost for ever, as I think a lot of the knowledge he has is in his head, and needs writing down Now.
If you think it is a good idea, to publish these e-Books please let me know.
The response I get ,I will pass onto Deryk, and help him with the plan.
So it is up to you, OK
*******
The above was what I put on originally, we now know that Deryk has found a platform for this idea on Trials Central , thanks to Andy Grieg.
Here is another picture courtesy of "Offroad Archive".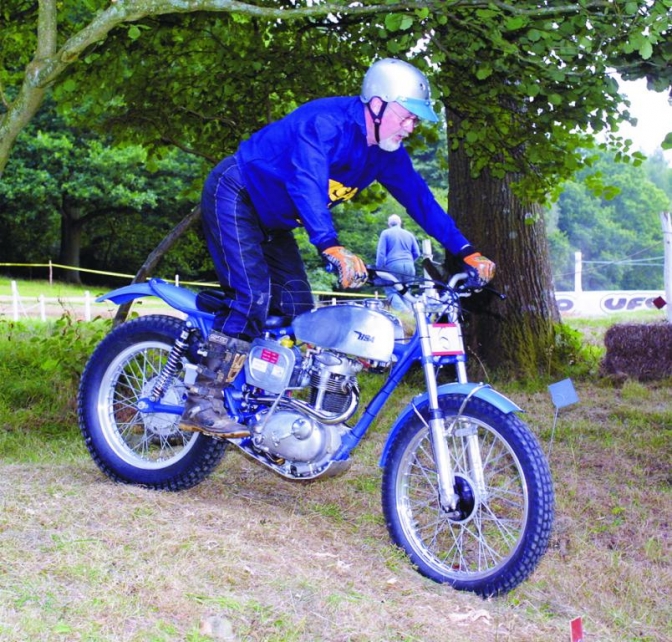 This is the first picture that Deryk used from his New "digital camera", and he admits it was not that Blue the first time around.
I could sort it? but why should I ! History you know.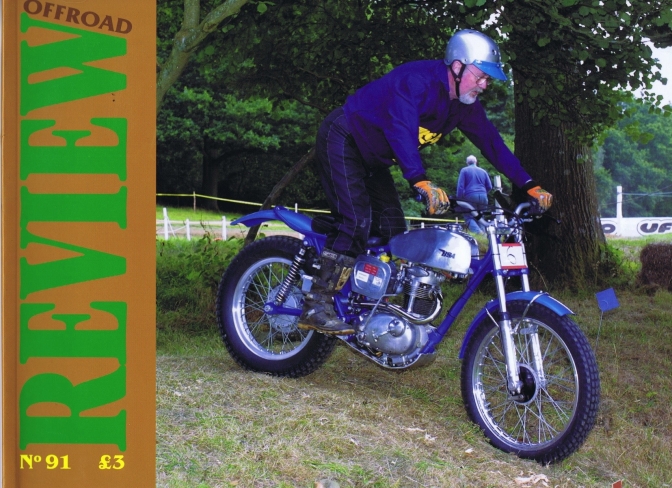 You are right Deryk not has blue.
Anyway because of this front cover picture on Volume No 91 of Offroad Review",
We bought the bike when it came up for sale.
I Thought you would like this of Brian Martin riding "BSA 250," the bike that now is owned by good friend of mine Ted Freeman.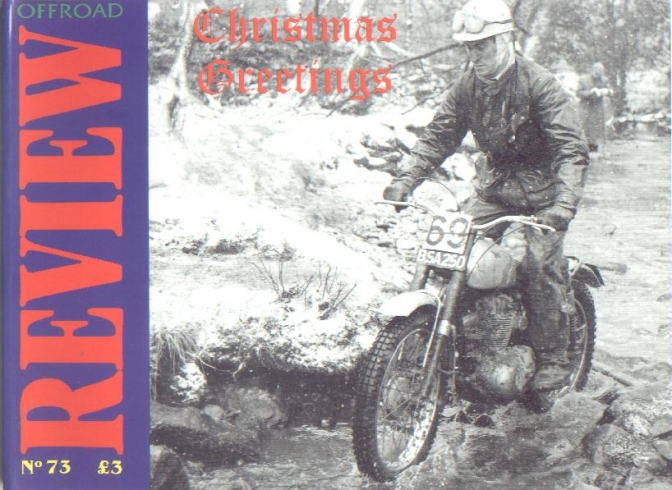 And here below is a BSA "Otter" B25/C15, I just found, doing research on this page this afternoon.
And in one of the New Off-Road-Review-e magazines.
Enjoy.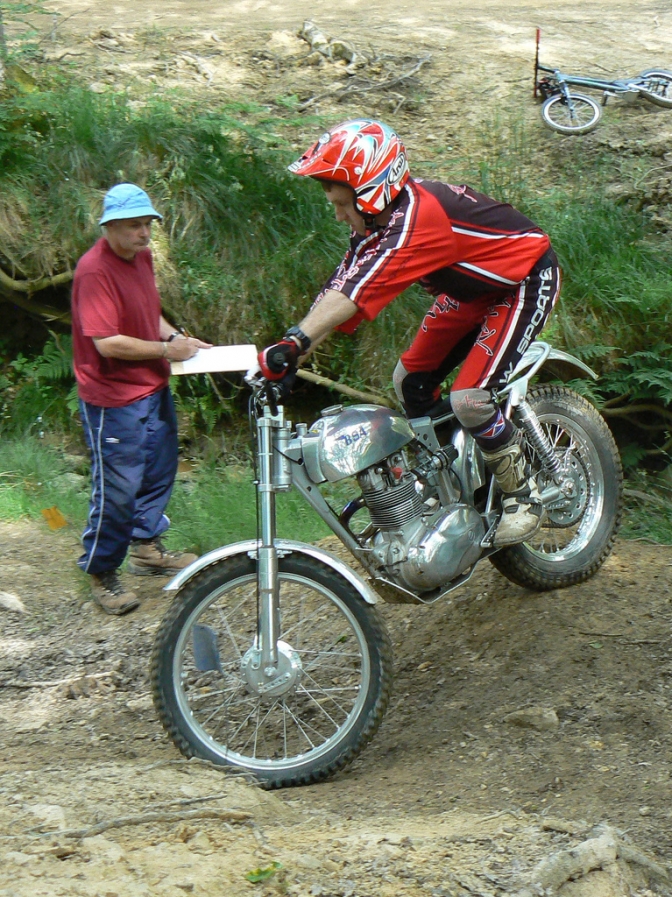 OK the Photo of the B25 engined Otter above now has a new significance ? Why?
Well we Now move into a New era of Off Road Review or ORR-e has it will probably be known.
And pictures like the above will be incorporated into the new magazine along with the reworked copy of the original ORR series.
To sign up for your copies of this New e-Magazine, you will have to look on the Trials Central web site and follow the links at the top of the page.
So if you think you would like to Win a years subscription to this revitalised Magazine
Off Road Review> e version.
All you have to do is send me the names of the two people wearing black riding gear, in the picture below, the first correct answer gets the subscription.!
There is NO catch to this and I myself will be paying for this first subscription to the ORRe magazine.
10/03/2017.
This is now out of date but if you are interested we could run another competition?
However, if you enjoy this competition and I get enough response, I will continue it weekly,or when ever we get a winner, and will try to get other Classic trial supporters to sponsor a further subscription. For a Name Drop.OK.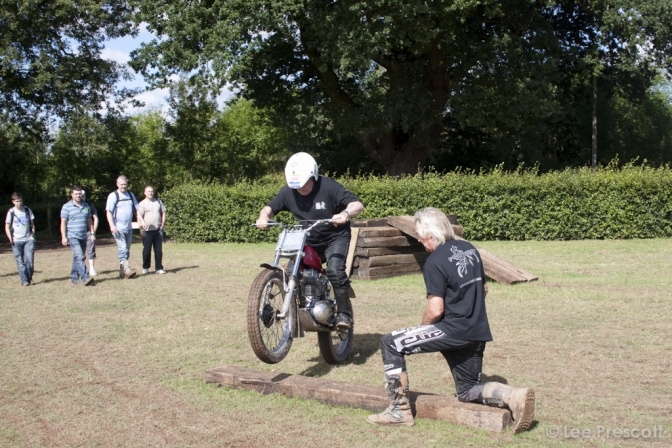 Answer to above> Peter Armitage (Bill Webster) Corrie, And the one and only Mick Andrews.
Deryk has a New Website too, and I will get more information about his Road Racing and Grass-Track ,Archives.
That he is trying to promote on it.
Much more later. 15/05/2016.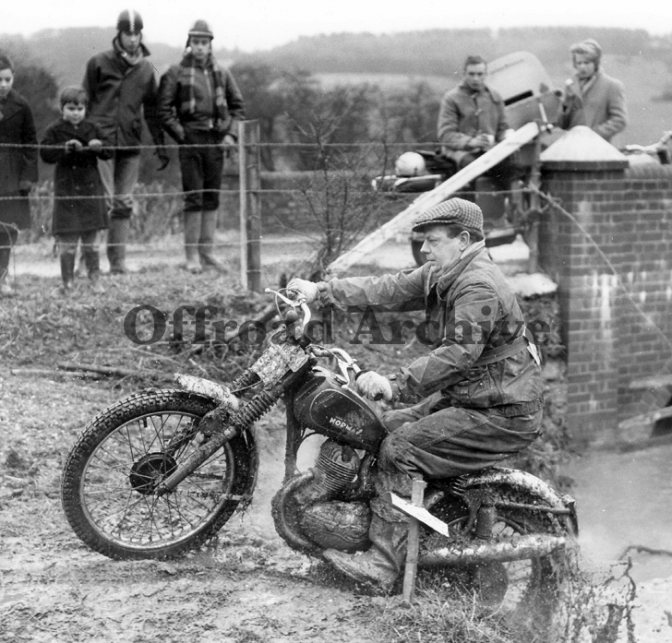 Photo Courtesy "Offroad Archive";-) You know I put this Courtesy notice under quite a few Photos on this site. (incidentally you will find this on the Norman Page,)
Well If it was not for Deryk Wylde this site would never have started?
Well when I returned to motorcycles after a varied life has you can see in the "Seventy" years. story.
We somehow purchased a Ariel HT5 from Cornwall in near original specification, only the top back suspension mounts had been lowered slightly and a 350x18" tyre fitted instead of the 400x19"
Well the bike had been used for Long Distance trials at one time and this is why the mods were done so we were told.
Anyway I somehow seemed to have acquired a volume of "OffRoad Review" magazine.
And after reading through that, I needed more!
Long story, but some came from eBay, and most from Brian the "Magazine Man" (he still has a few copies I am told), anyway I ended up with all 101 Volumes and some duplicated,also the Yellow hard back "Reference Library" volumes, and the John Moffatt Blue book, which is quite a hard read but has good information.
So the bike collection got bigger, and more and more reference from "Offroad Review" was used.
Brother wanted a James like Mick Andrews so Alan Whitton was contacted and became friends, as did Mick himself,
Incidentally the bike is still with Alan I don't know how far it has got in its build.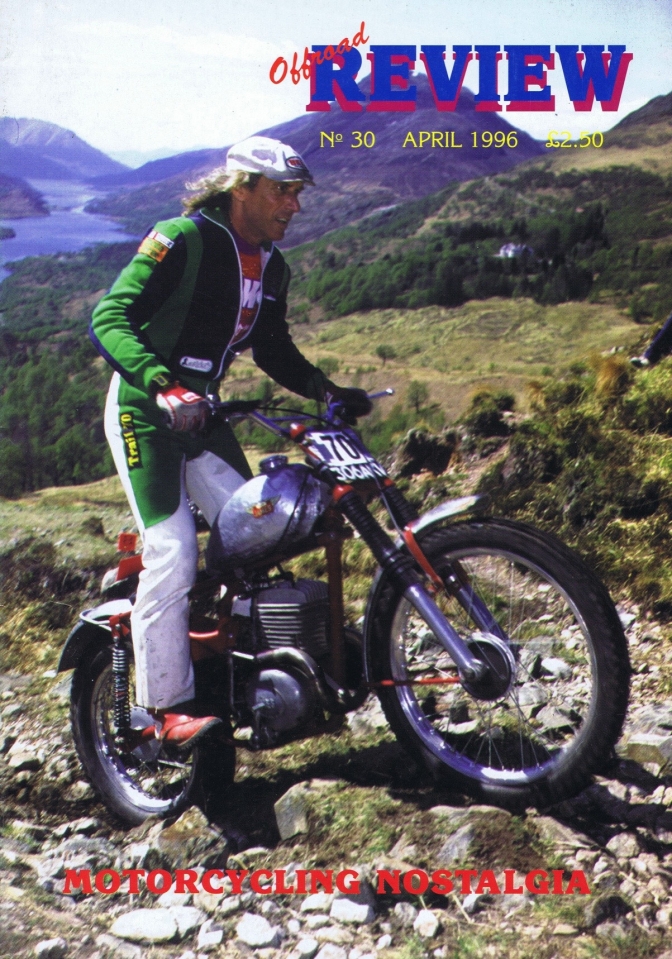 This Don Morley photo of Mick riding in the 1993 Pre65 Scottish was the photo that made my brother want a "Replica" Pre 65 Machine.
Well Somehow chatting, it was thought a good Idea (which it was) to try and set up a week end trial like Mick had been to in France, Spain, ETC.
Also it would be good to invite the best of British Classic British Four-stroke trials riders.
So a list was drawn up and Alan and I started to ring all of the riders on the list, and ask them if they would be interested in the idea.
Well most were, and has far as Devon, Cornwall, Scotland, and Sweden,
So the Classic Trials Show was organised , some say badly, but it worked and still would if it were not for the greed of the Venue owners.
Well I said it could be a long story, but if it were not for Deryk Wylde and those "Offroad Revue" magazines we would have never got that interested in the Classic Offroad scene.
And the Classic Trials Show would never have happened, and this web site was only set up originally to record my own interest in the BSA "Otter" breed and to help promote that show.
Now of course Deryk helps me more than ever, not only with photos that I ask him for all the time,but with information about nearly all riders of the classic era and the machine, and do you know he never lets me down, and is just a mine of information.
As you will see for yourselves if you subscribe to OffRoad Revue-e.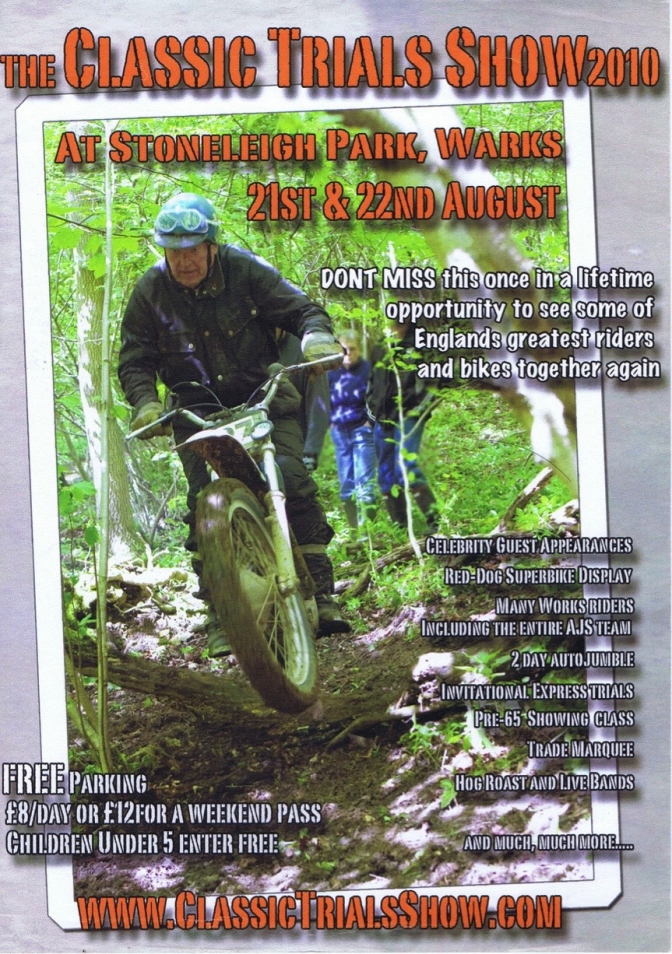 *******
I have spoken above about this web site only coming into being because of my interest in the first BSA Otter that was purchased for me, to help me try and get over an illness. and then taking off because I thought it a good idea to promote the Classic Trials Show and the BSA "Otter" breed all in one place.
*******
Alan Ketley aboard his Jim Susans Ariel that he bought from Jim.
I am sure Deryk sent me this for the "Jim Susans Story".
See What I mean, and I have just got the new owner, send me recent photos of the bike. thay are on Jim Susans page.
*****
But along the years since 2010 I have become Deryk would probably say a friend of his, and like I say without his help and knowledge about, His term, Pre 65 machines, and a lot more since, it would have been difficult to construct most of these pages on this site, but knowing that I always have the backing of the information in every one hundred OffRoad Review magazines I have for reference , but I can also contact the man himself for valuable photographs that fit the bill, and the knowledge from the man himself too.
Thank you Deryk Wylde.
More later