Dave Wood's 1970 Bultaco 250 model 49 Sherpa rebuild.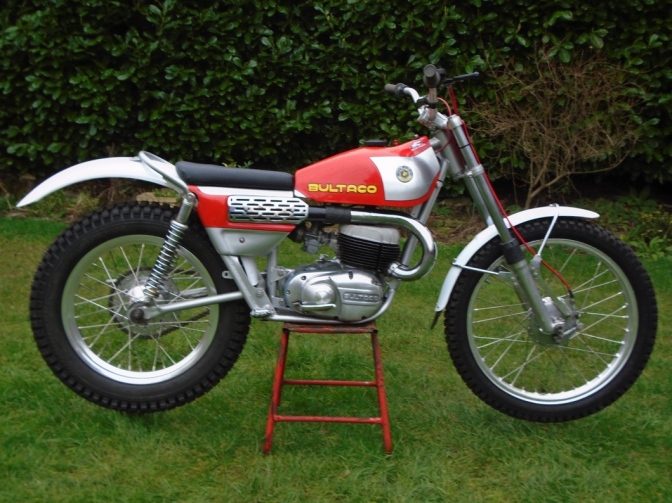 ~~~~
This is one of the two Bultaco's that Dave is rebuilding, (Now Rebuilt) Wow.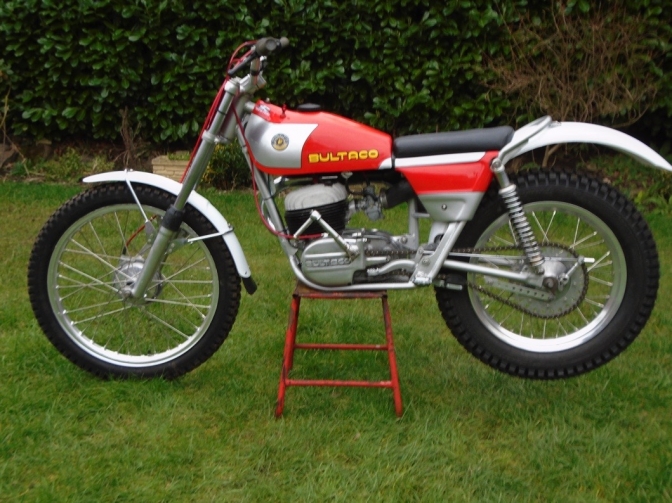 ...
Dave Wood 08/02/2016
That is a nice looking bike now it is finished Dave
The other is a 1979 250 model 198a, more on that build when Dave has more progress.
The Model 49.
I bought it a couple of years ago for £600. I'd tried to buy it a couple of years before that but lost the eBay auction due to a cock-up with putting my bid on. Then, a while later, someone was talking about a Sherpa they had and intimated they may be getting rid of it. I recognized it as the bike I'd missed. The buyer had not done anything with it and wanted it out of the way so we struck a deal at the original eBay price. It was a none runner but all there and not butchered. I brought it home but it wasn't until a few months ago that I was able to make a start on it. I've attached some pictures of how it was when I bought it.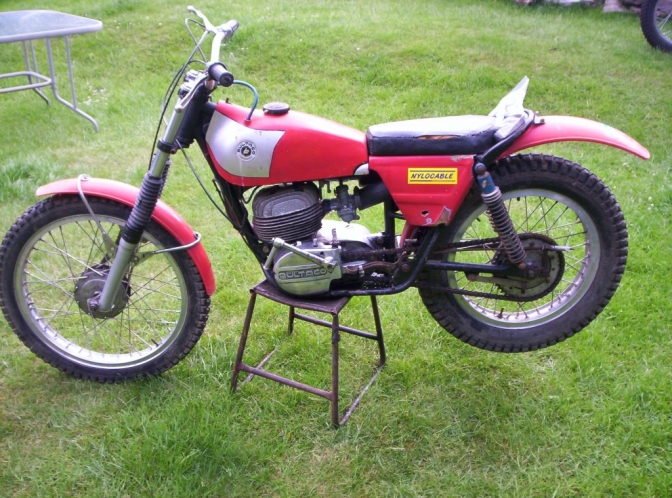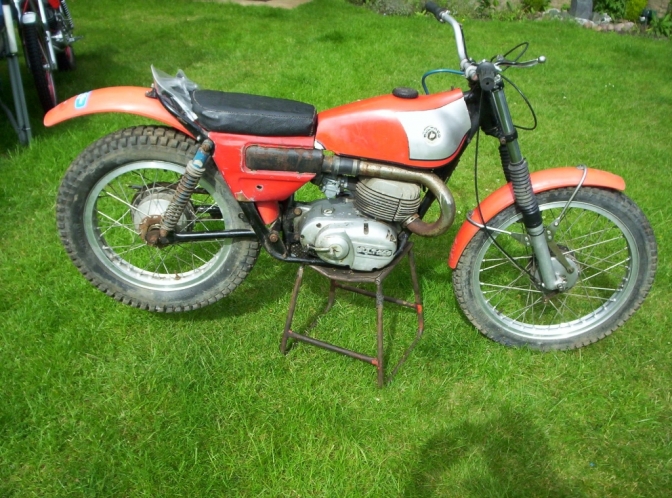 I decided to go right through it so it was going to be a bit costly... I didn't bother trying to get the
engine running, just stripped it and inspected the parts. It needed a rebore and conrod kit, the two most costly items. I always fit new mains anyway to a stripped engine. New gearbox bearings as well which generally I always do. Fortunately there were no issues with stripped threads in casings etc. they were all good. It's not uncommon to have stripped threads, as most will know.
Now, there are two ways to rebuild the bike, just make it mechanically sound so that it can be ridden, with engine and chassis all working correctly. Or go further and start with the polishing of alloy and painting of frame and tank etc to make the bike look nice, not concours, not into that, just nice. Just for a few trials at least until the usual scuffs start appearing. Obviously the second option will add a fair bit to the cost.
So whilst the bike was stripped, it was stripped right down and all alloy went off for polishing, top yoke (bottom yoke is steel on early Sherpas) fork legs, cases, brake arms. I have a mate who can do it for me so I don't pay retail prices. Frame, swing arm, bottom yoke went for powder coating. Piston was bought from In Motion and the barrel sent to PJ Engineering for a re-bore. They also vapour blast it so it is super clean for painting. I had the head done too. Crank was given to Colin at TY Offroad for the new rod kit to be fitted...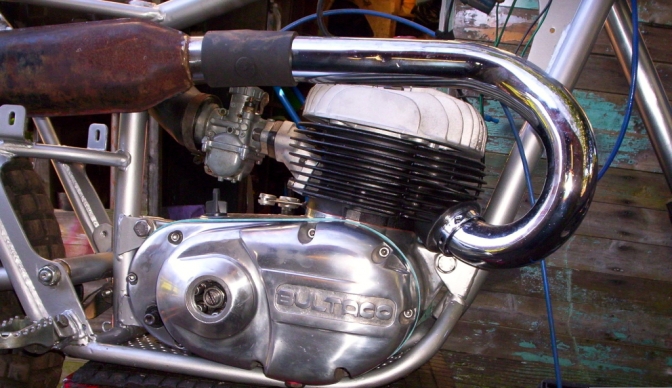 Because the frame was being powder coated, the original silent-bloc bushes had to come out of the swing arm so a new bush kit would be needed. I also wanted to change the head bearings from balls to taper rollers.
Fortunately the forks didn't need re-chroming, it would be £160 including return carriage if they did. Just a service with new seals
The exhaust is a two-piece with front pipe and one silencer. The front pipe is chrome and wasn't too bad but I decided to re-chrome it. The silencer would need splitting open and repacking, then repainting but I can do that.
The ignition I'll leave on points, not bothering to fit electronic. Yet anyway.
So the cost to get to this stage was something like:
Piston £100 - usually they are more than this but it was an older pattern piston they had in stock.
Rod kit £120
Bearings £40
Oil seals £15
Gasket set £30
Rebore £30
Crank build £20
Powder Coating £120
Head bearings £25
S/arm bushes £70
S/arm spindle £15
Polish/Chrome £60
About £600
I think generally, for a full engine rebuild these days, the cost is usually going to be around £400 - £500. Top end piston/re-bore only could be done for around £200. Add another £100 if a new liner is needed.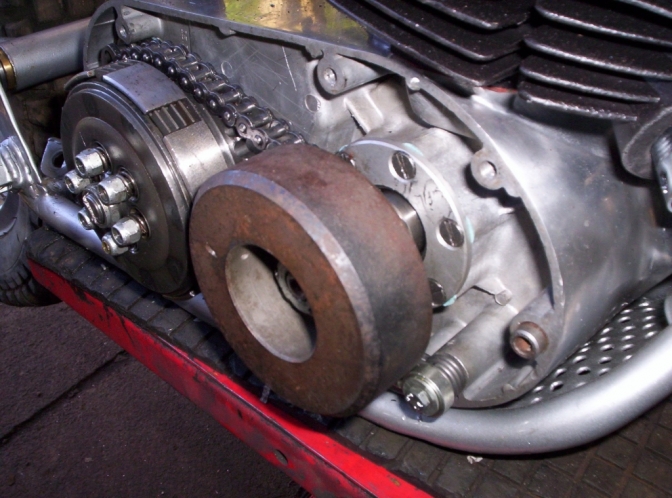 So now I have a fully rebuilt frame with swing arm and yokes refitted, forks fitted and fully rebuilt engine in. The carb it came with is a Mikuni so I'll leave it on. I borrowed a throttle and cable from another bike, fitted the exhaust and fired it up. It sounded good so happy with that.
So now there are the wheels and tank, seat unit and seat to consider, plus items like bars, levers, cables, tyres, mudguards etc. Bars and levers can be reused if not fussy about appearance and cables can be made up cheaper than buying ready made from Venhill. Used tyres can be found as can used mudguards so there is a choice as to how much to spend in terms of what you want.
The tank holds fuel and is therefore usable as is, or repaint with aerosol or get it professionally done. The seat unit is tatty but usable, or repaints as per tank. The seat was usable but you just wouldn't, as it was a pitiful DIY job.
Similarly, the wheels are tatty but usable, so personal choice again as to rebuild or use as is.
If these items are going to be refurbished and items like bars and cables etc replaced with new, then the following costs can be added. Painting is for a professional job; obviously painting yourself with aerosols is a lot cheaper.
Tank seat unit repaint £150
Seat recover £50
Bars £35
Levers £20 - £70 depending on make
Cables £60
Mudguards £50
Tyres £120
Wheel spokes/rebuild £180
Brake shoes £40
Wheel bearings £10
So another potential £600 - £700 for a full refurb.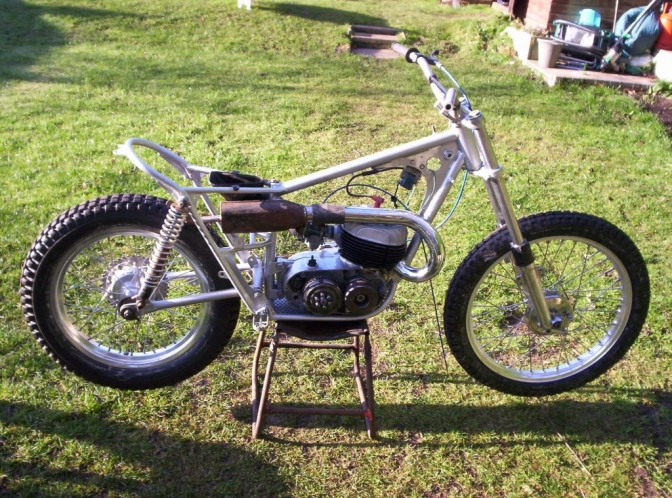 So the cost of putting this bike into a state where it can be used in a trial can vary from having to spend maybe £400 up to £1200 - £1300 for a full but not really necessary refurb. Owner's choice...
I will probably end up having the paintwork on the tank done for me as I have nowhere to paint it myself in winter weather. The wheels I will either rebuild or I'll rebuild and fit a pair from a later Sherpa as they are nicer wheels. The original wheels have the big hubs and the flanged rims, which I seriously detest. The later wheels are much neater. The bike is currently fitted with a rebuilt pair from another bike to enable me to move it around.
I'm looking forward to getting it done and using it in some Miller rounds or the new twin shock series later in the year. The only change I made to the engine was to fit a smaller crank weight on the clutch side. The 250 and 350 Sherpa's have different sizes, the 250 generally used a single weight whereas the 350 had a heavier double weight. But the earlier 205 used a double weight also, supposedly because they used Matador barrels with wilder porting than normal trials porting, so the double weight was used to calm them down. It will be interesting to see what this goes like with the lighter weight.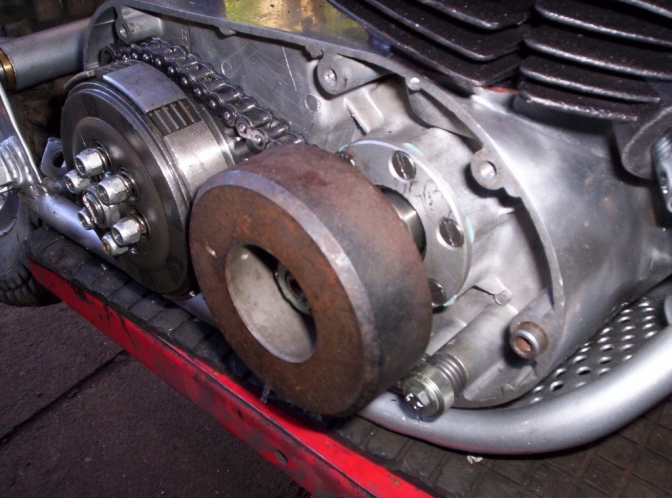 So that's about where I am with the model 49 Sherpa, as soon as I have any more progress I'll let you know. I'll send some pictures in separate emails as they don't transfer well from AOL, also some of the later model 198a too as that is one step behind in the build process but has had very similar work done.
New update and pictures here
Later...
Hi Charlie, been a while since I sent you the details of my Sherpa rebuild but shortly after I did, I began a new job which is a bit of a daily jaunt to Mansfield so the time available to work on the bikes shrank a little. I also lost a bit of enthusiasm as my ongoing problems with my wrists have kept me off the bikes since March and it had a knock on effect with enthusiasm for working on them too. I did manage to get a bit more done on the bike though and this is where I am up to at the moment.
Having previously fitted the rebuilt engine to the frame, fired it up ,and confirmed all was well;
It is mainly a matter of now just refitting the final parts to put the bike back to a usable state.
In the last report I mentioned that the fuel tank would just need a repaint but unfortunately there was a pinhole leak right at the base at the rear. Rather than try and repair it myself I gave it to Paul at Shedworks to do for me and to repaint it. I bought some Sureseal ethanol resistant tank sealer from Tankcare Products, which Paul used to line the tank with. He was impressed with the ease in which he was able to apply it. I gave him the seat unit to paint as well but we decided the amount of repairs that were needed meant it was a better option to buy a new one from In Motion as they are
re-manufactured in Spain. These are fibreglass and come without the various sculpting to fit around the shock mounts and air box hose etc, so I had to cut these out myself, not something I enjoyed... With the tank and new seat unit painted and a pair of wheels rebuilt with a tubeless rear rim, progress is being made slowly. I have however, made one gaff. The silencer I repacked is the wrong one and although it works fine, when I did a trial fitting of tank and seat unit I found it is just slightly the wrong shape to enable the chrome grill heat shield to sit properly. It's off another model, Matador probably, and although very similar, the difference is just enough to stop the grill and seat unit sitting 100% correctly. So I have to now repack the original silencer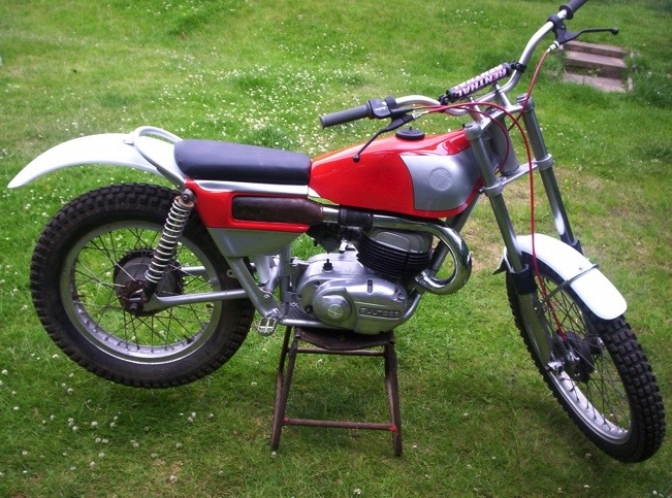 .
So to finish, I just need tyres, front tube, and various rubber fittings for tank and seat unit, decals and that should be about it. The final cost should come to about the estimated £1300 - £1400.
I mentioned before but this is because I have done just about everything I could including polishing and chroming parts. If I just rebuilt it mechanically to make it trial ready, the cost could have been around £600, just depends on what we want as an end product I guess. I've attached a few more pictures of it in its trial build with tank and seat unit. The wheels are still an old pair until I get the rebuilt wheels fitted with tyres.
I'll send pictures when done but could be a while yet.
Thanks Dave for this insight of the real cost of getting a pretty standard "Twin-shock" back into a usable state,
And without your experience of building up trials bikes to a usable standard, and above.
It is again an insight for the first time buyer or some one who wants to get into the Classic Trials game, so buys a bike thinking that you just jump onto them and ride.
This is not the case with any bike even if it were new , there is always something that needs to be done before you can compete on the machine.
We will keep an eye on the Bultaco 49 Sherpa, and update the page when Dave has results or improvements.
Has you can see to buy and then rebuild a "Twinshock" to a good riding standard is not cheap, and Dave has not fitted any "Bling" parts to his rebuild , this sends the rebuild price through the roof with in most cases no extra advantage to fitting these parts.
12/07/2017,
I gave the bike it's first real outing a couple of weeks ago at the Sam Cooper trial organised by Stratford Upon Avon MCC. I've ridden it a couple of times to try and get it set up when marking out my own club trials and half rode it in a classic trial when my Ossa broke, but this was the first real event.
The trial was very good, new sections, not so much mileage on the road, nice weather, great views and some good testing sections. I was a bit worried that they may be too tight for the old girl but there were only one or two really and apart from one which had just one tight turn too many and caught me for a 5, it could do them with a well placed 'works' dab. There were a few sections with steep climbs and it had no bother with these, the engine has ample power and really likes to rev with the Matador cylinder that these were supposedly fitted with. A minor issue, although it made life difficult at times... was I'd set the jetting wrong, the needle was a notch too low and the pilot jet maybe too small which made it lumpy on pick up which caused it to choke a bit coming off idle. Dropping the needle would probably have made the difference needed but I wasn't going to risk the clip flying off into the Warwickshire countryside so just had to live with it. It wasn't too bad to ride around and probably only cost two or three dabs in reality.
On the whole, it ran really well, no real issues and I enjoyed the ride out on it, it got some admiring comments (as well as what are you doing on that...) and the result was pretty respectable against much more modern machinery, so a good day on the old Bult. Unfortunately the fuel tank is not in such good shape and the protective lining inside hasn't taken, so this will need to be sorted before I can use it again, which is a pity as I was looking forward to another outing on it. More overtime in the shed required......
More later on Dave's progress with the

Model 49.
I've ridden this bike in quite a few trials since finishing it and it has been very reliable and works well for what it is.
The only draw back is how long it feels with the steering rake in today's tighter sections.
By tighter I don't mean hinge in the bike tight, but back in the late 60s sections were a bit straighter with less turns than we have today. The sections aren't too tight as my Ossa copes no problem but it is a much better handling bike, the older Sherpas are long in rake.
So, I decided to alter it and the frame now has a bit tighter steering and a bash-plate to replace the bottom frame tubes.
These bikes rev like hell but pick up off idle isn't as clean as it could be which I think is just a characteristic of the Matador porting they had at this time.
Again, on straighter sections it doesn't matter so much but when in tighter stuff and a quick blip is needed to lift the front over something it can be a bit woolly to respond.
I don't think the gearing is helping here as it is a little high geared, so I've added 2 teeth on the back to see if this helps.
I've also fitted one of Gerry's top yokes to this bike too.
One problem I did have was with the tank. It had been sealed in the past but not very well unfortunately and it was becoming a mess inside as the job obviously wasn't done properly.
There's a chap in Liverpool who has a firm interest in Bultaco racers and who has a mould for the M49 tank so he made me one. That is now fitted and is fine. Just waiting for lockdown to end to carry on riding it.
Photo...
Pictures attached of how it looks now and showing the new tank before painting (did that myself this time and it turned out well - relieved as well as pleased...!!)
Photo...
Updat2021...