The Readers Page .
For your e-Mails to me that you would like published.
2010.
Well who would have thought a few months back that we would have a Readers Page?
Well we do.
After the many contacts I have received, with tales of the bikes that you either own, or are it the process of building ,or rebuilding. I thought we would share your tales with the rest of the followers of the site, so this is where the stories are going.
This is from Ian Ballard, who has been with us from day One. Thanks Ian.
Sorry I have not been in touch for quite a while, but have a Husky WR125 on which I play at Hare and Hounds, and a modern Sherco, so old bikes still lurk in the garage.
Used the "Otter" a couple of times since I first contacted you, still starts first kick and runs well despite being on points, cannot get my head around the things people get up to these days.
Enclose a copy of my C15T, now in bits for a rebuild, but as far as I know as per 1960 except for the following.
The oil tank, air cleaner and chain guard all of which were on the bike when I acquired it many many years ago.
I have been told they were perhaps "Taylor Dow" add ons as per Sammy Miller parts in later years.
The battery case and ignition box I had made and fitted.
Used this many times in the Talmag, before it became popular and you struggled to get an entry on a 250 cc, but could get in with a larger cc bike made from parts up to the present day.
Must stop this rant, but keep up the good work, look at the pages each week, well done.
Best Regards,
Ian Ballard.
------------------------------------------
And Michael Waller.
Hello Charlie,
Thank you for the reply and the compliments. I think you have an excellent website and I have added it to my favourites.
When I sent you the message I kept running out of characters so I thought that I would send this.
I wasn't sure if my bikes would qualify as interesting for your-websites readers, but I thought a nice Beeza is a nice Beeza.
Here in the states pre-65 is virtually non existent and my Beeza is often the only non Japanese/Spanish/Italian bike at vintage trials in the Northeast.
Also here ,they go completely overboard on bike classes, age classes, lines through sections etc.
I have a friend up in Middlesbrough,UK my home town, still riding his C15T at 74, who calls it "riding for pots", and I have to agree.
There is even a chap that I know who builds frames that use 70s forks, wheels and engines, but who describes his bikes on his website as being,
"For those people who would like to ride vintage style events but don't care for the feel of the old bikes "!!!
If interested his website is http://www.ntacycles.com.
My Beeza completely outride's me. I think that it was more good luck than good management as far as the original test bike went.
Although a lot of thought and measuring went into the modifications, so I made a jig from the first frame, so that I could get future bikes to the same parameters.
The second bike, the one in the pictures came in at 205lbs with about 10 1/2" of ground clearance.
It turns very well, and on those rare occasions when I get my technique right it will go over some big obstacles, and I have gone up steps in the waterfalls around here that were pretty severe.
Anyway, I won't bore you any longer. I see Kerry Kubenas bike on the site.
I know him and his dad, Bud, and I have ridden the bike. It is very nice.
And finally, I completely agree about Mick Andrews, I have met him several times and spent some time with him at the weekend in Canada recently.
He complained about me saying that he was from the South, but as my American wife has discovered, anything that is not in the North Riding is in the south.
Best regards.Michael Waller. http://www.BritanniaMotorcycles.com(607) 342-7996
_________________
And Etienne Willems.
Hi Charlie.
Super superb site, an very usefull for the pre 65 trial lovers,
I also have a C15 trialbike but with the original factory frame and engine.
I do not know if you are interested to put it on your site, I also busy to built an other BSA trial bike with more ground clearance and a B40 GB engine.thanks in advance for your answer.
best regards Etienne,
______________________
Paul Adams, has sent this letter to me.
Hi Charlie,We met at the Classic Trials show last year (great show Charlie, when is the next one?)
At the time I posted some photos on the show website and I see you have used some of them on the "Otter" site, this is a great site.Charlie, and it is very interesting to see how the builds develop.
(I bet there is more blood sweat and tears than we see in the pics though?!)
Due to a lack of time and skills Charlie, I took the easy route and bought a ready made Faber Cub built by Paul Balsillie.
I took up "Classic/Twinshock Trials" at the young age of 56! (two years ago) and love every minute of my time on the Cub.
I also have a TLR but I would say the Cub is a better bike by far.
I will be watching with great interest Charlie your build on the Faber Cub, I have attached a couple of pics of my Cub taken before I started scratching it and getting it muddy, (what it was built for).
Good luck Charlie, and I shall look out for more "Otters" and perhaps send you pics?
All the best Paul Adams.
Martin's View.
Hi Charlie,
You may remember that I was the one who answered your question on the Trials Forum about R. Langston driving up King John's lane. I used to belong to the Leamington Victory Club and rode in a few Banbury club trials (late 60's) when Frank Knight and John Gleed rode.
Attached are pictures of my bikes as you requested. The old picture is of my Firefly framed BSA, ( by Phil Jones and John Lee).
I bought it in the late 60's for about 100 pounds and originally put a B40 in it, the picture was taken around 1972, I later replaced the B40 with a C25 and put MP forks on it, it wasn't much good at at that time I knew nothing about detuning the engine for trials. I sold it soon after and bought a grass track bike (much easier to learn to ride, i.e. open throttle wide and hang on).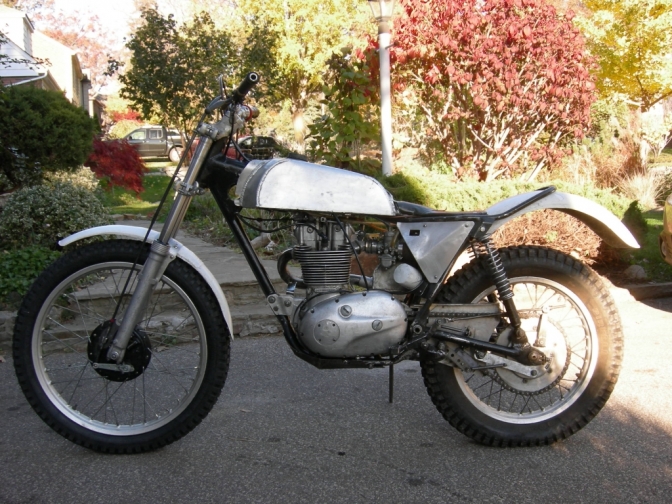 The Triumph and BSA may not be as pretty as most of the bikes on your gallery but my excuse is that I am limited to a hacksaw, drill, hand grinder, and stick welder (+hammer of course). I have to make virtually everything myself since shipping from the UK virtually doubles the cost of parts and there is not much of a second hand market here for trials parts. For both the Triumph and the BSA I have made the frames, tanks, exhaust pipe and silencer, inlet manifolds, tanks (AL welding by others), total loss electronic ignition for the Triumph from Yamaha parts but purchased PVL for the BSA. The Triumph's alternator has been replaced by the biggest lump of external flywheel that would fit, i.e. about the size of a 2-stroke magneto, it makes quite a difference in softening the motor. I use an E3134 inlet cam but have rotated it back a couple of teeth on the timing gears to get the inlet to open around 28 deg BTDC. The CV carb gives better idling than the Mikuni and Amal's and it also has an accelerator pump which gives it a bit of instant go when you need it, and reduces any tendency to stall after a long descent.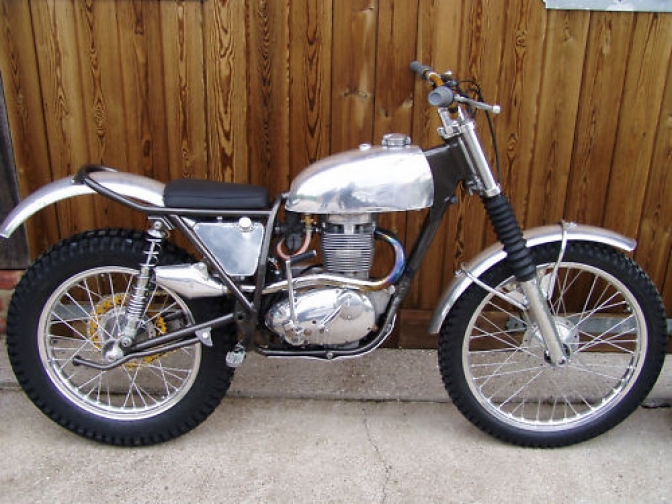 This is Jon Flowers BSA that also sent me a message of congratulation. Nice Bike Jon!!
Sorry for placing Jon's bike in the middle of Martin's post, But at times Apple gear, is not what it says on the Fruit , !!!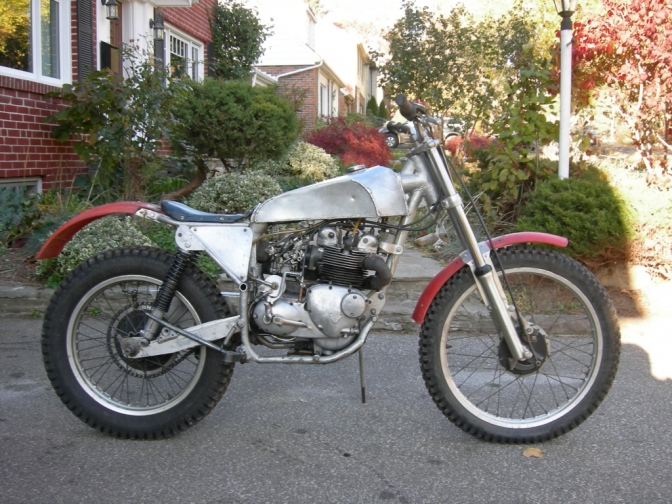 They both work quite well and as I said before, Mick Andrews quite liked the Triumph.
But unfortunately I didn't get a chance to get him to try the BSA, since the event got hit by the edge of Hurricane Irene and we were washed out at the end of the weekend.
The BSA has the standard B25T cam but I have ground a slope on the cam follower to try and delay the valve opening to closer 30 deg BTDC. (WHAT IS YOUR RECOMMENDATION ON CAMS AND TIMING?) The flywheel has been increased in diameter by 3/8 inch (to C15 size I think) and the CR is about 8:1 by putting a plate under the cylinder. Push rods were lengthened by knocking the steel cap off and putting an equivalent thickness spacer on top of the rod and replacing the cap (I hope this doesn't offend your engineering sensibilities too much). The gearing was lowered with 52 t on the back wheel and a 15t engine sprocket using a half link on the primary chain. Both sprockets I made, the rear out of some hard Aluminium plate, and for the engine I ground off the teeth of an 18t sprocket leaving just the hub and welding on two 15 t sprockets. Making sprockets with a hand drill and file is even more frustrating than making frames without frame jigs. I was able to drill the chain roller centres accurately by using a side link as a drill guide although after about 5 or 6 holes I had to keep replacing the link due to wear. I was rather amazed that this method worked since the tolerance on tooth centres is rather tight. I had no choice for the engine sprocket since nobody makes a 15t and it was quicker to make the rear myself than order one from the UK, plus everything from the UK costs twice as much here due to shipping costs.
As you can imagine a stick welder is not the best for welding frames particularly if you don't have a frame jig. One has to develop a delicate touch to weld thin walls and distortion is a big problem. To overcome this I have found that if I build the main loop with engine mounts first, then fix the swinging arm pivots so that the rear wheel sprocket and engine sprockets align, and finally weld the steering head so that the wheels are aligned and the rake and trail are correct.
Regards Martin,
And thanks for the work you put into your web site, without people like you the past would be forgotten and we would left to ride just the current range of pogo sticks.
Photos of Martin's bike and other in "Readers Gallery " .
31/12/11.Just editing a load more letters from you and will put them on shortly.
This is from Nick about the cam he has given us.
Hi Charlie.Happy New Year to you and all in the club. I've posted the cam today, look out for a registered padded envelope. There may be issues with the amount of valve overlap :-)This cam was made to utilise the standard cam wheel, but I would advise setting it up with a degree wheel with tappets set at 10 thou to get the inlet opening at approx correct timing position. I'm sure it will give you hours of enjoyment, please keep in touch on its performance.Regards Nick
And from Martin.
Hi Charlie,
I will be most interested to read your conclusions on this cam you are getting, and even more hopefully you will be able to tell us what is different about the timing. It is very difficult to get information about what type of cam works best for BSAs, Dave Woods once e-mailed me and told me that there are a few retired BSA workers that now make a living (or extra pocket money) by rebuilding and tuning engines, but they keep their secrets to themselves since it is their livelyhood. Cubs can work with high compressions and soft cams, or low compression and hard cams, but if you ask the question, nobody seems able to say what difference it makes to how the engine runs. Whereas information about frame building is not so much a problem due to sites like yours. When I was an apprentice in England and ran a B40, I softened the cam by grinding and then re case hardening, and although the engine was very good around idle speeds, it wouldn't pull the skin off a rice pudding, and you needed power to get through the mud, so I am not particularly confident that softening is a good idea. Also, back in Jeff Smiths day, the sections were different than today and so what worked then may not be so suitable today. And just to complicate the issue, with a change in valve timing, there may be a need to change the ignition timing slightly. I use a PVL system, is their recommended setting the best?
Do you know how much material , if any, can be ground off a B25 cam without having to re-case harden it? Normally cams are surface hardened. Is the BSA cam material such that you could just heat and quench to re-harden the surface?
Regards Martin
31/1/12
Reading about Dave Woods bike on your Otter site I saw mention of a special 4th gear. I have the standard trials 18 tooth primary sprocket which of course lowers the entire overall gearing. I would like to know if this is available for purchase. We really don't have any "road" trials here in the US pacific north-west but there are some with long runs between sections
. My bike is a B40/B44 hybrid. It has a low compression piston, 18 tooth engine sprocket, a 22 mm Amal carb, Electrex ignition, and the head sleeved to match the 22 mm carb. I am still in the process of dialling in the carb. Sleeving the head really helped to create a smooth run up off the bottom.
I check in to your site frequently to see what is new with the BSA and Cub trailers and was sad to see the motor build article removed. I use a modified B40 frame and would like to run an Otter type frame, but that would require me to run in the next higher class with the bultacos and such.
Keep up the good work as I enjoy your efforts.
18/02/13.
And I have managed to answer several questions from people interested in the Over the past month I have had loads of new visitors to the BSA Otter web site.
BSA trials scene. It seems that we are now one of the favourite sites, for classic bikes, of this breed.
So if you have a picture of your BSA trials bike send it to me and I will place it onto the reader's page, as anyone that finds this site are also interested in your machine and details.
Jon Capelin has sent me this picture of his BSA. So come on do the same.
~~~~~~~~~~~~~~~~~~~~~~~~~~~~~~~~~~~~~~~~~~~~~~~~~~~~~~~~~~~~~~~~~~~~~~~~~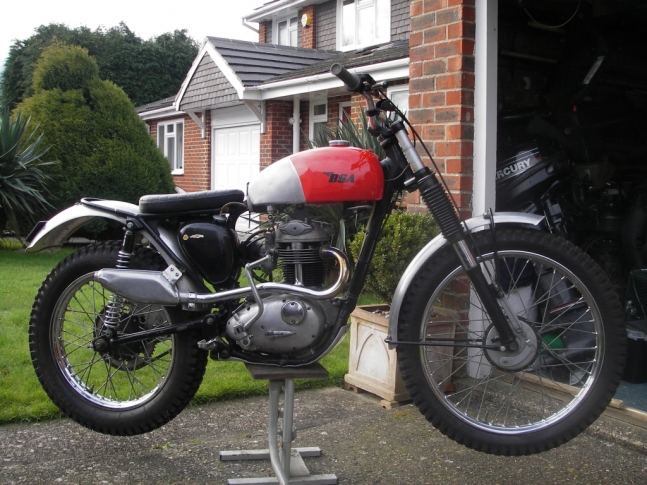 A very "Classic" looking BSA, Jon.
If You want your Mail to me with the story about your bike the space is waiting, and if it is that Good you may get a page for yourself, which some of the above now have.
More Later.