The "Works" Ariel HT 3 trials bikes…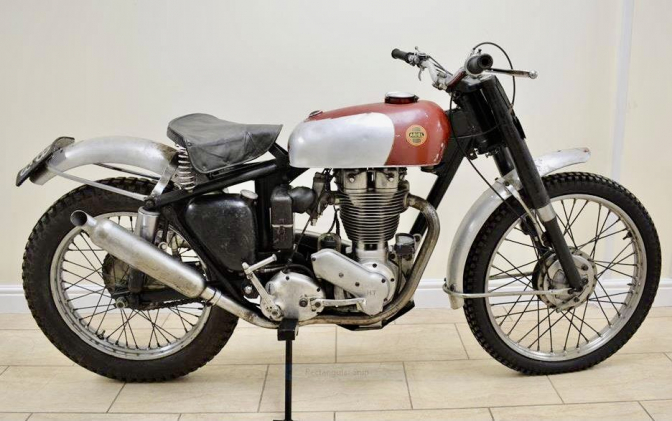 Photo Courtesy Auction house Brightwells Leominster...
Ex Works Ariel HT3 GOB 743...
We have all heard of the 500 HT5 Ariels GOV 130-31 and 32, but the smaller brothers did not have that same impact although they too won a good few major National and Open to Centre trials and first class awards...
The main "Works" HT 3 seems to have been GOB 743 that started its life in nineteen forty six along with its big brothers…And had a number of well known at the time and now riders. Starting with Don Evans and "Nipper" Parsons, and later versions ridden by Tony Davis and both Ron and David Langston…Tony remembered his first ride on the 350 HT Ariel GOB 743, and won his first trial, and then went on to win many Open to Centre trials and was even given some Sammy Miller works parts for the bike, like upswept exhaust and small mid mounted oil-tank and other small parts, as well. When David Langston got his GOB743 bike he did other mods like a full loop rear mudguard stay and mid bracket…Ron Langston got the "Work's"bike with registration number GOB743 to use in 1958/9 and went onto ride it in the 1960 Scottish Six Days… He later went on to buy his bike back after the factory wanted too much money for it at the time of the factory team support ending..., and all Ron managed to buy from Ariel was his HS scrambles bike that later became the basis of the now famous trials outfit 678ADD… The registration number on the Ariel HT3 of his was now HOB 912… and I remember well helping Ron and Dan Shorey in 2011 trying to remove this bike from a trailer that Ron had brought it in to "Camp" to ride that famous section "Camp Hill" but had left the keys to the trailer at home. While son John was sent home to retrieve the keys we managed to get Ariel HT3 out of the trailer side door with I might say some difficulty…Like all works Ariel's from day one, batches of registration numbers were registered for the works bikes, and then used on many different bikes over the years until the factory closed. And then the Ariel/BSA managment sold the bikes off to what seems the highest bidders.
And it is only now that a few more of the factory bikes seem to be turning up…Ariel HT3 with the registration number GOB743 had been in a collection for years but was eventually sold at auction online in 2020… the new proud owner that has spent a lifetime restoring Classic MG cars is the new keeper of the machine with that Ariel registration number GOB 743…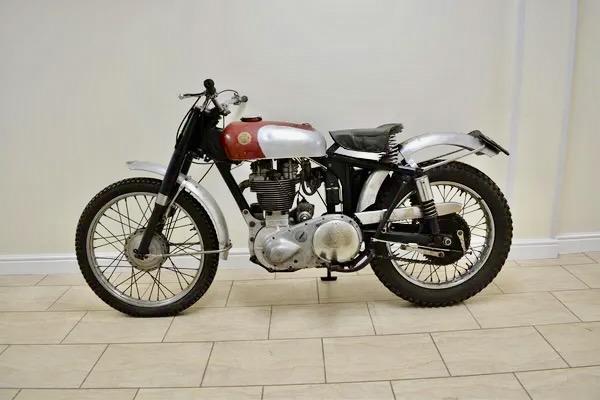 Photo Courtesy Brightwells Auction's Leominster.UK...
If you notice this bike now has the ISDT modification that Ariel carried out on a bike made up for that type of event ... the two hole front engine plate fixing to stop chaffing... Sammy Miller also did this on the new frames for GOV132... But it seems it was not a Langston modification you will see on the video below of GOV130 that this also had this mod...as did all of the works trials bikes from this time 1957-8...
______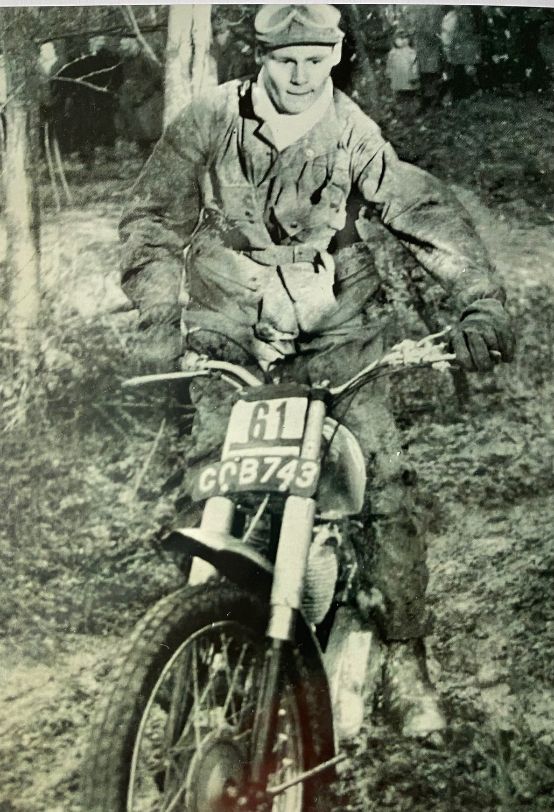 Photo Courtesy Bob West...
A young Tony Davis riding GOB 743 Note: it looks like the Ariel Leader front hub fitted...But it can't be can it, as these did not arrive on the Ariel Leader until 1959... and this shot of Tony must be 1957 as if you look the bike still has "Blade" levers before the ball-ended ones compulsory from I think 1960...But it now seems that the works Ariel HT 3 and 5's were fitted with these hubs before production of the "Leader"... a good way to test the new hubs perhaps...
Photo Courtesy OffRoad Archive...
Ray Biddle photographed Don Evans in the 1951 Victory trial on his works Ariel 350, GOB743 but couldn't remember the name of this section.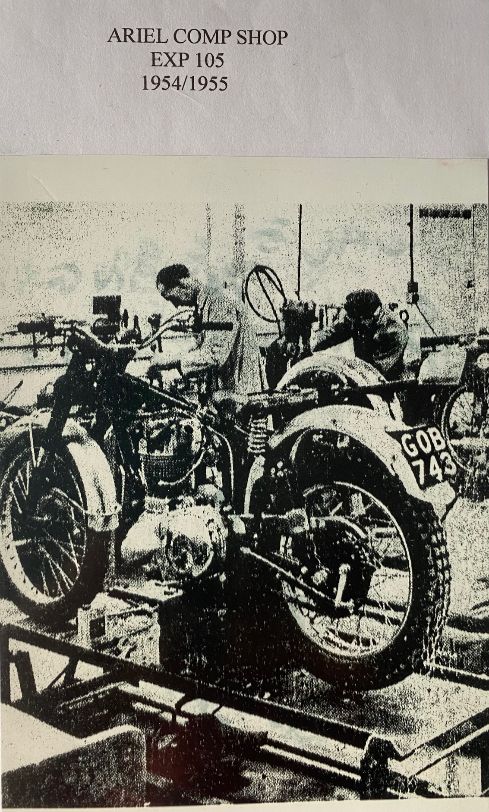 Photo Courtesy ...Bob West...
Now this is an interesting snippit.. from the Ariel factory competition shop, in that this must be the first HT 3 swinging arm frame,1955 as it has the rear mudguard stays that never ever made it to the production machines... So was GOB 743 one of the bikes that was used in all of the publicity shots that were used in all that Sales Literature...?
_______
Photo Copy Courtesy new owner...Bob West...
Here Ron Langston riding Ariel HT3 GOB743. in the 1960 Scottish Six Days Trial... Note: this bike still has the under engine exhaust system but with shorter silencer... also it has the Ariel Leader front hub that could only have been fitted in 1958-9...and the David Langston rear mudguard loop...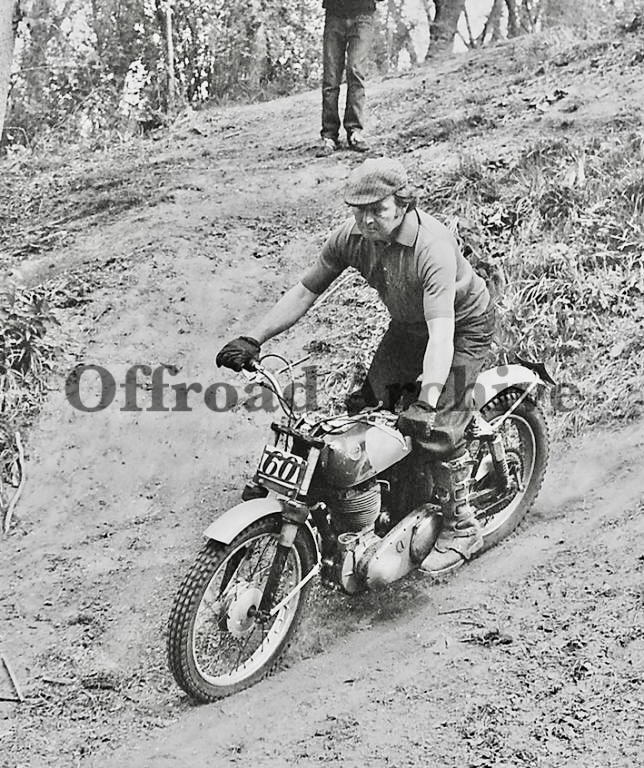 Photo Courtesy Offroad Archive again...
Ron Langston riding in the Sam Cooper Union Jack trial ... in the eighties.. This was the version he bought back after the bike had been Sold on by the factory...
Now with registration number HOB912...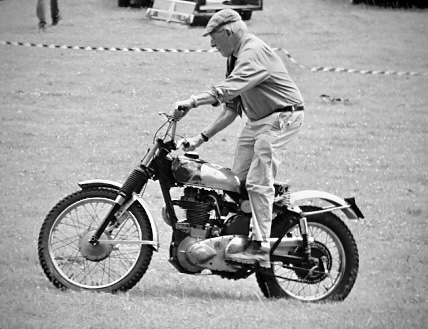 Photo Courtesy Lee Prescott...©...
Here is Gordon Jackson warming up the Ariel HT 3 of Ron Langston's at the Colmore Cup Revist Event...
The bike now has the high-rise exhaust pipe and small mid mounted Glass fibre oil tank probably made the same time as Ron's first trials sidecar...in winter 1960-61..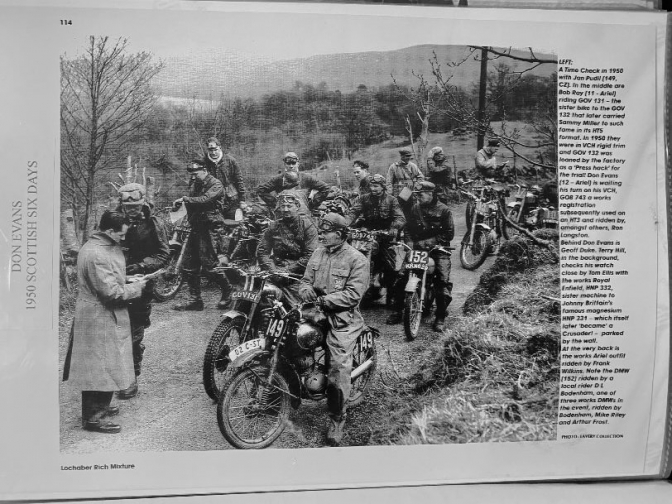 Scan Courtesy Bob West and Deryk Wylde...
Don Evans in 1950 aboard Ariel GOB743...Scottish Six Days Trial waiting for his turn...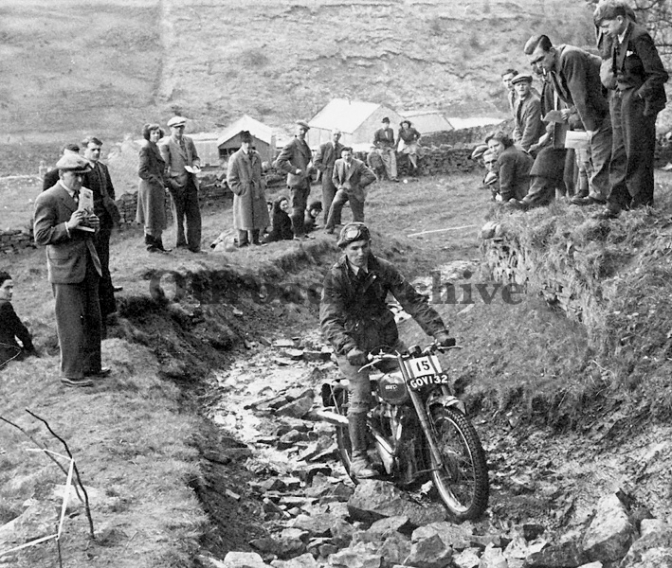 Photo Courtesy Offroad Archives...
Listen to Deryk Wylde…
That most famous of trials registration numbers, GOV 132, on which Sammy Miller made his name in later format, was also previously ridden by Don Evans as a works bike. Here it is seen in the hands of Jack Stocker in the 1948 Travers Trophy.
It does perhaps beg the question of what happened to the 'actual' first GOV 132 - and I suspect that the reality of many of the 'works' machines years ago, they existed only as registration documents and number plates. A good example could be HNP 331 - applied to quite a few of Johnny Brittain's different models...
_______
I think Deryk is right it is a job to work out where the British "Works" trials teams registration numbers did end up, and how do we really know what bikes actualy were adorned with these working registration numbers, and then just passed on with others when the said plate was used on a newer, or modified model...
It is now all these years later for people interested in the British Trials scene past to try and untangle this web and try and come up with a result... Interesting stuff though...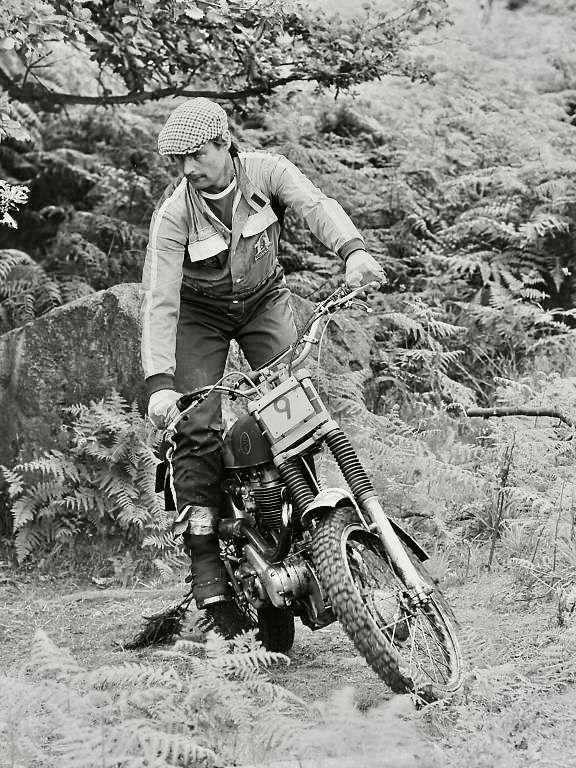 Photo Courtesy Deryk Wylde...
Tony Davis back on a Ariel in the eighties-nineties riding in so called Pre 65 trials...
Note: the front forks are Triumph BSA Four-stud that Deryk hated so much...
Video Courtesy Pete aka Scorpa 3...
First up the hill in this video is Ron Langston on the Ariel HT3 HOB912
and later on the Ariel HT5 outfit...LDF53E and also GOV130 with rider owner Lewis Birt...
___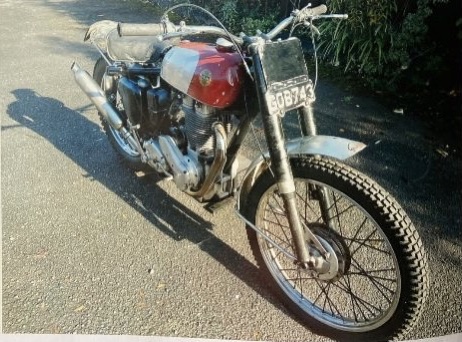 Photo Courtesy Bob West...
The bike Ariel HT3 GOB743 once passed through the dealer John Avery's hands and still has the alloy label on the bike's front guard...
____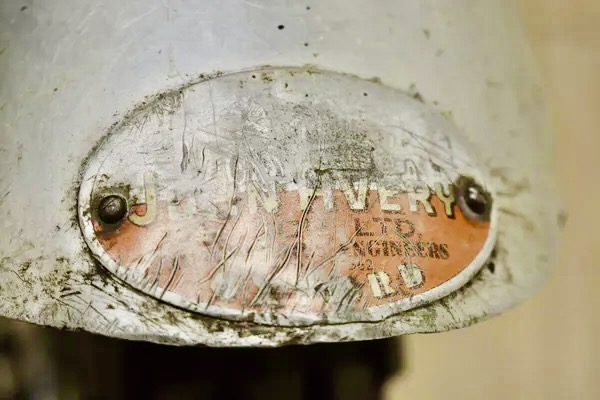 Photo Courtesy Brightwells Auction house Leominster...
Just a Start to this page it is one that will run...
And well done to Bob West for rescuing Ariel HT3 GOB743...
It could not be in better hands...
Video Courtesy Bonhams Motorcycles...
This bike has the two bolt hole front engine plates... if you look at the video above this, you will see Lewis Birt the owner at that time ride up "Camp" Hill...on GOV130...
Deryk Wylde... again...
Dave Langston (yes, Ron's brother) told me the story behind the image, years ago.
"We were all just practising together when this photographer came along, lined us all up and took the picture. Later he sent us all a copy of the print - but we did not know him." When Dave loaned me the print to scan, there were no identification marks or copyright signs on the back, so it is likely that it was just an amateur photographer out enjoying himself when he found a 'different' sort of subject. I can understand that - been there - done that, etc.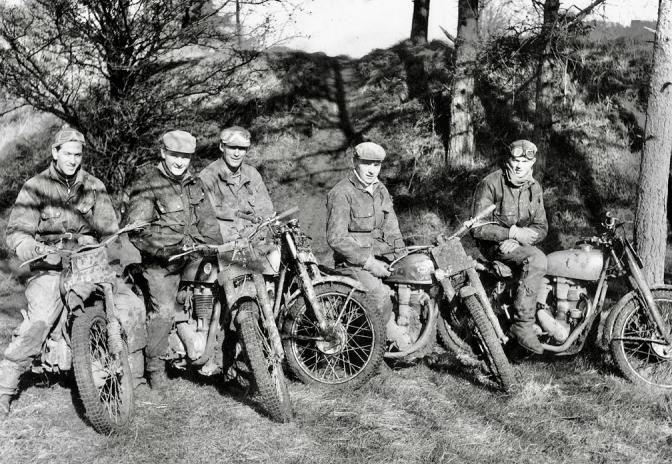 Photo Courtesy David Langston and Deryk Wylde...
The riders are, L to R, Harold Peachey (Francis-Barnett), Ron Langston (Ariel), Dick Smith (BSA), David Langston (BSA) and John Clarke (BSA).
If you look at the bikes they all have "blade levers" on the bars still, so I recon this shot was taken in 1957-8... If you look at the Ariel you will see that Ron has broken the cluch lever, it is tucked behind the rubber number plate band... and also it looks like the BSA seven inch single sided brake fitted, this begs the question is this the works Ariel HT3 ?...
More Later...
03/10/2023...
Updat 2023...10...