Ally Clift, in his words.
"Where the "Otter" story began"!
Ally:>
Phil Ive's did a story about the "Otter", and interviewed Scott, Harry, Colin, and me.
So it would make sense for you to publish this account of what happened rather than me repeat it.
Charlie.:> Yes thanks Ally I agree.
Ally:>
Cornishman Tom Seward a life long four-stroke enthusiast wanted a copy of the Scott bike, along with many other guy's that I knew, so this spurred us on into doing something about it.
This was to be the start of the BSA "Otter" story!
Doug Theabold did his National service with me, and asked if he could try a bike, so I took one up for him. He liked it and bought it.
Then others in the area wanted one to.
Ian Ballard might have thought his bike was one of the first built?
It was not though, it was number eighteen, and not one of the first, but out of the first batch.
Harry suggested to me that he would like to name all of his stuff with the name "Otter", as his workshop was near Ottery St Mary.
The River Otter flowed past where Harry worked.
And Harry then had some "Otter headstock badges" made with a drawing of an "Otter" on it.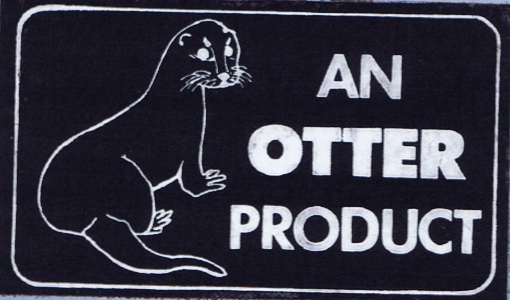 ***
I said to him the bikes were a lot like the real animal, has they were always wet, and covered in mud, just like trials riders, and there bikes.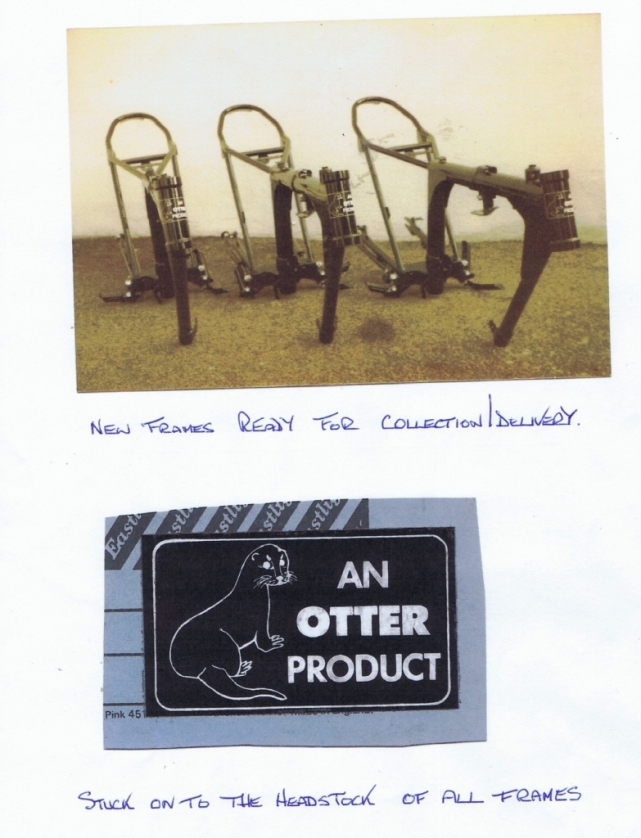 Mark Braybrook owned the Scott Bike BOK228C before Colin Dommett, and I went to pick the bike up for him.
It was then that we asked Colin if Harry and I could copy the bikes frame.
We knew that there must be a market for a replacement frame kit, for the very heavy BSA frames both Swan-necked and the long steering later type heavy Mk 2 C15T frames.
We were right and the batch of frames sold well.
Charlie:> Were the frames Advertised?
Ally:>
Word of mouth mostly with a bike firstly built in a certain area, other looked, or took a ride on that machine, and then wanted one themselves.
Harry would have loved the fact that there was now so much interest in the "Otter frame kit" and bikes that used his "Otter"frame.
And he was a true craftsman,you know.
A few people thought he was slightly gruff,when first meeting him, but this was because like a lot of people with talent, he was introvert and loved what he was doing, more than people that surrounded him.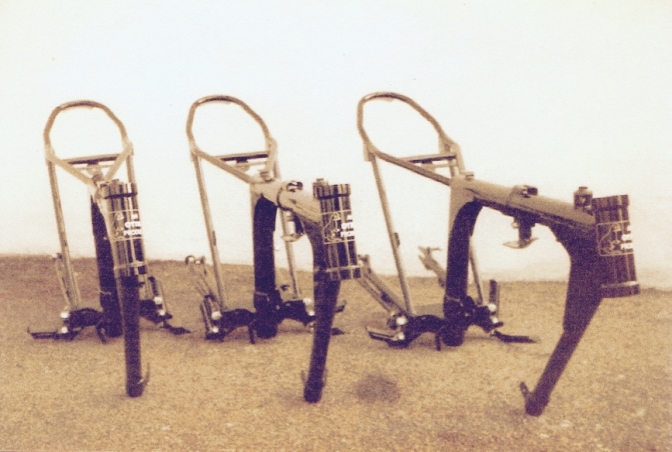 One comment I remember was, when asked why his bikes were so immaculate and always turned out at there very best, Harry's reply in a brusk voice was, "Well we haven't got a television, have we"!
The guy just loved what he did in all aspects of his motor sport.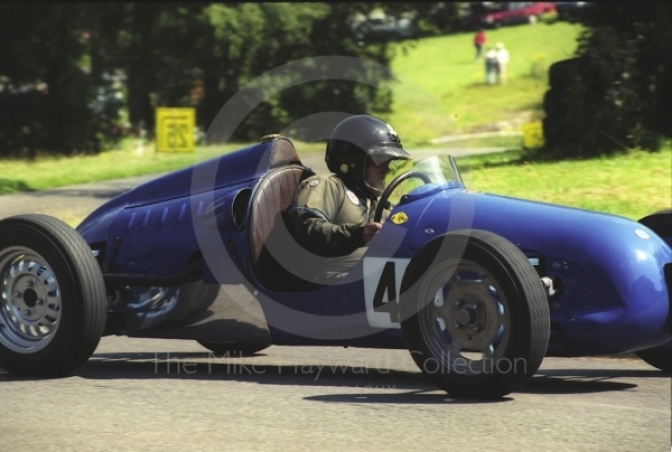 This is Harry in his hill climb Joe Pott's 500 JAP engined car. Photo The Mike Hayward Collection.
And has I say, He would have been so proud today of what he had achieved and the recognition the"Otter" frame was now getting, such a shame he is not here with us.
Charlie:> I have so much interest all around the world with this site; it amazes me with all the interest shown.
Ally:> Well if I remember we did sell one bike to America, but I don't know where it is today, it would be nice to know if it still exists?
Charlie:> Can you remember the first "Otter "frame built by Harry?
Ally:> Yes, Frame Number '01' was built to take a 500 Triumph twin unit engine, and was sold to Tony Harris of St Day near Redruth Cornwall.
Charlie:> Thank you so much for giving us this account of how the BSA "Otter" was first born, and I will keep in touch with you for any other information that is asked of me.
Thanks again for the time you have given us, and the much needed information.
Ally:> It is just good to know that there is still so much interest in the "Otter" frame created all that time ago. and that they are still being used and enjoyed.
2016 Update.
Charlie:>
One person that has totally been forgotten about in any of the Harry Foster stories, (and I totally hold my hands up, for this).and I don't know why I forgot about including the splendid lady.
Carol Foster.
Carol was very much a part of the cogs in the machinery that ran the Harry Foster "Otter" empire, and without her doing all the ordering of parts, tubes, Badges, ETC, and also keeping the books, being a buyer, and sales person,helping in the workshop, and doing a million jobs that wives do,to keep the boat afloat. We would not have had one of the Harry Foster "Otter" frames, that started us on our journey.
Carol is also a very proud lady to what the "Otter" name has become,in the Classic Trials World. Thank you Carol.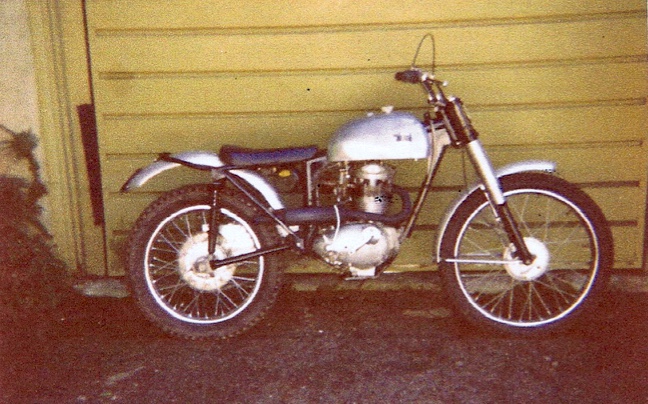 Photo Courtesy Ally Clift.
This a picture of the first "Foster BSA B40 framed "Otter".of Tom Seward's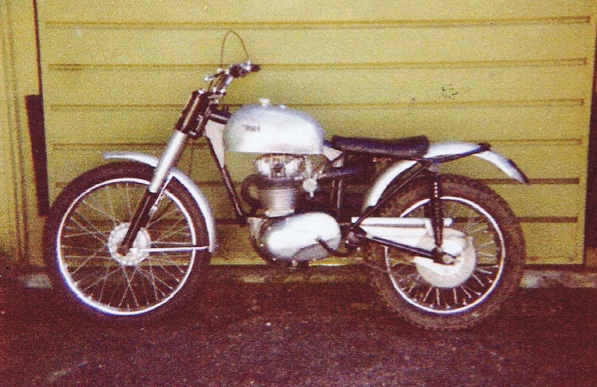 Photo Courtesy Ally Clift.
Heres the other side of Tom's Bike.
The Seward name is kept flying today with Mark (M.R.S Motorsport) still building trials machine amongst other things.
And prepared the two frames for the Paxton boys Andy and Nick.
Both have just finished the Pre 65 Scottish 2016 on these Andrew finishing in 19 th place and twin brother Nick finishing 29th.
Tom Seward riding his BSA B40 engined "Otter" .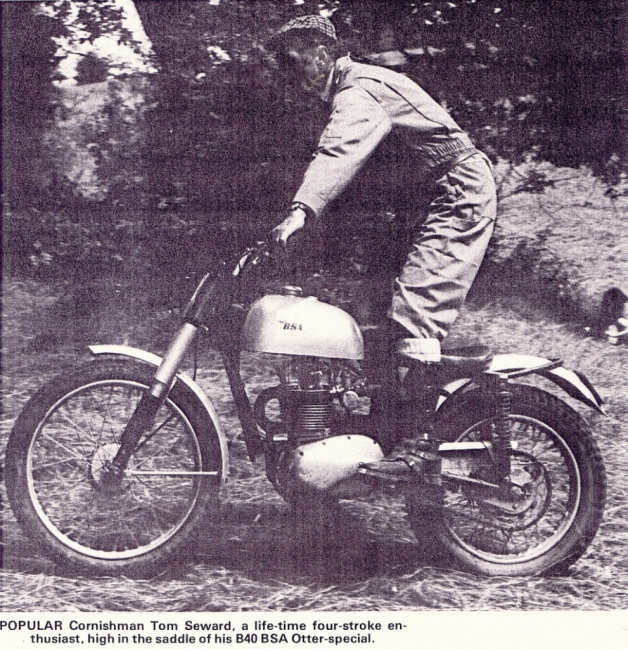 Tom was one of the first to use the BSA engined "Otter".
Jim Susans has just told me that he had two of the "Foster" "Otter" frames from Ally Clift, on the recommendation from Don Morley.
This is before Jim started the "BikecrafT" company.
The first frame Jim built into a bike for himself to use and later sold it on. The second frame he built into a bike, for the Late Tony Rossie from the Barnet Club in London.
If you see we are gradually finding more and more about the builders who originally built these "Foster Otters" into machines and a lot are still used today like the bike below.(Green Tank).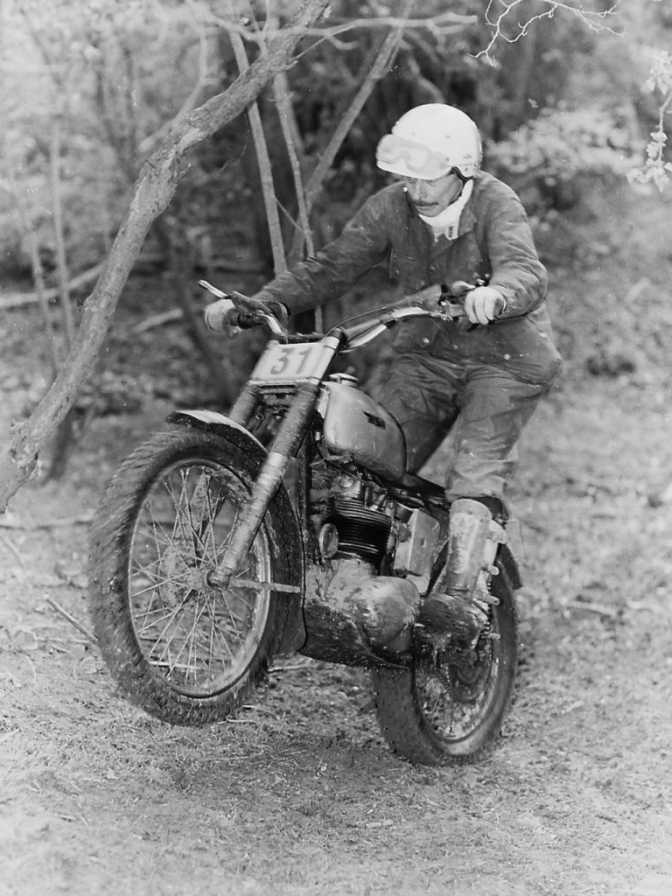 Photo Courtesy Mary Wylde , and "Offroad Archives".
Wilf Cauldwell on what we think is a Foster BSA 'Otter" in 1993 March Hare trial.
I Hope you enjoyed this story as much as I did. We must try and find more of the Foster "Otters" Now we know how many were made,40+.
Story published 2010.
More later and an update, and more pictures.
I thought what better page to put the Photos below onto but the guy's page that sold most of the bikes and frames.
These Photos were taken by our Ian Ballard at the Talmag trial earlier this year 2016.
This "Foster Otter" now lives in Belgium.
But you can see from these that the bike has lasted well and proves how good a job the Harry Foster built "Otter" frames were.
And this machine gets used on a regular basis has you can see.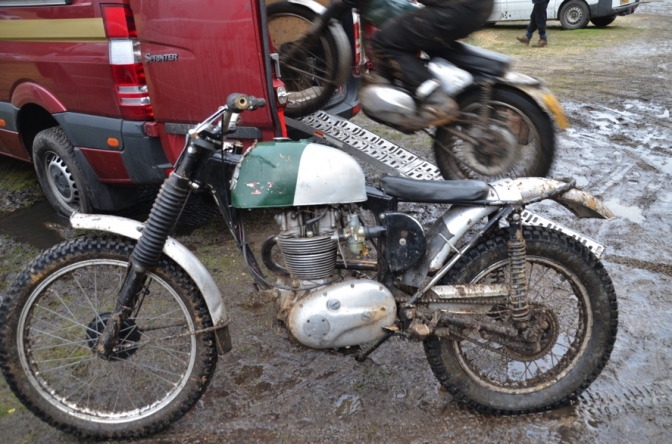 Photo Courtesy Ian Ballard.
You get a good idea of the wheel base and fork angle from this shot and it very much mirrors the image of the "Scott" frame.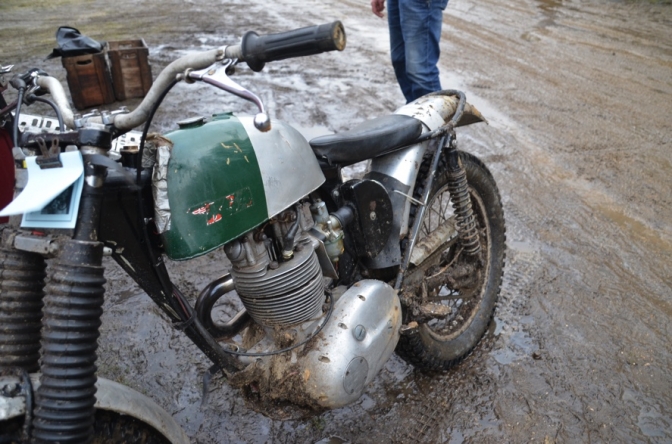 Photo Courtesy Ian Ballard.
You can just see the flattened seat tube on the chain side of the frame which makes it easy to recognise the Foster frame, also the brass oil filler cap on the frame top tube.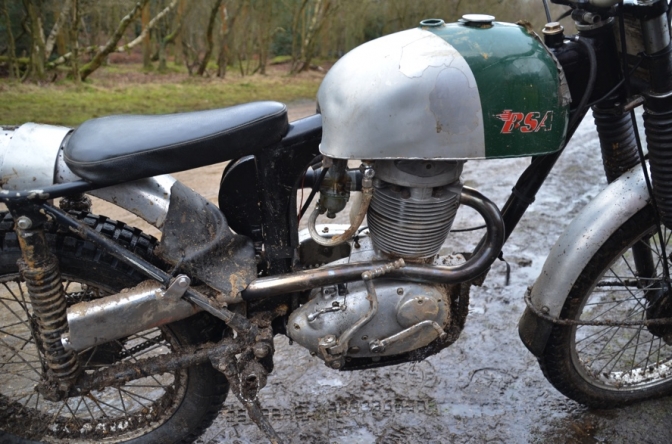 Photo Courtesy Ian Ballard.
I will try and get the story about this machine and find out where it has been since Ally Clift sold it way back then.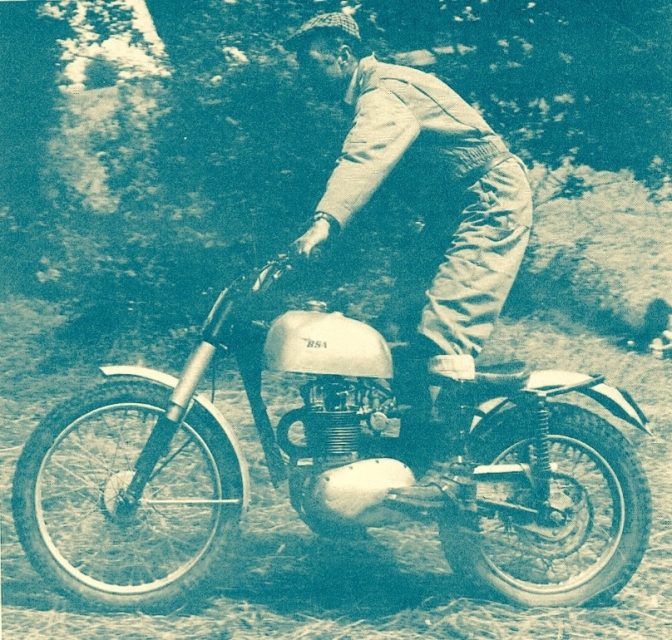 More Photos later. Tom Seward from Trethurgy Cornwall riding the first BSA "Otter"
I have tried to enhance the photo from the magazine not good but better,cant believe how bad a photo it was as are all of them in that magazine.
Update to this page later.
Well there now will be a New batch of Foster BSA Otters built.
These will very much follow the same design,as they are to be built on the "Original Foster Otter Frame Jig.
Page at the top of the listings.