The Jerred Honda TL
On this page we look at the little known Jerred framed Honda with bored out Honda TL 125cc engine.
The frames were actually designed by the late Mike Mills of later BSA fame, But built by Bill Walldridge from Weedon Northhants.
And now we have a good photo of one of those actual frames you can see that it was the Jerred influence that led to the later now famous Mike Mills BSA frames.
~~~~~~~
JD of T+MX, remembers Mike Mills. 2010.
I even once built a trials bike that Mick had designed, the Jerred Honda. Again, this was the early 1980s and again Mick was years ahead of his time, having come up with a long-travel twin-shock chassis for the TL 125 Honda engine. Out of the blue he rang me up just a couple of years ago and joked: "If you fancy building another I've just found my original drawings for the Jerred so we can knock one up if you like!"


16/01/2020..
John just added to the story...
Hi Charlie
Just been reading your Jerred Honda story on your hugely entertaining, not to mention informative, website.
It has increasingly annoyed me that I don't even have a picture of the Jerred I built. I built it - mine had a TL125 motor bored out to 150 - and rode it in one trial and then the Ossa Gripper came out and I just had to have one of those.
I advertised the Jerred and a chap came over from Middlesbrough (to Ulverston in Cumbria) to see it. I was at work at the time and my Dad showed him the bike. He didn't even quibble over the price - told Dad he owned a pub and just wanted something to put in the beer garden as a talking point. It did look fantastic in red and chrome. The gent just handed over the money - can't even remember how much I asked - and took the bike.
Often wondered what became of it.
Mick Mills was such a nice chap - as is Pete Jerred of course.
Keep up the good work.
JD
Charlie.~Oo> I wonder if this machine is still around? Someone may rember it?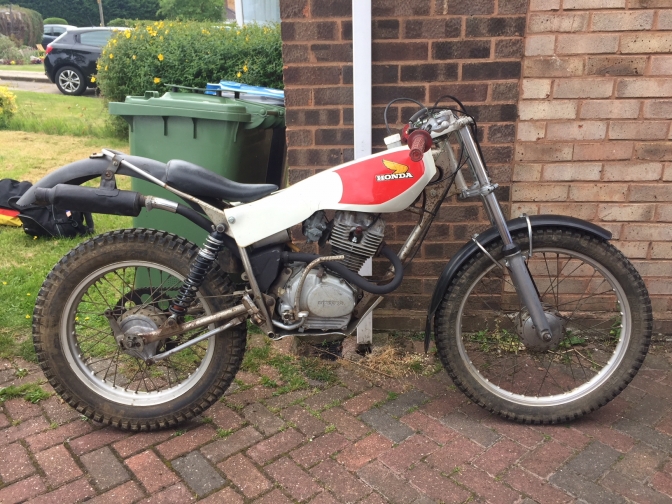 All photos Courtesy of Alan J and his ©
~~~~~~~
This is a shot of the machine that Alan has just purchased, although he already had another Jerred Honda Frame.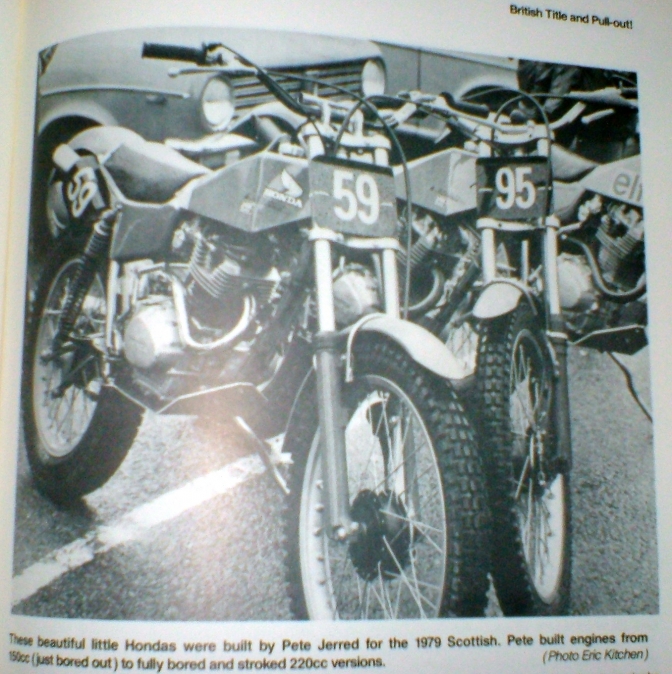 This photo from the magazine -book, was probably the best photo we had of a Jerred Honda before. These two bikes waiting to compete in the SSDT.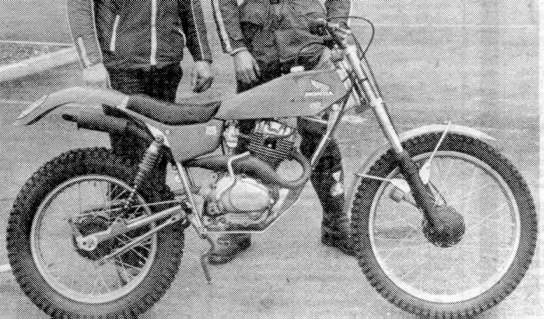 And this shot Courtesy Eurospares.
Note Mike was already into the stealth looking fuel-tanks.
Alan needs two of these making for his bikes.
~~~~~~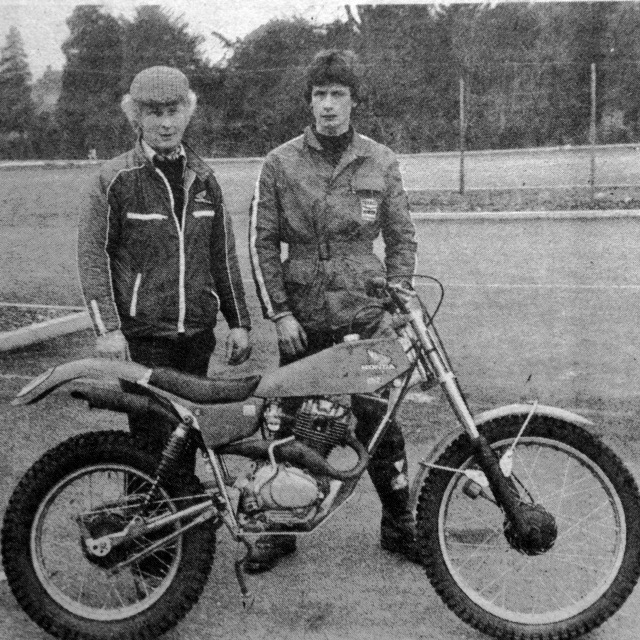 Full Photo later, from Peter Jerred.©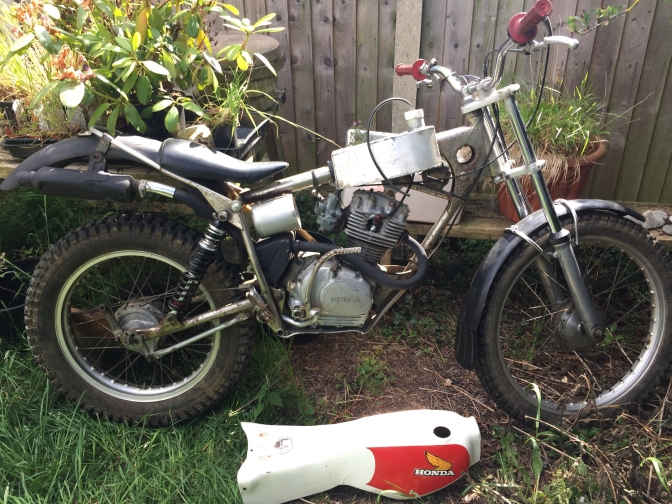 This is what was lurking under the cover of Alan's new acquisition,
But this photo already gives a better view of the frame make up.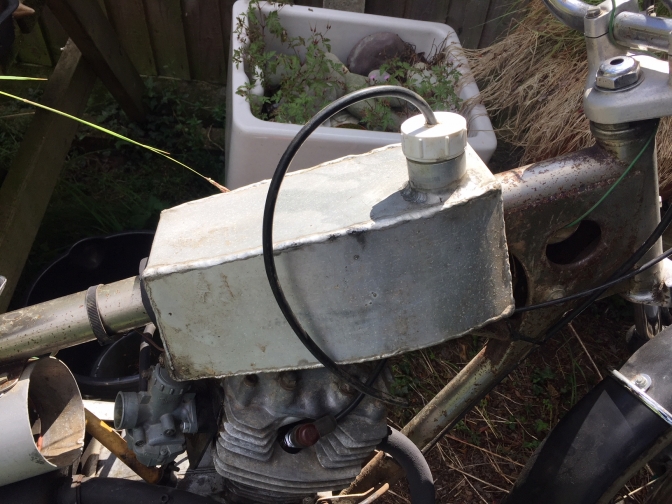 Although this little tank does it's job. a better modification would have been to store the fuel in the top tube of the frame like we do on the "Super-Cub" frame, that dont forget is based on the Mike Mills frame layout.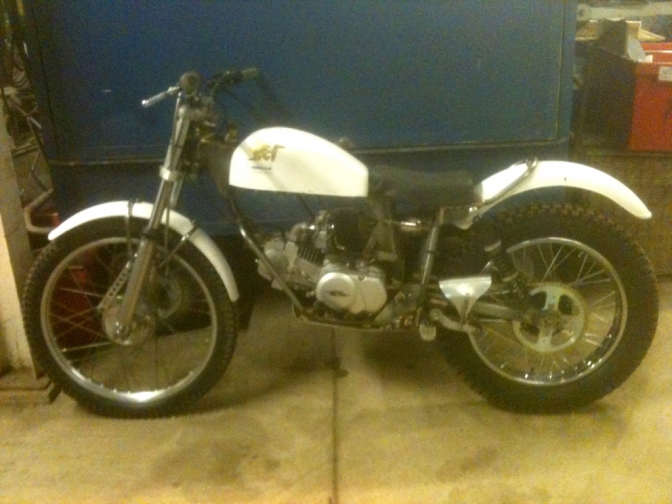 Not a good photo but you can see the fuel is carried in the top tube of this machine.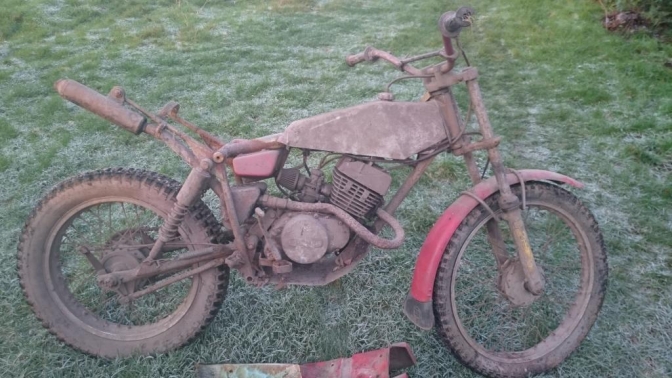 This machine although it now has a Suzuki engine fitted ,was confirmed by Pete Jerred himself as being one of his frames.
Now I have Pete's phone number and intend to speak to him shortly about his little Honda powered machine and how they came about.
So watch this space.
~~~~~~~
Now we get to the pictures that basically tell the tale of the number of UK manufactures that built frames to suit the little Honda TL 125 engine, although most were bored out or stroked versions of the same.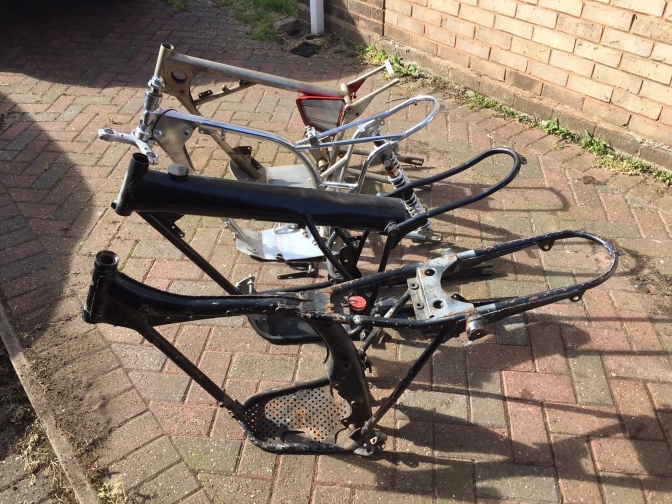 These four photos are © of Alan J.
Here is the collection of frames and only one missing for the full set a Seeley.
so they are from the front Honda TL125 standard frame.
A Fraser Mk2 frame.
A Sammy Miller Hi-Boy frame and best of all the Pete Jerred MM frame.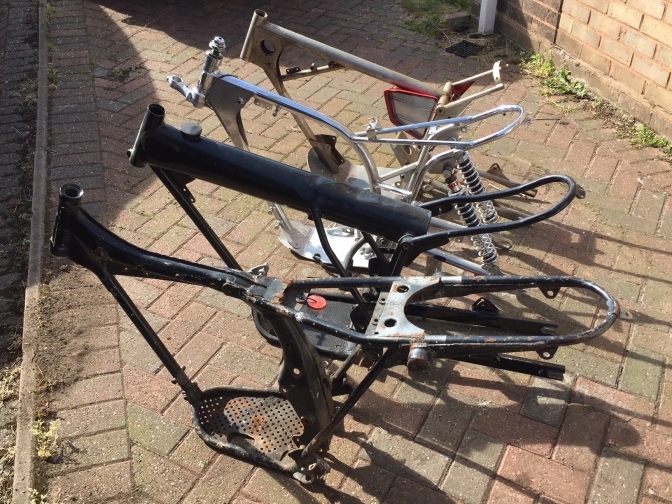 Photo Courtesy Alan J.©
Alan is going to weigh the frames for us when he gets time. that should be interesting, The TL frame is off to the powder-coaters.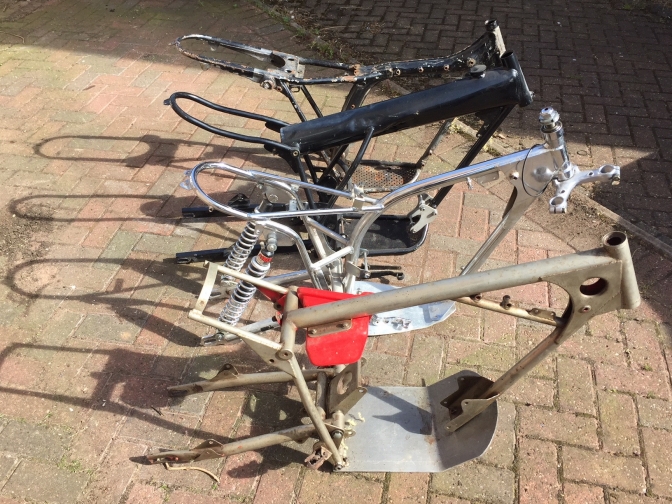 Photo Courtesy Alan J.©
You can see from this shot that the influence of this Mike Mills frame was passed down the line, to the later BSA frames he built, even down to the connection at the rear of the engine linking the swinging arm directly to this.
Photo Courtesy Alan J and © Copyright.
~~~~~~~
There is something about a well designed and built frame and more a work of art the an object to perform a job.
Without ever seeing one of these frames close up before, I am glad the design of the Mini-Otter "Super-Cub" very much followed these lines.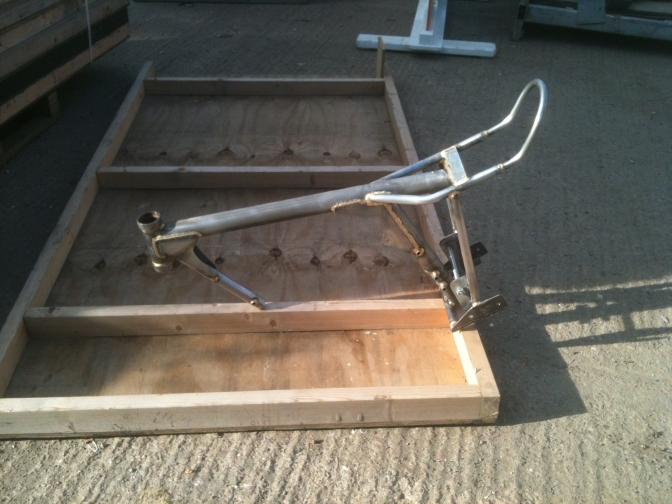 Photo "Otterman"
The Mk two Super-Cub frame.
27/06/2018.
After doing a bit more research on the Jerred bikes,
It seems 25 of the frames were built.
Mike Mills designed them, and they were built by a company named
Magnum Engineering from Weedon Northamptonshire.
Not strictly true they were build by Bill Walldridge, who now lives in the USA and builds race-car chassis, etc.
I will confirm this when I speak to Peter.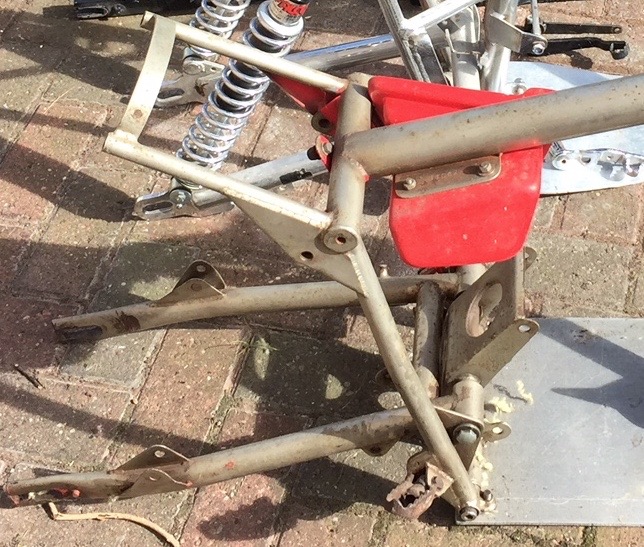 Just look at this photo, you can see that the later Mike Mills BSA "Legend" frame was very much the same design as the Jerred Honda frame, but I think the Honda had more rear-shock movement, frame tubes I'm guessing were 1 3/4" for the main top tube and the seat-tubes 7/8" probably 16 gauge.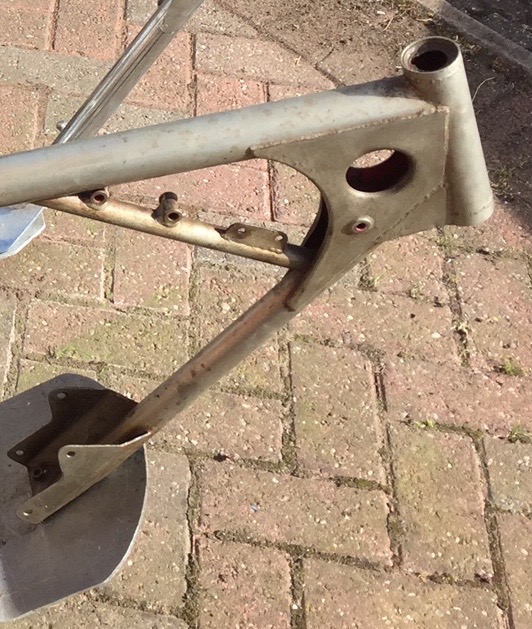 Just looking at the steering head details, you can see same layout again. even with the diagonal tube that on this machine supported the cylinder head while on the BSA frame it did this job and diverted the engine oil too.
You can see the bearing retaining cups are welded onto the steering head tube.
I am in a quandary to how the frames were welded. some of the welds look like "Mig" while the flinch reinforcing, looks like "Tig" but were many companies using "TiG' at that time 1980 ? I had only just about got a "Mig", so the other alternative was that the long seams were done with the gas torch, I have done this myself.
~~~~~~~
Pete says they were built using a "Tig" welder Probably one of the big old first time Miller Jobs.
And he should know he was around the workshop every night, while frames were built.
I hope Peter knows when I speak to him.
PS, Looks like Magnum Engineering have long gone.
~~~~~~~
I have spoken to Peter this evening , and he has sent me a load of unpublished photos so you have that to look forward to, also Pete said he will give me a run-down on each of these pictures.
So More later and I hope to speak to Pete Jerred,
A start of an interesting page.
Now spoken to Peter.
As I say a very interesting start to this page and more that you will not believe later.
Taster,/ 14" square spring Girling.Gas shocks.
Details of TL engine increase in volume and stroke, using top hat bush.ETC.
Loads of Photos.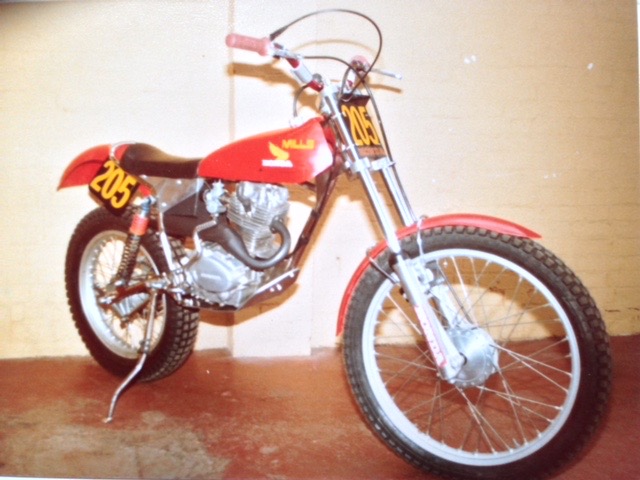 ~~~~~~Photo Courtesy Peter Jerred,©
A good shot of the Jerred-Mills version of the little TL 125-200 Honda.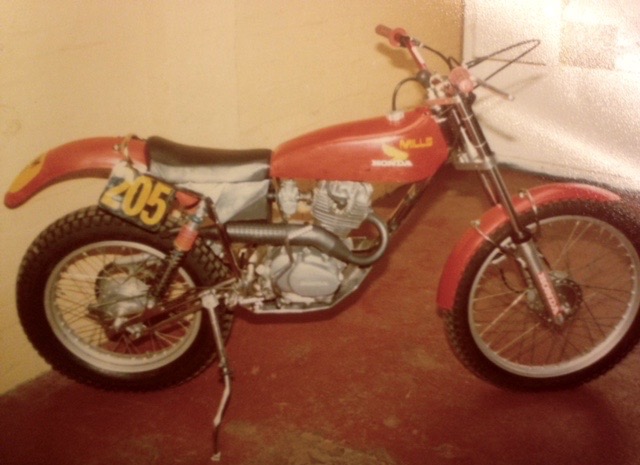 Photo Courtesy Peter Jerred©
And a side shot of the Jerred-Mills Honda.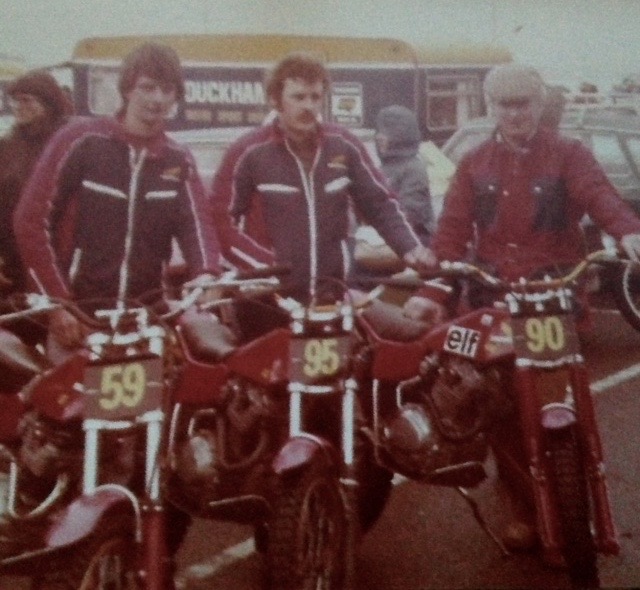 Photo Courtesy Peter Jerred©
The full three man team for the 1979 SSDT.
Nick Holt, Nick Fossey ? later.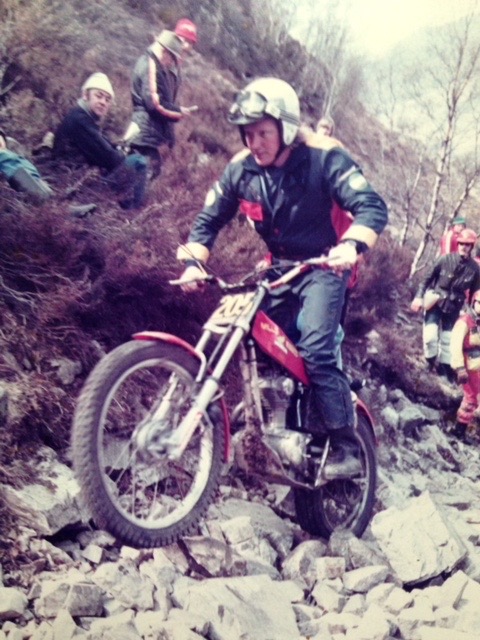 Details later from Pete on this shot ©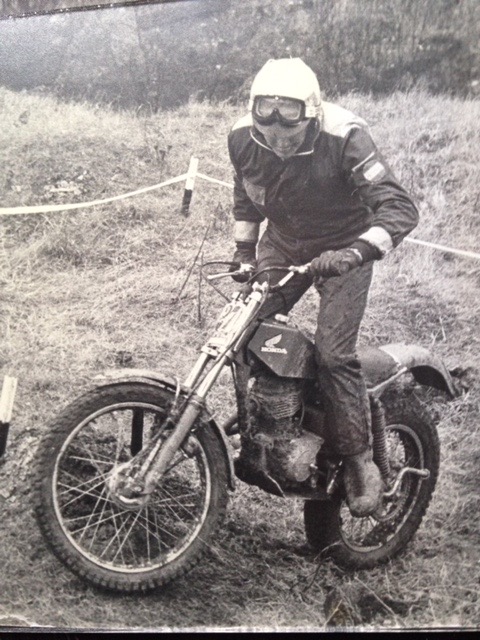 And details Later by Pete on this one ©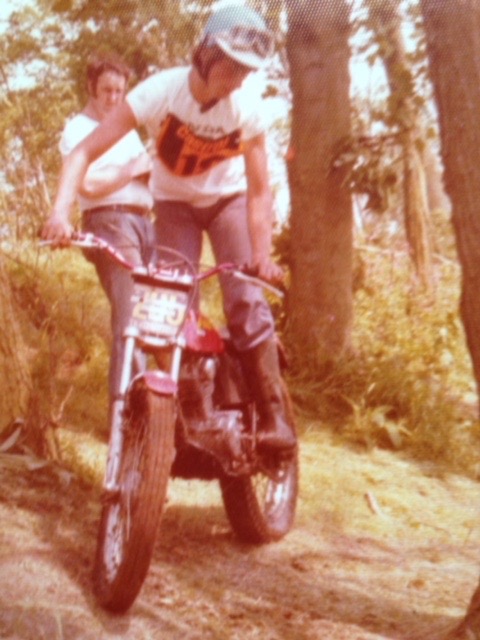 Same on this shot.
This and more photos to come Courtesy Peter Jerred and ©
`
After chatting to Pete last night, a whole bigger picture about these little machines emerged.
The frame kits (25) were made in such a way that all parts from an existing Honda TL 125 could be swapped over to the new frame.
The kit consisted of the frame, the glass-fibre air-box and covers, along with the seat, and folded alloy tank also made by engineer -blacksmith and metal wizard Bill Wallridge (hope I have the spelling right Bill).
Bill later moved to the USA and worked on race cars for Hans Stuck and others.
Pete' s career was always like building bridges, well that is what he did as a civil engineer, the list he worked on is has long as the roads that pass over them one I recall was in Kings Lynn.
The connection too Mr Mike Mills is that Pete and Mike were brothers in law.
I will get into the way the engines were increased in capacity later. but we all know that nothing is new and most things have been done before.
But with the combination of a Wizard and forward thinking designer, and the drive from a man that was moving forward, not only were the frames special at the time, but other elements were first tried on these machines.
Square route section springs on Girling Gas shocks for one.
Long travel forks incorporating Bultaco sliders, were also tried.
Pete has a list of machines he was involved with before the Honda's came about,
including a Zudapp. And then there are the bikes he still owns today. So this story will just continue to run and run.
great stuff.
30/06/2018.
New material from Alan J and Peter Jerred.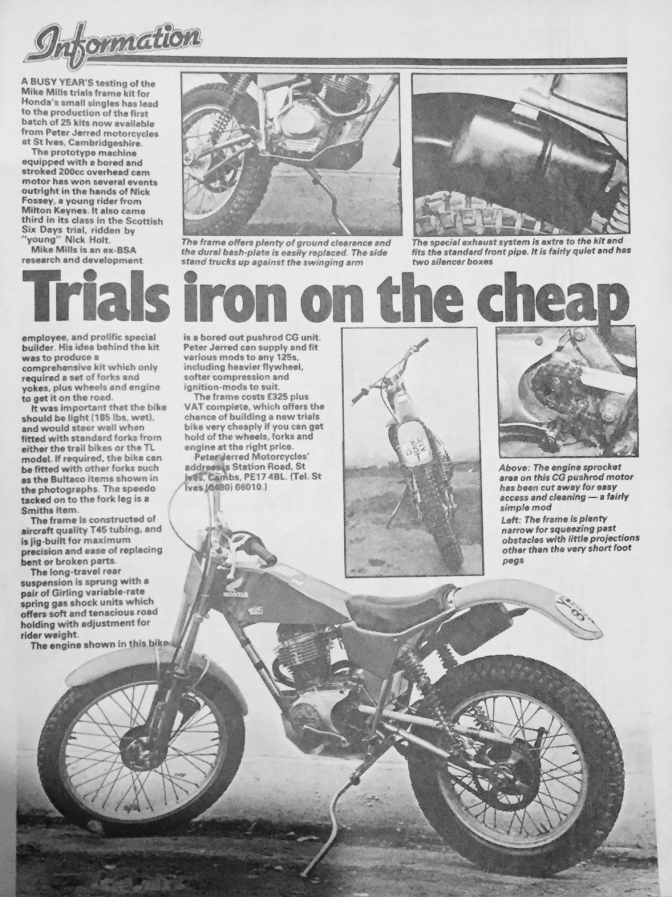 From Alan J, he thinks 1979 article. for me to use he says so respect that.
This brings the bigger picture into prospective don't you think.
And I am sure these kits would sell today?
Far ahead of there time. I think.
And you probably know what I think about the little "CG" type engine.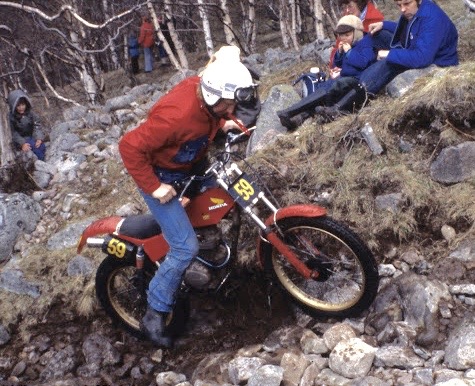 Photo Courtesy Peter Jerred.
Here Nick Holt riding that same machine with the CG Honda engine bored, and out too 175cc in the Scottish Six Days trial on the Ben Nevis sections.
~~~~~~~
Got to get back to you.