The Second build "Super Cub Trials "Otter".
(nearly)
As this second Super-Cub Trials build, has be on hold for a time while I decided what to do with the project. Now Back On and being built.
*******
Ed March C90 Adventures.
I Remembered this video I had watched while looking for a engine supplier, and there was a link to it, and I liked it
well here it is.
***
I must say that looking at all of Ed's video diaries I know I was right and the Super-Cub trials project is worth salvaging.
This next Video is to try and get you to help out Ed complete his video diaries for the rest of this trip.
***
More later, I have mailed Ed ,but he is probably in the middle of the second leg of his adventure but I am sure he will reply when he gets the mail? fingers crossed.
Episode Seven Newfoundland.
And Episode Eight.
And Ed needs a New computor if you have one you dont want?
More Episodes as Ed Makes them.
Episode 9,
C 90 adventures. the trail across America.
More C90 Adventures whe Ed makes them.
********
The two Lads from Banbury Oxon UK, are about to start a around the globe adventure on nothing more than an Honda scooter with an adventure sidecar fitted.
Good luck lads we hope your dream comes true. but it wont be easy.
We will now document your preparation and journey here on this page.
Here is the Honda Scooter the lads Reece and Giles are hoping to use.
More on this story later.
Lee's Adventures. On a Transalp.
Transalp. Photo.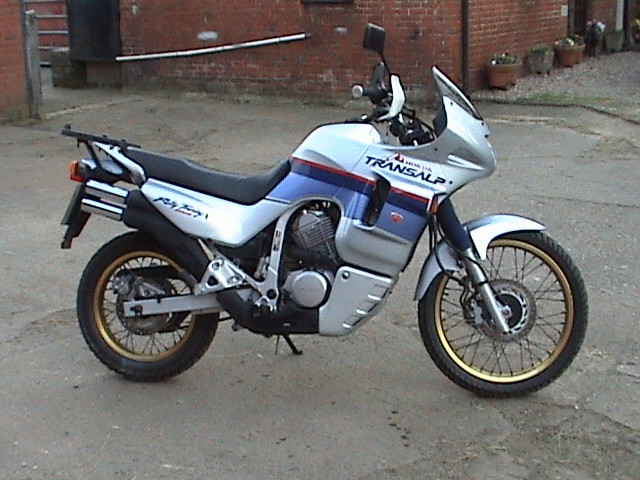 **
Here is the Honda Transalp as purchased from a guy in Wigginton Buckinghamshire for £1500
on the 12 may 2006.
We built two Alloy flight-case type panniers and fitted a new front disc and pads, and taller screen the bike was serviced at the Leamington Honda agents, and that was it, before setting of on the "Around the edge of Britain"trip.
Lee's Adventures on this bike will be further down the page.
Eldest son Lee did two solo trips on a Honda Transalp a few years back the first was named "Edge Of Britain" started a couple of days after getting his bike licence. both for charity.
And the second "Edge of Iceland" a couple of years later when the Transalp had just been sat in the corner of a dusty workshop for the two years and only dusted of and serviced before setting off on the trip.
I will get these tales from Lee and the magnificent photos he took in Iceland.
The Story is further done the page.
****
Back To the Super-Cubs.
20/03/2017.
Here is ex Purple Helmet Colin Farghers C90 trials.
*******
Colin now lives in France and not the Isle-Of-Man.
*****
Colin as just ordered a YX140 engine for the bike,
***
And I am going to give him the information of what we did to our first bike to get it to run how a trials bike should.
*
There will be a Page on Colin's bike later. and he may even build another frame?
$$$$$$$
Photo Later Glitch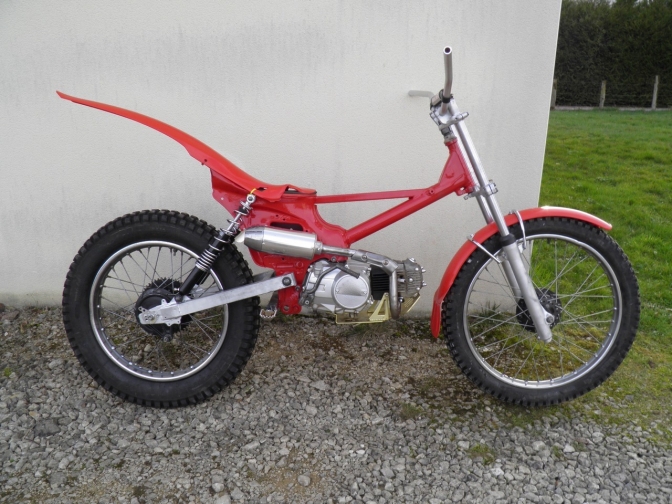 Photo Courtesy Colin Fargher.
*******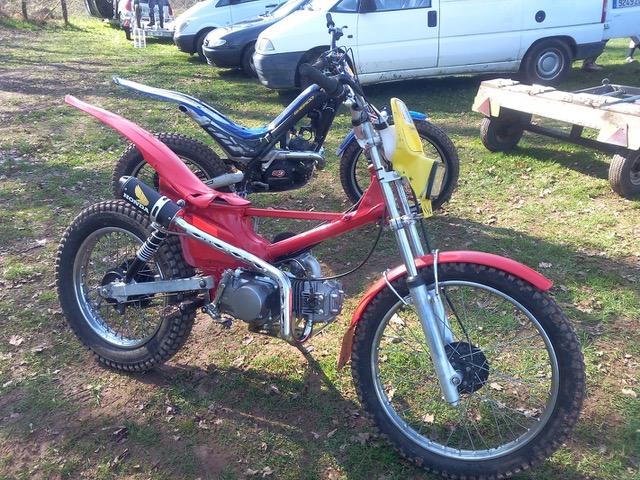 YX 140 engine now fitted and tryed today 26/03/2017.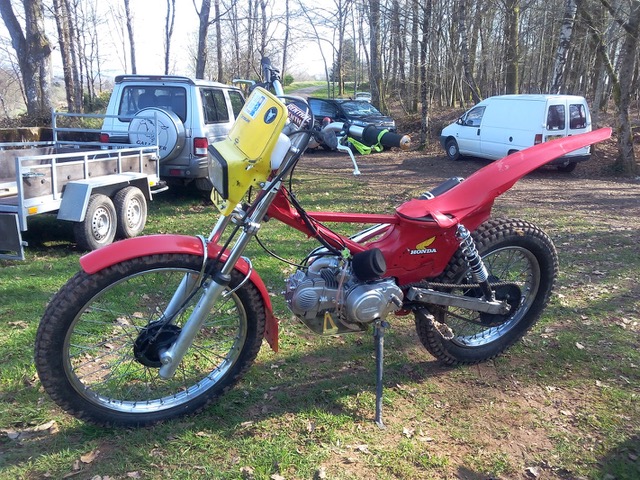 Story Later.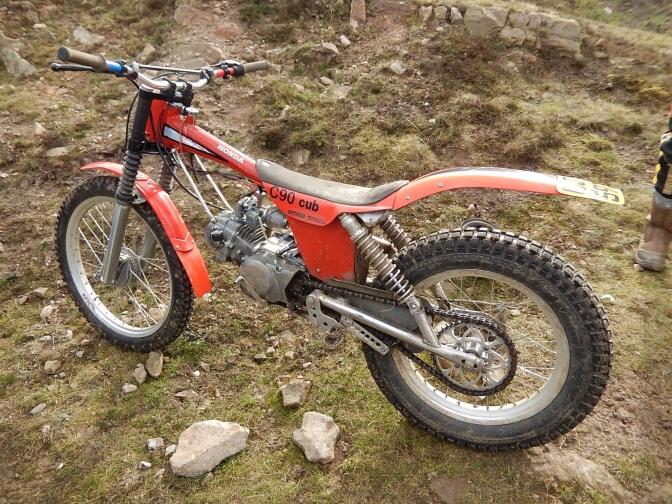 Jon Bliss built Cotswold C90 super-cub.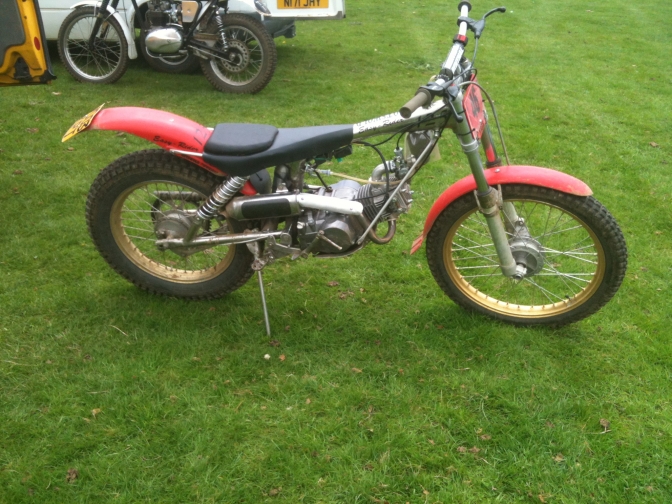 Jon Bliss built Original Super-cub C90 trials. Easy-rider.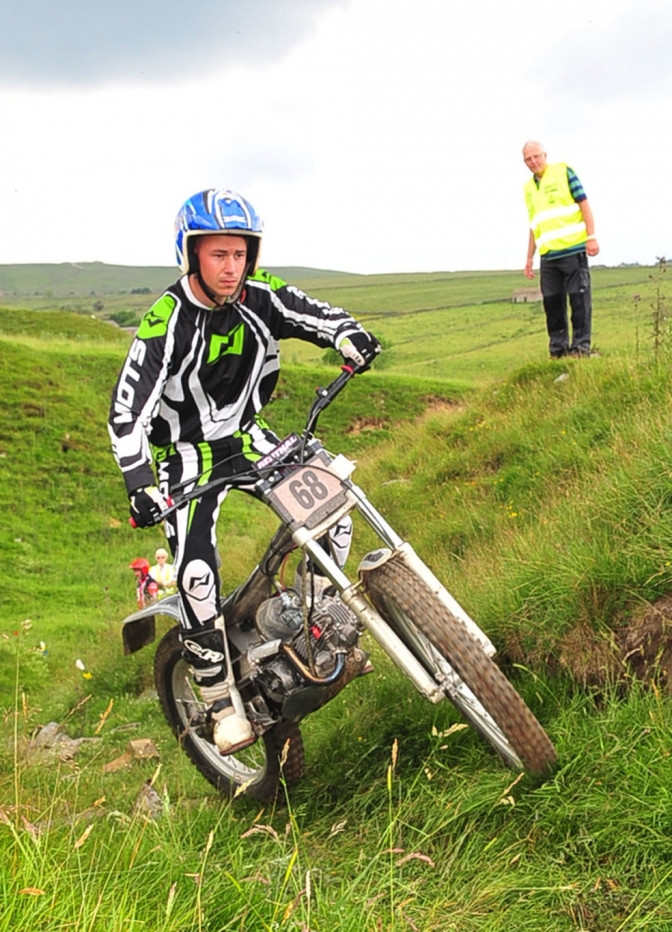 Photo Courtesy Offroad Archive and Jack Knoops.
Here Young Ben Wilmore riding his Jon Bliss built Cotswold C90 Super-Cub trials.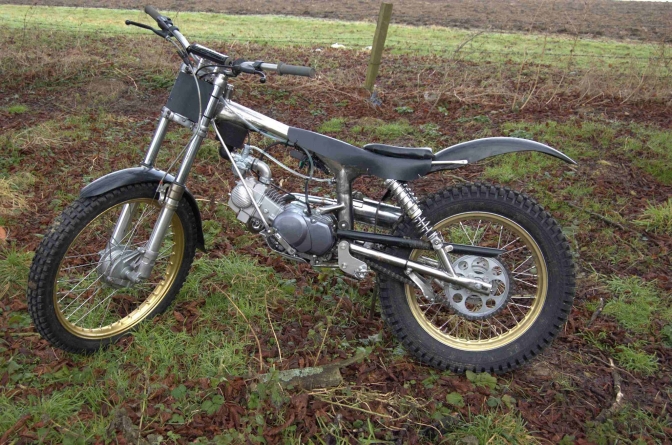 Ben's Bike. Jon Bliss Built, Cotswold C90 Super-Cub.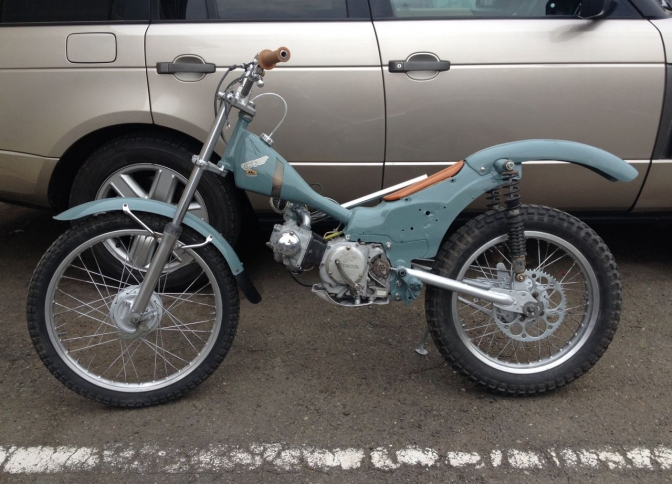 Here is the original C90 trials built in the USA but later to get written off in a car and trailer accident. What a terrible shame priceless.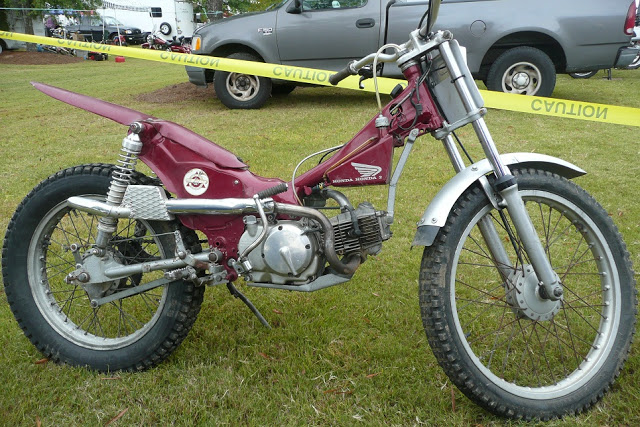 Here Is the second version not quite as pretty.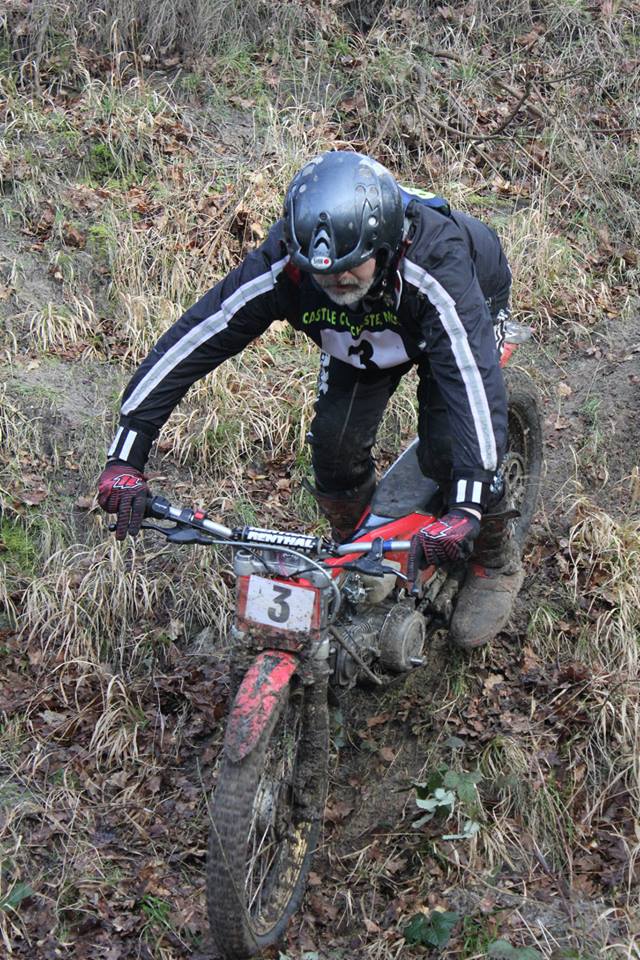 *******
Martyn Wilmore, Bens Dad riding his version of the Jon Bliss Cotswold Super-cub.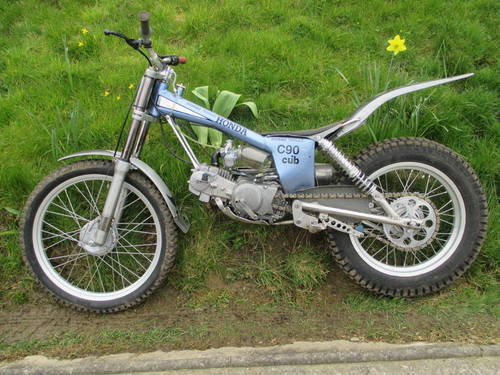 *******
This Jon Bliss built C90 Cotswold "SuperCub" Trials bike is for sale.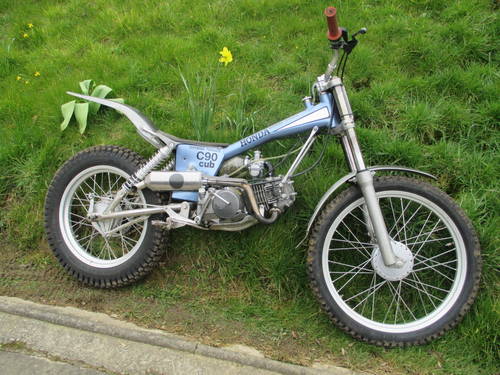 If you are intrested in buying this bike you can contact me and I will pass you onto Jon.
The Price of the machine. is £2,350. NOW SOLD< Sorry.
*******
Story about this Later.
Skyteam ST50 TR,? 70 cc,
More later.
This second build of the SCT is for the people that have asked me for details of the first build?
Well these people are very interested in the concept of the little bikes and would like to build one them selves.
So I will help them with details of the first little bike so that they can achieve there goal.
This is Number "Two" on the jig.Swinging arm and brake plates are on the swinging arm spindle.
The Start Of My Second Super-Cub Trials Mini-Otter.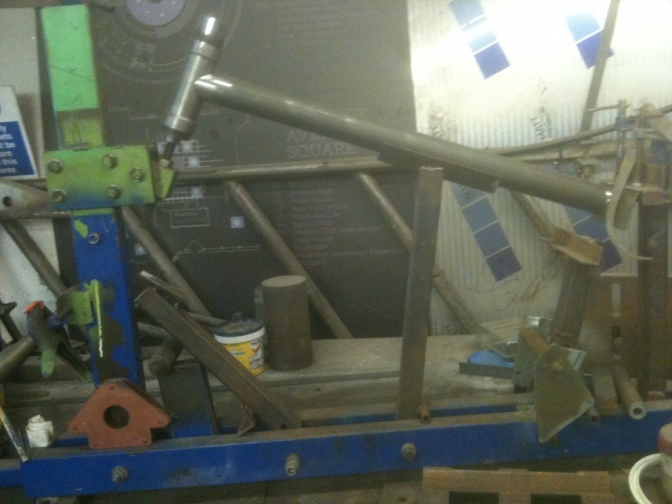 OK not a very good picture but we have a start.
All of the parts to the frame and the patterns you will need.
I may get these parts laser cut so that they will be in stock if you are interested?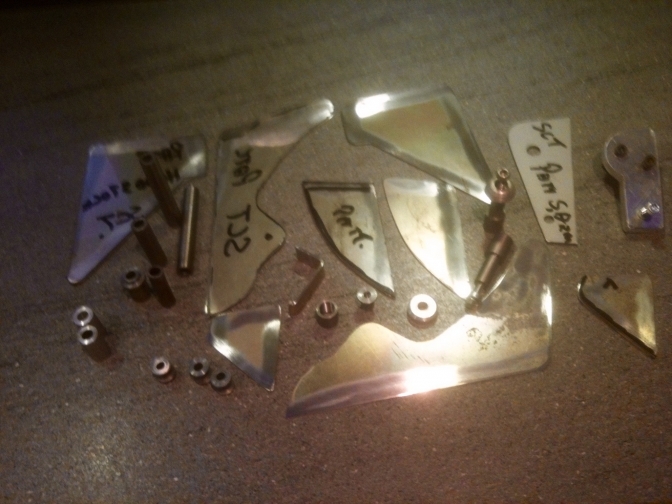 If you make these parts yourself you will need about two full days work and the use of a steel band saw, linisher, and lathe.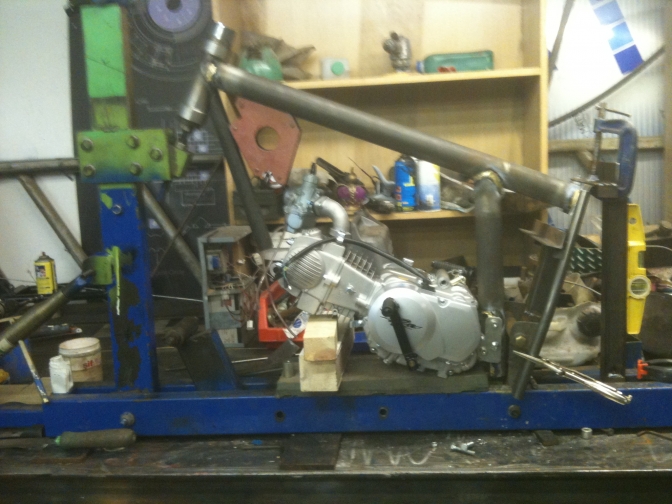 This is the next stage on from the top picture, but before any of the gussets, ETC, have been attached.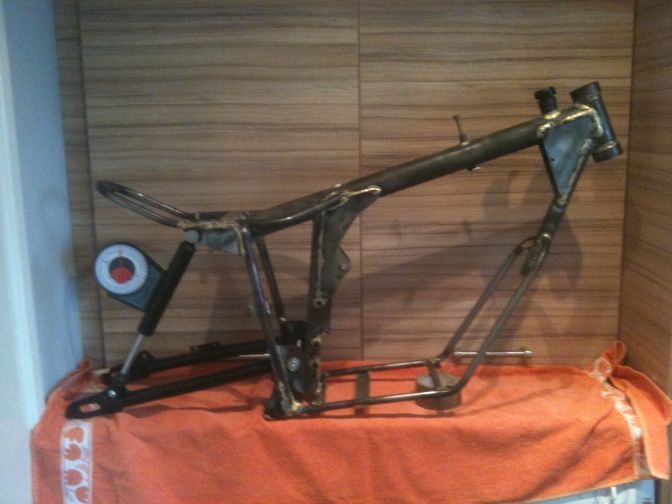 This is the frame you should end up with.The steering head is the same as I use on all of my frames and the same dimensions as the Faber frames, this takes the L44643/10 tapered bearings used with the 1" stem of the BSA/Triumph "FourStud" forks.
Sitting below this is the filler Cap and neck, NOT for oil in this frame but for the fuel. This little machine will be running on the Aspen 4T fuel, and the Glass-Fibre tank that will be made fuel proof will be made from standard polyester resin.
Filler cap details below, a breather pipe will be incorporated into the neck.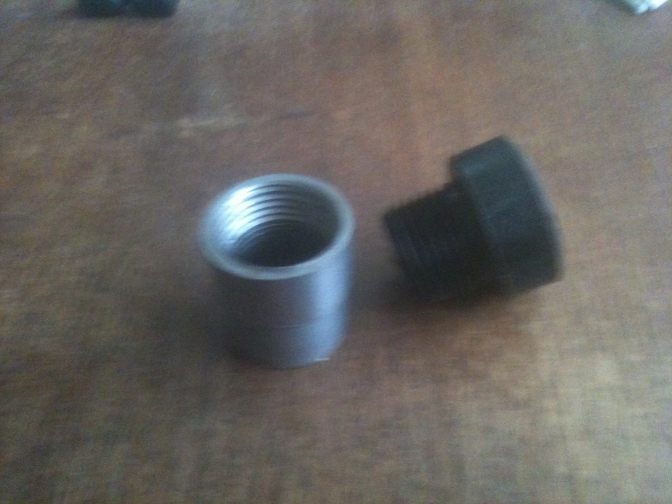 This cap I machined from Black Nylon, but you could use a 1/2" BSP brass filter cap and the appropriate steel jointing tube if that is all you can get without the use of a lathe to turn this up.
I am going to stick with the YX 140 motor unit for this bike too.
We know the motor works very well in the first SCT, and we also now know how to tune it to our liking. Here it is in its delivery box.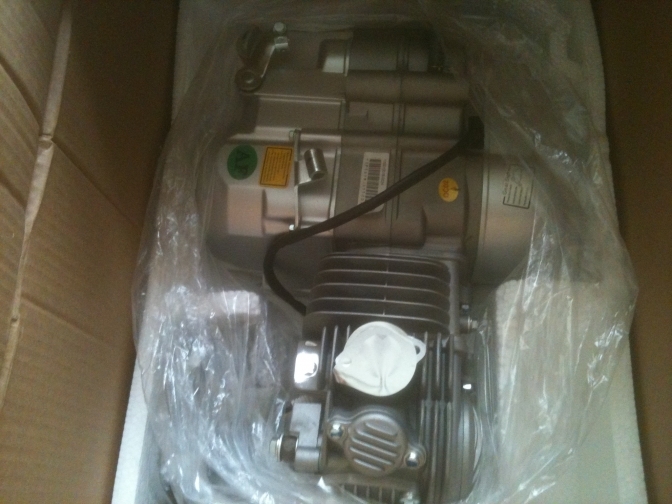 Brian has been over for ten days in July and with the picture of a Seeley Honda and some data from a a friend of mine.
He came up with a new exhaust for this project,
We were waiting for a new front pipe to be delivered ,but it failed to turn up,so as Brian had to return to the IOM,we had to coble up a front pipe to see how the New exhaust performed.
Well brilliant is the answer, quiet like a 4RT and with a smoother delivery of power,
the job looks good for the future, and the system only needs tidying.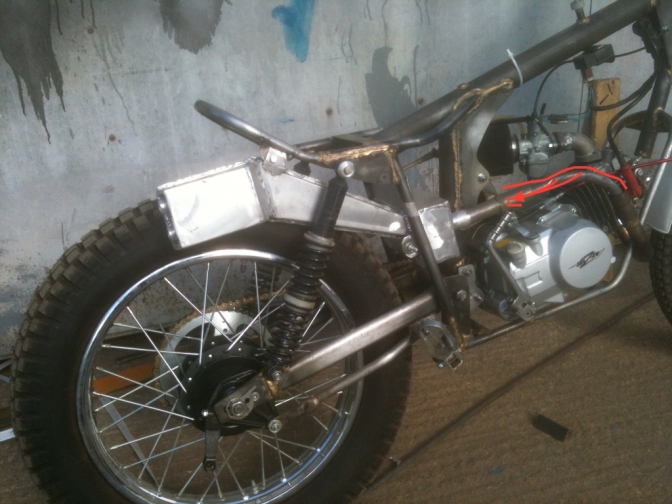 The cobbled up part is in red.
We only fitted the parts onto the First bike that were needed to ride it for a trial run and this is it.
The first bike had been striped down ready to paint the frame so an hasty rebuild with the nesasary parts to get it mobile were used.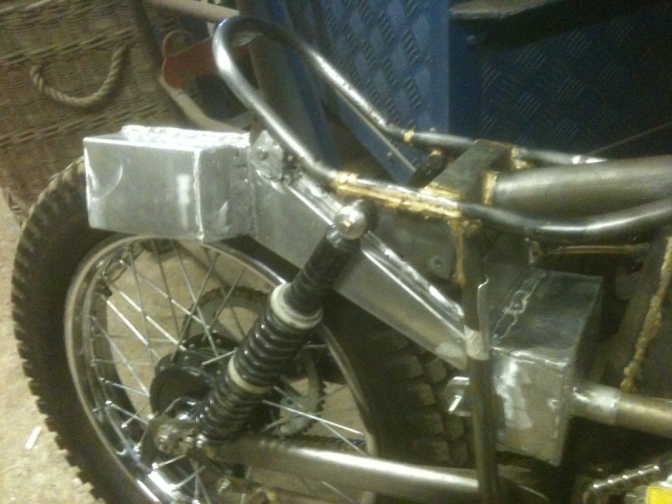 The welding will be tided up with a Tig, we only had a Mig to weld it and it was a bit hot.
I will create the front pipe out of 29mm Stainless tube.
More on the build has we progress.
*******
"Edge of Iceland Adventure."
I did a full log of this journey that Lee did on Blog-spot.
but Google are not being very helpful about me getting to it.
So I will try and remember with the help of the Photos until Lee has time to make any comments and corrections.
As I say above the bike was left in the corner of the dusty workshop for two years before Lee decided to do the trip for one of his BMX mates from NewCastle that was in the States and had been badly injured, his name Steven Murray.
This was the "Stay Strong" charity that was set up to help him.
Lee collected the bike from Warwick and arrived at my front door in Banbury at Noon on Saturday to start his Journey.
He left to catch a train through the chunnel, and rang me that evening at sixish to let me know where he was.
The plan had been has it had been on the Britain trip for him to let me know where he was going to try and get to and I would the next day let him know where there was a camp site at or near that location. well he was going to stay somewhere near Calais that night but had travelled up through Belgium when he rang me, and near to Antwerp.
He said he had pulled in to get fuel and there was a black sky like he had never seen before so had decided to stay in the Motel there for the night.
The journey continued up through the Netherlands and Germany on the Sunday and he needed a camp site near Hamburg .I found him one that was quite urban but he told me the next afternoon arriving early and rang me at two o'clock in Hirtshas Denmark, to catch the Faroe ferry the "Norrona" run by the Smyril Line. that leaves on the Tuesday morning at about eleven.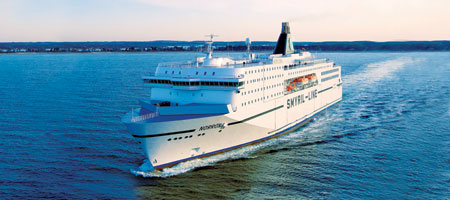 Picture of the Norrona. ferry.
Wednesday he rang me from the Faroe Island where is the midway stop. and said that the Norrona should arrive at about eight thirty on the Thursday morning in Seyoisfjorour Iceland.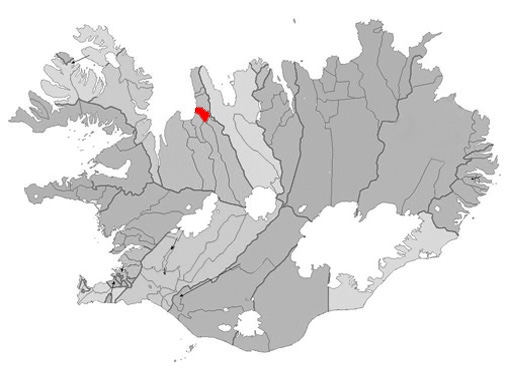 Route was to be anti clockwise from the port taking the A1 highway(Route One) that has you will see is little more than loose tarmac and gravel in places. the red marked is Blonduosbaer.
The journey continues here.
These are three superb photos Lee Photographed in Iceland they are available from him turned into framed pictures.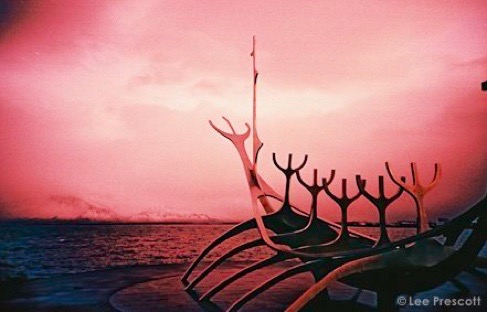 Iceland second trip taken in January.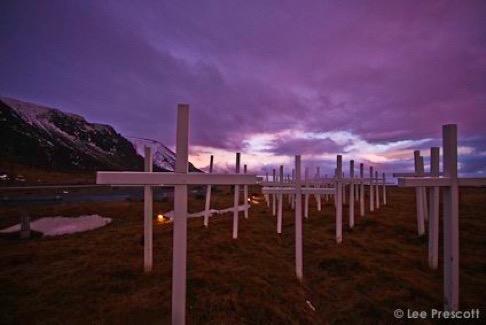 *******
This shot again from the second trip taken at 3.30pm in January. near the Route One.
It is a memorial.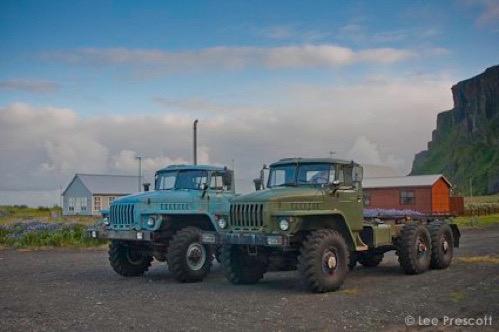 This shot is from the trip in June taken on the 9th 2009. My favourite shot of the whole trip.
Here below is a map with Route One marked on it.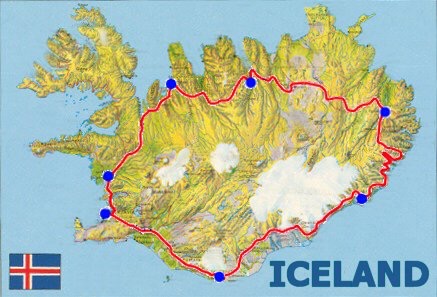 Starting from the centre top blue dot and going anti-clock wise each one is roughly one days journey and about the route Lee took.

Bloudes filling station.
One of only a few on the Route one.Well probably more than a few.
But some are quite a distance apart. And not all of these are the same.
Some are only pumps that except credit cards but you will need a Pin number.
Most however are more like social gathering places for not only visitors, but also the locals.
Most have shall we say eating facilities, some near top end restaurants, but the best part is that they also sell other good from agricultural machinery at one end, to groceries and provisions at the other, and most are open twelve hours a day, and most days, unlike local stores that sometimes only open two days a week. Favourite food seems to be there take on the "Hot-Dog" sausage.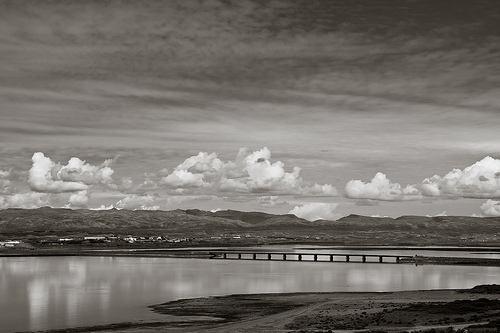 This is Borgarnes and the bridge across the estery. this is the second largest road bridge in the country and a essential link to Borgarnes and the "Route One" Highway.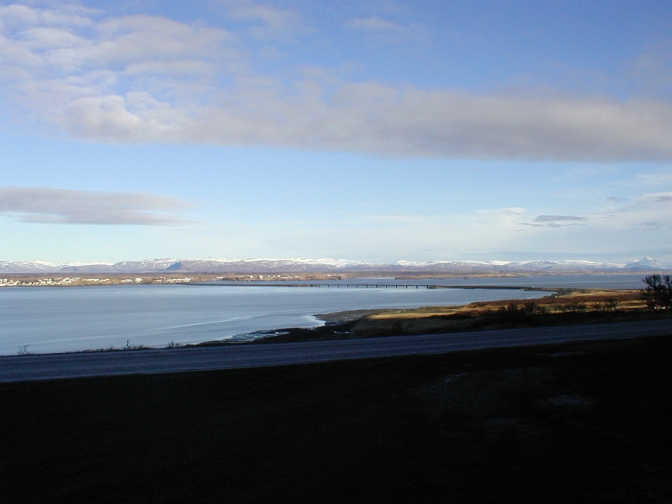 And a coloured shot of the same bridge crossing.
These Icelandic sheep have far different wool to most sheep. I wonder why that is?
But it is put to very good use in the country it is grown in.

These socks are a made from the fleece of the above sheep and not only do they keep your feet warm they are virtually waterproof too.
the inner softer part of the fleece acts as the insulation whilst the outer with its natural oils is virtually water proof has I say.
The fleeces are sorted and then washed but with very little detergent so not to remove the oil.
Then spun and mostly hand knitted into socks mittens or the famous Icelandic pullovers.
Lee says they were a life saver in the extremely low minus temperatures on the ride.
The gloves he bought were also just has good.
Unfortunately it seems that they are literally kept in Iceland and know one exports them to other countries.
Well not yet anyway.
Most socks sold as being Icelandic have never seen the country.
So if you go there buy as many as you can for these are the only genuine items.
To Continue
SAT 14th May 2016.
Right I will continue with the story later now I can get back to this web site, it has only taken me TEN hours today to achieve this and I was dumped by the Freeola team at One Forty five,and I know to you guy's it is only a job.
But the problem did start on Friday the thirteenth.
And they did sort it out for me later
Thanks Guy's