"Mini-Otter", and C90 Adventure Page.
This page is for the other enthusiasts of the Honda Cub, that have decided to build a bike of their own using these components.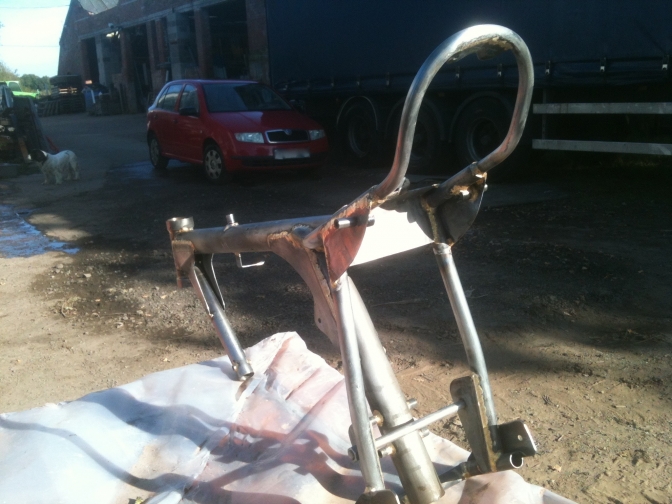 "Two Classics and a Dog".
Story of frame build further down the page.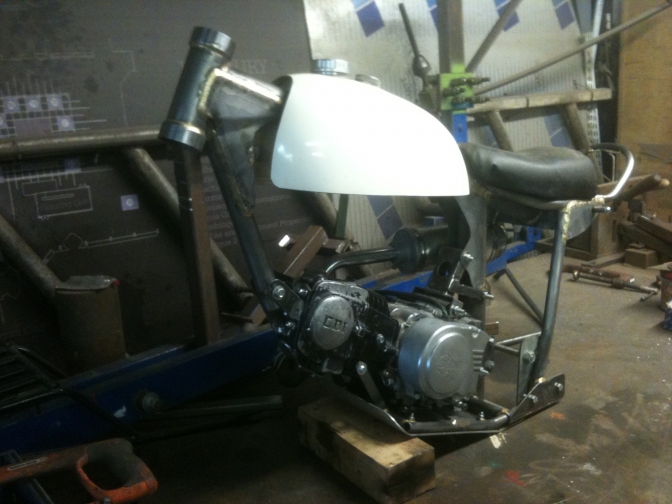 ~~~~~~
As this second "Mini-Otter"SuperCub Trials build, has be on hold for a time while I decided what to do with the project.
Now Back On, and being built.
Look at the Mini-Otter Super-Cub Two page... Below, in the listings.
For the build of this machine...
Ed March C90 Adventures.
I Remembered this video I had watched while looking for a engine supplier, and there was a link to it, and I liked it
well here it is...
I must say that looking at all of Ed's video diaries I know I was right and the Super-Cub trials project is worth salvaging.
This next Video is to try and get you to help out Ed complete his video diaries for the rest of this trip...
More later, I have mailed Ed, but he is probably in the middle of the second leg of his adventure but I am sure he will reply when he gets the mail? Fingers crossed...
Episode Seven... Newfoundland.
And Episode Eight.
And Ed needs a New computor if you have one you don't want?
More Episodes as Ed Makes them.
Episode 9...
C 90 adventures. The trail across America.
More C90 Adventures when Ed makes them.
10 go mad in Vietnam.
The two Lads from Banbury Oxon UK, are about to start a around the globe adventure on nothing more than an Honda scooter with an adventure sidecar fitted.
Good luck lads we hope your dream comes true. but it wont be easy.
We will now document your preparation and journey, here on this page.
Here is the Honda Scooter the lads Reece Gilkes and Matt Bishop are hoping to use.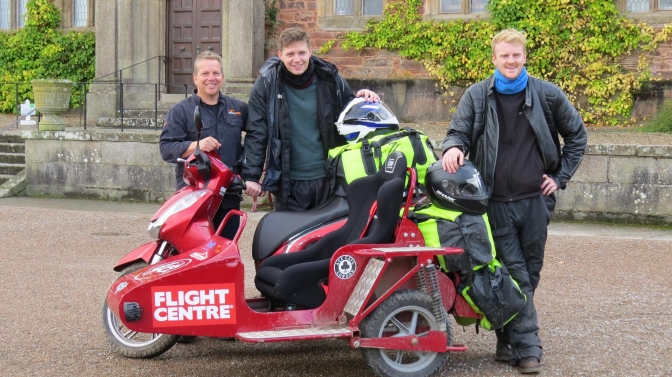 ~~~~~~~
asseenfromthesidecar.com
More on this story later.
Lee's Adventures. On a Transalp.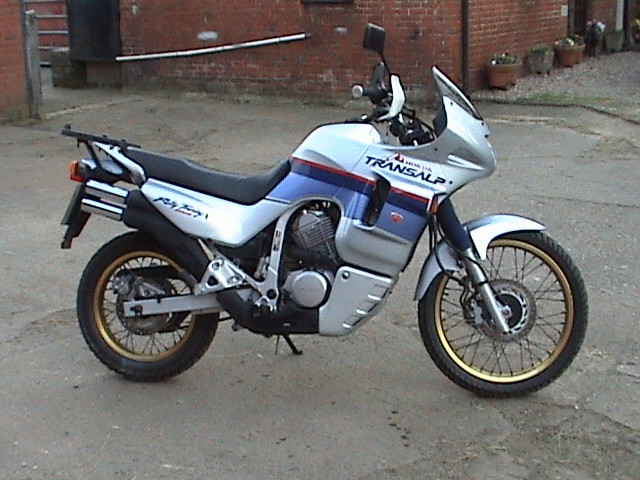 **
Here is the Honda Transalp as purchased from a guy in Wigginton Buckinghamshire for £1500
on the 12 May 2006.
We built two Alloy flight-case type panniers and fitted a new front disc and pads, and taller screen the bike was serviced at the Leamington Honda agents, and that was it, before setting of on the "Around the edge of Britain"trip.
Lee's Adventures on this bike will be further down the page.
Eldest son Lee did two solo trips on a Honda Transalp a few years back the first was named "Edge Of Britain" started a couple of days after getting his bike licence. both for charity.
And the second "Edge of Iceland" a couple of years later when the Transalp had just been sat in the corner of a dusty workshop for the two years and only dusted of and serviced before setting off on the trip.
I will get these tales from Lee and the magnificent photos he took in Iceland.
The Story is further done the page.
Back To the Honda Super-Cubs.
29/07/2018.
Charlie~Oo>,Tim Churchill has sent me this story about his Honda Super-Cub,
I hope you get it up and running soon Tim, the more SuperCubs the better.
Hi
I have been building a 'Cub' trials bike out of a Honda Innova Pizza bike (ANF125), (which is the modern Honda Cub), for about the last 5 years. Need to get on and finish it!
The project was to build a trials bike as cheap as possible, just using a mig welder.
It should come in at about £500 including the new tyres.
Built out of readily available used Honda parts (ANF and CBF), just looking to have a bit of cheap feet-up fun.
Will I be able to ride in a twin shock trial?
Charlie~Oo>, Why not Tim, they have been about since the early sixties.
I used to ride solo back in the day and then got into sidecars with a Majesty 320 outfit
Regards
Tim...
30/07/2018.
Follow up.
Hi Charlie
My friend of 40 years (Tom) is building one the same (both old Pizza bikes), he is at the same stage with his. We bounce ideas off each other as we go along. Interestingly we usually work out the same solution (went through engineering college together).
I had a Honda 'Cub' trials in 1975, which was a converted C100 step thru, with a pushrod engine 4.5hp, it was my first trials bike.
The official name of the bike is going to be Cub HRC, Cub - Honda Recycled Components (HRC). It's a copy of what they made in the 60's with the old cubs.
My idea was to keep it as simple as simple so that perhaps a Dad and his son or daughter could build one in the shed, without having a workshop full of tools. I have developed the rear sus mounts which bolt on the original shock mounts on the swinging arm, plus 2 rivets. If the swinging arm snaps, unbolt the brackets and put on to a another swinger and fit to bike.
I worked out a manual clutch conversion solution, which is simple enough. Steering head angle is original, with a couple of sleeves to accommodate the bearings for the CBF125 forks, preserving the frame number on headstock, so we will be able to get daytime MOT's.
The Honda MSX125 (new monkey bike) has been out a few years now, and these engines are available on eBay, with the manual clutch. They are also known as Honda Dax overseas. The beauty of these engines is that you can get 100's of aftermarket parts and bits and pieces, if you so desire. They do lots of big bore and stroker kits, so you can get up to 150cc or 180cc and four valve heads if you want 25hp! If we mod them enough, we could ride in Pre 65 !
The idea is to keep with standard parts (used) and cheap as chips.
I lived about a mile from Harry Foster a long time ago (1977 - 1980) and bought an Otter frame off him for a C15. He was riding sidecar trials in those days with his wife.
You have got me fired up to finish the bike Charlie, I need to ride a trial!
Where in the country are you based Charlie? I am down in the New Forest near Southampton. It would be good to have a look at your Cub sometime, I have followed your story from the beginning on the Otter web pages, great work!
Regards
Tim...
Charlie~Oo> North Oxfordshire Tim...
Tim Churchill...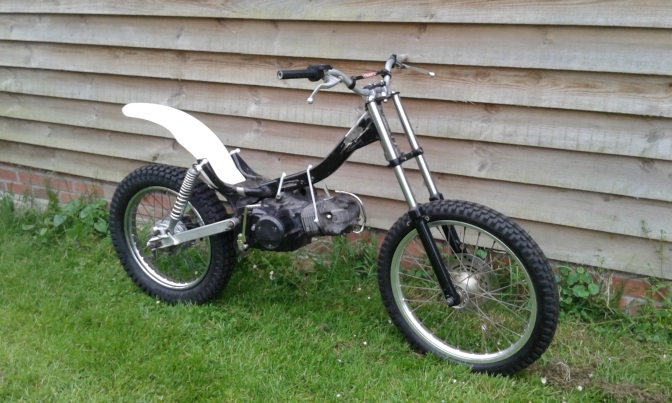 Photo Courtesy Tim Churchill.
Thats the Spirit.
~~~~~~~~
20/03/2017.
Here is ex Purple Helmet Colin Farghers C90 trials.
~~~~~~~
Colin now lives in France and not the Isle-Of-Man.
~~~~~
Colin as just ordered a YX140 engine for the bike,
~~~
And I am going to give him the information of what we did to our first bike to get it to run how a trials bike should.
~
There will be a Page on Colin's bike later. and he may even build another frame?
$$$$$$$...
Photo Later Glitch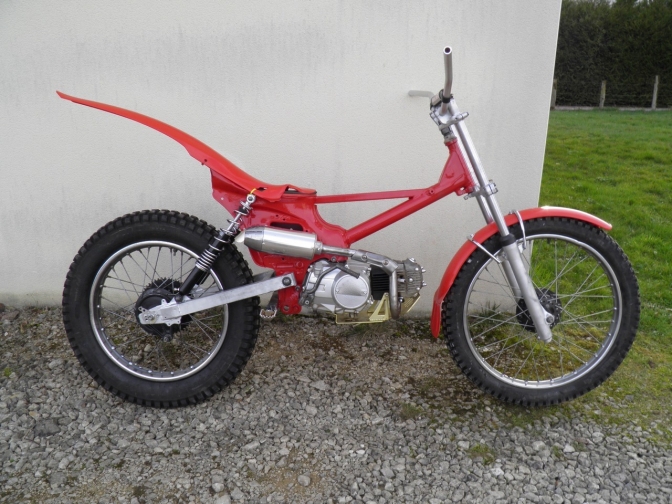 Photo Courtesy Colin Fargher.
~~~~~~~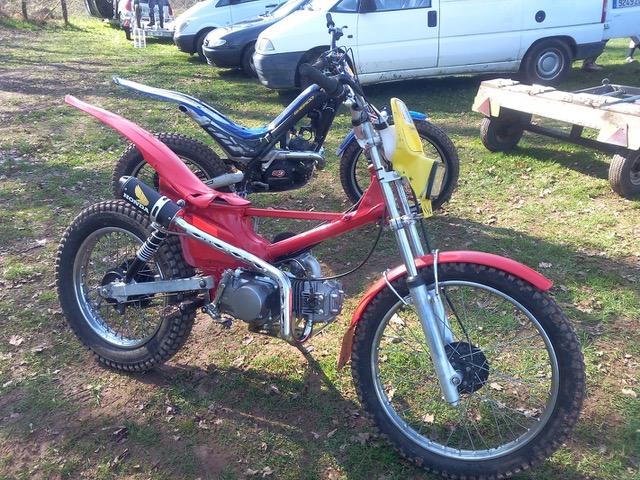 YX 140 engine now fitted and tried today 26/03/2017.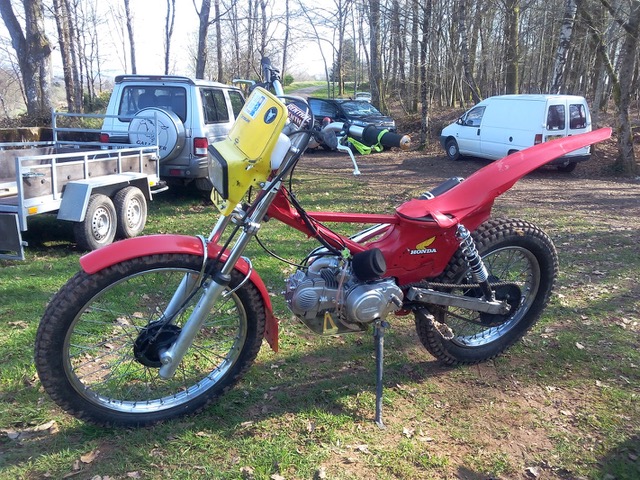 Story Later.
Jon Bliss Built SuperCubs,
And more further down the page.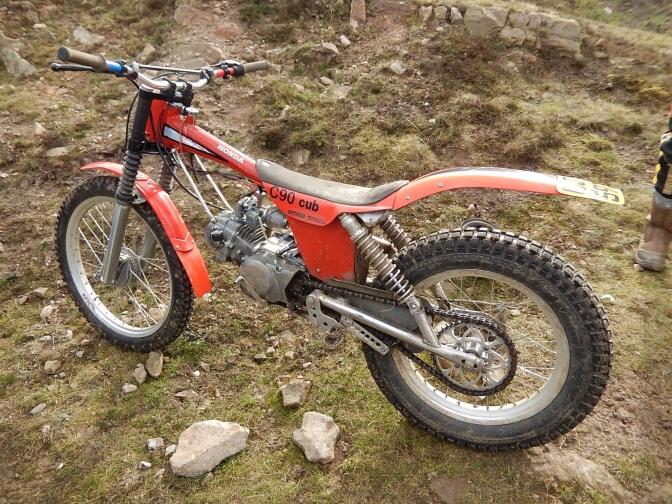 Jon Bliss built Cotswold C90 super-cub...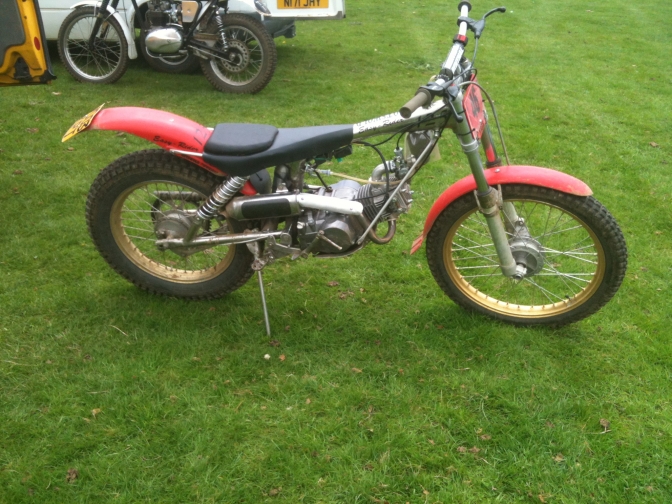 Jon Bliss built Original Super-Cub C90 trials. Easy-rider.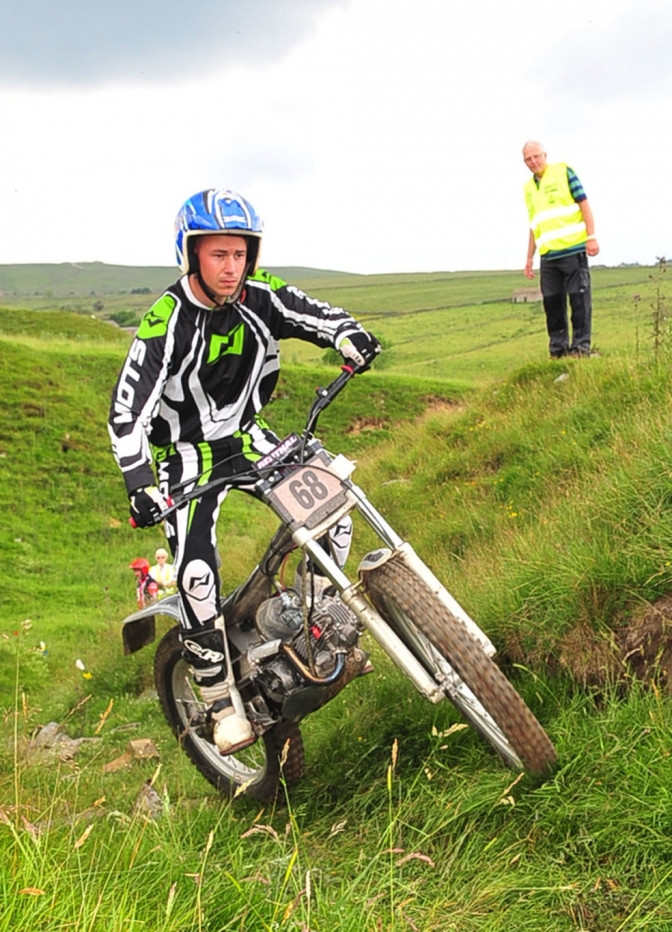 Photo Courtesy Offroad Archive and Jack Knoops.
Here Young Ben Wilmore riding his Jon Bliss built Cotswold C90 Super-Cub trials.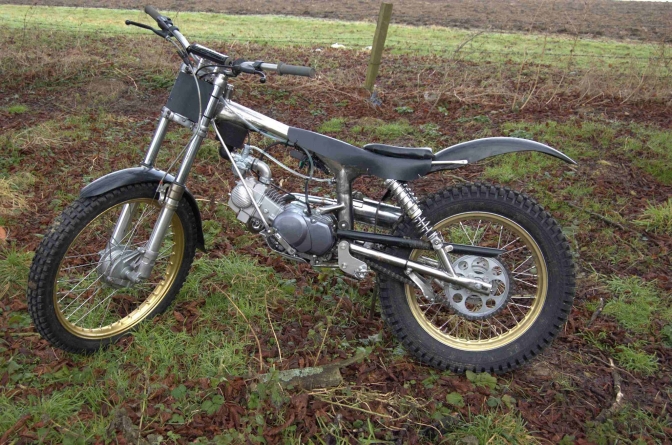 Ben's Bike. Jon Bliss Built, Cotswold C90 Super-Cub.
*******
Another Special Super-Cub. from Japan.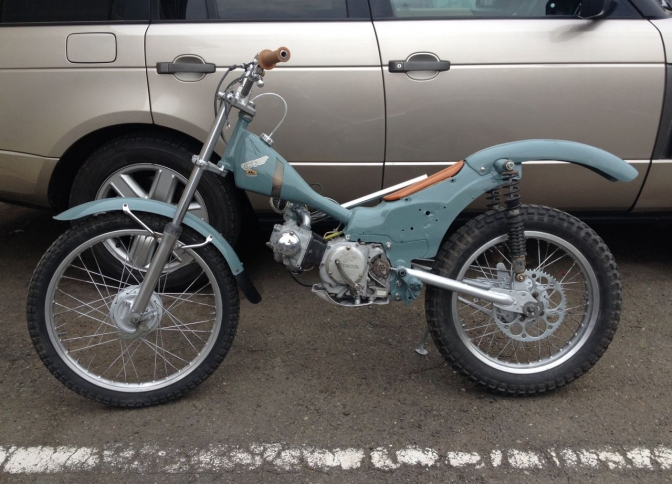 The Super Cub trials above was built by Reio Ono in Japan. and is still ridden in Japan and runs very well indeed.
*******
"Beyond Perfection". watch to the end.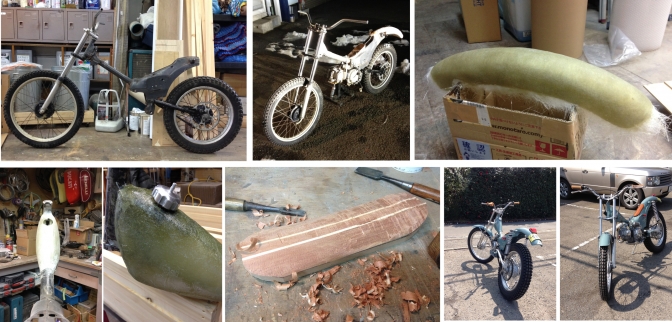 An exercise in Perfection.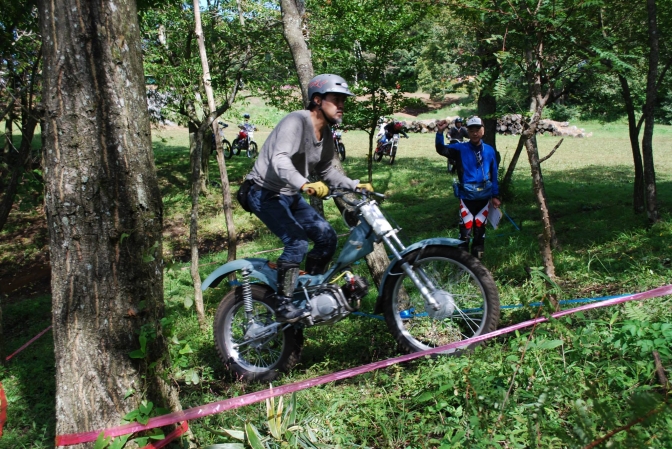 A Rides like a Modern trials Machine.
And has the same proportions.
A Work of art.
I have loved several

HONDA TL 125

from nearly

30

years ago.
Before that, I wanted to ride again in

SUPERCUB

where I was in teenager, and I bought a frame of

C70

several years ago.
I tried fitting

CUB

as a trial bike after watching the fork of the

TL 125

and the swing arm which was left in the garage attached .
And it became the proportion of the modern trial machine.
It is now on the

CD 90

engine.
Reio Ono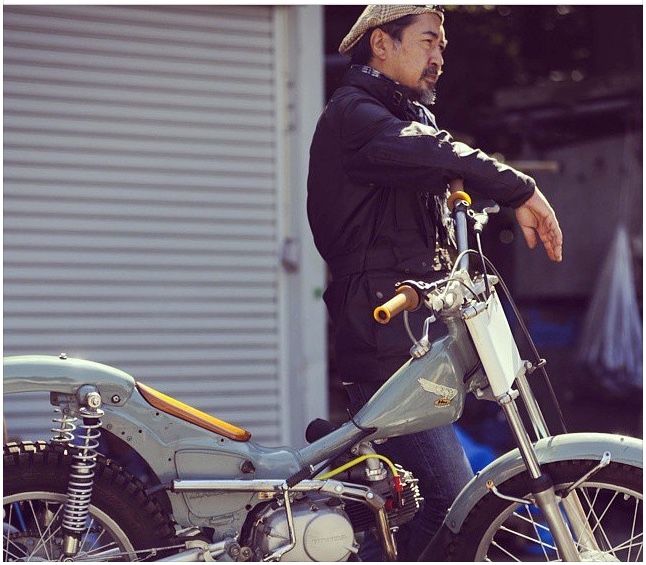 Man and Machine, Thank you Reio Ono.
Perfection.
©©©©©©©©©
$$$$$$$$$$$$$$$$$$$$$$$$$$$$$$$
And the USA built Super-Cub.
And the first build here.
Scott Kirns CT 90...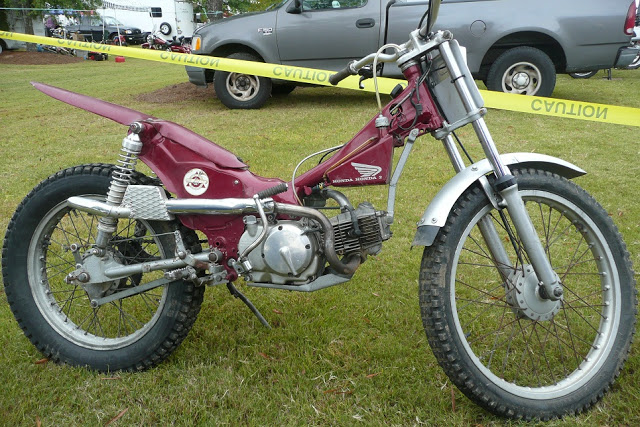 Here Is the second version of the Super Cub built in the USA. Not quite as pretty as the first.
The first bike was the same colour as Reio's bike above.
The original C90 trials built in the USA was later to get written off in a car and trailer accident.
What a terrible shame priceless.
Build report Later.
Been doing a bit of research on this bike,
21" Front and 18" Rear wheels, both are custom units, CT 90 hubs drilled to accept larger spokes and laced to alloy rims....
SL 125 forks, purely from competition spec standpoint, anything else is too new for the rules...
S90 swing arm and pivot, lengthened, shock mounts raised and pivot point lowered in the frame...
Upper shock mounts moved forward 3"...
Heavily modified S90 engine
Footpegs mounted to frame at approx swing arm pivot location...
Rewound Armature to work with CDI eliminating battery...

This bike is #2 in the evolution, #1 was a pretty basic modification of a KO, so it can be done on a budget

I am going to go for it, the SL and S-90, CT 125 stuff is pretty tough to find so I think I am going to head to the XL/XR family, see if I can find some petite forks and wheels, and swing arm, already scored an aluminum fender, wont mod the engine, just want a good runner.

This wont be a comp bike, just something cool to terrorize the neighbourhood on.

Steve...
Charlie~Oo> Thank's Steve been looking for this for some considerable time.......
~~~~~~~
Jon Bliss built SuperCubs.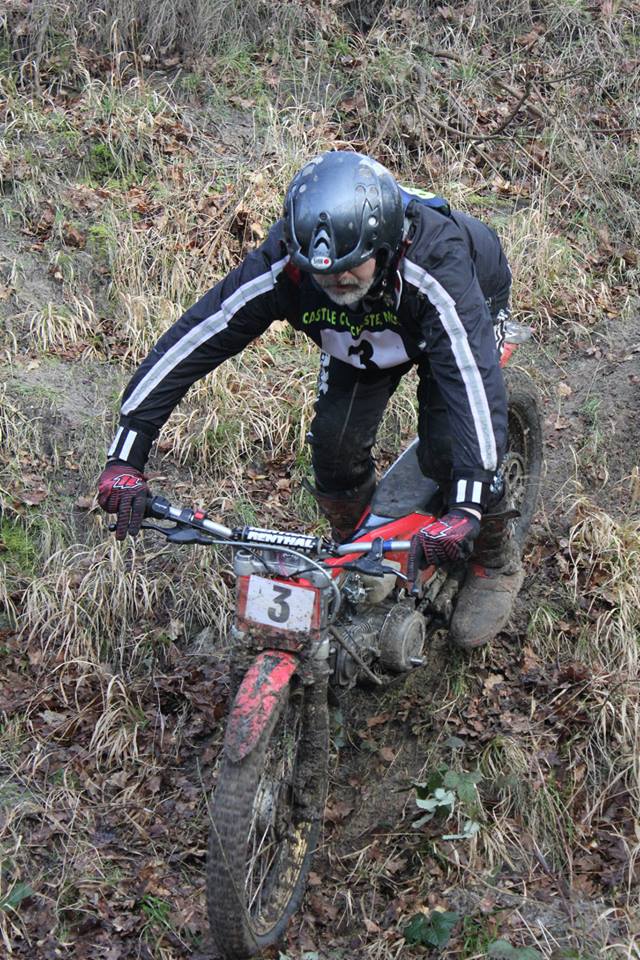 Martyn Wilmore, Ben's Dad riding his version of the Jon Bliss Cotswold Super-Cub.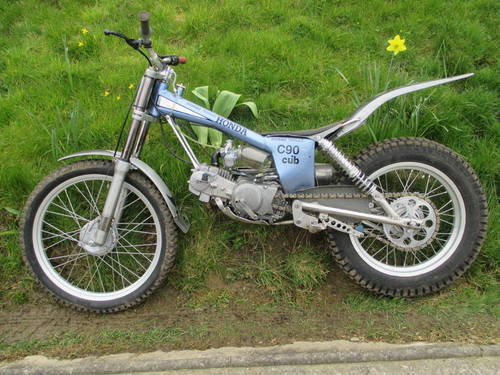 This Jon Bliss built C90 Cotswold "SuperCub" Trials bike is for sale.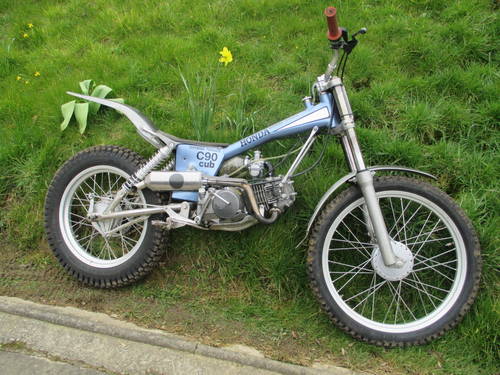 If you are interested in buying this bike you can contact me and I will pass you onto Jon.
The Price of the machine. is £2,350. NOW SOLD< Sorry.
~~~~~~~
Story about this Later.
~~~~~~~
"Edge of Iceland Adventure."
I did a full log of this journey that Lee did on Blog-spot.
but Google are not being very helpful about me getting to it.
So I will try and remember with the help of the Photos until Lee has time to make any comments and corrections.
As I say above the bike was left in the corner of the dusty workshop for two years before Lee decided to do the trip for one of his BMX mates from Newcastle that was in the States and had been badly injured, his name Steven Murray.
This was the "Stay Strong" charity that was set up to help him.
Lee collected the bike from Warwick and arrived at my front door in Banbury at Noon on Saturday to start his Journey.
He left to catch a train through the chunnel, and rang me that evening at sixish to let me know where he was.
The plan had been has it had been on the Britain trip for him to let me know where he was going to try and get to and I would the next day let him know where there was a camp site at or near that location. well he was going to stay somewhere near Calais that night but had travelled up through Belgium when he rang me, and near to Antwerp.
He said he had pulled in to get fuel and there was a black sky like he had never seen before so had decided to stay in the Motel there for the night.
The journey continued up through the Netherlands and Germany on the Sunday and he needed a camp site near Hamburg .I found him one that was quite urban but he told me the next afternoon arriving early and rang me at two o'clock in Hirtshas Denmark, to catch the Faroe ferry the "Norrona" run by the Smyril Line. that leaves on the Tuesday morning at about eleven.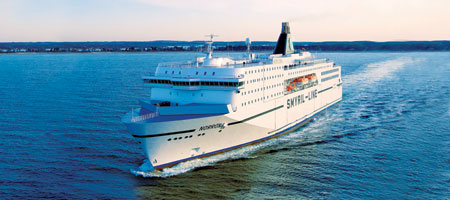 Picture of the Norrona. ferry.
Wednesday he rang me from the Faroe Island where is the midway stop. and said that the Norrona should arrive at about eight thirty on the Thursday morning in Seyoisfjorour Iceland.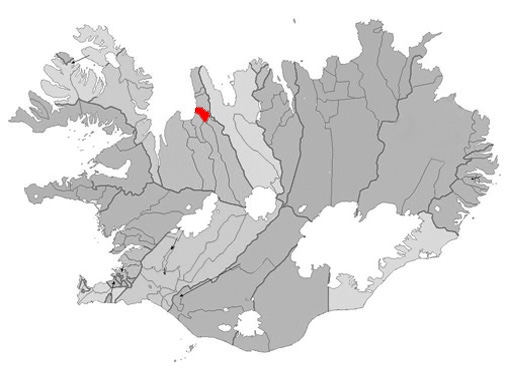 Route was to be anti clockwise from the port taking the A1 highway(Route One) that has you will see is little more than loose tarmac and gravel in places. The red marked is Blonduosbaer.
The journey continues here.
These are three superb photos Lee Photographed in Iceland they are available from him turned into framed pictures.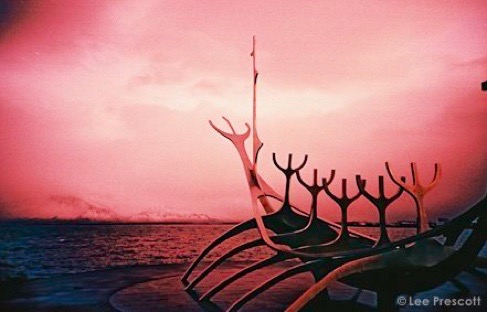 Iceland second trip taken in January.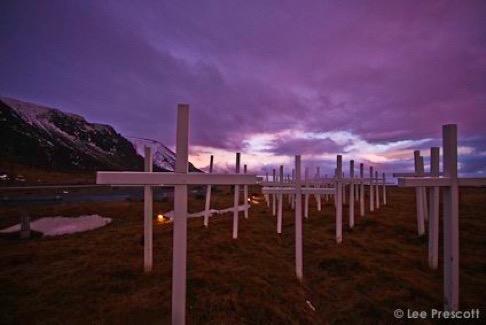 *******
This shot again from the second trip taken at 3.30pm in January. near the Route One.
It is a memorial...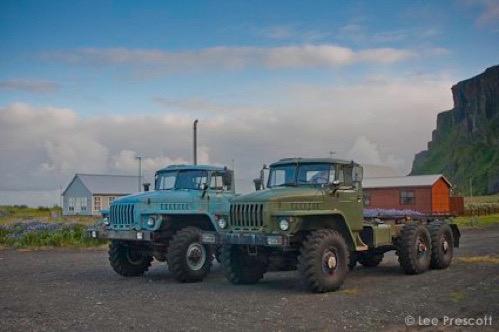 This shot is from the trip in June taken on the 9th 2009. My favourite shot of the whole trip.
Here below is a map with Route One marked on it.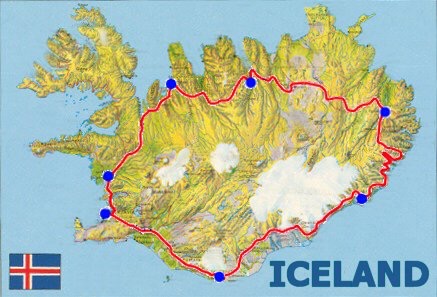 Starting from the centre top blue dot and going anti-clock wise each one is roughly one days journey and about the route Lee took.

Bloudes filling station.
One of only a few on the Route One.Well probably more than a few.
But some are quite a distance apart. And not all of these are the same.
Some are only pumps that except credit cards but you will need a Pin number.
Most however are more like social gathering places for not only visitors, but also the locals.
Most have shall we say eating facilities, some near top end restaurants, but the best part is that they also sell other good from agricultural machinery at one end, to groceries and provisions at the other, and most are open twelve hours a day, and most days, unlike local stores that sometimes only open two days a week. Favourite food seems to be there take on the "Hot-Dog" sausage.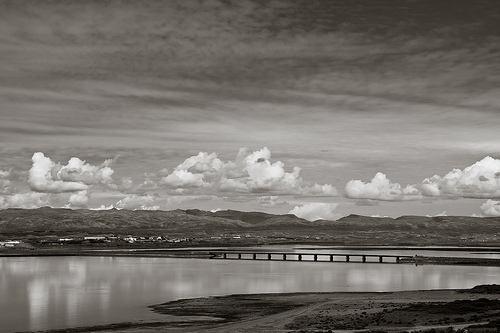 This is Borgarnes and the bridge across the estery. this is the second largest road bridge in the country and a essential link to Borgarnes and the "Route One" Highway.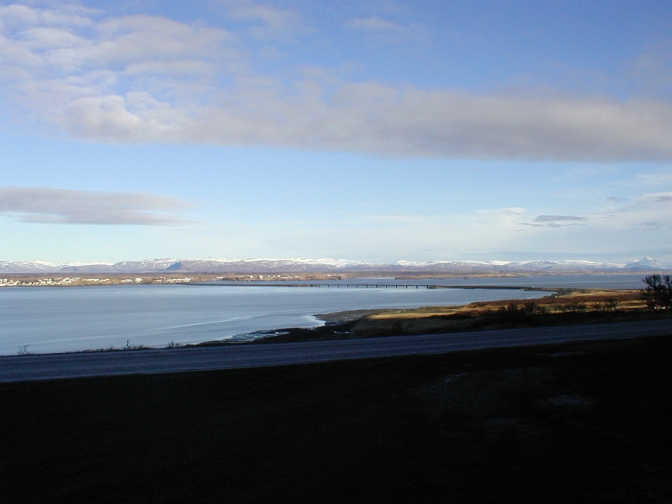 And a coloured shot of the same bridge crossing.
These Icelandic sheep have far different wool to most sheep. I wonder why that is?
But it is put to very good use in the country it is grown in.

These socks are a made from the fleece of the above sheep and not only do they keep your feet warm they are virtually waterproof too.
the inner softer part of the fleece acts as the insulation whilst the outer with its natural oils is virtually water proof has I say.
The fleeces are sorted and then washed but with very little detergent so not to remove the oil.
Then spun and mostly hand knitted into socks mittens or the famous Icelandic pullovers.
Lee says they were a life saver in the extremely low minus temperatures on the ride.
The gloves he bought were also just has good.
Unfortunately it seems that they are literally kept in Iceland and know one exports them to other countries.
Well not yet anyway.
Most socks sold as being Icelandic have never seen the country.
So if you go there buy as many as you can for these are the only genuine items.
To Continue...
SAT 14th May 2016.
Right I will continue with the story later now I can get back to this web site, it has only taken me TEN hours today to achieve this and I was dumped by the Freeola team at One Forty five, and I know to you guy's it is only a job.
But the problem did start on Friday the thirteenth.
And they did sort it out for me later
Thank's Guy's
Updat2023...06...