2022...
Welcome,
Benvenuto,
Bienvenido,
Bienvenue.
To BSA "Otter".Com.
Back to what the site was started for this year...
After the "Triumph" of a year in 2021...
We are back to promoting the "Otter" Brand of trials bike.
For 2022...
There are still many "Otter" trials bikes in use, but there are just has many taking it easy in the back of a shed.
Let's get them back out to join the fun this year (We hope)...
Or build up a New one...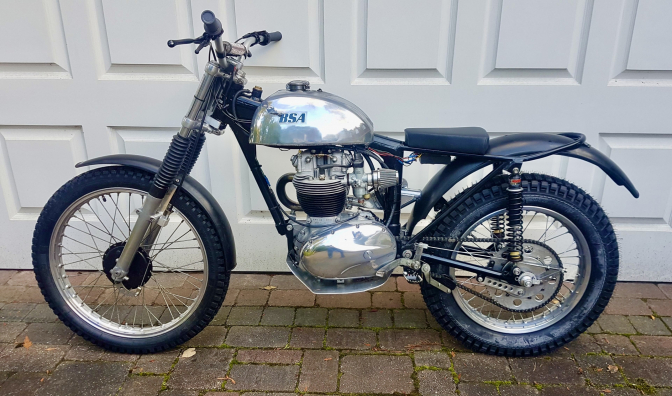 Like this Foster B40 that Mike Smallshaw Completely rebuilt...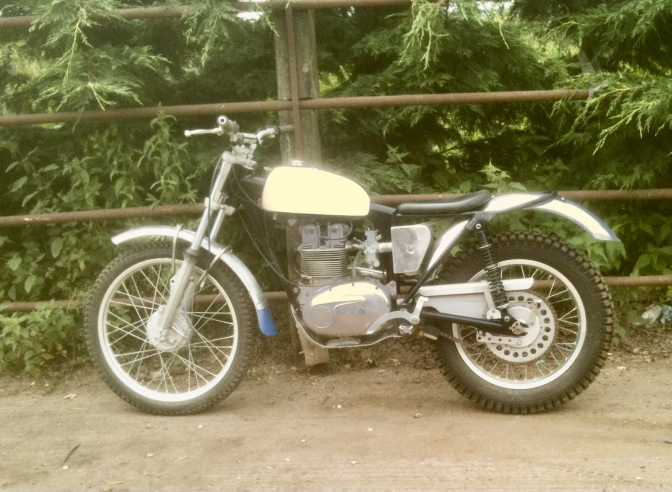 Or my Faber Mk2 B25 with all the Terry Weedy parts fitted...
Foster C15 G BSA Otter...
And the bike I have to put back together early this year, I know you have bikes in bits just like me...
Lets try to rebuild some this year...
I know of several New and S/H "Otter" frames still sat on benches and never yet built into a trials bike.
~~~~~~
In the Beginning...
Way Back in 1962 we bought this BSA C15T, I think from Pride and Clarke in London... For brother to ride.
It still had Scottish Six Day trial markings on the frame...
This is a tiny snap shot, but if you look the subframe has been lowered and the oil-tank modified and chrome plated. Silencer not standard and alloy LYTA tank fitted......
But it still had the C15 cast iron hubs, and it still had a chrome plated steel front mudguard, I fitted the red Metisse fibre glass one.
So this bike came out of the factory new in 1960 but had been carved up for a smaller rider to compete in the Scottish trial.. Only two years from new...
Nothing changes does it...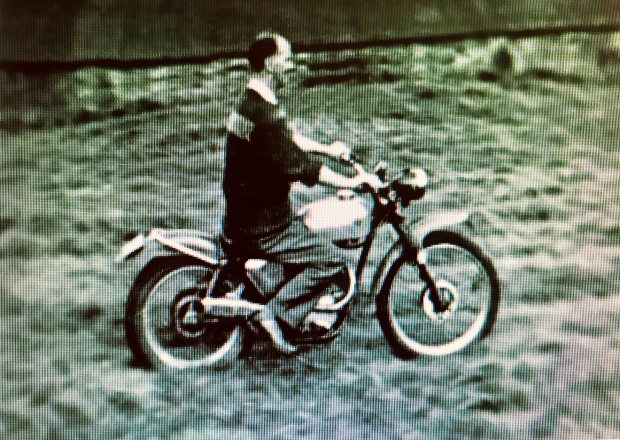 Father aboard the BSA C15T in the orchard at the farm...
Note: Still got the leg warmer front exhaust pipe, and look at the dented in oil tank for leg clearance... And how about the foot-peg position well before its time...
Lights so that bruv could ride to work on it during the week...
~~~~~~~
So Welcome to 2022...00.15...........2022
Make The Most of This Year...
27/12/2022...**
Spent a Happy few hours looking back over the BSAOTTER.COM years, and before from the year 2000, when I got back into "Old-Trials-Bikes",
and it has been a learning curve ever since... I will put on some of the stories and photos. from these years over the next few weeks as I find them...
And next year we will do a lot more with "Old-Trials-Bikes" as a theme...
I have a cunning plan, that if every one of us that reads these pages gets just one other person interested in "Old-Trial-Bikes" we will double the numbers of people on this site, and in the Old -Trials-Bikes sport...
You see where I am going...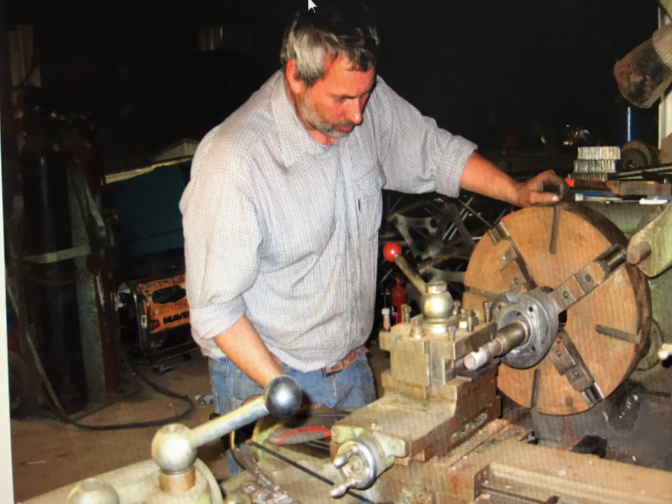 This is mate Paul in 2009 boring out a BSA C15 barrel for me to take a Triumph piston ... this is the old big lathe that sadly brother decided to sell...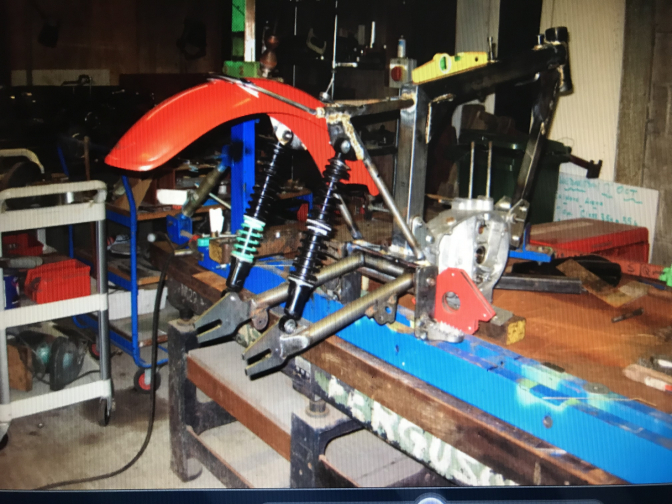 And the SQ frame from 2009-2011...
More Later...
24/12/2022...**

19/12/2022...**
Talking to a good mate at the weekend we were looking at the web site as we talked, he said the one problem with your site is that you have to spend ages looking down the side page list to find the page you are looking for.. "I know I know", I said I wish I could make it more simple…But this web site is now just coming up to its 13th year. And this means it is the older technology, and the problem is that to change the site format would take me months… with the amount the site has grow over the years… Do I want to start another site Not realy…
What you can do is to Click onto the MORE== page finder in the top right hand corner for a far better view of the page list…Merry Christmas Folks… =MORE Later…
16/12/2022...**
We like these sort of stories at Christmas...
Matt left a message on the "For Your Comments" page
Asking for any information on the little CoTTon Mickmar trials bike....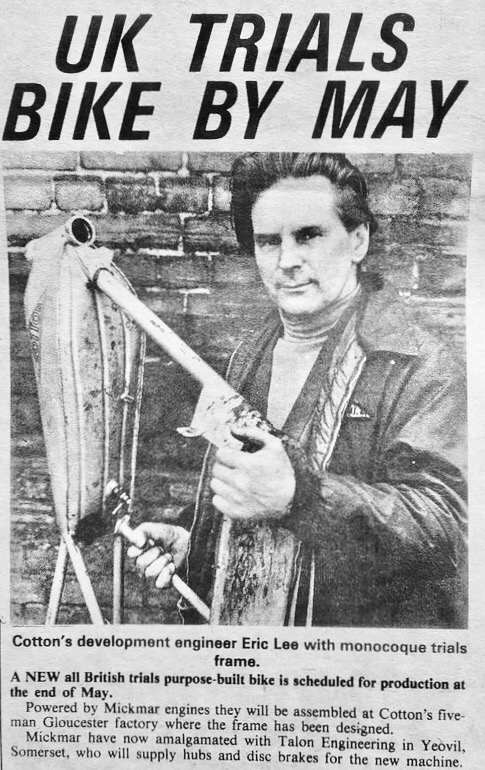 If anyone has any information Please get in touch... could be a good story... We know John Close rode the little bike for a season... so It did exist, but did it get scrapped at the factory?
14/12/2022...**
New Page Up "The EXIT trials Bike"...
And If Only...Trials History would be a lot different...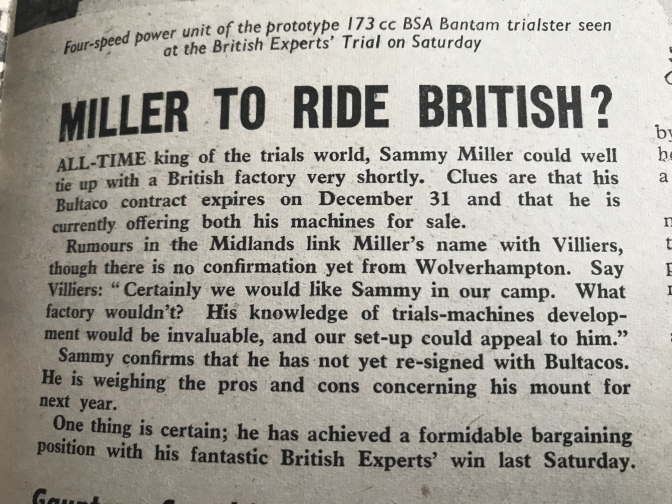 More on this story later...
13/12/2022...**
Busy week as always this time of year and part supplies STOPPED with the undustrial action...
But Hey its Christmas...
Pages updated and I can't remember all of them sitting here in the freezing cold.
The Diamond trials bikes...
Villiers 1966 page...
Norman Hanks Big Beam Bantam...
are just three.
I will list more when my hands come round and the ice thaws from me gloves...
03/12/2022...**
The "One Off Trials Bikes "page has been updated with a very interesting build, you will like that...
Why not send me your "One Off '' build photos and stories.. Go On our readers would love to see them...
02/12/2022...**
One of the jobs a week or two back was to get this tube mitre machine restructured with better adjustment... each size of tubing has the presice corresponding sized roller to make the joint perfect...
30/11/2022...**
New Page (NOW UP). coming up shortly on this little known make...
"The Diamond"...Trials, and one scrambles bike built by
Bill Dukes........
Any new information would be good and help the page and trials bike history... I will get it on and then you can add to it... char7748@tiscali.co.uk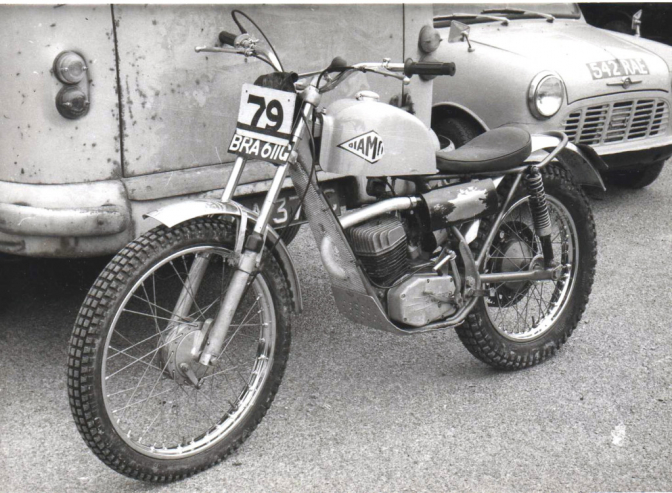 24/11/2022...**
Another New Page up... Honda RTL250 S...
22/11/2022...**
New Page up.... MECATECNO MR 326 trials bike...
~~~~~~~
Just a coincidence this, but the information from the Otter site must make it stand a chance of selling>>>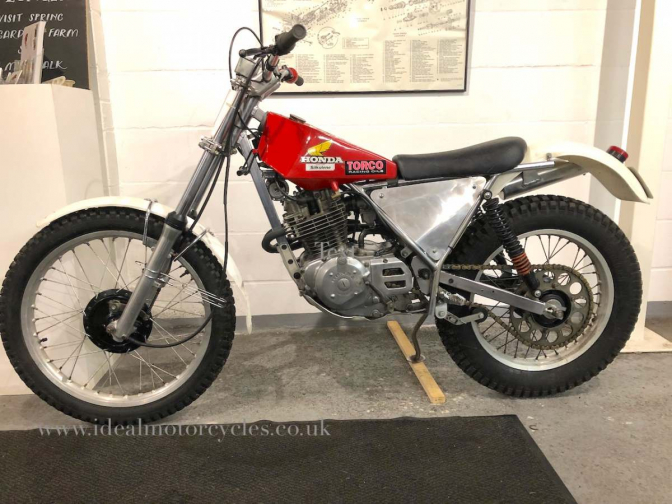 DESCRIPTION
1980 Fraser Honda HT250 Trials
Extremely Rare Trials bike. Excellent condition. Runs well.
Built by the late Colin Tipping of 'David Fraser Products' Heming Road, Redditch in collaboration with Frame Builder Steve Wilson
and Fibre Glass Expert Stan Tranter in 1979/early 1980. One of 10 built and one of only four known.
V5C present. £ 8,350 Our info in green...
~~~~~~~
Fraser Page was updated this week end...
All the Justyn Norek's test pages updated too...
20/11/2022...**
TMX September 2016...
Our good friend, Justin Norek, has recenly purchased a Fraser Honda Trials bike. As Justin says it's a lovely looking bike, but he doesn't have much information on it.
Even the legendry Sammy Miller MBE said he didn't know anthing about it.
It could even be a 'Fake Fraser' as it has no front down tube – the engine will be supported by an engine mount from the cylinder head to the top tube of the frame under the tank.
So it could be that somebody has built a Fraser Replica, without a front down tube, or it is a one-off Faser' experiment?
If it is a replica, who has built it, and if it was done by David Fraser himself, who built several trials machines, has he done only one?
A real mystery for sure…
TMX...sept 2016...
With Journalism like this, is it any wonder

TMX

threw in the towel...
Justyn's

name spelling wrong several other spelling's wrong and the information

rubbish...

We on

BSA Otter.Com

already had got information about the Colin Tipping bikes from

2014

...and stuck with the story until we got the true picture for trials history...
Fraser Honda a Forgotten Breed... page...
18/11/2022...**
NEW page up...
Allan Jefferies XL 250 Honda...
17/11/2022...**
Well I thought the "Classic" builds this year had got very slow...But is it about to turn the corner? Allan Hitchcock seems to think so... Good Lad...
And on my doorstep...
15/11/2022...**
New Page... Take a Look..
CLASSIC OFF-ROAD REVIEW...
14/11/2022...**
Just checked on the Silverstone auctions site and the Jon Bliss built Cotswold Jialing is still for sale but be Quick...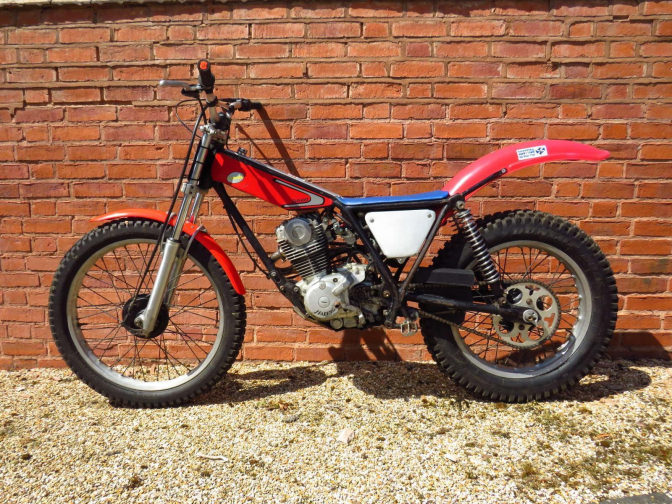 c.
2001

Jialing

Cotswold

Trials Bike 175cc

As used by Doug Theobald, legendary trials rider.
Buy it now for

£1,650

- contact

enquiries@silverstoneauctions.com
~~~~~~~
Look what fell into my cockpit this morning....
Volume One of the new Classic Off-Road Review...
New Page and story about the book shortly...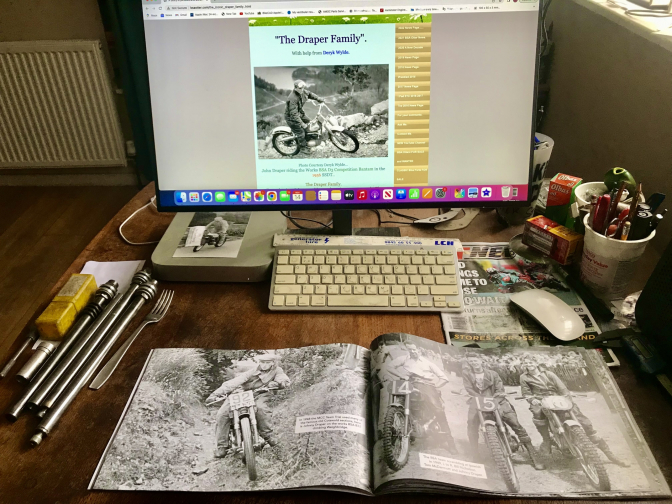 09/11/2022...**
Load's of pages updated... But Take a look at the Cotswold Majesty page as there is important information at the bottom... of that page...
06/11/2022...**
New Page Up... The Wasp RT4 trials frame...
05/11/2022...**
And another November the fifth...
And no fire works on here this year ...yet...
What we have got is stuff coming up that may boost the ratings a bit, including a Justyn Norek's
Story and test of a very rare 1980's Spanish trials bike a Mecatecno "Green"... just waiting for the story...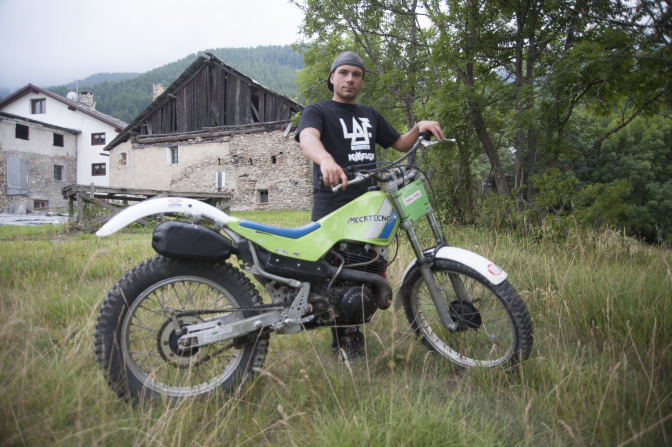 31/10/2022...**
Sad to see the demise of TMX News and the brand name too...
this is a sign of the times I feel...
The interest seems to be waining on Classic motorcycle offroad sport. (although you would not think so with some of the Classic scrambles meets)...
There is not the driving ambition by the younger generation to make it build again it seems to me... and a lot of the clubs running Classic trials seem to have a lackadaiscal feel for the sport. I was only checking out the website of the Stratford on Avon club yesterday and it has just been left with 2019 results, how keen is that, and the entry for that once Classic trial the Sam Cooper Union Jack was very poor more trail bikes than Classic...I know... I know there are clubs that run good trials still, but the overall picture is not good with the current interest...
Use this site to let me know what you think, and how we can up the game again... Just mail me and tell me I am wrong... or right...
Charlie...
~~~~~
Heres a part you would never think still existed one for you Mick I think... A set of what looks like NOS Scorpion forks details on the Classic bike parts for sale page...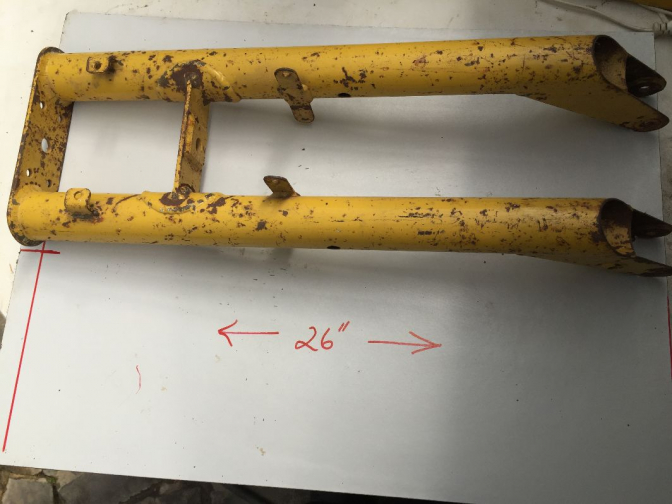 17/10/2022...**
Now come on be honest, would you not like to have the fun of playing at trials riding with one of these little Mini-Otter trials bikes?
There may be an opportunity to do just that in the spring...
Watch this space...
Fun-Fun-Fun...
15/10/2022...**
One of our followers has a set of Tig Perry mag drive Dizzy C15 crankcases if anyone is interested ? Just contact me and I will pass you to the owner...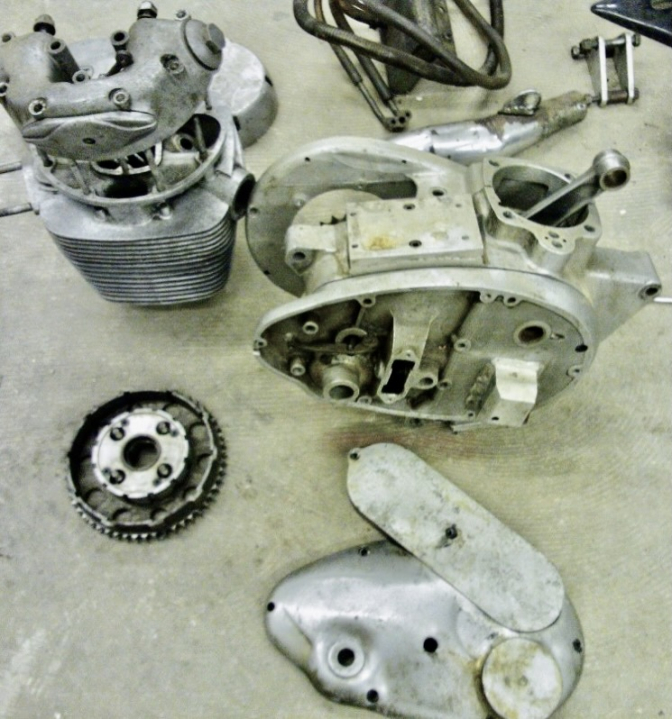 Should I bring back the "Dizzy-Bee" BSA Engine parts page? let me know...
You can Ask For, and Sell the engine parts you have...
14/10/2022...**
Bronze welding 101...
Had a mail from our old friend Jim Switzer saying it would be good to link a photo or two of bronze welding with a video that shows how the job is done... here is the
" Stacked Coin" method, using No4 tip and Sifbronze 3.5 mm No1 rods...
The welds I did below was with a no 2 tip and 3.5 mm Sifbronze No.101 rods, I tend to work quicker and flow the bronze out more ...
every one has their own feel to the job and you can not copy others, it is their signiture.... Just look at John Hands's work he also uses Sibronze No1 rods and like mine T45 16 gauge tubing for the frames...
The "Coin" method...
Now look at Lee Coopers left hand method on the bike frames...
And these tubes are at the most 0.77 mm thick...
More 101 later...
12/10/2022...**
Bronze welding some of the cycle frames is making me do far better welds on the motorcycle frames... This Mini-Otter frame say's thank you only what I diserve...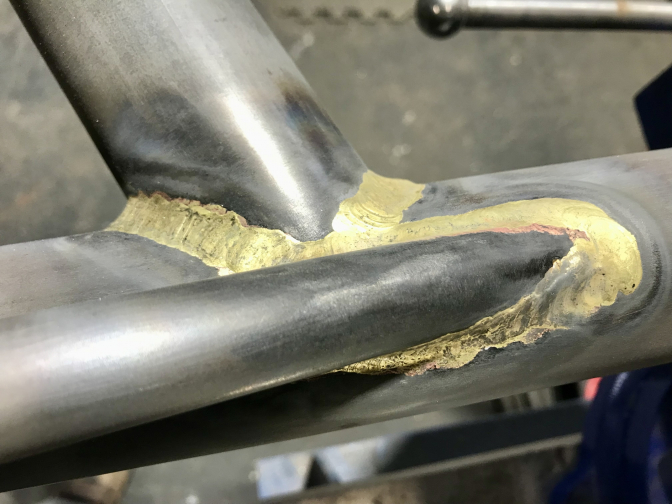 10/10/2022...**
Just look at this superb JHR "C"type Scrambles frame for Triumph 500 and BSA B44-50 engines.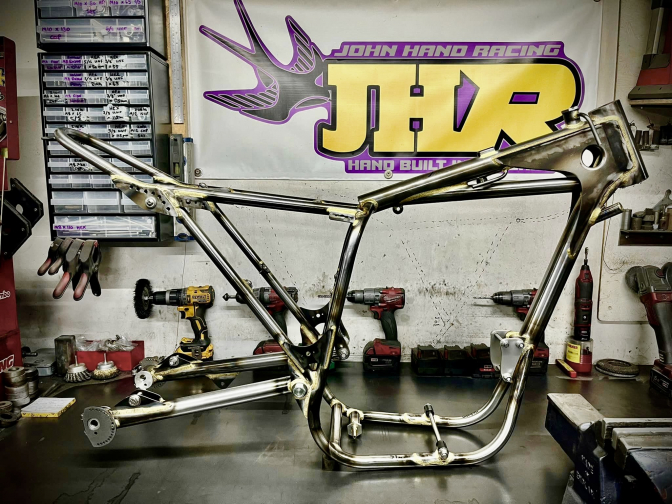 Makes you proud to be British with this sort of bronze welding and frame building skill about... more on John's Page.
08/10/2022...**
Putting a damper on things...
I am still not getting much input to the site from any of you the good amount of people still using the website...
I know the times are not good for any build's at this time and the sport of Classic Trials seems very slow...
But I keep pressing on with this site and my own projects, when I can,
the cycle side of work keeps me 0ccupied most of the time...
But I have found time to make up the two longer Triumph-BSA "four stud" fork dampers that I have been going to do for years. Next step is to fit them into a pair of forks and see if my thinking works... result should be interesting... if it works...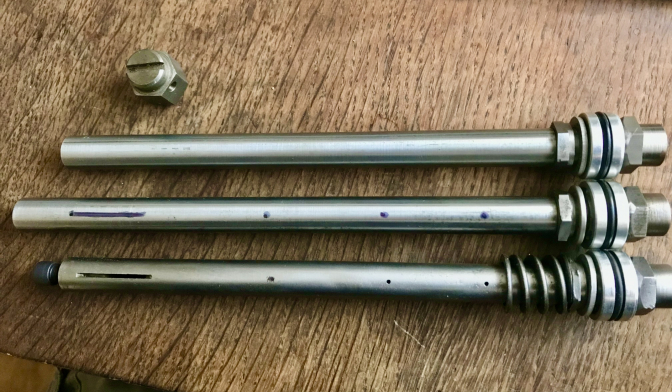 PS...We have got a couple of Classic Scramble bike builds for you which should see two new pages...
26/09/2022...**
What an Example this man is on a way to live your life to the full, not only a very skilled craftsman but an explorer extraordinary, along with a superb video maker… and with a story of life we can only look up too…You will have to look at Sandy's other videos for the full story…
25/09/2022...**
A week in the busy life of my work bench...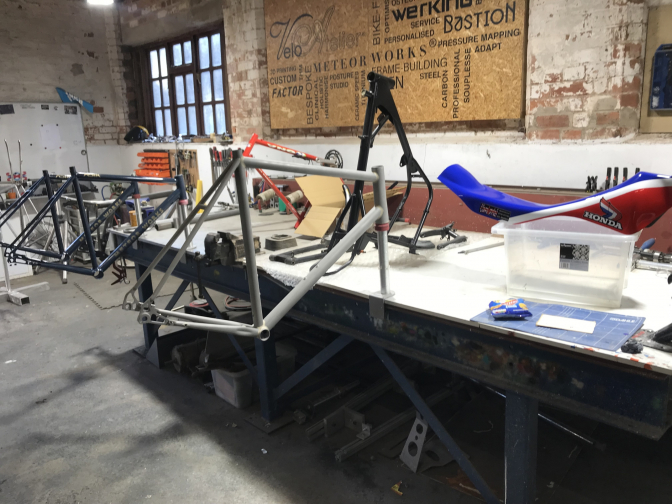 From the left...
Mini-Otter frame in mid weld. two AEsir frames first new, the second just resprayed and waterslide grafix fitted, BSA B25 big bore conversion barrel waiting for the blast cabinet. Retro Kona MTB being rebuilt into new frame. The Hubbo frame with its black base coat waiting to be clear-coated. A new Reynolds Stainless steel tubed frame that I have just blasted ready for paint. And the Honda TLR tank that I have just applied the decals ready to clear-coat too...and lunch... What shall I do next week?
19/09/2022...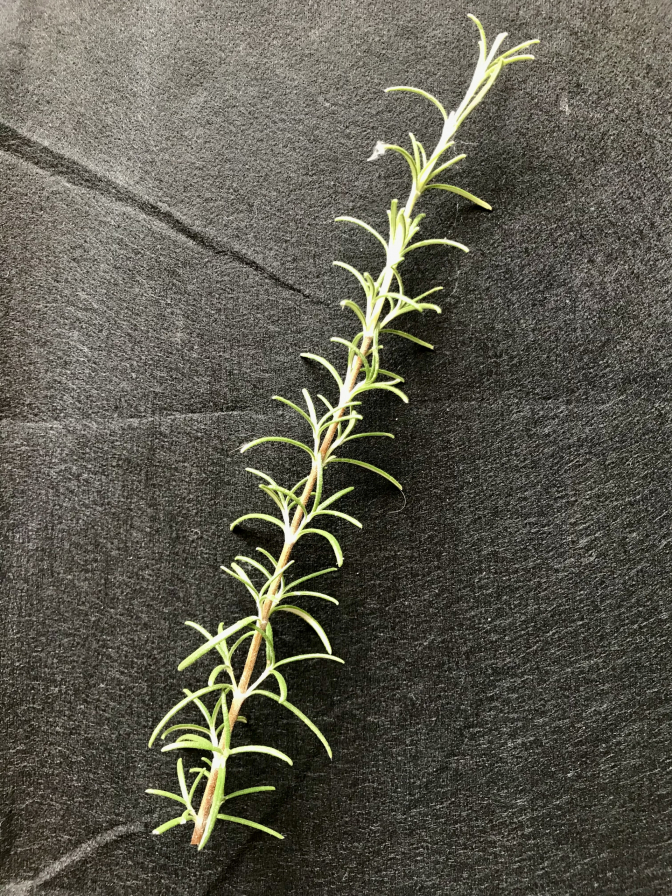 17/09/2022...
I was just trying to think what would some up the Britishness of the reign of Her Majesty more than anything to me… and it has kept coming back to my memory more than anything else, and it is that long running radio drama from the first episode in 1951 to the present day, that closely-nit village named Ambridge, Yes, "The Archers". Do you agree with me… Now try to stop humming that tune…
09/09/2022...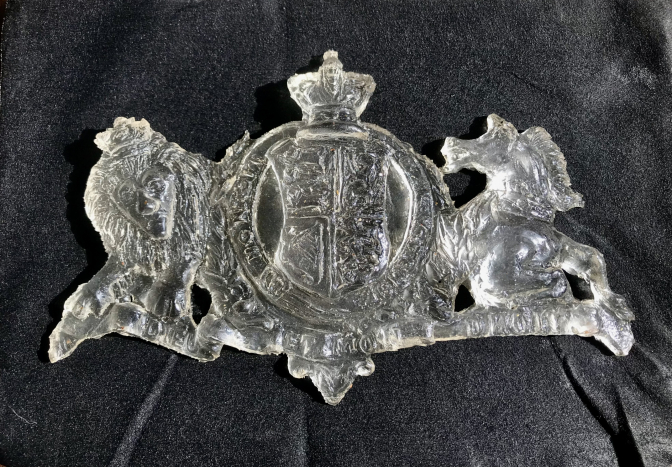 1926-2022... RIP. Your Majesty...
~~~~~~~
07/09/2022...**
After missing out on two pairs of "Four-Stud" fork dampers that I needed on eBay, and at a price of £60 and £71, I thought, right you were going to experiment with a couple to give a extra inch of travel. So I set too and made one to match the spare that I had, so have now got a pair for the next forks. I'm going to make the longer pair now, so watch that page...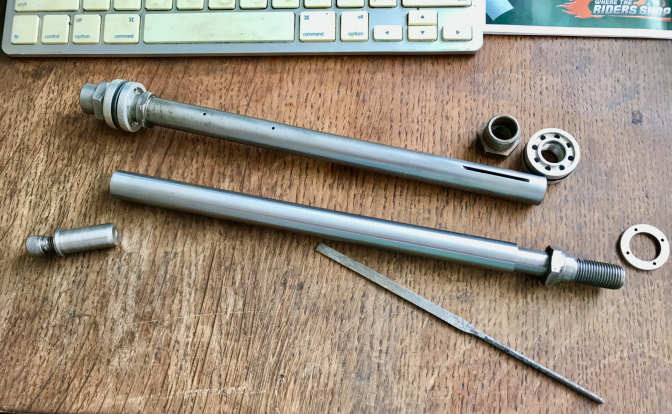 Triumph-BSA "four-stud" fork, kit form damper tube assembly...
06/09/2022...**
Manx International Two Day Trial…
Not getting over this year…
I have relied on Brian to get me photos and information…
But looking at the results.. it seems that it was not as International as it used to be…
Changing times in the Isle of Man like everywhere else…
I have only really looked at the "Pre65"! classes, at the moment…
And I know our "old" friend, hope he don't mind that phrase, Dave Wood was riding his Bultaco in the twin shock premier, we will get his report later I hope…
Anyway the way I have worked it out. Carl Batty riding his James was top man, just in front of the last winner Kiaran Hankin on his BSA Bantam, Isle of Man "Star" Juan Knight was third on the Brian says, Mick Grant Ariel, just in front by one mark of young Ben Butterworth aboard his Ariel…
It is interesting the run down of machines now, which gives an idea of the way Classic Trials are going… Top number of machines is just, still the popular in the IOM as ever Triumph Tiger Cub with 32 starters, followed closely by The run of four speed BSA Bantams with 26 starters. 13 Ariels, and the now less popular from a year or seven ago, James and Francis Barnett, 13 starters as well… 12 BSA C15's and B40's show why the value seems to have dropped on these, and I am surprised at only twelve Triumph twins, but have you tried finding an engine.
There were a lot of "names" missing from the usual list of riders, but has I say changing times, and the club were running with old entry lists. But again a superb trial so I am told. Roll on next years…
04/09/2022...**
Three photo's from the Manx International Two Day trial...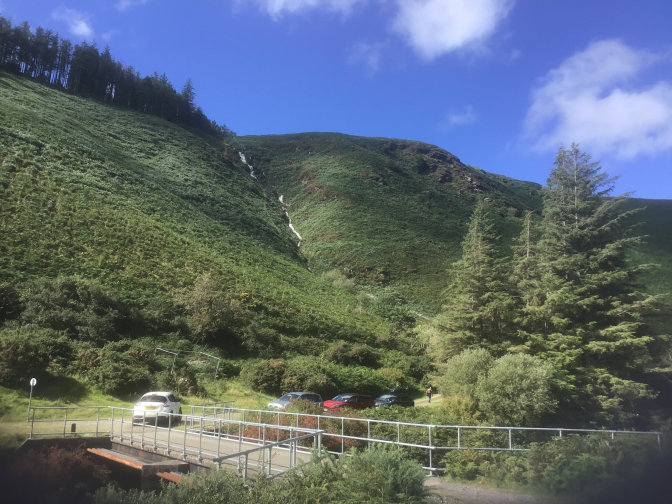 This could only be the Isle Of Man...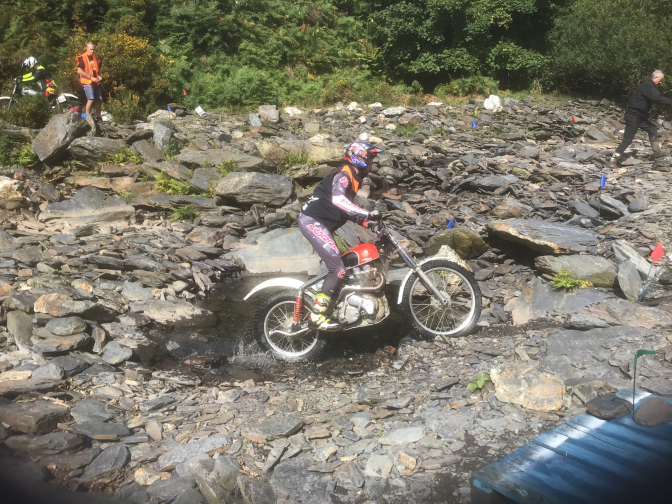 Ben Butterworth 500 Ariel...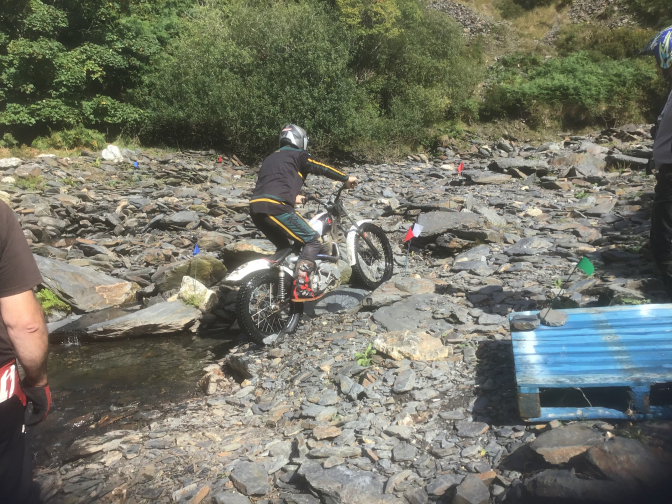 IOM's Juan Knight riding Mick Grants 500 Ariel...
All sections at Tholt-y-Will quarry
More photo's on the IOM page later, and trial report...
Photo's Courtesy Brian Bedford.©...
01/09/2022...**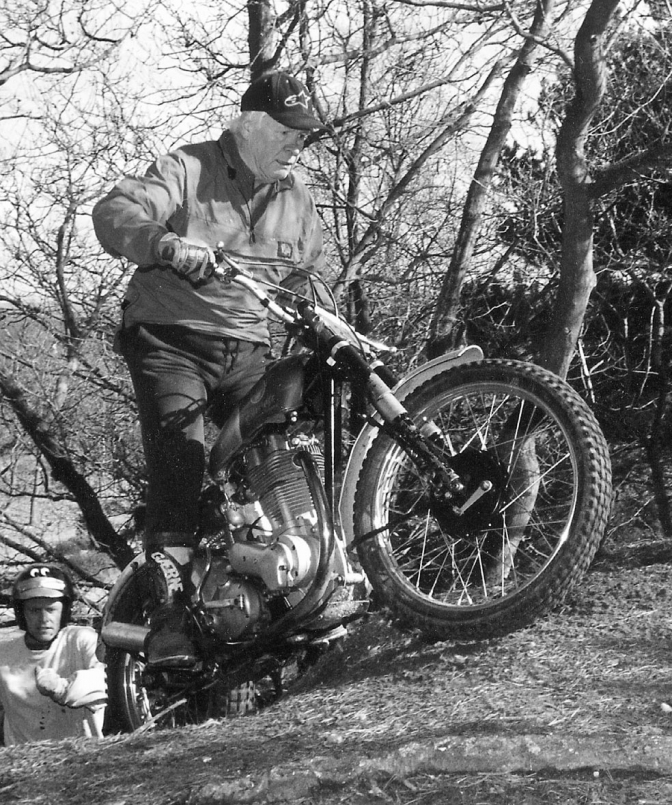 It is with great sadness that I have to report the death yesterday of mine and BSA Otters very good friend, and superb trials bike builder.
Jim Susans..Rest In Peace dear friend… Charlie…
~~~~~~~
15/08/2022...**
Mike's back with the Fabrication...
Another Royal Enfield trials bike project...
With upside down forks?...
10/08/2022**...
Meteor Works Æsir hand built steel production bike...
We have worked hard to create a do-anything, robust and fun to ride bike that doesn't break the bank, whilst still being a handbuilt frame made in
Warwickshire.UK...
- Campagnolo EKAR groupset.
- Deda Bar, Stem and Seatpost.
- Arundel Bar tape and Bottle cages.
- Teravail tyres...35mm...
- Pro Dimension Saddle... all for...

£ 4150...
This is just one of six of these superb do anything Æsir steel "gravel bikes" that I have been working on over the past six weeks...
Just got to get my own built now ... Would you like one?
08/08/2022 **...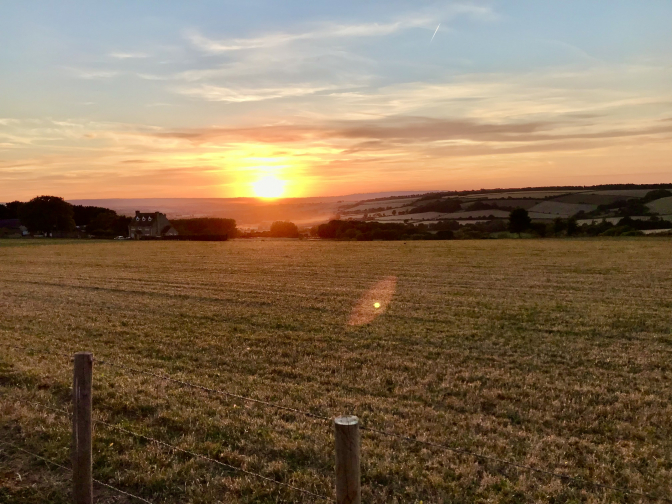 It feels like the sun is setting on BSAOTTER...We need your input and new projects to start a new dawn... I am sure they are out there, but you need to send me the photos and information to have your own page...
~~~~~~~
04/08/2022**...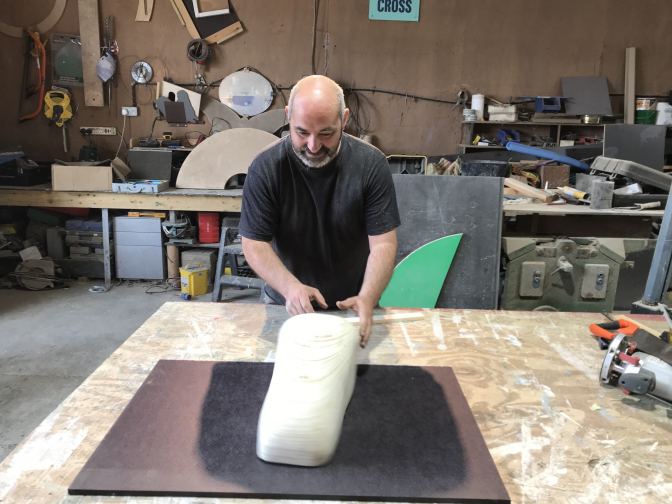 The works carpenter and friend Chris Smith has just finished making an Ariel tank buck with a bit more shape than most... We will see if we can beat the shape into an "alloy tank"... Another for that page...
More later...
03/08/2022**...
Back working on the Mini-Otters for a while in between spraying cycle frames...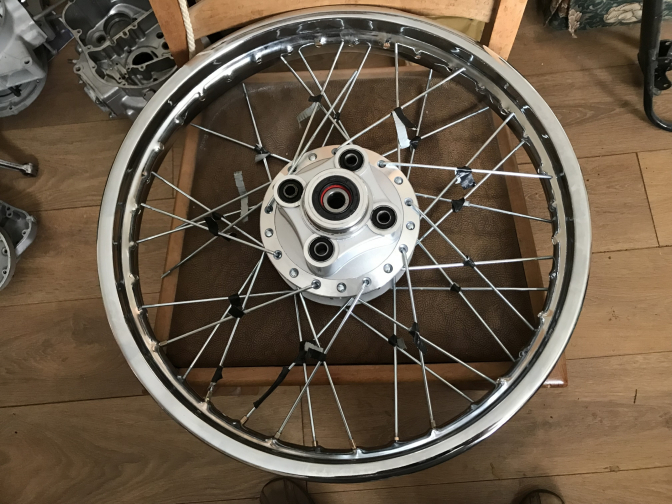 Buying new wheels for the Mini-Otters means changing the rear rims from 140 x 18 to rims of 185 x 18, this one in mid swap mode...
You can see how I make life easy with the tape around the spokes...
25/07/2022... **
Check out Mike's first ride on the Triumph Otter...
Glad to see you have your Mo-Jo back Mike, as soon as you got back to the Triumph Otter.
The last BSA build has been "Hard Work"--- for you...
19/07/2022...**
Take a look at the latest custom build from Velo Atelier...
It has been a great pleasure to have worked on this Meteor Works masterpiece...
Lets see what comes next...
Here is the You-Tube Link...
14/07/2022...**
Seems like a slow old week this and last... been painting, and buying more engine parts that I need, but mainly sand blasting parts for the SUN, forks, hubs, and a cycle frame and forks... I have played with a new adjustable side stand for the Mini-Otters,when I had a break...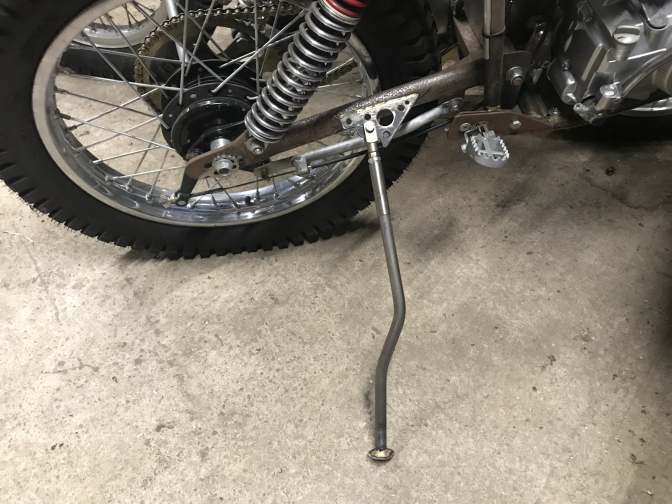 Don't forget the Auction at the National Motorcycle Museum next Wednesday..20th July...
05/07/2022...**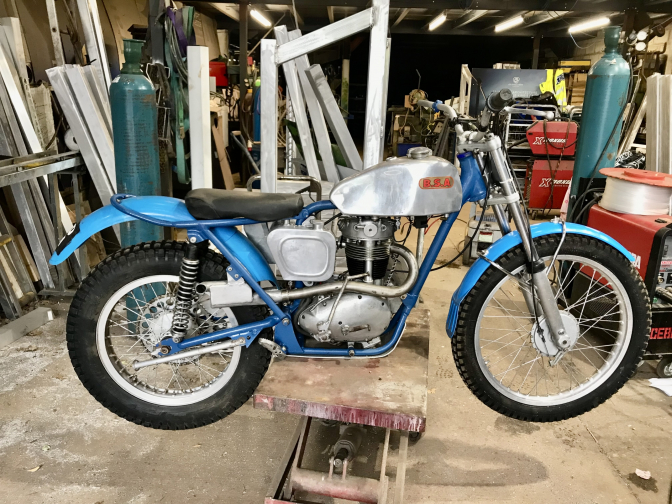 You know the history of this BSA C15T if you have read these pages...
You now have the chance to buy the bike, a truly one off BSA...
1961
BSA C15 Trials Bike
Competed successfully in club and national Trials events
Estimate
£2,500 - £3,500

Buyer's Premium applies (subject to a minimum charge and VAT)
Lot details
Registration No: 620 UM
Frame No: C15 22122
Engine No: C15 FSS 1120
CC: 250
MOT: Exempt
More and images to follow.
This pre 65 trials bike is based on a

1961

BSA C15 250
Ridden to success by Bryan Hyatt in club and national trials
Recent engine rebuild, bike is shown on bsaotter.com website...
The Birmingham Small Arms factory was established in the Small Heath area of Birmingham 1861 and as the name suggests manufactured weapons. Around the turn of the century they started making bicycles and progressed onto motorcycles a few years later. BSA went on to be one of the world's largest producers of motorcycles up until its demise in the early 1970s. In the days when learners could ride a 250cc on L plates one of the more popular models was the C15 which has gone on to be the mainstay of pre 65 trials events.
This heavily modified bike is based on a 1961 C15 and has enjoyed success in national and club events in the hands of Bryan Hyatt in the past. Now fully restored with the engine rebuilt using many new parts and run recently by the vendor, it's featured on the bsaotter.com website...
For more information, please contact:
Ian Cunningham
ian.cunningham@handh.co.uk
07415 871189
Was SOLD (given away) for £2,520...
A project for the BSA Otter site that cost me over £1,000 to rebuild... And then I had no control over the sale, so you see this site costs me a good chunk of money for each project... So I won't be doing that again working on other peoples bikes...
New Page Up... "The SUN Wasp trials Motorcycle"
01/07/2022...**
Had a week on Forks, spraying six sets of cycle forks, stripping down the Armstrong forks to rebuild for the SUN Wasp project... and forking out on a pair of forks for the Dave Yates MTB...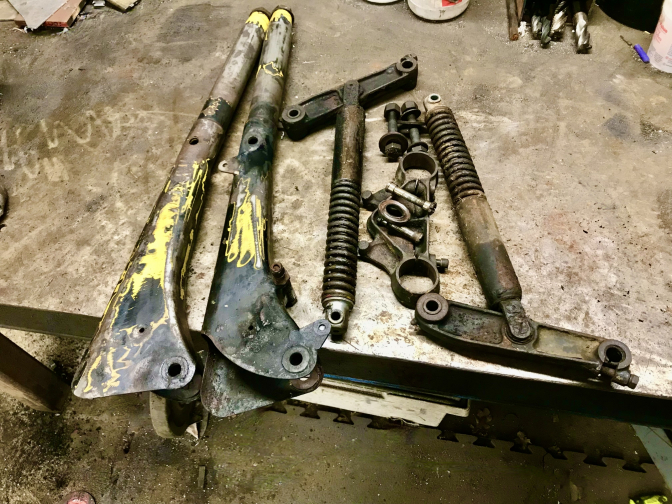 Armstrong forks for Sun Wasp...
A page on the trials bikes going to auction next week... with the photos of them...
24/06/2022...**
Dave Yates replica (B...Job) paint finish done, just needs clear coat...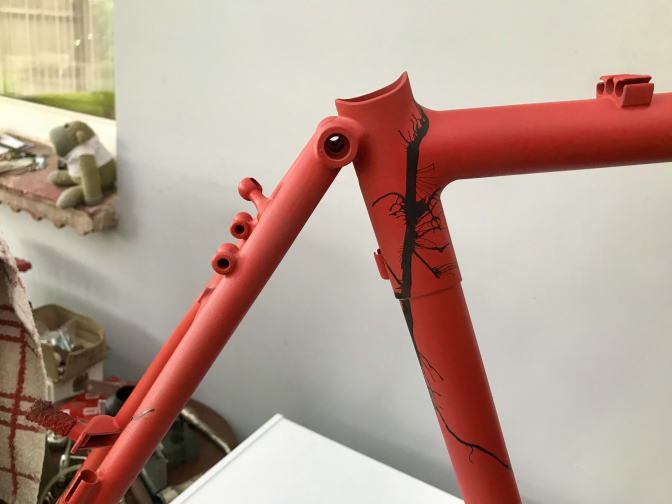 22/06/2022...**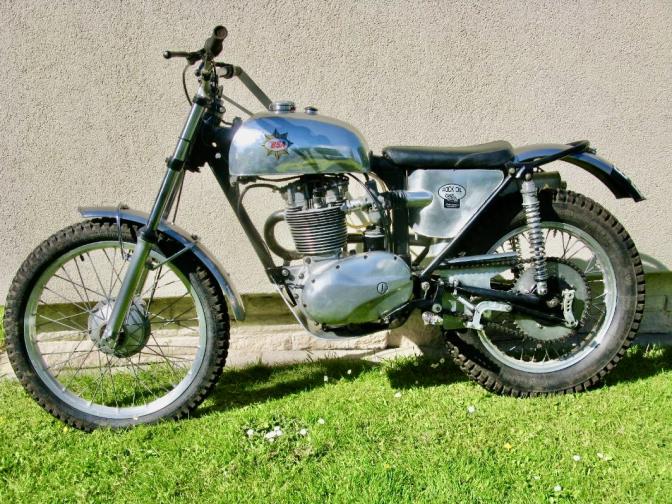 A question was asked...
So how much is my BSA B40 Otter worth..?
The easiest way is to just add up the components you need to build a bike today in June 2022…
And without a lot of minor adding up and deducting, "well I have got that"… here is the list.
Foster Otter Frame kit (powder coated ) £1,500…
B40 GB engine with Pete Kirby Clutch-Drive £2,000…
Front forks REH, £1,500…
Rear shocks (performance) £300…
Wheels, Whitton hubs alloy rims stainless spokes, sticky tyres… £700 each end,=£1400…
Tank (alloy) £400…
Exhaust, system £200…
Alloy guards, £150…
Bars, levers, cables, pipes, etc… £300…
And the cost and time building the bike…
This is just being realistic…
So how do I price my machine…
Let's add this up…. £7,750…. So would you let it go for under £5,000…
19/06/2022...**
Sun Replica steering head machined, with the additions of roller bearing cups... to be bronzed on...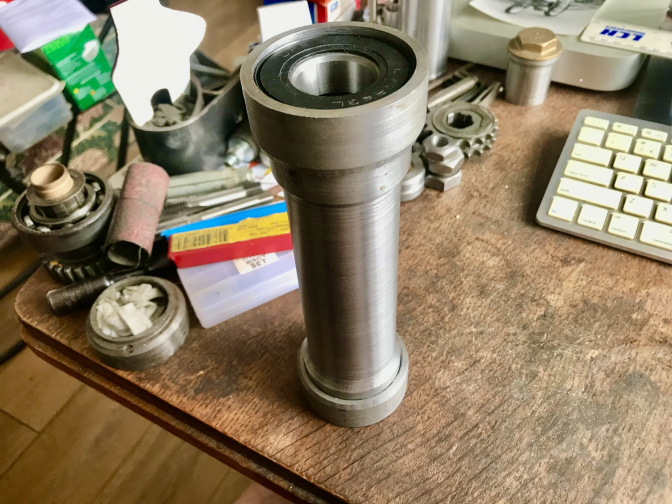 Donning my new white paint overalls I have to recreate the paint finish on the frame below next week. But the good thing is, now being a paint sprayer again, I can make a start to paint the Sun Wasp replica fuel tank...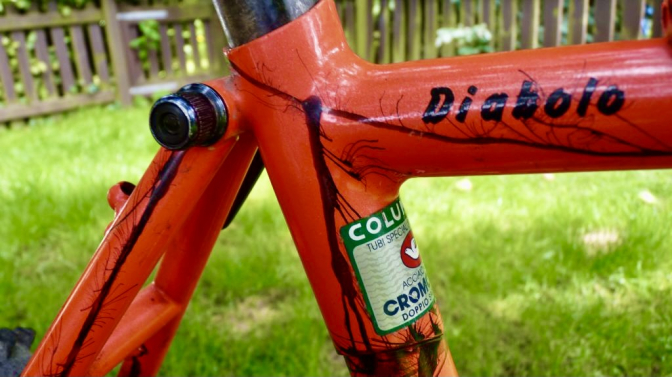 Dave Yates Diabolo...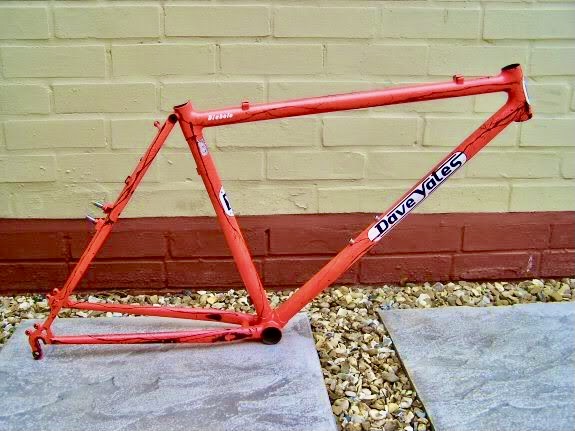 Busy-Busy-Busy...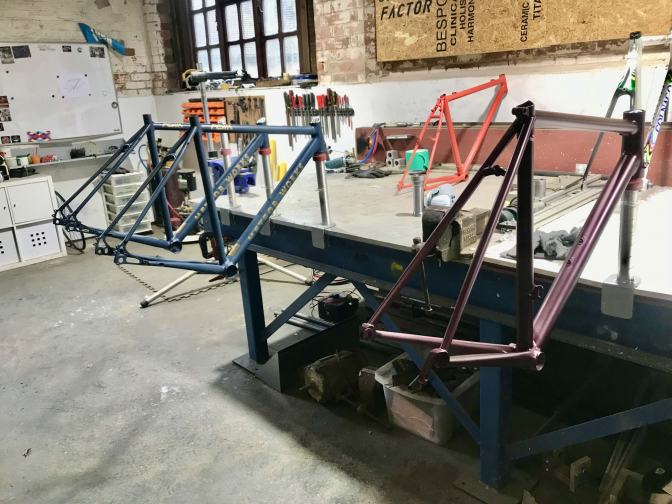 14/06/2022...**
The other job, and it is that now, is to help complete batches of the custom built Meteor Works AEsir frames for son Lee...
So I have stepped back into my spray paint suit for a task I used to love...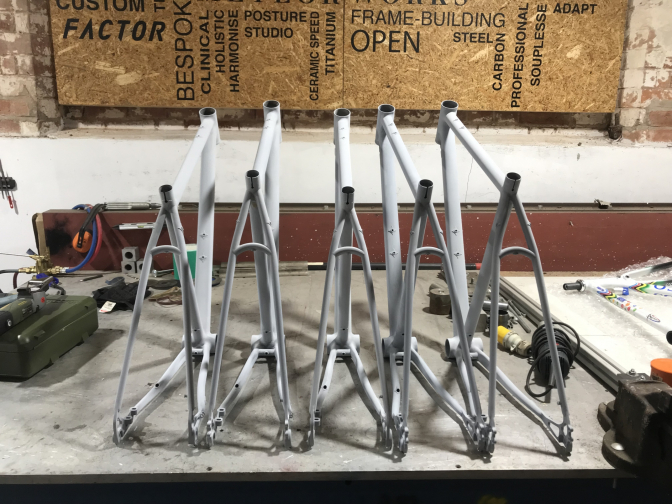 Here is a bit of history about the Meteor Works and the AEsir cycle itself...
Thank's Paul Berney...
11/06/2022...**
Working on the Sun project while the Sun shines...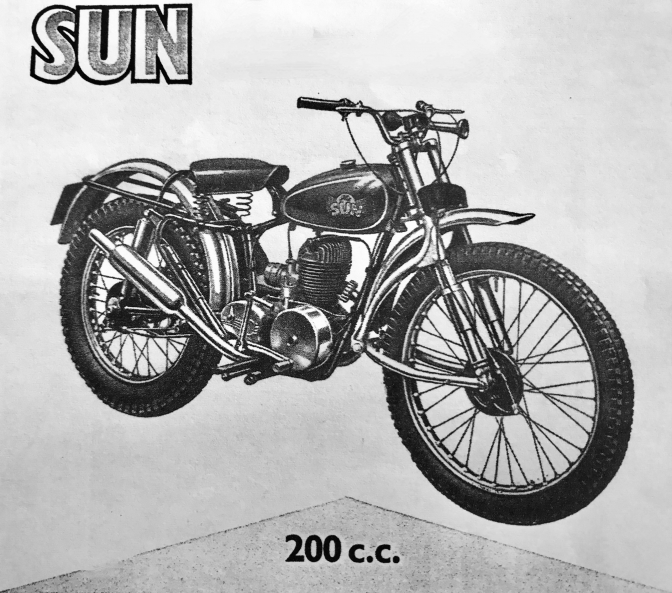 Copyright Bruce Main-Smith & Company...©
This is the 1955-6 Sun Competition...
We are building a replica 1957 Sun Wasp trials with original Villiers 9E engine fitted to that exact model, these were now fitted with Armstrong leading link fork like the one below... same frame as this but with 2 more inches ground clearance.... I am looking forward to the page to come... and I am writing it, and doing the build... Another trials bike model that you thought had gone to the times of history... Naaa...
04/06/2022...***
"We Are The Champions"...
Welcome to my Great British World...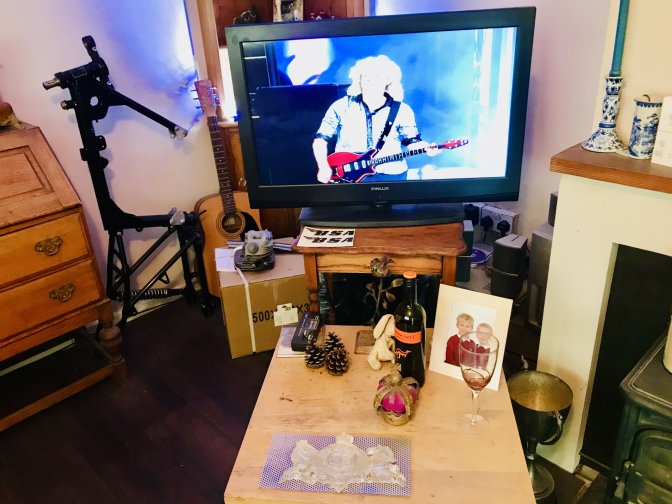 02/06/2022...***
Just been cleaning a few of the Otter bikes in this extra holiday break...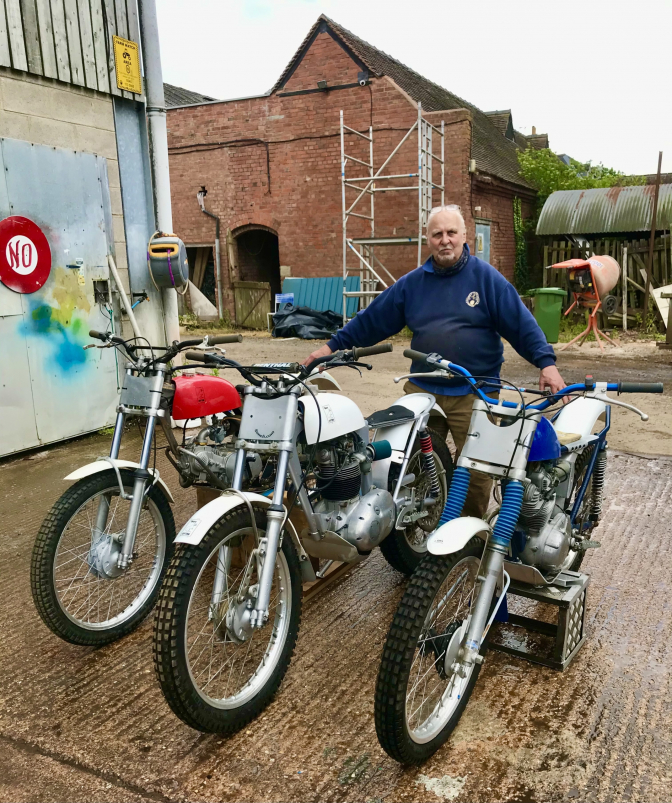 01/06/2022...***
Is it really 70 years since I took on the role to protect British Trials Motorcycle Heritage...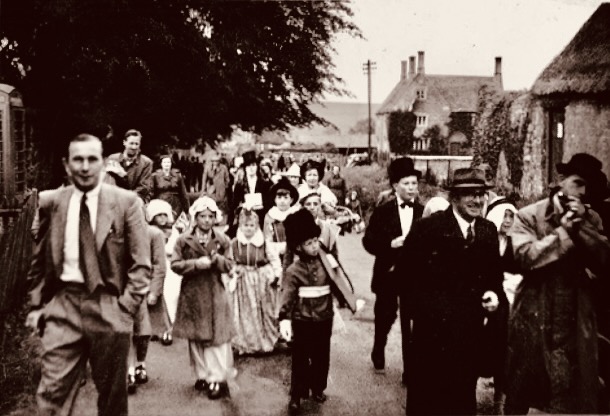 Guarding the future...
June 1953... South Newington... North Oxfordshire...
~Oo>...
30/05/2022...**
Having a change from the BSA engines this week, I have the Triumph Cub engine parts back from Alan Whitton, so I am going to try and build that engine up this week... the update will be on the
"Faber Triumph Cub" "page...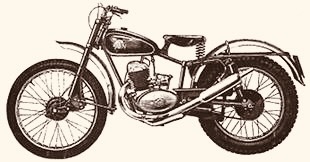 I am just working on a page for the little known SUN competition motorcycles... There is a story behind why now... you will have to read the page when I get it done...
25/05/2022... **
Just been going through the pages of the site and correcting spelling? on the first ever News page.
23/03/2010...when the site went live...
I came across this post from Pat Slinn on the same day...
and it looks as though we have corrected trials history in a small way from that time, and may have given some enjoyable reading ....
From Pat Slinn 23/03/2010...
Hi Charlie,
Thank you for putting together the "Otter" web site. Not only is it explaining the history of the Otter, but it reminding me, at least of some of the history of our sport. During the 60's & 70's the trials scene in the Midland centre where I lived was very vibrant and together with the many national trials and trade supported trials you could ride nearly every weekend, sometimes on a Saturday and Sunday, and Until S.H.M. joined Bultaco nearly everybody rode a British made trials bike. Many of these bikes were modified in some way or other by their owners, remember there were not the specialist trials component suppliers around then, if you needed, for example a modified pair of footrests you had to make them. If you wanted a frame with, let's say more ground clearance you modified the original frame or made a completely new one to your own design. Friends of mine, the Winwoods, Mike and Ross, remember them? were not happy with their standard BSA C15 frames so together with their dad they set to and made their own frames, known as Walwins, does anybody know where these bikes are now ?.. Remember Dennis Jones ?, (Johna), he modified a standard James trials frame ( I think), used a modified Villiers engine and called his bike, if my memory serves me correctly a D.J.S. "Dennis Jones special." Dennis used this bike and won many Midland centre, and some National events on it. I believe he was on the leader board at the SSDT.
There were many people about who were very inovative, we made mistakes, but we learnt from these mistakes, we went back to the "shed" and made another one until we got it right. These bikes with their home made, but engineered parts and components are part of our heritage and history, and should not be forgoten. I believe that the frame that Scott Ellis and his dad made has disapered, that is such a pity, that was history, our sports history. The comp shop at BSA made and modified trials frames, and suspension and I suspect that many, if not all these have now been lost. Please keep up the good work Charlie, and I am certianly looking forward to the "Express Trial" and exhibition in August.
Regards Pat...
So have we shone a little light on the scene over the twelve years of BSA Otter...
19/05/2022...**
"Gathering Nuts In May"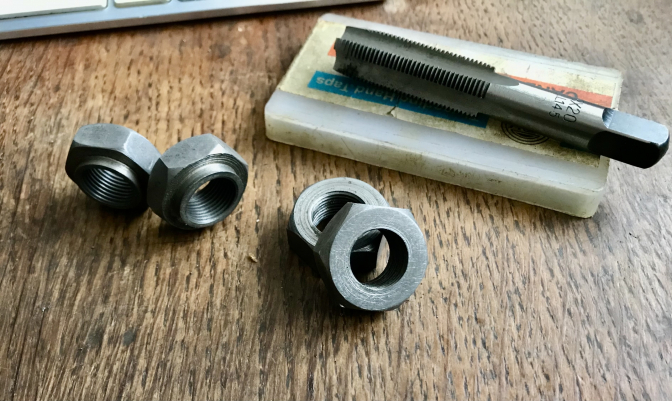 After checking the price of crank mainshaft nuts, From £7.50 I desided to make a batch of my own and the more I counted up, the more I needed, so although it takes about an hour to make a nut slightly less when into the rythm I still think I am in front of the game...And I have enjoyed making them..
New pages when I stop making parts...
14/05/2022...**
Some of the parts for the latest C15 engine build have arrived after a slow delivery week because of bank holidays...
So I spent a jolly couple of hours the other afternoon getting the 18 tooth Talon engine sprocket to fit the crankshaft. It wouldn't even start on the splines when I started, and after dressing with file, and emery cloth first, I ended up lapping it on with valve grinding paste to get the fit I wanted...Then the same with the crank nuts... Am I just fussy...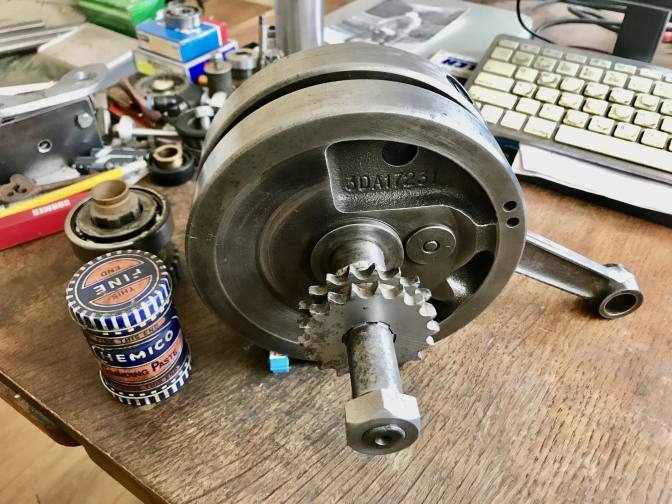 10/05/2022...**
Spirit Of the Times...
Building another story like the boys in 2017 did...
(Scooter and Sidecar around the World)...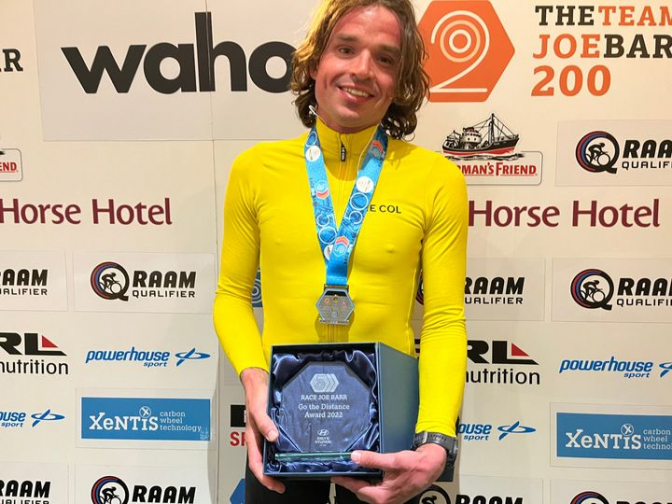 The Go The Distance Award is an award created by the

Race Joe Barr

series.
It is an award, chosen personally by Joe, for a performance that is both inspirational and full of grit, resilience and courage.
We saw many outstanding performances this year but the one that stood out was the one delivered by

Matt Jones

in

The Joe Barr 500.
Matt came to this race with the goal of qualifying for
Race Across America

but made a navigational error that would render it impossible for us to award an official time.
When we explained the situation to him and his crew roadside they accepted the error with grace and turned immediately to the one option available, which was to return to the point where the error was made, complete those miles before carrying on with the rest of the route while meeting the cut-off time.
A situation like this severely disrupts both rider and crew who are already managing multiple tasks with increasing fatigue levels. But they instantly adapted to their new race and returned to the point of error to complete the miles. Foremost was to protect the integrity of the race and the qualification for

Race

Across

America.
Despite the obstacle and disruption,

Matt

delivered all

500-miles

and

9000 meters of elevation

in the time of

38 hours 30 mins.
When considering all that

Race

Across

America

will demand of rider and crew, this rider and crew are already equipped with the most important quality of respect for each and every mile no matter what obstacle that mile may bring.
We are so proud

Matt

that you qualified for

Race

Across

America

in The

Joe Barr 500.

It is our privilege to have been your stepping stone.
I second that,

BSA Otter

are with you all the way for the journey...Well done again team ...

"Spirit Of The Times"...
09/05/2022...**
Busy weekend for the Crew in Ireland ...
Meteor Works steel cycles that perform...
Well done team....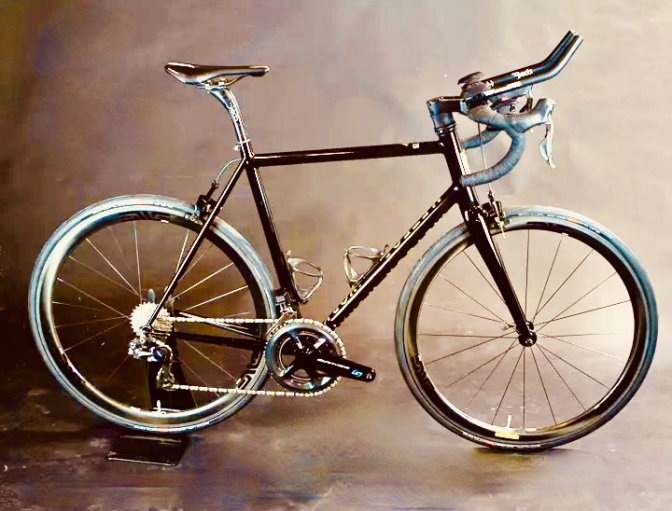 Matt Jones's MeteorWorks custom built "RAAM" racer.
~~~~~~~
02/05/2022...**
The Scottish Two Day Trial...
Joel Gowan number 159 riding his BSA C15 finished second and best newcomer, to my mind he should have been joint first or even won...
Brought up on motorcycles from a young age and skilled in most offroad riding, the young construction engineer is set to be one of the front runners of this and other trials for a long time.
~~~~~~~
30/04/2022...**
The "OOTC" (Otter on the cheap) Page as been updated with new photos etc...
29/04/2022...**
HOW MUCH...
Being determined to get Otter bikes put together this year before I run out of time...I needed a crank for the BSA C15F engine that I have for the third New Foster frame that is in the jig...I have the rest of the engine parts, bar for one cam follower...
I had been looking for a crank for weeks they have got few and far between it seems... but where as I used to pay between £35-50 for an Old type C15 crank I was very lucky to get this one for £107.00 + postage... "someone else wanted it"...OK it has got a ALPHA con rod but with victor type gears and the rest of the parts this engine is going to add up to £1,000.00 and more if I fit a Pete Kirby clutch etc.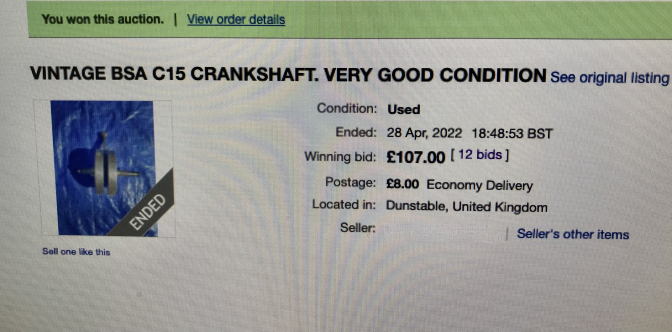 25/04/2022..
Just doing a bit of "Home-work" and came across this "Jem", I should have found it before...
Our Pat Slinn tells the Mike Hailwood Ducati 1978-79 TT stories the ones you can read on this Otter web site that have been on here for years.. So take a look and then read the stories later... Enjoy...
Thank you Pat...
24/04/2022...
The BSAOtter.com, Original Foster Otter.Now in build...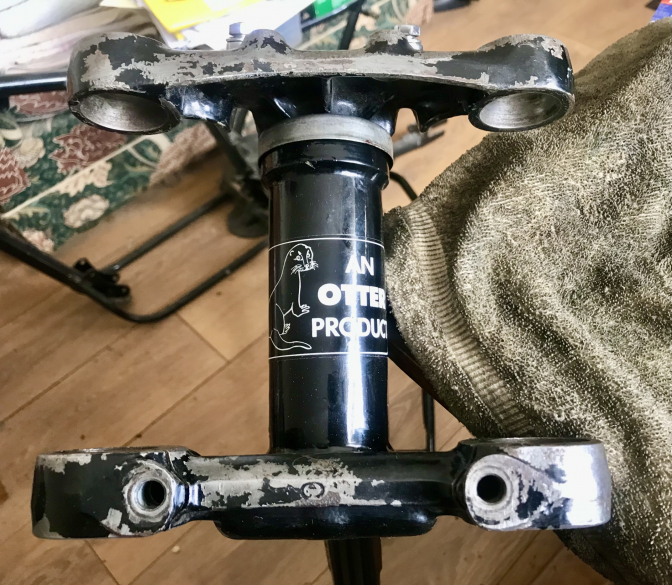 So the build up of the bikes for this year has begun. Three Foster Otters and the Hubbo MM bike, plus the SQ framed B25... and the John Draper replica C15... I have begun by building up sets of forks and reconditioning others with new stanchions etc... I am finding it a lot more sence, though expensive, to do the same job on each bike as I go along, now that most of the engines are built up...You will find the pages for these bikes have been updated as the build up continues.
More new pages in the pipeline too when I get time...
10/04/2022...
I have spent the last week again working on BSA engines four C15's and a B44...
Two maybe three B25's this next week...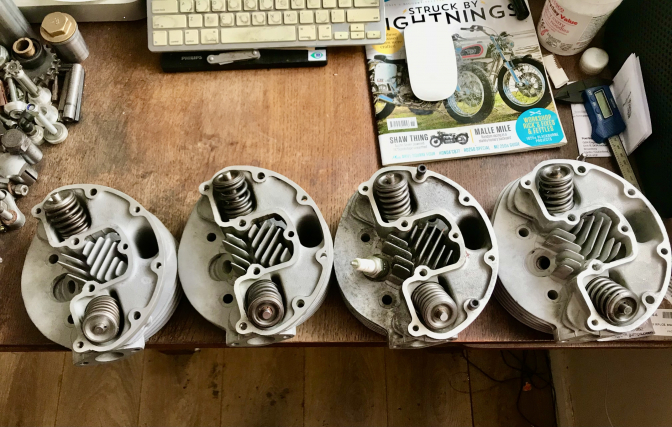 Getting a-head...
09/04/2022...
Just been taking a look at Paul's latest video.
And kept saying to my-self, "see it is not just me"...
After watching take a look at the wheel building page...
07/04/2022...
Well someone got the "Sale Of the Century"(Remember that prog...) yesterday...
The Foster Otter below Sold for £1,955...
This is what I said to Ian...
Morning Ian…
I missed the Otter just, brother rang me and said he had been watching and the prices were bad…
I watched the rest and they were very up and down… But what do you expect with what is going on at the moment, all of it…
The
Foster Otter
was provisionally sold for
£1,700
so the chap must have let it go for
£1,955…
Very Cheap, but how many know what a
Foster Otter
is Ian.. even though you and I do the work…
The old saying
"What goes-around-comes-around"
seems to be what is happening at the moment… Like Arne says
"The Otter will be back"
… I have another frame on the Jig and building another engine…
Take Care mate keep spending the cash… let me know how it runs …
The Triumph Foster Otter...
Regards Charlie.
30/03/2022...
Take a look at the updated pages
BSA C15T trials test page..
Alloy tanks construction page...
And there are a lot more updated pages..
New ones shortly...
22/03/2022...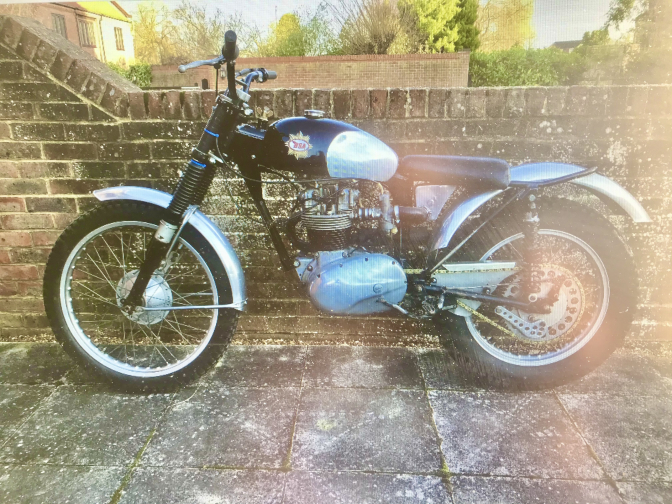 For Auction at H&H sale on April 6th at National Motorcycle Museum is this genuine Harry Foster Otter fitted with a BSA C15T engine in original build even down to the footrests.
I am trying to get more information from H&H about the bike... Said to have been Harry's own bike at one stage...
So get yourself a bit of trials history and onto the Otter site...
One for you Ian...or Ted...
19/03/2022...
Triumph-BSA "Four Stud forks" Page updated...
17/03/2022...
After watching the latest video of Mr PB doing a spot of Glass-Fibreing making a seat base for his Triumph Cub, I thought... Yes I will put that footage on, that I filmed in November the 5th 2019, Just to show it is not easy, but you learn the tricks over the years (1960-2022) and don't need the brute force that some seem to use to remove items from a mould......
Take a look I hope you enjoy, You never know you may learn a trick or two...
14/03/2022...
And another NEW Page Up... "Three Bultacos"...
13/03/2022...
Another NEW Page up... Yamaha MAJESTY 320...
Ex Works Mick Andrews bike...
12/03/2022...
NEW Page up... CoTTon trials Mini...
10/03/2022...
Last chance to buy this Proper Oil-In-Frame "Cotswold BSA"B40 GB engined bike before the owner says it gets put on eBay...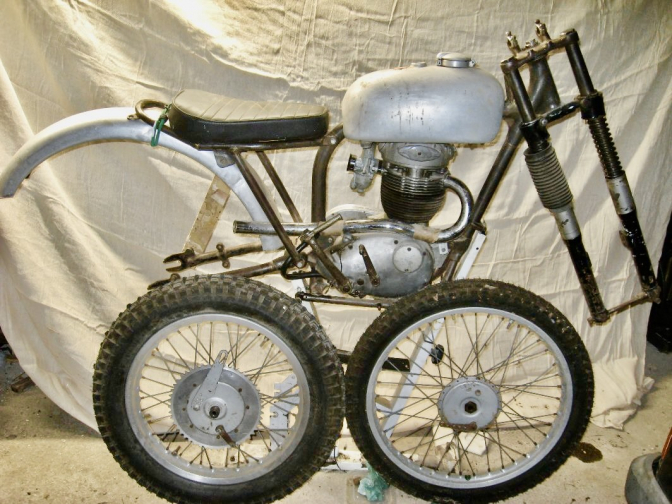 Email me now for owners phone number if you are interested I recon £2.500 might buy it...Sold for £2,000
07/03/2022...
Well with two weeks trying to get my act together building the bikes up that I have put off for years, the plans are going OK at the moment, and I have started to build up the Ex Nick Draper "Hubbo" framed BSA B25...
So there will be build photos and reports shortly...
The Foster Otter parts are ready to assemble too..
Busy Busy Busy...
But I need to cut down on my fuel bills so have started riding one of these and with a frame set being from £1500 that will last a life time, and not loose value, and also keep me fit, where can I go wrong... If you think an AEsir would suit you too, just contact me, or go to the
Velo-Atelier website...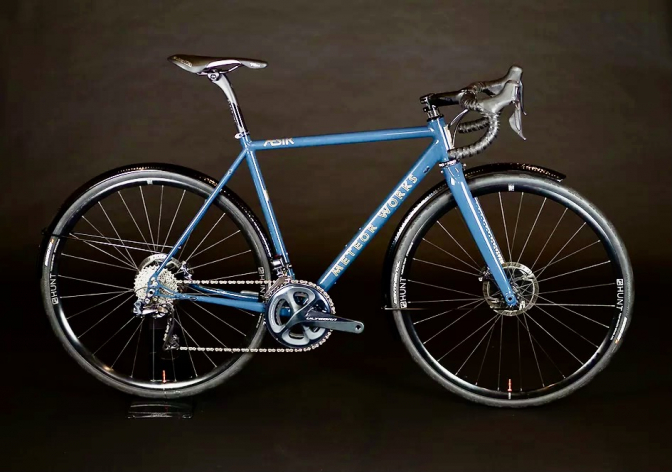 The Meteor Works AESir... A bike for all reasons...
Several pages updated, list later...
25/02/2022...
Tom Ellis BSA's Page updated again...
24/02/2022...
Sorry Not first...
Think "Costwold" and "Mini-Otter" were there long before...
And we got No "Crowd Funding"... Jon or i...
21/02/2022..
HJH Trials Bikes Made in Wales... Page updated..
20/02/2022...
A Hard Tail to follow...
Road, Gravel, and Trials Bikes, to MTB's...
13/02/2022...
Tom Ellis BSA's Page Updated, and a lot more pages added too...
Paul Brodie now doing Cub gearbox sprocket window modification...
04/02/2022...
Take a look at this and the second video from Paul...about fitting this Cub ignition... and the £500, that Feked/Off are asking does then not seem over the top...
02/20/2022...
Sadly my Mate and Mentor passed away last week
Brian "Nobby" Clements...
So I thought I would relate this story for his memory...
~~~~~~~
Our first National Trial on BSA, XJO 277
Our first serious trial was the Knut National trial down in Devon.
We had an entry, but no way of transporting the Goldie outfit down to the trial.
Frank Knight, one of the stalwarts of the Banbury NOBAC club, had told "Nobby" that we could borrow his trailer, the one he had made to transport his Triumph Trophy around the local club trials.
The trailer was no more than a thick length of alloy channel from Alcan where Frank worked in the research and development department.
Bolted to an old straight car axle from a Morris or Ford, no suspension what so ever and no spare wheel.
The draw-bar was just two plates bolted to the alloy, with 3/8" holes for a pin.
Anyway, this was the only means we had to get the bike down to the trial.
And the towing vehicle was to be Nobby's powder blue Austin A 30 with the tiny 850 cc motor and not a lot of power.
A draw-bar was made up and fitted in the tractor workshop, an old Nissan hut, at lunch time one day, and an appropriate 3/8" bolt found as a draw-bar pin.
Somehow the old Goldie was fitted onto the trailer with the sidecar wheel overhanging the trailer nearside mudguard.
Early one damp Saturday Autumn morning we set off on the scenic route the only way to get down to the West Country in the sixties.
Every bump of the road was felt through a tug and rattle of the draw-bar pin, and Nobby was playing a fine tune going up and down the gearbox of the little car trying to keep us moving forward.
The heater in the car was best part of useless, so it was cold as well.
We eventually arrived at the wet leaf sodden car park.
I was already cold and shattered.
And we had not started the trial or even fired up XJO 277.
This was what you could say was a baptism of fire, but I was not warm all day, and my New second hand fireman boots had chaffed my legs and feet raw.
Nobby thought he was fit, well he played a full game of football most week ends,
But the strength had been sapped from him by the third group of sections; we had had the plot on its side a couple of times by now, and looped it once.
The rain was relentless at times, but this did help a bit to keep our sweating bodies cool, but perhaps to cool in between groups.
We made one or two good results; well we got through the end cards without a five, which was most of the sections score.
The last group of sections arrived and we seemed to get second wind, and came away from that group with three threes, and a five, grounding on a large boulder at speed.
Loading the bike back onto the trailer was a marathon task, we were cold wet and tired, with hardly any strength left.
But we set off for home and felt we had achieved something, our first ride in a National Trial.
Then in Tetbury half way of our home run, hitting a manhole cover with the inside trailer wheel, snapped the backbone of the Alloy trailer in two.
We had to stop in the dusk of the evening to try and refit the plot onto what we had left of the trailer.
The front wheel of the bike was moved has far as we could up to the draw-bar, which reduced the turning circle somewhat but there was no back structure left of the trailer, and what was left had to be tied to the outfit..
So every bump in the road on the rest of the way home the rear tyre of the outfit grounded down, acting like a brake, and requiring Nobby to change down to a lower gear.
Anyway we made it back to Wigginton, and were only to keen to get back out on the outfit the next weekend.
RIP "Nobby" mate...
~~~~~
30/01/2022...
New Page Tom Ellis BSA's...
23/01/2022...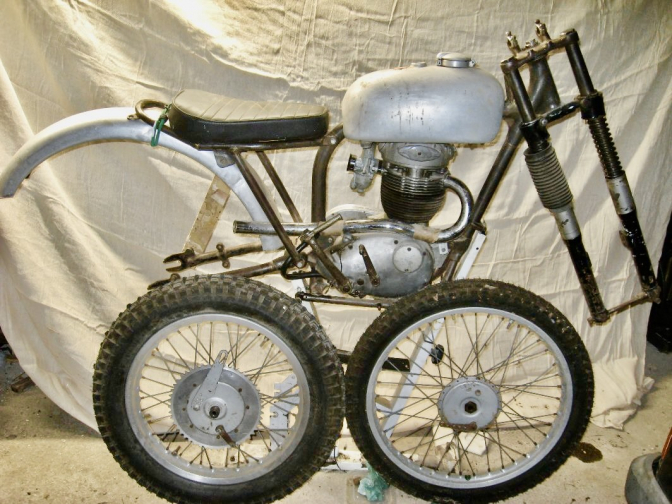 An opportunity to buy an oil in frame "Costwold BSA" B40WD engined
trials bike that just needs finishing...Guide price- £2,700- £3000...
Interested: eMail me on char7748@tiscali.co.uk. and I will give you the owners phone number...More info later on Parts for Sale page.
~~~~~~~
Just got home from a cold day in the workshop, and had a visitor...
18/01/2022...
NEW Page up...
Cotswold Majesty Trials Bikes...
Pages updated last week...
Honda Trial bikes...
Gearbox oil seal problems on the BSA "Dizzy to F type" Page...
Slow start to the year, we want your project builds now if you would like a page for them...
00/01/2022..
We dont want another Freeola Crash, do we...
Pages Updated with New material today...
Triumph-Greeves page.
The Jerred Honda page...
09/01/2022...
Well I like how it finds Grip....
06/01/2022...
"Classic Bike Parts For Sale" Page Updated...
We have a BSA Otter trials bike for sale on the "Otters for sale page"
New Listings now from the top down...on that page.
More Later...