Top Class acoustic Guitar maker, Andy Petherick, builds a BSA "Otter" for long distance trials.
He has a rest from his day job as one of Britians best luthiers...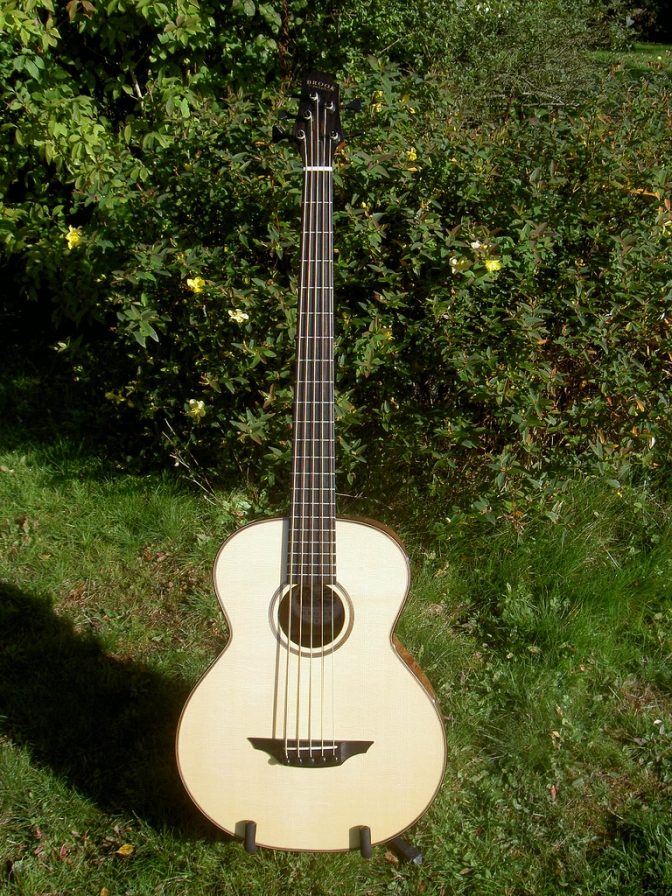 All Photos Courtesy Andy Petherick.
That's not a BSA "Otter"? No it's a Brook "Otter" Bass Guitar, and a special 5 string, one of the few five string's that Brook have made.
~~~~~~~
Here is Andy's story.
Hi Charlie,
I thought I'd let you know how my Otter build went.
I bought last year an early C15T with a WDB40 motor fitted with Metal Profile forks and wheels from an AJS Stormer.
The frame had been crudely altered to steepen the head angle and when I checked the wheels weren't in line with each other and the sprocket were out of line the other way.
Despite this it all worked more or less OK...
My intention was to use it for Long Distance Trials a bit of Trail riding and the odd easy Pre 65 Trial.
Then on the 2014 Exeter Trial the frame snapped the down tube so I decided rather than just repair the old frame I'd bite the bullet and build an Otter type frame.
The only problem was I only had until Easter to get the bike ready for the Lands End trial.
I came across this guy on eBay tom@tube-bender.co.uk , he supplied me with a piece of 2 inch 2mm wall seamless with a 74 degree bend for £35 including postage...
I built the frame on an old kitchen worktop, I simply drew out the angles and screwed some angle iron to act as a jig whilst I joined the head stock to the main frame. Unfortunately I accidentally deleted the photo's of this stage of the build.
I used this cutting guide to work out the tube profile of the main frame where it joined the headstock http://www.metalgeek.com/static/cope.pcgi
It was just a matter of setting it upright over a straight line and getting the rest of it welded together.
I used a WD B40 swinging arm, but I didn't like the idea of metalastic bushes, so I made up some spacers and used the hardened pivot, needle rollers, seals and bolt from a GPz500s swinging arm I had in the loft, worked really well and didn't cost anything!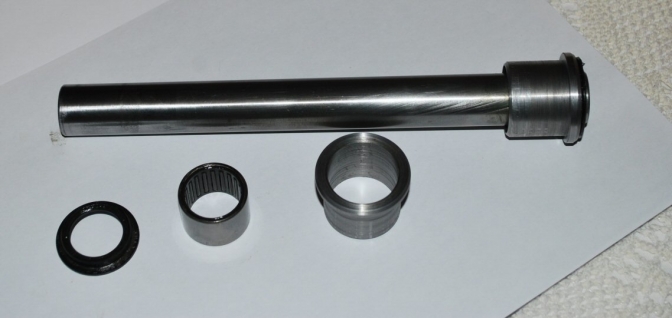 ~~~~~~~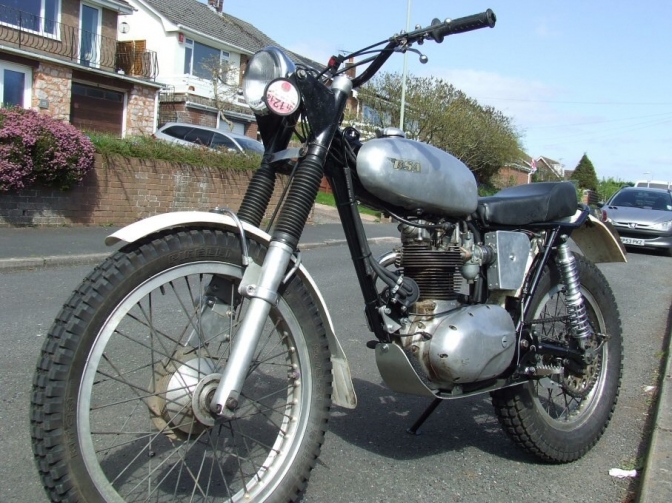 I decided to invest in some decent rear shocks (thanks for the advice) and got a pair of Rock-Shocks. Really pleased with them, beautifully made and work well too.
As I was going to use the bike over night on Long Distance Trials I needed to fit a battery so I had decent lights, it took a bit of thought getting it and the oil filter in position, eventually I opted on putting the oil filter up front underneath the exhaust.
The rest of the build went fairly well, just slow and steady. I painted the frame at work (I'm a guitar maker) in two pack, and with a week to spare and a bit of help from my daughter, Xanthia, got it up and running, rode it to work for a couple of days and off we went.
Only problem was I'd spent so much time on my bike Xanthia's DT50 wasn't ready and she had to nick my wife's Beta Alp for the trial.
The trial went well for us and we both came away with Gold medals.
I've attached some photos of the build, not as many as I should have but I was on a bit of a mission.
Let us know if you get an Otter's trial together, I'd be up for a wobble round if you do.
Thanks for putting up the site and for the advice along the way, I really couldn't have done it without your help.
Best wishes,
Andy Petherick
Two nice shots of the finished bike and I must say it does look the part.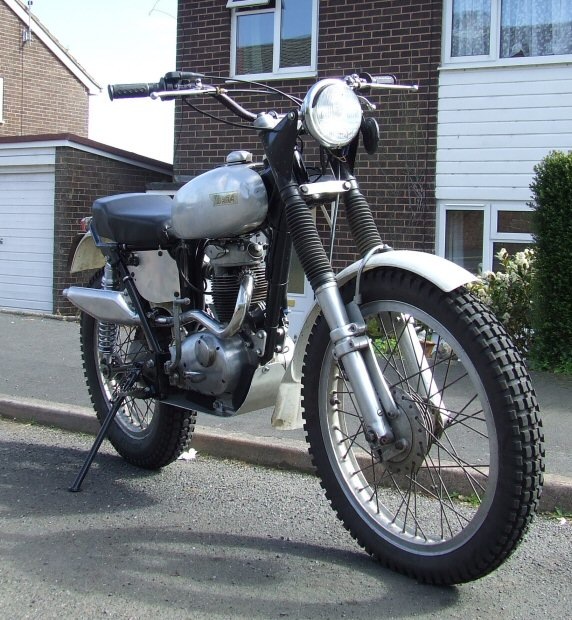 ~~~~~~~
You can see how sturdy this frame looks from this shot, 2mm could have been a bit thick for the tubing of a one day trials bike but for a Long distance trial where manoeuvrability is not so important but rigidity and strength are a priority, this was a good idea...
A Sturdy bike built for a sturdy job. Just proves how simple and good a "Otter" frame layout realy is...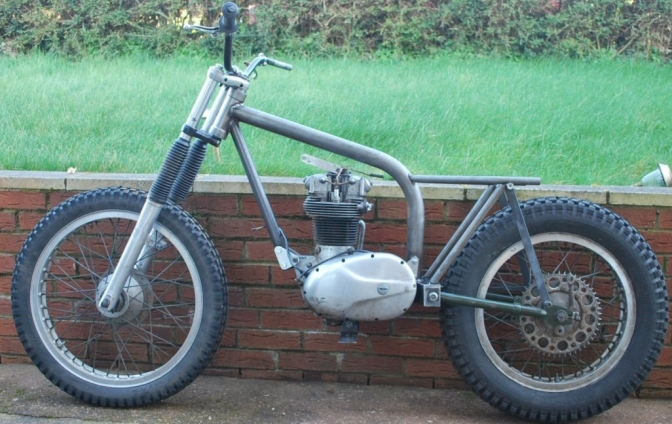 ...
First Class paint finish...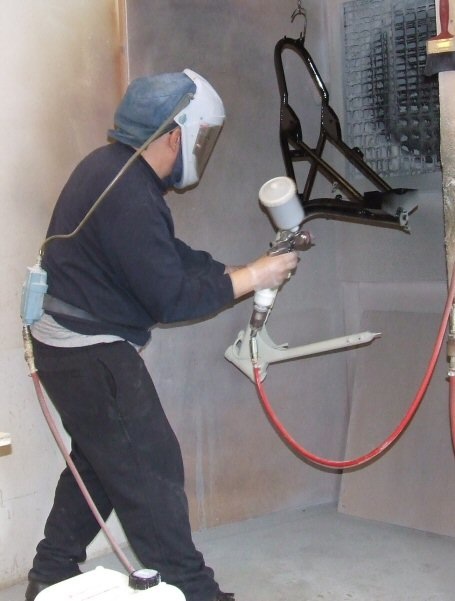 Black is allright Andy,
But you could have done one of your Sunbursts. to show off your skills.
***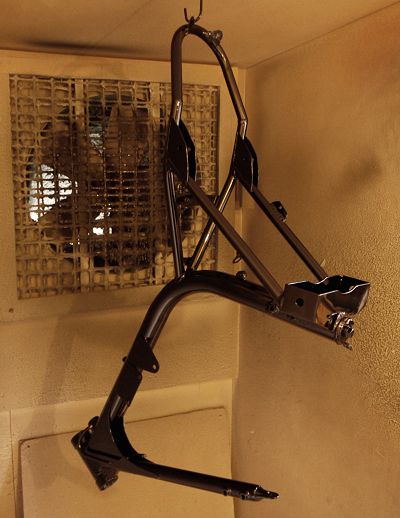 A bit about Brook Guitars History.
After spending a number of years working with Andy Manson, one of the country's longest standing and most respected luthiers, Simon Smidmore and Andy Petherick formed Brook Guitars, in 1995, initially to produce A.B.Manson & Co.'s standard range of instruments allowing Andy to concentrate on his unique instruments.
Simon and Andy expanded the business, employed Simon's son Jack, Kevin and occasional part-time staff to produce a range of their own instruments marketed under the name Brook Guitars and named after West Country Rivers.
The acoustic guitars produced by Brook are some of the finest in the country, And most are constructed from English sourced timbers, and a few constructed using re-claimed timbers from old bank counters etc.
Just Google "Brook Guitars" to take a look yourself. Or watch the video.
Just Team work doing small parts at a time until the finished object comes together, and rides, or plays very well indeed thank you.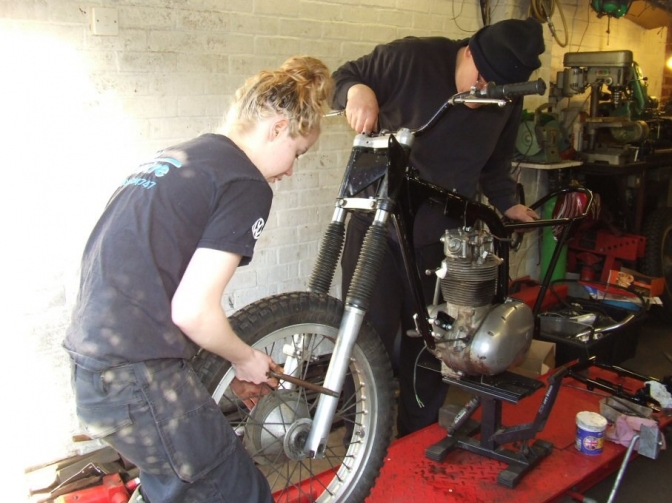 On a mission to get the bike finished in time and it can be seen in these two shots, pulling together for one cause! To have fun...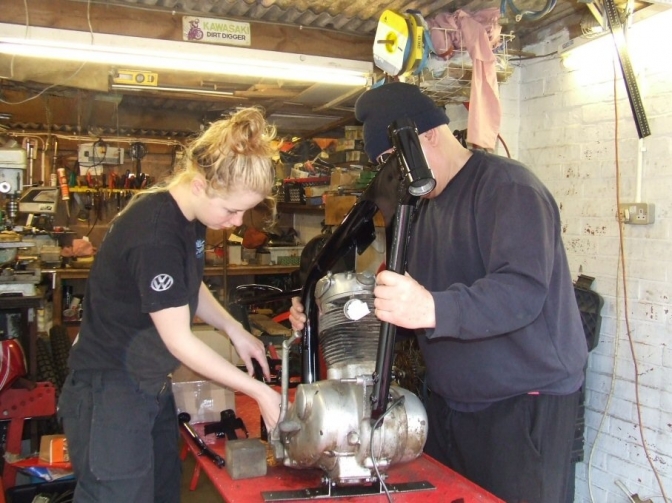 Teamwork always wins...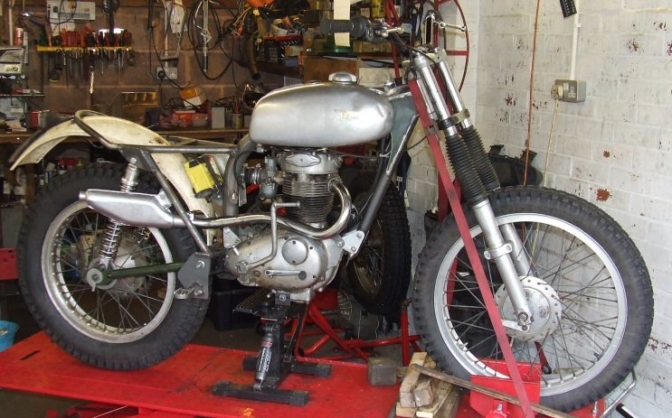 ...
First dry run build up and the bike looks good.
Well Crafted Andy.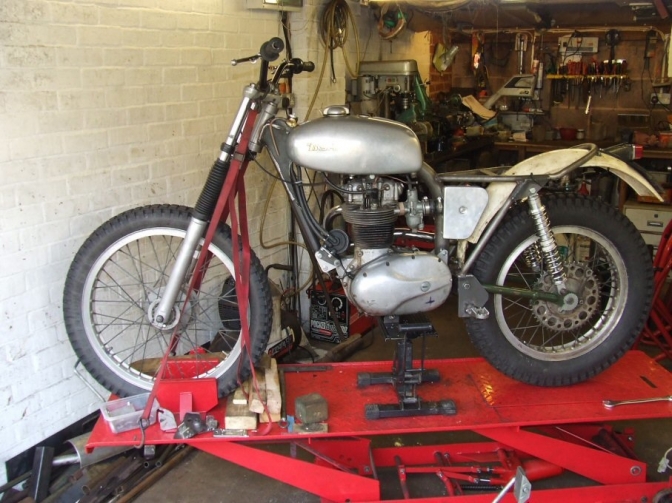 Even the footrest plates follow the same pattern as the Faber Framed "Otters"...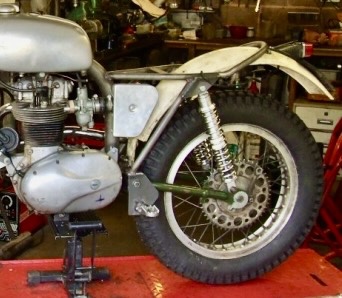 Built one bit at a time get that right, and then move on,
Good Building Xanthia and Andy Petherick.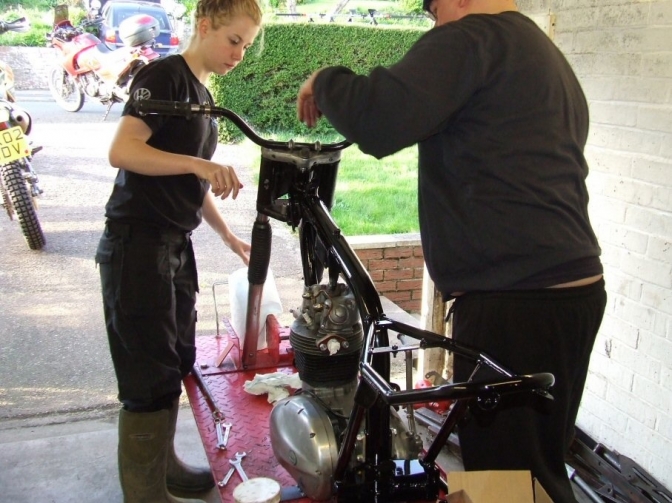 Nice Work you two, and good result... On the Otter build...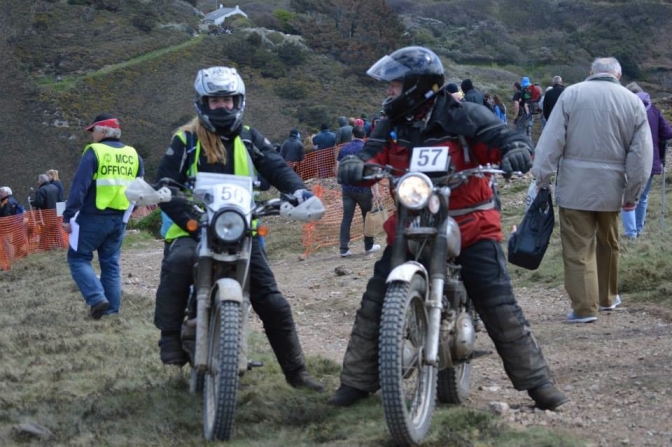 You can see I was right, and fun was had by all and a jolly good result, all round.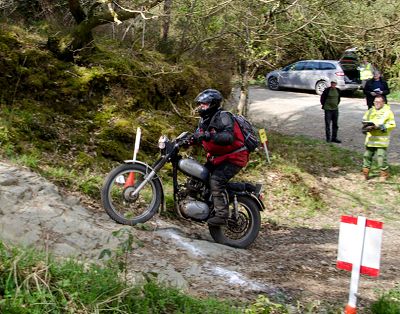 All Photo's Courtesy Andy Petherick.
To then Both win a Gold medal after building the bike in record time, is some achievement...
Thank's for letting us view your skills, not only in crafting Brook Guitars, but also building BSA Otter bikes...
Update Later.
Updat2023...05...