"Geekies Gizzmo"...
We Take a look at the Peter Gaunt
Suzuki 120 Trial...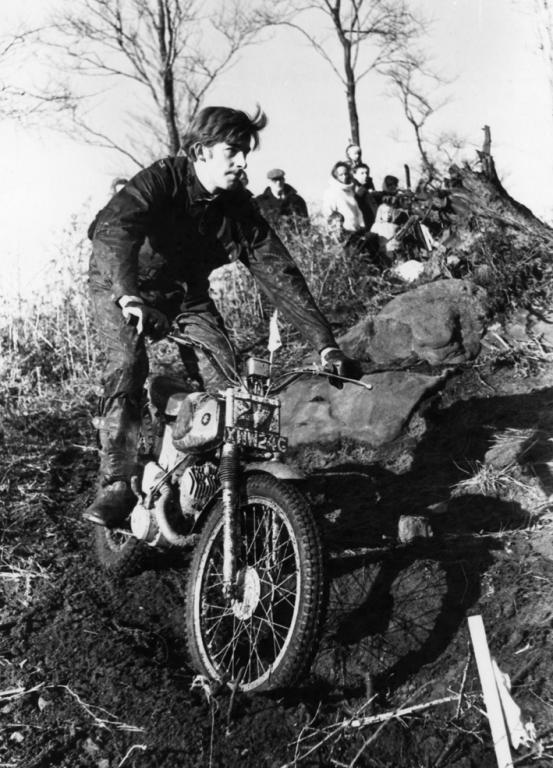 Photo Courtesy Barry Robinson and Deryk Wylde.
~~~~~~~
Peter Gaunt know as "Geeky", or "Top Gear", was dropped into the Suzuki brand by AMC motorcycles, he was riding for the James factory at Greet Birmingham at the time.
But the competition department at AMC motorcycles were about to pull the plug on competition riding to save money.
Alan Kimber had taken over as manager of the new department set up by Suzuki, to import the Japanese brand of motorcycle. This was in a part of the old Greet factory, so basically Peter was handed to Suzuki on a plate.
So Peter was asked to try and create a ISDT trials bike from the "Suzuki Bear Cat" little bike, that was not one of their imports to the United Kingdom.
These were later used by the British ISDT squad when the British bikes were withdrawn.
Peter (Geeky), was already a self taught "Wizz Kid" genius motorcycle engineer, that used to think beyond the box.
So the challenge of making a little bike with fat tires into a trials bike, was not a challenge for him.
The only real problem, was the disadvantage of only having just three gears with such a small capacity engine.
Suzuki had solved this problem on the little bikes before 1968 by fitting two back sprockets, but this meant the task of loosening the back wheel and jumping the chain up onto the big sprocket every time you reached the offroad.
But in 1968 for the KT 120 Trail "Bearcat", Suzuki had come up with the two speed transfer box, with a handle rocker switch.
The answer was to import from the USA the two speed transfer gear box engine.
This worked along the same lines as a geared cycle back hub,
With now only the need for the chain from the gearbox to the back wheel.
Don't forget, that at the time, most National motorcycle trials in the UK were run between sections on the road.
So it was now just a case of twisting a gear change handle into the lower Three gears as you reached a group of sections.
So when Peter decided to build his own trials bike, from probably one of the insurance write off's, that had come back to one of the shops owned by Ray Dell, in Pudsey, and Otley, Yorkshire. By the way, this is who Peter was now working for.
It was thought to be a good idea, to import one of these later KT120 engines for the bike, along with a pair of Suzuki 200 Invader front forks, and a Suzuki Sports 50 chromed fuel tank.
The hacksaw was got out, and Peter carved the pressed-steel frame to his liking to get the little bike to handle.
So not only had Peter got himself a nice little trials bike, that was becoming the latest trend at the time, but Ray Dell, and himself, had also got a new enterprise, and a use for crashed and second hand little road bikes, and all with the cooperation of ex trials rider, and new department boss at Suzuki GB, Alan Kimber. And it was him that must have sortied the import from the USA of the little KT120 engines.
Brilliant, job solved by a forward thinker in the depleating UK motorcycle trade, that needed now to import the New wave of motorcycles from Japan to stay in business for as long as they could.
~~~~~~~
So we get to the little Suzuki machine that has been saved for posterity, by a avid Italian collector of trials bikes with an history, Carlo Ramella...
This is the trials test by Justyn Norek Jnr.
And the photos taken by his famous designer, and photographer father Justyn Snr.
There will be more to this page later, with History of our favourite Northern son, Peter (Geeky) Gaunt. Who at this time, and at an age of eighty plus years is not that well, but with the grit and determination that he has, along with urge to be independent, for most of his life will hopefully pull him through for more years to come....2020... (Sadly now passed away...)RIP Peter...
~~~~~~~
So here is the Justyn's Norek's, test and report.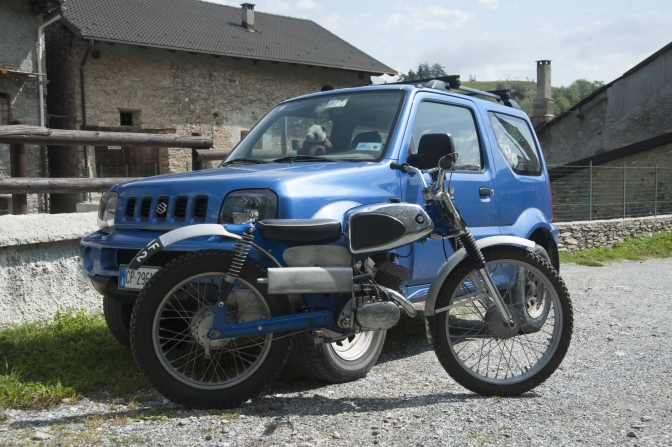 All photos below Courtesy of Justyn Norek Snr.
~~~~~~~
HERE ARE JUSTYN JR RIDING IMPRESSIONS OF GAUNT SUZUKI 120 Trial
JUSTYN
A phone call to our friend Carlo Ramella, a trial enthusiast, and we have another motorbike test sorted. This time it's the turn of the SUZUKI 120. This bike constructed by the great British rider Peter Gaunt, famous for his successes on small displacement motorcycles. I am very curious about how it is to ride this 'toy', since it's a two stroke.
In our previous tests we have tried the 500cc ARIEL GON 786, the 350cc CCM and the 250cc MOTO GUZZI 'Bartorilla'. Every time the engine displacement would decrease, so it will be a completely new experience..
We carry out the test near Puy, a stunning little mountain village close to the famous ski resort Sestriere. It is an early August morning, the light is great and we start straight away to take pictures of this gorgeous motorcycle, looking for suitable backgrounds. Being blue and chromed it looks great next with the flower decorating chalets. We also find an electric blue Suzuki 4x4 Samurai and we ask the owner if we can use it in our pictures. Then we move towards a fountain and we stumble across a child dressed in blue who was walking with his father. Attracted by the bike, he wants to jump on it. We take some shots of him, but then the problem is convince him to get down.. Is he going to be a future trial rider?
Now, enough with the pictures.
We head to try Gaunt's Suzuki. Just like other times, our friend Pippo Bartorilla is with us. Pippo, an excellent rider and a living trial encyclopaedia, turns on the engine and warms it up.
Then, it's my turn to make this new experience. I instantly feel at ease because the bike is very compact and easy to manoeuvre. It's impressive, it can make such small turning circles! Then we move to other areas to try the 3+3 gear, which basically allows for a six speed gear ratio, three slower and three faster.
I descend on a stone area with stream water and I slowly learn how to control the bike on this terrain. The Suzuki 120 is very light and easy to ride or to do "surplace" with. The engine likes to work at high res and, given the displacement, one shouldn't use the gas sparingly. Especially on bigger rocks one has to really open the gas and lift the front wheel; Then the bike comes up easily.
Now we know why Peter Gaunt has the front wheel lifted in so many pictures in which he is riding his Suzuki. This is the way to ride this bike, she likes it this way, and we like it too..
We move to a different place, riding the Suzuki 120 towards another hill on many uphill sections. Here we try many enjoyable wheelies. Very easy, it's sufficient to open the gas and keep the balance. Easy, isn't it ?
When the afternoon comes, it's time for lunch. Carlo and Pippo prepared some succulent meat. Piedmontese wine accompanies endless discussion on trial bikes of the past, present and future.. Talking about the future, Carlo, what is our next test? 'It's a secret', Carlo says, 'it will be a surprise..' We are waiting frantically.
At the beginning, we said that this bike was a "toy".. One thing for sure, it's NOT a "TOY" ! It's a REAL trial bike and a very modern one a forerunner of today's bikes. Sorry Mr Gaunt, and thank you! And many thanks to Carlo and Filippo too
Cheers,
Justyn Jr.
GAUNT SUZUKI T120 TRIALS TEST...
> HERE IS TECHNICAL SPECIFICATION OF GAUNT SUZUKI 120 TRIAL FROM 1968...
> ENGINE: 128cc Suzuki derived from Suzuki trail Bearcat
> single cylinder, two stroke,
> bore and stroke 54 x 56.mm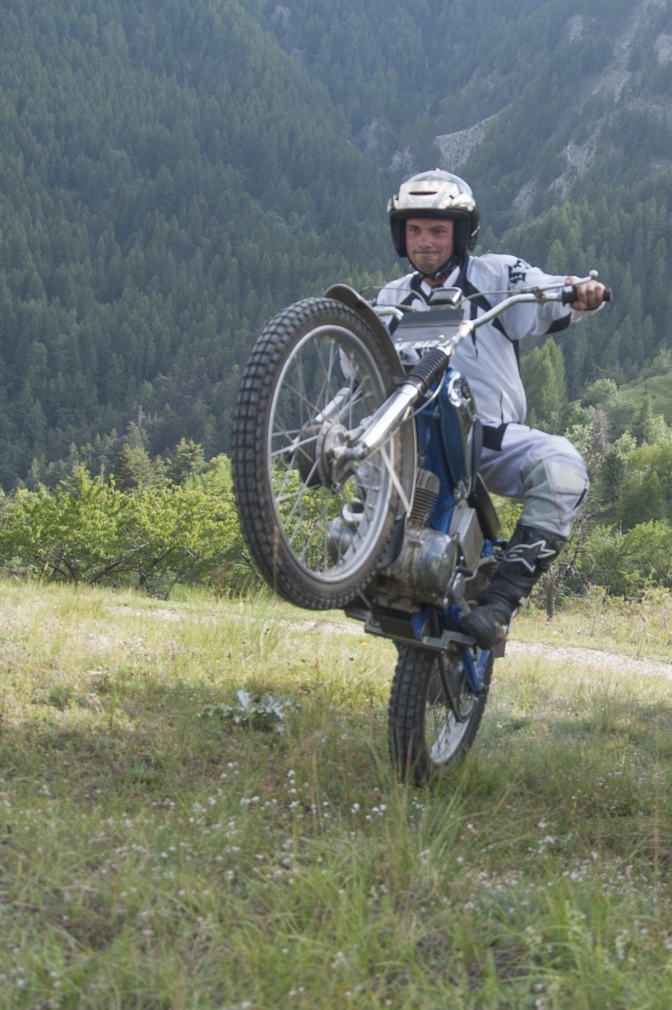 Justyn enjoys all of the bikes he rides, but what a place to test them in.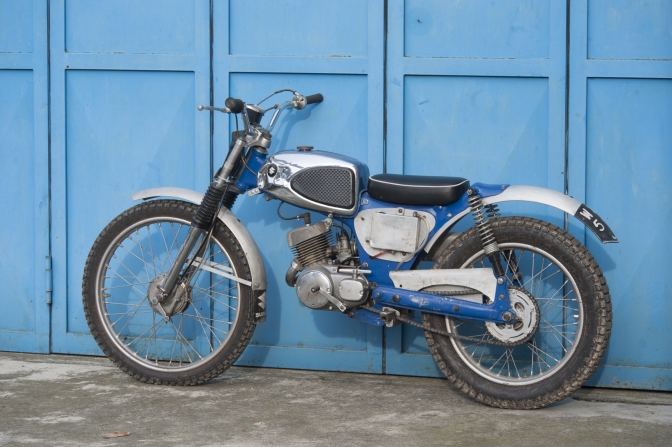 The little bike was "Blue" and zinnged like a model plane. But be so afraid when they were being ridden at the time, because they were not toy's, they were winning machines.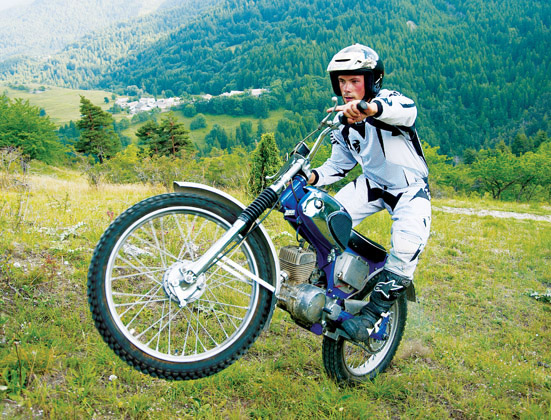 What a backdrop to test any trials bike, you can just hear the little engine zinging...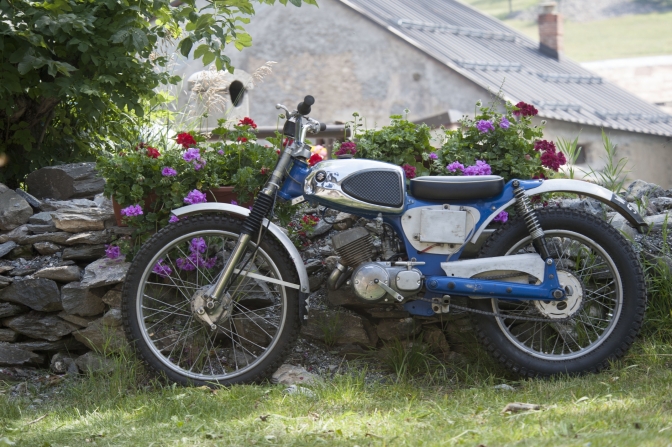 The little Suzuki 120 bike deserves a good home ...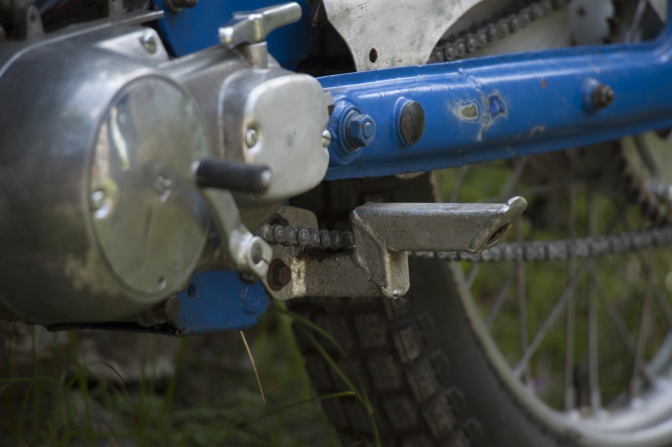 You can see with this shot from Justyn, just where the swinging arm was extended by cutting two swinging arms to get the right length, and then welding them back together.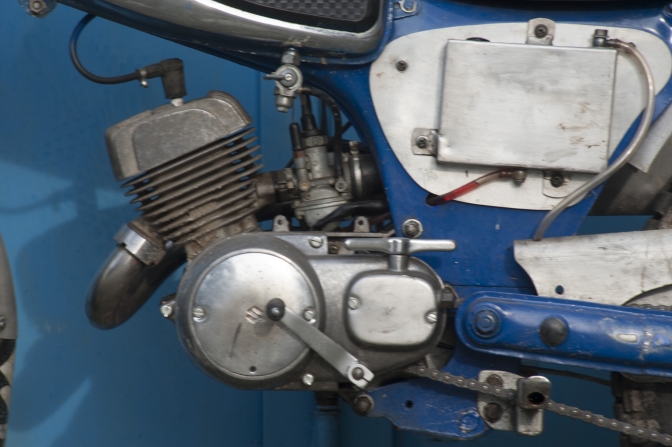 A close up of the transfer gearbox, and oil tank for the pumped engine oil feed.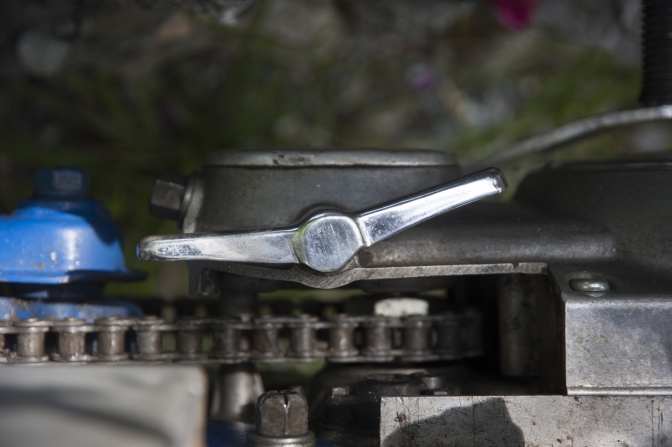 A good shot of the transfer gear box attached to a newly cast timing cover that Suzuki had devised to take the two speed device.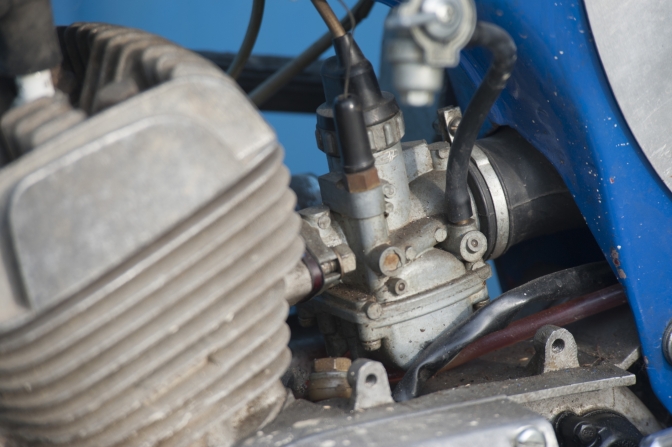 Just a powerful little power plant with a big heart.
> light alloy cylinder and barrel,
> compression ratio: 11:1,
> carburettor: Mikuni 22mm bore,
> air filter impregnated paper,
> ignition: Denso energy transfer,
> Transmission: 3-speed with 2-speed multiplicator,
> bottom: 23,54 (44,53 lower gearing),
> second: 14,04 (27,73),
> top: 10,51 (20,92),
> clutch: multiple plate,
> primary drive: helical gears,
> secondary: chain, 5/16,
> frame: designed by Suzuki, pressed in steel, backbone spine type,
> suspension:
> front: Suzuki telescopic front fork with hydraulic damping,
> rear: Girling schocks, 3 position, spring and hydraulic damping,
> wheels: steel rims, front 2.75 x 21", rear 4.00 x 18",
> tyres: Dunlop Universal trial,
> fuel tank: steel chromed 1/2 gallon capacity,
> oil tank: 1 and 1/4 pint,
> weight dry: 175 lb ,
> exhaust system: upswept type,
> rear chain: protecton with chain guard,
> manufacturer in 1968:
> PETER GAUNT,
> 21 NEW LAITHES GARDENS,
> HORSFORTH NR LEEDS,
> YORKS, GREAT BRITAIN.
> price in 1968: £ 235 including VAT,
> source "Motor Cycle" newspaper 24 January 1968, page 23.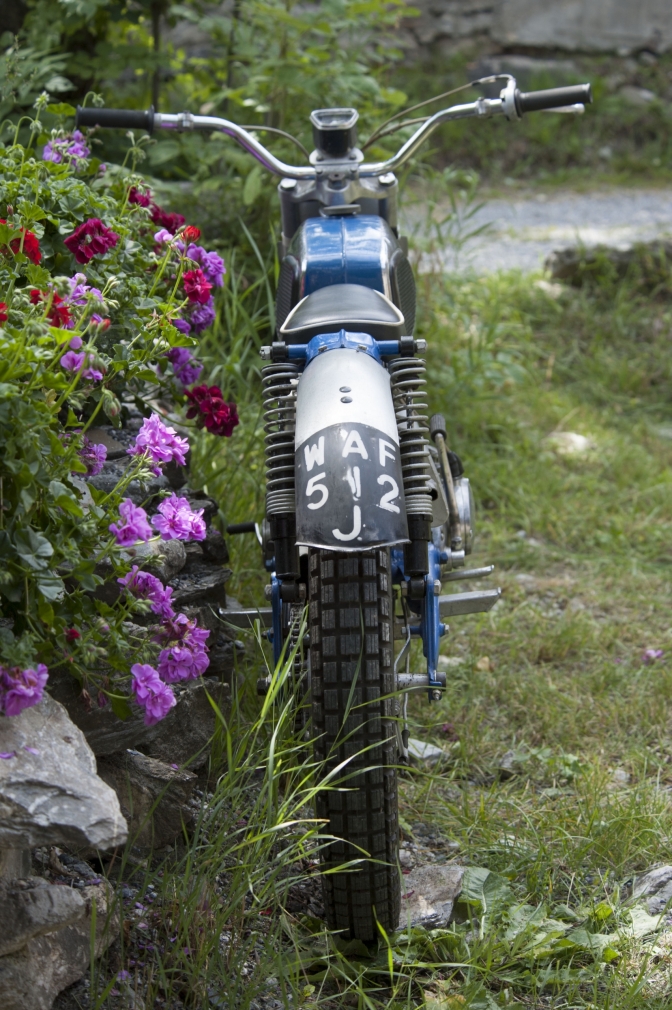 Another "tell all" photo, it is surprising that the rear suspension units were placed inside the swinging arm bottom mounts.
But to get the chain line and tire clearance the swinging arm needed to be wider than the frame was designed for. Good thinking again from Mr Gaunt...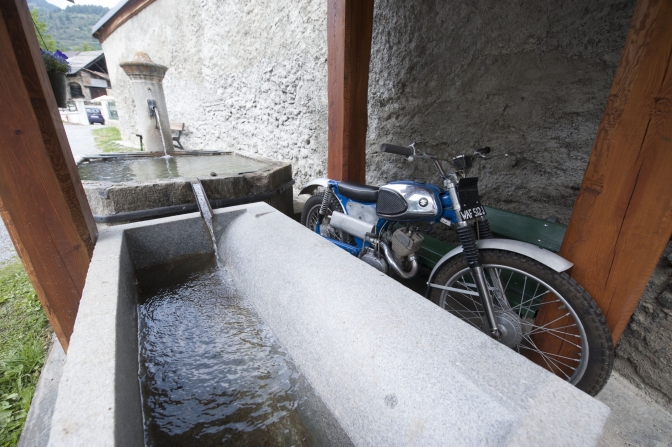 "Like Time ,Water never stops running".
How trials bikes have changed over the years to what we have now, were we better off with the early seventies bikes?
Super shot Justyn.
At Least this little part of Trials Machine History has been saved, and has gone to a very good home for it's retirement.
~~~~~~~
Look this is only a start to this page, there are so many more photo's, from Justyn Norek Snr.
And I have my good friend Deryk Wylde, to give me a lot more information on his very good friend "Geeky, (Top-Gear) Peter Gaunt and the little Suzuki 120 machine.
And I know that there are so many reports and photos in the ORRe magazine, that anyone can join in viewing by being a member of the NEW
"Competitions Motorcycles Reference Library" on Face-book.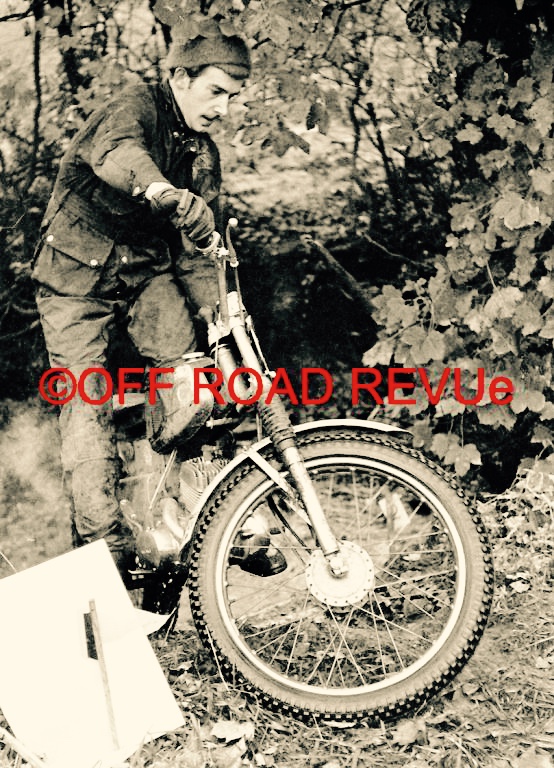 Photo Courtesy Deryk Wylde ORRe Magazine.
Thank you, Peter Gaunt for many years of trials riding entertainment.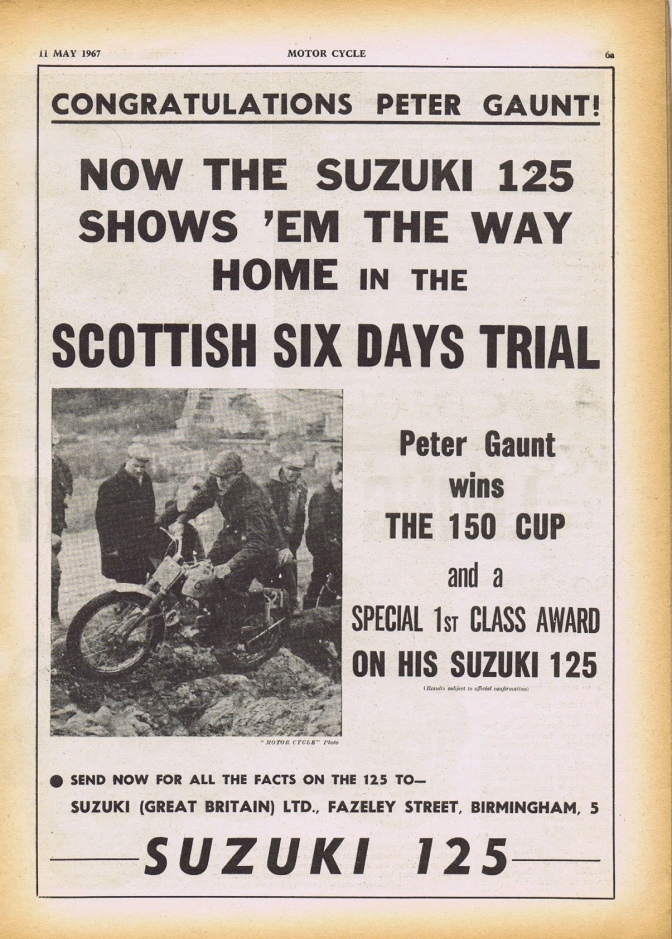 Here you can see that Suzuki were very much involved with Peter Gaunt's Suzuki trial bike at the time 1967,
and used his 150cc cup win in the Scottish, to boost the advertising.
And being on a high, the "send for all the facts" statement, looks like they intended to build a production version.
In the end the company "Alta" made a few bikes, using this engine, has did "Maclaren", and the "Taylor brothers"...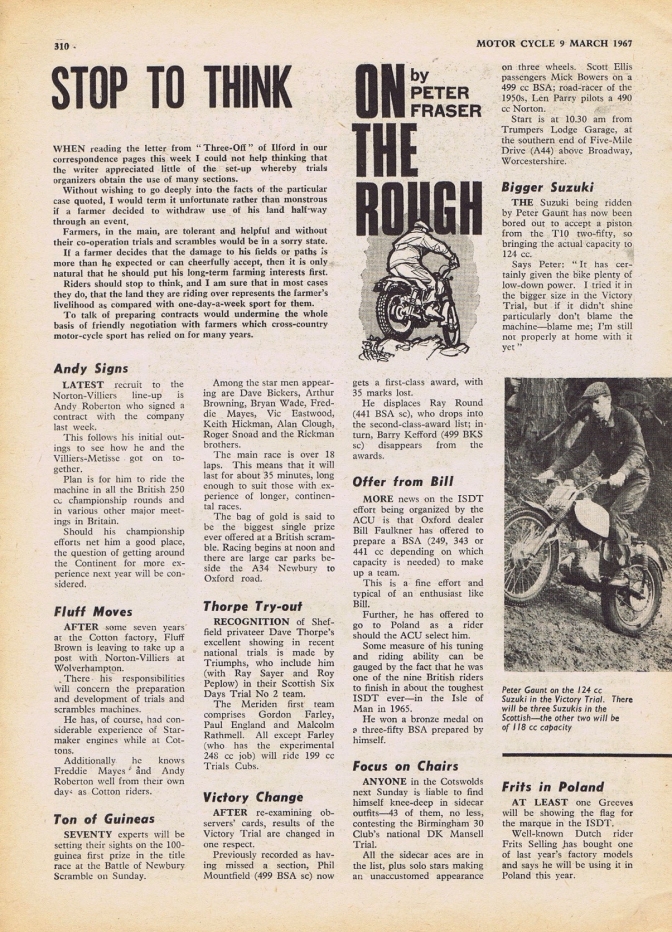 This bike must have been made in the old James factory in Greet Birmingham?
Another "Norek" Trials bike test brought to you by...

More later.
Updat2023...05...