Justyn Norek Seniors,
Greeves Anglian...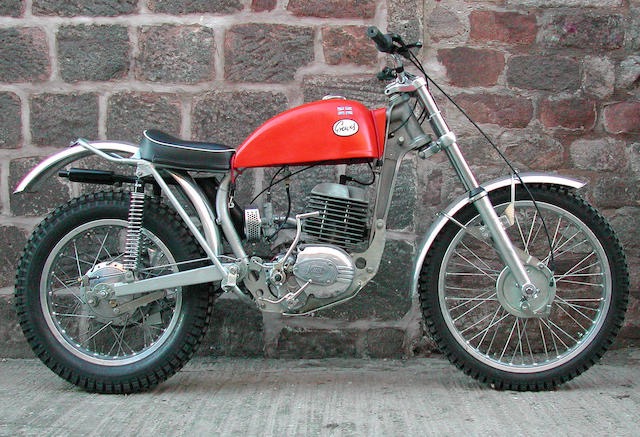 This is one of the last Greeves Anglian's built in 1969...
(Not Justyn's)
~~~~~~~
Just a bit about the history of the "Greeves Anglian" brand...
This was one of the last bikes built by the Invacar business that it was named, and owned by Derry Preston Cobb and Bert Greeves.
The Anglian was a bike put together to try and win back some of the sales now going to Bultaco amongst other Spanish breeds...
But just at the wrong time again, and although Greeves had most engine parts made for themselves for the other bikes in the range (Moto-Cross) mainly.
They still relied heavily on the bottom ends of the trials engines, being supplied by Villiers, when they were just in the throws of
mis-management.
The Anglian was it is said mainly designed on the hoof so to speak by the current crop trials riders at the time that is, but mainly with an influence coming from Don Smith...
The Anglian managed to survive up until 1969.. after a few changes from the original design mainly front forks, that went through the leading link phase before Greeves eventually giving up and following most of the other at the time manufacturers of trials bikes, and fitting telescopic forks for the last batch...
We then have to move on a pace to the year 1999..
When an English chap with big ideas for the Anglian bike, took on (adopted) the name Greeves, and even Invacar, and decided to build exact replicas of the previous bike, his name Richard Deal...
After the full works of re-tooling up for the builds which included patterns for the engine, front frame beam etc. And finding someone to cast them especially the front beam, (Midlands company I seem to remember.) And buying the name and brand MP forks from the owner who had bought the brand from DMW.. The first New Anglian appeared. and Mr Deal had even got Don Smith the old works rider, on board has the brands sales manager...
All did not go to plan and Mr Smith left after a time...
The initial interest in the excitement at first about a reincarnated Greeves Anglian, did not seem to last for long, and it is said that only about twenty eight bikes were ever made, just at the wrong time? Or a while before the right time?
Greeves Motorcycles Ltd is still in business, (2023) in name only as far as I can find out. And like me Mr Deal is well past his retiring age...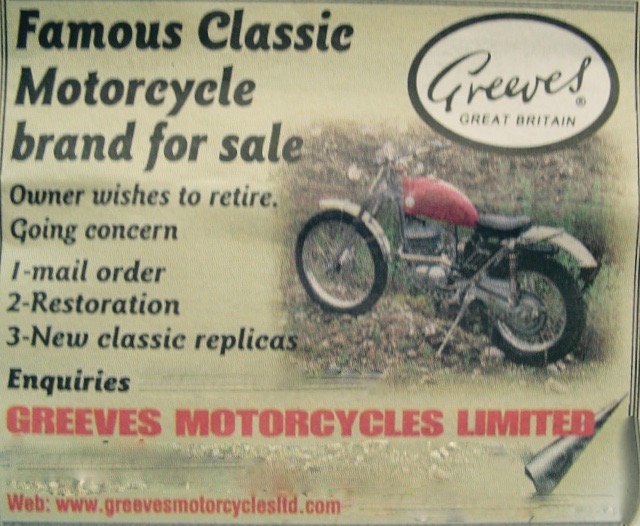 2014 advert...
So we get back to Justyn's Greeves Anglian..
and enjoy the reports by both of them...
Greeves Anglian trial test - Story 1
Story of my Greeves Anglian Trial
My "love affair" with Greeves bikes is rather long one...
It begins around 1964, when I was 16 and got into hands copy of British "MOTOR CYCLE" magazine and inside found description and photos of Greeves "CHALLENGER"
Motocross bike and other Greeves bikes. Immediately I bought magazine that became
Reference in my library and Greeves became one of my youthful motorcycle DREAMS.
Two years later during Tatra Trial where I was photographing this event I have seen and met Swedish trials rider KUNO KARLSSON who was riding 175cc Husqvarna "Silverpillen" and we had long chat during dinner about trials bikes etc. He has passionately explained to me why he considered the Anglian to be a great trials bike. The reasons why, he has just bought a Greeves Anglian and that it's a excellent trials bike, and said if I visit Sweden I can try his Anglian, as well his brother's Bultaco Sherpa and other bikes owned by his friends.
Two years later I realised my dream and visited Sweden. It was wonderful experience.
And I was riding on weekends not only the Anglian, but lot of other trials bikes owned by my many new Swedish friends. Of course I would have loved to buy an Anglian, but it was out of my reach. I have followed however success of Greeves and learned about their story. So I knew about their success in motocross where Brian Stonebridge first and Dave Bickers later won European Motocross Championship in 1960 and 1961.
While Don Smith won in 1964 and 1967 European Trials titles and developed Greeves Anglian before leaving to develop
Montesa trials bike, on which he won another European trials title in 1969, leaving Anglian in hands of Bill Wilkinson to win prestigious
S.S.D.T. in 1969. Bill rode Anglian with tear-drop shaped aluminium fuel tank, being the only British two stroke bike winning this event!
Anglian was very advanced trial bike with it's hybrid aluminium casted "H" section of front part of frame, so strong that you could fit 500 Triumph twin ( read our other test of this bike...) or BSA engine without worrying of breaking it ! This frame was very stiff that resulted on very stable handling. So we had to wait for years before another manufacturer, and it was Beta proposed aluminium framed "ZERO", another revolutionary trials bike
That had multi Champions like Jordi Tarres and Dougie Lampkin and discovered enormous talent of current trials champion Toni Bou...
So when in 1986 I have spotted advertisement: "for sale two Greeves Anglian bikes..."
I immediately phoned an discovered that one was with Earles type of front fork and
second one had Ceriani. I have chosen one with Ceriani as this was like the one I have
used in Sweden, and also was cheaper. After few months paying instalments the Anglian was mine, it took me twenty years to get it.
I used it almost every weekend until 1990, then my son was born, family grown up and also work as manager of Design team, leaving no time to spare made my Anglian sleeping in garage, until my son waked it up for this test...
Greeves is still around producing Anglian trial and Challenger motocross.
Not Now I don't think Justyn...
Now have look at our test...
Justyn...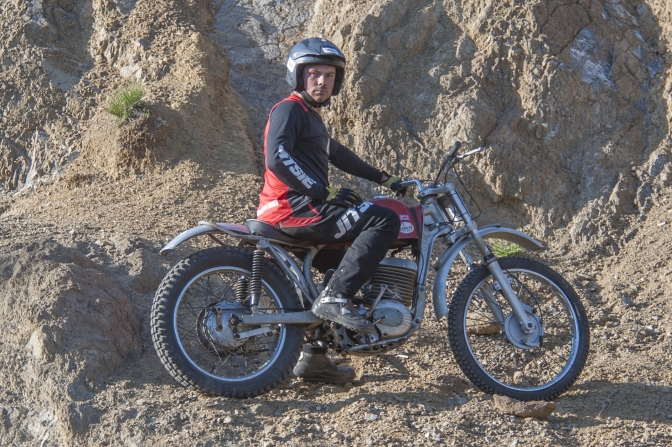 Justyn Junior aboard father Justyn's Greeves Anglian...
Greeves Anglian trial test - Riding impressions
Greeves Anglian trial test - riding impressions by Justyn Jr.
For very long time I wanted to try my fathers mythical Greeves Anglian 24 T
Trial that my father made me try many years ago, when I was 10 years old ( see photo )
This bike was standing still in garage for the last 17 years, so I was curious if it will start at all....?
As usually in such case I tried first with kick stater if piston was moving and it did,
Then I cleaned carburettor, cleaned fuel tank and that filled it with petrol and oil mix
at 16 : 1 ratio, finally cleaned ignition points, brakes, changed oil in engine and forks
and controlled air pressure in wheels and bike was ready to try to start...first kick....
second kick....now third...and to my delight the engine burst into life producing bit of a unusual,
personal noise, rather low sound for two stroke. I have warmed it up pretty well in the court-yard then switched it off, bike was ready for Saturday and Sunday ride.
Next day we loaded bike on to the trailer and headed with it to Rubiana trials bike park.
I was curious how it would ride again after 17 years.... It's such a unusual machine ! This time bike started after first kick and after some warming I started to ride it easily around track trying to understand the bike, and get the feeling if it, and try brakes and feel the riding position.
After half an hour I was ready to try it over obstacles.
First as usually I tried steep uphill section, how it will go? Oh, pretty well, there is lot of "good" power ! Bit more trouble was going down, well, accustomed to modern bikes brakes I always feel bit off with classic bikes braking capacity... Oh, I can't complain,
my Anglian is from 1966, so she is half century old...
Well, then brakes are good.
But what I like in particularly is engine pulling power, then my father told me it's
engine had a cylinder and head from Challenger 250 MX.
I liked also its handling, very stable on stony, rocky paths. However on very tight corners and
turns I found it bit more difficult. I would also have lower fuel tank, may be I can find one in aluminium like Mick (Bill) Wilkinson's S.S.D.T. Winning Greeves?...
Lifting the front wheel was a never problem, so I could attack with success quite high steps,
but grip from 20 years tires(tyres) was obviously not up to my expectation...
I love this bike, I just have to refine brakes, change tires, and improve the clutch and then I will
compete on it in Old Classic Trials...
It's amazing this bike is so great after waiting 17 year in garage.
Mr Don Smith, RIP - Ride It in Paradise...
Thank you Mr Bert Greeves and all riders who developed it.... Gordon Farley, Derek
Adsett, Mick and Bill Wilkinson...and many others.
Enjoyable ride by Justyn Jr.
Still nineteen inch rear wheel fitted...?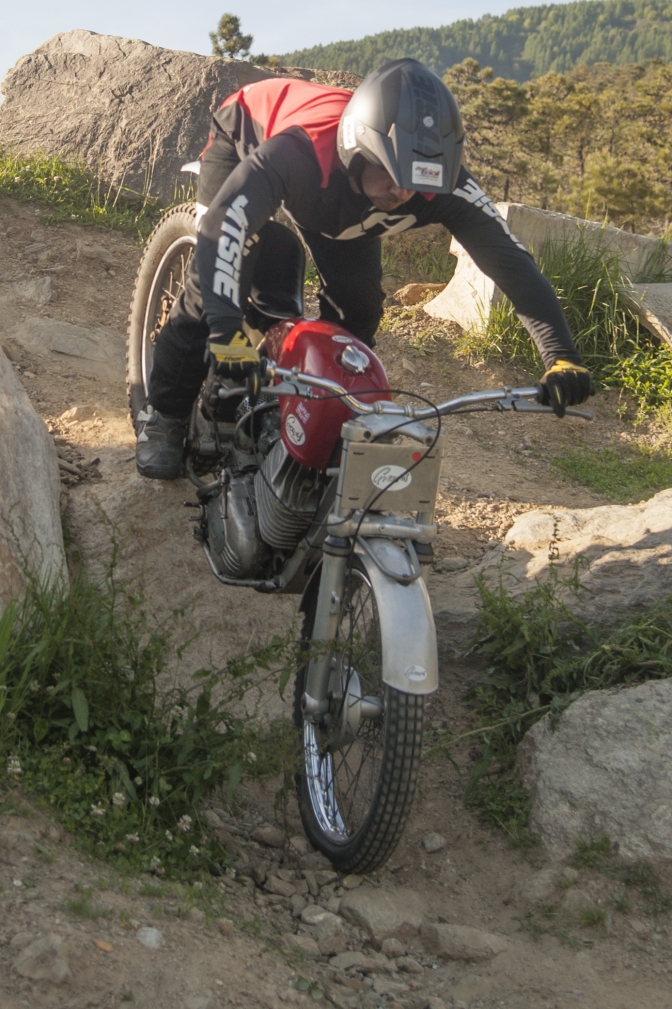 Greeves Anglian trial test - Design assessment
Greeves Anglian is very particular trials bike. Actually it's like no other trials bike of the period.
First it has innovative frame done in two distinct materials ALUMINIUM & STEEL.
As you know you can't weld together these two materials, so another method had to
be invented and in fact Greeves has developed method of casting aluminium head
stock over steel tube of rear part of frame ! And we must remember it was in late 1950's.
Result was excellent, very rigid frame and probably never broke one.
So frame was very successful in scrambling with riders like Stonebridge, Bickers,
Wade, Clough, Browning etc, also in road racing and trials. There were also many
Hybrid bikes with other engines like 500 Matchless, Triumph T90 Twins, BSA Victor
or Honda...one could fit almost any engine.
Anglian benefits from this fact and has lot of character. Technological image of this
frame is very well matched with aggressive look on engine and separate gearbox.
All in aluminium colour harmonise well with Ceriani fork and aluminium mudguards.
Then we have just two strong accents: bright red fuel tank and coal black seat and
silencer... Perfect job and lot of character ! Once you have seen it, you will never
forget it ! I am lucky to have one...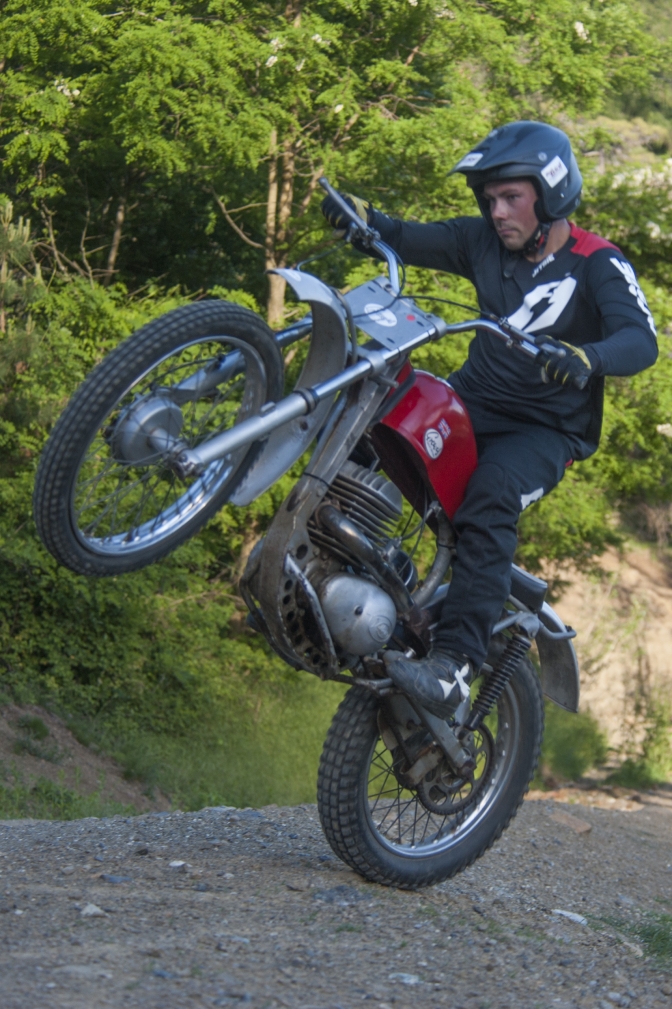 Photo's Courtesy Justyn Norek Snr...©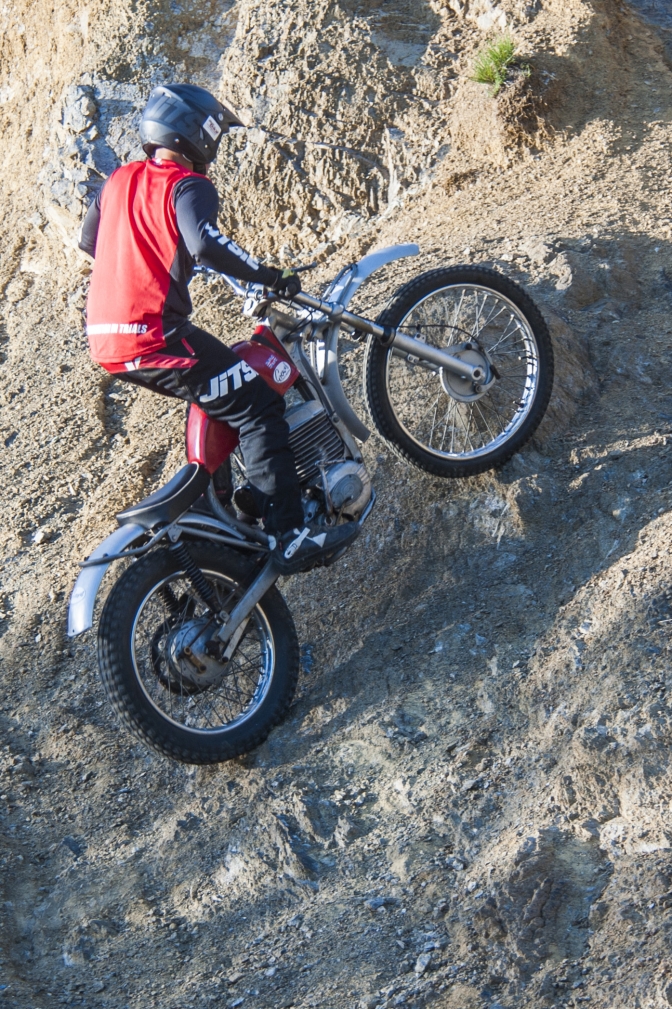 ~~~~~~~
Greeves Anglian trial test - technical data
GREEVES Anglian 24TGS technical specification:
Engine:
Greeves specification, Villiers type 37 A, air cooled, single cylinder, two stroke, light alloy
cylinder and head by Greeves,
Capacity: 246 cc,
Bore X stroke: 66x72 mm,
Carburettor: Amal concentric 376,
Ignition: Villiers flywheel magneto,
Lubrification: Petrol mix 16 : 1,
Max. Power: Around 20 bhp, 14 bhp @ 4500 rpm,
Gearbox: 4-speed, ratio 8.33 : 1, 11.3 : 1, 20 : 1, 30 : 1,
Transmission: Primary - chain in oil bath and chain - final drive,
Clutch: Wet multi plate,
Frame: Combined, steering head and front down member in "H" section cast in light alloy, joined with rear part in Reynolds 531 steel tubes and under engine steel plates...
Suspension:
Front: Ceriani hydraulic telescopic forks ( Optional ), REH hydraulic telescopic forks,
Earles type leading links forks with Girling hydraulic dampers,
Rear: Swinging arm in square section steel tubes with twin Girling shock absorbers,
Tyres:
Front: 2.75x21", Dunlop 801,
Rear: 4.00x19", Dunlop 801,
Brakes: front & rear drum type 153 mm,
Fuel tank: 1,75 gallon, in red fibre glass, mass (pigmented) coloured, with Monza quick filer cap,
Weight: 90kg,
Wheelbase: 1320 mm,
Seat height: 825 mm,
Handlebar: 825 mm width,
Production year: 1966,
Source:
Colin Sparrow book "GREEVES THE COMPLETE STORY" published by Crowood Press...
~~~~~~~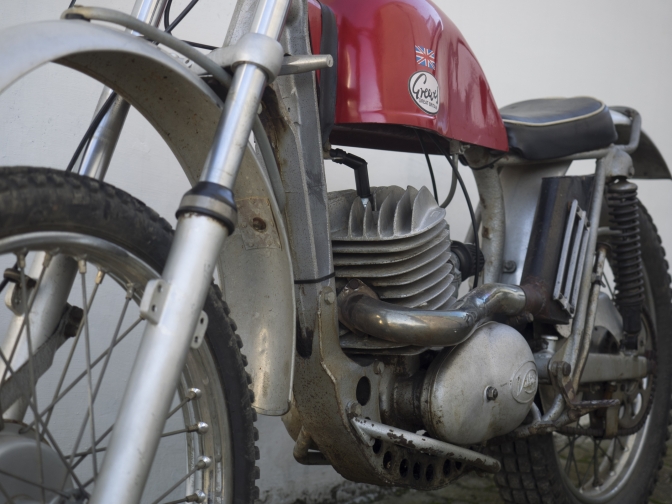 Greeves Anglian 1966 with later Ceriani forks...?
~~~~~~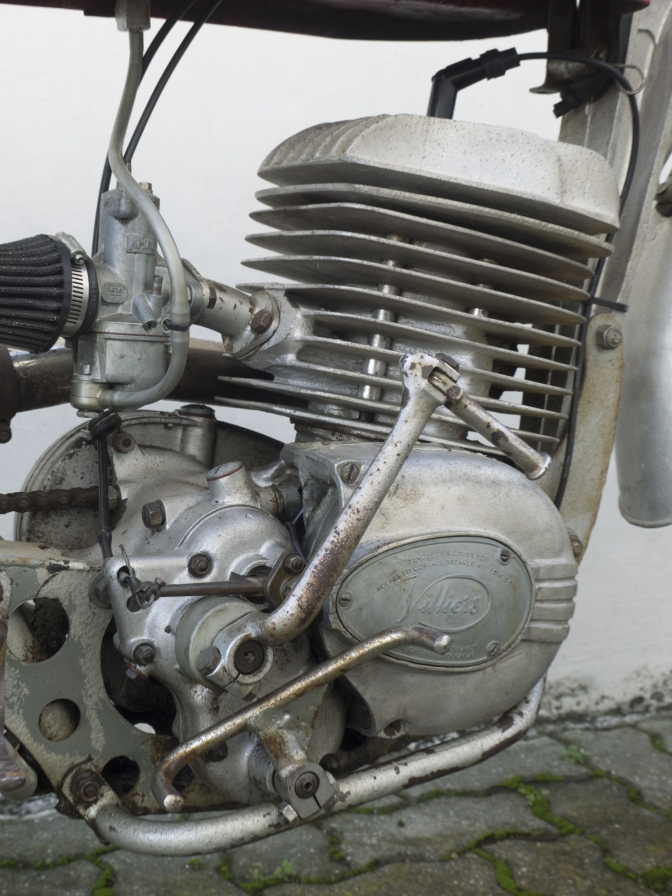 What a shame Villiers management making a terrible blunder and withdrawing these engines...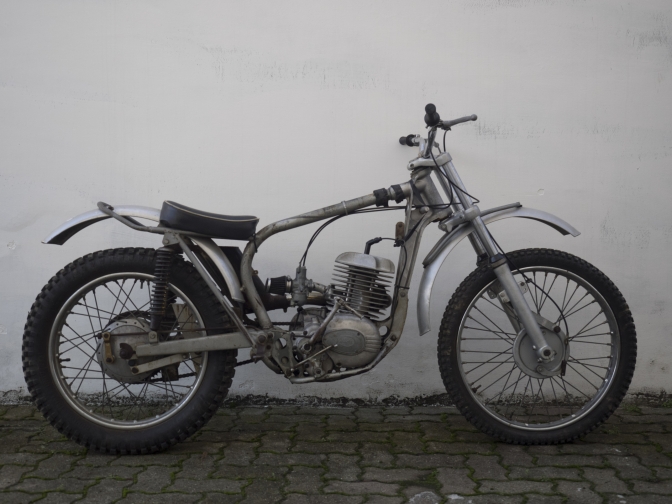 A very unique frame design and structure the Greeves had from the start...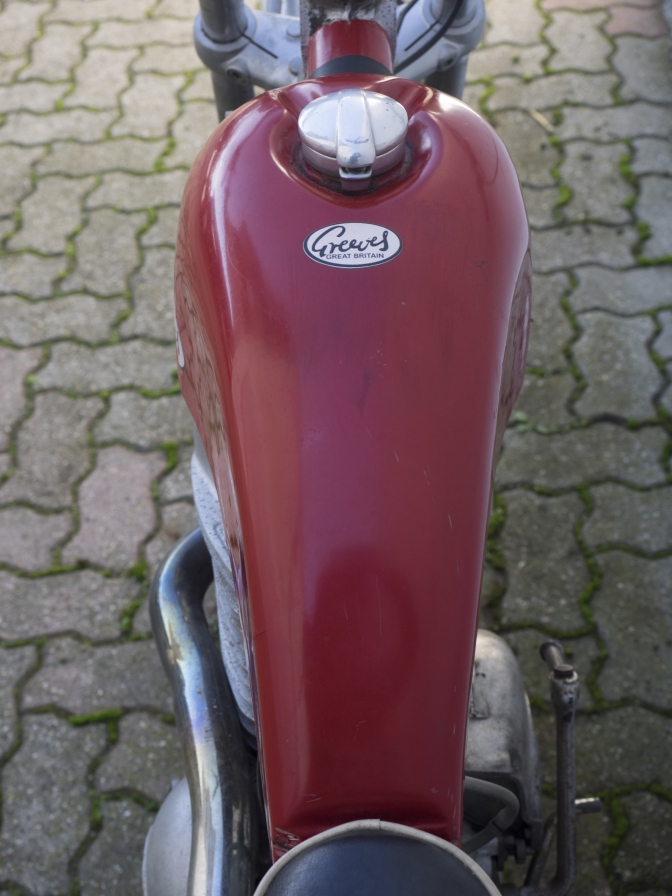 Glass fibre fuel tank... The red colour was what set it apart from the rest of the Greeves production so you knew it was an Anglian...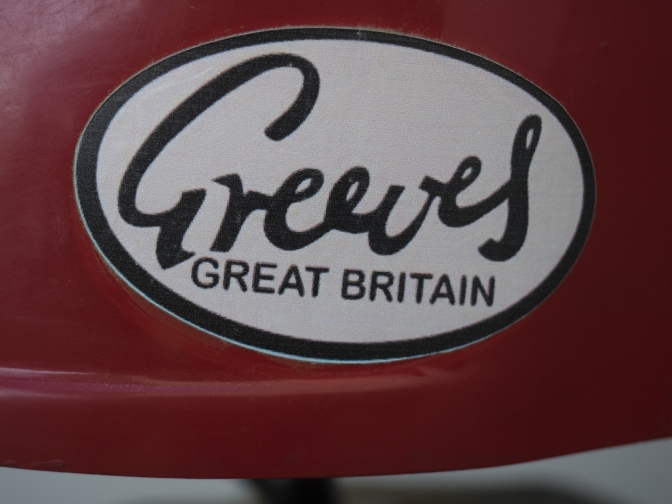 Yes It Was.......
Another "Norek" Trials bike test brought to you by...

More later...
Updat2023...08...