Triumph Metisse WAA 28H.
Carol and Harry Fosters Original machine.
The facinating story about the bike by the Now owner...
I've been meaning to contact you for a while, ever since I saw you showed a picture of my bike on your early Foster Otters site. Health and lack of computer has delayed me.
This is

WAA 28H

Harry's early bike built

1969

ish, for use in sidecar trials and in solo trim used in the Welsh 2 day etc, as in your

1972

photo.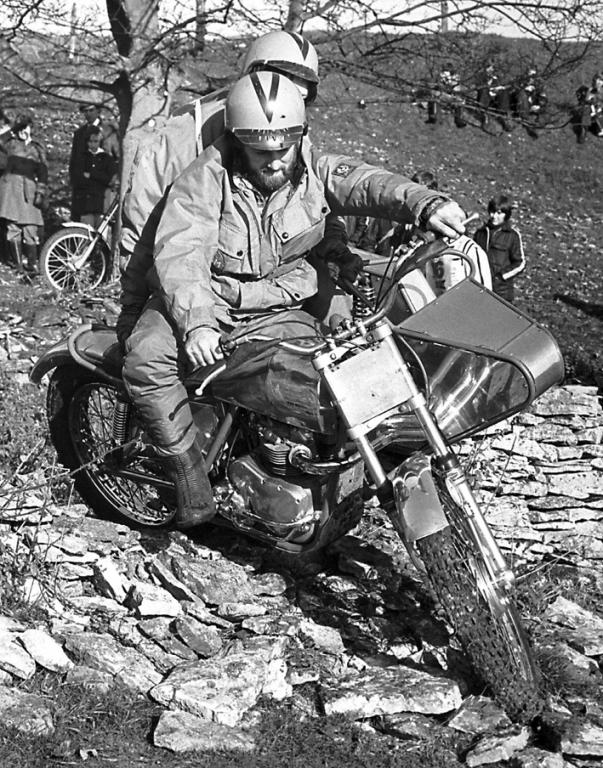 Photo courtesy Deryk Wylde Off Road Review.
So here is the bikes current owners tale.
And as he says there is more, from him, and maybe Carol later.
​ I've had the bike since

2005

when I bought it from Tom Seward, who got it from Ally Clift, who got it from Harry -I think.
Alan Brown (much missed) who knew the bike, and Harry put me in touch so I took it to show Harry and Carol at their place Honiton way, as it turned out not long before Harry sadly died.
He told me a bit about it, I took some notes so could write more if you are interested.>

Charlie:> Yes Please.
It's pretty much as it was, apart from wheel rims, (the original steel rims were buckled and with worn spoke holes), and the rear shocks.
The oil tank still carries number 238 (

1975

Welsh 2 day) and the old rear shocks 284 from

1976.
The head/barrel carried a lead seal with M or W on.
I put a

1971

Daytona motor in and played in mid Wales- my sister lives near Lampeter, so I know some of the tracks used in the 70's.
Now it has the original '

1962

Triumph T100ss engine, that came from the bike Harry and Carol toured Scotland on. It was also in a B40 at one time. "Otter" ?
When I bought it I thought I was just buying a road legal Metisse that was smaller and lighter than most, (Petite) important cos i'm under 5'6", I had heard of Harry and had briefly ridden an

"Otter"

years ago.
I'm most impressed that there's enough interest in the bikes and people to keep a whole load of sites going, and can't help but wish this sort of info, advice, and contacts, had been available years ago!
I hope all this is of some interest, my apologies for the delay and for my lack of computer skills.
And should anyone be interested

"WAA 28H"

is available - it's wasted on me now (and always was?)
Thanks, Jee (More Later).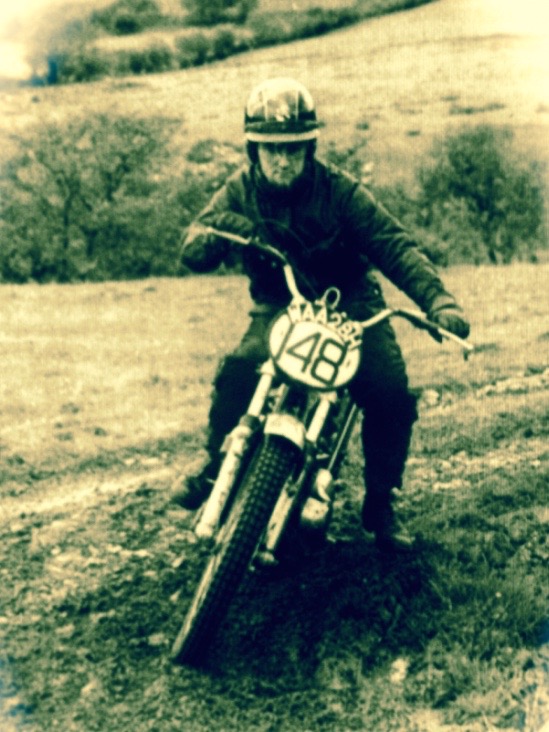 Photo Courtesy Derek Soden.
Here is Harry Foster riding i

n the

1975

Welsh Two Day trial.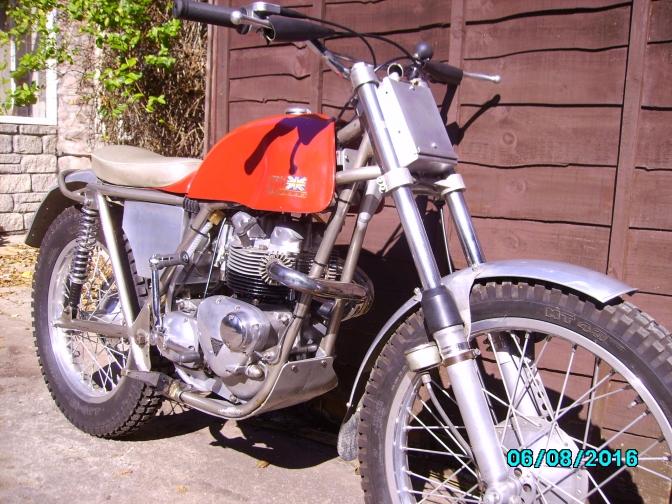 This Unique "Petite Metisse"

is a one-off part of British Motorcycling History.
And part of the Fosters life both the late Carol and Harry...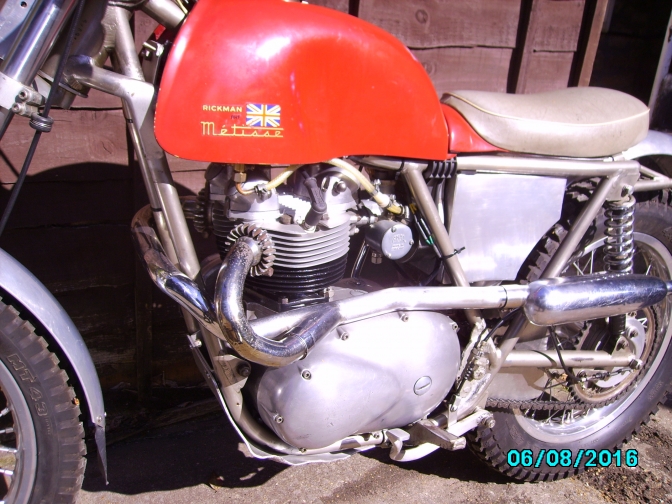 This Metisse is totally of the period, and not spoilt by fitting a later Amal Concentric Carburettor.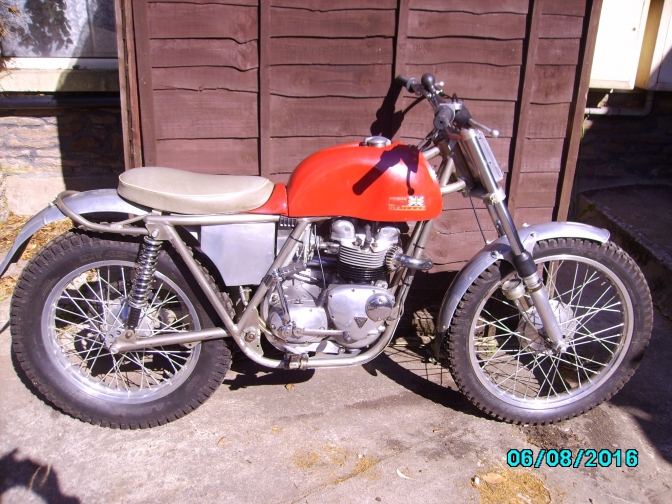 More on this story later...
WAA started out as a yellow

Bultaco

4 speed Metisse,

1965?

which Harry scrambled.
He also had a

Triumph T100ss

on which he and Carol went from John o' Groats to Lands End, 'because they felt like it', this bike was later crashed and the engine put into a BSA b40 frame, then the Metisse.
Harry knew the Rickmans, and they helped but unpublicised, as he used the 'wrong' frame being made for a 250 two stroke not a Mk3 or 4 Metisse.
The frame was used as standard with the side panel tabs cut off and a snail cam s/arm pivot fitted for quick chain adjustment in time trials.
Harry emphasised that the nut must be tight!
(To stop the cams slipping.)
He made up the rear frame loop,

engine plates, center stand, brake pedal, oil tank, air box (the first idea didn't work cos it let in water), toolbox on forks (usually hidden by the number plate), h/bar clamps + fork stops, chainguard etc.
The frame was replated, a 'proper job'. It never had lights.
Originally a Bultaco fw front hub was used but the brake anchor lug pulled out from the plate in the Isle of Man after a 2 day event, somersaulting the outfit forward and throwing Carol out with an eye injury from a h/bar lever.
While she was in hospital the police inspected the bike.
Harry never trusted or used Bultaco brakes again,

and fitted Rickman hubs.
A thin black seat was used for trials, solo and s/car, with the thicker white one for

the Welsh 2 day etc.
The s/car clamps were alloy across tubes with extra bracing n/s front to stop 'the crack'.
The carb and manifold were chrome plated, a new process then, and was 'for show'. Cylinder fins were drilled or removed, usual practice then.
A wide ratio g/box (he thought-long time ago) and a narrow

(3ta?) clutch and primary chaincase was fitted to give more clearance.
Harry used various cams, in the engine, depending on the event.
Harry would have liked to have been selected for the ISDT team,

and could change an inner tube in under 4 minutes, (team standard) using an air bottle strapped to o/s/r frame tube, and the stand fitted at the point of balance.
He gained bronze, silver then gold awards at the Welsh 2 day.
One year he retired cos the weather/conditions were so bad, then the organisers discounted or altered times so he could have gained an award.
On looking at

WAA 22H

when I showed it to him, he thought it was pretty much in

1975

Welsh 2 day trim.
Later Harry built another Metisse outfit

with lowered full length seat tubing, high t/side tube under engine, alloy tank (made by Harry), exhaust through s/car, this had a disc brake for a while. It had a red frame and s/car with panels screwed under tubing so replaceable - Harry said he pioneered this idea.
Harry stopped trials riding because he was taking it too seriously in the end, and it stopped being fun. And he had to sell both outfits to raise money to start

"Otter"

production.
Later he had a BMW kneeler and a Joe Potts Jap car

- a Cooper copy with a more rounded bulbous body, which dropped a rod once.
(I remember this at a Weston Zoyland NSA event)
I have photos from Tom Seward

of the bike from about when he first got it, tank and seat mount were painted maroon with a black front guard, and what looks like RHF METISSE on the tank.
Motorcycle Sport magazine

Jan '75

has a photo of Carol and Harry in action at the Knutt Trophy trial, while

Dec '75

shows them on the second outfit (described as a RMF Metisse) at the British Experts.
Charlie:> Thank's for this first class insight into the machines History.
More photos later...
updat2021...