The Smallshaw's and George.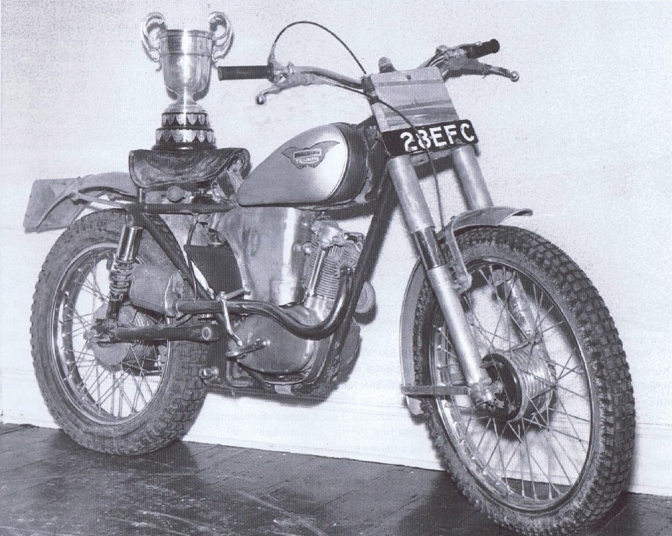 Photo Courtesy Deryk Wylde ORR.
"The Smallshaw Triumph Cub."..
One of those coincident stories again. And material in the back of my head and on the computer that I have been going to use for a story for ages.
Then last week (April 2019) I had an email from a Mr. Mike Smallshaw, he had just purchased a Foster Otter trials bike, and wanted to know what thread and size was the brass oil filler cap in the frame.
I sent a mail back saying ¾" BSP and gave him the number for one in a Toolstation catalogue.
A mail back said it did not fit as it was too big… strange I thought. I better ask for photos of the bike so that would help me to see the problem..
The photos arrived of the bike. And the next morning I took a closer look at them, and something clicked……….
With both the name and the image of the bike in the photos.
The name Smallshaw I remembered linked to a special Triumph Cub trials bike from the sixties. And ridden by the grand old chap of motorcycle trials, George Greenland still riding trials at Eighty-seven years young. I always remembered George, has he bought the Triumph 3TA trials bike I built up for Dan Shorey, out of a crashed bike. Dan then swapping over to sidecar trials sold the bike to George… The bike he then built into his own frame , and again fitted with James hubs and AMC forks like the Smallshaw Triumph Cub had been..
The Foster Otter in the photos clicked as one I had placed for sale on the Otter site a year or more back.
And was for sale then by Bryce Haines.
We were getting there; I again mailed Mike with the information about the Otter and said he may know Dick Ramplee..
Mike mailed me back and said he knew Dick very well and had ridden his Otter a couple of weeks before, whilst deciding what bike to buy. And had I seen the article about his mate George Greenland in the Saturday Express, I mailed back saying I had material about George and the Smallshaw Triumph Cub that George rode from Deryk Wylde and ORR.
And asked if I could do a page on his Foster Otter bike. In the mean time I had emailed Ian Ballard for information about the Bike that Mike had bought. And was it the bike built by Colin Harvie?
It was then when Ian mailed me back that I heard of the sudden death of Carol Foster, and every thing had been going so well with the story up-until then.
Then Mike sent me loads of photos of his father Des and the Smallshaw Specials… so the story had just got bigger and the page must now be done, for more than one reason. So here is a start, of it and it will run, has I always say…….
~~~~~~~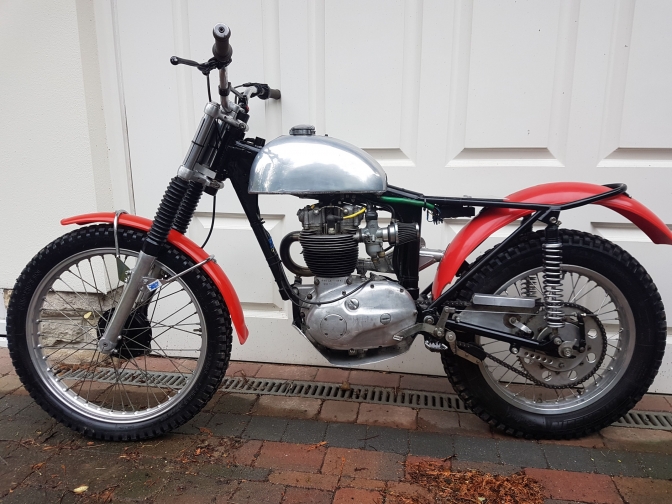 Photo Courtesy Mike Smallshaw.
This is Mikes newly acquired Foster Otter, frame Number 24.
~~~~~~~
We better start with the illustrious history of a trials family.
the Smallshaws.
~~~~~~~
Over to you Mike.
As you have shown interest
in my Father I thought I would give you a few more details.
After riding a BSA B31, he designed and built (making his own frame) a 197 6E powered Smallshaw Special.
He was very successful on this winning the
Southern Centre Championship
four years on the trot,
1953,54,55, and 56.
He was leading in
57
but unfortunately lost the sight in one eye and so lost the title to, I believe Colin Lambert.
Before his eye problem he was constructing a new bike with rear suspension and a Triumph Cub motor,( supplied by Henry Vale of Triumph Motorcycles) but he found with one eye he was unable to ride to his previous standard, so sold the bike to George Greenland who finished the bike, and had a lot of success on it.(George worked for father Des at his engineering works at the time,)
George eventualy sold the bike, but a few years ago saw it advertised on ebay without an engine. He bought the bike and rebuilt it as it was when he rode it.
He still has it in his bike collection today....
Attached are some scans of; some articles written by Mike Jackson, father riding his BSA and Smallshaw Special, both Smallshaws in the workshop, George with the cub engined bike, and some of my fathers trophies.
I wonder if the BSA still exists, I believe he sold it to
Eddie Austin.
There is no record of the registration,
GRU 835
on the DVLA website.
~~~~~~~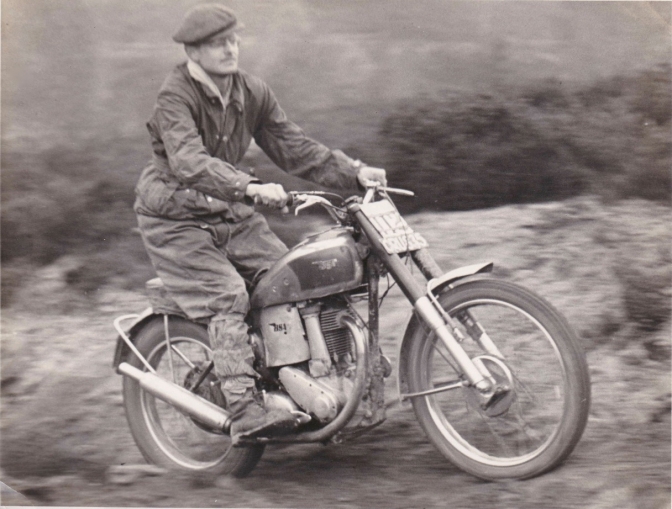 All photos Below Courtesy of Mike Smallshaw©
HD (Des) Smallshaw enjoying the ride on the BSA B31...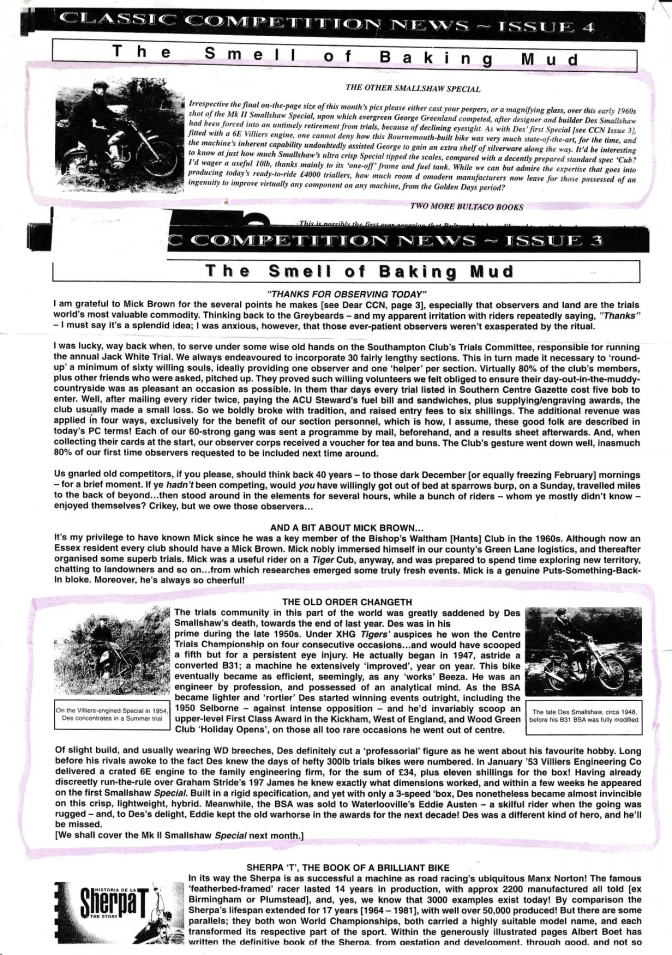 The Mike Jackson snippets of Des's career...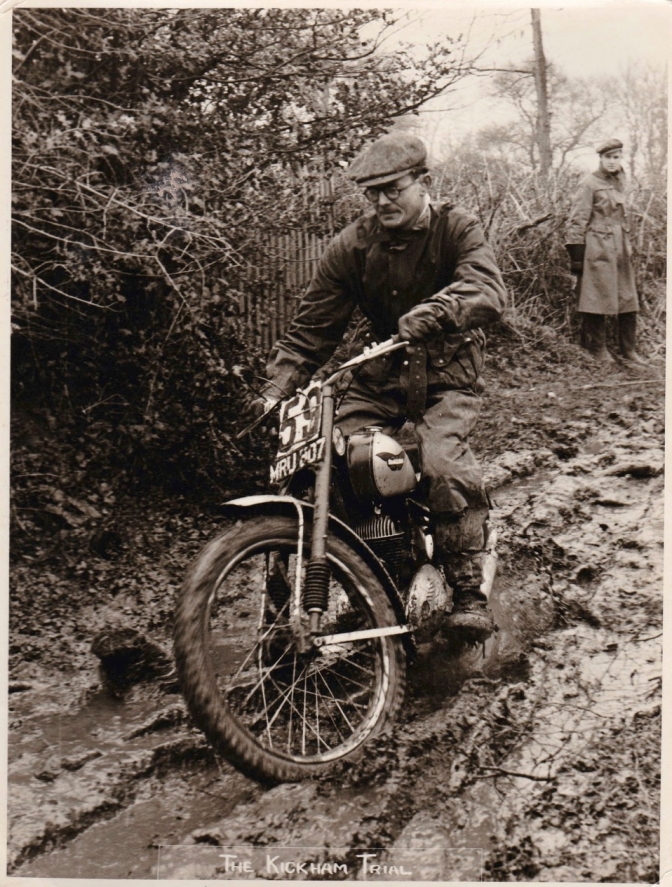 Des riding the Villiers engined MK1 in the mud of the Kickham trial...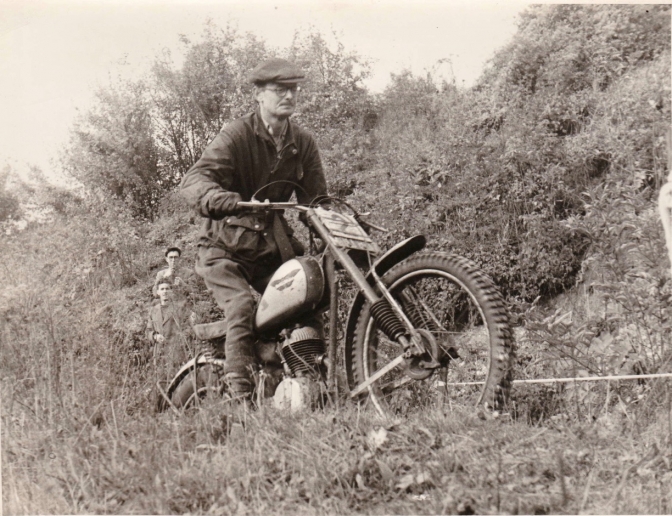 And again the same MK1 Smallshaw Special.. but in the warmth of a summer trial...
And just look at the array of trophies that Des won in his illustrious trials career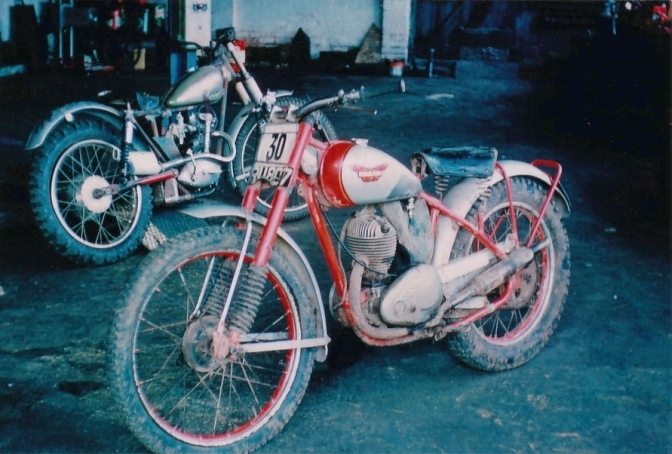 Both Smallshaw Specials in the Smallshaw engineering works...
~~~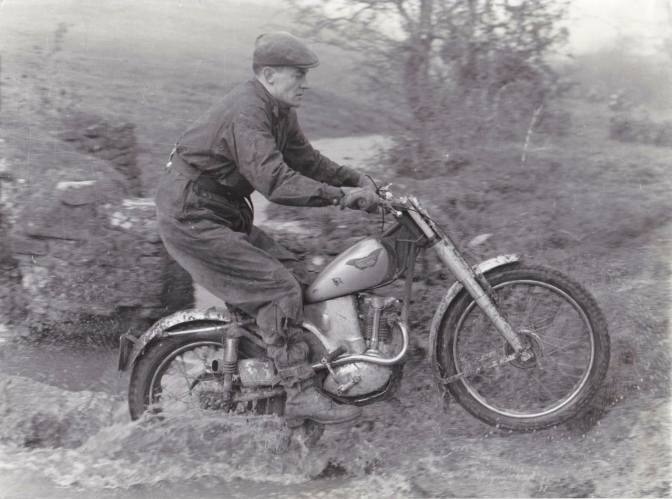 A Young George Greenland aboard the Mk two Special "The Cub"...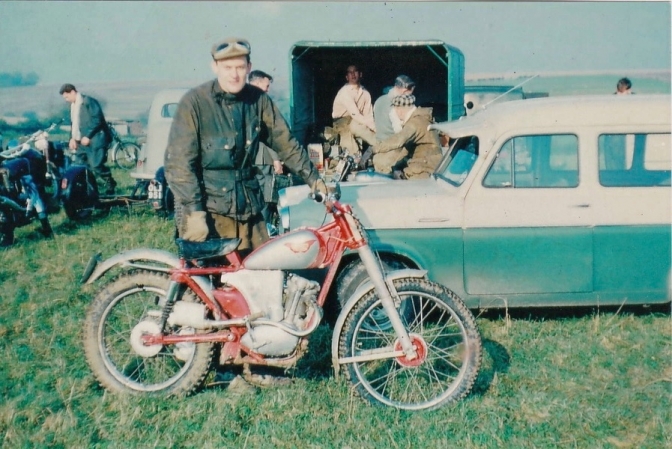 And a nice colour shot of George and the Smallshaw Special. note the tank is a James item modified by Des, and the signature Smallshaw carburettor and air cleaner guard.
When George left the Smallshaws Engineering company, he moved to Oxford to become a specialist engineer at Morris Motors.
He got to know scrambler Pat Lamper who was at the time riding for D.O.T. motorcycles, and this friendship led to George getting a ride on a works D.O.T. trials bike for two years.
It was then that he desided that the best way forward was to build his own trials machine, this is when he bought the Triumph 3Ta from Dan Shorey at North Bar garage Banbury, as its basis, and built a new frame for the bike, but then found it was not up-too the power of the 3Ta motor, so went for a frame from Robin Rhind- Tutt... where the rest his history when George desided to take to three wheels aswell..
More on this story later...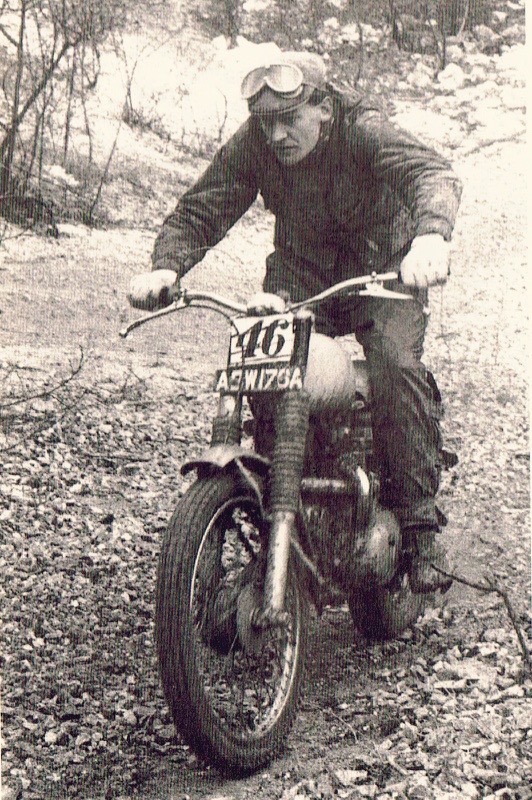 Here George riding the NorthBar basis Triumph 3TA...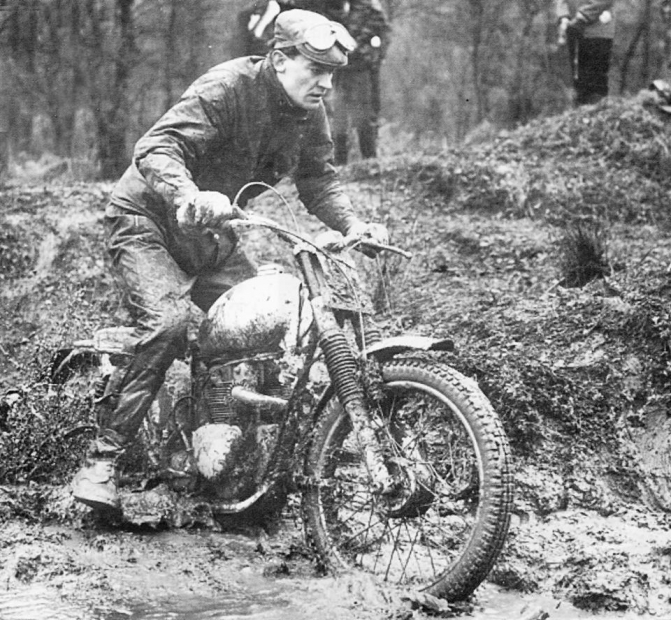 Photo Courtesy Deryk Wylde.
George built the Triumph 3TA very much on the same page as the Smallshaw Special Cub, even down to the use of a Blumells saddle. And the tubing does look a little fine George.......Greeves alloy tank?
We now go back to where we came in on this story and back to son Mike Smallshaws acquisition of the Southern area built Foster Otter.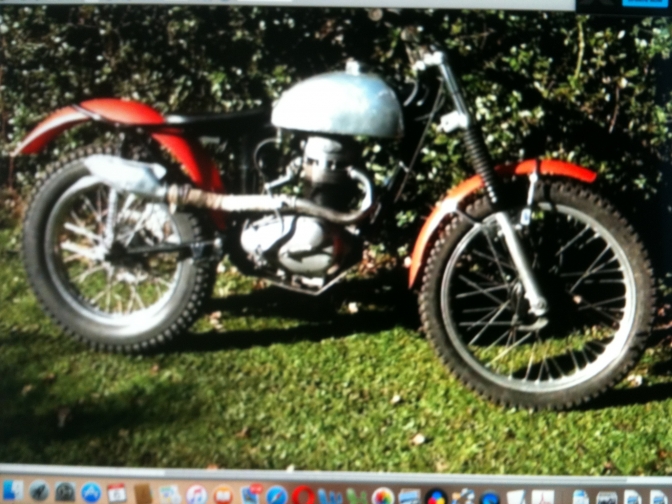 This is how I remembered the Foster Otter when Ian Ballard told me it was for sale on a club website by Bryce Haines..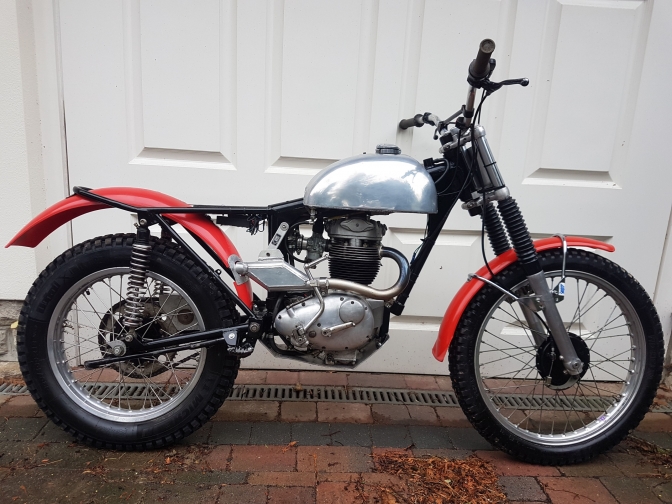 A tidier exhaust system now fitted to the B40 Foster Otter.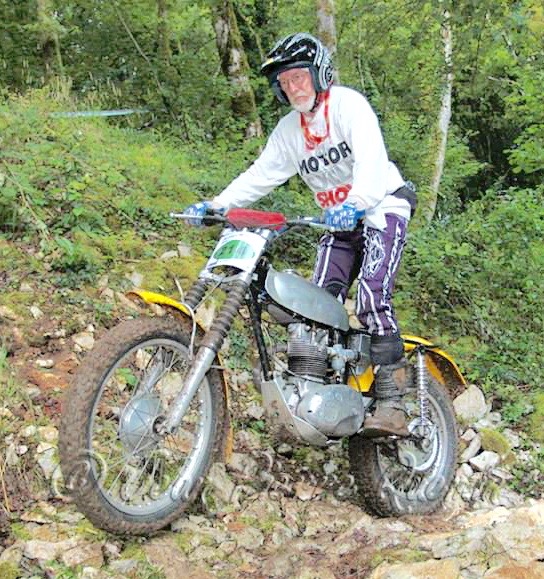 Dick Ramplee aboard his Foster Otter..
Dick now mainly rides on the continent accompanied by George Greenland And the Gang
~~~~~~~
I will continue with this story later...