2023...
Welcome,
Benvenuto,
Bienvenido,
Bienvenue.
To BSA "Otter".Com.
Now in its thirteenth year the BSA Otter website has continued to inform people that are interested in the Classic "Old Trials Bike" scene, about what is going on in the sport, and with information about trials bike builds and rebuilds, and delving into the past of makes and brands that were little known about.
This also helped to create New interest by people that at the start of 2010 only glanced at one or two pages on the site and then got interested in the Classic "Old Trials Bike" sport, and more so in the bikes that were featured and constructed for the BSA Otter site. Numbers of readers had reached the dizzy heights of 44 thousand a month at one time but has always had a realy good following through out the time span of the BSA Otter web site being launched. With the changing age group now younger, we need to find a way this year to try and encourage more younger members of the population interested in old motorcycles and machinery, to find a way into the interest of playing with
"Old Trials Bikes", rebuilding them, and riding them…
So this year faces a challenge for the site to find a way this might work…
Welcome to 2023...
01/01/2023...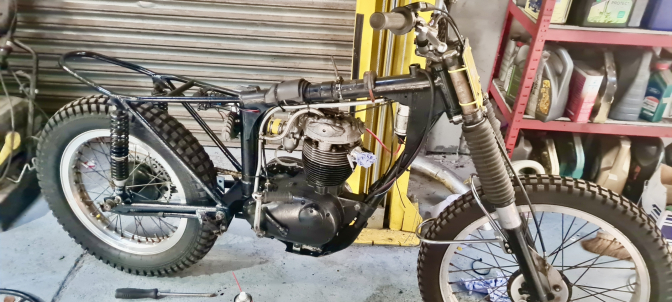 So this story is just what we wanted for the start of the new year. Over a month ago, late November,2022 I had a email sent to BSA Otter contact page by a chap named Dave asking about what oil to put into a Otter frame, and where was the drain plug, and how much oil...
I was busy that week and did not answer mails until that week end.
In the meantime Dave had placed the same message onto Trials-Central, and our old friend Ian Ballard had found the inquiry and had given the young man the information he needed, and then had contacted me to let me know. I found the contact and replied to Dave... In the mean time Ian had spoken to Dave on the phone has he had it in his head that the bike could be one of the missing Foster Otters. Long story shorten'd , It was... and it transpires that Dave's father has owned the Foster BSA Otter for the past fourty years, and had given Dave the bike twenty five years ago, where it had just sat in the shed, and the last work done on the bike was in the nineties when the late Reg May had done some work on it... Dave Hickman although a very busy chap has decided to try and get the Foster Otter, frame number 3088, running and up to scratch to ride in the TALMAG trial at the end of this month...
And the best part is that our Ian Ballard is keeping an eye on the project... so you see we have already got a new face into the sport and on a machine that just could have sat in that shed until the scrap man had taken a liking to it...
Although Dave thinks a lot of his fathers Foster Otter and says he will never part with it..
Good luck Dave we are with you...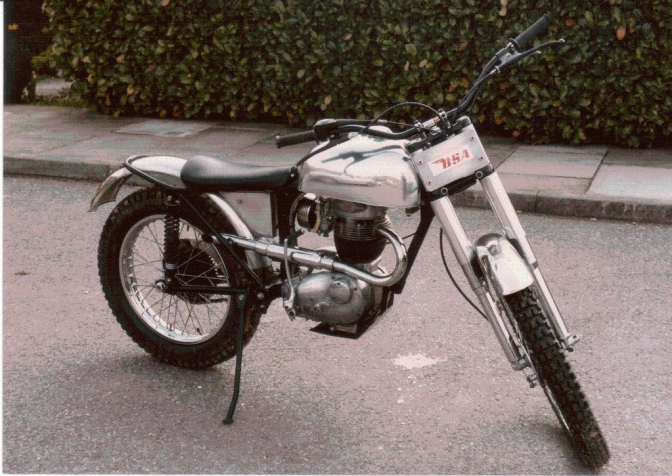 Photo Courtesy Ian Ballard...
This is Ian Ballard's Foster BSA B40 Otter when he first built it in the eighties... Thank's once again Ian lets have a good year... Ian is building a Jim Susans framed bike up this year as a tribute to the man who sadly passed away late last year... I also know of another Jim Susans BSA C15 that is being rebuilt this year after sitting in boxes for years, we will also follow that bikes resurection... So we have a good start to the year...
And on Thursday my favourite number kicks in, 77 years old...
Bring on the "Old Trials Bikes"...
More Later...
Just a bit more inspiration...
Thank you Dougie and Herbert Poelz for building his "Otter" bikes using these pages as a guide...
Check out Herbert's trials bike build's down the page listings...
More Later...
~~~~~~~
29/11/2023...**...
Made good progress on the bike builds again, and just rebuilding Mini-Otter Two at home... It was that cold that I brought it into the kitchen...
Also getting a batch of bikes polished up for a show in February... just got to pick which ones to take...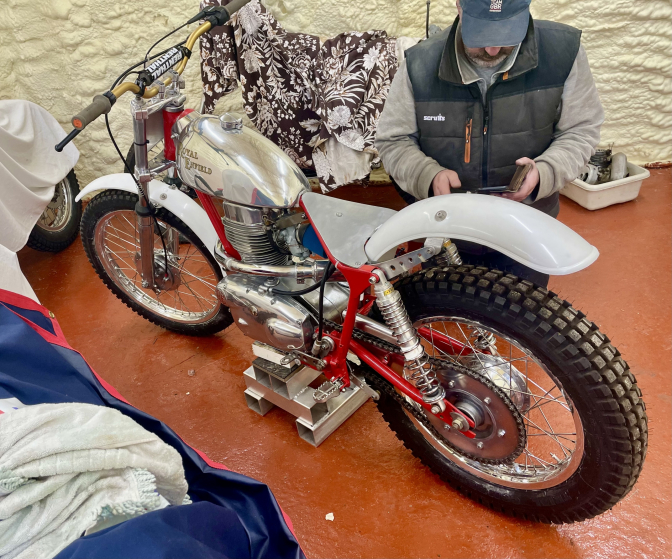 More photos later...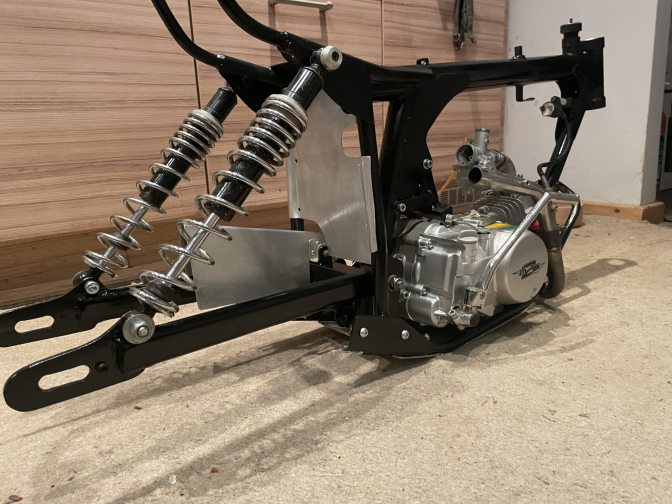 Mini-Otter Two in the warm kitchen...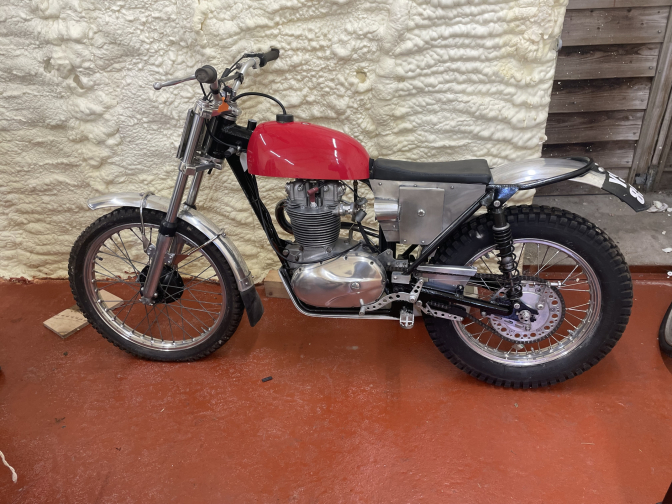 Faber Mk2 framed BSA B40 Otter (Bessie) looking Smart... Carb left off because of Ethanol now to run on Aspen fuel...
21/11/2023...**...
Busy two weeks working on the John Draper replica BSA, and an Ariel or three... and just cracked the old TIG welder up to do a batch of alloy oil and fuel tanks... Why now? Well I have been to Specsavers and got new glasses... just got to learn to drive them, and then I will be able to see what I am welding...
Loads of pages updated I will try and do a list for you... Just going through my photo stock and found a proper trials photo... I think it is from a Bridleway near Brailes in Warwickshire... I recon 1959-60 what do you think?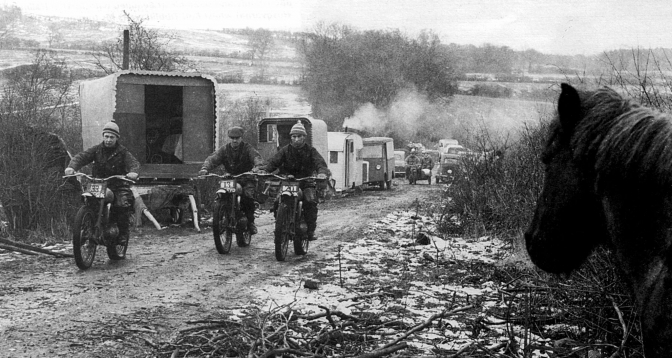 Proper winter trials when Men were Men and Gipsies were Gipsies...
02/11/2023...**...
Just had a break from Ariel's for a couple of days and made a batch of BSA C15-B40-4 cylinder head engine breathers for the 7 in build... But there is a New page "Ariel the other GOV's"...and loads updated...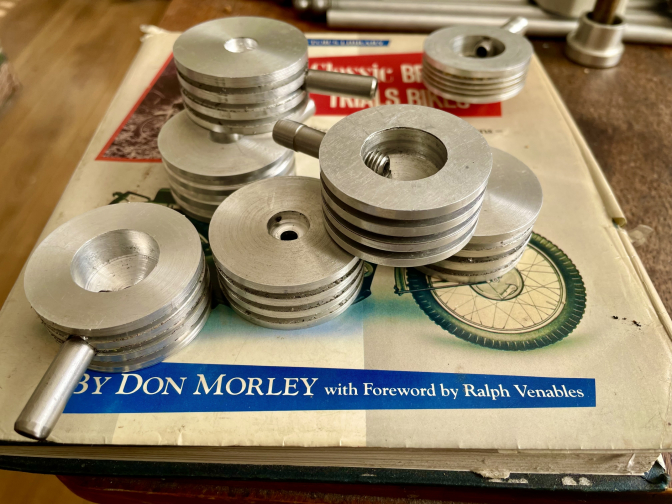 27/10/2023...**...
Good News...
Hot off of the press( well jig) is the New Mk 4 Faber Triumph Cub frame that is built to be compliant with the Scottish Pre 65 trial regulations...
Has far as I know this is the only Triumph Cub frame that can be bought New "on the market place" today, so if you are contemplating building a trials Triumph Cub this will be the place to go...
More details and price will be on the Faber 2020 page, and also on the Faber Cub build page later when I have again spoken to Howard at Faber Frames...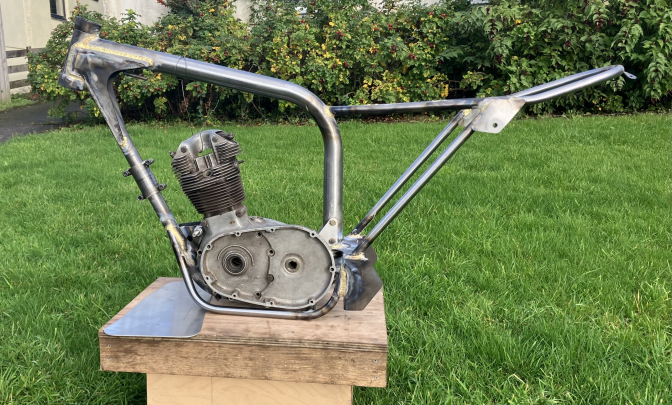 Photo Courtesy Faber Frames...©...
Howard says that the T45 bottom frame tube bends may have the radius of the tube bends altered at the front to match the engine better...has I say, details later...
19/10/2023...**...
I am still working on the Ariel's and just starting the Jim Susans engine sprocket conversion for the two bikes with an AMC clutch, we are using Villiers 15 tooth gearbox sprockets...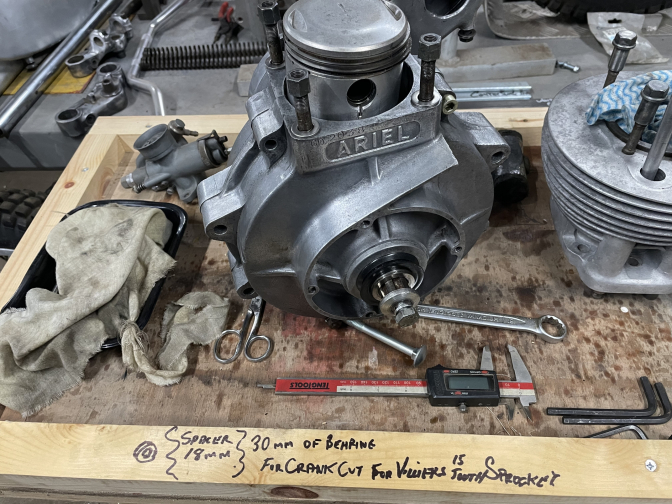 16/10/2023...**...
So another week gone and time is ticking... another week on Ariel engines everything takes an age, I had to order gasket paper for the barrel base gaskets and that has taken a week to arrive blame Christmas they said...
Anyway also had another frozen seat post to remove...and this one was well in and long...
Hope to keep this video on as I removed the other for infringment...
06/10/2023...**...
I have spent this week doing nothing but Ariel's, and even writing about them, and we still need to try and find the HT 5 for Dudley Taylor
(TOC 497) that page coming up too...
We are trying to build up three Ariels at the moment and I am trying to build up the engines, two HT 5's and a NH 350 to HT3 spec... I am finding it hard to find some parts, cam followers being unobtainable...I think I may try and get some billet made...Cylinder heads for 500's are the same, so I am going to machine the casting I have, along with a pair of our new crankcases...
03/10/2023...**...
New Page Up "The Works 350 HT3 Ariels...
More Later..
29/09/2023...**...
Mike Waller Health Update...
Mike we will try and find you the Triumph Cub engine parts... and there is also the plans for the Mini-Otter Super Cub here if you want them...
but the main thing now, as we say in North Oxfordshire...
Is "Ta Goo Steady"...
23/09/2023...**...
Well a good day yesterday Dudley Taylor mail'ed me
And Sean sent me a load of photo's... So a new page coming up...and it may jog some memories from more of you chaps out there, who would like to know what happend to your old riding mates... Just mail me like Sean did about his dad...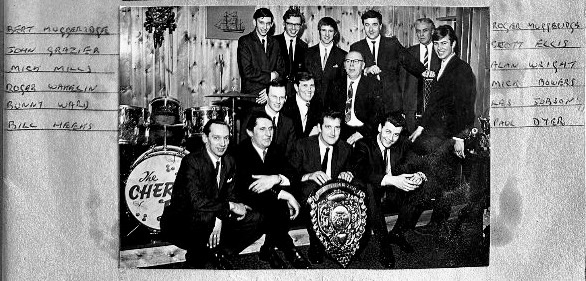 Photo Courtesy Sean and Dudley Taylor...
Here is a good one for you...
Dudley Taylor is the one in the middle at the front, the front row names are on the left...yes it will be a good page...
22/09/2023...**...
There is some things in this life that you just can not explain...
A couple of weeks ago I found a photo from Deryk Wylde of a rider on a Triumph Cub and Deryk did not know his name... I thought and the name Dudley Taylor kept coming into my head.. So I spent a couple of hours looking for him on the net... and Bingo he had a photo of him on his Face book page...
I have been busy as you know, so kept the photo's and was going to write a bit later... Anyway today had a email on the Otter site from a chap named Sean Taylor.. asking if we could try and find his dad's old trials bikes.. but no first name of his dad ...so I mailed him back and said I had just been looking up the mate of Ron Langston named Dudley Taylor...Sean got straight back... That is my dad he said...
Dudley is looking for information about the Ariel HT he rode reg number TOC497...(Not on the DVLA site) and he said the last time he saw it, it had a sidecar fitted... The other bike is a BSA C15T that was sold to Doug Theabald... but Doug can't remember who he sold it too..
We will try and find the reg number for that...
I will do a page for the story as it will be an interesting one...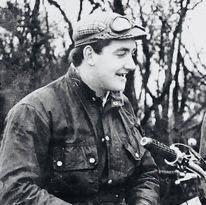 Photo Courtesy Dudley Taylor Facebook ...
Dudley Taylor...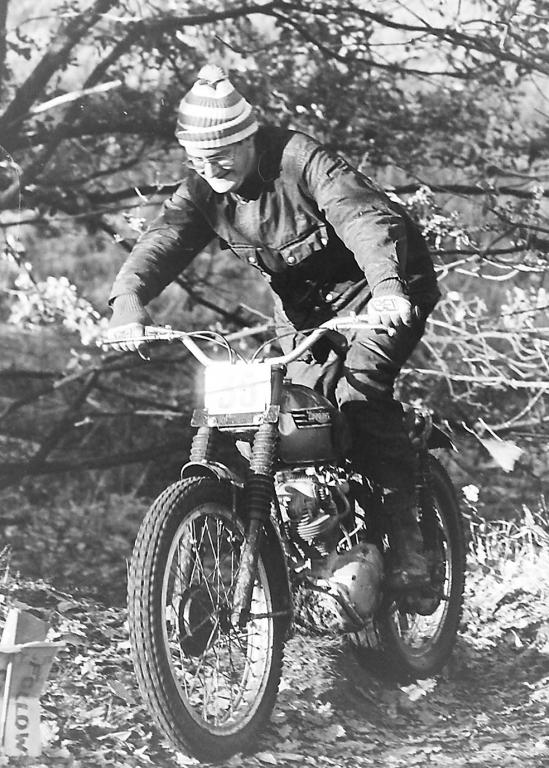 Photo Courtesy Deryk Wylde
And the Triumph Cub photo...
More Later...
17/09/2023...**...
So todays work and yesterday's, and this after six years of being fitted ... Lithium Hydroxide from the damaged unvented control; battery in the seat tube... How good are these batteries...
And we know that Galvanic corrosion takes place at a rapid rate between tight fitting carbon steel and Carbon fibre a problem still to be solved by the trade...
Photo...
More on this later and the tool I had to make...to do the job
"The Beast"...
18/09/2023...**...
Mixed week this week sand blasting and painting frames ( motorcycle and bicycle) making jam and chutney, and getting ready to work for a week on the new batch of the MeteorWorks AEsir frames and bikes ready for autumn...Adventure...
08/09/2023...**...
So we think it is warm here in the UK at the moment...
Did you ever follow these chaps on a Scooter and Sidecar put together by a couple of "Old Blokes" in a shed...
The full length film may be out in a few months...
04/09/2023...**...
I despair...
Sorry chaps no results from the Manx International Classic Trial yet...
Not on the website or Facebook page... and nothing on the Manx Radio site, and I do mean Nothing not a mention all week end, and this is a International event...
Looks like the Isle-Of-Man Goverment have given up on two wheeled Motorcycle Sport... just read below. Is it only me that cares? such a shame ...
Results when I get them...11.30 am... got them and a win for
Dan Clark Ariel...
Manx International Classic trials results
Top ten in class...
1st 166 Dan Clark Ariel 1 0 1 59 2nd 136 Phil Houghton Triumph Twin 3 1 4 56 3rd 133 Sean Radcliff BSA C15 6 9 15 53 4th 167 George Emmott Triumph Twin 8 10 18 49 5th 68 Michael Irving BSA B40 7 11 18 48 6th 135 Jim Hough Triumph 3TA 9 12 21 52 7th 70 Nick Shield BSA C15 12 10 22 51 8th 105 Paul Heys Triumph Cub 10 13 23 48 9th 110 Gary Baker Triumph Cub 7 16 23 45 10th 108 Ian Strickland BSA Bantam 15 10 25 50 1
under 35
1st 116 Calum Murphy BSA Bantam 0 9 9 57 2nd 125 Ben Butterworth Ariel HT 7 2 9 56 3rd 132 Jacob Joyce BSA Bantam 15 10 25 4
Pre 65 Clubmen…
1st 83 Peter Carson BSA Bantam 0 0 0 60 2nd 86 Chris Gascoigne BSA Bantam 0 1 1 59 2nd 109 Tim Blackmore BSA Bantam 0 1 1 59 4th 89 Gary Shaw BSA Bantam 2 2 4 56 5th 112 Darren Phypers Triumph 0 7 7 57 6th 150 Keith Annette BSA Bantam 5 2 7 55 7th 46 Martin Gilbert BSA Bantam 4 6 10 56 8th 63 Angus Jenkinson BSA 5 5 10 55 9th 37 Glyn Moses Francis Barnett 5 5 10 54 10th 94 Danny Littlehales Francis Barnett 3 9 12 55 1
Pre-65 Clubman Under 35...
1st 115 Tyler Murphy Triumph Twin 0 21 21 53 2nd 231 Mark Blackwell BSA Bantam 3 34 37 46 3rd 215 Connor Allan Triumph Cub 2 44 46 43 4th 218 Daniel Smith Triumph Cub 9 55 64 33
Twinshock Premier...
1st 161 Juan Knight Montesa 2 1 3 58 2nd 159 Barry Kinley Fantic 1 2 3 57 3rd 144 Darren Wasley Fantic 5 10 15 50 4th 148 Andy Longden Fantic 8 18 26 42 5th 143 Lee Wardell Bultaco 10 20 30 43 6th 73 Dylan Cain Yamaha 21 12 33 42 7th 36 Daniel Casanovas Beta 22 20 42 43 8th 33 Joan Pere Santure Bultaco 23 29 52 35 9th 226 Andrew Brown Fantic 11 48 59 35 10th 147 Dave Knaggs Yamaha 31 33 64 31 11th 207 Dave Wood Bultaco 24 46 70 33 12th 29 Frederic Bergada Laseca Bultaco 48 28 76 29
Twinshock Premier Under 35...
1st 142 Aleyn Taggart Yamaha 14 18 32 46…
Twinshock Clubman ...
1st 106 Harry McKay Fantic 2 0 2 58 2nd 72 Derrick Edmondson Honda 3 0 3 57 3rd 69 Karl Ratcliffe Honda 2 4 6 56 4th 160 John Kneale Fantic 1 10 11 52 4th 219 Roger Summers Fantic 2 9 11 52 6th 35 Victor Martin Bultaco 7 5 12 50 7th 113 Brad Stein Honda 8 6 14 53 8th 183 Mark Kemp Fantic 0 14 14 53 9th 51 Andrew Blacker Whitehawk 3 11 14 51 10th 102 Koen Windels Yamaha 3 13 16 52 11th 196 Russell Millward Honda 5 11 16 51
Twinshock Clubman Under 35
1st 3 Luke Furness Armstrong 9 20 29 46 2nd 197 Orry Millward Honda 6 33 39 44
Number of results: 175…
All results on the Manx International Classic Trial website…
03/09/2023...**...
Well it is Manx Weekend for me and this superb footage from friend Elaine Moody just proves that you can NOT condence the MGP into nine days... Come on ACU get a grip...
A Must watch video...
Good luck for the future Elaine and Steve...
_______
Day two for the Manx International Two Day trial starts with the sun out again.
First day leader was Dan Clark on the Ariel...
Good luck chaps keep the feet up...
Brian is out taking photo's for us, so more later...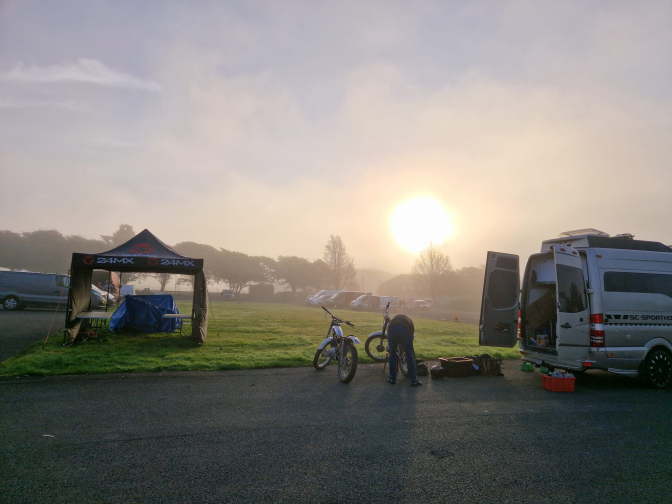 Photo Courtesy Manx Trials Club.. Facebook...
Photo's of Manx International Two Day Trial on here until New page for event...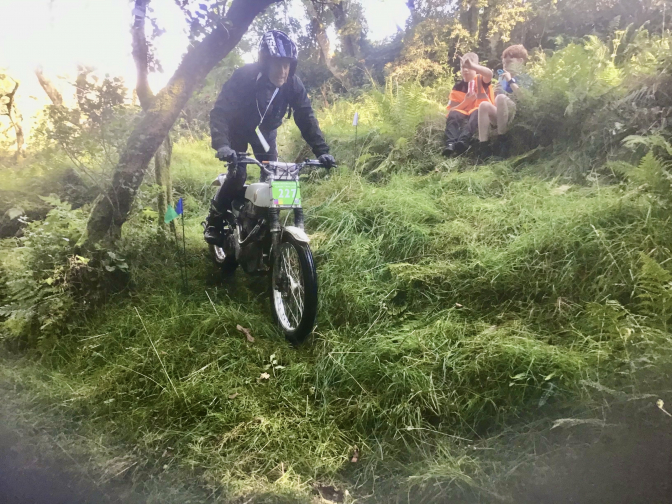 All Photo's Courtesy Brian Bedford...
Day Two David Haynes Ariel...Clubmen 81st...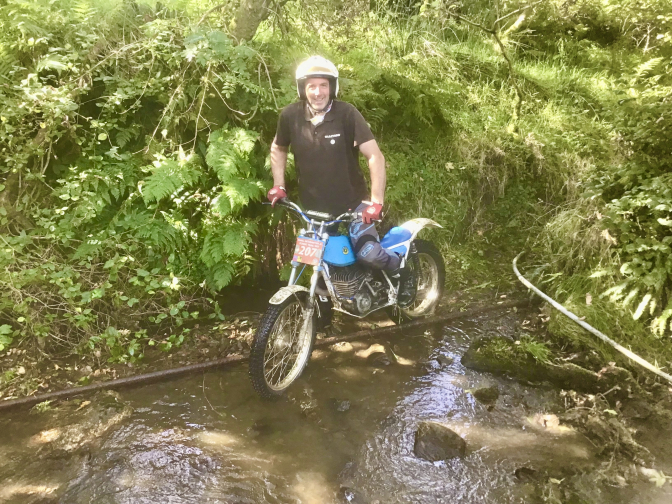 Day Two Dave Wood Bultaco...finished 11 th Twinshock A route..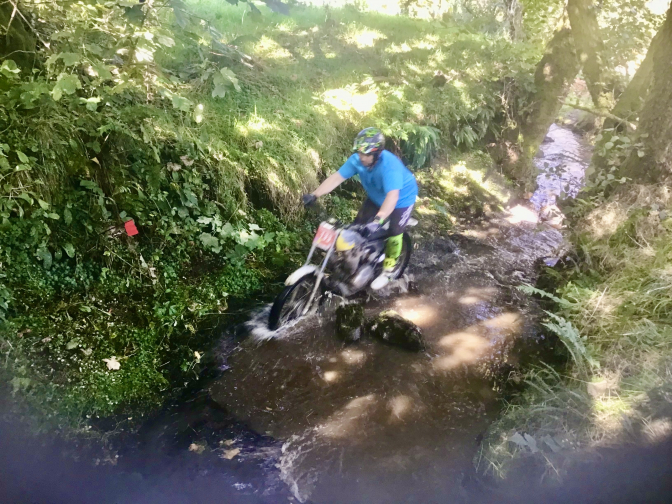 Day Two Sean Radcliff BSA...3rd Premier route...
Sean Radcliff BSA...3rd Premier route ...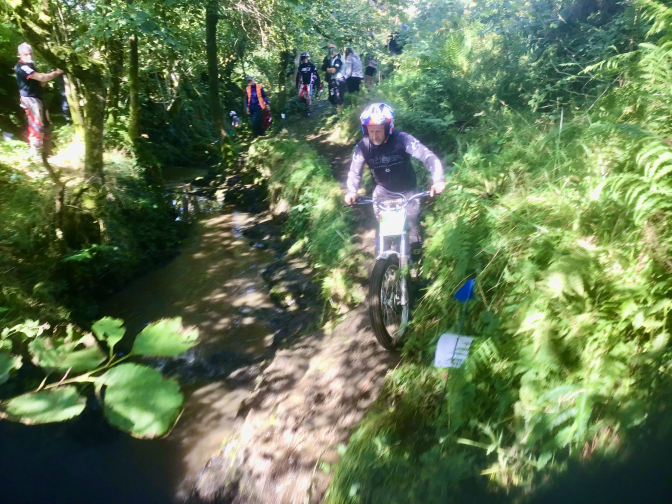 Day Two ?...Ariel...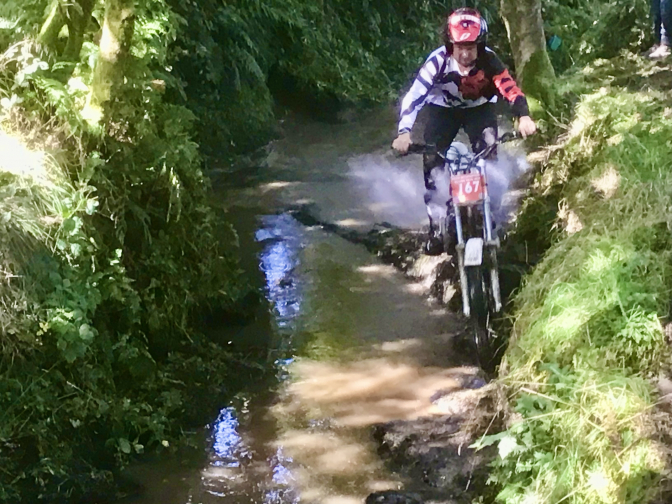 Day two...George Emmott Triumph Twin...4th Classic Premier A route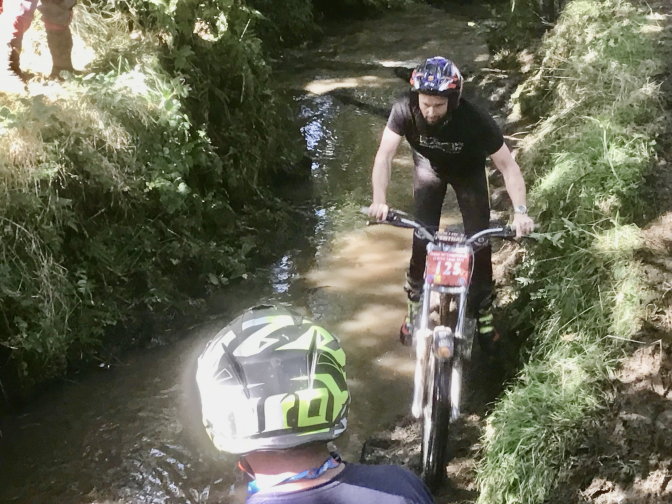 Day Two Ben Butterworth... Ariel...3rd Under 35's...Premier route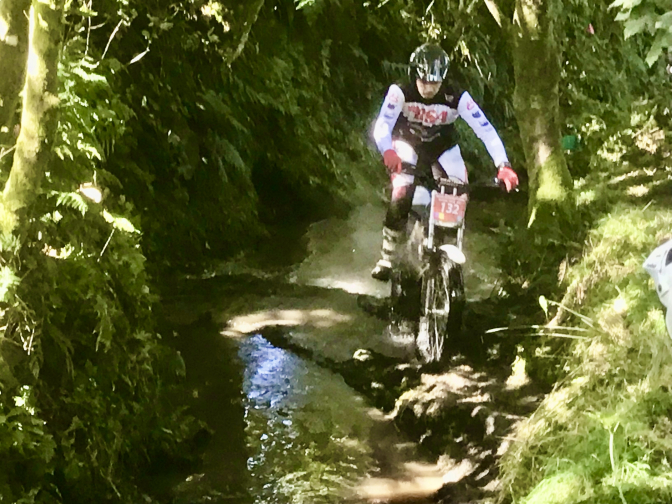 Day Two Jacob Joyce BSA..Bantam...4th under 35's Classic...Premier route.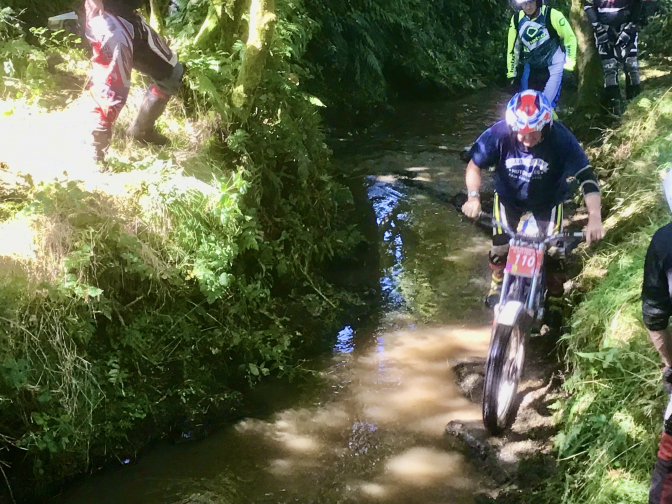 Day Two Gary Baker Triumph Cub....9th Premier route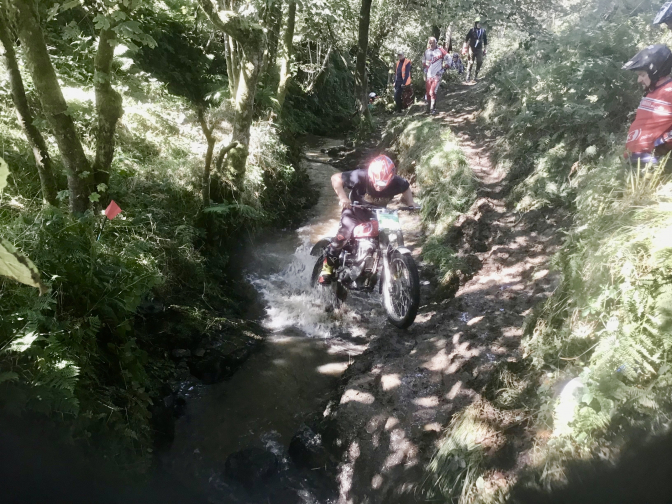 Day Two Mathew Mison...? Matchless...18th Clubmen route...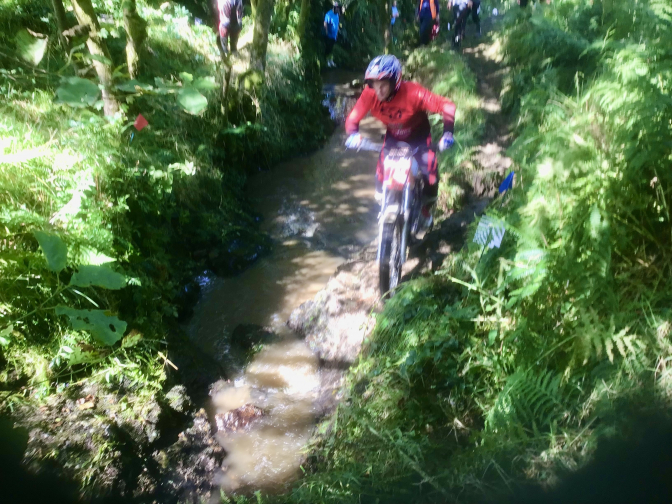 All Photo's Courtesy Brian Bedford IOM...
Day Two Dan Clark...Ariel HT ...1st Classic Premier winner...
More later on New Page...
02/09/2023...**...
That came around quickly...
Enjoy the sunny week end in the Isle of Man...
And keep them feet on the pegs...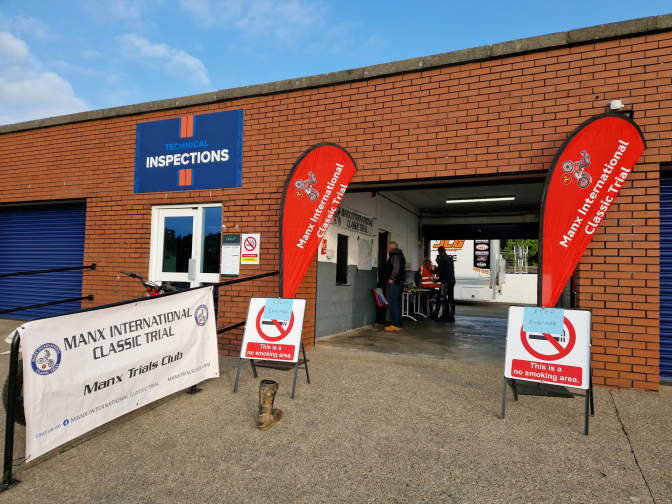 Photo Courtesy Manx Trials Club...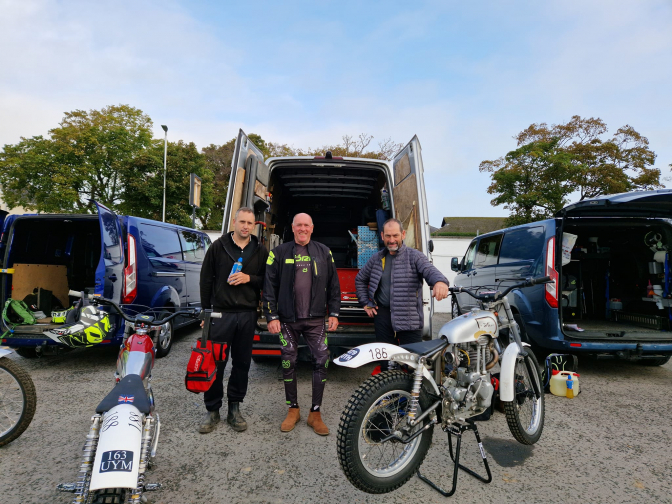 Photo Courtesy Manx Trials Club Facebook.
Doug Mummery Noriel...
Have a great weekend Chaps...
Must get my Noriel put together...
23/08/2023...**...
I spent a good 3 hours in the paint shop today media blasting
Mini-Otter Two's frame and parts ready for primer and paint...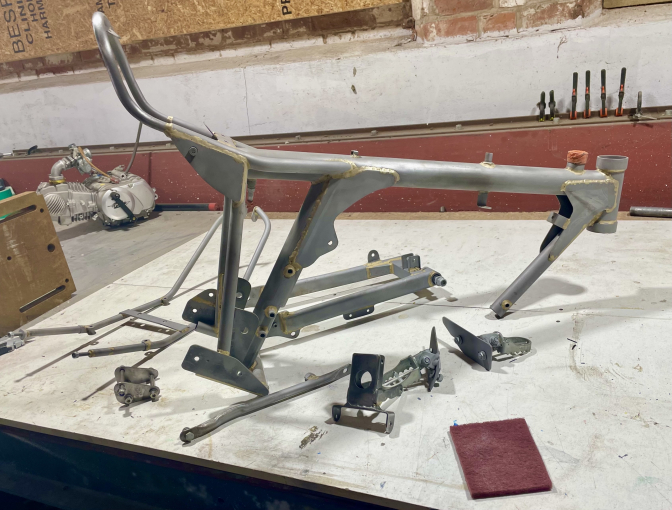 19/08/2023...**...
Well at home today as stung by a Wasp flying-type, and left hand is twice the size...So after updating pages all morning I thought find something to watch while having my lunch...and just dropped onto this video... and after 3minutes 51 second in had to rewind for another listen Well-Well-Well it has taken a while.
Enjoy... Sam has written a good script for the Lady to learn...
13/08/2023...**...
The Four-Stud Fork Saga continues...
So I strip the forks I bought from Graham Wright to do the damper rod modification and fit new damper rod phenolic rings and check and clean the forks...there was a bit of wear on the stanchions, so I thought well these forks are that good I would replace the stanchion's for a new set from Tim Wassell, so ordered a pair there and then last Sunday...
and the last two pairs from Tim arrived within two days from
Parcel-Force...
This pair Tim had decided to use our good old Royal Mail to send them...That should be OK then I thought...
The estimated delivery date was Thursday 10th so I stopped in to recieve them, no they did not turn up... so the same on Friday just hoped they would come mid morning as stuff usally does from the Royal Mail then after lunch I did not give up until I checked the traking again at five thirty as nothing had happened... On the tracking update it read tried to deliver at 1.45pm but no one in...I was... So where was the Red card ? there wasn't one... So I just thought well they will try delivery tommorrow as this is the next working day and there is delivery on a Saturday now ...so left looking at the tracking until after lunch as they had not turned up... And it read at 12.01am we cannot Attempt delivery today ...Oh right I should have checked earlier then. So next working day is Monday then... so getting ready to leave, for the workshop at midday today Sunday 13th found a red ticket on the door mat saying attempted delivery at eleven thirty... OK I know I am deaf but I can hear the knock on a door... And this is not a working day... So still no Four-Stud fork stanchions ... To be Continued ...Going to cost me a Ring doorbell now too...
11/08/2023...**...
Here is an oppertunity not to be missed if you are thinking about building that Triumph Twin engine you have stored for years into a trials bike during this winter, as you know prices will be back up next spring. Well to set you on your way without having to wait, Steve has his brand new MkFive Faber Otter frame kit For Sale, the latest version from Howard Fawkes with bash plate and brake pedal assemblies a snip at £1300...
Intrested? here is Steve's email address, for you ...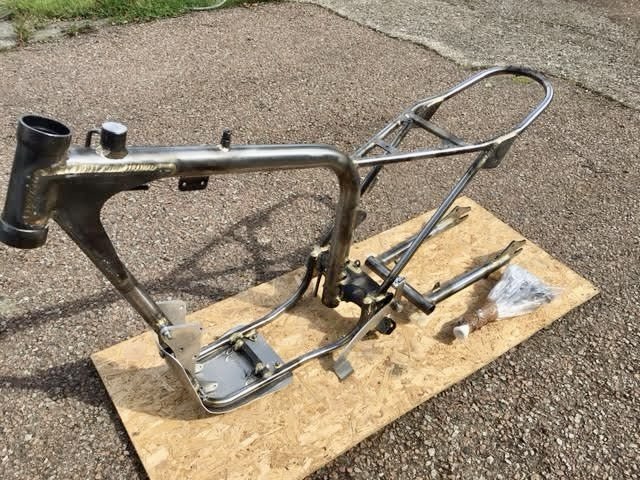 More Photo's on the Faber Frames Page...
06/08/2023...**...
Another batch of ten BSA/Triumph "Four-Stud" forks stripped and damping modification done, before rebuilding has new... One set left to do the ones I bought a week ago... then I start on the forks already in the bikes...that need the modification, do I cause myself work?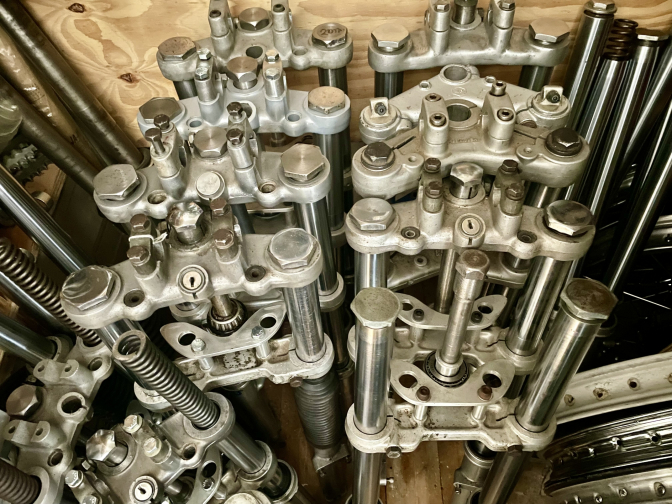 But they work ...then...
Update on Fork page ...
29/07/2023...**...
7.47 pm on the 28th. YEA...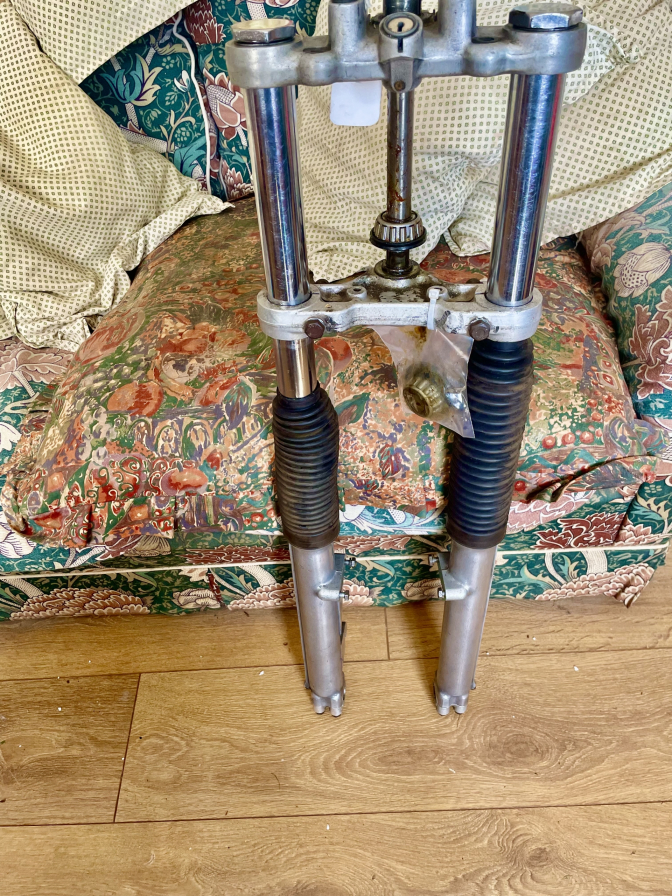 "Everything comes to those that wait"
How clean are they... Thank's Graham...
Story update later...
27/07/2023...**...
So what have I been doing this week? so far...Story on here only until I open a New page for it... When it continues...
The Four-Stud Fork Saga…
Well I counted up the bikes in build and then my stock of four-stud forks…And I had ten pairs but wanted eleven . I know I am greedy…
Well brother wanted an hand at work on Monday and there was a pair of forks on eBay from Graham at Liddles. And no one had bid on the starting price of £300 and you know how much I have said you have to pay for these forks today (£400-500) in any condition…
So I put a bid on at £300 and expected to get wiped out by a long way by when I got back home and the bidding had ended at Three Pm.. so at five thirty I checked to see how much they had sold for.. and got a Pay Now to complete your purchase message. Whew I did not believe it so soon got the payment sorted… then sat back for a week as it said they would be sent by Evri and you know how long they take…
On Thursday I was just about to leave the house at one o'clock and Keith from Parcel Force arrived, he does always rock up at one.. and yes I know his name as I have that many deliveries for these bikes. He had this fork sized box and threw it onto his shoulder, bloody hell he is a fit old boy to throw a pair of forks up like that I thought. He placed the box onto the door step just as I opened the door and took the required photo as they do now. Parcel Force I thought and not Evri then… I picked up the box and thought, are something wrong here, the box is much too light for forks... so got my scissors and cut the parcel tape holding the top lid closed, looked inside and removed a chunk of egg tray that most seem to use in packing now a days and I need not go any further there was a bubble wrapped duel seat inside might have been Triumph but I did not look any further, because there was no forks in this box… and it had come from Liddles…well I have had loads of stuff over the years from Graham Wright at Liddles and one I can remember besides several pairs of forks was the BSA C15 frame for the Replica John Draper bike for Eddie my Grand son …Still got that to finish but proper forks are on that…Back to the plot… I remembered that this was a bit of a deja vu situation as I had an Item before sent wrong from Graham but did the re-swop and that was fine. He sells a lot of stuff and he is like me an old man he told me seventy four. I thought the best bet was try and ring him about the forks as it would be quicker than sending emails through eBay like you are supposed to do.. But I had no number so thought I would do a search on Google and eventually found it written on the side of a van on Liddles old Facebook page that Graham looks like he has not used for some time…So with the number I rang Graham and got through and told him I had a duel seat of his… and no forks…"I will get onto the other chap" he said and send a ticket for you to repost the parcel we then swopped email address's to achieve this, on Sunday evening I had a call from Graham to say that he had mailed the ticket to me could I check, well as it was late I left it until Monday morning when I do my emails first thing, but nothing there for the ticket, so I had to text him again.. he sent it again and after three attempts I managed to down load it, but I have no printer, and they were that much trouble I have not had one for years… My friend in town who I pop too if I want any done is away today at a funeral so that was out…so frantic thought was that I would have to drive to my brothers thirty miles away to get it printed off as the pick up said Tuesday on the ticket … I rang bruv and for once he answered the phone Phew, I explained the problem and he said mail it and they would print it off for me, he rang back within ten minutes to say it was ready… now I never leave for the workshop until twelve-twelve thirty… at eleven forty five a knock on the door and a young man from Parcel-Force was there waving a ticket and saying "pick up".. I said I had no ticket yet… "I have" he said… so I had to hurriedly tape up the top of the seat box and blank of the sent sticker to me, "or you will get it back" he said… A mail from Graham later said the chap who the seat was for, was going to post of the forks that he had received with Evri that afternoon Monday… so I trundled of to the workshop in politeness to brother for printing of the ticket, that I now didn't need… but I had a good afternoon on the lathe making the extension for a hub widening, and helping bruv with some riveting… So next morning Tuesday at about eleven thirty a bang on the door and a red van parked out side.. that was quick I thought … No… opening the door another chap from Parcel-Force waving a ticket "Pick Up" he said… not to the destination name of the seat ***-**-**** I said, "yes", that went yesterday with another of your chaps I said, he was not pleased that he had no parcel to take, must be on bonus's I thought… More later It is still going on…and NO forks yet… well I have had time to write this waiting in for deliveries for two weeks… Can't blame Graham… but these Parcel Services are something else, some you can check and they are good, and even text you when they are going to arrive, some reads parcel at hub and the next minute there is a knock on the door…with that parcel... some seem to treat a week as a month… So I hope I get the forks they will now have to go onto a very special bike with a story...
More Later.. They were delivered at 7.45 pm on the Friday, the chap had forgot to call with them at six thirty and was at the local pub having a meal and a drink, so had to get his mate to give him a lift to deliver themmm Good Hey...
_____________-
The Ex Chris Denney... Mike Mills "Legend"framed BSA B25 trials bike is For Sale.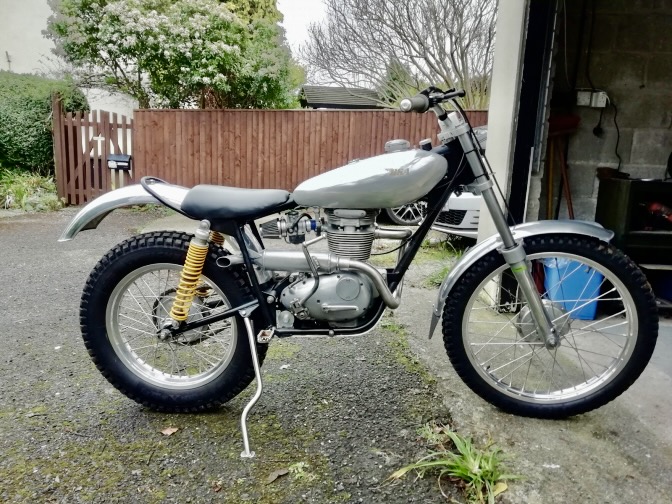 Sadly the current owner of the ex Chris Denney machine Tracy Jupp's husband Mike has just died in March and Tracy now has decided to sell this superb machine...It is road registered, and has been maintained to the highest order, and with new tyres just fitted...The bike being one of the best in the country will demand a price to match, but if you are interested please call Tracy Jupp on 07528821792 in Dorset UK...
More details on the "Mike Mills" Legend Page...later...
22/07/2023...**...
Continuing with the hub scene I have just spent a wet day sorting a damaged hub I have bought to widen for one of the Foster BSA Otter bikes, the story on this is on the "BSA Bantam Hub Made Wider" Page...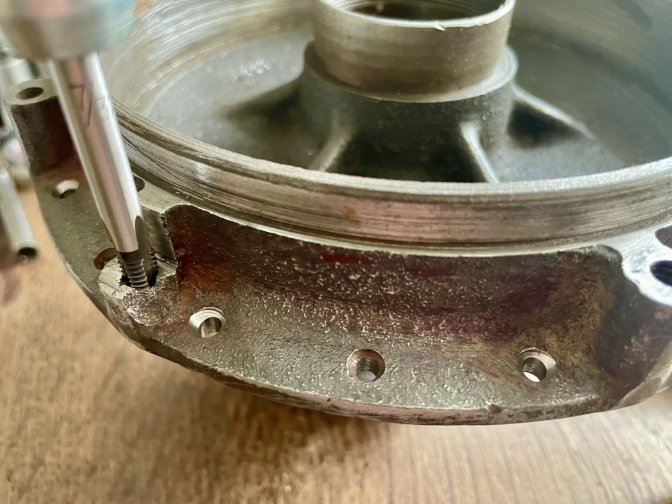 10/07/2023...**...
Mike Mike Mike Mike...Enough stress to "Brake" you at 14 mins in...I wish I could send you the hub below that I have just bought from Greystone Tiger Cub, for my next Hub widening... Folks just read that Page if you are thinking of doing this...
Triumph Cub rear Hub from Greystone...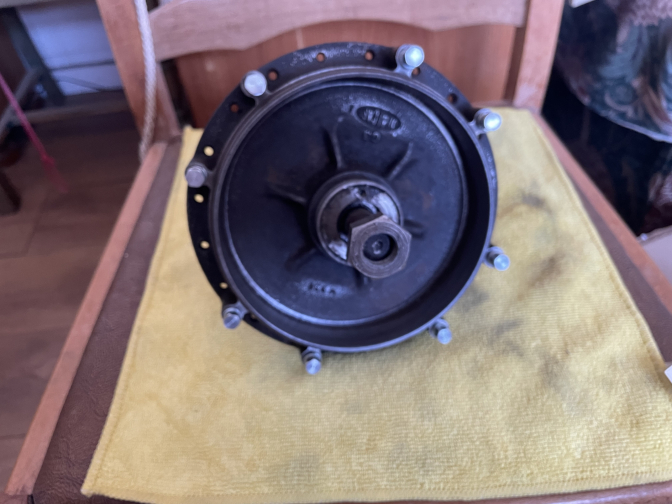 No I am not Laughing Mike but had these made several years ago...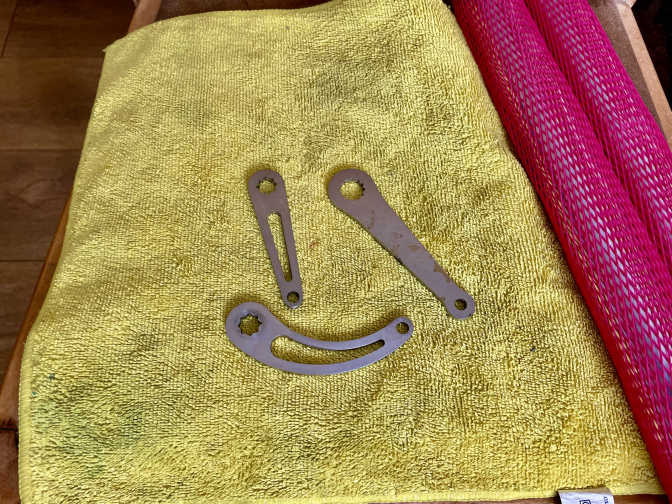 Shall I get more made?...
07/07/2023...**...
Forking out again...
I have bought enough Triumph BSA "Four-Stud" fork parts to make up anonther two pairs of forks... But I am having to use the steel yokes for these two, as the alloy yokes are near imposible to find now... and are the biggest cost to the fork build...our engineer is going to set the CNC mill up to make some shortly... if you are interested get in touch...Photo's later... 77 on the 7th of the 7th can't be bad, and a good week too...
02/07/2023...**...
I spent a day sorting out my stores, and counting the BSA Bantam longer rear wheel spindles, I thought I would check the distance of the inner bearing to bearing length...
and these were made for individual lengthened hubs, the only two I did not make was the 3.11/16th" Foster Otter one and the standard lenghth in front...
Seems like a lot of work to make a new spindle for an extra 3/16" I thing I would have used small spacers...and two "Top Hat" nuts. ...10/07/2023...
Even I get things wrong...Pheeew...
Yes I tried the standard length spindle into the Foster Otter swinging arm, and it is short by two nuts length or with snail cams, so yes the Henbest Family were right to make a longer spindle...And I hold my hands up...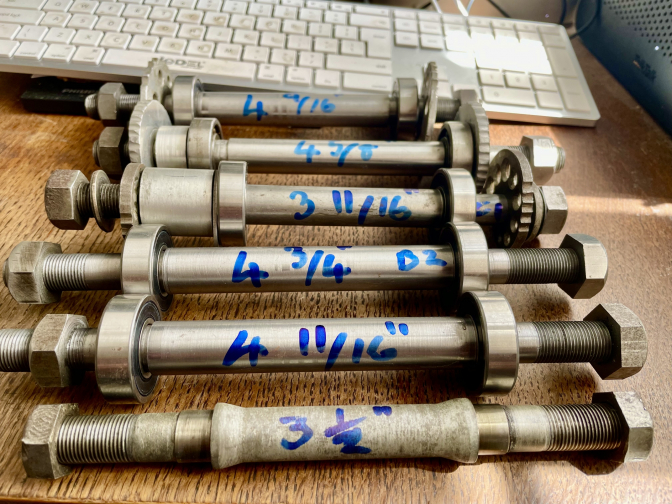 30/06/2023...**...
I have this week managed to buy all the parts for another pair of Triumph/BSA Four-Stud forks...
Story on that page ...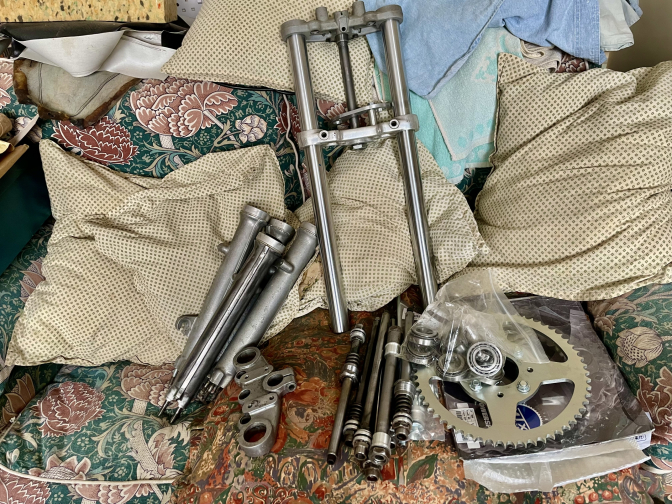 29/06/2023...**...
Another sign of the times...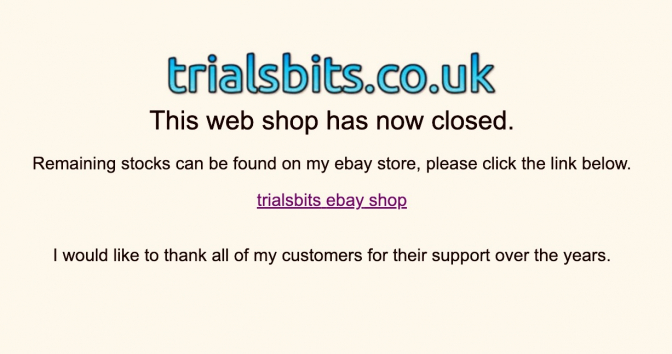 We would all like to thank you Amanda for being there for us
Over the years and with your first class Service ...
26/06/2023...**...
Poor old Michael Waller has struggled a bit doing our BSA Bantam/Triumph Cub rear hub widening exercise (again)... but it shows the time and problems, and what a sorry state the hub was to start with... I wish folks would not use a big hammer to remove the rear sprocket and do that damage, but it is mainly caused by drilling out the original holes and making them too large ...this is what causes the damage...
Anyway our new friend Dean Bristow is going to have a go at the same exercise...so we will see how that goes...
Check out Part ten for the first cut...
22/06/2023...**...
Seems like a bit of a Deja Vu moment for me, I was spraying Meteor Works cycle frames the same time last year... and six of them...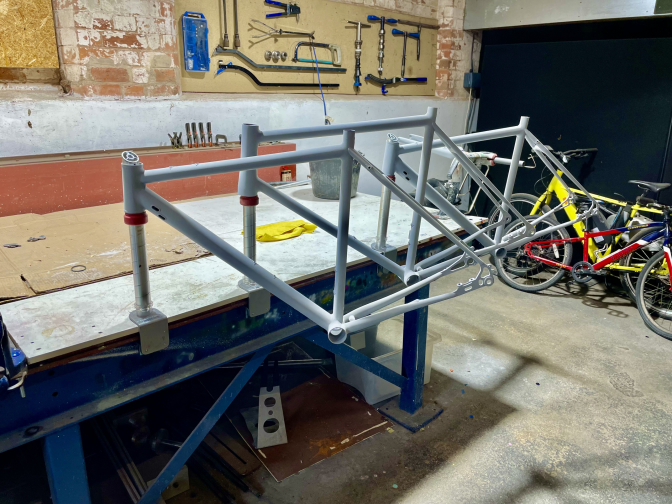 21/06/2023...**...
Good morning folks, thank's to Dean Bristow for getting in touch with me, and letting me know about his Youtube video's on the BSA Bantam Yamaha Clutch conversion, with our help he says... Take a look, this is Part One...
I am Seventy-Seven years young Dean and still enjoying very much what I do...
Enjoy... Our BSA Bantam Yamaha clutch conversion is on the
"Clutching at Straw's"page for you...
18/06/2023...**...
Mini-Otter Two...
The long awaited stripdown for paint and rebuild, with engine improvments has begun...I will do some videos of the progress through the stages...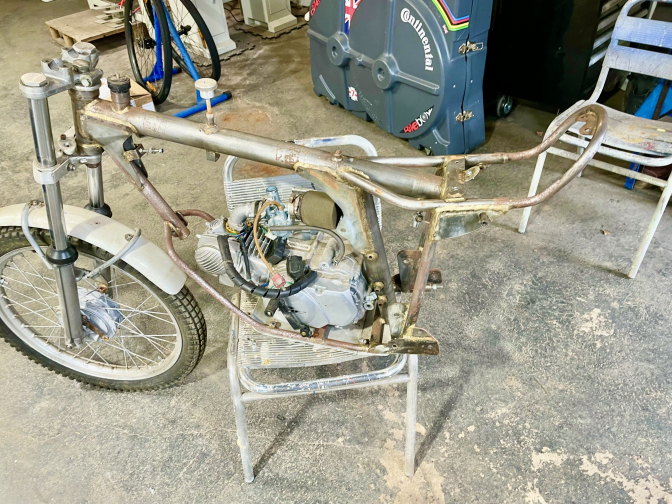 Mini-Otter Two... Suffering from Isle-Of Man salt air...
17/06/2023...**...
So another deadline week in the workshop...
Euro bike show is next week, and we had a prototype Reynolds framed bike to get done.. no problem you would think...But the dropout inserts for the frame that were cnc'd in Portugal did not fit the printed stainless dropouts that were made in Wooton-Under -Edge.. so four hours were spent making them fit...
Then the electric switch insert on the top tube of the frame had to be cut out and finished... first photo was on the 12th June at 14.52...just after I had media blasted the frame.
So after getting the inserts to fit the frame and the battery switch fitted, the frame was put into the spray booth and primed, then left over night, early next morning the blue colour coat was added then the water slide decals...these have to dry for a few hours before the three coats of clear-coat can be added, then left as long as possible to cure over night... so Friday after the frame was dressed and polished was build up time...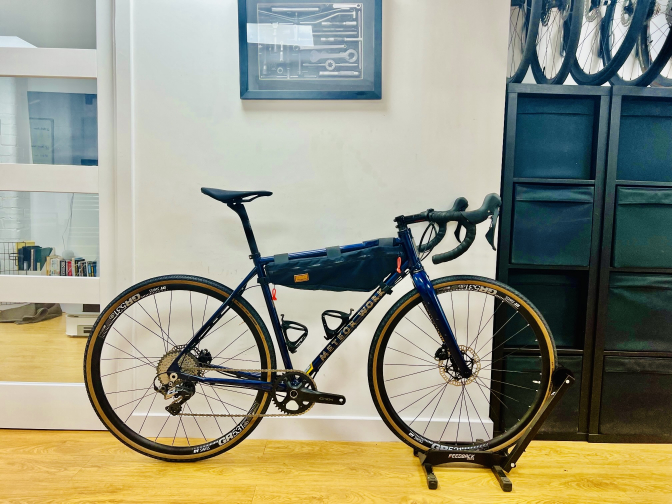 So this is the Reynolds stainless tubed and printed dropouts framed , Electric Assisted Meteor Works Gravel bike at 16th of June at 17.19...
Job Done... and off to the Euro Bike Show...in Germany...
06/06/2023...**...
PAR Quadracycle...
So with four new tyres fitted and gearing sorted, test ride and Job done...
So Day Three of the PAR Quadracycle fix with deadline... and an easy wheel bearing change get's complicated...
04/06/2023... **...
So Day two working on the Charity Quad Cycle and the problems start to set in...
And part three...
03/06/2023...**...
Roped my self in again on a very tight time limit ... just days... to prepare another Charity Run machine.. this time a Quad Cycle or Two...
25/05/2023...**...
On the same swinging arm note I have now built a replacment arm for Mini-Otter five that got lost at the powder coaters, and the last arm for number seven... I should realy build one more for the Fraser Honda replica frame that is on the cards... for the engine I have had for years...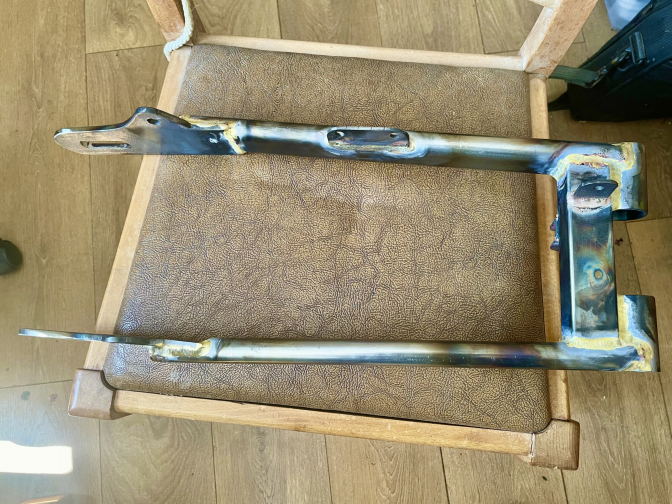 Replacment for Mini-Otter five...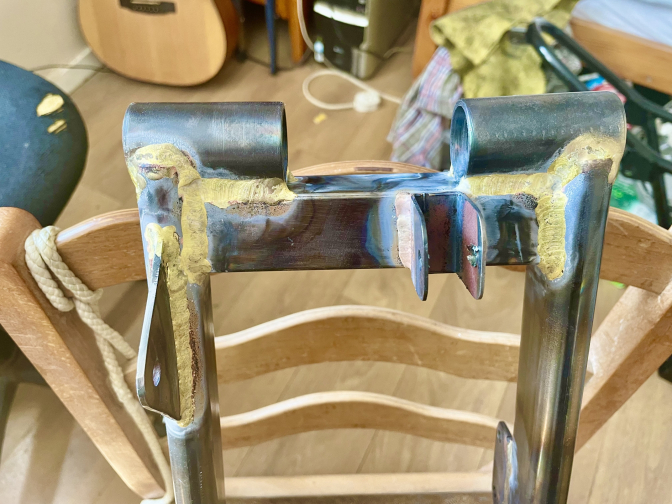 I have now used bigger radius silent-block bushes...
Swinging Arm page also updated for you...
18/05/2023...**...
Another good couple of days in the workshop..
Three Foster Otter swinging arms for the three finished frames.
Fraser Honda Replica frame next I think...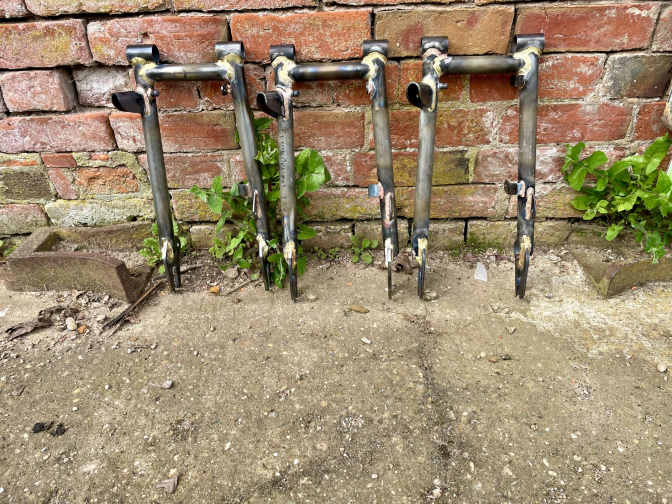 17/05/2023...**...
New Page up. "The Zundapp 200S trials bikes"...
14/05/2023...**...
Just a peek at two bikes (and there are more) on the computer and New pages on them coming up shortly...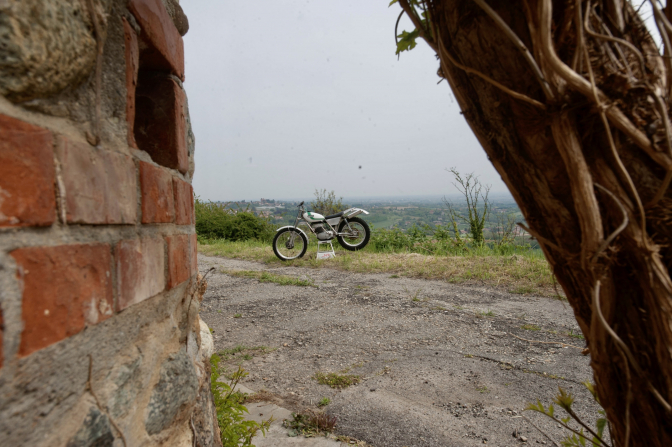 Photo Courtesy Justyn Norek...©...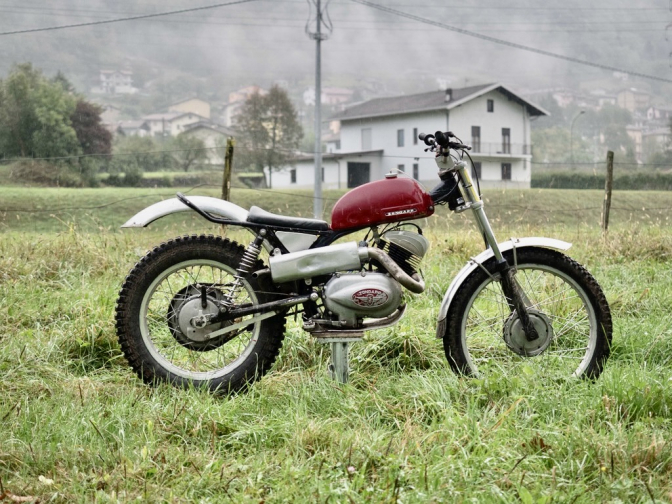 Photo Courtesy Justyn Norek...©...
13/05/2023...**...
I have updated so many pages this year that I have not let you know which ones, this one I have just finished it is the Triumph TR20 Tiger Cubs page... If you get to the bottom of a page and it has this Updat2023...01 to 05... it has been updated, the rest will follow over the year, and there are a load of NEW pages due when I get to edit them...
08/05/2023...**...
Had a good four weeks in the workshop...
And tonight brought three more Foster Otter frames home ...
This now fulfils my promise to the late Carol Foster that I would at least build Five Foster Otter frames from Harry's Jig... more bikes to the collection...More Frames Later...
30/04/2023...**...
Day Two of the Pre65 Scottish from again Phil Haygarth, thanks once again Phil for a superb video...
Winner again Dan Thorpe...
29/04/2023...**...
First day of Pre65 Scottish.Trial...
Thank's to 2 Wheel Offroad...
Andrew Black first Foster Otter on 13 marks...
27/04/2023...**...
From after my fourth Covid Jab I have suffered with Very High Blood Pressure... and looked deeply into a reason, and spent weeks delving into every bit of information I could find to why I should suddenly have this added burden to my long running illness (Fibromyalgia) The surgery have put me on a lifetime of Amlodipine tablets to help reduce the pressure...but the side effects of these tablets worsens my Fibromyalgia, so I am trying to keep the pressure down with eating a green diet daily Spinnage, Rocket, and Beetroot seem to help...
But now realise I should not have taken the Covid jabs. You may not agree? But I like Andrew have done a lot of homework...
The Truth will out in the end... this man needs every platform he can get... I feel... Let me know what you think, and have you suffered...
17/04/2023...**...
Bike of the Week... from Stuart Brown...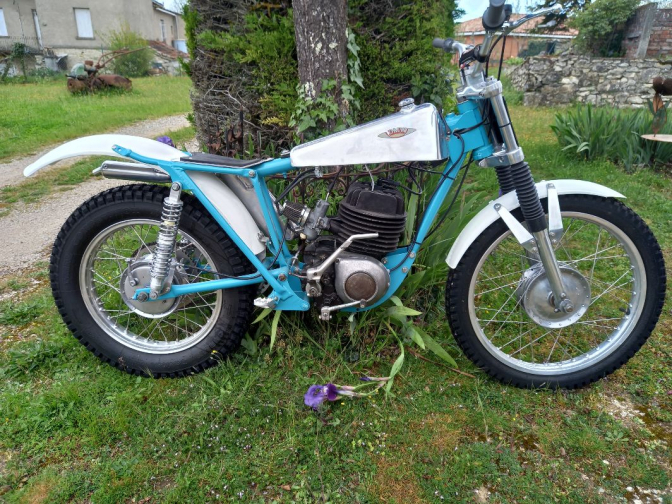 Photo Courtesy Stuart Brown..from BPS in France...
While we are chatting here is another one of my recent rebuilds

DMW,

came to me as an Enduro but after a bit of chopping and shunting its now a nice trials classic,
what is very interesting (though not a good piece of engineering) is the front down tube,
its tapper turned out of thick wall tube, weighs a ton I might add, but have never seen such a thing before, makes it very interesting though...!
A page later for you Stuart..then I can add all the photos...
13/04/2023...**...
Just updating most of the Pages and got to the gear shaft replacement page ...and thought I did some video footage about that, so found it out and stuck it on to YouTube for you...
12/04/2023...**...
OK... I know it is not April the First I missed it Sorry...
So here is a good one for you ... And a new threat to trials riding if it happens... that could be long term.
Bird Flu... A-H3N8 has one human fatality in China and two other human cases... the WHO advises...
WHO advice
To minimize the risk of infection, countries should increase public awareness of the importance of avoiding contact with high-risk environments such as live animal markets/farms, live poultry, or surfaces that may be contaminated by poultry or bird faeces. It is recommended to maintain good hand hygiene by frequently washing hands or using alcohol-based hand sanitizer and wearing respiratory protection when in a risky environment.
You read it here first...
10/04/2023...**...
Talking Books...Just had my superb book from the Deryk Wylde NEW Rich Mixture series.. the First is packed full of over two hundred A-four sized photos of Classic British Scrambles riders and bikes...Just the first book that I can hand down to my grand sons after all the history of British Scrambles bikes has vanished from the internet ...it is getting that way already.. Get your copy in your hands before it is too late there are only a limited number of each book printed... Go to the web site www.nostalgia-books.com for your copy...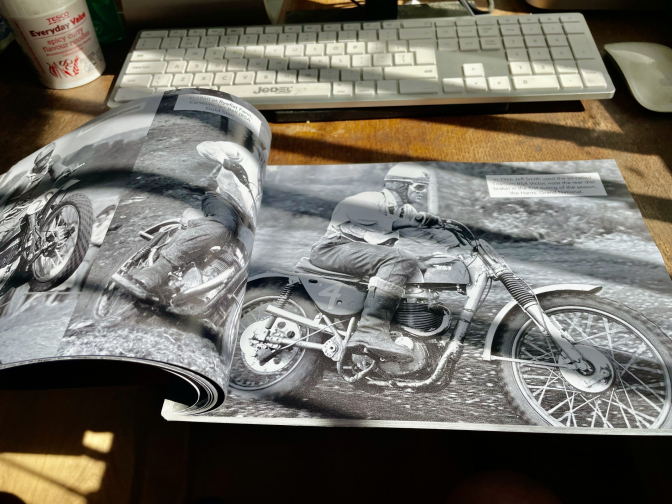 All photos in superb grey scale...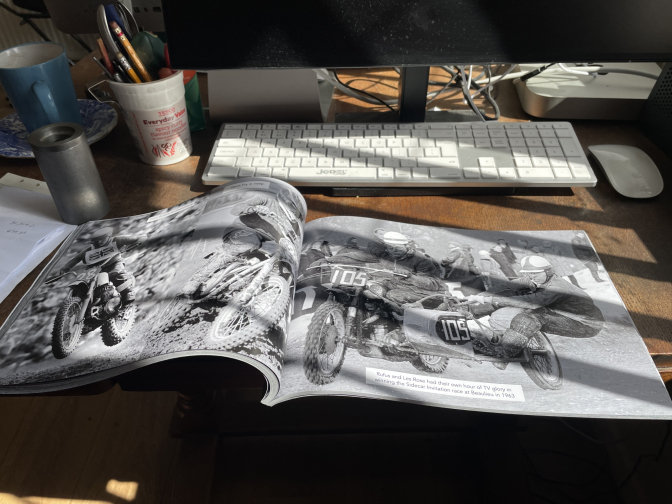 09/04/2023...**...
Happy Easter folks...
Just been advised, to publish My growing up in England stories at the bottom of the listings.. Should I ?.. and also turn the web-site content into a book as well?...
31/03/2023...**...
Well been more at the workshop than normal this month...and got
Mini-Otter frame finished, and Foster Otter frame 47 in the jig...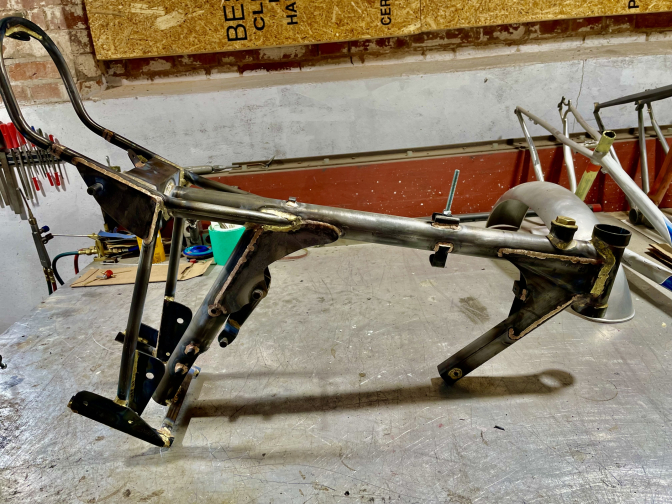 16/03/2023...**...
Good News for Road Racing and Trials fans in Northern Ireland ...
Motorcycle racing in Northern Ireland - including May's North West 200 road race - will go ahead in 2023 after initially being cancelled.
All bike racing in Ireland had been cancelled in February because of soaring insurance costs.
However, the Motor Cycle Union of Ireland Ulster Centre has accepted a lower quote with an insurance company.
The deal will allow road racing, short circuits and trials take place in Northern Ireland this year.
Thank's once again Jim...
10/03/2023...**...
One-Off-Trials Bikes Page updated for you ...Lets get some more one offs...
09/03/2023...**...
Busy day today... so lets start with a photo of the bike that started off the BSA Otter story the Scott Ellis BSA C15...
Our much missed late friend Colin Dommett got the BSA finished just before leaving us...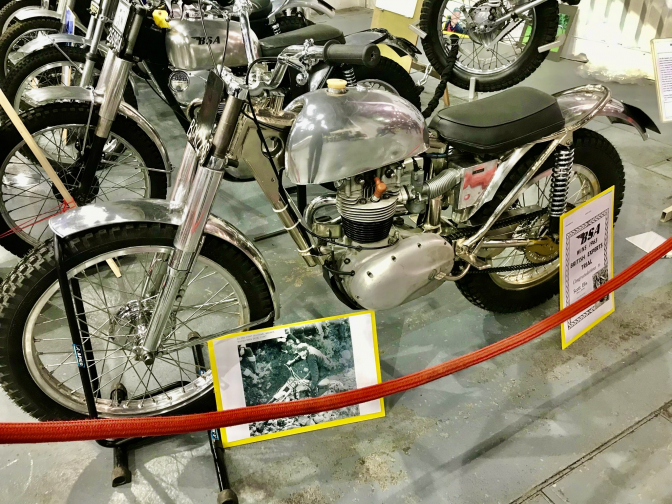 Photo Courtesy Jake Bee and his Copyright,©...
The Scott Ellis BSA C15T BOK 228C...
~~~~~~~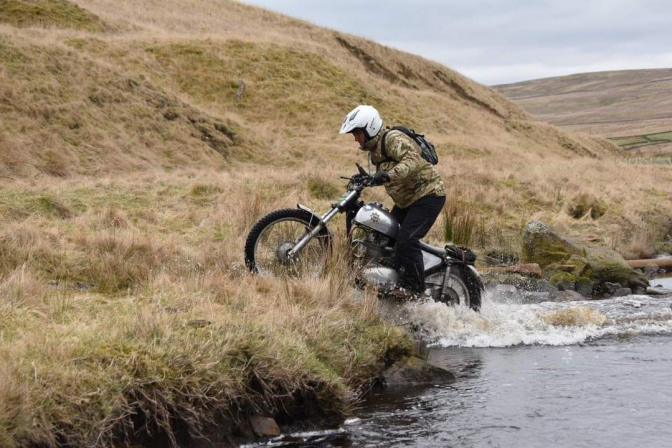 Photo Courtesy Steve Hammond...
Steve Hammond has sent us this photo of his first ride on the Foster Otter that he purchased from Maggie Smith earlier in the year.. Well done Steve...
Hello Charlie...
I had the first run out on the Foster Otter over the weekend, I travelled from Suffolk to County Durham to take part in the M-ECVC Long Distance Trial. The bike performed better than expected and covered the 95 miles on and off road without missing a beat. 19 challenging sections completed that included water crossings and steep inclines. There were other BSA's present but no other Foster Otters. It did have many admiring looks when unloaded from the van.
A couple of photos attached
I will certainly be taking part in a few more of these events as this is why I bought the Otter
All the best
Steve...
Next Up Mike Waller has sent me this video, as he says I may be interested in one of the bikes competing ...
David Yetman Frames…USA...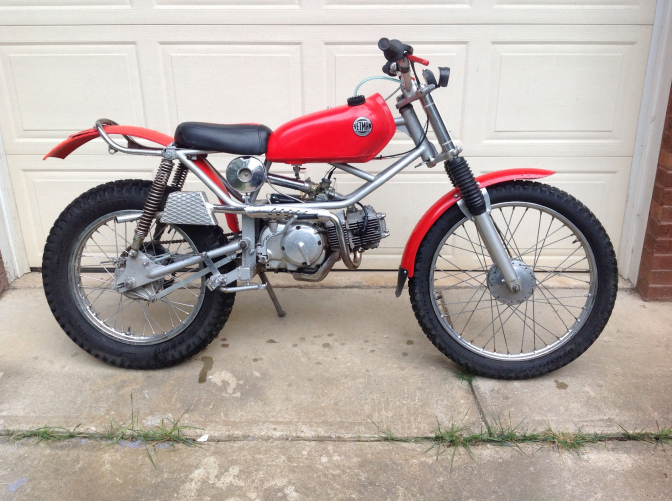 Photo Courtesy Scott Kirn...
David S. Yetman from Marblehead Massachsetts was an auto dynamics engineer in 1965 when he saw a market for building space type motorcycle racing frames for mainly lightweight road racing bikes for Honda and Yamaha engines, from that period until 1976 when the frame business was closed after other successful projects taking his time…just short of four hundred frames were built, some for the emerging chopper market…at the time... So it looks like the little Honda Cub engined trials bike must have been built during this time frame… what comes around goes around… Thank's Mike for the video find…Looking Forward to your next project...
05/03/2023...**...
Just doing some home work for a friend on the Excelsior Manxman
And found this ... Now this is where the word Classic British comes from...
28/02/2023...**...
I have had some emails from Stuart Brown of BPS engineering in France and Stuart has sent me a couple of photos of the bikes he currently is riding...Very interesting...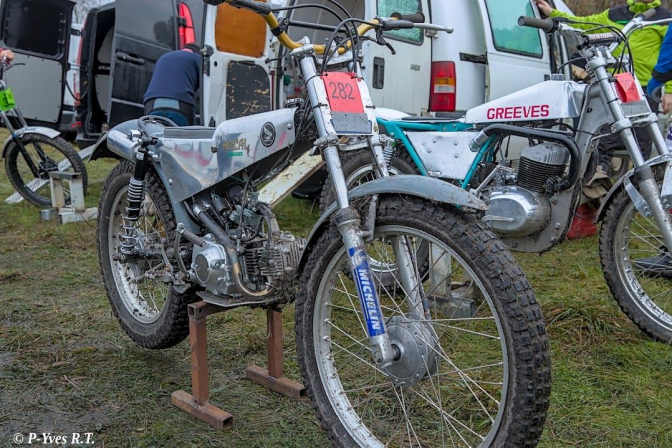 Thank's for your prompt reply Anthony...
See below photos of my latest

Honda

stead, infact it was made in

Portugal

with

Honda

supplied engines,
Ultra lightweight, and suits this old man in the weekend of his trialing days...
Great web site,

I knew

Harry Foster

and had an "

Otter BSA"

back in the

80's,

and one of his sidecars too...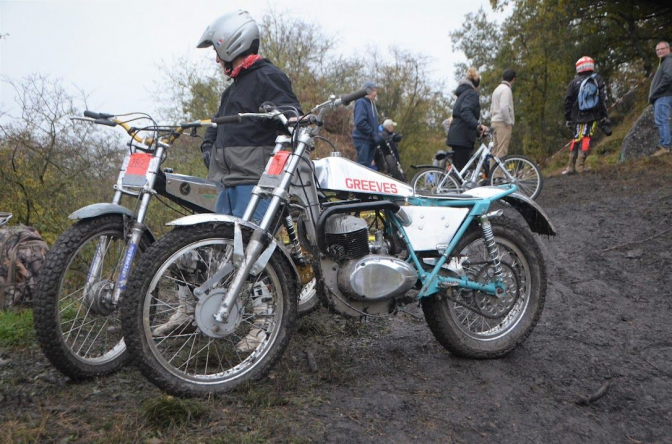 PS, you will note my

Greeves twin

in the background, 350cc very rare - goes like stink... makes a

Triumph

twin look like a M

obylette -
(beat all the twins in last years hill climb at

Mons)

3rd

place...
See photo how it came to me - before and after,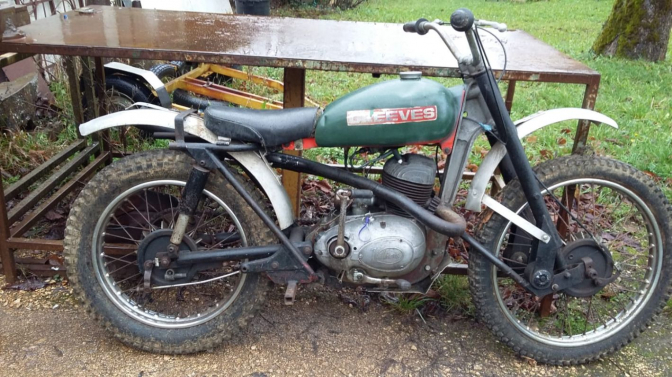 More from Stuart Brown Later... may-be a page...
25/02/2023...**...
Foster Otter frame 46...
Out of the jig ready for finish bronze welding...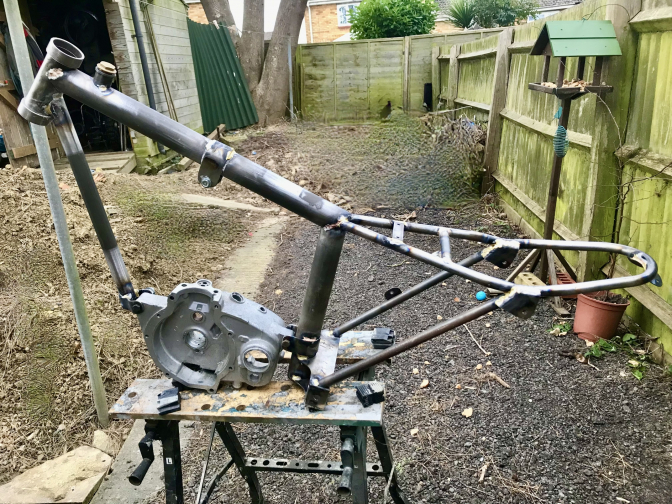 19/02/2023...**...
Take a look at the Scott Ellis BSA C15 BOK228C at Telford just restored by the late Colin Dommett...
Thank's Simon great job...
15/02/2023...**
Scoop of the week...
Update on "The Sun Wasp trials bike" page...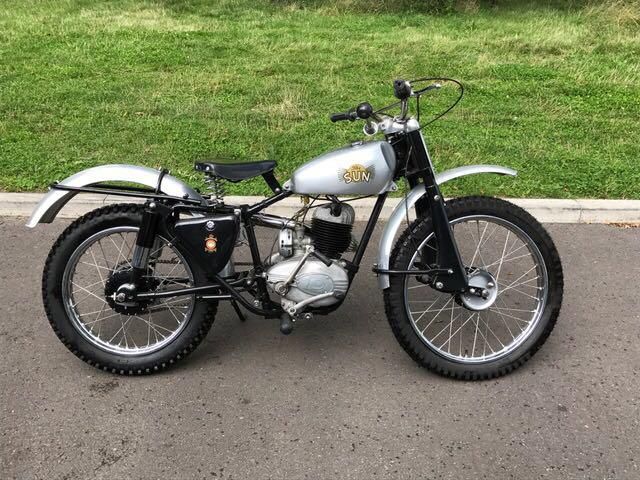 Photo Courtesy Blackie Holden Jnr...
12/02/2023...**...
Thin-Edge-Of-the -Wedge... Update...
Niamh Campbell
Belfast Telegraph
Today at
14:20 11th...
The Motorcycle Union of Ireland Ulster Centre has said it is preparing a rescue package to prevent the loss of NI's prime road racing events.
The move follows a motion to cancel all two-wheeled events in 2023 including the North West 200, Tandragee 100, Armoy and Cookstown 100 at an emergency MCUI meeting of its member clubs on Thursday night.
Motorcycle clubs from across Northern Ireland voted for the cancellation because of the hikes in public indemnity insurance.
"We cannot afford the premium hikes but nor can we afford to stop the events," said MCUI chairman John Dillon.
"Members of the MCUI(UC) board and I are now urgently pursuing a series of options and sources including the launch of a crowd funding campaign."
Insurance has risen from a cost of £170k in 2022 to £410k in 2023.
But where does this leave Trials, Grass-Track etc...
10/02/2023...**...
It is with great sadness, that I have to report the sad loss of our great friend Colin Dommett... on the 9th February...
I will be updating Colin's Page later with a Tribute...
~~~~~~~
Thin Edge-of-the-wedge...
ManxGP... the TT... Then into the UK...
Belfast Telegraph paper.
The North West 200 and all motorcycle road races, short circuit and trials events in Northern Ireland have been cancelled for 2023 due to crippling Public Liability insurance costs. The decision was reached at an emergency meeting of the Motor Cycle Union of Ireland (Ulster Centre) on Thursday night.
National road races were facing an increase of three times more than they paid in 2022, with clubs looking at costs of more than £50,000.
It is understood that the body responsible for motorcycle racing in the Republic of Ireland, Motorcycling Ireland, is also facing a similar scenario after being unable to find an insurance company willing to provide cover.
Regards...
Jim Switzer...Thank's once again Jim...
06/02/2023...**...
BSA Foster Otter of the week is, Mike Smallshaw's Updated B40...
Now with REH forks and yokes, and alloy clutch...etc...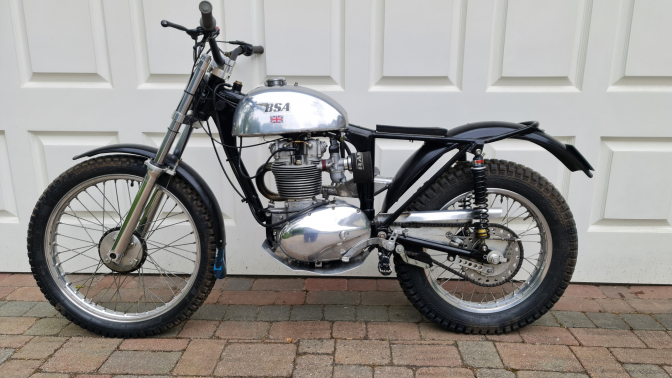 03/02/2023 **
Just delivered one of these superb AJS 16C frames up to Alan Whitton for him to build into a rolling chassis using his hubs, for my brother...
We will be following the build...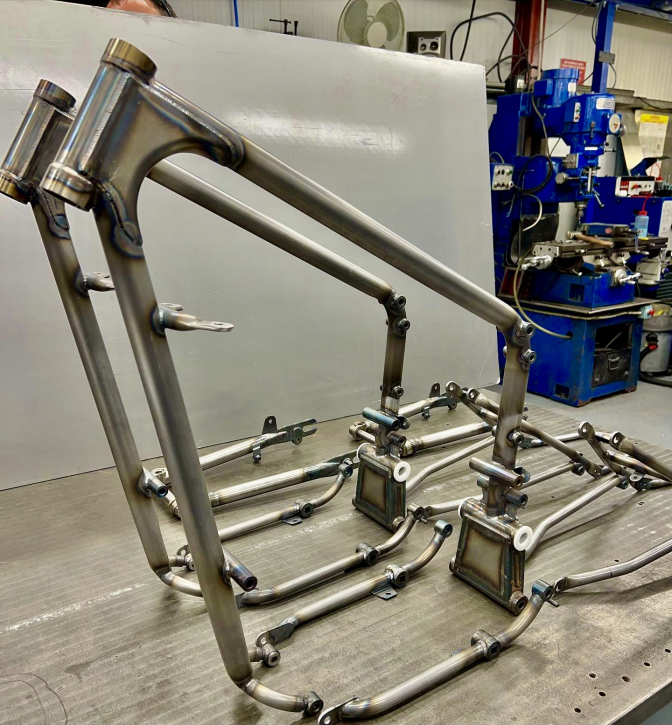 Photo's Courtesy Nine W race engineering...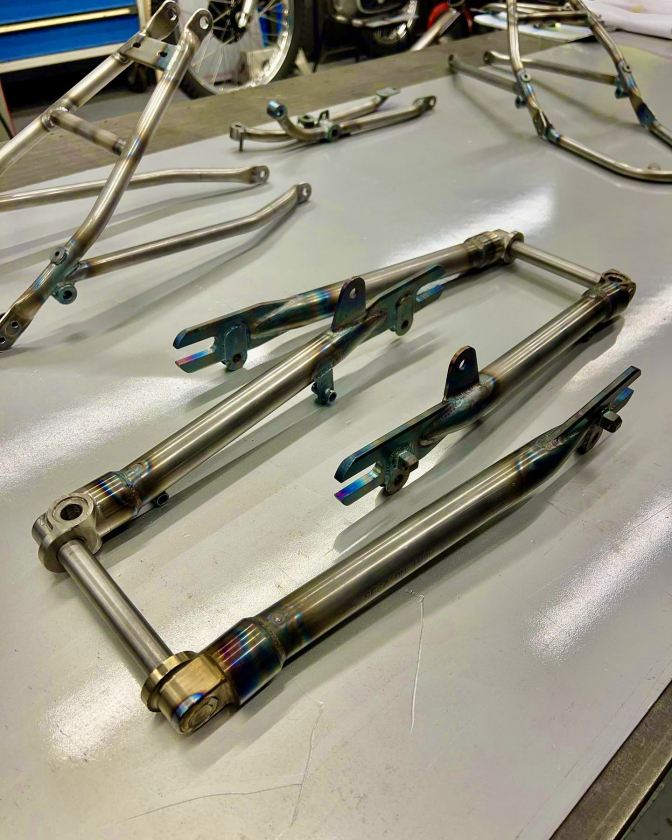 01/02/2023 **
So on the first of February 2023... A New Foster BSA Otter frame starts its journey into life...Number 45 ...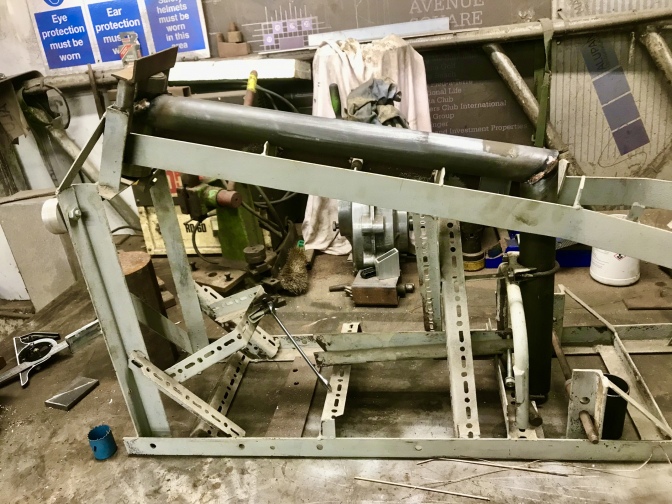 31/01/2023...**
Dave Hickman finished his BSA B40 Foster Otter and then had a superb ride in the TALMAG Brilliant Ride Dave...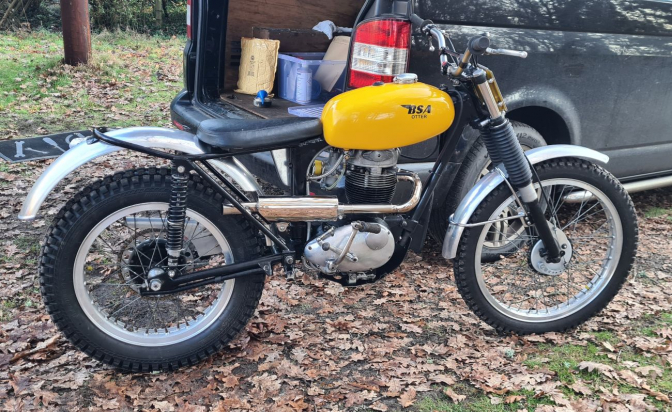 Dave...
Evening Charlie, hope you are well? Well after a lot of hard work my Foster Otter made it to the Talmag and finished. We had a little teething problem before the first section but it didn't miss a beat after. The bike rode well with plenty of power and we went clean all day only loosing 1st place on the special test. So I can't grumble about 2nd in class out 60 odd riders for my first Talmag and my first real ride on my dad's bike that's been sat for so long. A big thanks to Ian for all his advice on the bike...
30/01/2023...**
Well another TALMAG done and dusted. I should have reports and photos later...
Despite suffering with Stage 3 Hypertension for nearly a month, I have updated several pages for you...I will do a list later...
With what. I have been suffering, I would suggest if you have taken the Jab shall we say, it would be wise if you are an oldie like me to get your blood presure checked out... we would not want to loose any of you would we...
Take care folks be back later "I hope"...
17/01/2023...**
My mate Mel Kew just sent me this, I changed some words...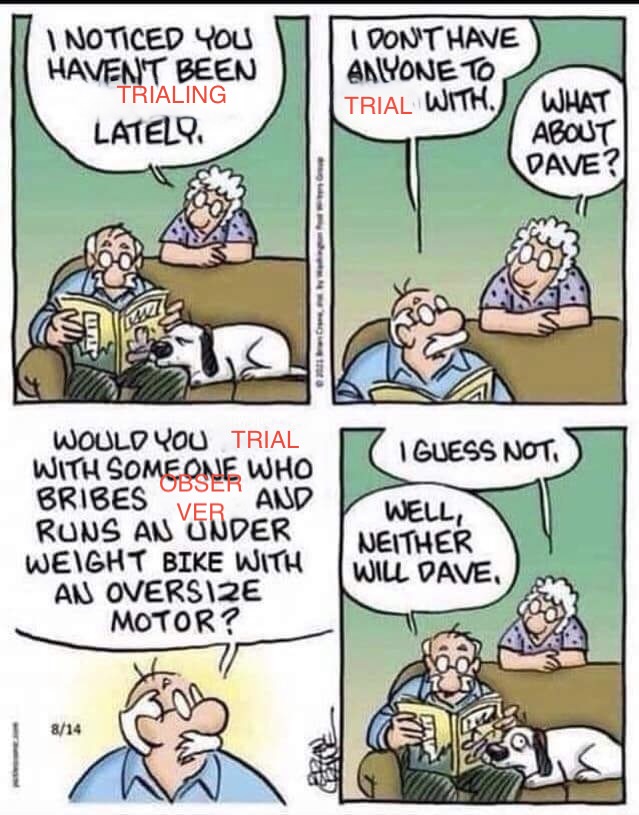 Well he thought it was funny...and said it was for the site...
15/01/2023...**
One of the best BSA B40 engined Foster Otters changed hands yesterday...
Maggie Smith sold her Foster Otter bike featured on this site to new owner Steve Hammond... Steve has bought the bike to do some long distant trials on this year. Good luck with the bike Steve, and thank you Maggie for being part of the BSA Otter Community...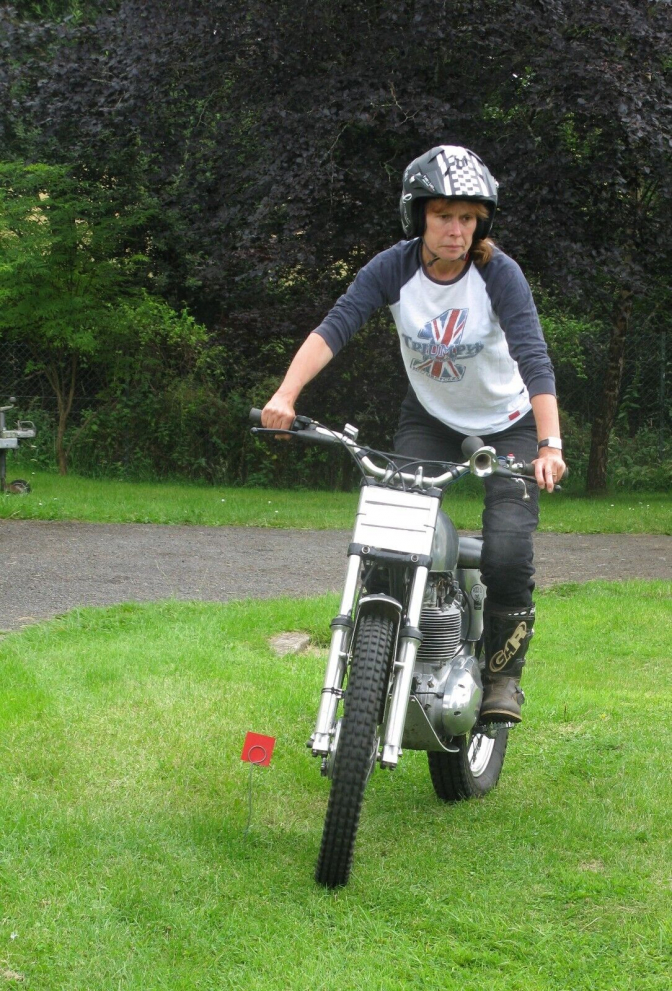 Photo Courtesy Maggie Smith...
Maggie riding the Foster BSA Otter, in a competition...
11/01/2023...**
"BMCA A Year for Al" Page updated for you... with more to come...
02/01/2023...**
Enjoy .. Best wishes for 2023...