2023...
Welcome,
Benvenuto,
Bienvenido,
Bienvenue.
To BSA "Otter".Com.
Now in its thirteenth year the BSA Otter website has continued to inform people that are interested in the Classic "Old Trials Bike" scene, about what is going on in the sport, and with information about trials bike builds and rebuilds, and delving into the past of makes and brands that were little known about.
This also helped to create New interest by people that at the start of 2010 only glanced at one or two pages on the site and then got interested in the Classic "Old Trials Bike" sport, and more so in the bikes that were featured and constructed for the BSA Otter site. Numbers of readers had reached the dizzy heights of 44 thousand a month at one time but has always had a realy good following through out the time span of the BSA Otter web site being launched. With the changing age group now younger, we need to find a way this year to try and encourage more younger members of the population interested in old motorcycles and machinery, to find a way into the interest of playing with
"Old Trials Bikes", rebuilding them, and riding them…
So this year faces a challenge for the site to find a way this might work…
Welcome to 2023...
01/01/2023...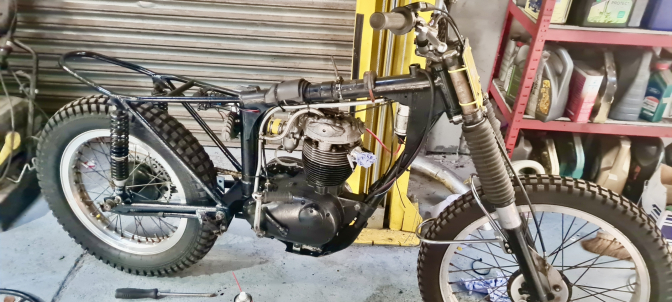 So this story is just what we wanted for the start of the new year. Over a month ago, late November, I had a email sent to BSA Otter contact page by a chap named Dave asking about what oil to put into a Otter frame, and where was the drain plug, and how much oil...
I was busy that week and did not answer mails until that week end.
In the meantime Dave had placed the same message onto Trials-Central, and our old friend Ian Ballard had found the inquiry and had given the young man the information he needed, and then had contacted me to let me know. I found the contact and replied to Dave... In the mean time Ian had spoken to Dave on the phone has he had it in his head that the bike could be one of the missing Foster Otters. Long story shorten'd , It was... and it transpires that Dave's father has owned the Foster BSA Otter for the past fourty years, and had given Dave the bike twenty five years ago, where it had just sat in the shed, and the last work done on the bike was in the nineties when the late Reg May had done some work on it... Dave Hickman although a very busy chap has decided to try and get the Foster Otter, frame number 3088, running and up to scratch to ride in the TALMAG trial at the end of this month...
And the best part is that our Ian Ballard is keeping an eye on the project... so you see we have already got a new face into the sport and on a machine that just could have sat in that shed until the scrap man had taken a liking to it...
Although Dave thinks a lot of his fathers Foster Otter and says he will never part with it..
Good luck Dave we are with you...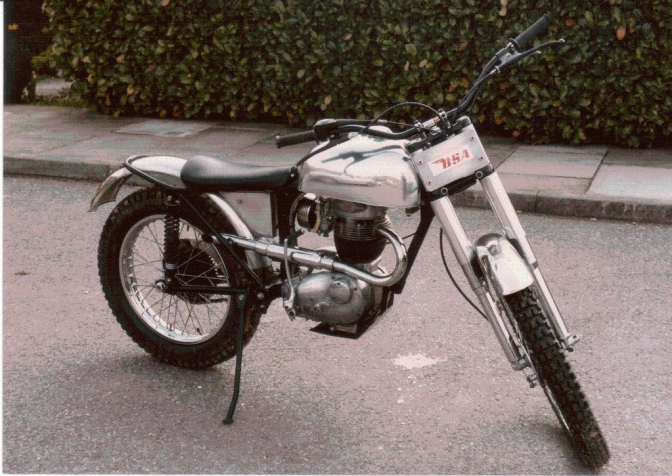 Photo Courtesy Ian Ballard...
This is Ian Ballard's Foster BSA B40 Otter when he first built it in the eighties... Thank's once again Ian lets have a good year... Ian is building a Jim Susans framed bike up this year as a tribute to the man who sadly passed away late last year... I also know of another Jim Susans BSA C15 that is being rebuilt this year after sitting in boxes for years, we will also follow that bikes resurection... So we have a good start to the year...
And on Thursday my favourite number kicks in, 77 years old...
Bring on the "Old Trials Bikes"...
More Later...
Just a bit more inspiration...
Thank you Dougie and Herbert Poelz for building his "Otter" bikes using these pages as a guide...
Check out Herbert's trials bike builds down the page listings...
More Later...
~~~~~~~
03/02/2023 **
Just delivered one of these superb AJS 16C frames up to Alan Whitton for him to build into a rolling chassis using his hubs, for my brother...
We will be following the build...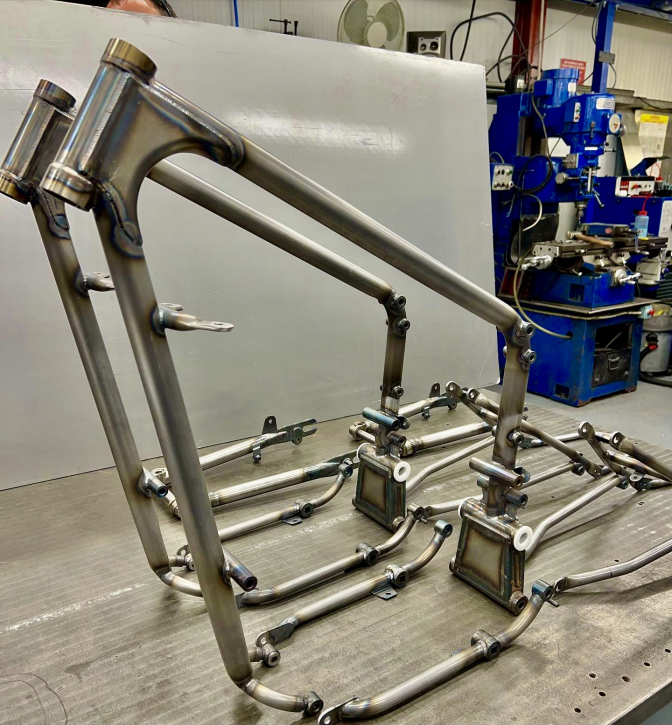 Photo's Courtesy Nine W race engineering...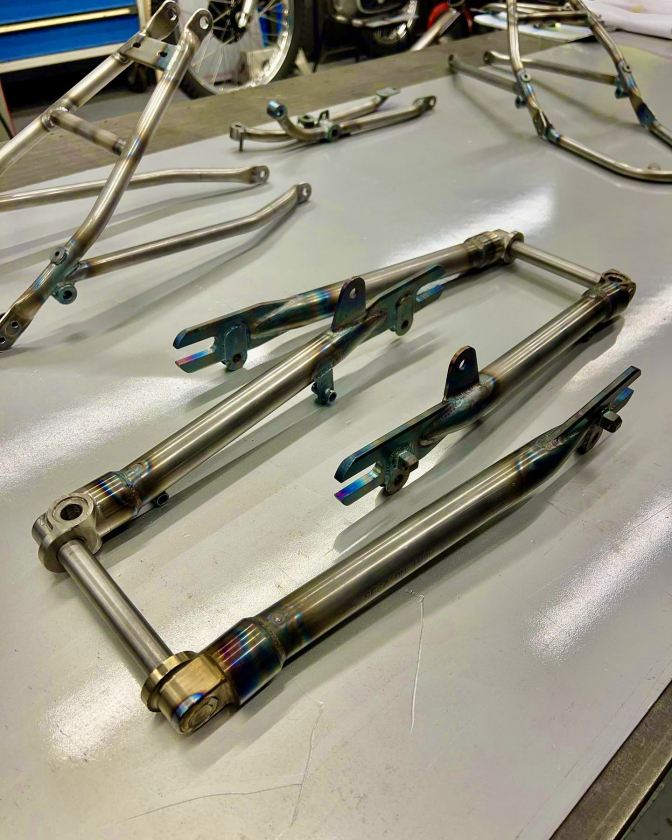 01/02/2023 **
So on the first of February 2023... A New Foster BSA Otter frame starts its journey into life...Number 45 ...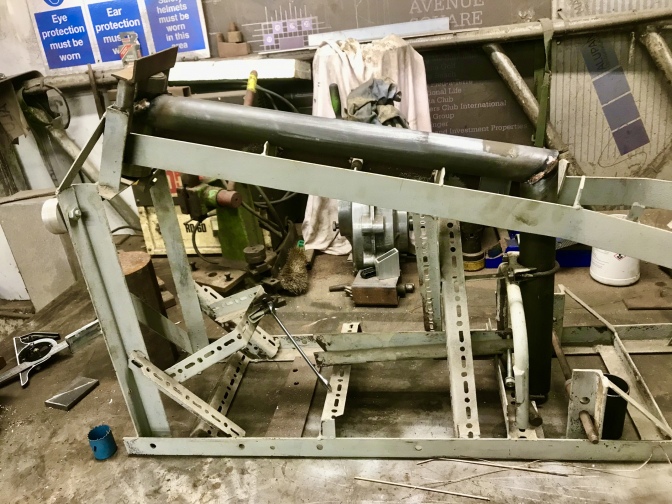 31/01/2023...**
Dave Hickman finished his BSA B40 Foster Otter and then had a superb ride in the TALMAG Brilliant Ride Dave...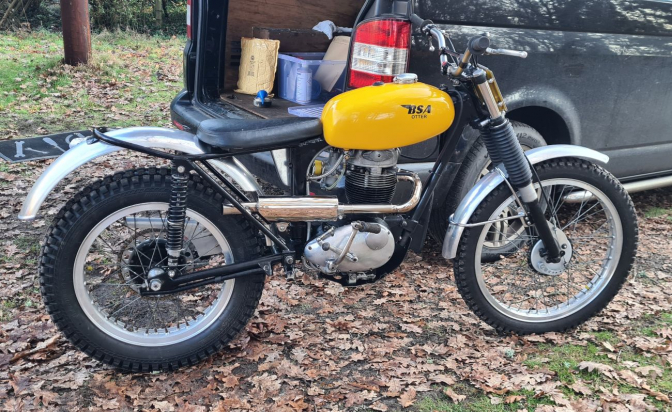 Dave...
Evening Charlie, hope you are well? Well after a lot of hard work my Foster Otter made it to the Talmag and finished. We had a little teething problem before the first section but it didn't miss a beat after. The bike rode well with plenty of power and we went clean all day only loosing 1st place on the special test. So I can't grumble about 2nd in class out 60 odd riders for my first Talmag and my first real ride on my dad's bike that's been sat for so long. A big thanks to Ian for all his advice on the bike...
30/01/2023...**
Well another TALMAG done and dusted. I should have reports and photos later...
Despite suffering with Stage 3 Hypertension for nearly a month, I have updated several pages for you...I will do a list later...
With what. I have been suffering, I would suggest if you have taken the Jab shall we say, it would be wise if you are an oldie like me to get your blood presure checked out... we would not want to loose any of you would we...
Take care folks be back later "I hope"...
17/01/2023...**
My mate Mel Kew just sent me this, I changed some words...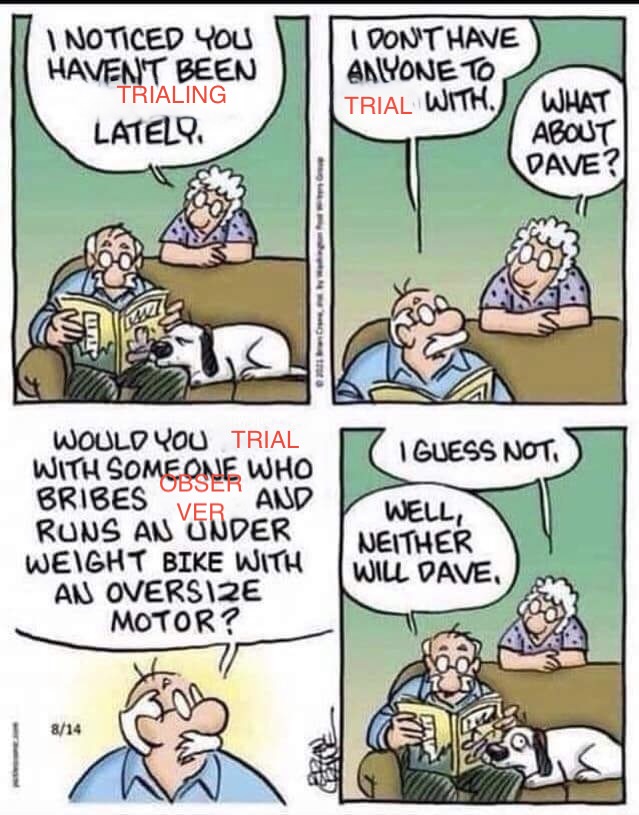 Well he thought it was funny...and said it was for the site...
15/01/2023...**
One of the best BSA B40 engined Foster Otters changed hands yesterday...
Maggie Smith sold her Foster Otter bike featured on this site to new owner Steve Hammond... Steve has bought the bike to do some long distant trials on this year. Good luck with the bike Steve, and thank you Maggie for being part of the BSA Otter Community...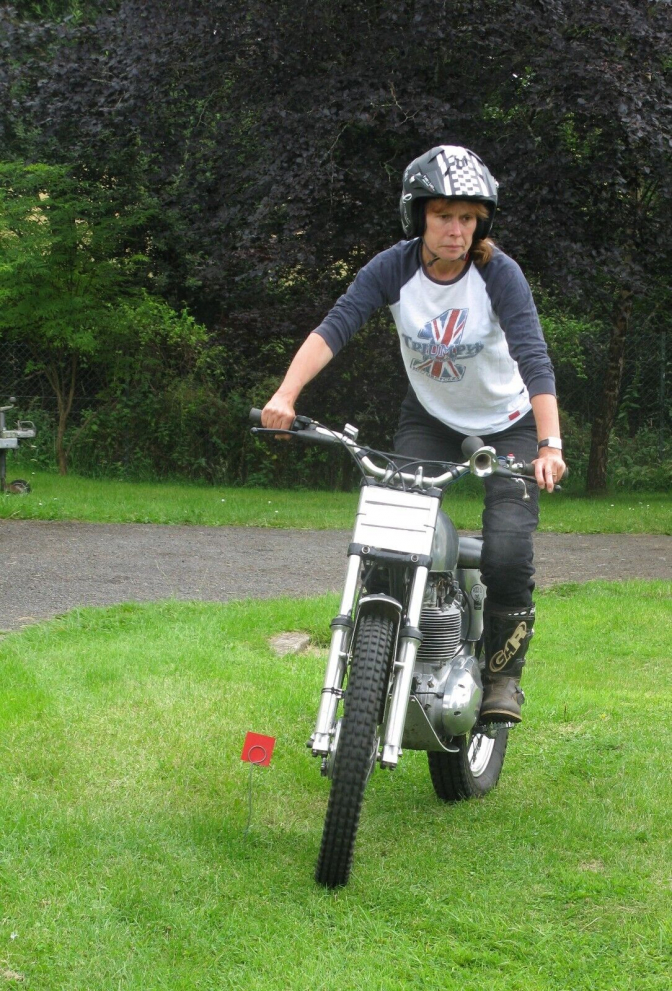 Photo Courtesy Maggie Smith...
Maggie riding the Foster BSA Otter, in a competition...
11/01/2023...**
"BMCA A Year for Al" Page updated for you... with more to come...
02/01/2023...**
Enjoy .. Best wishes for 2023...