Big Fish In A Small Pond...
Title explanation Later...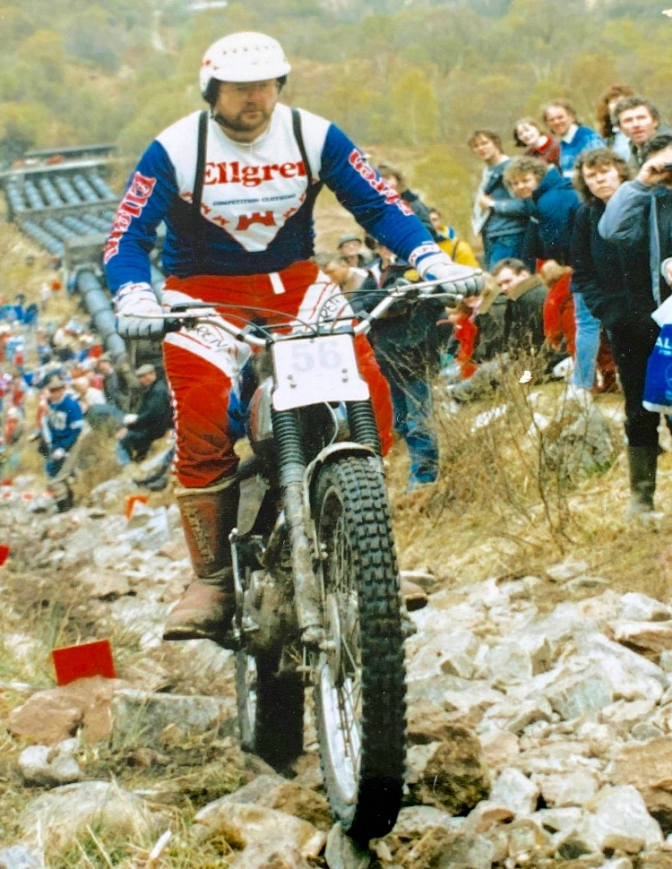 Stretton Honor riding "Pipline" 1988 Scottish trial
Foster BSA B40...
04/05/2020...
Big fish in a small pond…
One thing this "Lockdown" has done is increase the amount of new people to the website, and people are finding out hidden projects that have been stored away and forgotten about for years…
This Foster Otter BSA B40 is a good example.
It has been sat at the end of a garage under a sheet for the past thirty-five years when the owner discovered a new hobby.
Although he still had a gorgeous rigid Matchless trials bike in his possession up until 2017…
His son in law decided to retrieve the bike from its slumbers and set too and rebuild it…
So we found another missing Foster Otter, and now have the pleasure of following the rebuild of the re awakened machine…
The Foster Otter by the way belongs to one time stalwart of the Pre65 scene in the seventies and eighties, Stretton Honor..
I pinged Deryk a message and he immediately recognized the name and said, "Yes Stretton used to ride in my trials I can remember".
Like I said son in law Andy Foster is going to rebuild the bike.
He sent me a message saying he had this oil in the frame bike and he did not know what it was. I said send me some photos this could be interesting. An hour later I got the photos..
Yes…….. I said to my self we have found another Foster Otter.
Andy was shocked to know the name of the bike was the same as his surname "Spooky" he said…
He had said that the frame came from Julian Wigg. And I know that Julian had some of the Otter frames from Ally Clift… so that would make sense…
The engine is another that probably came through Johnson Cables in Banbury… seems most of the GB engines did…
So we will follow the rebuild of this Otter until it hopefully yawns and wakes up from it's slumber…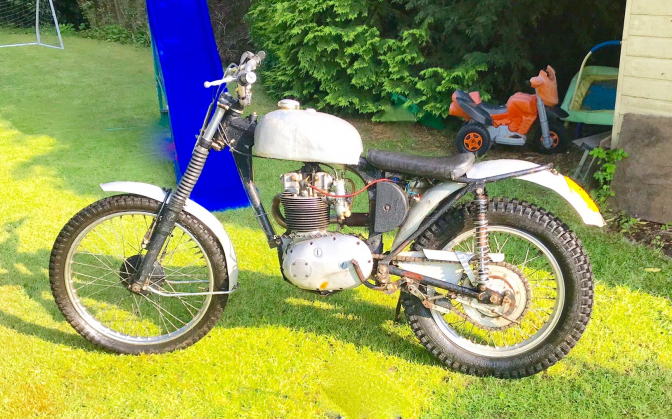 The Foster Otter just pulled from under it's blanket..
Note it is very much a brother bike to mine EG Still in original Harry Foster build.
The front forks look interesting, BSA sliders but look at the top yoke.
BETOR or Mazochcci I think... Photos later to prove it...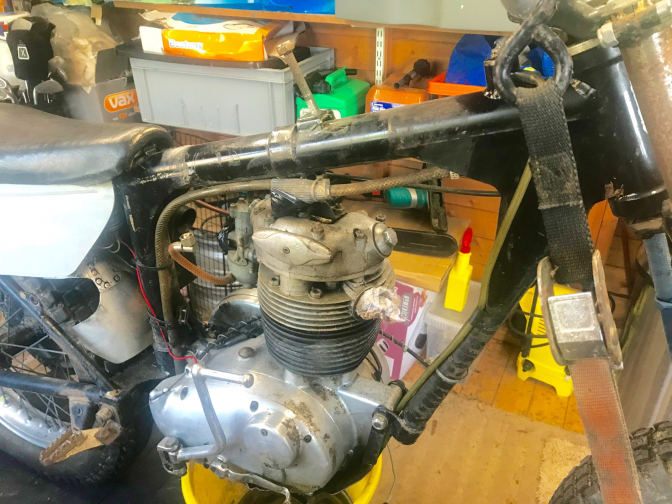 One of those now very sort after BSA B40 GB engines...
You can just see the outside clamp on the BSA top fork yoke...
Andy tells me he has now got the frame painted so we are on a roll...
Harry would be proud that another of his frames is now being brought back into use...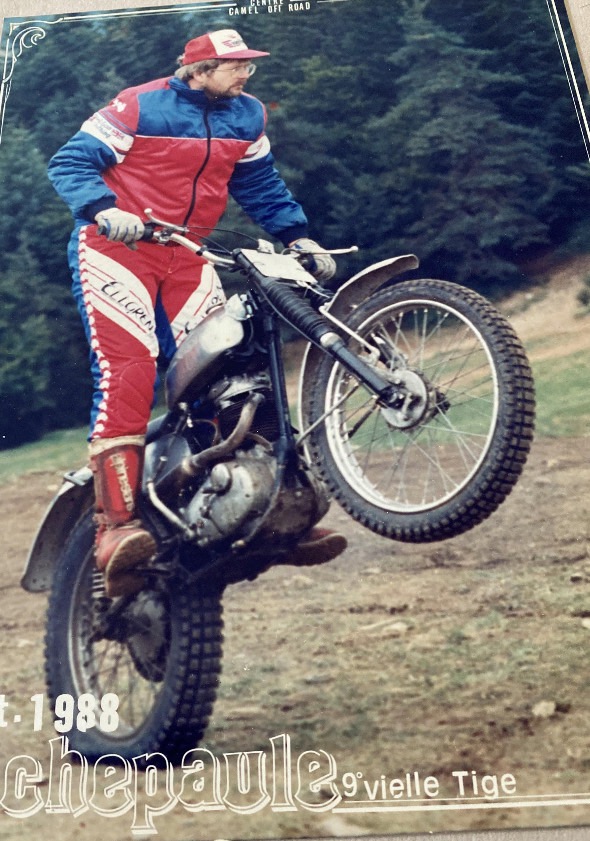 Stretton Honor wheelie-ing the BSA before the Foster Frame was used?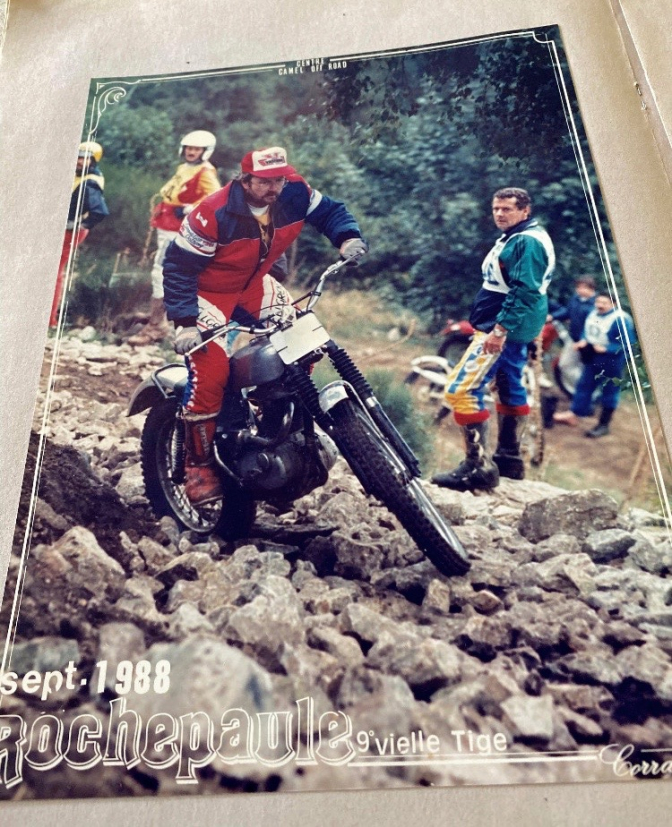 And already a European Pre 65 competitor...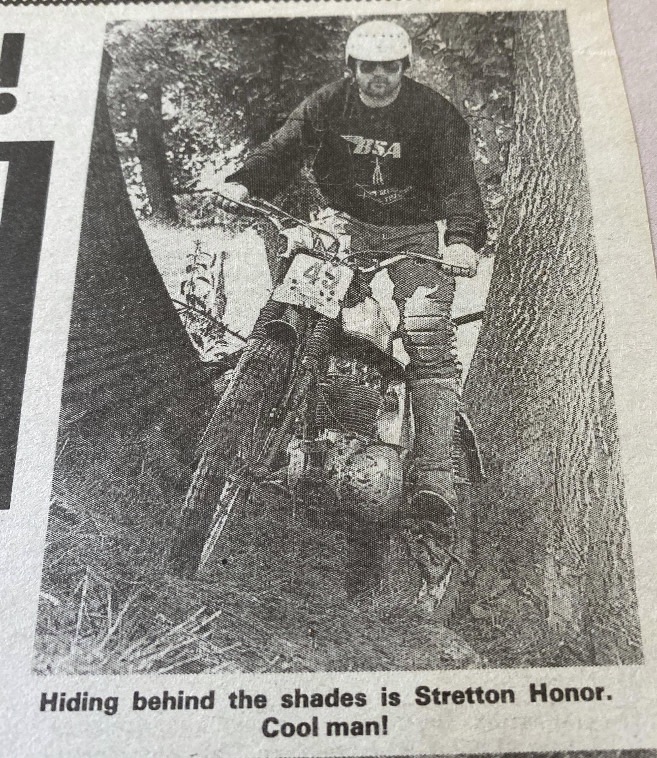 And Now riding the Foster Framed Otter....
Bikes in the blood, because Andy tells me he is a long retired "Expert"Scrambles Rider...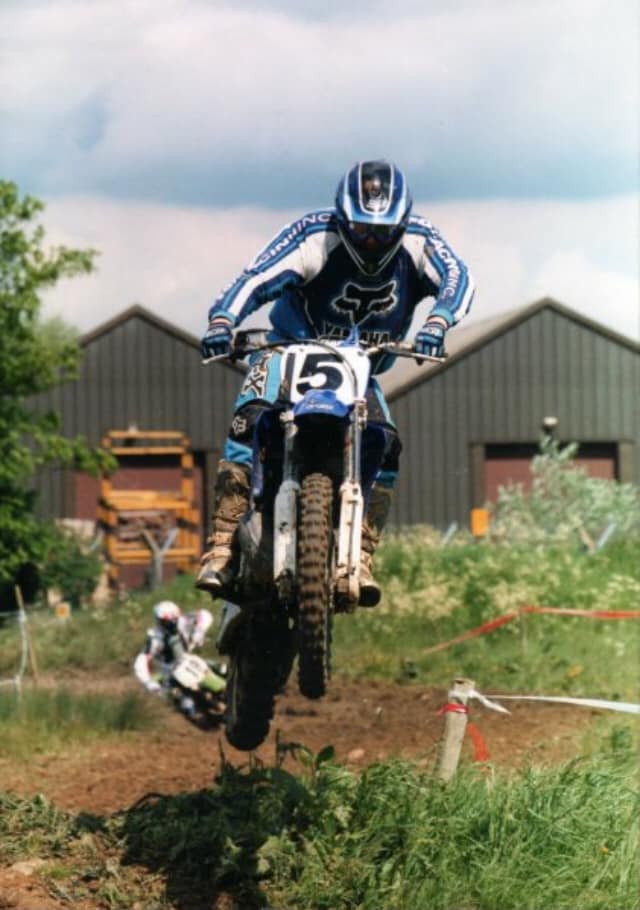 So we will carry on with the story later on the rebuild... and I will explain the Title to the page...
~~~~~~~
More Later as Always
STAY SAFE...