Herbert Poelz.
From Austria.
Has built this superb,
"BSA Otter",
With the help, he says,
of this site.
Wow.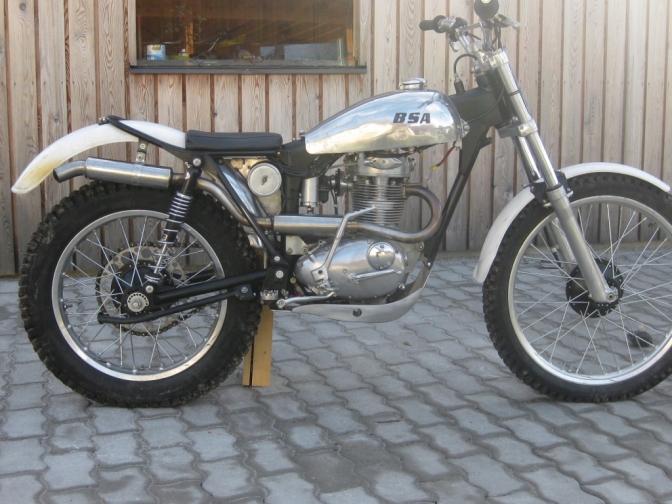 This is what Herbert said about building this superb bike.
Hi Charlie,
This is the story about my bike.
After I built a B25 Motocross bike, I had a lot of engine parts left, so I decided to build a trials bike.
After working 25 years for KTM in the developing department, I knew a lot about motocross and enduro bikes
but nothing about trial bikes.
I found your BSA"OTTER" site and Dave Dawson's blog, which gave me a lot of information
and ideas.
I designed the frame and the swing arm on my CAD, and built a jig.
The frame tubes are chrome-moly as well as the gussets.
The whole thing is TIG-welded and powder coated.
Front forks and wheels are from an old Fantic 240.
The tank I made myself out of 1.25 mm Aluminium using a wooden form, which I cut out of a block of wood.
The engine has BSA B25 cases and a C15 cylinder head crankshaft, and camshaft.
I used an aluminium clutch drum.
The Inner hub is a modified Husaberg item.
Clutch springs are ROTAX. It's working perfectly.
I also took an electronic "IGNIS" ignition which is from a ROTAX "Max Cart".
I can program any ignition curve on my Laptop and have the choice of 2 mappings via a switch.
This is my second year of Trials riding in the Austrian Classic Scene which gives me a lot of pleasure.
I hope you can use this information, if you need to know more just tell me.
Kindest regards,
Herbert.
Now here are some more pictures of the bike.
Just look out for the superb detail.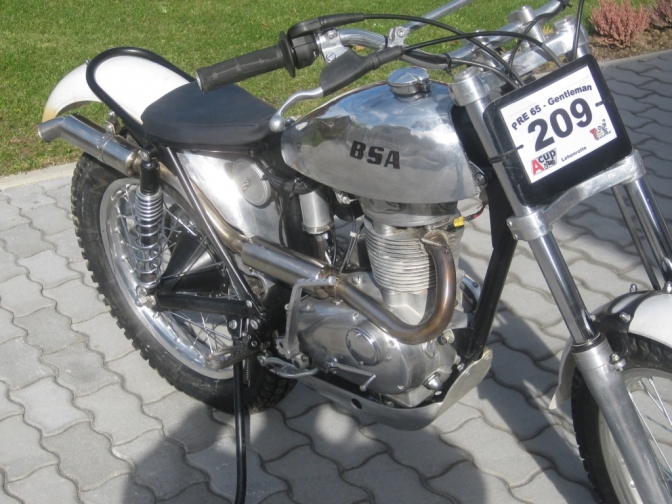 I do love the brake pedal, and the exhaust, system, so clean and tidy.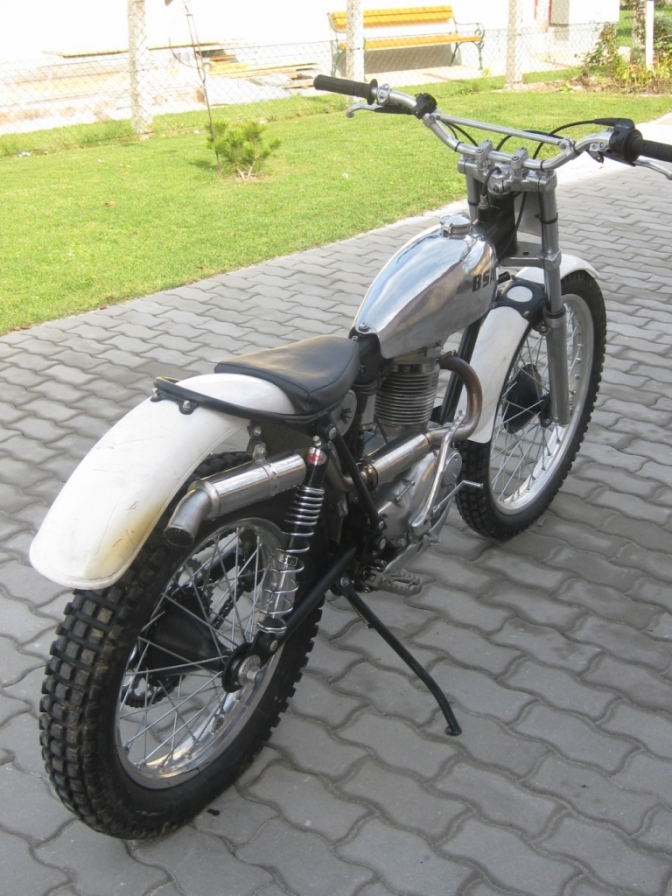 This whole bike just looks Right, and shows that it was built using a vast amount of skill.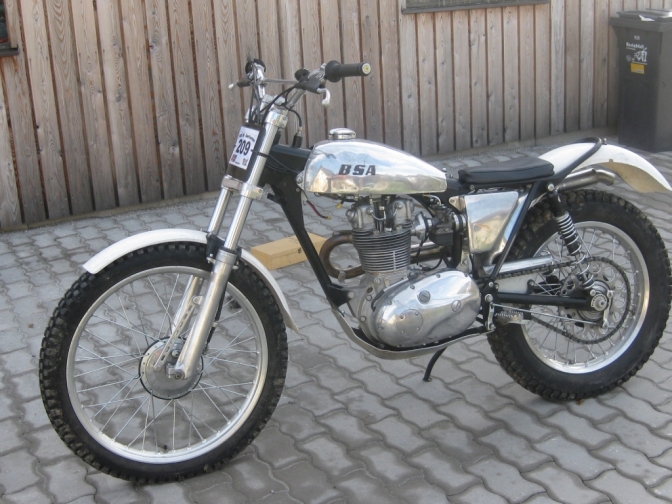 This bike could have been made by the BSA factory, if they were still about in the eighties. Don't you think?
A true Classic interpretation of a British based Machine.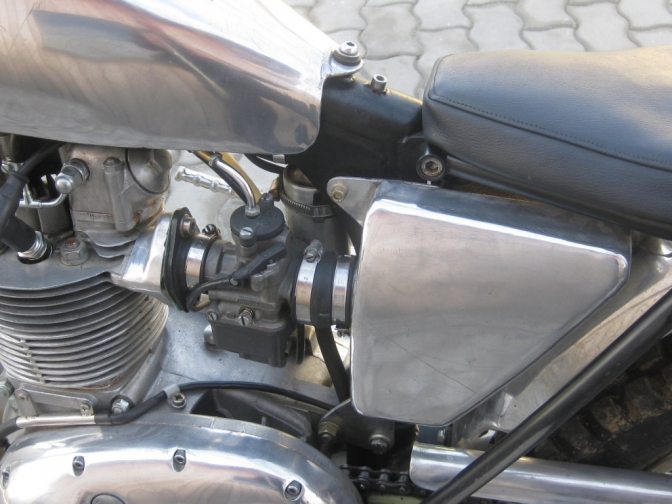 All Photos Courtesy of Herbert Poelz.
The work and workmanship that has been put into this project, just shows through and through, no matter where you look.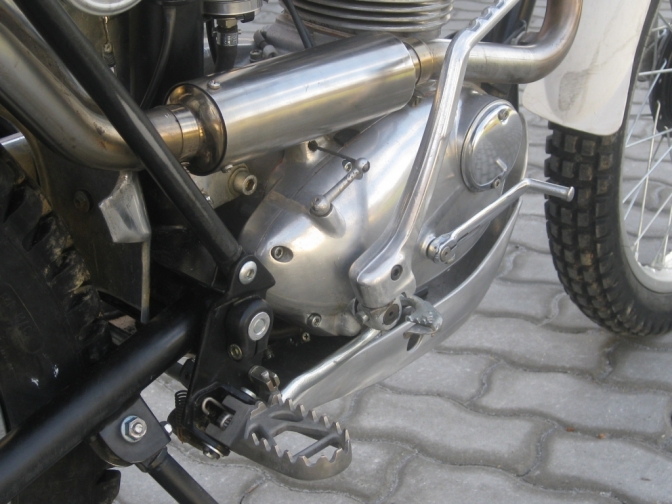 Just look at the detail on the bolt on sub-frame, and its fittings, you can see the influence in using a CAD design system to get things right...
A concept we could have only dream't about in the sixties when the BSA C15 first appeared.
I think you will agree that this is a superb BSA "Otter".
And if we have helped to create this bike by being "BSA Otter.Com."
I am as proud has Herbert and his workmanship.
Thank You, and let us know how you get on with your bike, and keep us updated on this,
"Superb piece of engineering"...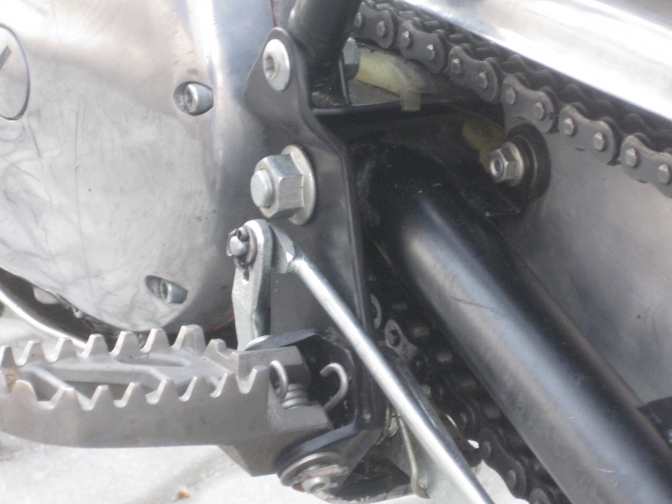 I will place a few more Photo's Of this build,
on later.
And again, Thank You. Herbert Poelz...
You can now go to the Second Build.
On the page below this one...
Updat2023...