Tigress In your Tank,?
Well the bike is named "Vera".
I have been going to do this page for ages but never got around to it.
Well I have Now.
This is one of those tales that seems to keep on re-inventing itself, when you have forgotten about it, it then comes back again.
First who is "VERA"? well she is the bike below,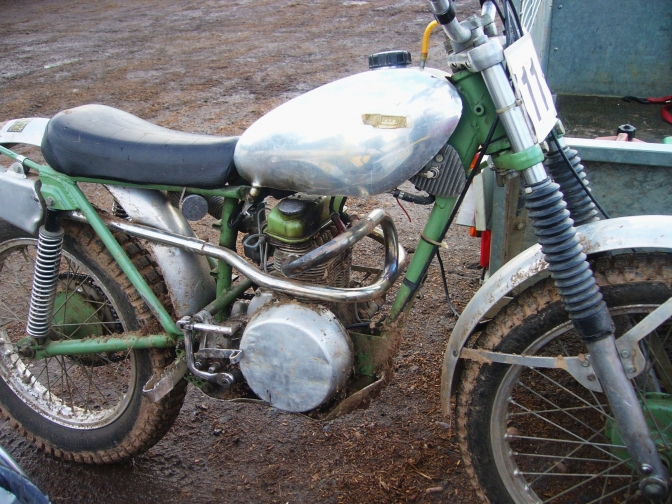 Photo courtesy Al- Usher, or "Hammertight".
The tale starts for me the first time I saw the bike, which was at the Classic Trials Show at Stoneleigh in 2010.
The bike was being ridden around by journalist Tim Britton,
He was entered on the bike but problems with a misfire meant he had to use is trusty BSA B40.
With all the rush of organising the event, meant that I did not take that much notice of the little bike until the event was nearly over.
Then every Tom, Dick, and Harry, were riding the little bike up and down just to appreciate the rorty note coming from the exhaust.
So what is the bike? Who built it? And what is the rest of the history of the origins of the motor.
Well the bike uses a BSA Bantam D7 frame, and hubs, Metal Profile forks are fitted.
And the engine gearbox unit is from a Triumph "Tigress" scooter TW2 from the years 1959-1964. the engine was designed by Edward Turner and is a parallel twin four stroke engine 249cc with a bore size of 56mm and a stroke of 50.6 mm. and a four speed gearbox is fitted. compression ratio as standard was 6.5:1.
So what is it doing in a trials-bike?
Well back in the day as the phrase goes, the BSA competition and development department under the leadership of Brian Martin decided to use one of these engines, in a trials bike as an experiment, I think they got a friend of the BSA comp dept Ken Sprayson to build the frame for the project out of Reynolds 531 tubing.
Well it was not as if Ken would have to pay for the tubing was it...
Anyway, the bike was built, but stupidly they left it lying about in view of prying eyes.
And one day on a snap visit to the department that was now linked with Triumph, Edward Turner spied the machine.
Not Good, "Cut that Bloody thing up" he bawled, what do you think your doing building things like that without my specific permission! Well that was what the British Motorcycle Industry had become, not a place for inavasion, but build to a price, to penny pinch where ever it could.
So what has that got to do with "Vera" I here you saying.
Nothing at all, but someone else with a much lower budget in the early eighties decided they would see if Brian Martin had got things right, and see if this litttle engine would work well in a trials bike. .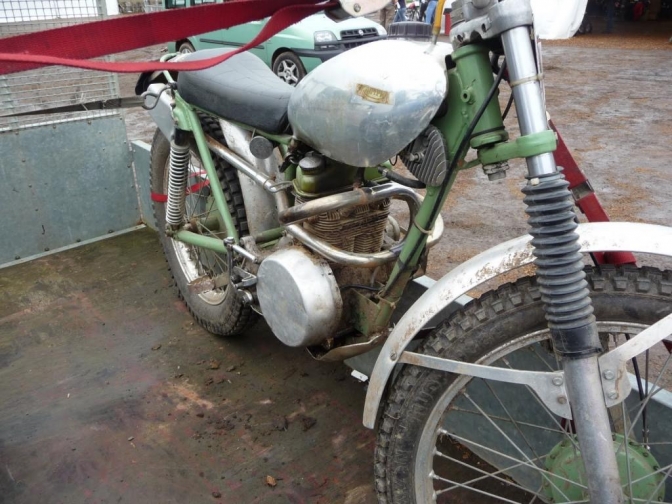 Photo Courtesy Jon Cull.
That guy by the name of Ken Brunt, and living in Kent, thought he would keep the plot within the family so to speak, so used a BSA Bantam frame to keep the wheels apart.
Topping of the build with an-alloy Beamish Suzuki tank, was perhaps not one of his better moves...
However, it did quite fit the build "Very well Sir"...
Well Ken was so proud of his little trials bike, (and also his wife), that he thought he would weld her name into the left hand footrest, this way he could keep her under-foot whilst riding the machine so to speak...
In the end like us all he got too old and despondent keeping his foot on things, and went back to being under the thumb.
So the little bike had to go...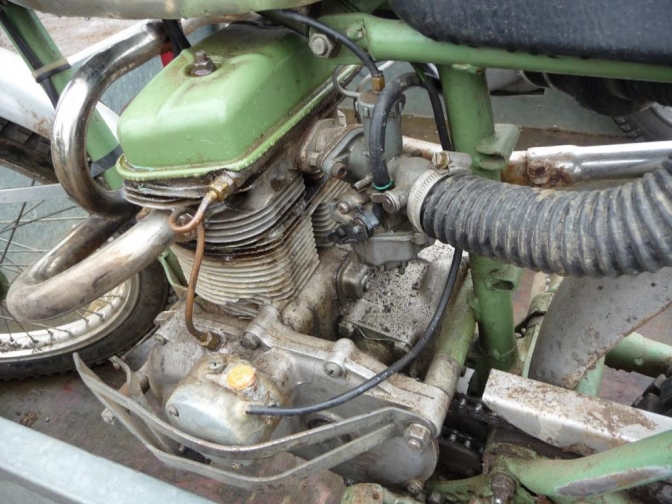 Photo Courtesy Jon Cull again.
It found a new home on the Gloucestershire border in Stroud, in the hands of the late Brian Lethbridge... And later being passed on again, spent a merry time going around the county shows of the area, looking proud amongst the other "gleaming examples", in the hands now of a guy named Alan...
It was at about this time that the little machine with the name "Vera" became semi-famous in some third rate movies, but she thought she was a Star...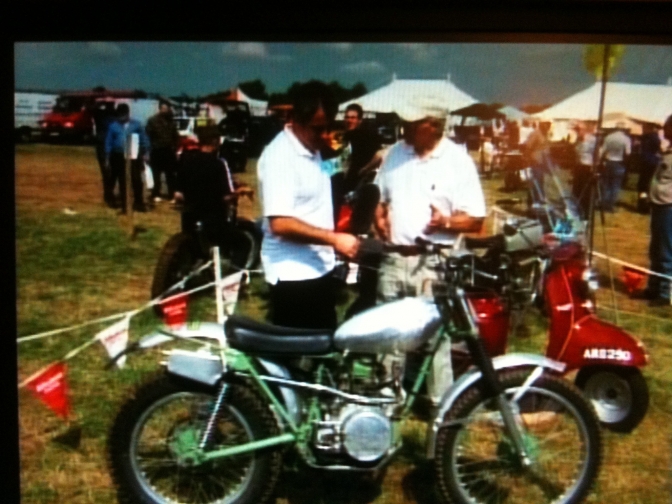 From the Movie,Title; "The Best Of Classic Motorcycles".
So we get back to when I first saw her in 2010 at the CTS at Stoneleigh.
The mystery of the little machine though still continues to me.
For although she has made appearances at the shows at Telford I don't really know who now looks after her?...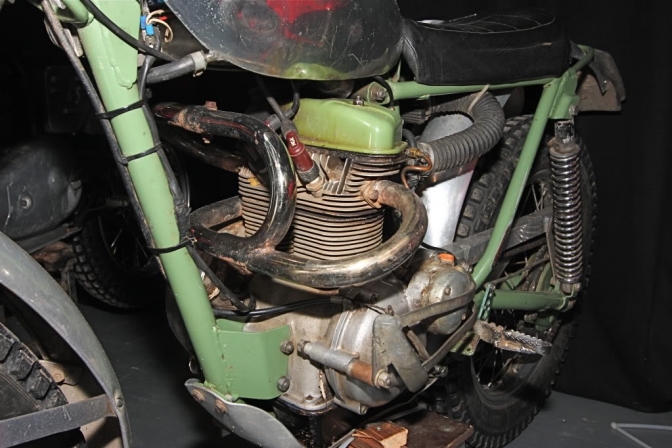 Photo "123"
I have been told the "Cotswold Legend" Dave Moy holds her keys. But I have no proof of that?...
17/01/2020...
I have recently had a hint from someone that "Vera" has now moved from her shed where she had been hiding, and was now playing "Up North"... I need conformation of this Alan....
~~~~~~~
Tigress Engine Design.
Going back to the engine just quickly, I said it was designed by the iconic Edward Turner...
So sitting at his drawing board, with his minions of the time, with a few sketches on the board.
He said; "So how are we going to stop the exhaust pipes burning the riders legs chaps".
With the sketch showing two lovely curved pipes coming out of the front of the motor just where the rider sits on a scooter, that was pencilled in around the motor drawing...
Little Arthur at the back who had only started in the drawing office a week ago after leaving school, piped up and said, "stick them on the side Sir". A glare that could kill came from Eddie...
Yes you know what's coming next! "YOU STUPID BOY" he said...
After stubbing out twenty "Senior Service" Eddie came around to the boys thinking.
A month later young Arthur left the office and went to work for Mr Porche.
But he had solved the problem of the scooter engine exhaust...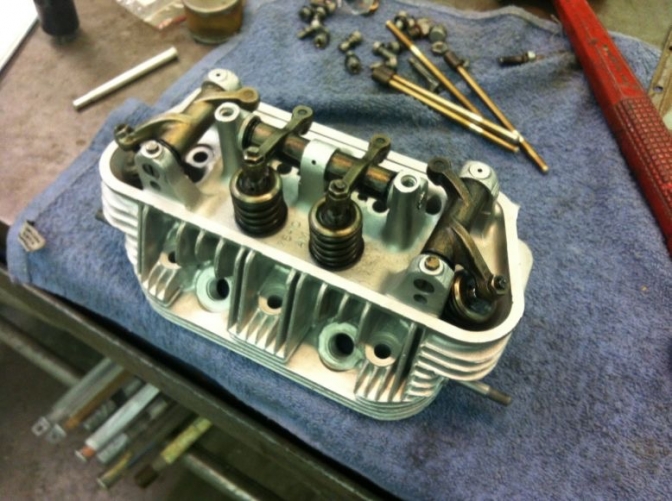 Edward Turner designed cylinder head, for the Scooter, or is it a Porche item?...
I must say Young Arthur knew his stuff, he had stood in the school playground one day and said to his mates pointing at the moon visible on a clear day, "We will have men walking on that one day," Yes, a chorus of "You Stupid Boy"Artie.~Oo>
~~~~~~~
This is the "BSA Sunbeam Version" of a Bantam D 5
framed scooter engined trial-bike.
This bike was built by a true working class Legend UP-North who likes to be known as "Odgie"Danaan.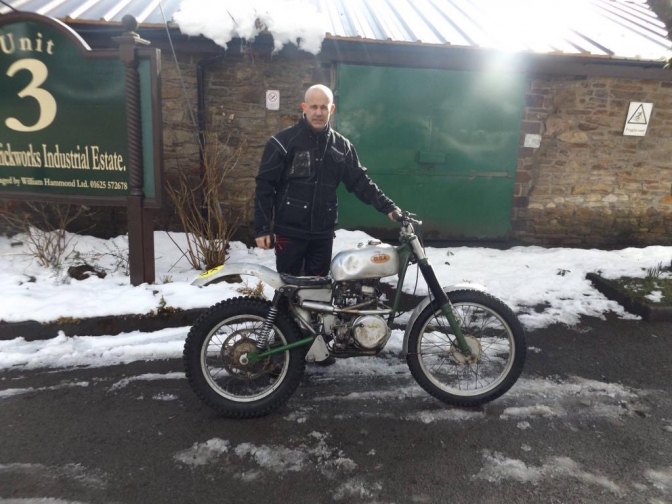 Photo Courtesy Stuart Melling
Stuart with the Odgie built BSA...
The bike is to be ridden by Stuart Melling in the forth coming Scottish Two-Day Trial at the beginning of May 2016.
Stuart is going to send me some better photos of the bike, and get "Odgie" to do a few build notes. Later .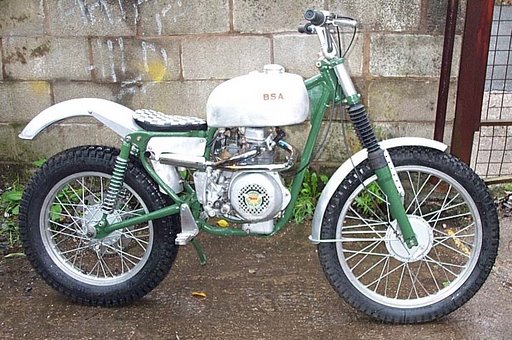 Photo Courtesy Odgie Danaan...
Here is "Odgies" Sunbeam BSA when he first built it.
Stuart Finished the Scottish Pre65 two day trial in 126th place with a loss 92 marks. Stuart failed to get an entry to the trial in 2017, Why, The bike was probably to close to looking like a proper Pre65 Machine?
~~~~~~~
So it proves how reliable the little bike was and it has had a hard life in trials. with "Odgie" riding it most week ends at one time.
If you want to get your self a really good read, and a book you wont be able to put down, and is that thick in volume you could use it has a coffee table, or need to reinforce the one you sit it on.
Buy "Odgie's" Book titled "Crazy Odge"...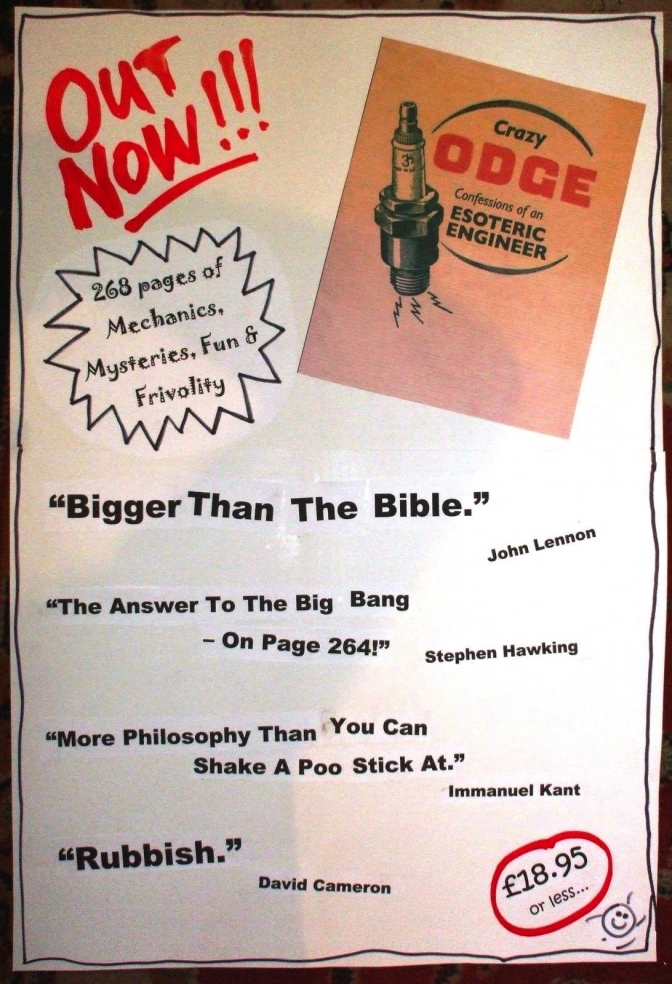 The price has increased for the second printing.
You can buy a copy on eBay it will cost you £30 with post and packing included. Just type in "Book Crazy Odge" and it will come up.
Mine is on the way.
If you want a copy £2 less you will have to checkout Odgie's website. odgie.com
You Just need to buy this guys book it is "Brilliant", You just have to keep reading it.
Chris Evans, Guy Martin turned you down for Top Gear, right! well unless "Odgie" did the same, and he probably would: if not, He is "YerMan" ~Oo>
_______
Back to the Plot.
BUT we still have not found that "Works" bike that still could be about, Have we! Keep Looking...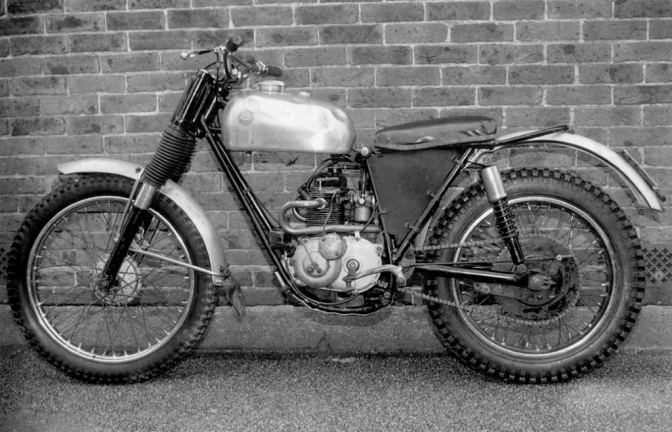 Photo Courtesy Don Morley...
(Note the bike later had this Villiers carb fitted)
Is the Registration number "32 YG" still on a Porche, Merc, or Aston Martin?
Perhaps we should ask Little Arthur.
The works bike probably has more mystery about it than the other two?
But may be not.
Anyway the works bike was not cut up but quickly hidden in the cellars below one of departments where a load more half finished projects were dumped, at BSA...
At the week ends when some of the comp shop staff were working overtime mainly on the Championship Scrambles bikes, some of these project bikes would be brought back into the daylight, and played around with in the spare time ...
This is how a lot of problems got solved on the competition bikes, Pat (Slinn) tells me, and how most of them got designed..
And don't forget that it was Pat who thrashed the twin cylinder scooters round and around the M.I.R.A. track for hours on end, trying their utmost to break the machines.
That is how testing works, and has you know it was Pat that did the same job with the B40 Military bikes.
The "Tigress" trials bike eventually found an escape, one would think through the back door, up to Yarksheer, where well I am blessed, one of the old work riders lived.
His name Tom Ellis, and he had been about BSA long enough to be able to pull a few strings.
Tom must have liked the little bike for he rode it a couple of times, and even gave it the kiss of death by registering it in York (west riding) office the registration number they gave the bike was "32 YG".
Well now registered Tom was able to sell it on to another trials enthusiast who was in the army and based at Ripon Camp, Tom Dicker was his name, and when he was posted Darn Sarth, the bike went with him. He rode it a bit, but then bought another bike, and it was passed on to another couple of dealers, that moved the bike on to other trials riders, that wanted something different to ride, and at the time, probably a very cheap machine to purchase...
Brian Verrell gave Don Morley a call, to pop in and look at another bike he had in is emporium.
And Don spied the old "Tigress-Bitsa" lying against the wall, and realised that he had seen this machine before, it was in a picture that Brian Martin had given him, when Don was researching his book Classic British Trials Bikes.
Not wanting to draw attention to this bike has he was getting exited inside, thinking that he may get this ex-"works" bike on the cheap, he casually asked Brian how much he wanted for the old beat up trials bike.
£10,000 or somewhere near that mark has been bandied about.
Don went limp, his plan had not worked, and through all the stuttering could not get Brian to budge on the asking price...
So the bike was sold onto a person that was willing to pay £10,000 for a clapped out old trials bike, just for that registration number...
Hang on, that is a bit like it is today!!! And the bikes fetching this sort of price have not got a plate like that.
There has been a Tigress Scooter in need of full restoration sold for £2770. That too had quite a good plate on it .
~~~~~~~
The search for the Tigress trials bike still goes on in my head today, I don't know why, but I still think the machine is hidden in a dark secluded place somewhere. Or is it all wishful thinking?
~~~~~~~
Stuart Mellings Pictures of Odgies" BSA Subeam.
Before he rode it in the Scottish Two Day trial.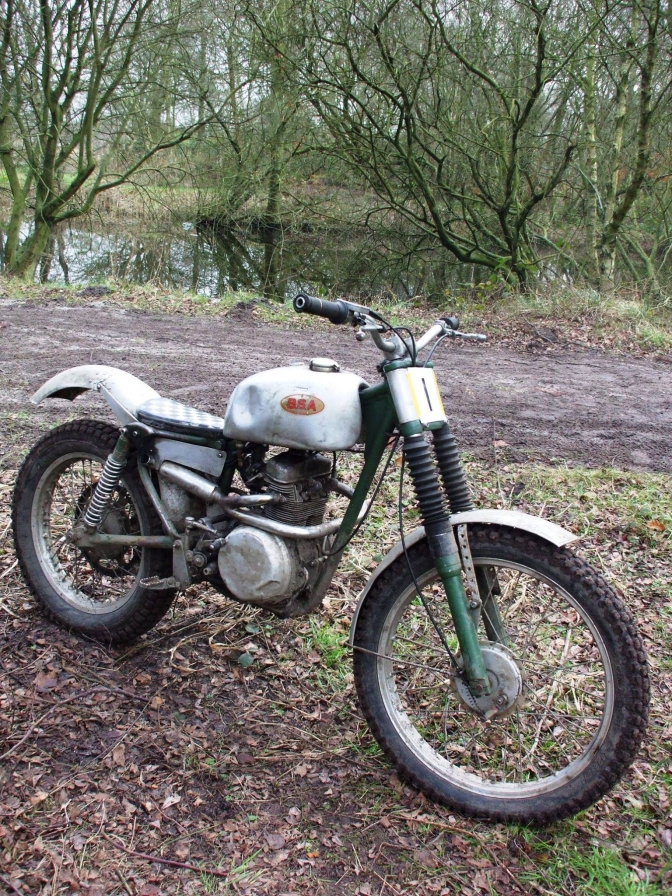 Photo Courtesy Stuart Melling.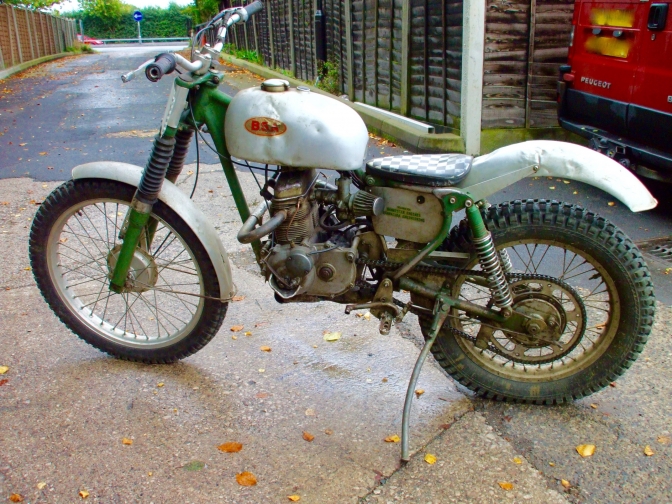 Photo Courtesy Stuart Melling.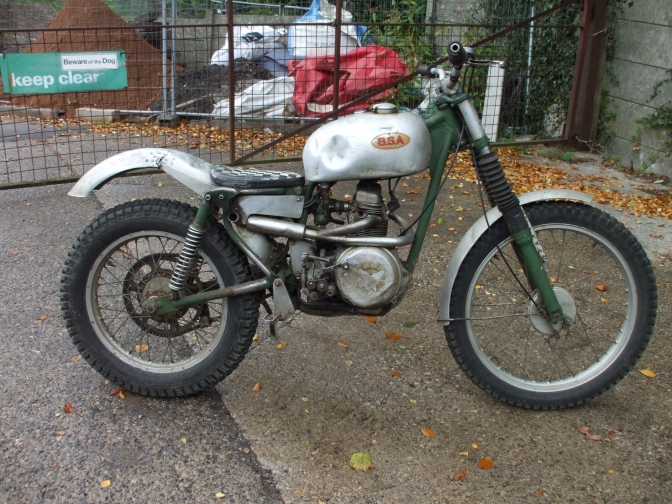 Photo Stuart Melling.
"Odgies" BSA Sunbeam Trials.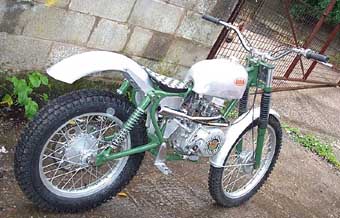 Another shot of "Odgies" bike, by Odgie...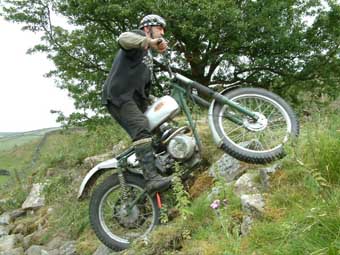 Photo again Courtesy "Odgie"
And here you can see I was right about a hard life on the Yorkshire Rocks.
"Odgie" riding.
Thank's Stuart, Just hark at that Growwwwwwl.
Much more later this story is going to run and run.
12/01/2020...
Had a new email today from Boris a new visitor to the site, and he says he can remember being told that the late Bunny Ward of the famous off-road shop in the Midlands (Waklin & Ward ) used to scramble a Sunbeam scooter engined bike...
I replied to him that When I remembered Brian Martin having the Tigress engined trials bike at Edge Hill quarry, Bunny could have been one of the "Brummies" there as they were most Sundays when there was a trial starting from that quarry.
And also most of the development bikes from the competition department, visited that quarry a lot more than once... So the engine in the bike that Bunny scrambled could well have been an engine from the BSA Comp dept...
Looking at the trials frame today, it has the look of an early "Walwin" frame I will ask Ross if he has any recognition of the frame. As he worked for BSA at one point...
Then I found this from Trials Central..Jan 21st 2013...
Hi Guy's.
You know when them little coincidences in life happen and you think I was there?
Well one happened today.!!!
I was at home organising the stuff for my central heating? I know bikes have come before this in the past! but its cold at the moment!!
Well in between the mails I was receiving saying your order has been delayed because of the conditions, I had two other e-mails.
One from my very good friend's son Andy Paxton, who informed me that he had ridden Brian Martin's old BSA C15 in last years Scottish two day trial. Now this bike belongs to another good friend of mine Ted Freeman, who lives up the road from me? Well a few miles. Anyway, I replied to Andy, and then, Ping-Ping, another e-mail, In the mean time, I was just mailing Pat Slinn to let him know that Andy had ridden Brian's old bike in the Pre 65 Scottish. Well I opened up the new mail, and it was from Al Ussher, with a picture attached, asking me if I knew anything about the Tigress'd engined Triumph trials bike,in the picture he had taken at the Classic Trials Show? I mailed him back and said I had just moved the DVD with that bike on for the plumber, so that he could rip me floor boards up. I stuck the DVD into this old computer, and sure enough got the said interview up, This bikes name was "Vera" and was built by a guy named Ken Blunt, from Kent in 1989, later sold to Brian Lethridge, and then sold on, to the guy in the film, Al asked me who now owned the bike, the one with the Bantam frame, that Tim Britton rode at our trial? Well I said I think that the bike is now owned by Cotswold legend Dave Moy, but I should have to check.
The thing is I was only talking about this bike to a friend of mine,
( who I had not seen for twenty years)... who used to work on Tigress scooters with me at Dan Shorey's dad's old place North Bar Garage way back in the sixties. Anyway I was thinking when I mailed Pat, I wonder if that old works Tigress is still about and not scrapped? Good story anyway don't you think?
Regards Charlie.
And also a reply to another "Tigress" trials bike owner...

Look I have found my old material out.
And it looks like your bike is not "Vera" but another that looks a lot like Her.
So this makes life a lot more interesting and we have another story to follow.
I am a glutton for punishment where this type of bike is involved.
Why? Because I grew up in a Garage that sold them and fixed them, "Tigress" that is.
And they were a pain, always oiling plugs, I seem to remember when New, and the stupid exhaust silencer behind the back wheel, rusting away, just a few months after the machines were first put onto the road...
Trouble was they never did enough miles as a scooter and needed a jolly good thrashing up the road, and they were quick for a scooter.
But what a gorgeous sound that little motor made, and was worth all the trouble just to get that rasping note when fixed.
Luckily the silencers fitted on the scooter right behind the back wheel in all of the crud (what a stupid place) rotted fairly easily so made them sound even better, a shame to fit a new one...
But were a pain to fix, because all of the bodywork had to be removed, and the screw heads were useally rusted solid also..
Anyway enough of my ranting.
But you can see that I loved that little engine, and still think the "Works" trials bike may be still about.
Regards Charlie.
03/11/2020...
Had another inquiry ..... about the Tigress bikes and there seems to be more getting about..
Here are photos taken by our friend Justyn Norek, from last years Scottish two day trial... I will ask Dave Wood about the bike as he was there by the bike, Birmingham I think is its home?...
John puts me right....
John Dickinson:
The first one Number 200- the Tribsa with Tigress engine. Was ridden by former factory Italjet and Comerfords Bultaco rider Chris Myers from Cumbria. Built by his cousin Jonty and is a 'Mark 2' version, the original sporting a Tigress engine in Cotton frame.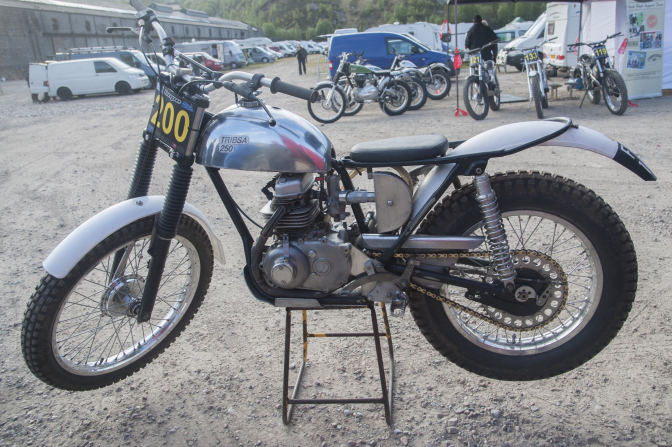 Tribsa Tigress at Scottish...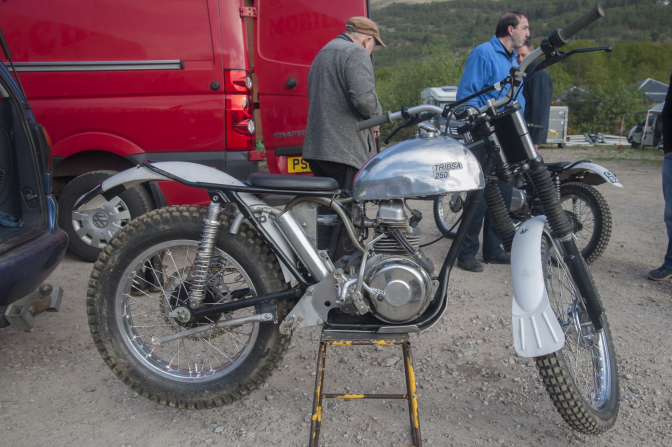 Tidy little Tigress...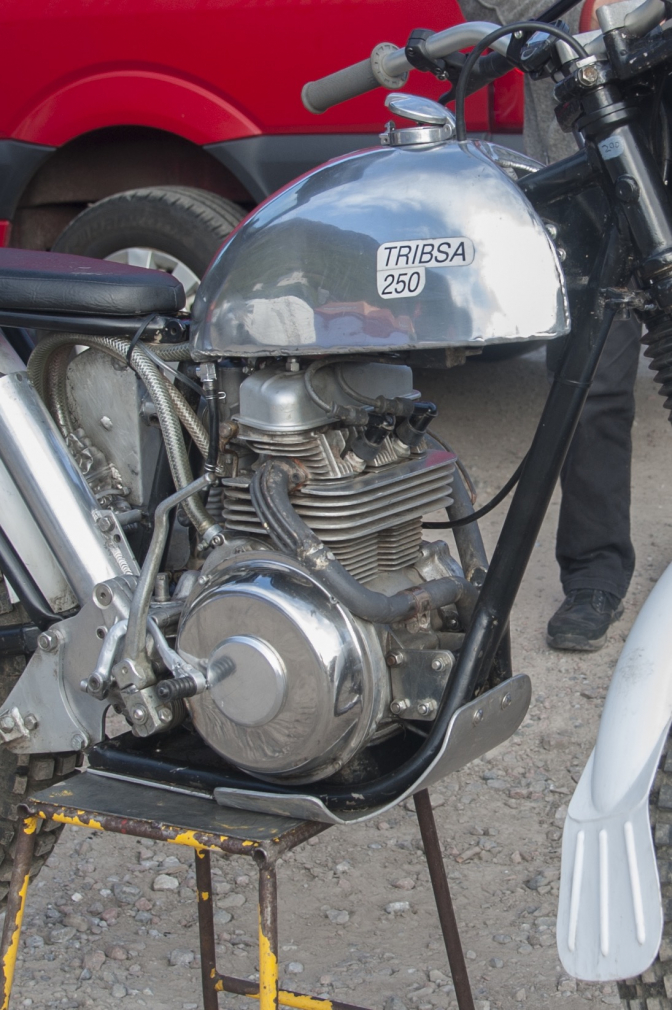 Really neat engine unit in this one...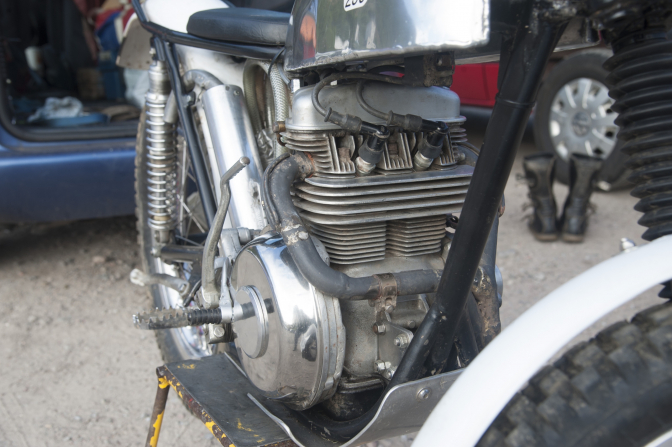 I have been asked, what do you do to the engine and gearbox? I don't know has I have never built one but we will find out...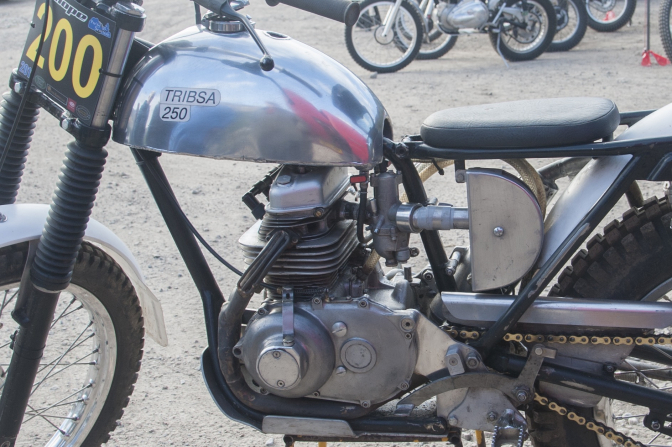 One modification that you must be able to do now is fit Electronic ignition, Electrex-World perhaps...
Seems like the BSA Bantam D 7-14 frame is the way to go, as far as keeping the wheels apart...
More later...We Hope...
Updat2023...05...