Gary Britton's BSA C15 Faber framed Mk3 "Otter".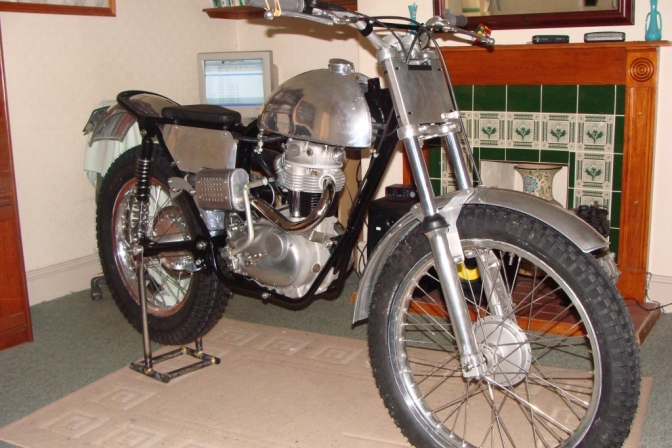 Gary Britton's BSA Faber Mk 3 Otter build.
~~~~~~~
It all started when I mentioned to a friend that I fancied a Pre 65
Trial's bike.
"It's your lucky day" he replied, and the next day a ton
of scrap was dumped in my back yard.
"Pick what you want and do a bike for me" he said.
Amongst this "scrap" were at least six sets of C15 crankcases...
A couple of cylinders/pistons, cylinder head's, and gearbox's, so the game was on.
I had never owned a British bike so it was quite a daunting task, but
Armed with the wonderful RUPERT RATIO book I soon worked out what
was needed, and what to scrap, what was missing, what was bodged and what to keep for the future.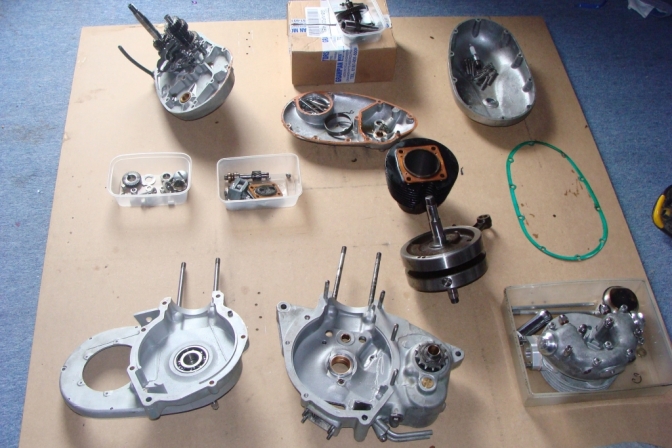 Photos Courtesy Gary Britton.
I have access to a sand blast cabinet and a sonic cleaner so after
a session in these, I could start to build the bottom end, as you can
probably guess there was then much use of the welding machine and helicoiling.
The motor went together quite well apart from the expense!
New piston/rebore, Electrex World ignition, Amal 22mm carb, crank
rebuild, (alpha bearings), gearbox part's, kick-start ratchet and
the best part of a whole clutch. Oh why did I start this?
A phone call to Howard Fawke's and a Mk3 Faber frame was ordered.
"How much deposit do you want then? The reply was "none", "we have a
Gentleman's agreement"!! I like this bloke.
Other big bits I needed were wheels, forks, shocks, and a tank.
The rims and spokes were from Central Wheel's; the front hub is a Triumph Cub
hub, and brake plate, cleaned up and painted with wheel spray paint. It
came out quite nice.
The rear wheel has an Alan Whitton (nice chap and
a mine of information) hub, which is a work of engineering art.
The brake plate, was made by myself, some 1/2 inch Dural with boss's
welded in, re-machined and bushed. The brakes work, but there's not much
chance of out braking John McGuiness into Ramsey hairpin.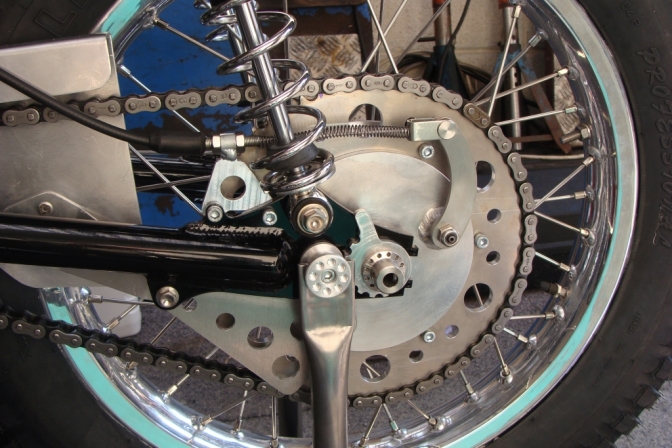 The levers and
torque arms are my own.
(I forgot to mention I work in a machine shop for
a local factory.)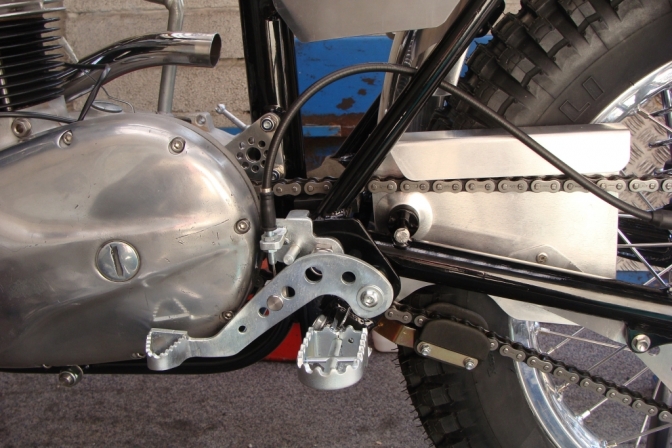 The forks, "Triumph four stud", were bought on E-bay and
were new and unused. When I stripped them I found a rare factory beetle
inside? I replaced the damper O rings with Tufnol piston type ring as recommended in your fork section.
Shocks are from Sammy Miller products, and Terry
Weedy supplied the fuel tank.
At the end of September I picked up the frame, and could now start to build the bike.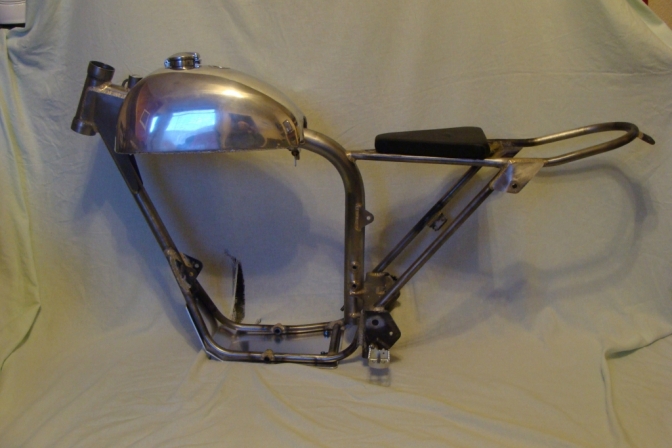 The frame was powder coated twice. The first time was a
cheap job and no good. The second was expensive and done properly.
(There's a lesson there somewhere). The tyres are Pirelli, I know they are
not the best but they are better then my ability and were free.
I made the brackets to fit the front mudguard, fitted taper bearings in the
Head-stock, Renthal bars and Amal throttle. Et viola the front was done.
At the rear I thought I may have a problem with clearance,
but Howard had
done his homework, and there is plenty of space for a four inch tyre.
Spindle's were made in stainless steel, snail cam adjusters in 4mm aluminum and a chain guard in 16swg alloy.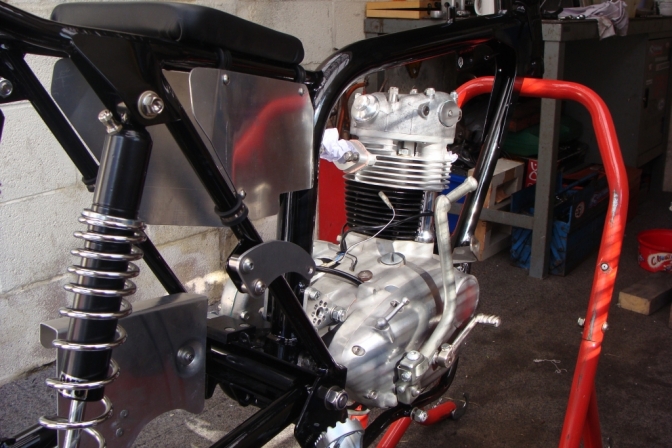 Now I had a rolling chassis, it actually looked like a motorcycle.
Time to fit the motor?
This was straight forward, I fitted the carb on a
20mm spacer I made in aluminum, this was later changed to Tufnol
material as the heat was transferring to the carb. A rubber hose and
a K+N type filter were fitted.
The exhaust is a modified front section,
and my own silencer design, was welded up by a friend.
I think it looks
nice. I fitted a cartridge type oil filter. With the tank and seat fitted
it was finished. That's what's nice about trials bikes, there's no extra's
to fit.
Simples. Gary.
Gary, I hope you enjoy riding your superb bike, keep in touch and let us know how she goes.
Charlie.
Updat2021...