The Ossa plonker.
244cc trials.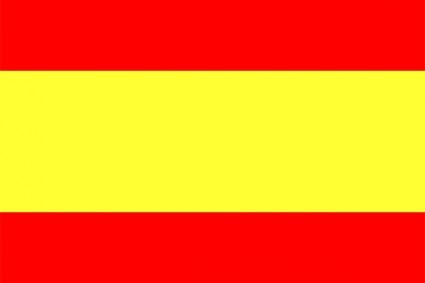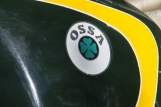 The Ossa factory were slipping behind the other two Spanish factories that were turning out trials bikes to the new found market brought on by Bultaco, when they cooperated with Sammy Miller to build them a winning machine, which he surly did...
Montesa were also developing an observed trials machine to jump onto this new found band wagon...
Ossa needed someone that had a name in this game to establish a link to what was hoped would be a profitable outcome...
So searching the Star names that were available, and for someone who had knowledge of what was needed to build a competitive two stroke engined trials machine...
Well at that time young Mick Andrews had been riding a AMC company re-badged Francis Barnett, now named a James, and rumour had it that the plug was about to be pulled on this works team, as AMC were getting out of competition to save money...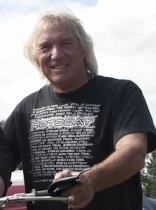 Mick had the call from the Ossa factory, and went over to visit them...
What he needed to do was along the same lines as Sam did for Bultaco, and put a trials bike together with what was available. And then ride the machine to develop it.
All that was really redaly available that Mick thought could be made into a trials bike with a bit, or perhaps a lot of work, was the companies so called trail-bike/scrambler, that they were exporting to the USA and Canada. This little machine with its 231cc engine was the Ossa Pioneer.
So in the year 1967, Mick set about the job in hand at Ossa, and aimed to build a bike capable of riding, and getting a result in the Scottish Six days trial...
The way to develop the machine was to ride it in as many National trials here in the UK has he could.
The engine power was down so the capacity was upped with what was available, and this brought the "Plonker" machine as Mick named it out to 244cc...
(A trials bike was known as a "Plonker" here in the UK when most of the British machines had large four-stroke engines, and with the advance lever pushed over to retard, them old bikes would "Plonk".)
So now with the help as usual with the great photo shots that
Justyn Norek Snr, always sends me, and the way his son young Justyn test rides any machine, with the front wheel pawing for air,
we will look at the photos of the "Ossa Plonker"...
And also thank the owner of the bike, for letting the Justyn's near it, to ride and photograph.
Here is Carlo Ramella's story about the Ossa Plonker...
The Ossa Plonker from 1970
The Ossa Plonker, the very first of Ossa's long line of trial motorcycles, was at one time my most desirable mount. The subject of this test was previously owned by a certain Mr Zuanelli, an active trials competitor in the early seventies.
He had sold this machine to my good friend Andrea Merlone's father, who used it for many years.
In 2012 I saw an advertisement for an Ossa Plonker and immediately arranged a meeting to see the bike. It was sitting in a farm shed which gave me a sense of discovery... and then I met the owner, none other than the father of my friend!
He told me that bike was unused for several years... it was in good, original condition, and was exactly the type of motorcycle that I was searching for, but with one minor glitch. Unfortunately it had no valid documents. Not an insurmountable problem, however.
We prepared it for starting, checked the fuel level in tank and carburettor feed, released the decompressor, and after just four kicks, away it went, despite the petrol having sat in the tank for a long time and probably had an octane rating of 50 or less by now
The Ossa Engineering of the "Plonker"
The Ossa ran perfectly from the word go, and even the lights worked.
I rode this bike many times in competition, and on mountain trails, and even with a passenger as the bike has long seat. Some other feisty lass grabbed my attention and Miss Ossa sat, sad and forlorn, in the shed for some time.
Not long after my friend Justyn Norek Jnr did a test at the Puy trials track on the Plonker for, BSA Otter site…
I sold her to a well-known collector in Turin with whom a new love affair began...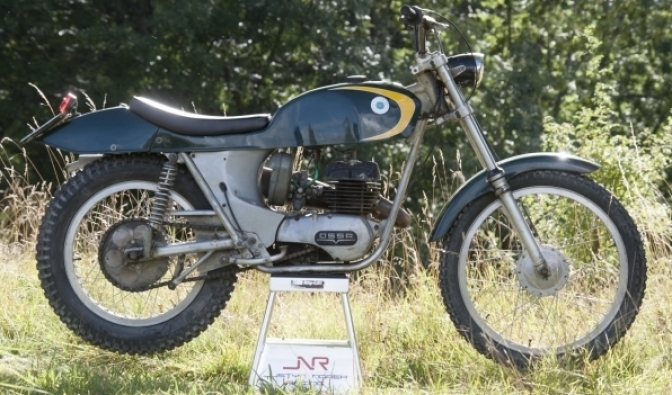 All photos Courtesy Justyn Norek Snr. And his ©...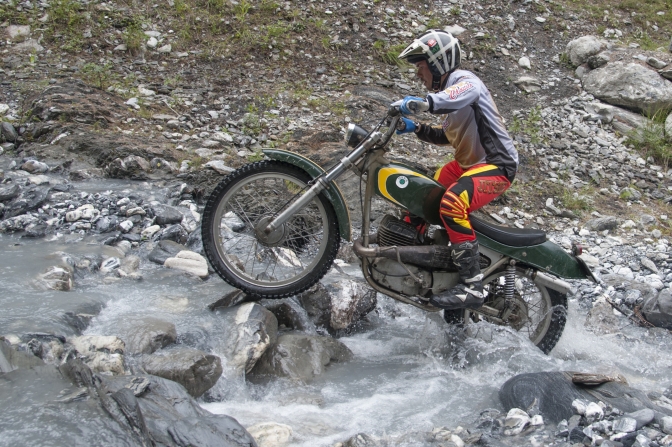 Note: The "Bryan Wade" helmet design, Justyn is using at present...
Here is the test ride report from young Justyn...
Ossa Plonker Trial Riding Impression
By Justyn Norek Jnr,
We came to PUY early on Sunday morning having been invited by our good friend Carlo Ramella to test one of his numerous trials bikes, This time its turn of the Ossa Plonker, the machine from which Mick Andrews developed his famous MAR which won so many trials.
It will be a very interesting test for me as I own a
Whitlock framed MAR 250.
My first impression of the Ossa Plonker - is it trials bike or an enduro? It looks very nice, but its styling is very much like an enduro model with its rather large tank, a seat long and wide by trials standards, and a huge plastic rear mudguard.
Mick Andrews, Dave Thorpe and Bill Wilkinson rode such a bike for 6 Days in the Scottish so it can't be that bad. After the usual warm-up swung my leg over the quite high seat and off into the first section, which has a sharp drop at the entry point - and what a nice surprise, the bike is very stable and handles very well.
I was soon very much at home on it, riding up and down a gurgling stream strewn with of rocks, with the engine always ready to help me lift the front end over the occasional boulder and rocky ledge. However, I had some difficulty in tight turns and felt in those situations that the bulky and high seat-tank combination must be comfortable for casual use but not really suitable for serious trials work. Later I read in one of the OSSA books that its wheelbase was an inch shorter than the MAR so perhaps it was related to the ergonomics of tank-seat area. Also, I am not very tall, Mick Andrews is taller...
I was more than happy with the engine's torque and power, which allowed me to lift the front wheel with ease, and tackle even the trickiest of climbs.
Altogether a surprisingly good machine, which the genius of Mick Andrews transformed into a world beater later...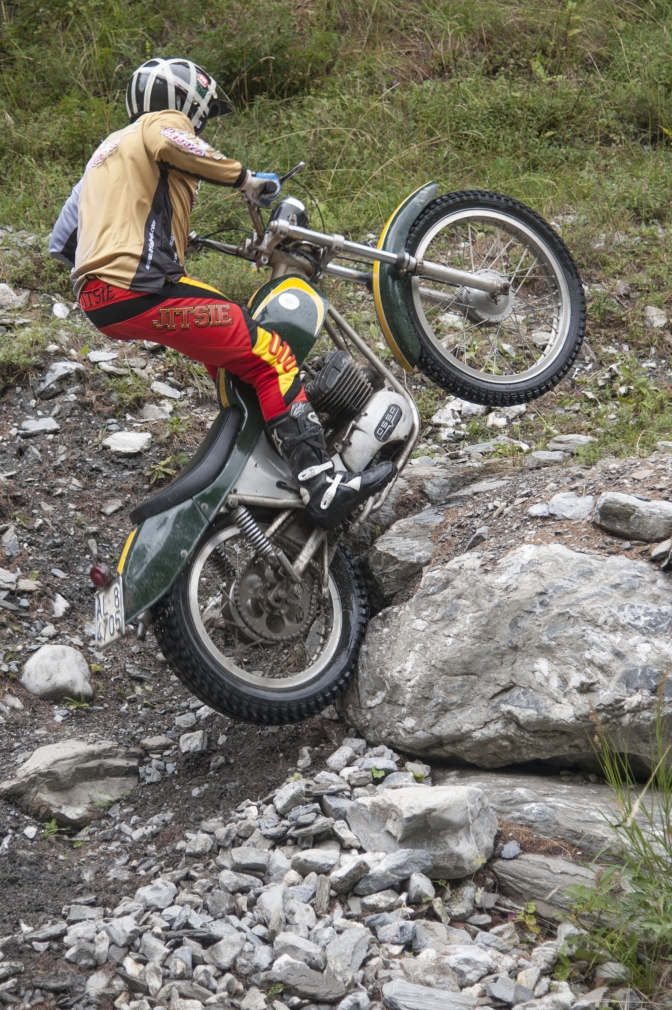 That's more like our Justyn...lifting that front wheel over the rocks...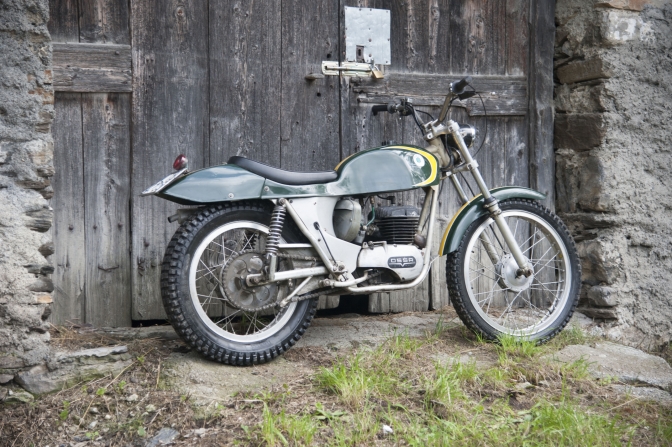 You can see why Mick eventually got the hacksaw out big-time, to create the eventual MAR. The motor was has low in the frame as a BSA...
and like Justyn says very wide in the seat area..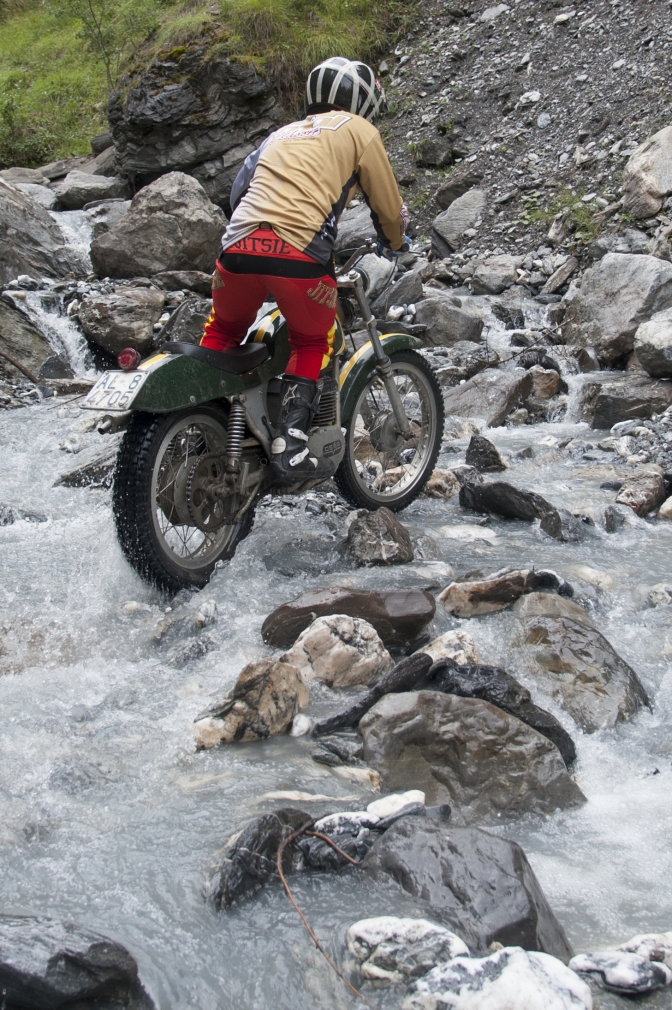 The machine just looks heavy, but was it...
Or was it the glass-fibre clothing that made it look so...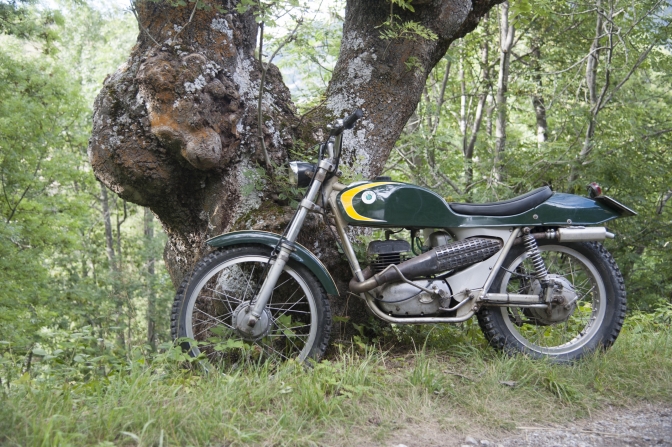 That tree could tell a tale or two. I bet...
The Ossa Plonker still very much looking like a trail bike...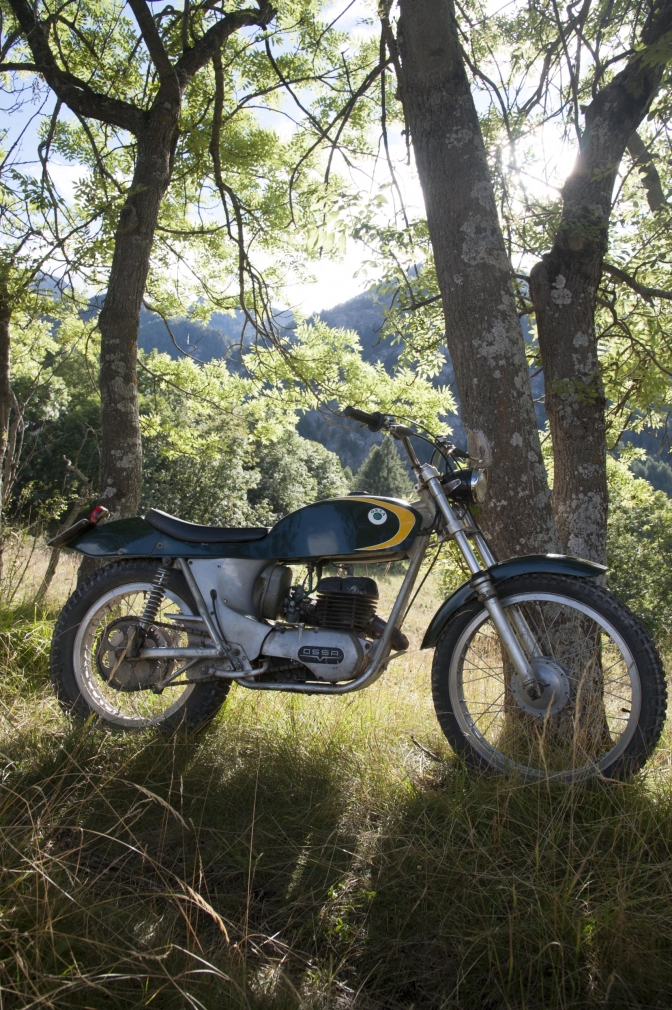 Magnificent shot Justyn...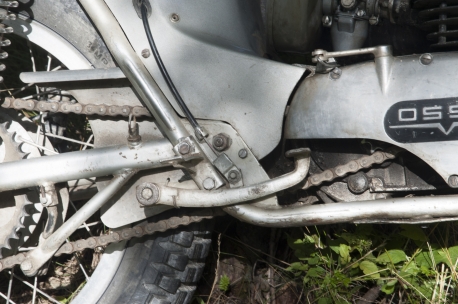 The engineering was just too heavy for a well developed trials machine, but when you have a short space of time to get a bike together like Mick did.
You use what you have for a start point and then modify the machine in your head first. And then
ride it knowing that eventually you will have to start with a clean sheet of paper.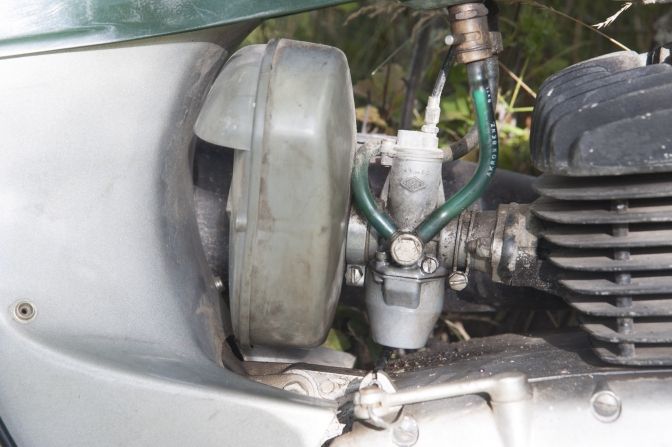 Not even an air box for Ossa, but Bultaco were already using this method of engine breathing.
Why ... Well still air is easier to draw into a vacuum...
Ossa... Needed to get a trials bike out into the market-place quickly, so the "Plonker" was still basically a trail-bike-scrambler, off of the assembly line, with has little modification as Mick and the team could get away with, to build a competative trials bike...for the Scottish six days trial...
Front wheel and a smaller hub was the biggest change, and a small increase in cubic capacity...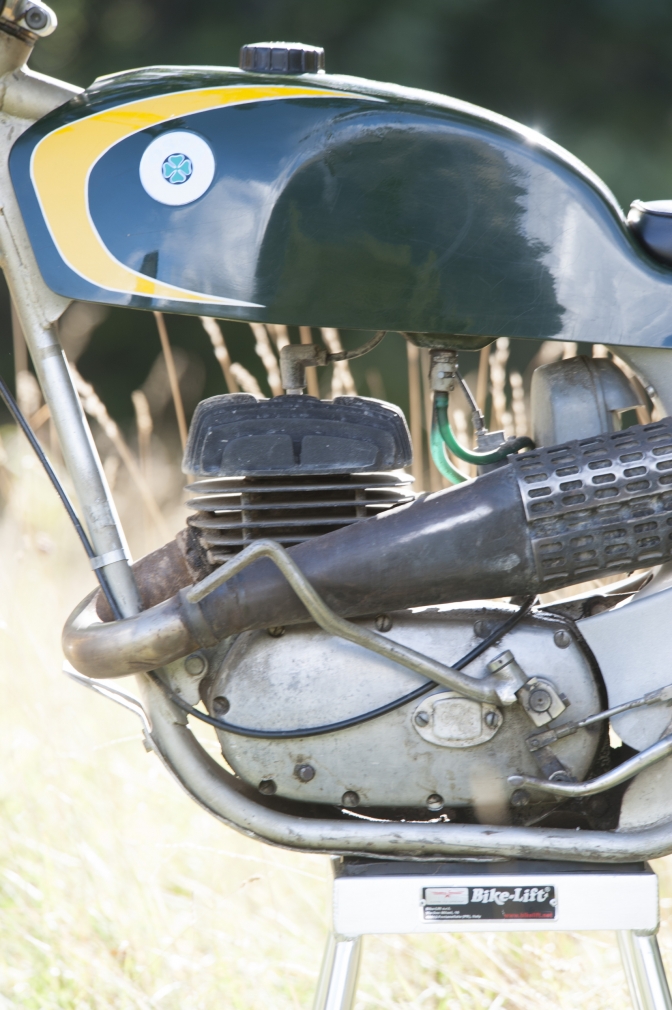 Just looks a heavy old lump for a trials bike but was it ?
Justyn's test seems to have the same thought...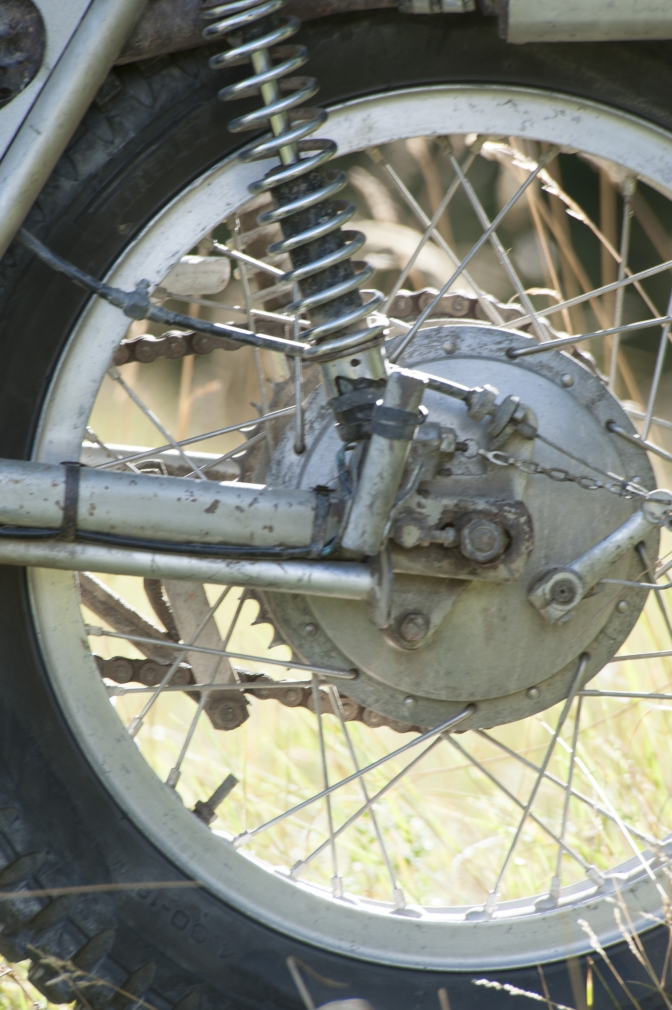 The only rear wheel that was available at the time so that had to be used, has heavy as it was...The front wheel, and the forks were at least lighter.
But with the development carried out on the humble "Plonker" we then got the M.A.R Mick Andrew Replica later.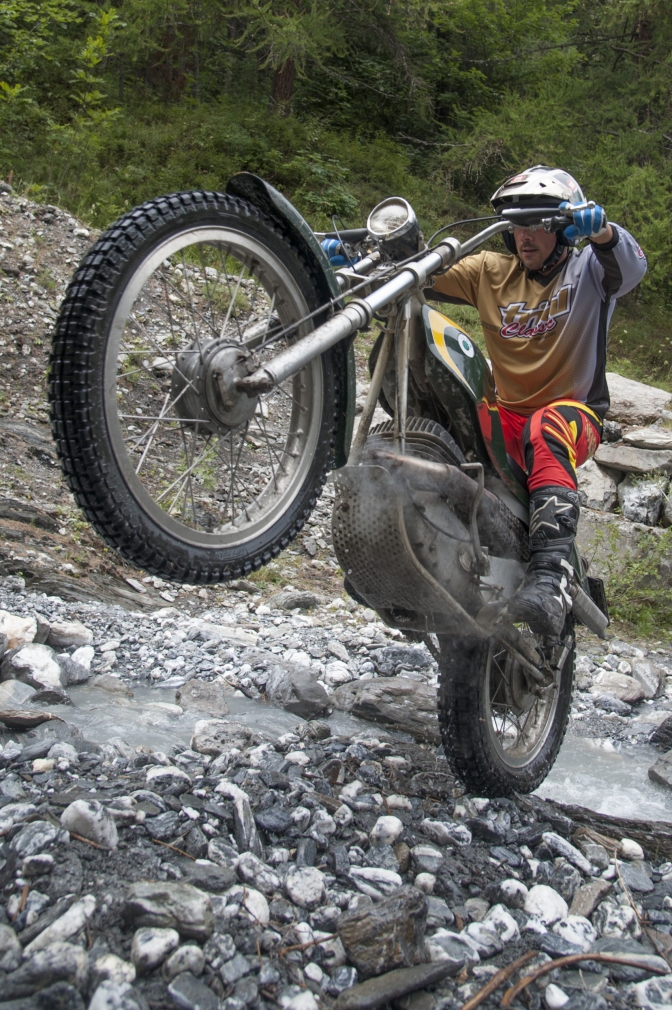 Even Justyn has to hang back to get that wheel into the air.
Specification of the 1970 Ossa Plonker...
Engine: Two-stroke, Piston Port

Bore & Stroke:

72mm

x

60mm

Carburetor:

24mm

IRZ

Carburetor
Compression Ratio:

9.5:1

Ignition:

Flywheel Magneto

Displacement:

244cc's

Primary: Gear Driven

Transmission:

4-Speed

Starting: Kick Only

Chassis: Chrome Moly, Double Down Tube

Suspension:

Betor

Fork /

Betor

Shocks , Steel Swing-arm

Brakes: SLS Drum, Front & Rear

Wheels/Tyres:

3.00 x 21

/

4.00 x 18

Horsepower:

18HP

Wheelbase:

52 Inches

Weight:

218 Pounds
Has always, more Later...
And report from the Justyn's when they can get it to me after Covid...
Now Here...
Another "Norek" Trials bike test brought to you by...

Updat2023...05...