Lets Build Mini-Otter Number Five
21/07/2019...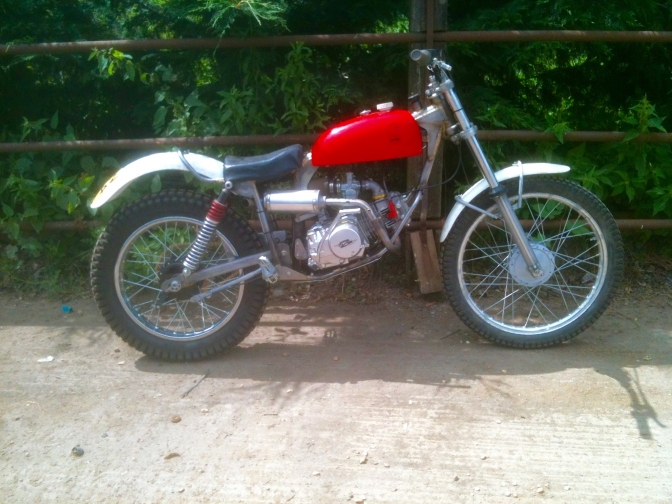 This is Number Two...
~~~~~~~
So Number Five..
With saying I would only build one Mini-Otter Super-Cub at one time.
I now find myself building number five.
And also improving the jig it is built on, for ease of a production run if that now comes later.
Five you say, yes I know but every one has either had improvements to the design or modifications that seemed better at the time, size and make up of tubing and even section. But you always find something not to your liking.
I keep looking at number two and think it is the best, but it has its faults..
So anyway you have probably seen the write-ups on the others in the collection that it now is.
The main reason to build number five now is that I needed a frame to bronze weld up using the new gas fluxer.
When I spoke to Howard Fawkes a couple of weeks ago he said, " well all you can do is practice the technique you now can do using the fluxer".
So instead of wasting rod and materials on doing practice pieces I thought I would bring forward the next Mini-Otter frame.
I have spent ten days getting the jig and the tubing into that the way I want it, and in theory, this frame should be best of the bunch.
It is now tacked together in the jig, and with another four or five hours work should be ready to come out of that jig and into the other shop for welding with the fluxer.
I have this week bought another YX 140 engine for the bike and sorted wheels and forks. I just need to make another tank cover and seat and construct an exhaust system… but that will take another week.
But the frame welding is the main importance, and we will see how that goes.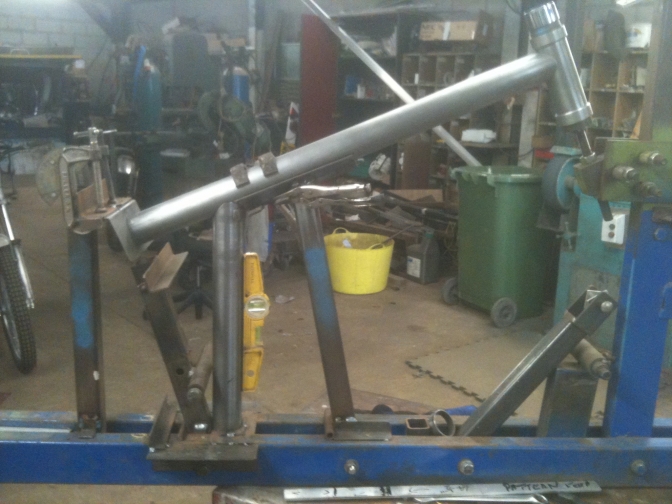 Jig modifications to help keep frame tubes true...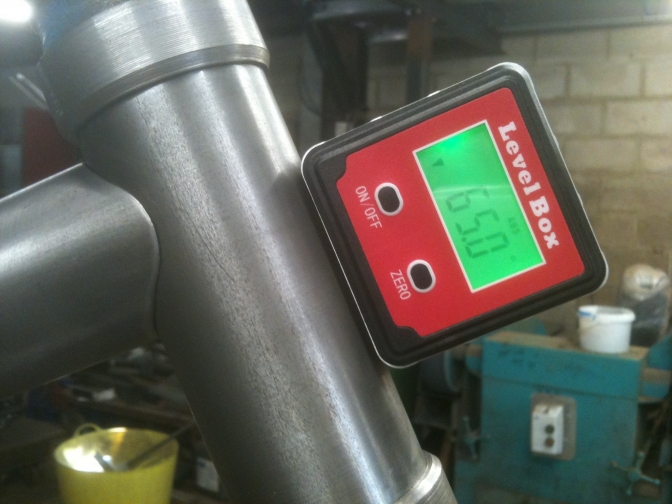 I have now set the steering head angle to 65 degrees.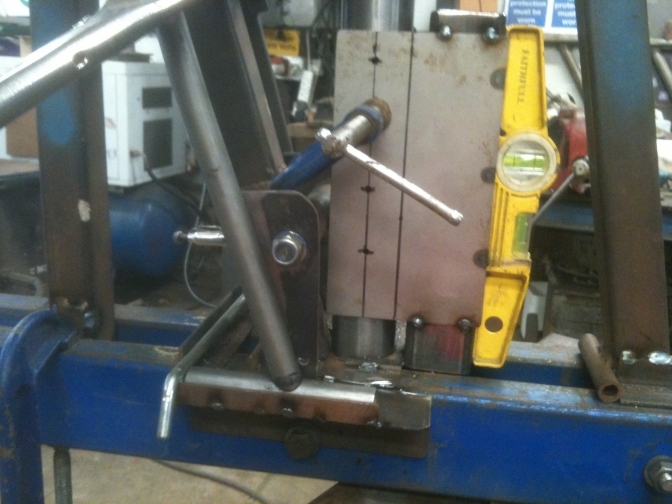 A new jig attachment to get the engine mounting tube holes more accurate.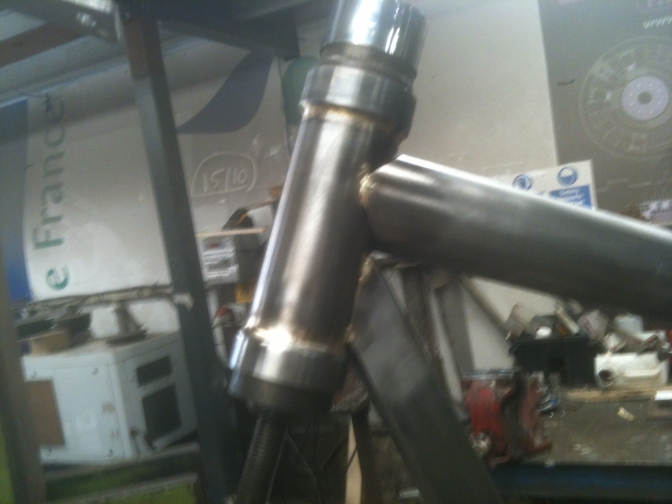 Bearing cups brazed into the steering head tube. and frame tubes tack bronze welded.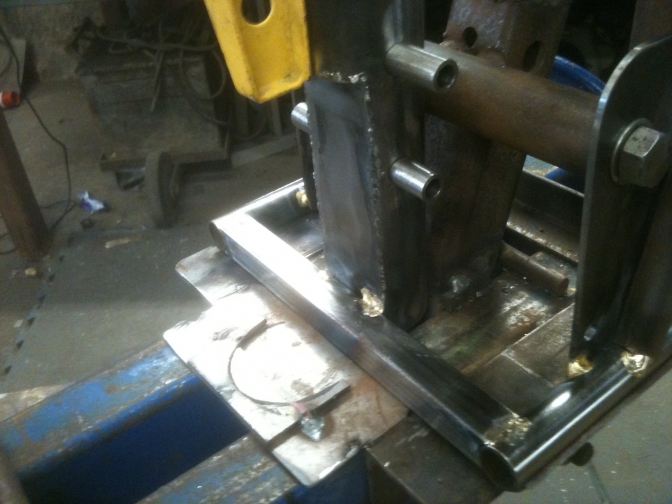 Bottom frame cross tube now substituted for square section, for better support and convenience.
I have gone back to using the bolt on footrest plates now that incorporates the rear brake pedal mounting as well.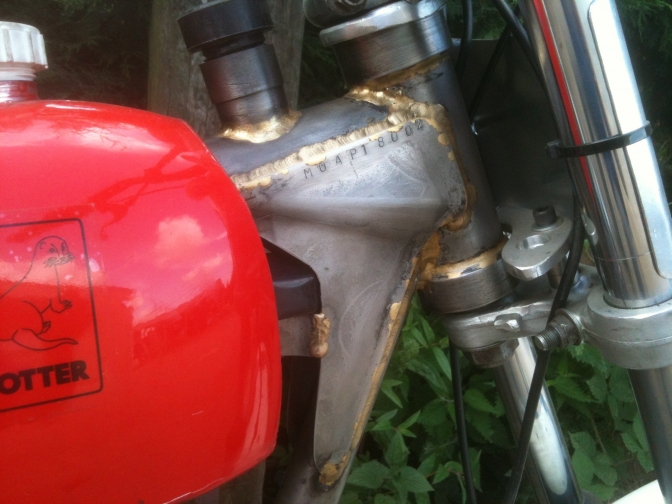 This time I must remember to stamp the frame number onto the headstock plate before I weld it, forgot on number four, and had to make a separate plate as it is impossible to get a good stamp when fitted as the large tube bounces.
This is number two again as you can see.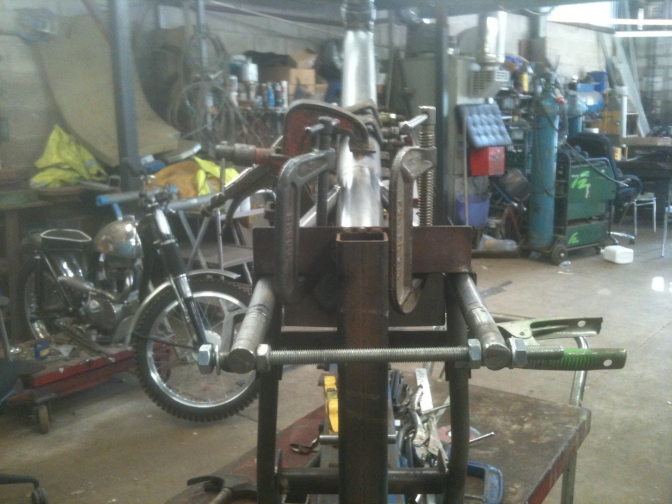 A jig was constructed to keep the seat tubes parallel before tack welding the mudguard loop then slides nicely into these tubes without effort.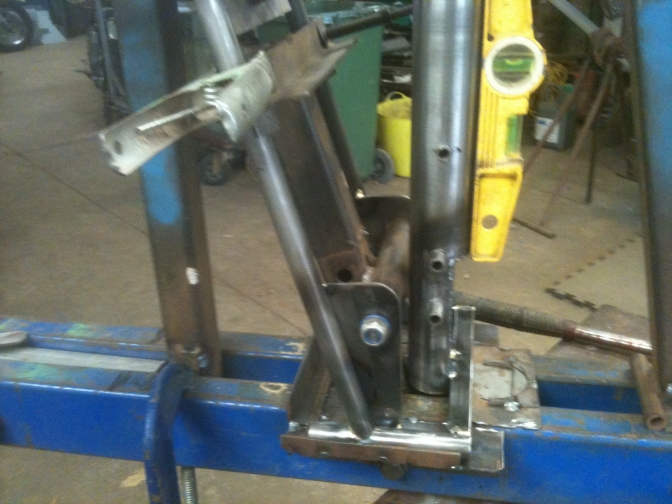 The critical part in the set up is to keep the engine mounting and swinging arm pivot holes parallel... and this is not easy even with the new jigs.
More Later with weld photos.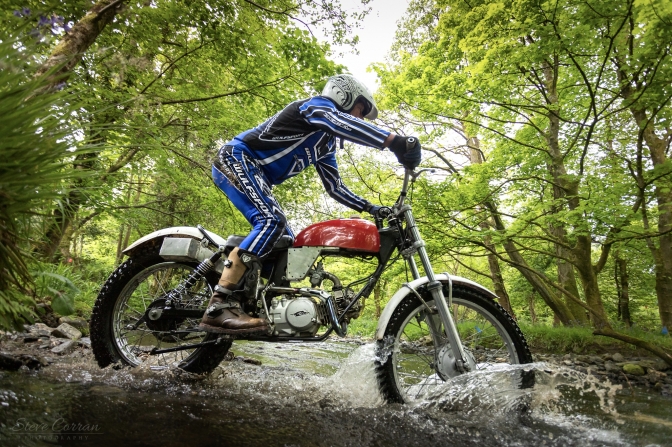 This superb shot taken in "Bimms Field" Isle Of Man by, Steven Corran ©...
Of Brian riding Mini-Otter One, just makes you want to keep on building these little machines ...
There has just got to be a market for them in the future.
16/08/2019
Had a good couple of days now on Mini-Otter Number Five...
I hav got the jobs done that seem to take an age on these builds especially the bash plate carrying frame work...
This is not straight forward and allowances have to made for exhaust clearance and also clearance to take the side covers off of the engine with out taking the engine out or frame work off...
The good thing is though you can take this framework off quickly for repair or replacement... And also to remove the engine quickly...
I have thought about these, eventually we seem to have got them right...
The swinging arm also has the quick release swinging arm pivot bushes that makes replacement of these too a simple task without using heat and swear words...
Good stuff really ...
I do like these little motors and they seem to get better with every one I buy...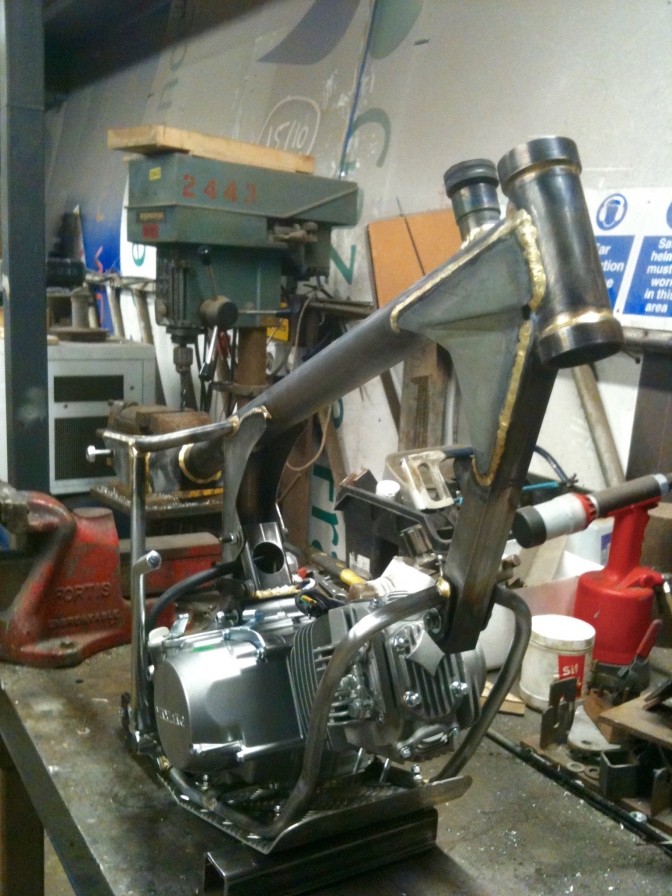 Bronze welding is now another step forward using the Fluxer...
More Later...
05/12/2019...
Number Six
Well if you have looked at the New YouTube Channel you will now know that I have built Mini-Otter frame number six.
And this is now in the second workshop, tacked up, ready for me to use the fluxer to finish the bronze welds...
I must say, that I am now pleased with the frame we have got too. And the time has come probably now in the spring of next year, to build up a few of the Mini-Otters for Sale... I have interest, in this happening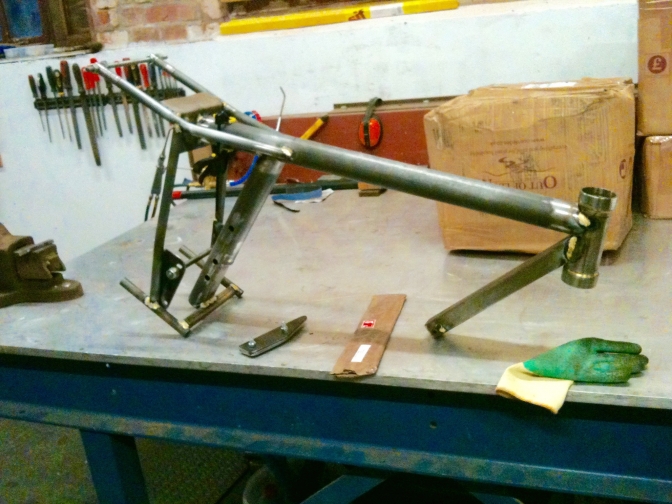 from both here and abroad...
So watch this space I think is the term...
~~~~~~~
More Later.