Gary Britton's Second C15 BSA trials build.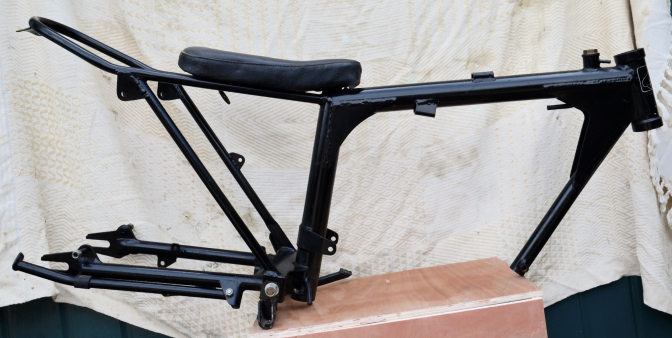 Gary Britton's BSA C15 Number two Trials bike build.
After the Faber framed bike I thought about building another trials bike for my son.
So I bought a half finished project. A C15 frame, four stud forks, rebuilt wheels, tank, seat, and handlebars.
And most important a rebuilt engine.
Should be simple?
I thought the motor looked to low in the frame, when fitted , so I converted it to alloy plate mounting's, so I could lift and move the engine to the left.
Now there was a big gap between the engine and the bottom of the frame, so I cut out the bottom frame tube.
(I guess they won't let me enter the Scottish Pre 65 Now?)
I needed a bash plate so I made up a cradle to tie the front of the frame to the rear, and to protect the crankcase.
I cut and lowered the rear shock mounts of the sub frame.
And lengthened the swing-arm to prevent mud build up, now it started to look right.
No science was involved in all this but "if it looks right then it probably is right is the theory".
The rest of the build was easy, the front end was the same as the Faber bike. With the BSA/Triumph four-stud forks fitted.
I made a few "trick" parts, like the oil feed to the head (Very neat bit of work Gary) and also the silencer.
I fitted the motor and it started second kick.
That's the new Amal carb and Electrex World ignition for you.
Apart from wet sumping a bit, it's proved a very good engine unit.
(Sounds and feels better than my motor).
The fibreglass tank soon gave up and was replaced with an aluminium tank from Sammy Miller Products.
My son has had a couple of top three places on it, so it works quite well don't you think.
~~~~~~~
Charlie ~Oo> You should be proud of another really good BSA build Gary, and the bike must be good for Jay to keep climbing the competitive ladder he is.