The Project 8X4 Peng Jian Build.
By Brian Brown.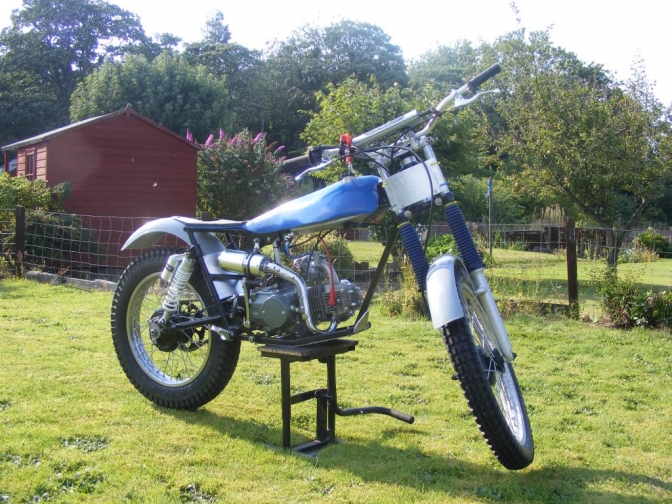 This is the spirit of the build that I set out to create with my "Mini Otter" Project.
And Brian has took up the mantle and created this Brilliant little machine.
Nice one Sir.
Here is Brian's Story.
Hi Charlie,
Here is a wee bit more info about my project "Peng Jian" trials bike.
I have been interested in motorbikes from an early age.
First road bike back in 1982, had a go at road racing (was never any good at it but enjoyed working on the bikes).
(Motor Mechanic to trade) owned a couple of specials, Spondon, Tigcraft and a Hejira.
Never had any interest in Trials ?
Until an old work colleague had told me about the "Pre 65", went up to Kinlochleven and had enjoyed what I had seen there.
I thought I fancy a go at these trials thingy (that was 2010) So bought a wee Bantam and made what I thought,
Was a trials bike "Pre 65"-that it was not, Mk 2 was slightly better.
Sold that and bought a Scorpa SY250 and learned
How to ride,
Sold it at the end of the season and bought a TY250, and half a C15.
I trialled the TY until the C15 was built.
I rode the C15 BSA for 3 years but it would never get round the "Pre 65", after another DNF at Alvie for the 3rd year
on the BSA enough was enough, the BSA had to go.
Meanwhile I had already bought a pit bike engine to build a bike
Like the one I had seen on Trials Central and "BSA Otter" site (yours Charlie).
The build took me 2 months from drawings to
Final build.
I built a jig from an old heavy duty roof rack (box section), bought the steel for the frame from eBay not the
Cheapest way to buy it, (but convenient), and a metal chop saw from Screwfix.
I tentatively cut the steel and got the
Angle of the top tube upright, and spot on, (couldn't believe it ,happy days), next a piece of tube for the headstock, tack welded
Everything up before taking it to work to finish off.
Things where starting to take shape and what was an idea floating
Around in my head was now a motorcycle frame.
Biggest headache was turning the inserts for the headstock bearings,
Eventually I got them turned and pressed into the headstock.
The rest of the build was pretty straight forward with the
Odd head scratch now and then but nothing major.
I used Suzuki GN125 front forks, (brand new £76), Suzuki GN fork yokes, Suzuki KE175
Front wheel and TS100 swing arm, early DT125 rear wheel, and piggy back shocks, and a 125cc pit bike engine cut down exhaust.
Montesa Tank with fibreglass seat/tank cover.
The finished bike weighs 88kilos,has a 70 degree steering angle and about 12 " ground
Clearance.
Today 27/September/2015 ,
I finished my first trial on the bike, and was well pleased with it.
I had a couple of riders try it today both
Have vast experience in trials.
One a Six-day rider/Scottish schoolboy champion from back in the day (old school) that had nothing
But positives to say about the bike, and reckons more club riders should be riding bikes like it, as it is more fun than you can shake
A stick at (his words).
The other lad said the bike was different but came off of it with a huge grin on his face.
Thank you for interest
In my wee bike.
I have named it a "Peng Jian" (Chinese for shed built). It is a work in progress but has to be one of the most
Satisfying things I have done, and cleaning sections on a bike that I have built was just Braw (Good).
It didn't break the bank.
Just
Shy of £850,the money is secondary it was the experience that is Priceless.
Cheers The Noo, Brian.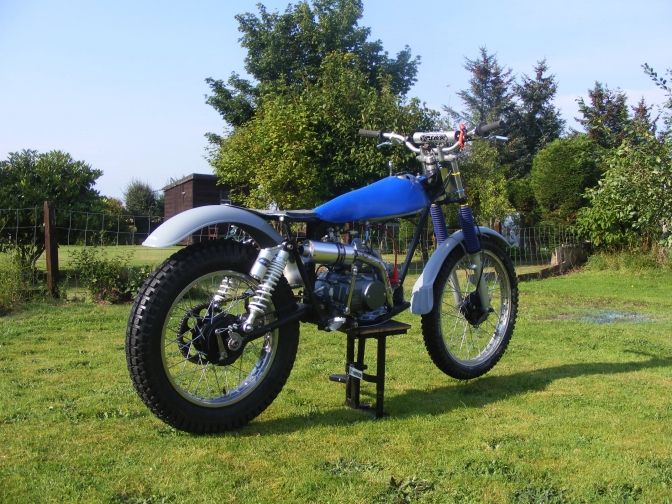 If you have piggy-back units going spare, use them...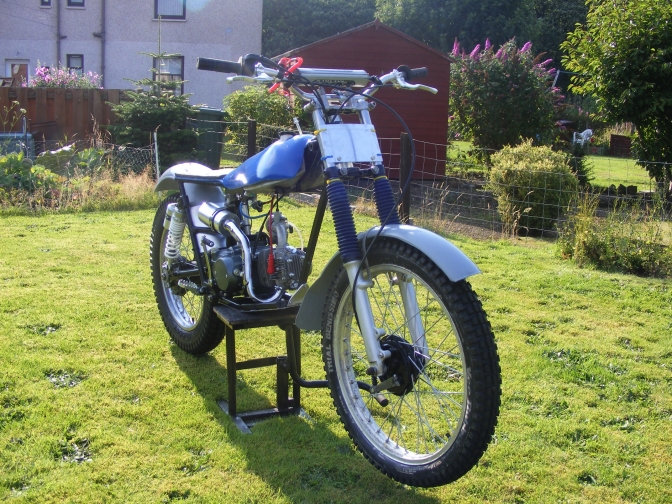 I do like the Suzuki GN125 forks and they are cheap I checked them out.
I also have one of the hubs and to be honest it looks "British"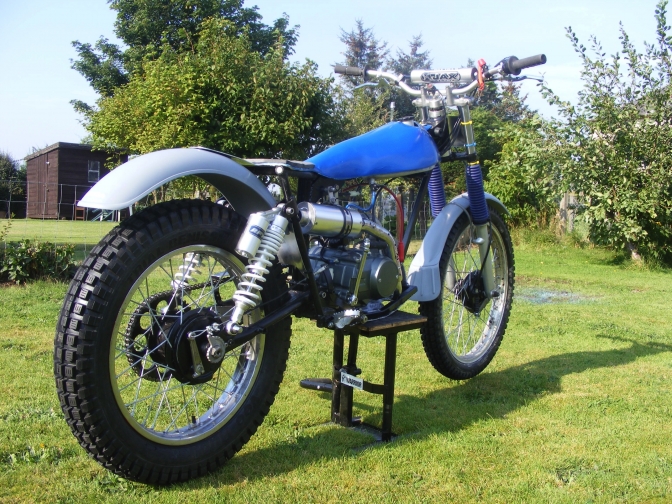 Brilliant Brian...
And you have shown what enjoyment you get, like I have said, many times from building a little bike like this.
First class job Fella.
And a credit to you,
As you can see if you spend a bit of time you can find the right components to build a clever little trials machine, that Brian has said does not break the bank.
There now should be enough pages on this web site to give all the information you need to be able to create your own little masterpiece.
And if you need any more information, You only have to ask OK...
Here is another couple of pictures of Brian's bike to help you decide.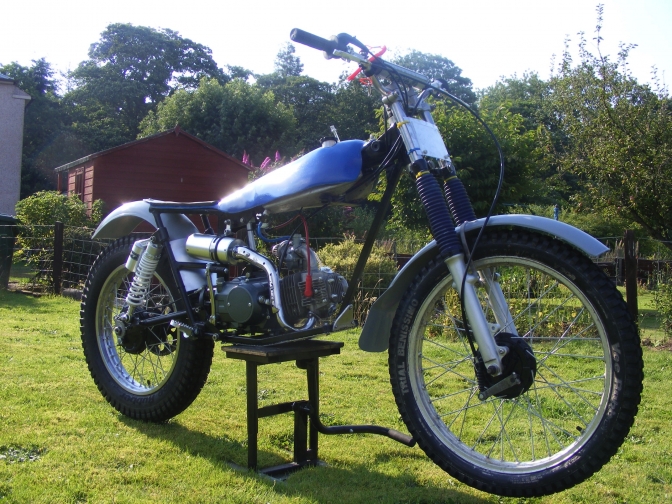 Good job there, and produced a nice little bike.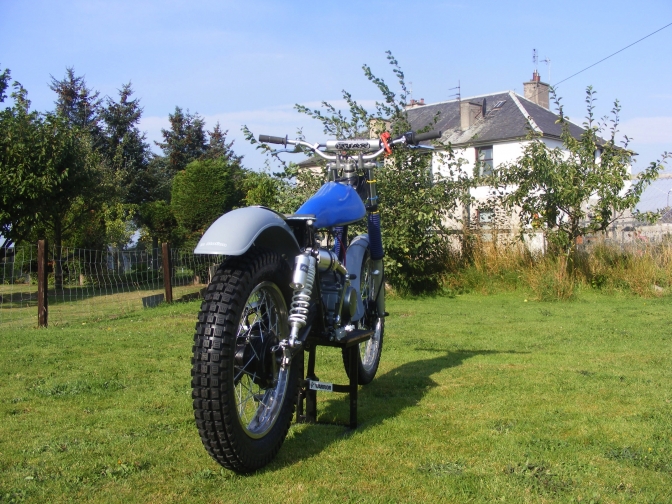 I must say the use of the square section tube has been a real success, but I always said it was better to work with, to get things square.
Here is a bit of footage Brian has taken riding the "Wee-Bike"
Now just see how well these little engines perform, you wont believe how Snappy they are and one wee problem is taming the little beast.
We need a bit more footage Brian.
And an update when you have time.
Enjoy the little Video as it gives an idea what they are like to ride and It looks like Brian has made the right choice with the forks and the angles the way it steers.
OK... OK... I know this is Brian Brown's page and this is not Brian's bike, but I needed to put this little Video somewhere on this site, and this bike build is has good as Brian's and what if it had a 140 engine fitted then it would certainly fly off the boards.
Good though hey.
Bet you didn't know that these little engines are good for other "Cool" projects.
15/09/ 2016.
~~~~~~~
Brian has now built a MK Two version of "Project 8X4,
This utilises a stretched BSA Bantam D7 frame, and could now be classed has a "Britshock"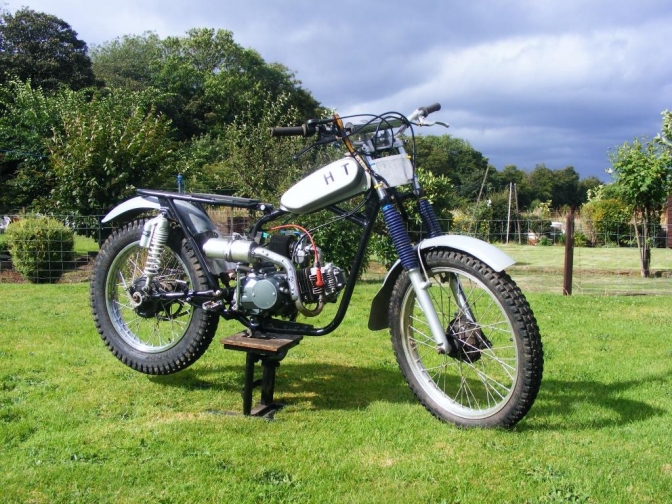 Good job Brian "Simples" you could knock a bit more ground clearance off the frame by fitting a straight tube, under the engine or even two small tubes?
And later perhaps reduce the seat height with the tried and tested BSA Works method?
Just cut the top seat rail to suspension mounting joint on each side reduce them by 2" and weld them back up then drop the seat tube front mounting by the same amount.
Job Done a True "Britshock"
~~~~~~~
An International mix.
Here is another Idea Brian!
A TOMOS AT, 1987, 50cc.
Fitted with a Lifan 110cc motor,
Square section frame.
Watch This Space.
10/07/2019
A Change of Plan for a "Wee Bike"...
~~~~~~~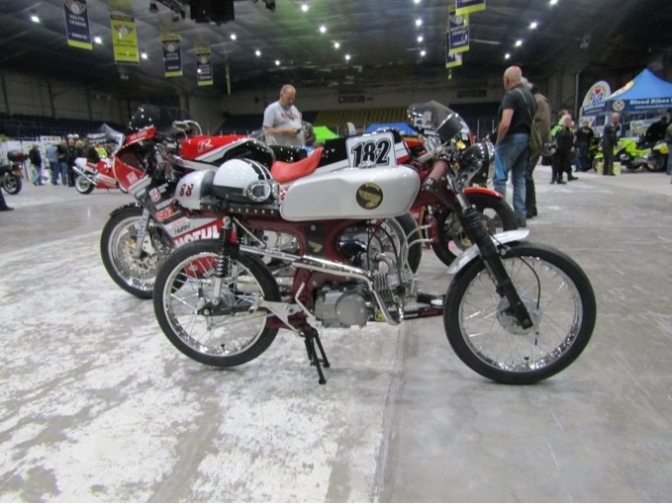 Evening Charlie,
I bought the S90 frame from Austin,Texas last year.
I had an idea of building a trials bike "Ken Ives "style.
Having sold Peng Jian mark 2 (Bantam Framed) and not ridden a trial for 18 months I decided for a wee change and built this wee Cafe Racer.
It's a Honda S90 (mid 60's) fitted with a 4 speed 125cc pit bike motor,,,,
Honda Cub rear wheel and a Suzuki AP50 front wheel.
The front end is Honda CBR 125, tank came from China and the seat I made myself along with other bits and pieces (the rear sets are made from Kawasaki Uni-Trak dong bones) .
I am currently riding Pit Bike Supermoto which is a hoot.
Cheers Brian...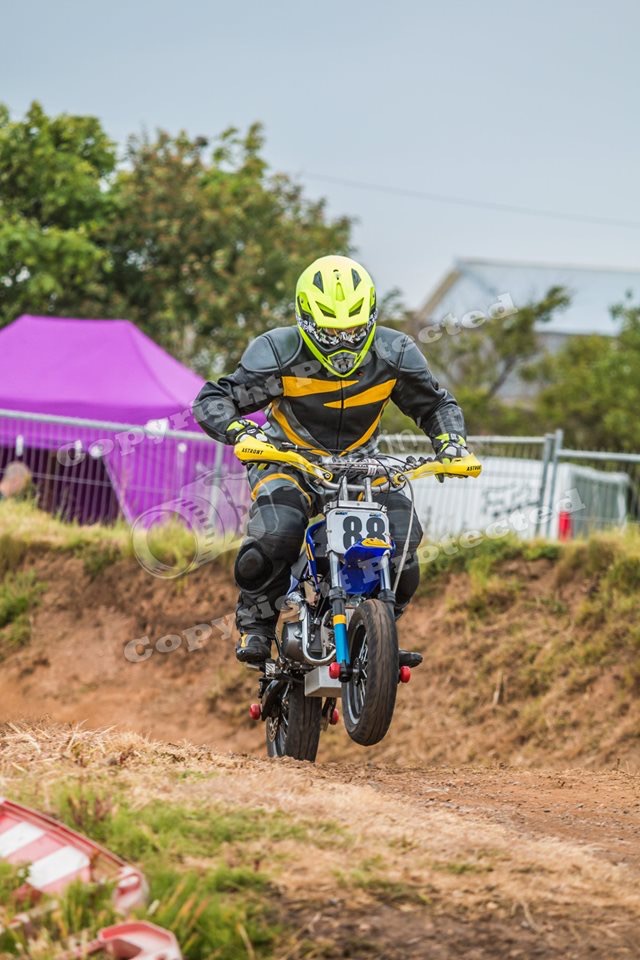 Charlie~Oo> Hi Brian keep following your dream... And you seem to be on the right Track...
Nice one again...
More Later.
updat2023...06...