2020
Welcome,
Benvenuto,
Bienvenido,
Bienvenue.
To BSA "Otter".Com.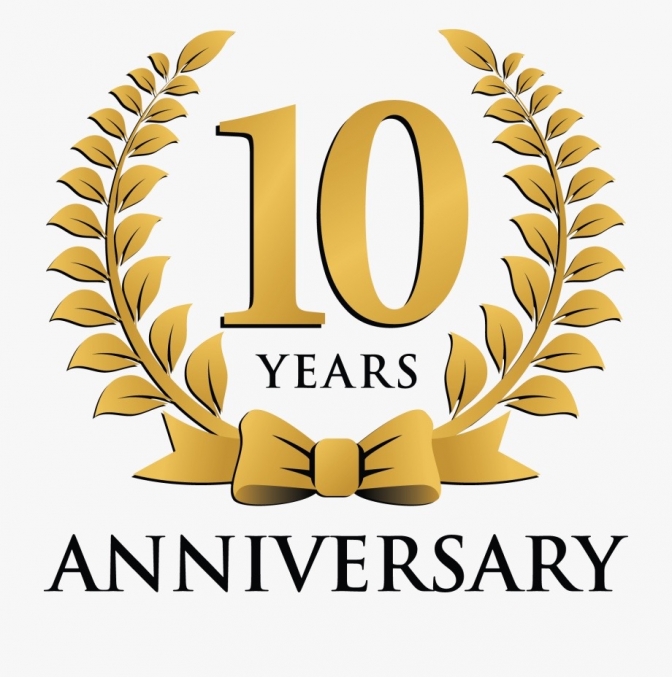 And into a New Decade...
This is the machine that instigated the BSA Otter site...
Yes the Mk 1 Faber framed BSA G engined Otter,is what got me started on this journey...
The photo is of the bike when I first saw it at my brothers,
Lee said "Rich has got you a trials bike being as you are not too good it will give you something to do"...
He was right It did...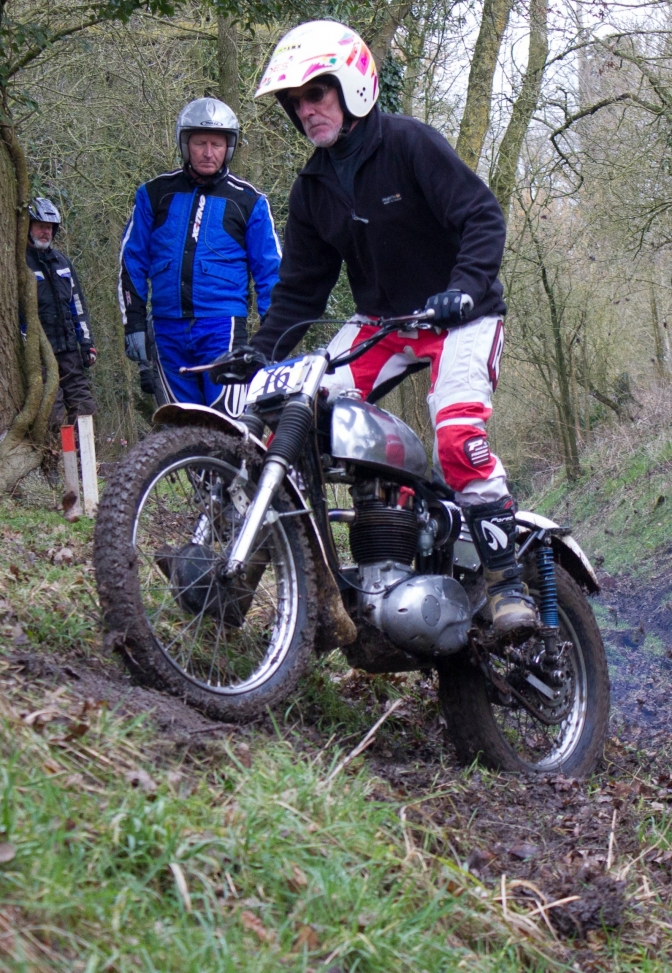 And since I set up this web site, this guy has been with me on the journey all the way from the first day...
Ian Ballard aboard his Foster framed BSA B40...
More Later....
Tough year everyone....
"Lets Get Through This"
______________________
~~~~~~~
30/03/2020...
Richy's Monday song now on his page.
I have brought his page listing to the top under this page for your convenience...
More pages updated later today I will let you know, could be some new if I find time... Mike Waller build updated.. stay safe Mike...
29/03/2020...
Richy's Song for Sunday...
He gets a page later...
NEW."The Richy Vida Page" now on...
28/03/2020...
Right .. had this little story told me tonight, and I did not look out of the window yesterday as I was busy self-isolating...But apparently when we were told to stay indoors unless we were a vital cog in keeping this country alive, a guy in the car-park was fitting tinted windows to a car in the car-park that another son of a resident that does not live here up the road had just bought. And today he came back for payment. So two journeys for nothing. Are we really Great Britain if this is going on ?
Have we really got a conscience? Bring in the troops, if nothing else gets the message through...
We need to beat this before half of GB has perished...
Just send a mail and say "Yes" if you agree...
char7748@tiscali.co.uk
I will give you the numbers later....
~~~~~~~
Heres an old session from Richy Vida and band..Enjoy, there will be more...
Fraser Honda and The D.O.T. trials bike pages updated...with News items.
I have just been taking a stroll (scroll) back through the 2017 and 2018 News pages... was that really that good those years.. with a bit of sadness at the ends...
Should try and get Richy to cover the ToTo hit "Africa," and It Bites ,"Calling all the Heroes" for us...
27/03/2020...
This Guy has the spirit of Great Britain... Thanks Richy...
Keep Safe Everyone...
26/03/2020...
Don't forget to "self isolate" or your last trip could be in one of these...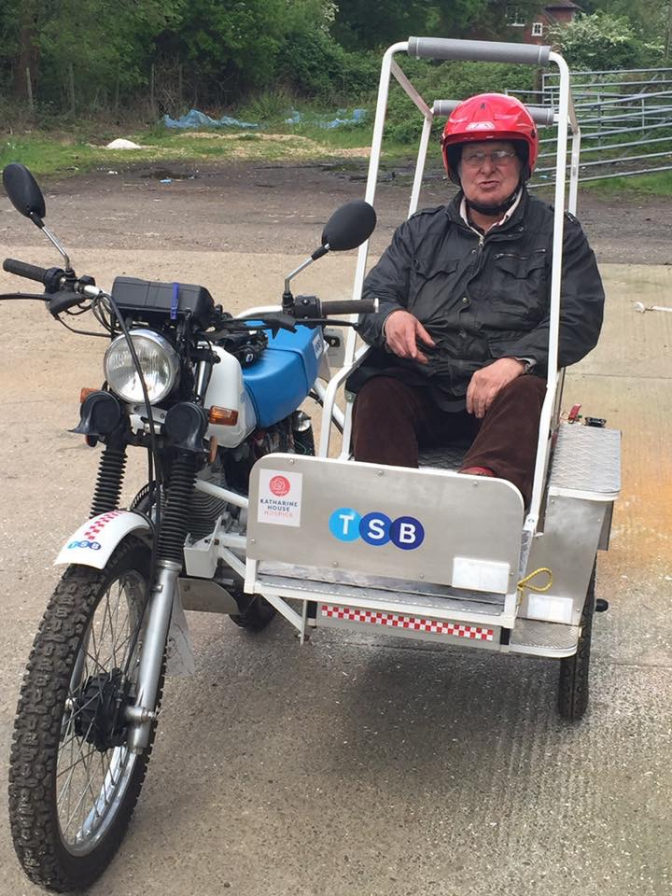 ~`~`~`~`~`~`~`~`~`~`~`~
Emergency Bench finished...
What I did forget though was that I had NO screws here at home,so spent two hours looking for anything that resembled the missing items. I found stuff I had forgot about years ago and some that I have just replaced because they were lost...
Anyway we got there in the end...
Might make the wine tomorrow.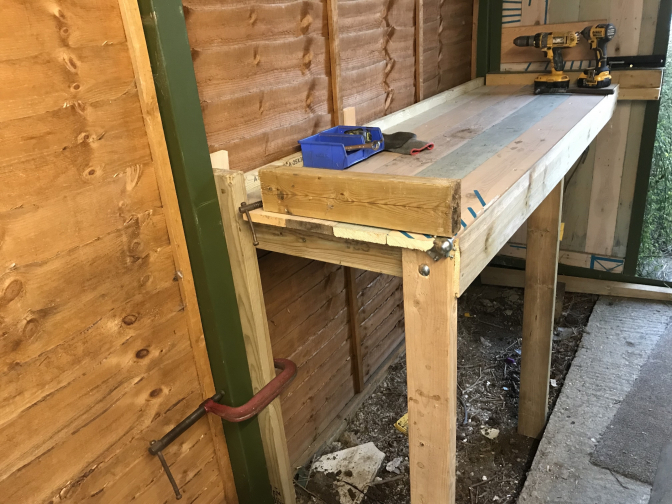 25/03/2020...
Lock Down...
So I yesterday fixed the greenhouse roof...
And started to sow fast growing seeds that I had, and ordered more.. they only come in envelopes so just sanitize these when they arrive.
List to grow...
Hi, Seed list for fast growers..
Bush Beans 30 days (like little runner beans,)
Spinach.. 30 days..( New Zealand type best).
Carrot Quick.. small in 30 days..
Lettuce, any, some grow quicker.. I have cos ..
Salad leaves mix ready in 3 weeks…
Mustard and cress grow on a piece of wet carpet ready in 7-10 days… good with egg salad..etc…
Also got out the old bread maker and made the first batch of pizza dough... really good too..
Also got the wine making kit arrive so this will help , just thinking about when it will be ready...
So what I am saying Keep safe there is probably no need to leave the house if you use your head... Lets get through this together... Send me your tips for survival and I will set up a new page...
More later..
Recipes etc.. live out of the cupboard and freezer...
Emergency shed bench.. Now on YouTube Channel..
Hi Charlie
Could good old fashion hand signals be reintroduced for folk out for their daily exercise. It would be great to know what the people approaching you were going to do - come straight on, cross the road or turn into their house. You would even know if they were slowing down to allow you to pass!
Think I am suffering from cabin fever already!
Regards
Jim
PS Perhaps a list of non m/c sites which may be in interest re bike building etc. May I suggest a site from which I gained a lot of very useful and, more importantly, correct information, hints, etc via its forum.
Charlie~Oo> Thanks Jim, I suggested wearing Green Hi Vis vests for over seventies with 70+ AVOID on the back...
Keep um coming guy's...
23/03/2020...
Mikes New page up.."Back of the shed "build...
22/03/2020...
Sales and Wanted Page updated..
20/03/2020...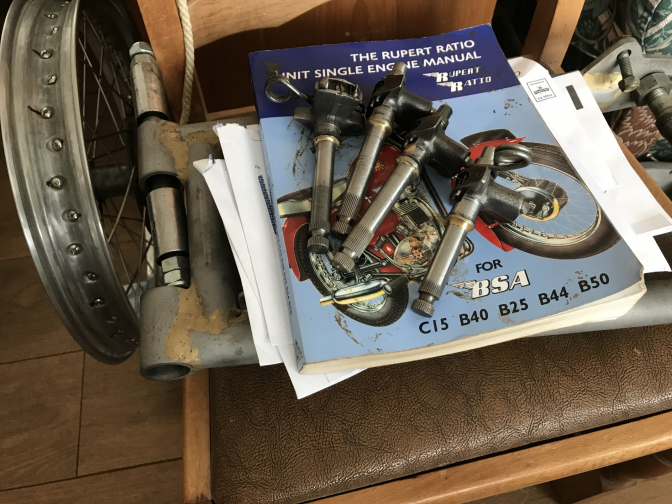 Good day in the workshop Wednesday afternoon..
Just trying to get as much done before I am restricted to stopping at home..
Not being stupid I jump in the car at home and drive the thirty miles to the workshop and back, I'm the only one using the work shop and others stay their distance... all three of them, and if I should breakdown on the journey, we have a plan, that I call my brother or son and stay in the car until he gets there.. So just being sensible...
19/03/2020...
I have just updated the Seven Best AJS Builds page.. And will be working on New and updated pages for quite a while by the look of it "Stuck-at-Home" they call it , but I have got most parts to build a few engine's and bikes...Just hope I don't get to bored...
Let me know what you are working on in your shed if you are also isolated...
we will do a weekly update on your builds if you like...
14/03/2020...
I have been playing with the Poppy Windmills again , Take a look at the YouTube Channel...
12/03/2020...
A New little video on the YouTube page ,With a little project I have been asked to design and develop...
09/03/2020...
Episode Eight of Mikes Back of the shed build...and more updates later...
08/03/2020...
This week I have mainly been trying to keep a-head of the game ,now that spring is here...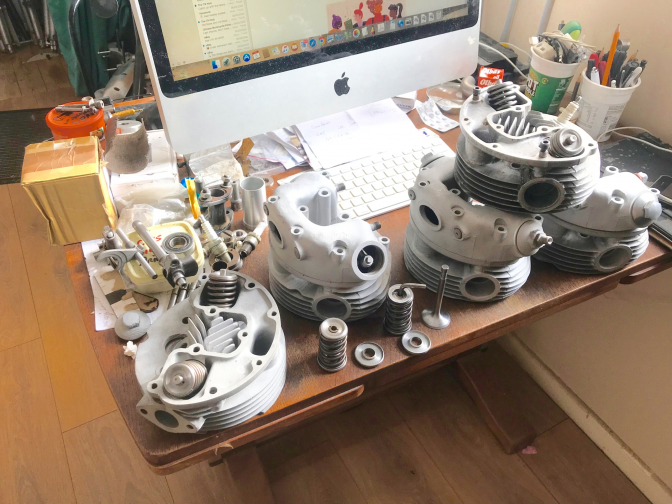 More detail on the engine pages later, build time this week...
Otter Event on May 9th More detail later..
Need Foster Otter Owners.. Contact me if you have one and the date is clear Please...
02/03/2020...
Mikes Episode Seven of the Scrambler build ...
and more pages updated.. a Nice Bantam for sale on the BSA Otters for sale page.. working on a couple of new pages when I have time..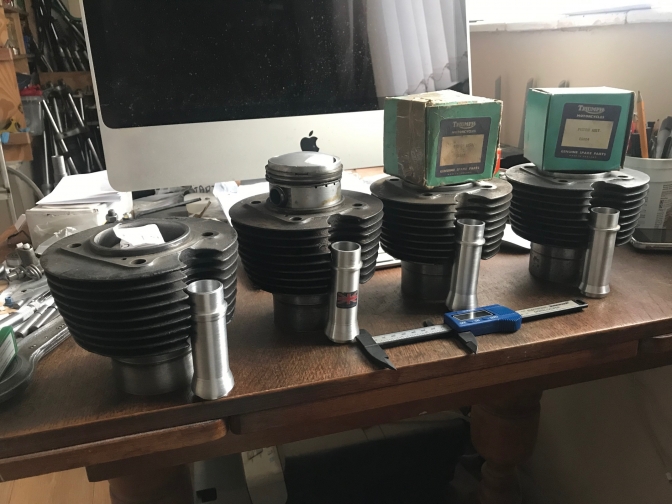 Just thought I would show you what it is like when the engine room at BSA Otter is running on all four barrels...And also...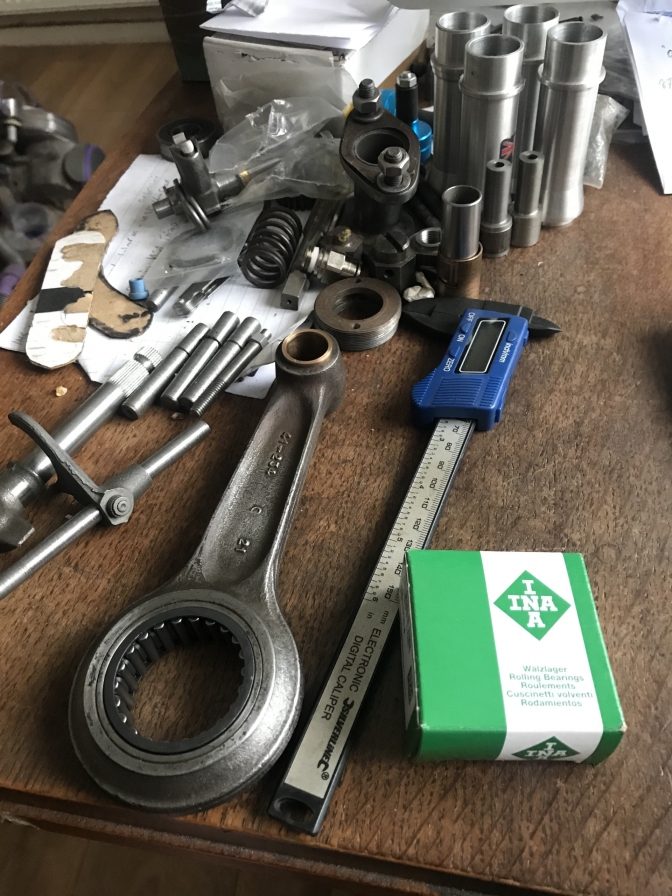 See what the lathe has been churning out,, small engine parts that are near impossible to find.. And a big result, a new big-end needle roller bearing all for under £15 as long as your tracks are good... Also made the new the small end bush to fit one of the Triumph pistons...
I will update the engine pages with more details ....
26/02/2020...
The Walwin BSA 's page update and more...
Mikes, back of the shed build continues...
19/02/2020...
You Will Like this video...
If you remember we were trying to Find Joe Maxwell a set of wide-ratio gears so the he could get a couple of New CCM's ready for Telford.
Well he got there as you will see, and sold a frame kit within an hour...
Also note the Faber Barial frame on Pauls Balco Triumph...
You can still get them from Howard too...
Looks Like A BSA -Triumph year to me...
Also Mikes, Back of the Shed new episode on...
15/02/2020...
20 pages have been updated and re-worked this week from pages beginning with D down to the start of T.. today the Dan Shorey Bultaco Sherpa N page...
Also if you take a look at the bottom of the page at the viewers counter, you will see that we now have over 500,00o views...
This means one hell of a lot to me and makes the site well worth the eight hours a day I spend on the site most days...
A BIG thank you to all of you that like the pages too...
Lets make it BSA Otter.com better still...
11/02/2020...
New Video on the YouTube Channel ,with a quick look at the old Banbury NOBAC trials section "Nobby's Nuts"...
09/02/2020...
Today I have updated a good few pages mainly starting with the letter "D". and also the GOV is Gon-e Page.. plus more..
05/02/2020...
Here is a gem for you.
Spot Foster Otter Number 33 at the near beginning...
Nice ride Mike...
Also if you are interested...?
And you should be...
My club is holding a "Des Smallshaw Classic Trial" in a couple of weeks, good to keep his name to the fore. Details on www.xhgtiger.org.uk
Regards
Mike...
Also a Quick video about widening rear Bantam/Cub hub's on the YouTube Channel
03/02/2020...
Pages updated
BMCA year for Al, video on that ...
Greeves motorcycles...
Replica John Draper Cotswold BSA...
BSA Bantam hub made wider...
Mike's Back of the Shed build...
And More...
28/01/2020...
"As Seen From The Sidecar" Pod-cast on the YouTube Page and also on the "From Russia With Love"page with a better insight into the World beating story...
New Page , Justyn Norek's Greeves Anglian...
27/01/2020...
Mike's "Back-Of-The-Shed build, Episode three is on...
26/01/2020...
New Page Up... Diego Bosis 125 Fantic...
21/01/2020...
There are a pair of Fraser Hondas for sale on the
"BSA Otter For Sale Page"...
I also have someone looking for a BSA Otter if there is one for sale?
contact me...
20/01/2020...
New Page... "Mike's Back Of The Shed Build"...
Mike Waller builds a scrambler out of parts lying around the shed...
16/01/2020...
I thought I should let you know what I have been doing for the past couple of weeks...
Well making BSA engine bits the parts I just can't find... or it was more economic to set too and machine the parts myself...
I have four BSA C15 engines a B25 and a G type just missing small parts... like selector shafts, and spring retaining screws etc...
And the more I leave the builds waiting for these parts to eventually come a long ... Or not ,the engines just sit there being unfinished...
I have now also got to negotiate a price for four Electrex World ignition units, and a Belt drive clutch assembly from Pete Kirby for the G engine..So as you can see there is a fair bit of page updating to do with this lot too.
So not just been sat trying to sort this computer out...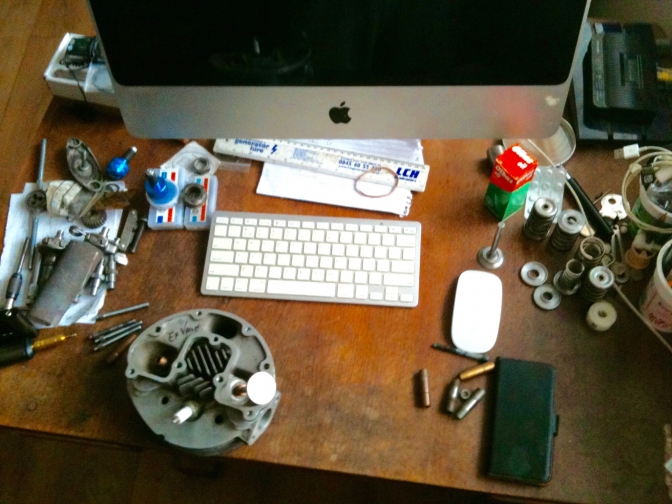 Also "The Jerred Honda" Page updated......
12/01/2020...
Pages updated...
"Triumph Tigress trials bike named Vera".
YouTube Channel..
08/01/2020...
"Clutching at Straws" Page updated...
07/01/2020...
New Faber Frames Page on to celebrate 20 years of Otter Frame Building...
Mike Waller lets us know what he is building in 2020...
02/01/20.....
Ok we start off the year with a page update..
"The alloy tank" page, has been updated with some necessary information for you if you own an aluminium Tear-Drop shaped tank....
Now ASPEN fuel Page updated...
More later as always...