The NEW DOT.Trialster 1962.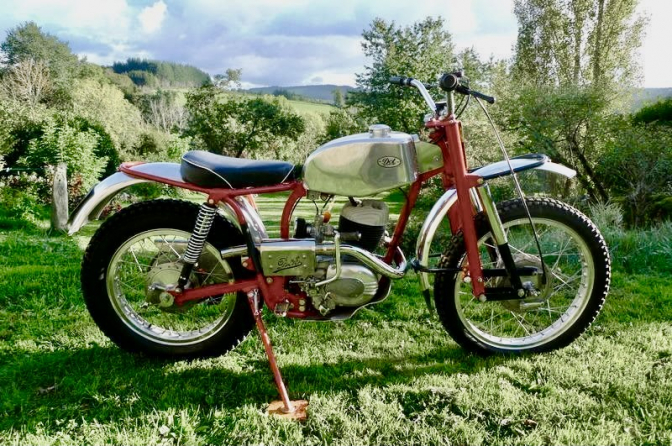 Photo Credited...
(And the rest of the DOT... Family.)
OK... we now know that the DOT. Factory is sadly closing it's doors for the last time later in the year 2016.
And sadly now in March 2020. We have lost the last owner of DOT. motorcycles and their outstanding works trials rider, over the decades of the mark.
Yes Eric Adcock has recently passed away.. RIP..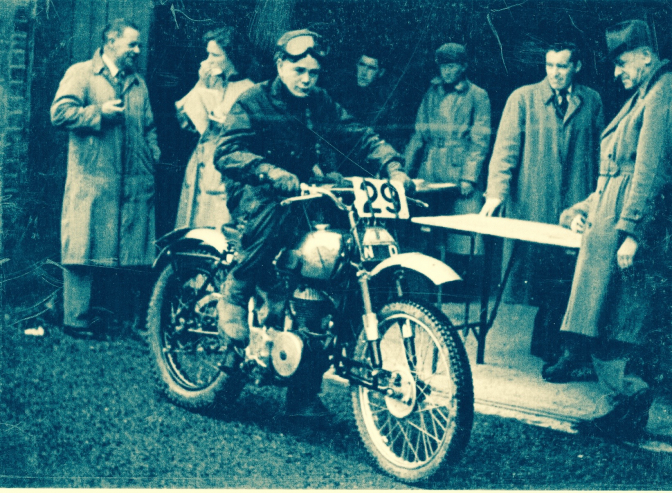 Eric Adcock 1934-2020...
~~~~~~~
But look what it could have built if it could have got the backing in 2016,
Justyn Norek Snr has the vision. Thank's Justyn.
And then read the story below.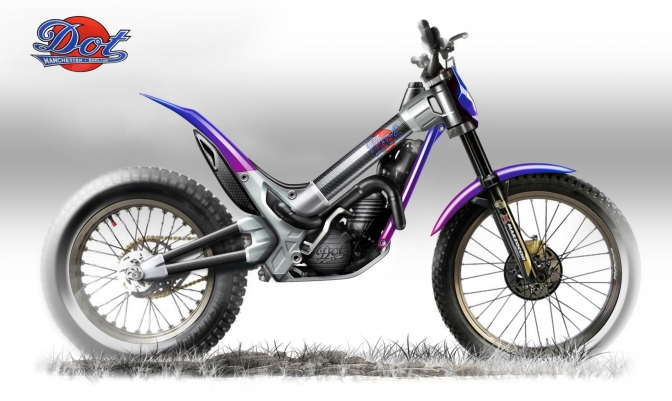 My dream trials bike at the time 1962.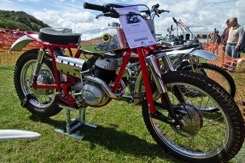 Photo Courtesy By Steve Glover - Flickr: DOT Trials (1964),
This is the resplendent Red framed polished Alloy tanked machine, that I saw in Taylor Dow's Showroom in 1962.
This one machine inspired me, with its square tubed frame to try something that no one else had done at the time.
And that was to use in my case Bright 1 1/16" ERW welded 16 gauge Square tubing for things that had never used this material before.
(Horse Box Frames.)
Rant over back to the DOT. bikes.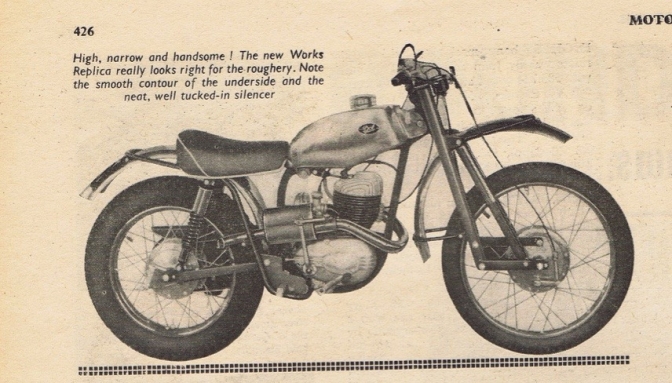 For all you "Pre 65" fans out there, "The Works Replica" DOT of 1962" Sported aluminium...
Seven inch front, Six inch back, Hubs of Italian manufacture.
(Grimeca)...
You can use these images for conformation with the Scottish trial.
With the help of the friends in the DOT. owners club...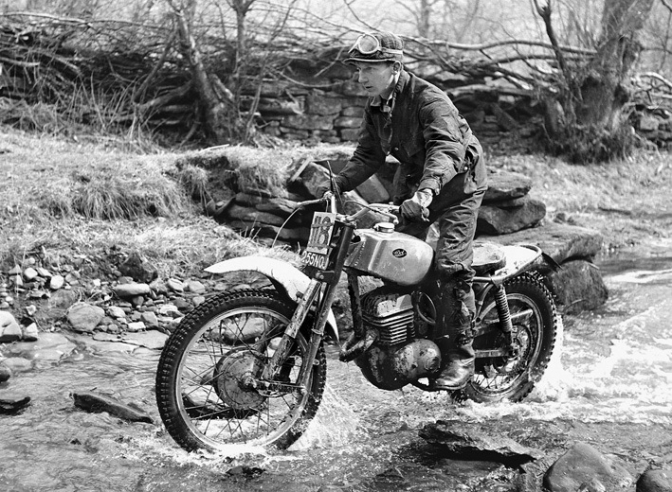 Photo Courtesy Deryk Wylde Offroad Archives with permission.
Ken Sedgley of "Rival" fame in the 1965 Trader Cup Trial.
The DOT Factory in Manchester still stands, and DOT motorcycles now run by some of the old staff, still sell spares, and provide information from the Factory.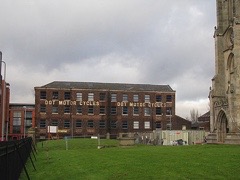 The Last Scott-Wade, Michael died a few of years ago.(Sep 2010)
He was the son of the late Burnard Scott-Wade that re began production of motorcycles after the second world war. The Production was mainly Trials and Scrambles machines, although there were road bikes.
I helped my senior works colleague convert one of these Road bikes, to a trials bike in the beginning of the Sixties.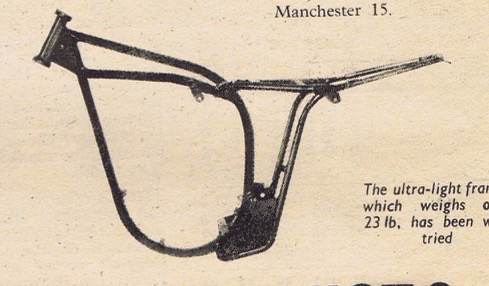 The main loop of the frame is in "Reynolds" 531 tubing 1 1/8" square seamless section 14 gauge. tube. Subframe is CDS 7/8"? I think 3/4".
Steering head was linked with steel plates to the square section tubing.
This should be out of the same steel has the Square Tubing IE Reynolds 531.
It is these plates that get modified on the updated frames to steepen the steering head angle.
Quote> Mick Andrews, when asked what DOT. stood for.? Not "Devoid Of Trouble"
But "Don't. Order. Two". Was He "Right"? or "Wrong"? ask Al. !
Best Known DOT. "Works Rider" was Eric Adcock, now 81 years old born in 1934.
Eric won 750 Awards for DOT.over the years and with over sixty years involved with the sport that is some achievement.
Eric who is still treasurer of the ACU North Western Centre, was awarded a life time award last November 2015 for his work for the Centre. Now that is dedication for your sport as well.
Eric was also a director of DOT Motorcycles LTD until 2012.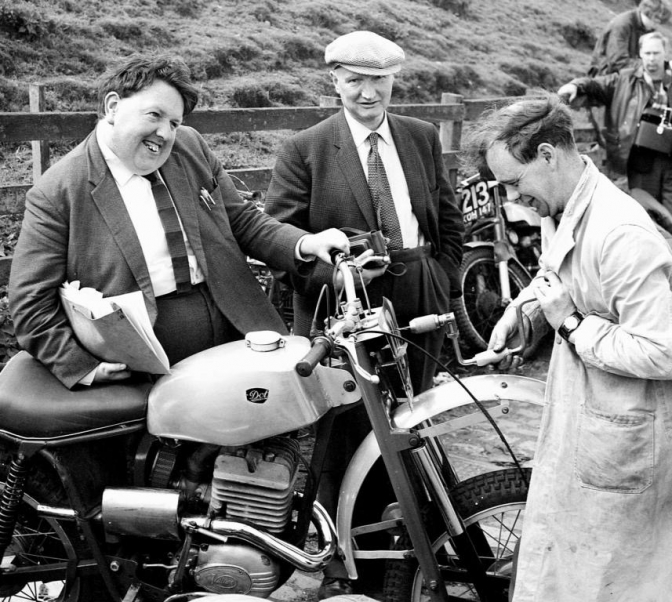 Photo Courtesy Deryk Wylde Offroad Archive with permission.
Here Eric fits the SSDT plate to his bike before the start of the 1964 event.
Michael Scott-Wade holds the DOT for Eric, Michael was two years the junior of Eric.
Father Burnard Scott- Wade looks on making sure the job is done right.
Michael was also a director of DOT Motorcycles LTD up until his passing...
~~~~~~~
Another works rider that we may have forgotten to mention and one that did a considerable amount of development work along with his skilful riding for DOT. was our own, the Late Wilf Couldwell...
Wilf was just about to get onto the stories about his time with DOT... when he sadly passed away..
I am hoping son Steve can find us some photos and may be some related tales he may have from this time, I am sure Wilf would have passed a few on....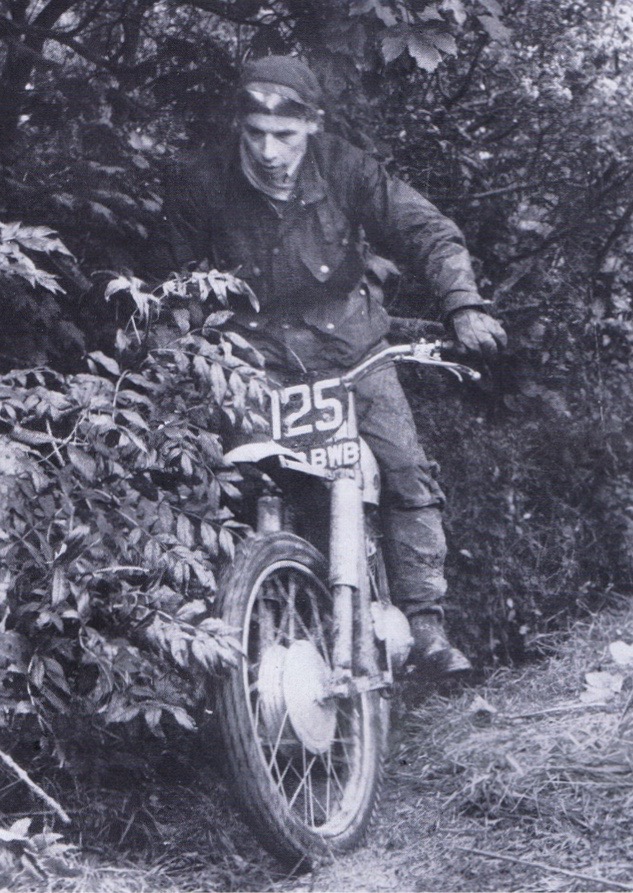 Wilf Couldwell riding one of the Works DOT.s...
~~~~~~~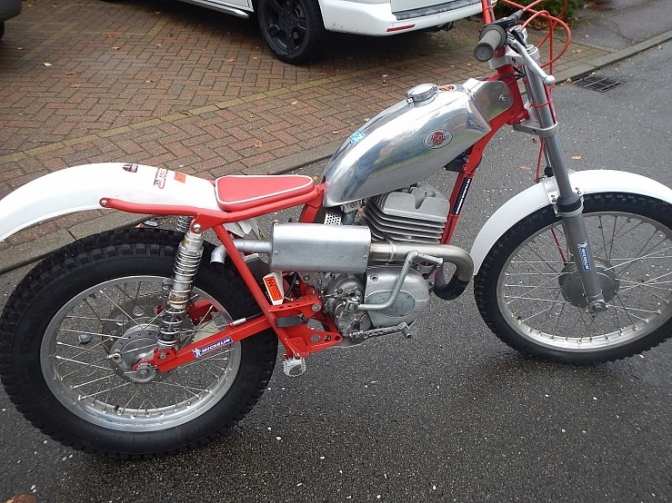 Photo Courtesy Ian Marshall.
Here is the modern take of the DOT."Works Replica".
This is Ian's Bike with John Bull, Julian Wigg, frame and "Nametab" built engine.
Probably with input from Alan Whitton of "Race Engineering". and REH forks.
Note: the hubs are still Grimeca, but have shrunk from the originals fitted to the DOT. "Works Replica of 1962.
It is such a shame that the DOT. trials bike production faded away, again because of one thing, Villiers pulling the plug on engine supply.
And if you are lucky to have one of the later Minarelli engined bikes, you have only about five others that have one the same.
I will fill in the history and the current trials scene with these machines.
And may get-the story about John's bikes, as well as Al's, from BMCA.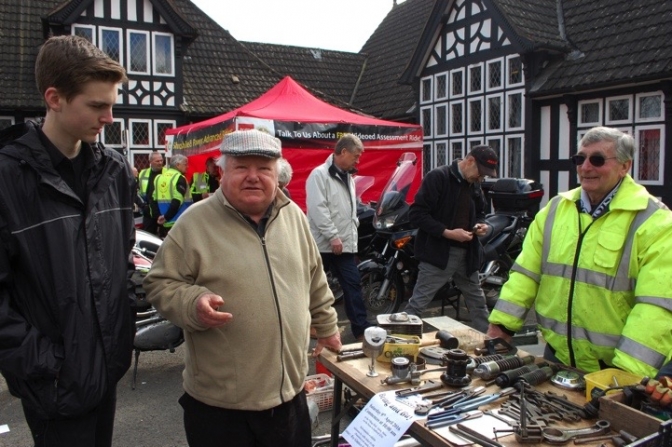 Photo Courtesy Al Ussher.
All good stuff! Dot works rider the late Phil Bright, ( died aged 83 on 4th September 2021.) with his grandson who was his sidecar passenger from Banbury, and scrambler Barry Haycock chew the fat at Wistanstow on 20 Mar 2016. Barry tells me he rode a square frame Dot, but wasn't too keen on it's light headedness!!!
He preferred the Gold Star for it's stability...
The late Al Ussher talking about his DOT. bike.
Hello Charlie, You asked about the Dots! As you know, there is plenty of info out there for anyone wishing to find it, so I'll just stick to the machines I know most...
This is my 1953 TDHX model fitted with the new Earles Type forks introduced at the 1953 Motorcycle Show.
The oscillating front brake plate and parallelogram torque arm are a Dot patent, which allows full suspension movement and braking without any interaction.
The overall wheelbase changes very little as an Earles type fork moves up and down, in comparison with telescopics.
This particular machine was found in N.Yorkshire in a couple of potato sacks... in around 1987.
Over the years it has been "developed" much as the factory models evolved, but is now more or less back to the 1953 set-up.
The forks became available on the 1954 models.
The motor is a 6E three speed Villiers, bored out by an automotive engineer, a Mr Jepson of Harrogate to accept a Villiers 1H plus 20 thou. piston purchased from Mick Wilkinson.
At the time, there was talk that we might end up with a pile of very large washers, by boring the 197 cylinder to give around 225cc, but we didn't!
Every now and then a set of new old stock Hepolite rings from Villiers Services is fitted to keep her pepped-up.
Wide ratio gears are fitted. Ignition is still on points, with the high tension coil, a Villiers item thought to be from a lawnmower, under the seat, together with a Bosch condenser from an Opel Manta...
Flywheel is a high output one, sourced from Villiers Services.
She has taken me up and through the "ends cards" on the Pipeline, with a wee bit of help from the Dunlop Wellies, and won the Yorkshire Classic Club Two Stroke Championship in 1993, 1994 and 1995.
No Vintage Class in those days...!
A very reliable machine and used in many Yorkshire Classic, VMCC Taverners and BMCA trials over nearly 22 years, give or take...
Photographs: (1) Jim Pickering of the Drayton Bantam Concern is persuaded to wind her up... July 2008 Short front damper/1956 type forks.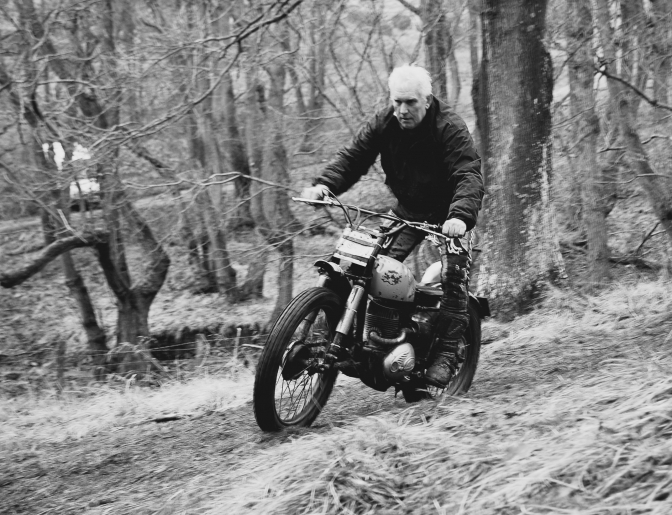 Photo Courtesy Hammertight.
The late Jim Pickering. Riding Al's DOT.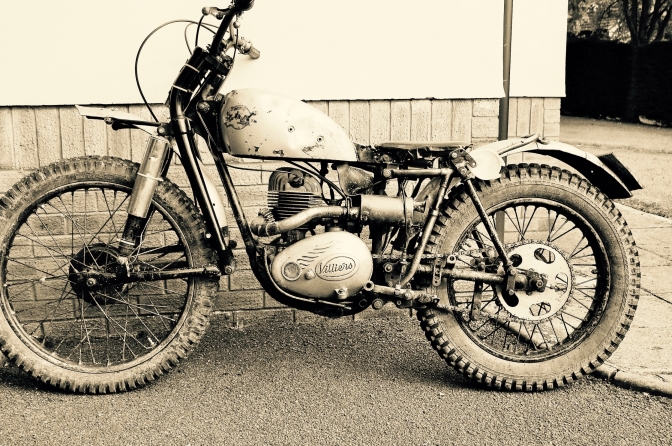 Photo Hammertight again.
Rigid rear/Earles type front forks - similar to Eric Adcock's first works bike.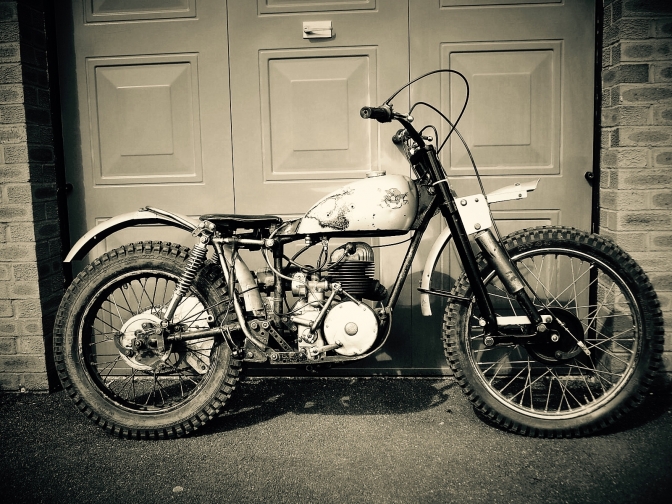 Photo Hammertight again.
Slimline dampers/cast bottom fork links...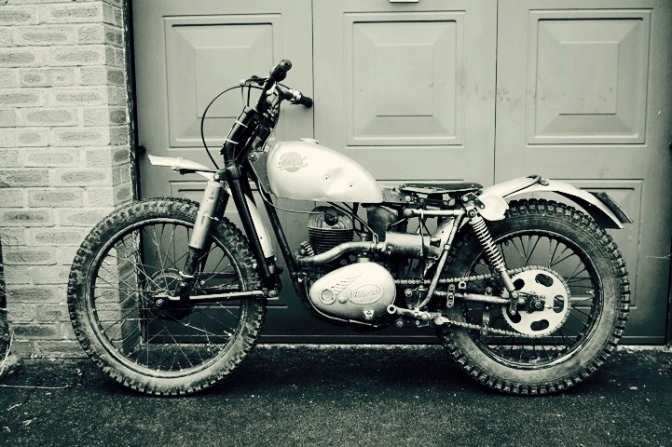 Photo Hammertight,
Slimline front dampers/1956 type forks...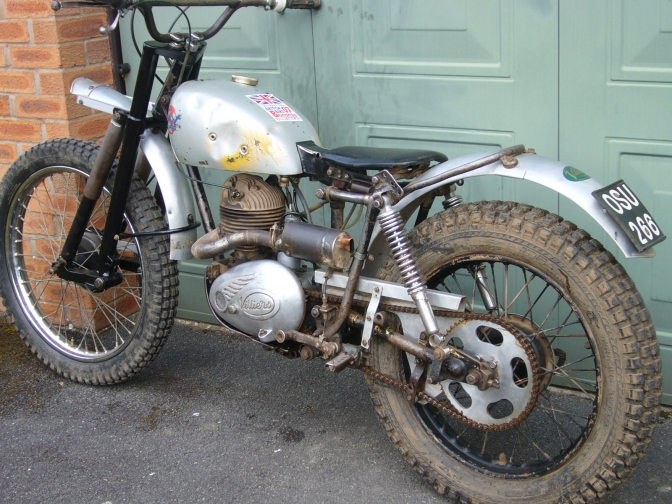 Photo Hammertight 2016.
This is the 2016... version of the DOT. 6E Villiers. 3 speed. lengthened dampers...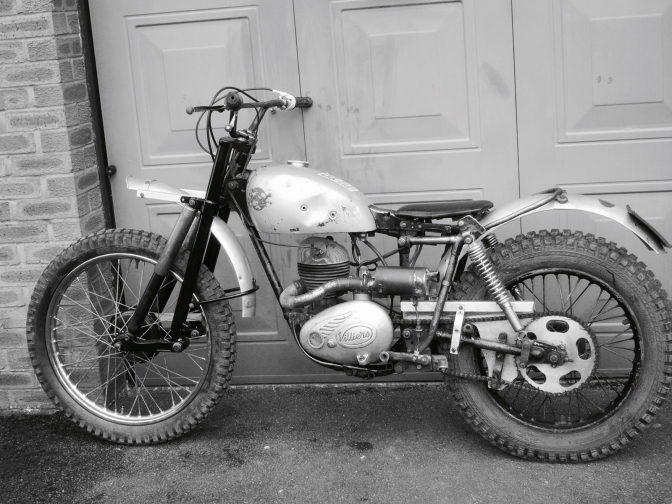 Photo Hammertight.
Period 2016 shot of the present version...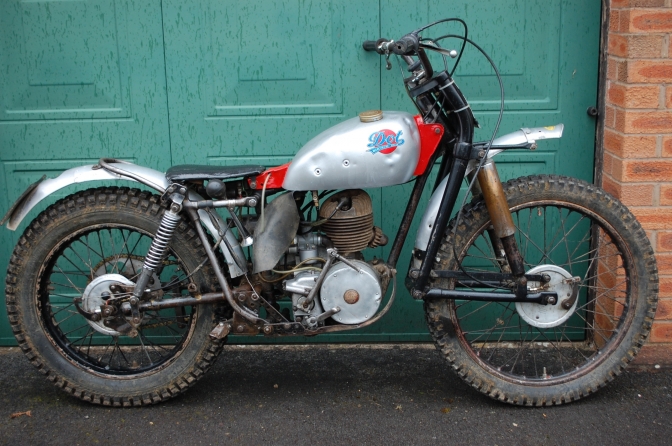 Photo Courtesy Hammertight.
1953-4 DOT. 225cc ready to go, Just look at the patina of this bike a True Classic Pre65 Machine...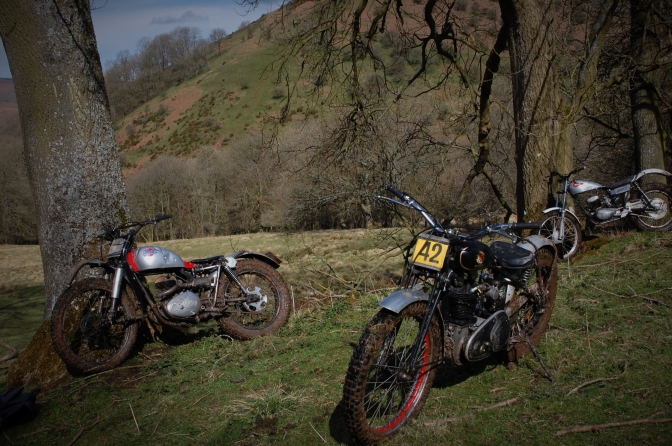 Photo Courtesy "Hammertight"
"As years go Bye" OK Supreme shot! also lurking in the background on the right is the very "First" Drayton BSA Bantam
Eric Adcock - Two Photographs: No 29 - Eric Adcock - Start of 1954 Welsh 2 Day - Rigid rear Works Dot.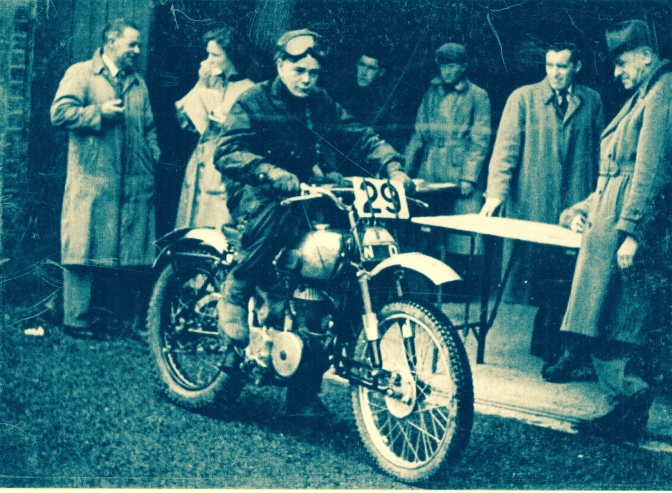 Photo Courtesy, Via. "Hammertight". enhanced by "Otterman"
2nd Photo: 1954 Bemrose - Eric Adcock on Manor Steps on works Dot with rigid rear...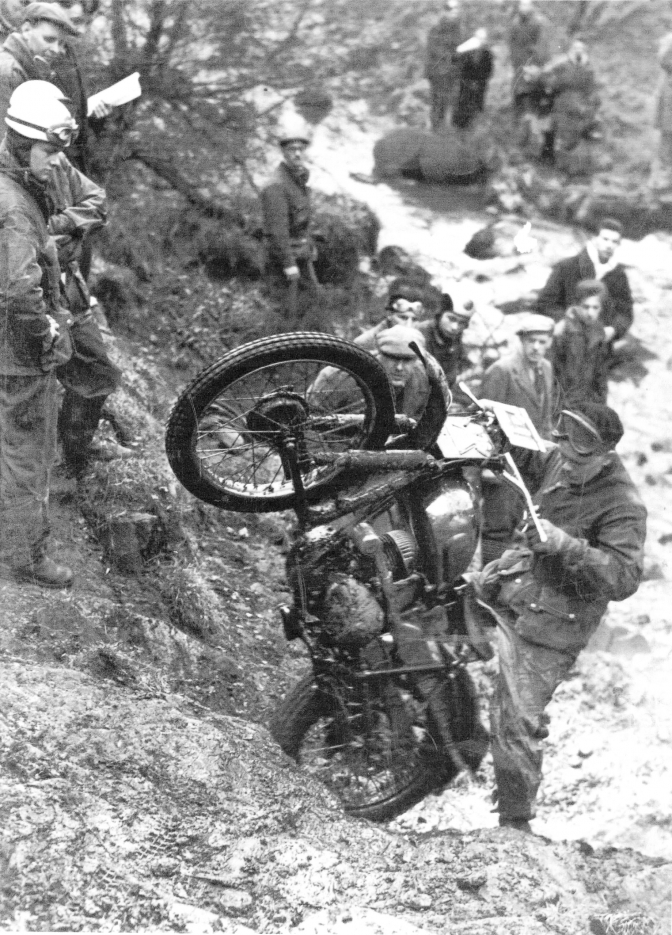 Photo Via, Hammertight' Enhanced by "Otterman"...
Eric rode this bike for three months and remembers that it performed well enough after he became used to the tendency of the forks to flop over towards the limits of the lock.
He gradually worked on the factory owner, Burnard Wade, to convince him that the performance of the machine could be improved by fitting the swinging arm rear.
Mr Wade eventually conceded and Adcock finally had the machine he wanted!
Hammertight...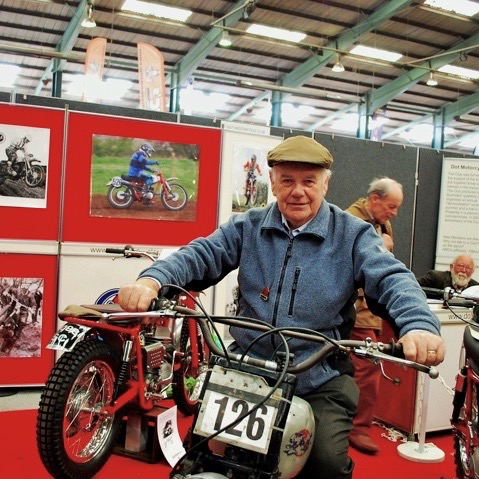 Photo Hammertight.
Eric Adcock sitting on a ridgid DOT. Trialster 59 years after his works ride like that ,now at the 2013 Stafford show.
Pictured on the Dot Stand, Stafford 2013, Eric Adcock - President of The Dot Motorcycle Club. Fifty-nine years since his works ride on the rigid machine...!
Thank you Hammertight, AKA Al Ussher, we could not put these pages together without people like you.
Charlie ~Oo> Now also sadly missed, the late Al Ussher R.I.P...
Another Mr DOT...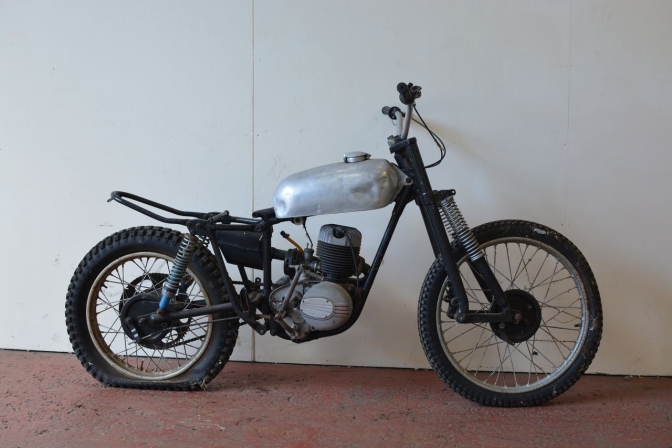 This photo and the ones below are a group of DOT.s recently sold from a collection at auction...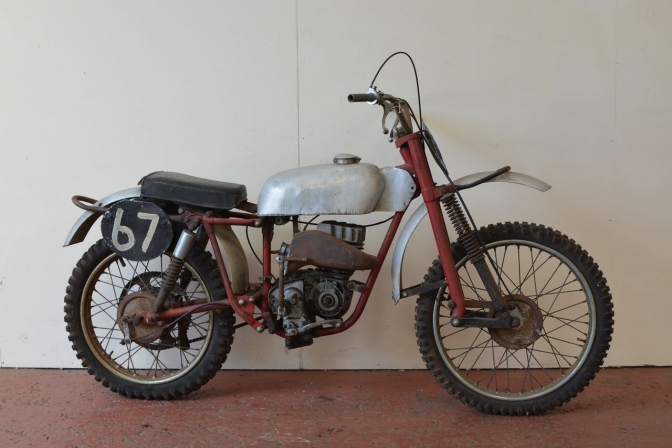 Described as just a DOT. Scrambler.?
Some others later.
~~~~~~~
Some images from the Closing Down Celebrations, is that the right term?
At DOT. Headquarters and Factory in Salford.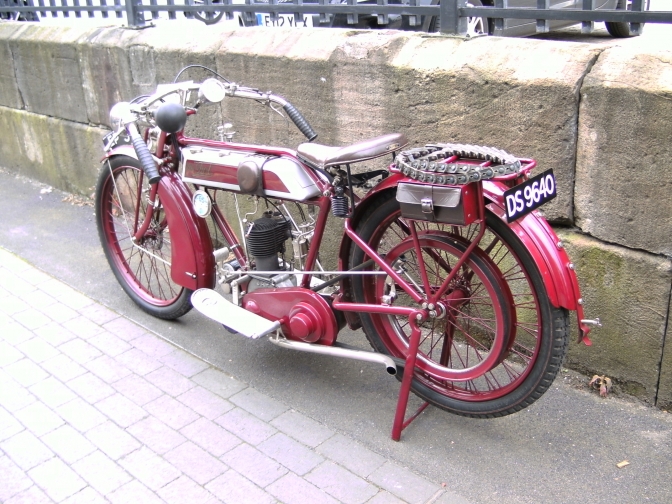 Photos Copyright and Credit.
Richard Cusworth.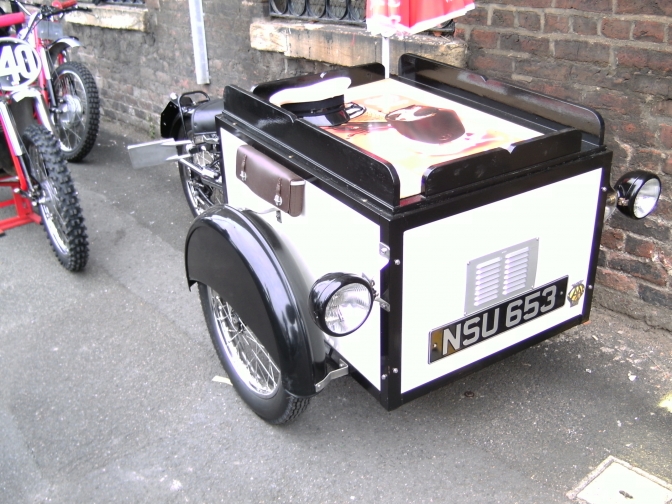 Photo Copyright and Credit. 197 DOT. Ice-cream sellers Motortruck.
Richard Cusworth.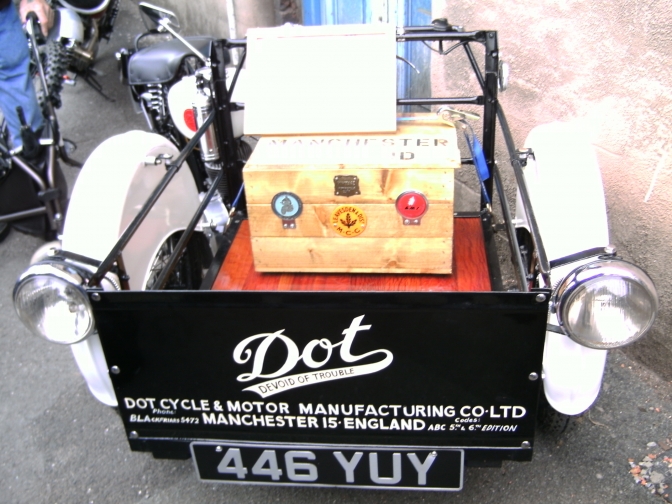 Photo Copyright and Credit. And Owner of the 197 cc DOT. Motortruck.
Richard Cusworth.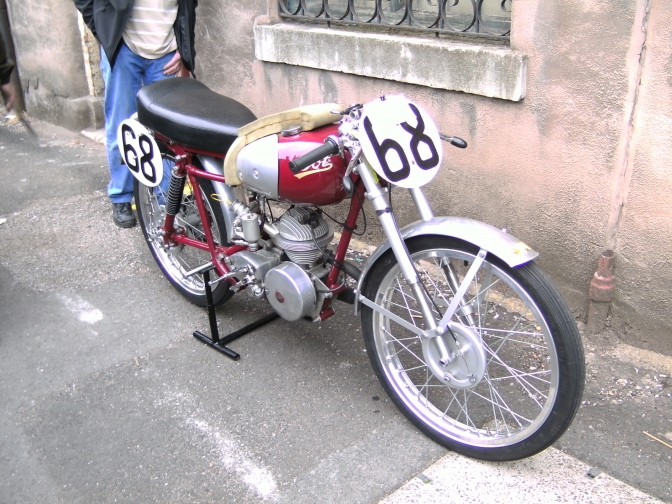 Photo Copyright and Credit.
Richard Cusworth.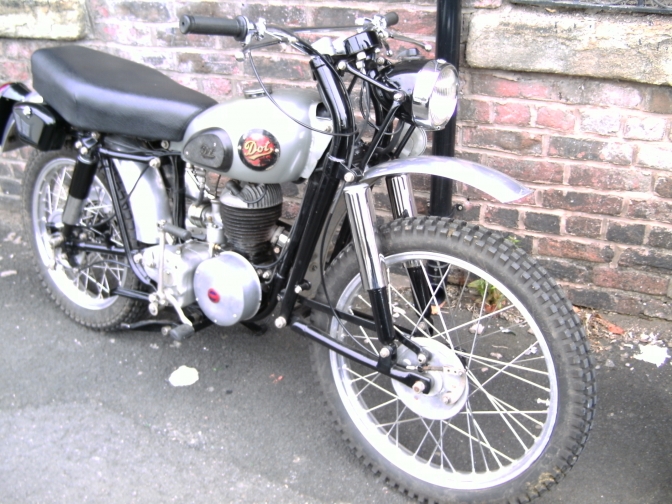 Photo Copyright and Credit.
Richard Cusworth.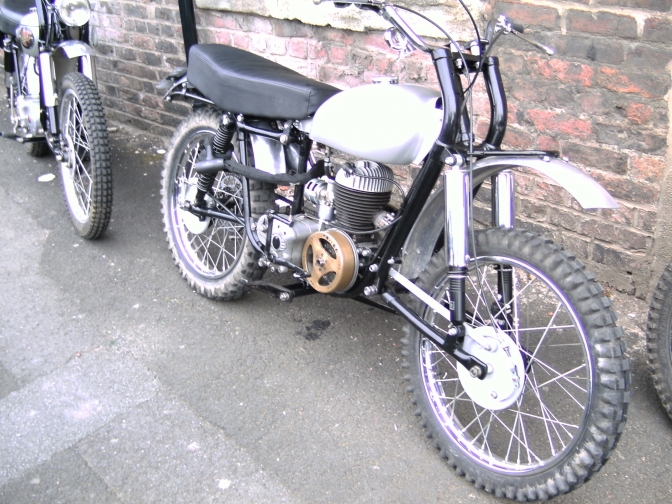 Photo Copyright and Credit.
Richard Cusworth.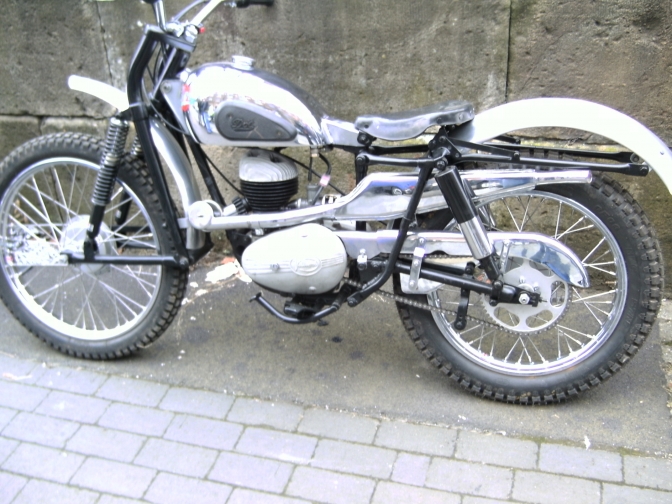 Copyright and Credit .
Richard Cusworth.
Copyright and Credit .
Richard Cusworth.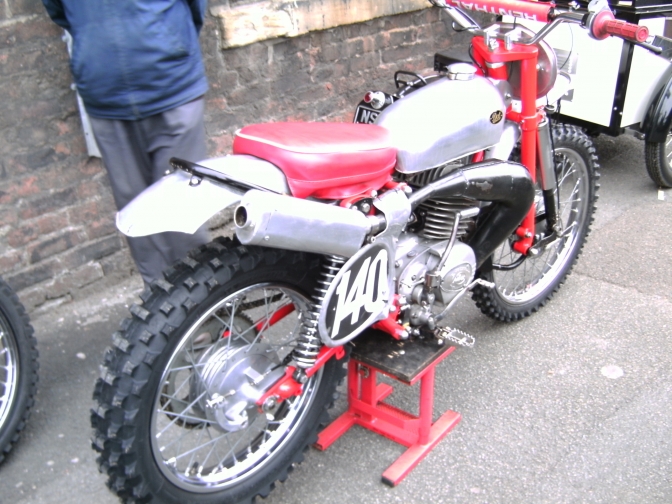 Copyright and Credit Motor-Truck man...
Richard Cusworth.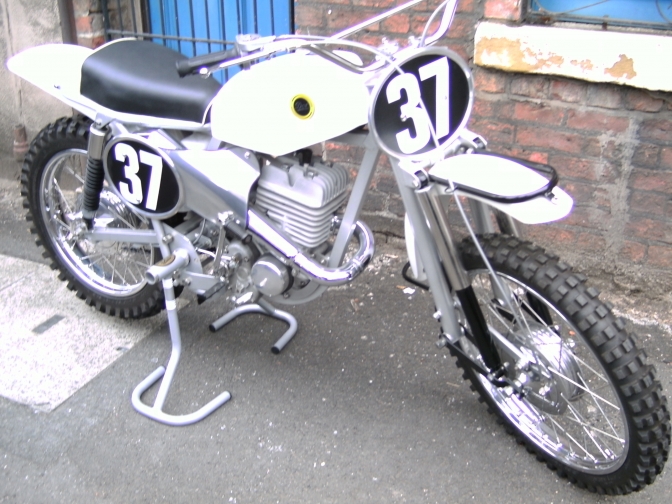 Copyright and Credit,
Richard Cusworth.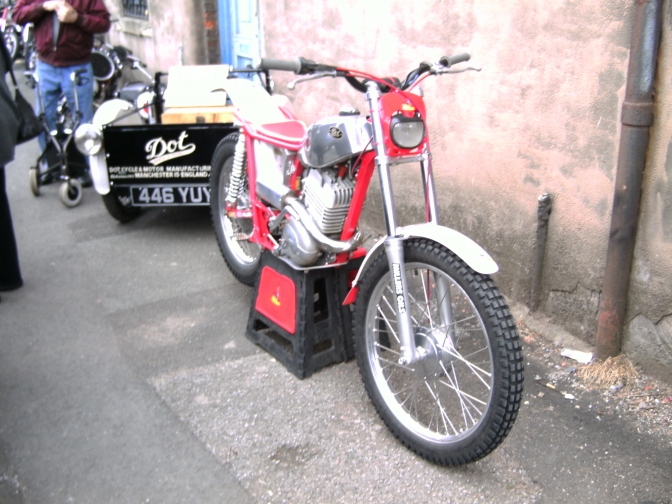 Copyright and Credit .
Richards Cusworth.
At least someone is keeping the party going. Thank's John.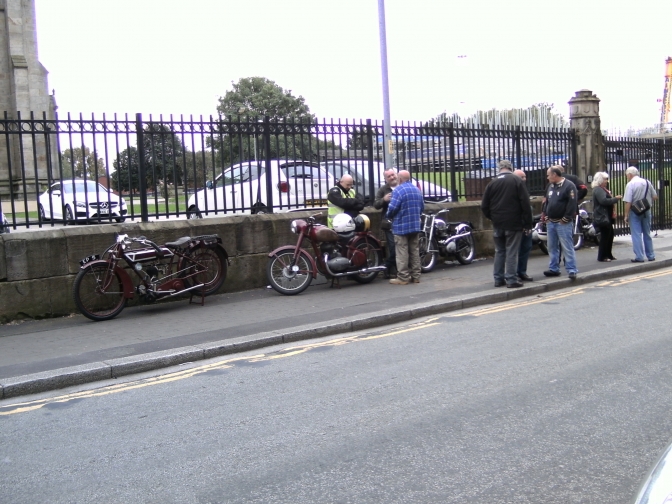 Photo Courtesy Richard Cusworth.
That it Guy's the End of a Magical Mystery Tour. Or could it be the Start of a New one...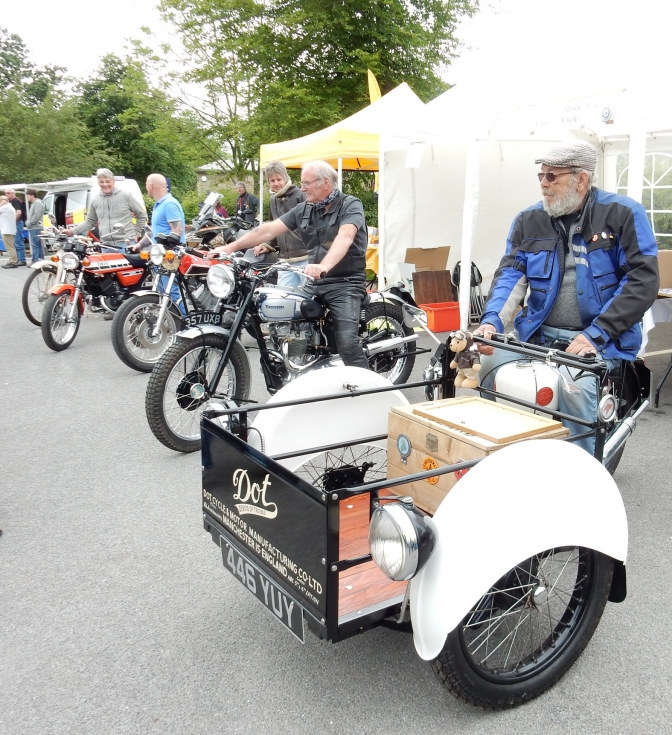 Photo Courtesy "Craven Herald".
Here is our photographer Richard Cusworth, aboard his 197 Villiers engined DOT. Motor-Truck.
These were basically the DOT. Motorcycle without the front forks, and several different front two wheeled trucks fitted, these included a Rickshaw, with two seats and a screen for the passengers.
Still a good idea for moving goods around the vast warehouses we now have, unfortunately production ceased with these in the mid fifties.
Update from Richard Cusworth.
Dot motor trucks were first built in 1942 and the last in 1955 some 2500 altogether. They were not a motorcycle with a funny front end but were designed from scratch. In fact it could be said that it was the other way round , the rear end of the truck and its Villiers 6E unit went on to form the basis of the Dot RS and RST models of 1949/50. Cheers

Hi Charlie, Maybe you'd consider this image for the Dot Pages? Taken at BMCA trial Wilderley, Shropshire on Sunday 29 Jan 2017, Dave Pengilley powers the Doug Theobald factory bike of 1963 through the type of mud it was brought up on (Suffolk way)...
She ran very well and Dave is getting used to the left side rear brake.
Has done two Scottishes - 1964 and 65, and Doug took Special First Class Awards... The scrutineering paint is still evident... Cheers, Al...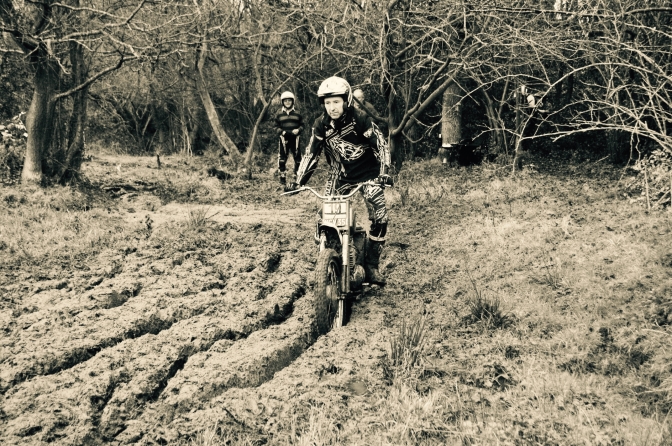 Photo Courtesy Hammertight.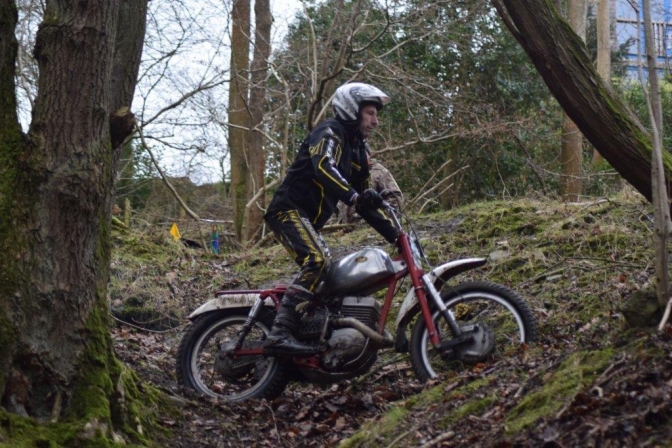 Photo Courtesy "Hammertight"...
Here Dave Pengilley on the same Doug Theobold DOT. at a Later BMCA Trial ...
~~~~~~~
The second picture of Dave Pengilley was taken at Steve Goode's BMCA trial at Leighton, Powys. Dave won the Intermediates class. Al...
Dave next ride on the machine should be at Bedlam.
~~~~~~~
Charlie~Oo> This is one of the pages that will be added too with a lot more input from DOT. members and people that care about keeping the DOT. name alive so if you have input, email me please...
More later OK...there will be updates...
Updat20223...05...