The 1989 Ex Aldo Allione...
Honda RTL 250 S...
Coined has the "Ultimate trials machine" at the time...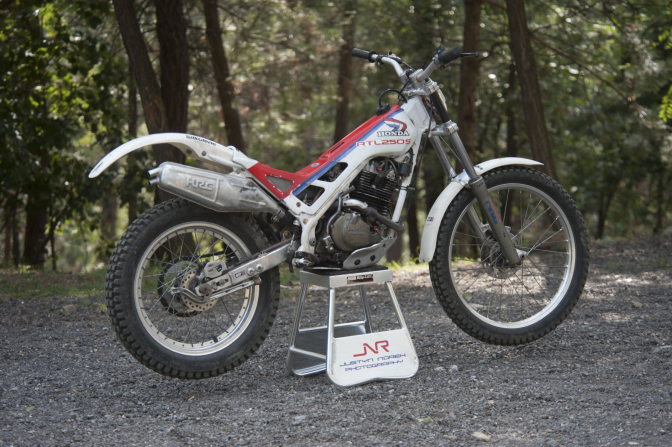 When we say "Classic Trials bikes" I think although this bike jumps forward a few years from what is usally considered "Classic"...
This Honda in anyones eyes can come into that Status just for the design of the machine alone...
This is also a trials bike that does not come onto the market that often just because that once owned they are usally "Keepers"...
Over to you as usual Justyn...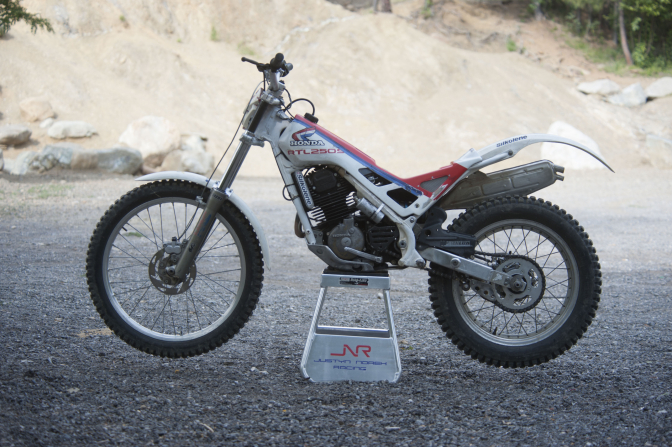 All photos Courtesy the Justyn Norek's ©
Here is my story of HONDA 250 RTL TRIAL bike,
Justyn Jnr.
Some 20 years ago, that is in Autumn 2000 I was taken by my dad to see Old Trial Bikes trial held at
Prarostino near Turin. Guest of Honour was no less than legendary Sammy Miller whom I had the privilege
to meet and obtain his signature on photo showing him in action.
There were plenty of wonderful trial bikes, Bultaco, Ossa's, Montesa, Fantic's, SWMs, even the legendary
Ariel HT-5 ridden by famous Italian trials journalist Giulio Mauri.
Real feast for my hungry eyes. Yet my
particular attention was caught by beautiful Honda RTL 250 machine. From first glance I have fallen in
love with this bike!!!
See photo of me with this bike. Quite naturally it became my "dream trials bike". I was looking for one to buy,
but they were very rare and wanted, so price was often equivalent of 4 other brand trials bikes so I couldn't
afford to buy one.... Some years later I have noticed advertisement "Honda RTL 250" for sale". I quickly called
guy and learned that it was "ROTHMANS" version, but I had to wait as this bike was in his friend's garage for he was trying it and considered to buying it... Bad news, I had to wait.... After some time bike's owner has phoned
me with bad news bike was sold... First come, first served... In the meantime we became friendly with gentlemen,
who appeared to be Important trial bikes collector with name Carlo Ramella, and we have since tested several trials bikes
from his collection starting with ex-Sammy Miller's Ariel 786 GON
He has promised me to find one RTL. In fact after some time he phoned me saying one of his friends has one for sale..... Excited we made an appointment and met with owner, experienced trials rider and tuner Aldo Allione.
Bike was in excellent condition, but before testing it he has explained me improvements he has done, so it was
kind of ALLIONE SPECIAL. Now I could test it and quickly decided to buy it.
Cost was as always problem, but seeing my enthusiasm for bike Aldo made things easier acceptable and we
agreed for 4 instalments. So after half of the year I could ride bike every day and have a fun as you will read later in test that
we have done for you.
Justyn Jnr...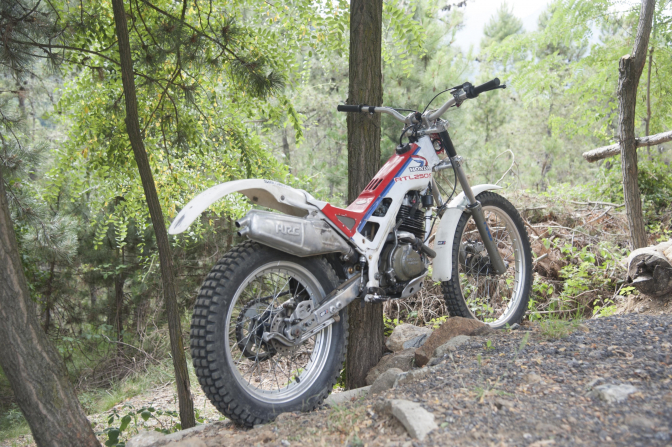 HONDA RTL 250 "DESIGN HIGHLIGHTS"
HERE ARE "DESIGN HIGHLIGHTS" OF RTL 250,
BEING CAR STYLIST OF LONG EXPERIENCE, I HAVE PUT SPECIAL ACCENT ON
AESTHETICALLY AND DESIGN ASPECT OF THIS BIKE, THUS MAKING OUR TEST
DIFFERENT FROM OTHER TRIALS BIKES TESTS...
HONDA RTL 250 IS REALLY REVOLUTIONARY TRIALS BIKE THAT IS MILESTONE IN
HISTORY OF TRIALS BIKES DEVELOPMENT, AND SHOULD BE CONSIDERED A TIMELESS DESIGN MASTERPIECE.
HONDA HAS DONE FANTASTIC WORK.
HERE ARE SOME DESIGN ELEMENTS OF PARTICULAR INTEREST:
FRAME: diamond type, is embracing engine as closely as possible thus HAVING lines VERY
HARMONIOUS with engine shape AND VERY RIGID STRUCTURE with engine BEING INTEGRAL part OF THE frame, which IS existing under engine, in effort not to compromise GROUND
CLEARANCE, AND IS in that area substituted by sculptural wrap on alloy plate working also
As bash plate.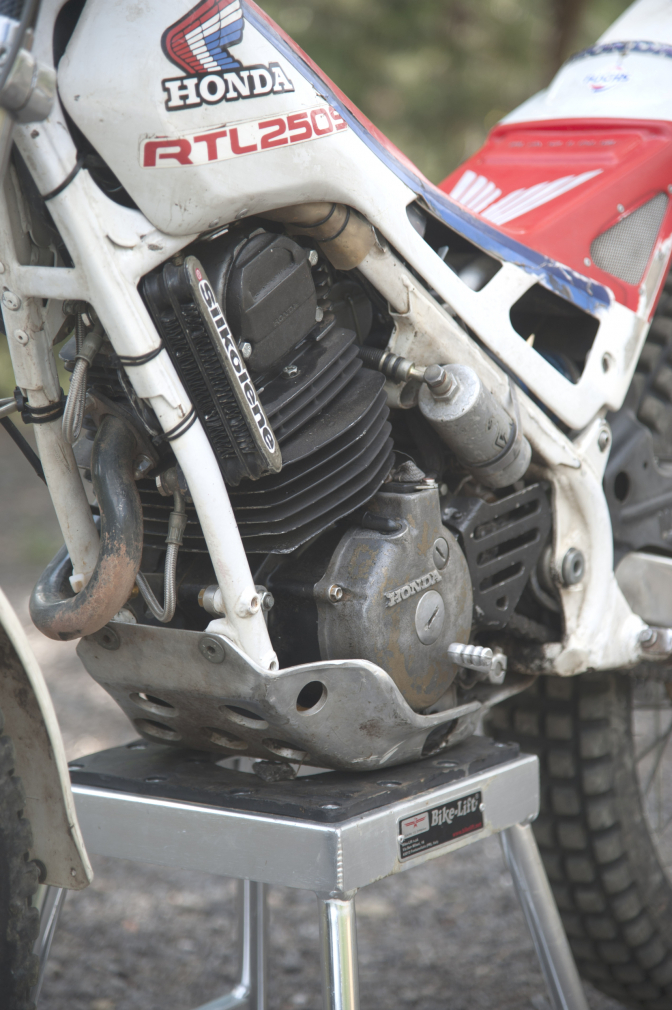 ENGINE: beautiful shape, very compact, with MAGNESIUM crank case covers, being a large characteristic…
CYLINDER AND HEAD fins contrasted BY ROUND cam cover, ART pièce itself !
FUEL TANK: HAND crafted in light ALLOY, HIDDEN FROM EYES BY SUPER-LIGHT, PLASTIC
SHROUD, ALLOWING STYLIST DESIGN FREEDOM OF BEAUTIFUL SHAPE CONNECTING
TANK AREA WITH SEAT BY SIMPLY YET FUNCTIONAL ALMOST STRAIGHT LINES, INCORPORATING THREE HOT AIR EXTRACTOR OPENINGS...ALLOWING UNDISTURBED
SURFACE AREA FOR DIFFERENT GRAPHICS....ANOTHER MASTERPIECE ,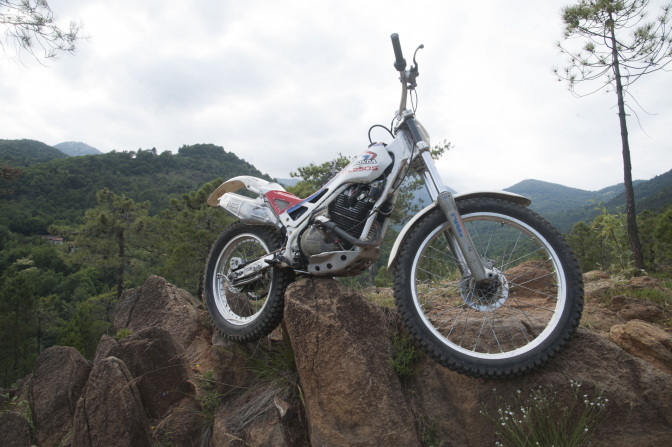 SLIM, SIMPLY AND BEAUTIFUL FRONT FORKS WITH ADVANCED FRONT WHEEL AXIS,
AND CLEVERLY HIDDEN FRONT MUDGUARD CLAMP...
RECTANGULAR SECTION OF ALLOY REAR SWING ARM,
IF I COULD CRITICISE SOMETHING AESTHETICALLY, ITS SO BIG SILENCER, BUT THERE
ARE TECHNICAL REASONS BEHIND IT....ALL TOGETHER ARTFULLY TECHNICAL MASTERPIECE ! TRY TO MAKE A BETTER ONE....
MOST WANTED AND MOST DESIRED : HONDA RTL 250 S TRIALS !
I AM SO LUCKY TO HAVE ONE...
JUSTYN NOREK Snr...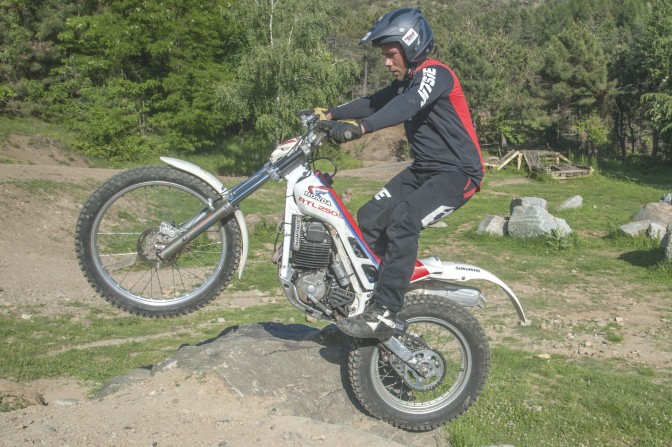 Riding impressions - HONDA RTL 250 S,
Testing location for this test we have chosen Rubiana Trial Park some 60 miles out of Turin, rich of different
surfaces offering beautiful scenery and variety of ground.
There are stones, stream, sand, water uphill and, downhills, natural and artificial hazards, ideal for testing any trials bike.
We came early Saturday and down-loaded Honda RTL 250S from our Renault Traffic van. Bike was already set up for test as I prepared it day before. So petrol in, oil checked, tire pressure adjusted and above all new handlebar with lower rise as Aldo Allione is 190cm tall while I am 20cm shorter.
Having bike ready I dressed up and opened fuel tap ready to
give it strong kick. It started immediately and I am not surprised as it's HONDA and was prepared by ALLIONE !
I started to warm it for a minute or two enjoying it's pleasant low frequency sound, real music. So finally I pulled clutch lever... Oh very sweet, engaged gear and carefully released clutch... Finally we go up and down some hard packed sandy ground. Bike is handling perfectly giving me more and more confidence, and pleasing feeling of complete control. Its sheer pleasure to ride it over rough.
Excellent brakes and fantastic suspension very similar to today bikes light and easy "surplus", side movement etc.
Now I had short break off, some water and short chat
with its owner expressing my satisfaction.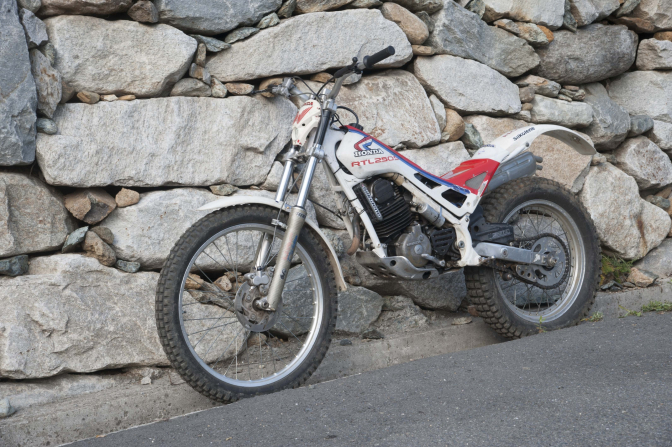 Second part of test was a bit more demanding attacking larger and more vertical rocks and than rather high Rocky wall... Bike seems to climb up anything I can find around, very similar to modern bikes... Oh yes it's dream machine…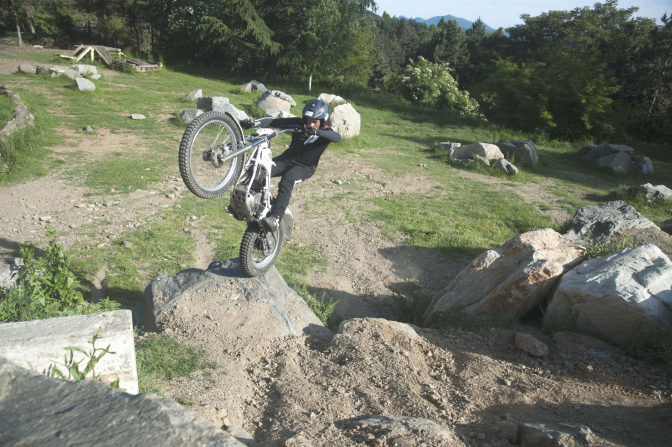 I love the engine with never ending torque that allows scrambling almost vertical obstacles and then easy jumping down. It's really fantastic machine, now I understand it was such winner in hands of Eddy Lejeune !
It's a must for any serious trials rider... Yes you guess it, I bought it, and am very happy now. My 20 years old dream…
BECAME TRUE NOW !
Thank you HONDA, thank you ALDO !
And yes, all I can advice is "buy one if you can find one"....
Justyn Jnr...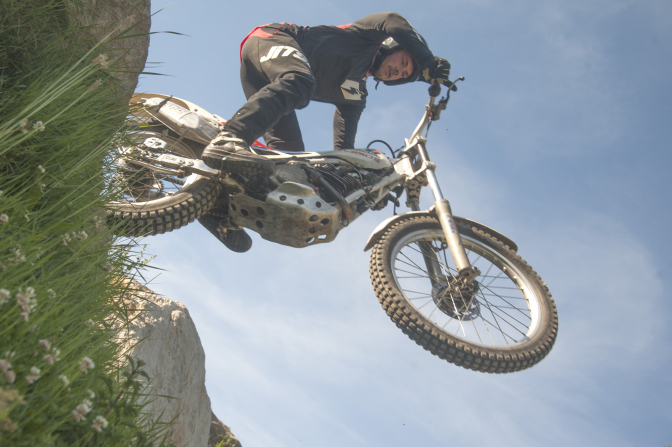 Is like flying at times... on Honda RTL 250 S...
HERE ARE SOME TECHNICAL DATA OF Honda RTL 250 S:
ENGINE: SINGLE CYLINDER, AIR COOLED, FOUR STROKE WITH OVERHEAD
CAMSHAFT, TWO VALVES,
CAPACITY: 248.8 cc,
BORE AND STROKE: 70X64.9 mm
CARBURETOR: Keihin diam 26 mm,
MAX POWER: 14 PS at 6000 rpm,
MAX TORQUE: 2.05 KGm at 4000 RPM,
IGNITION TYPE: capacitor discharge,
FRAME: BACKBONE diamond type WITH TWIN down steel TUBES, open under engine,
connected and protected by under engine alloy bush plate,
TRANSMISSION:primary - gears, secondary - chain,
CLUTCH:multiple discs in oil bath,
GEARBOX: 6-speed,
DIAMENSIONS:
WHEELBASE: 1315 mm,
GROUND CLEARANCE: 305 mm,
HEADSTOCK ANGLE: 25,5 degree,
FRONT SUSPENSION: Showa hydraulic telescopic,
REAR SUSPENSION: swing arm with PRO-LINK type,
WHEELS:
Front: 2.75"X21",
Rear: 400"X18",
FUEL TANK: Aluminium covered by plastic SHROUD, 3- litres CAPACITY,
WEIGHT: 81 kg
Source:Book FOUR STROKE FINALE, MOTO STORICHE magazine etc.
JUSTYN...
A Look around the Honda RTL250S...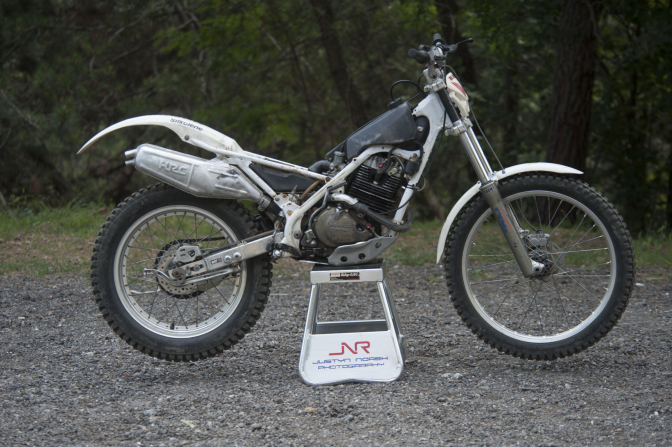 Honda without its clothing...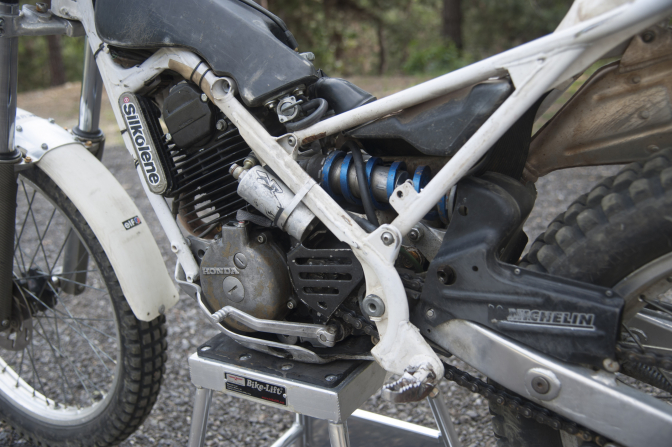 Honda wrap around steel diamond frame...with bolt on sub...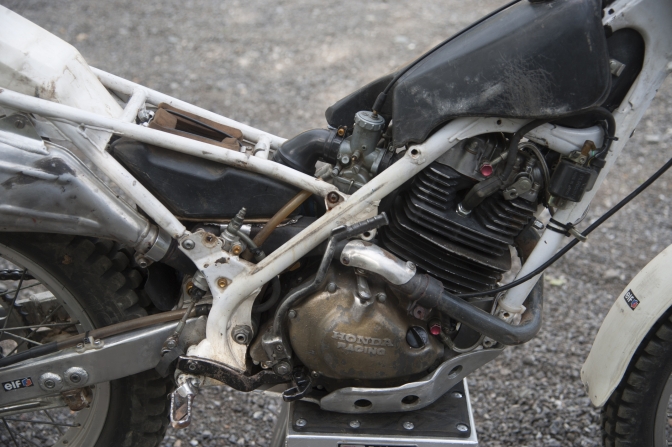 Honda Everything compact and well thought out design..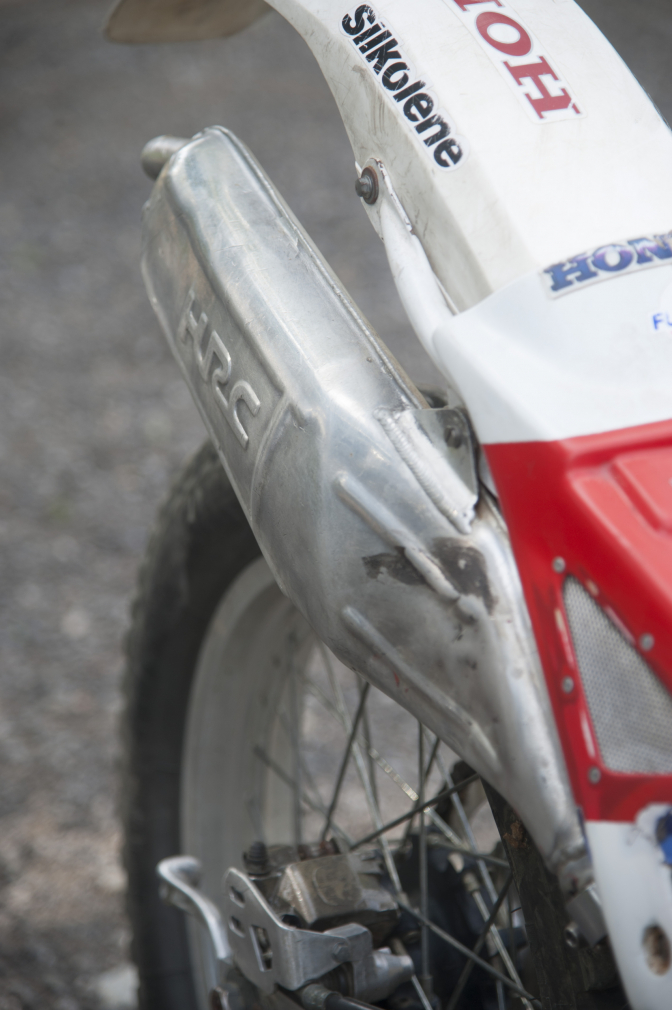 Honda RC large volumes exhaust that gives the motor that sweet sound, and helps greatly with engine torque...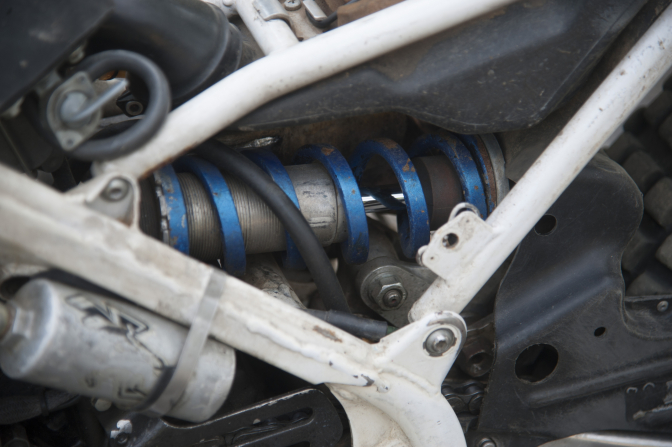 Honda Pro-Link shock with Separate oil canistor, that takes care of that long confident adjustable suspension travel...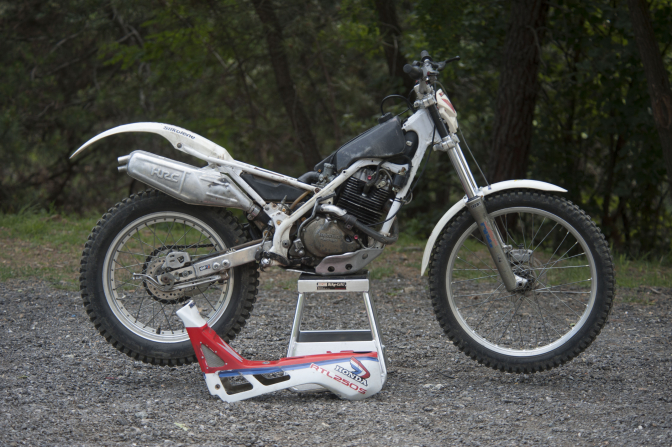 Honda Slimline RTL S clothing that transforms the bikes looks...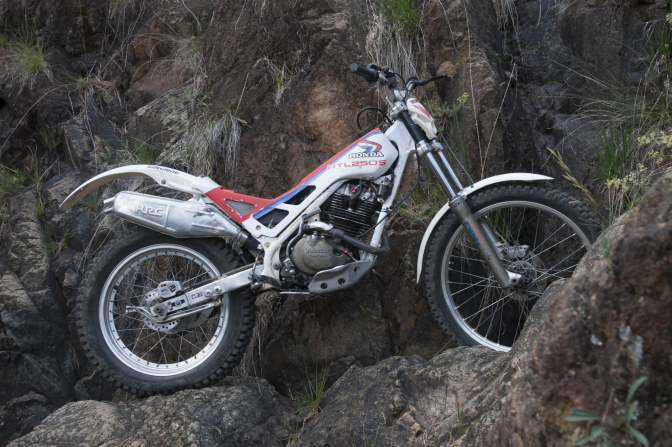 The Honda RTL250 S...
"The Ultimate Trials Machine"...
A Couple more Test Ride shots...Before we go...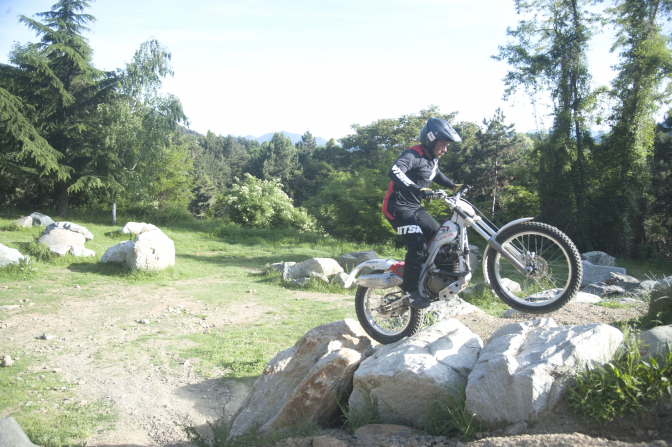 Trials Parks in Italy I like...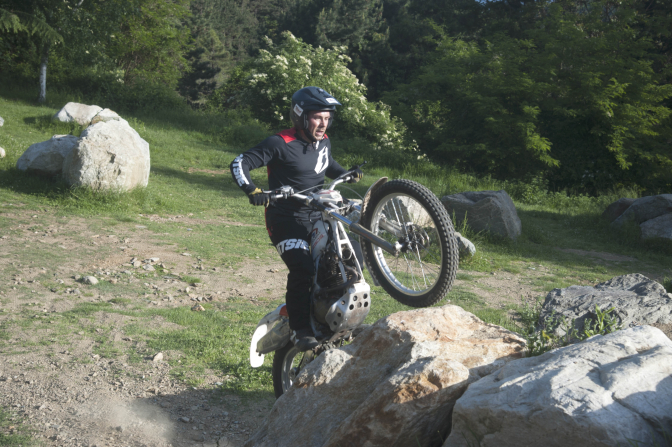 Honda Torque is the main "Benefit" that make this bike Ride...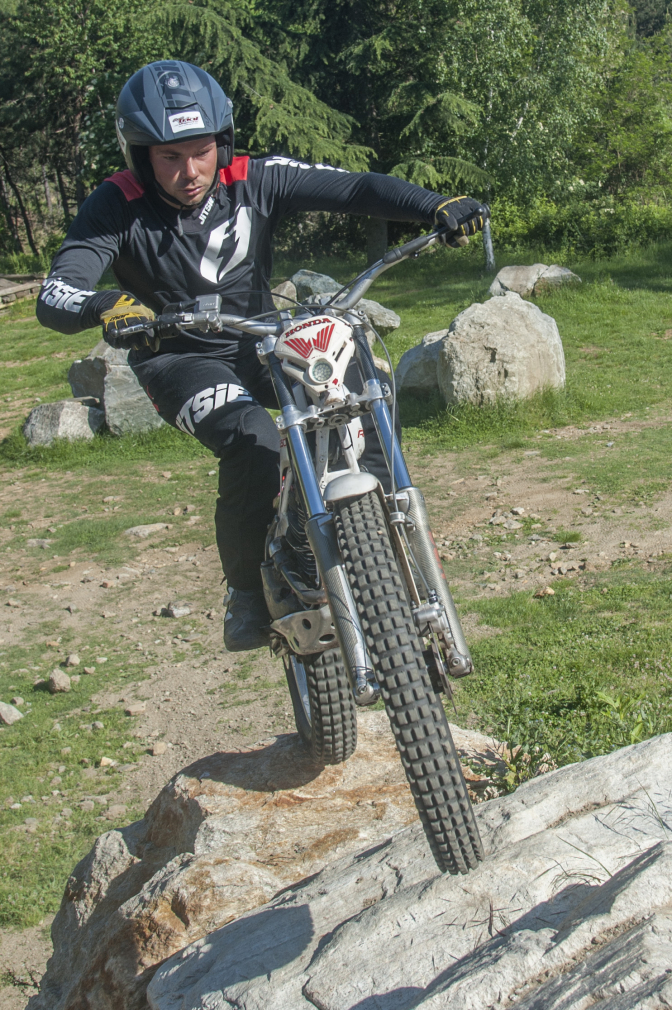 And the confidence of the rider...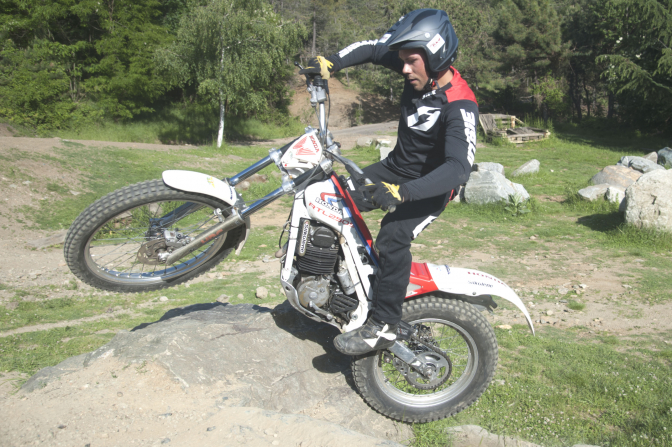 A bike to own if you can find one...
The Honda RTL 250 S...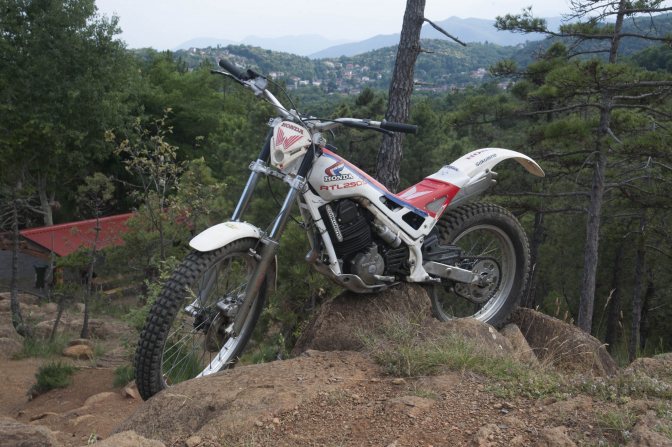 Time to go home...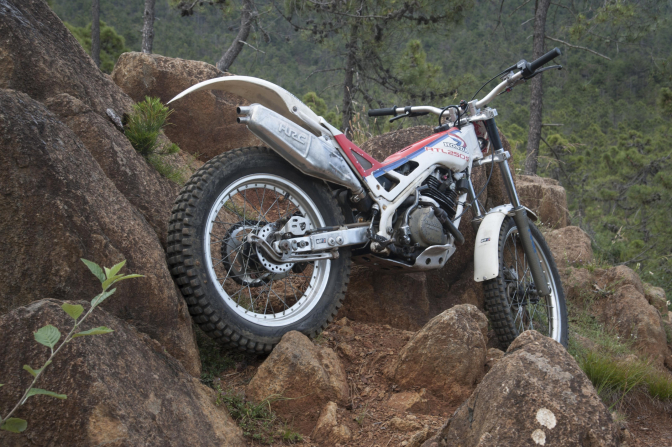 Whata-Honda ...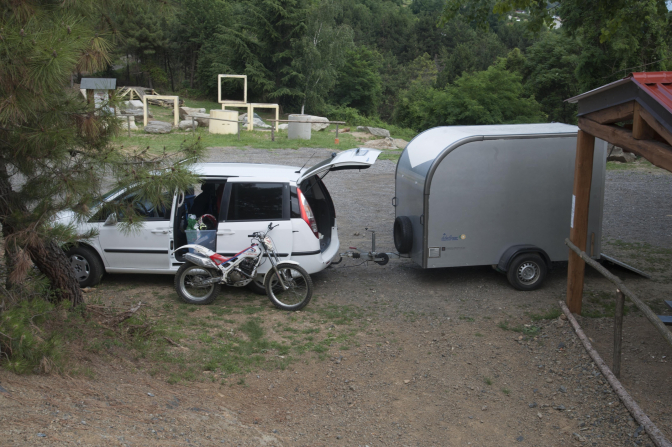 Another "Norek" trials test page brought to you by ...

updat2023...05...