This is the 1954 Dan Shorey Triumph Racing Cub?
So Pete Murray says.
Yes it is 1954 has it started life as a Triumph Terrier, with Plunger frame.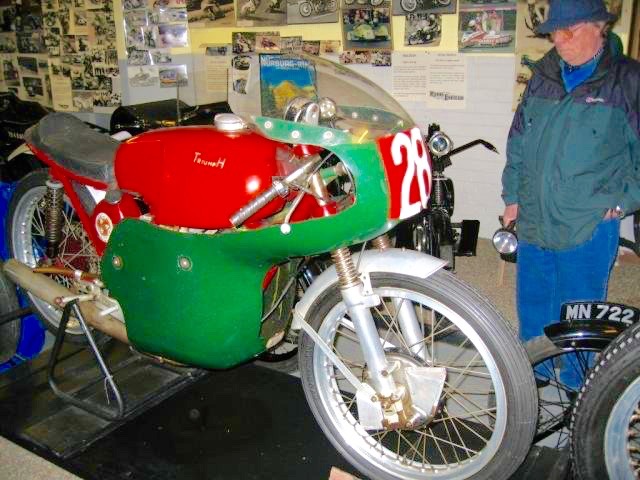 Photo Au Sport.
The Murray Triumph Cub.
Photo just shipped from IOM.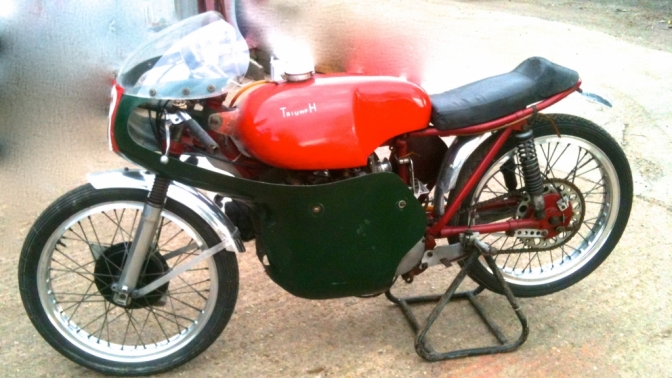 Just a Quick Tale Now until I do the Full Story.
I know that this must be Dan's old bike but can't 100 percent confirm it until I have spoken to Dan.
19/05/2016.
I have this afternoon spoken to Dan and he tells me there were two Tiger Cubs built up, one that he still has.
One was built up from spares and the other started life has a plunger frame.
He thinks he sold one to a lady to use? so could this be the one?
Anyway this little bike has spent most of its life in the "Murray's Mountain Museum" at the Bungalow. in the Isle Of Man.
Pete Murray says it is Dan's so that is good enough for me, until I know otherwise.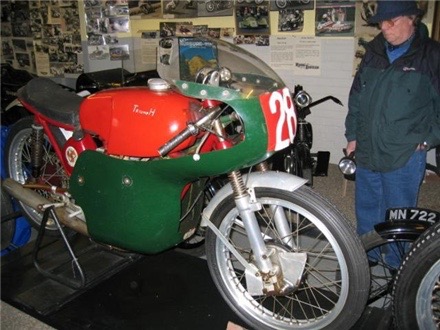 Photo Courtesy Peter Murray.Steve Griffiths
Here is Pete Murray stood with the Little Triumph in the Museum.
Photo.
Photo Courtesy Steve Griffiths
The bike was sold from the museum at "The Bungalow" in 2005, when they gave up the building, and has remained in a garage in Peel IOM up until this last week. When it came home to where it was built?
Dan rode the bike in 1955, winning the 200 cc class at the Silverstone speed trials of that year.
As I say the bike started life as a humble little Triumph Terrier, and was converted to swinging arm suspension in 1955.
With a swinging arm with the number "0" as the last casting number on the arm, must have been one of the first Triumph Cub swinging arms.
The sub-frame looks like a production Cub unit until you inspect it closely, then you realise this must have been new at the time by the gauge of the steel brackets, (thinner), and the brazing done by hand?
The work carried out on Dan's bike was mainly done by pipe smoking Tony Basson who ,worked at North Bar Garage, and loved playing with his motorcycles ,a perfectionist in every way.
I think he did the swinging arm conversion if this is the bike.
It looks a lot like one of the jobs he would tackle, and done with the sort of style of engineering that he was labelled with.
Bert, Dan's dad carried out the tinsmithing, on the bike, in the only way he could very very well. and this looks like one of his jobs, When he rolled his sleeves up, and said "Let me do it Kid"
You stood back and watched a master craftsman at work.
Just the detail on the hand riveted seat is a souvenir of his craft.( or whoever did it.) the rest of the detail on this bike is amazing for such a humble machine.
I seem to remember the piston on Dan's bike was hand finished and out of an old car? may be a Ford If my memory serves me right.
More of an in depth story later. It is a fascinating tale.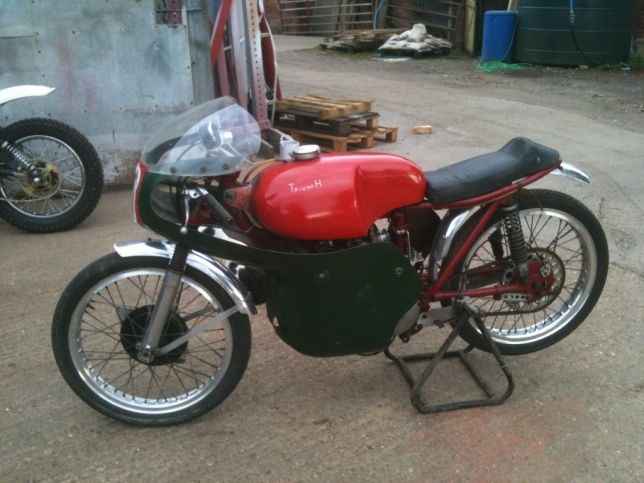 Photo "Otterman"
This is just how the little bike arrived out of the van from the IOM.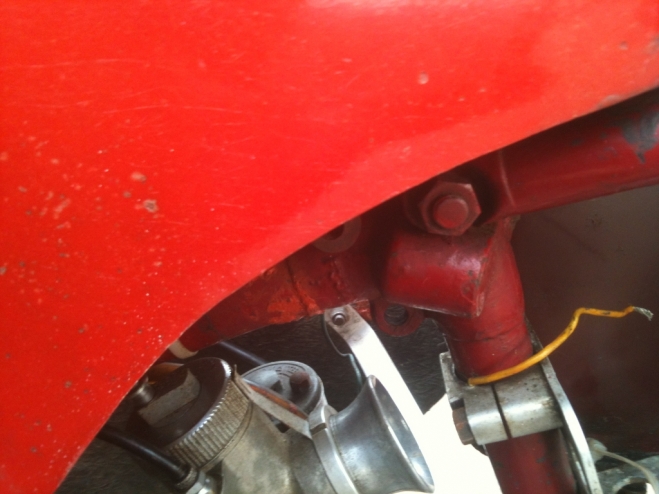 You can just see the old plunger frame casting under the tank. the ends were bunged with bottle corks?
Well this was before the time of plastic filler ETC.
And just one more picture now of the polished rockers.
The rocker oil feed is also a lot smaller than standard?
I would think to stop over oiling ,and oil leaks, but just enough to lubricate the shafts.
Good idea we should try today! on our trials bikes.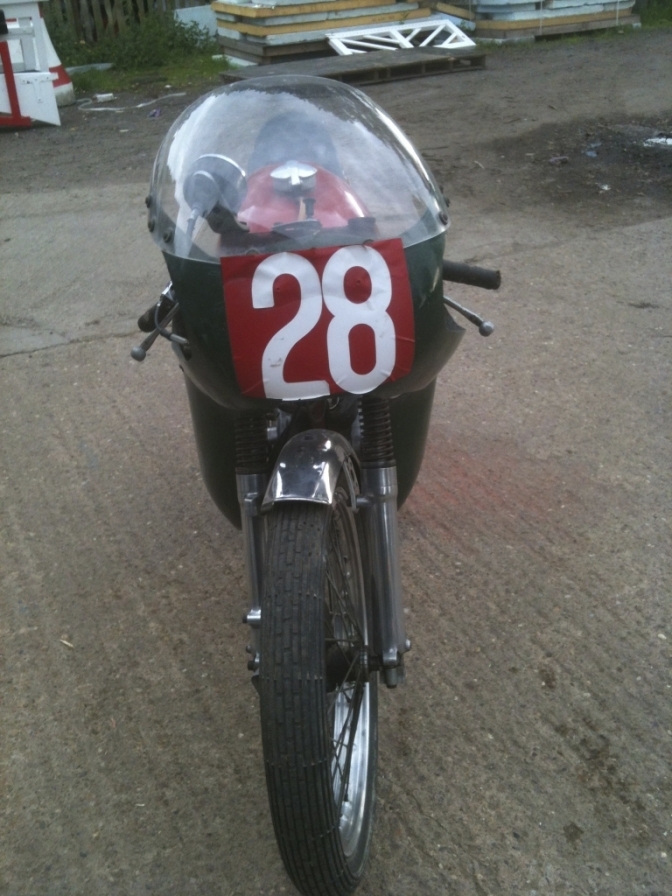 Photos "Otterman".
The fairing will be resprayed in the traditional Dan Shorey "Powder Blue". or whatever the colour Dan's bike was if this proves to be that machine.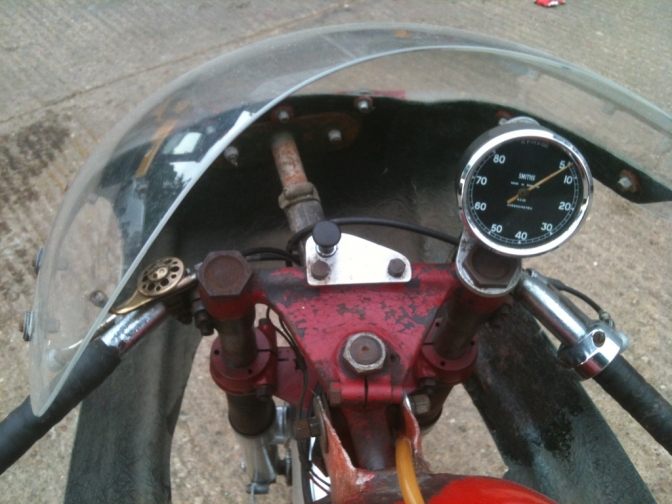 Classic cockpit don't you think, but wet when it rained??
We Will get the little bike running shortly .and may try to run it in an hill climb?
If I can fit into my leathers ? Or Colin can ride it.
Like I say I will speak to Dan about the machine shortly, and try and either prove the tale or compare notes It is a long time since I had a chat with Dan .
Now must be the time.
Read Above: I am going to print the photos off for Dan as he does not have a computer in his house, and visit him one afternoon shortly, so that we can try to finalise the story.
20/04/2016.
I have been told that there is a photo of the Dan Shorey Cub in the latest May/June Classic Racer mag. and a profile story of Dan by fellow "Banbarian", Bruce Cox.
So the time is right to get the tale right.
More later.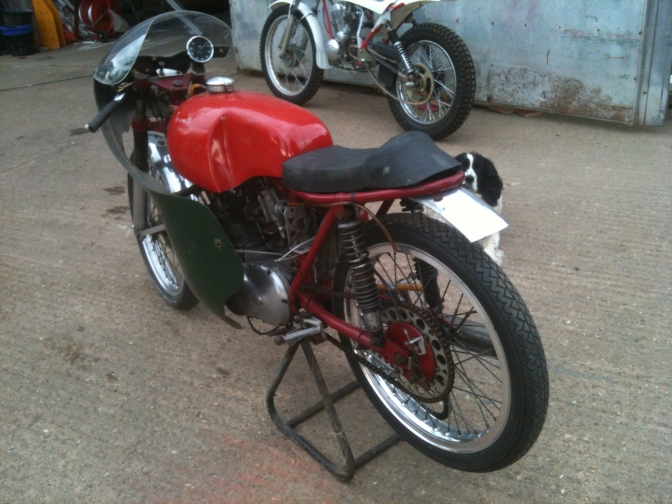 Photo "Otterman".
Just some more shots of the Racing Cub for me as reference.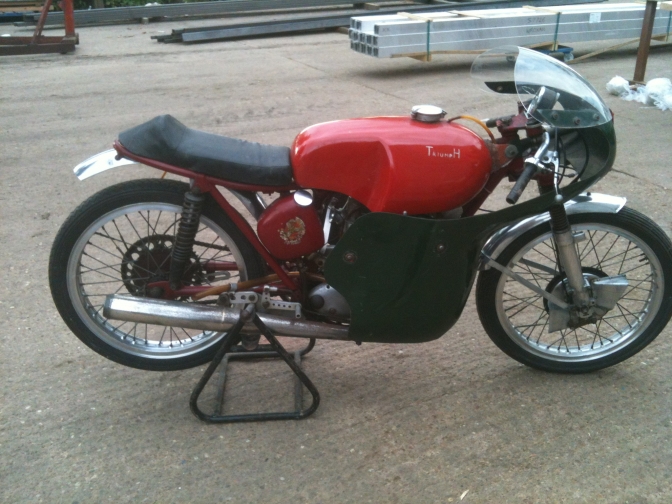 Photo "Otterman".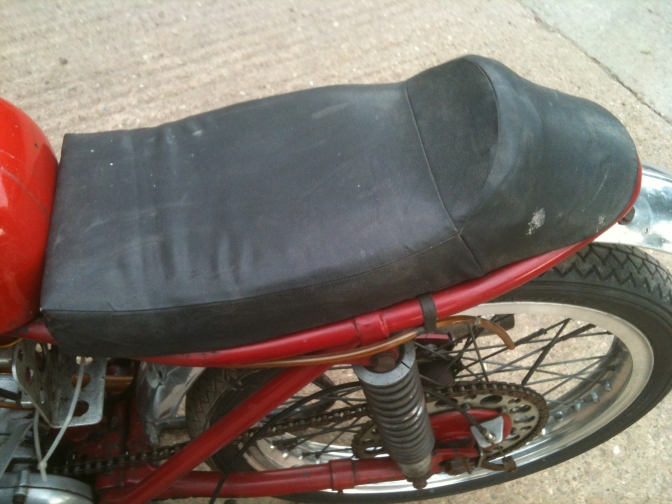 Photo "Otterman".
Classic ninteen fifties Leather covered race seat.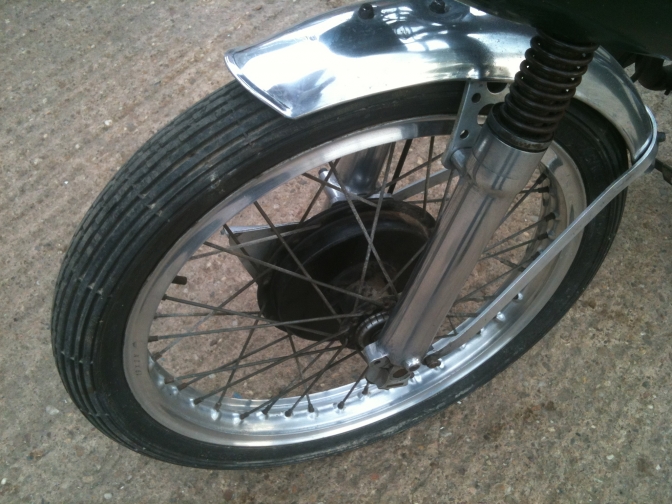 Photo OM.
AMC tele forks Triumph brake hub?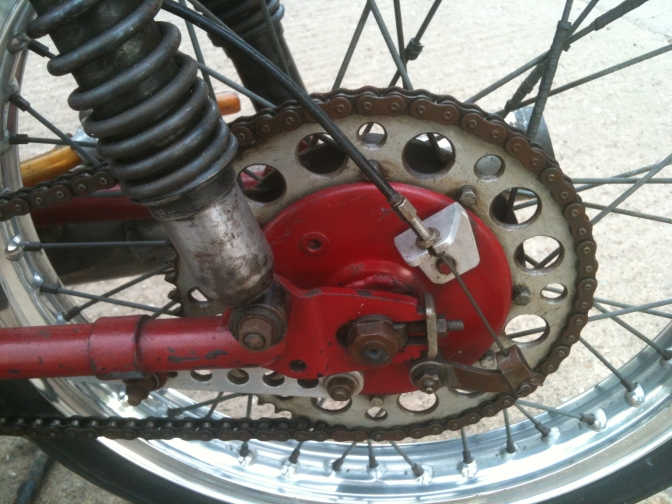 Photo OM.
Note the twisted lead weights on the spokes to balance the wheel.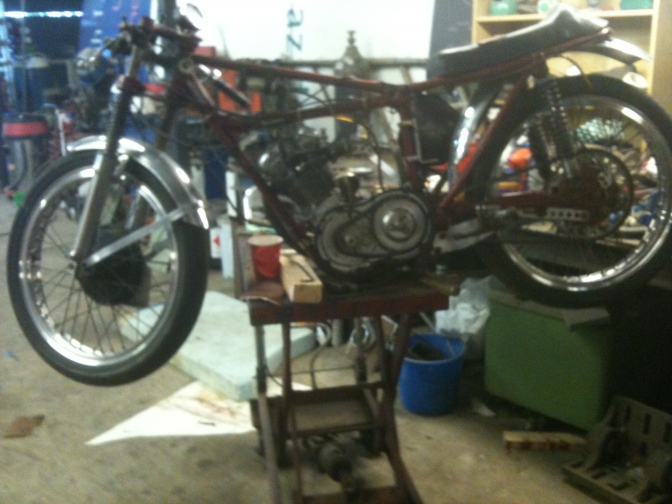 Photo.OM.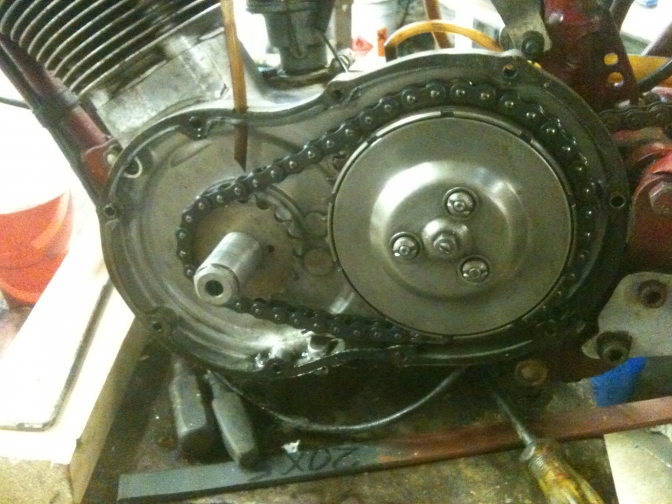 Photo "Otterman".
Clutch and sprocket details. Extra plate in clutch cork linings. Thicker pressure plate.
Dan Shorey ,
Banbury Gardian 1st September 1955,
Danny Shorey; 17 year old Dan Shorey won his first ever race at Wroxton when he took the first heat of the Unlimited Junior event on the 250cc Rudge.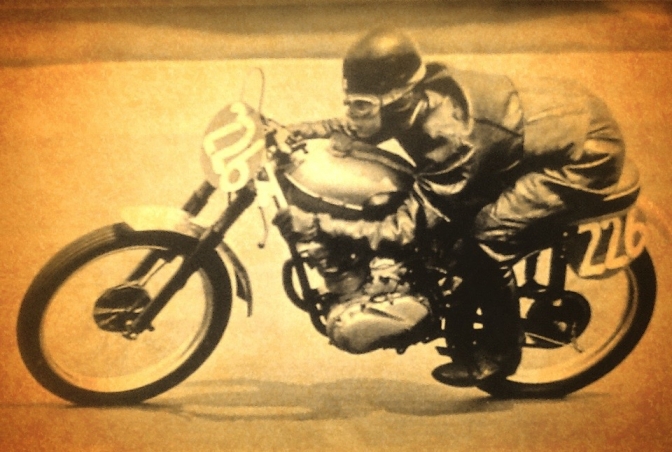 Photo Dan Shorey.
The first win on the Triumph Cub was at the Silverstone One Hour Time Trials of 1955 Were Danny won the 200cc Class.
It was also in 1955 that Dan first rode a Rudge on tarmac at Mallory Park. later in the year. A different bike to the Grass machine Dan tells me
Later Dan bought an MV Agusta from Mike Hailwood so the "Cub" was redundant before it started.
And to be honest I did not know Dan that well at the time being younger.
But I can't remember him saying that he had ridden the Cub anywhere else.
He did the occasional Hill Climb so he may have used it for a couple of these.
But the Cub was built to get him into road racing, and then by firstly converting a Rudge to be ridden on the tarmac and then buying the MV, and later the Maurice Henderson Velocette, like I say the Cub came redundant quickly.
So the Cub we have has although spent most of its life in the "Bungalow" Museum in the IOM, had, and has been, ridden by someone else and the Fi-Glass tank fitted along with the Fi-Glass fairing.
I will get to speak to Dan and clear the subject up once and for all.
Meanwhile we have a Very original little racing machine that needs to do something rather than collect dust in an unused store room.
I am sure that if it is fired up that would also fire us up to do something with
The "Murray Isle Of Man Bungalow Museum" Triumph Tiger Cub Racing machine.
Ralph Varden was born on the 7th December 1906 in Nuneaton.
Ron and Sylvia Morris (nee Varden) live in Evesham.
The following is a letter written by Sylvia about her father.
Ralph Varden 1906 - 1971
Dad had a great deal of energy and fun.
He was an engineer and his great love and interest was Motor Cycles going back to the early days of the British Industry in the 1920s.
He always wore the plus fours fashionable of the day.
He rode an AJS and Bullet Sidecar with his Brother in Law Ian Laurie Boff - life long friends (He was the timekeeper in the club scramble days at Hidcote Bartrim).
My Mother lived in the next road in Nuneaton where they lived until 1934, when his work as a Post Office Engineer brought him to Stratford-upon-Avon. He worked during the second world war in communications, but soon his love of British Motorbikes took over his life, and the Stratford Club was restarted. He rented an old farm house & buildings by Malew Church near Castletown in the Isle of Man for the TT races, and being on the circuit at Church Bends for the Southern 100 was a very popular place to be - no change!
All our family and friends enjoyed this venue.
The large sitting room with a blazing fire (if he ran out of wood he would sling on a chair, bought for a song in those days at the local auction sales, much to the hilarity of all) filled with bikes all getting ready for the race, spares and tanks all over the place - all chipped in with joints of Beef and bacon sandwiches, a butcher in a top hat was one, and Roman Zeil was a chef, his sidecar trials passenger, and Josie Ryder was also - she spent her honeymoon there too with the "Mice" and Ray also a chef - they were club treasurer and soup kitchen providers.
Ron Langston won the Southern 100 at this time and he tells of sleeping late after a "good" night, and had to join the pack outside the farm for practice without a wash or breakfast racing by the farm, when the roads were closed early in the morning, Sam Cooper and Ron Morris all helping and enjoying the excitement.
Ralph took an Ariel & sidecar and a Brough SS80 Superior & sidecar over there as transport and at one stage 8 club lads were sitting on it somehow to go up to the Mountain Circuit - stopped by the Manx police - but let off - most unsafe by the "ELF & Safety" standards of today.
Dad was a great leader of men and well enjoyed by all club members and customers alike, in Evesham too where Ron and I ran a branch of his Matthews & Co - "Run by Motor Cyclists for Motor Cyclists". Some of his bikes ended up in the Manx Motor Cycle Museum on the mountain, owned by Charlie Murray, an old school friend of his.
A Memorial Seat is now outside Malew Church opposite the farm now enjoyed particularly by the Marshalls on race day for the Southern 100.
I am sure Sylvia wont mind me using this from the Stratford MCC History page.
This links well with the runners and riders in this story. so in some way must be linked.
And I might add that Dan and Ron Langston are still the best of mates.