Herbert Poelz,
Builds a Brace of
BSA Bantams.
After building two superb examples of the BSA Otter breed the pages above this one are worth a look.
The man over the past couple of years has now put together two BSA Bantam Trials bikes, that are to the same standard of build as the BSA Otters.
The first bike built in 2015 has the now standard fitment to Bantam trials bikes the D14 four speed engine unit, with modification of coarce.
Both frames have been built to the high quality engineering standards we now expect from this man.
And you are never disappointed with the innovation, and thought, that goes into his work with everything built, to not only get the best performance from the machine, but also to build everything as light as possible too.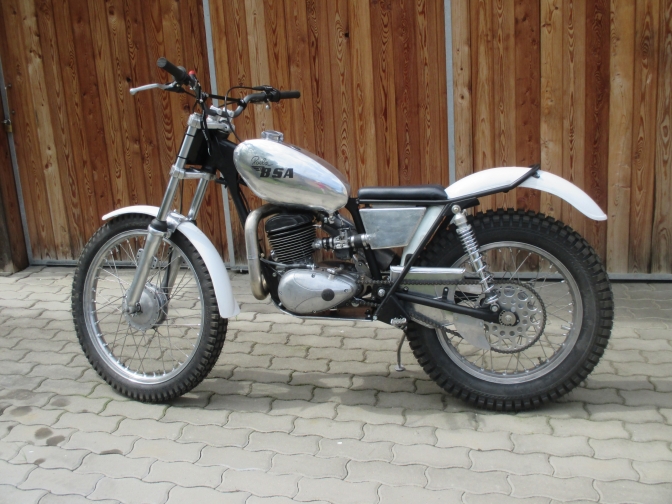 All photos again Courtesy Herbert Poelz.
This is the first of the BSA Bantam's Herbert built in 2015.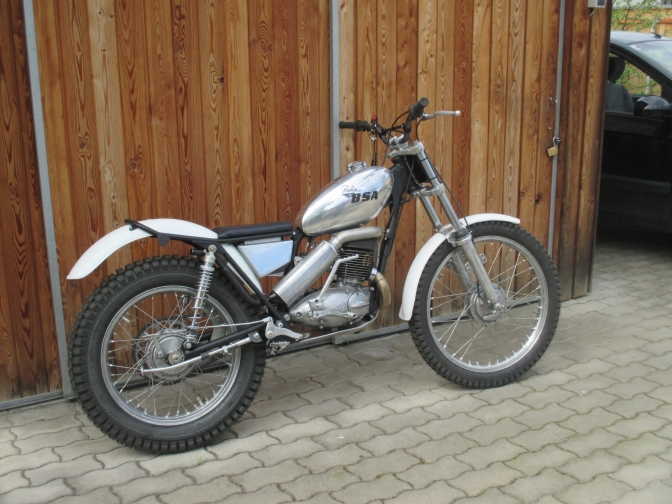 This is the bike with the BSA D14-B175, four-speed engine unit.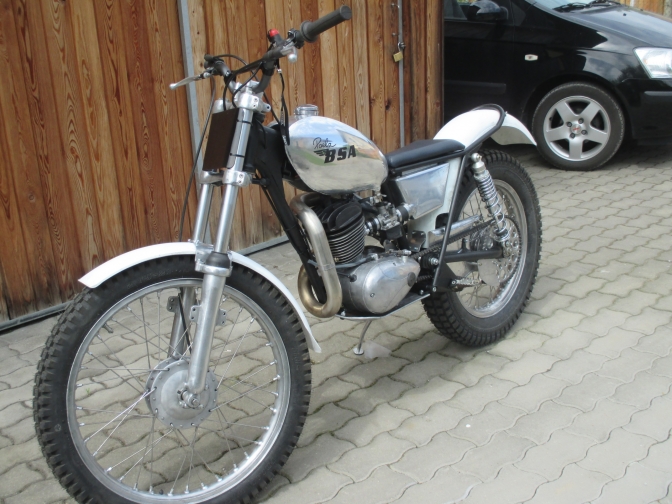 Ossa Forks, Terry Weedy alloy fuel tank, stainless steel exhaust system, and that all important now-a-days full capacity, Herbert made air box...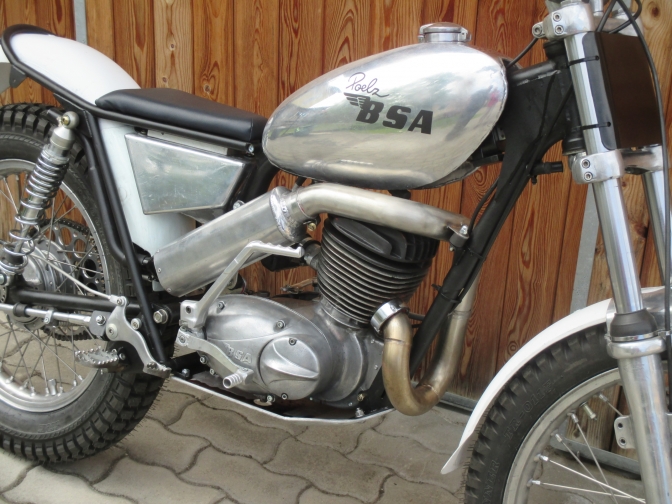 The Word from Herbert about the two builds.
>>>>>>>
Hi Charlie,
I am sorry my reply comes so late, but the hard disk of my pc quit its job.
I am sending you the photo's of my Bantam's I built.
Number 1 (with the round Terry Weedy tank) I built 2015, the second one I made this year.
Frames and swing arm are made of
chrome-moly steel.
The subframe I made similar to the Mc Donald Tiger Cub in order to gain more support on the swing-arm bearing.
On the first bike I used Ossa forks and wheels.
On the new one I modified KTM wheels and mounted 32mm Marzocchi forks.
Wheelbase is 1300mm on both bikes,steering angle 66° on frame 64,5° on fork legs.
The older bike
weighs 77 kg, the new one 71kg, for I used titanium axles and footrests and more aluminium parts.
With the Rex Caunt alu-cylinder I got last month it will weigh about 69 kg.
My first Bantam has a B 175 engine, 185cc, modified Fantic 200 cylider head and a PVL ignition, the new bike got a D10 3-speed engine with a Denso race cart ignition.
This ignition
has no magneto and I use a small Life battery.
I can ride for about 6 hours, before it needs a recharge.
As it only needed a small magnetic pick-up sensor, I had room for a big
additional flywheel on the crankshaft.
Thank's Herbert...
Again another couple of bike builds that has kept their builders imagination alive, as to what can be achieved with the humble BSA Bantam, should you just step outside the box so to speak.
Below is the second build Photo's from 2017.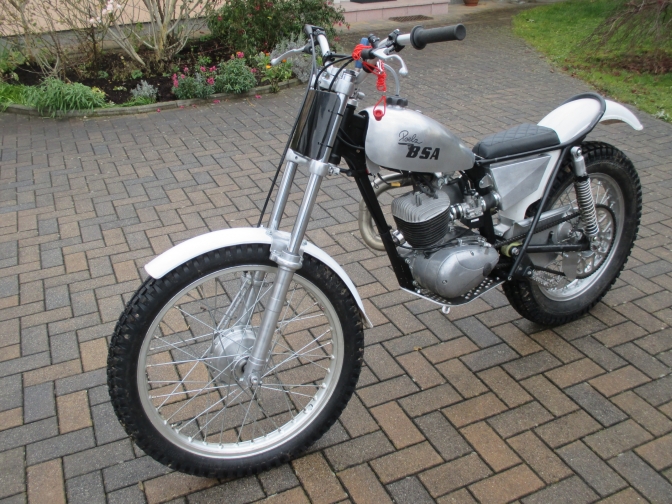 This little bike has the D10 3 speed engine unit,
fitted so in the eyes of many, this should be the engine unit fitted to
Pre 65 machines...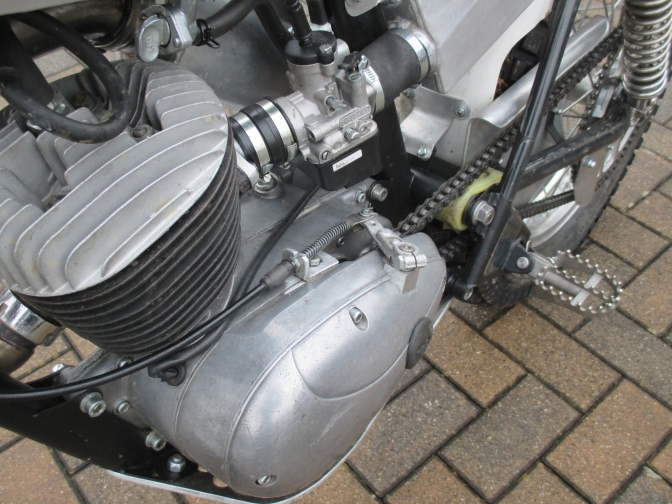 Another class conversion to the clutch mechanism,
and titanium pegs...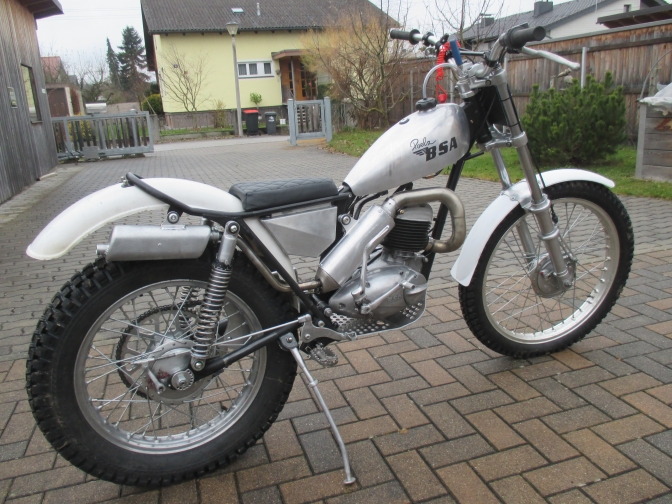 The Snake charmer exhaust system is different,
but knowing what the man now does it will work, and was designed to do just that...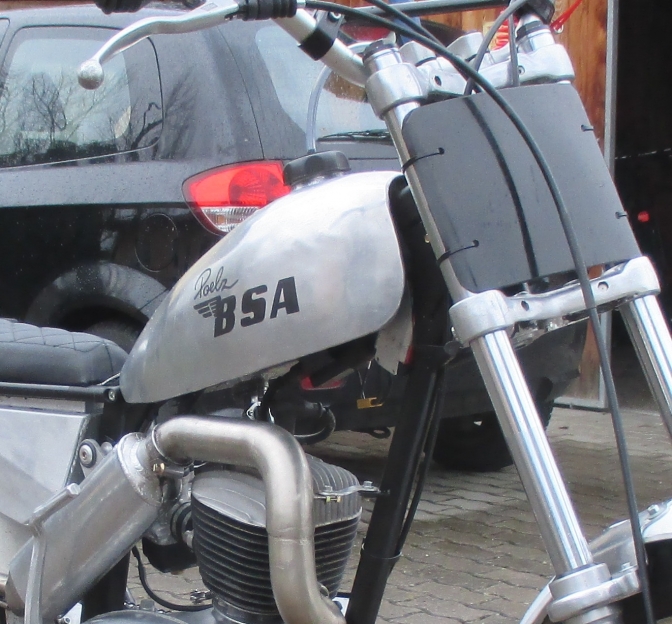 You can just see from this shot, the Denso spark box ignition tucked up under the tank.
I am surprised that other people don't go down this route for the BSA Bantam Ignition.
As it seems to be a more successful method of getting the engine to run right, other than fitting a Chain-Saw derived PVL type system, that seems dificult to adjust...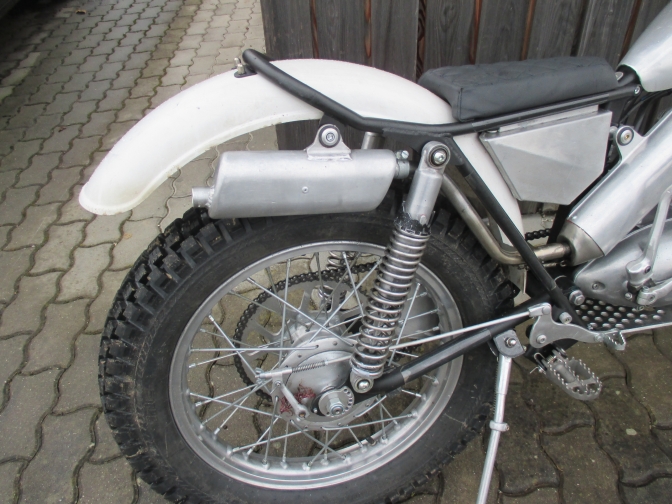 With the parts fitted to this machine,
I would consider that it was quite entitled to an entry in that elusive, Scottish Two Day Pre 65 trial.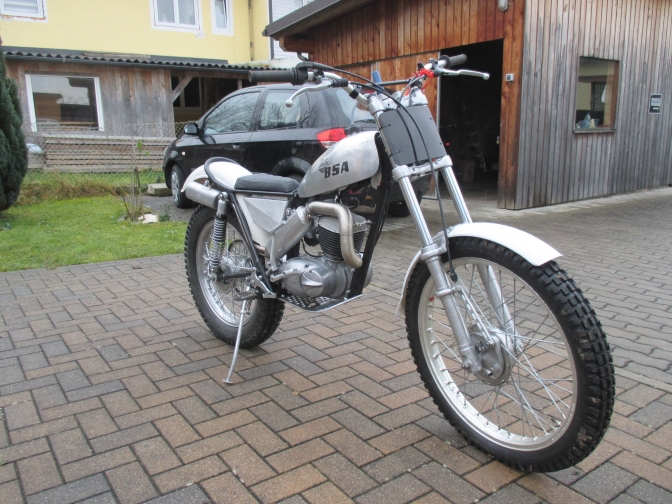 Summing up then, another "Two" builds, by a man that loves his engineering skills, and uses them with flare....
And puts it into practice every time, he builds anything...
Thanks once again, Herbert Poelz.
More later No doubt, and we hope...
updat2023...06...