Chris Leighfield,
Sprite to Vibsa's With Determination.
First an introduction.
I first met Chris in the early sixties when we were doing National trials on a weekly basis.
Chris was already up front with the top solo Guy's by then.
I was now a permanent passenger in Dan Shorey's Ariel outfit.
Then in 1963 I got the first TR 20 Triumph Cub out of the factory with side points fitted.
Chris also had a one of the first of this batch.
We were both to some extent looked after by the factory, with parts and upgrades.
(Story fifty years of Triumph TR20 Cubs)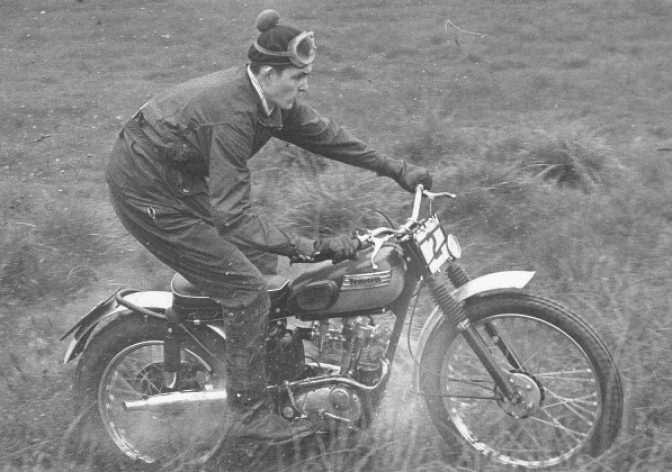 Photo Courtesy Deryk Wylde.
I then met Chris quite regularly at North Bar Garage, where him, and usually is father came to pick up the parts that he needed from the factory.
It was more convenient doing this as the bits could be picked up in the evening after work, Dan or father Bert used to go to the factory every week to pick up Triumph spares so the system worked well.
I then lost touch with Chris when he emigrated to Australia in 1972.
Then several years ago I was doing some research I think on Sprite trials bikes, and came across this publication in a Club trials Magazine named "The Golden Years." Written by Chris Leighfield.
I have got to get back in touch with him I thought, so emailed the club sectary and asked for his email address.
It worked and I got back in touch with Chris and we mailed each other three or four times a week regularly, it was then that I learnt about his long battle with cancer.
Most would just give up, not Chris; he just got on doing what he did best kept his brain working and treating life as normal as it could be.
He had a weekly college course so that he could do the machining he needed for the bike he was restoring or building.
And being the perfectionist he was, every little detail had to be right.
Summing up the guy was Tall in stature tall in life and with determination the same.
~~~~~~~
Looking for a log book for the bike that is pulling the Sidecar-e ambulance I found some of the
e-mails from Chris in 2008. there are more. but here is a start. ,What a bloke!..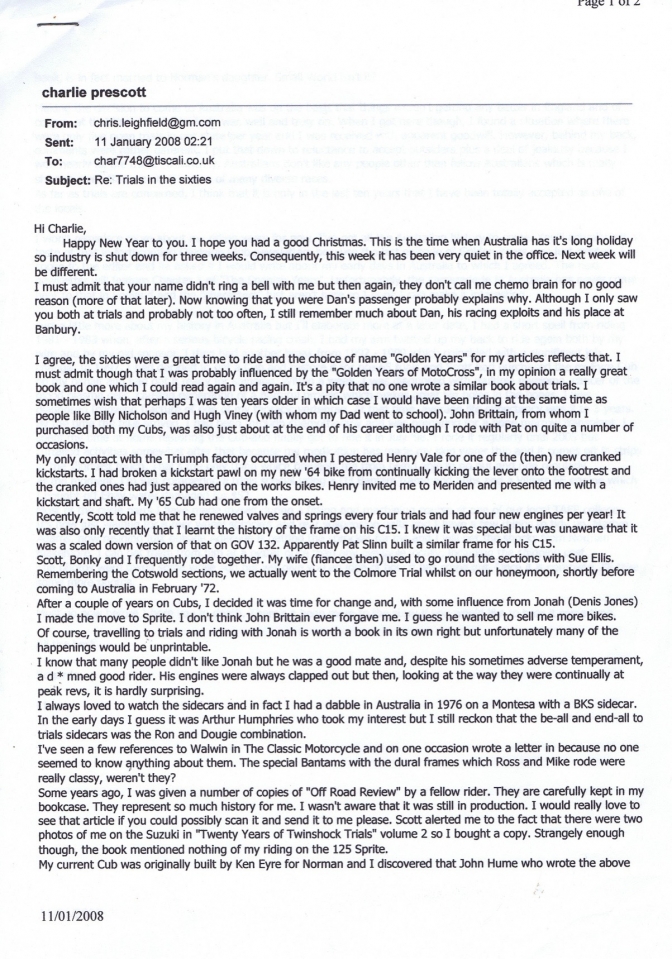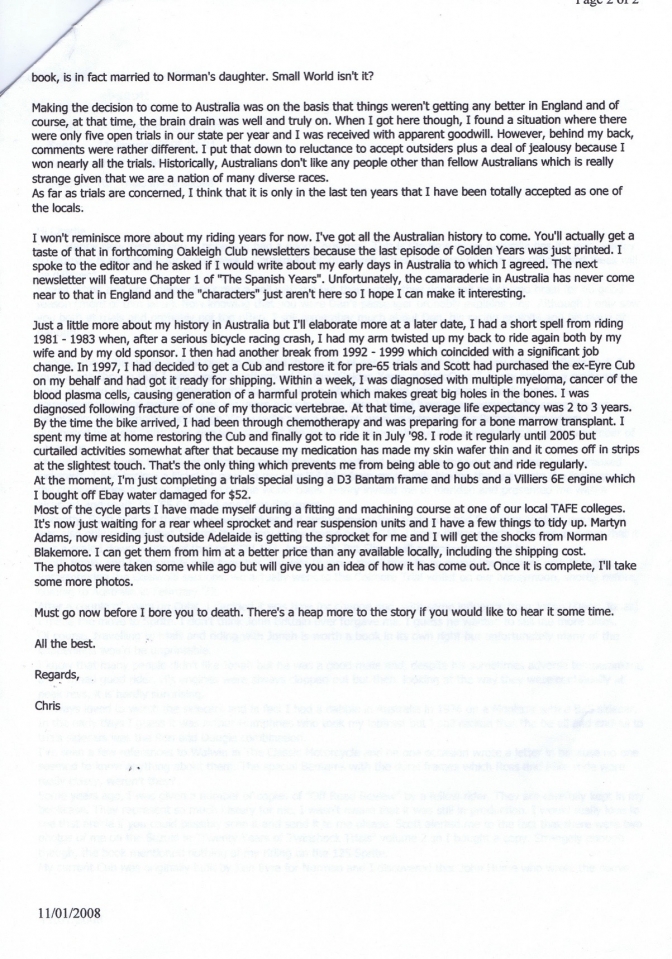 He said to me that the inspiration for the Vibsa bikes was an image of John Draper sat on his little Bantam at the start of the 1956 Scottish Six Day trial, He asked if I knew where he could find this picture.
I let him down, as I did not know, It is not until I made contact with Deryk Wylde. That I now have this picture to use.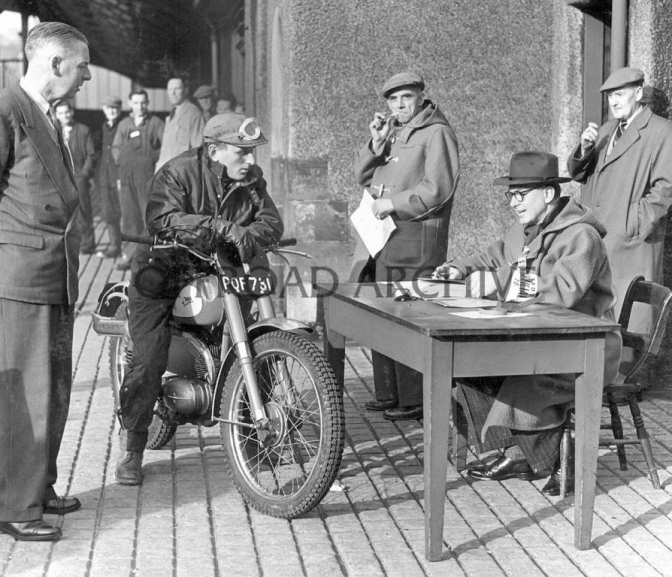 Photo Offroadarchive. With Deryks Permission.
I bet Chris is up there saying Yesss, that is the one.
Ok here are the pictures of the Vibsa's for a start.
I will build on this page with the Sprite build and more information later.
I will leave Roger Now owner of Vibsa Number One,with his tribute to the Guy.
I knew Chris when he first started riding in Trials with the Castle Bromwich Motor Club when we were both 14 in the early 60's. We used to have events at the old brickworks at Kingsbury when we were both 14 and too young to ride on the road. Chris moved on to the Birmingham MCC and I rode for Solihull MCC until we started Sutton Town MCC but we remained good friends and competitors over the years while he gained support with Sprites and Cubs. Chris's bike preparation was always top notch and you could guarantee his bike would be immaculate at the start of the second day in a two-day event.
Chris emigrated to Australia in 1972 and was Aussie Open champion three years running in the early 70's. Like the rest of us when we get a bit older he turned to Classics and won the Aussie Classic title 7 years on the trot. I caught up with him again when I emigrated in 1980 and found that I still couldn't beat him.
As Charlie said, he built three Villiers engined, Bantam framed Vibsa's which were all superb in appearance and I bought the first one which I called V1. We had some teething problems with it, which Chris insisted on getting right and he persevered until everything was fixed which was typical of Chris.

He generously responded to all technical queries from many guys over here and nothing was too much trouble for him to try and sort out.
Chris finished his working life at car maker General Motors Holden in Melbourne as a power plant (engine) engineer a couple of years ago to continue his battle with his cancer.
I was speaking to him only a day or so before his passing, and he was still telling me things about bikes.
The trials community has lost a great guy and I have lost a great mate
Sincerely
Roger Galpin.
~~~~~~~
Charlie,> Thanks Roger for that.
This is the bike that Roger bought from Chris, I now have all of the notes that Chris made while trying to get the bike right, Clutch slip ,Kickstart etc.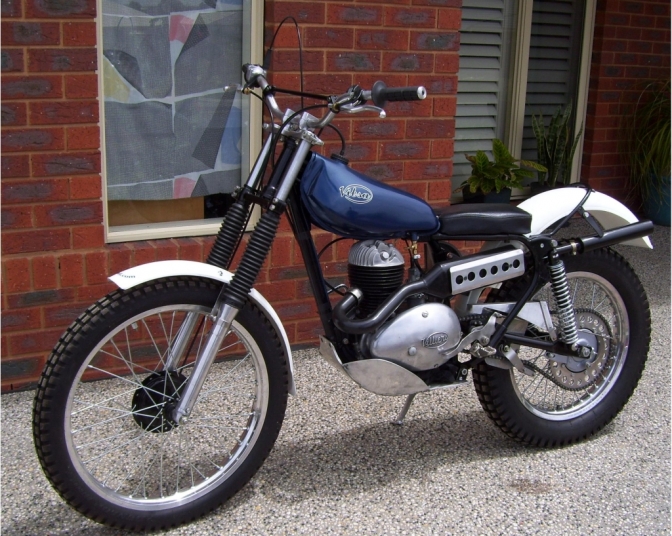 This is a better size picture of Vibsa "One".
I now have located all the images that Chris sent to me, and have all the mails about the builds but you will have to be patient , while I transfer the material from my old computers.
I am still doing this very slowly but I will get there for you.
Now Vibsa "Two".
~~~~~~~

Thing is with these machines being built in Australia, all the parts are really difficult to get.
I have tales that Chris told me about actually making sprockets from scratch on a college notching machine with dividing head fitted. and making machines to make parts.
This how dedicated to what he was trying to achieve he was.