The DIAMOND trials bikes...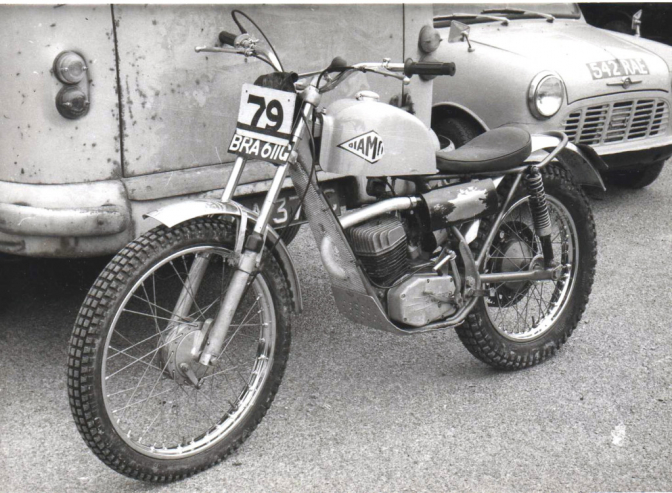 Photo Credit Mark Weston
This is the Mike Carey's 1968 DIAMOND machine with the Sachs engine...
After spending all last weekend determined to find more information about the Diamond brand after finding the photo again in my collection from years back. Some sixteen hours later and I still know very little about the breed.
After finding the photo published again on a face book page, and our old friend Steve Wilson commenting that he could remember the Diamond bike being launched in about 1968 to 1969… and the bikes were built by one Bill (Billy) Jukes from Washwood Heath Birmingham. And it was his brand name…Diamond…
Steve said very few were made, but he remembers a Diamond. 125 Sachs engined scrambles bike being built for Arthur Browning to ride in the first 125 MotoCross race to be held in the United Kingdom…
He also said his very good friend and BSA tester Brian Collier bought a 125 Sachs engine Diamond trials, and that it was on a par with the Sachs engined Sprite of the period when there was a wave of the ultra lightweight Micro trials machines.
On the History of Birmingham web forum site there is a mention of Billy Dukes and he was friends with a chap that was a mate of Roger Slater the Laverda importer, who also was partner in a motorcycle shop in the Washwood Heath area I believe it was named "Kings motorcycles'…
So I then draw a blank on the hope of finding anymore information about Bill Dukes although the name rings a bell and knowing that the frames were built using Reynolds 531 tubing I was hoping to find a link to the late Ken Sprayson… so spent an hour or two reading through the superb book of his life, Ken that is and I still use the book a lot like a reference library for my frames. Deryk Wylde I thought, so sent the old boy a mail message… "Well I have heard about the Diamond Name and knew they built trials bikes but they were a bit after my time so to speak" he said…( I still think there is a photo of the bike in one of the Off Road Review's but it means me going through all one hundred and one copies...)
Anyway the chap who placed the Diamond photo again was Mark Weston. And he said that the bike in the photo belonged to Trials rider Mike Carey from Derby and the photo was taken out side of the "Bull-i'-th' Thorn" Inn at Hurdlow, now a Cafe and campsite... the start of the Bemrose trial of that year. And the bike was virtually destroyed in a collision when a car struck the trailer it was on as the driver was turning right.
So we then move onto the copy Diamond bikes that were built using the Mike Carey machine as a pattern the builder of these machines was the late Bill Cooper from Derby and a superb motorcycle frame builder and engineer, along with being a bit quick piloting a racing sidecar outfit. One rider of the Bantam engined Diamond -Cooper trials bikes was campaigned by the talented John Orme and he was still riding the machine and winning into the eighties… Bill made a small number of his Diamond-Cooper frames and we know one or two of these still exist. One was owned by Bill's sidecar passenger and had a Triumph Cub engine fitted...
Ten frames were built says Bill's son Darren and he has one of the bikes and the frame jig still... and it seems John Orme built his Diamond copy bike along with at least one other and he also had a jig for his frame...
~~~~~~~
The Diamond brand of trials motorcycle we try and find information about this little known breed any information would be more than welcome…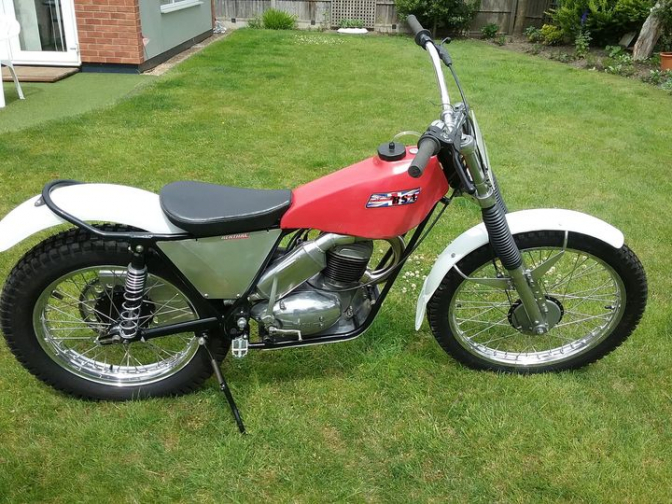 Photo Courtesy Steven Shaw...
This is one of the Diamond-Cooper Bantam engined machines rebuilt a couple of years back, but now sold on again..
So we have a very small start to this page and let's hope it builds like some of the other have done in the past...
I just hope you will be able to help me on this one...
01/12/2022...
After another day researching The Diamond trials bikes.
I now know that Bill Dukes had a motorcycle shop by the Capital in Ward End Washwood Heath, and was also a sidecar scramblesgrass-track pilot, and that his workshop manager was Arthur Rushton who was also his sidecar passenger, and it was Arthur who built that outfit… Arthur went on to become team manager for the Birmingham "Brummies" speedway team in the seventies, and had also ridden in a local
Cycle-Speedway team in his youth along with an old friend of mine the late Dennis "Wacker" Westwood. So we have a bit more background to the plot. And was it Arthur Rushton that built the Diamond frames? Lets hope for more…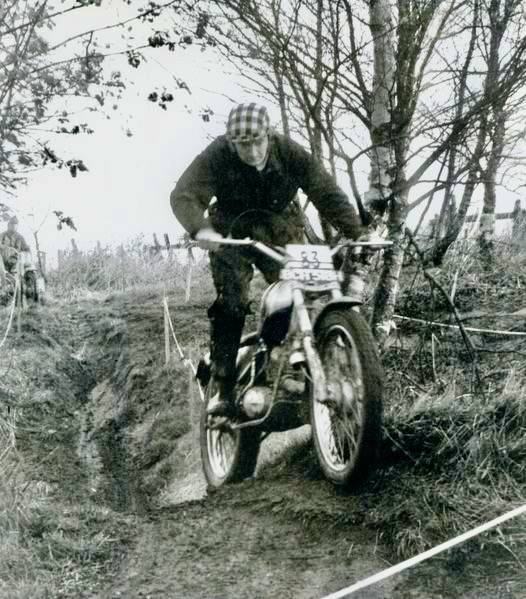 Photo Credited...
The legendary John Orme aboard his Diamond-Cooper Bantam engined bike, or it could be one of the frames that he built...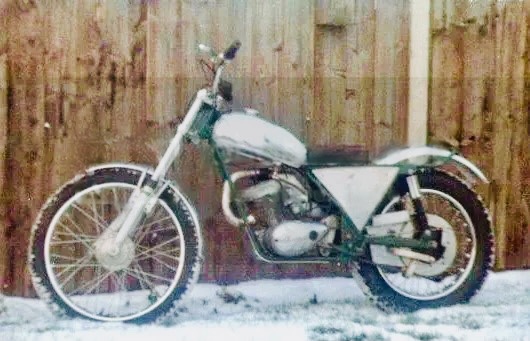 Photo Courtesy Rob Smith...
This is Rob's Diamond-Cooper trials with Bantam D175 engine. and with the British Racing Green frame...
Note: the Cooper bikes and the one on the John Orme bike. were wearing the Wassel type tanks made by lads from the Woosters Motorcycle shop...Phil and Danny Cork, up the road in Leeds...
03/12/2022...
After speaking to Pete Kirby another interesting tale comes up about Bill Dukes.. He was a Honda dealer and was well thought of by Honda and was invited to Japan for a tour of the factory and all the trimmings that go with it... Pete first met Bill Dukes at a club meeting when he was eighteen after taking his sister there to the club to meet her friend . Bill Dukes was the speaker. After the event was over Pete got chatting with Bill and he asked Pete if he would like to passenger him on his BSA A65 engined Wasp outfit at a continental grass track meeting in Belgium… Pete had no passport so had to hurriedly get a visa for the trip. They jumped into the van and set off for Belgium. Most of the races at that time were ten laps long, and the pair were laying in second place when they realised that the race had been shortened to six laps but although they put the hammer down they could not get that elusive first place as the flag fell, so finished a very creditable second…. That is the only ride Pete had as a passenger with Bill Dukes in that outfit, has at that time he was a busy eighteen year old apprentice at the BSA…with no time to spare…
He could remember later that he met Bill Dukes in the posh part of Birmingham, Bill was now a landlord at one of the bars in that area…
at Brindley Place...
12/12/2022...
There you go Pete I should have looked at home first and I would have found the answer in this June 1967 Moter Cycle Mag...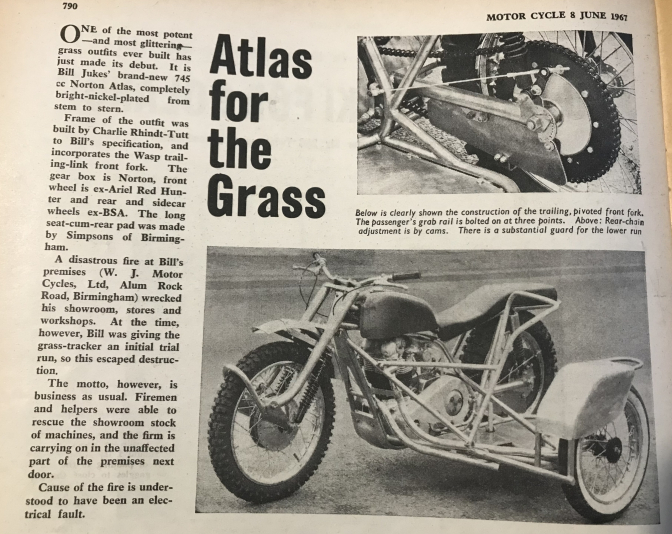 Yes Result...
char7748@tiscali.co.uk
More Later I hope...
Don't Forget DIAMONDS are Forever...
2022...