I have been asked several times, where do I get this or that from, for my "Otter" BSA. So I thought it was a good idea to set up this page.
You can "ASK ME" where is the best place to get parts from for your engine or frame, ETC, If I dont know,I will have a jolly good try to find out for you.
You can also "ASK ME" about technical aspects about your bike, again if I dont know, then I will have a good try to find out the answer.
So Just "ASK ME". Use contacts page,or e-mail me. char7748@tiscali.co.uk
Johannes Salch, from Germany, Has asked me, where do I get a diaphragm clutch to fit my BSA B40 and also a wide top gear.
Well Joannes, here is a clutch along with the belt drive as well, (at the top of the page).
This comes from Peter Kirby. Tel 07886745942.UK.
07/4/10.
I have spoke to Pete today and he tells me another batch of these clutch/beltdrive kits will be available in about 3-4 weeks Price,£395.approx.
He also told me that he has been testing these clutch kits on his own BSA for the past 3-4 years, and he has ridden in the Pre65 Scottish,and Manx Classic two day trial, along with Welsh three day trial every year since fitting it. So you could say that the kit has been well and truly tested.
The contact number for the high top gear is, 0182757207 The company name is " SET".
I will give them a call to get a price for you.
I have been asked where to get carb spacer's from, for C15-B40 engines to Amal Concentric, 25mm wide. To be honest I don't know, and looking cant find any. So It looks like I may produce some myself. Interested?
Hi Richard,
As you and a few more inquires, are interested in the spacer's, above,my machinist and I will see what we can come up with to this pattern below.
And for you, that just want a simple oval spacer 25mm long, with longer studs, and bored to your preferred size, let me know and we will see what we can do.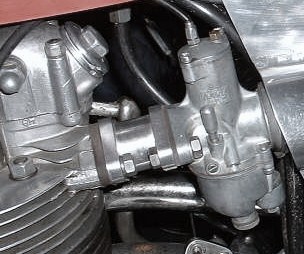 We will bore them from 25mm to 32mm. I will try and keep the cost as low as I can.
11/5/10.
OK , The first four spacers are made,the CNC program is now on file. We have made two 32mm spacers that I think are sold, and two 24mm, as we think this is the starting point for sizes, 32 mm is the maximum. I will put pictures of them onto this site shortly.and the final price. thinking £17.
these will be for sale on my e-Bay site as soon as we make the next batch,(details later).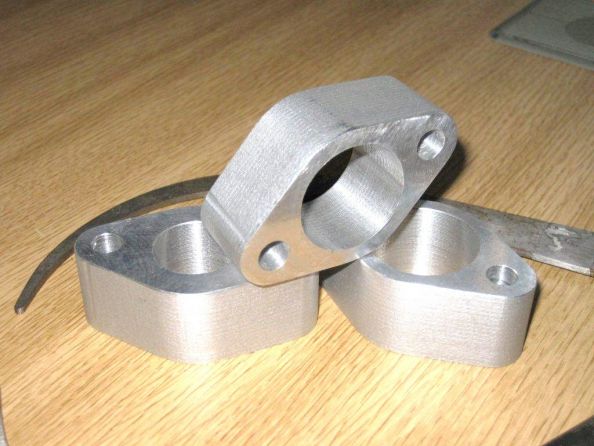 There you are then boy's ! sizes. 24,26,28,30,32,mm. Bores made slightly under,so you can polish them if you wish.
BSA C15/B40 timing-side needle roller bearing conversion.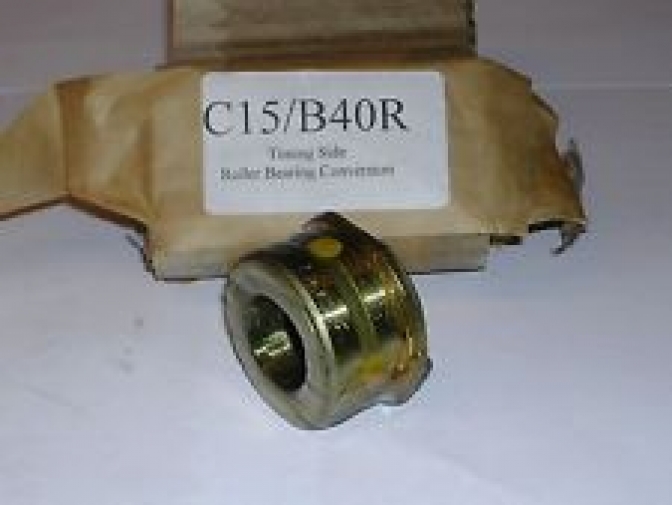 I have been asked for information about the Alpha timingside conversion.
So I mailed Max Nightingale at Alpha Bearings.
He tells me that they are making a new batch of these bearing conversions this week 26/03/2014, and they may be ready by the end of the week.
The current price is £141.oo plus Vat, and Carriage.
So if you are contemplating doing this most nessasary conversion in my mind, has you get better oil flow to that preicious big-end bearing.
And like Dave Wood said fit and forget. He had one fitted into his old bike and it was still good when he sold the bike.
e-mail Alpha at info@alpha-bearings.com