A Guide to Pre 65 Rules has I see them,
And Now the New "TRAD" trials format.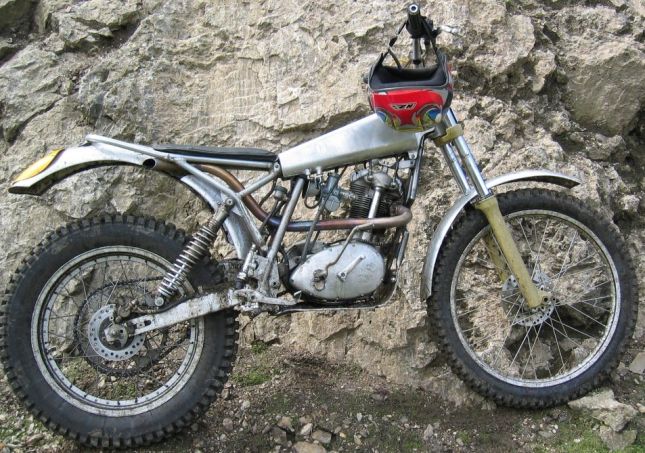 This machine should not be classed has a Pre65 trials machine.
This is a "Britshock" bike? very loosely.
But this guy, uses this machine in the so -called Modern day trials, and I am told does very well.
Now take a look at the Third bike down.
This is also classed has a Pre 65 machine, Is it?
Just compare it with the 1963 bike below to make up your mind if this is so?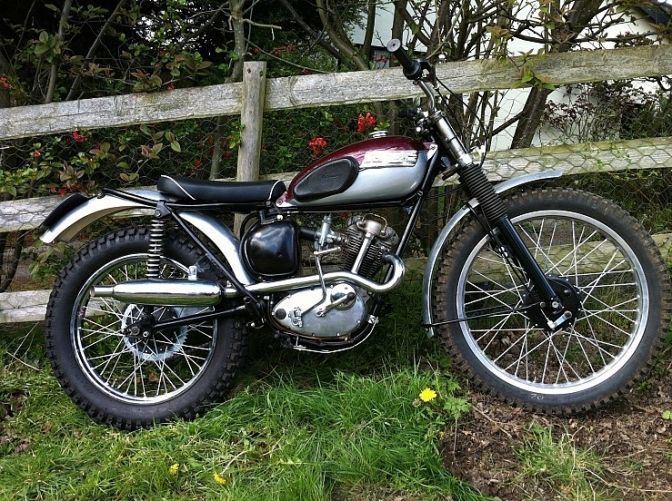 This is the 1963 bike and correct in every way
Third Bike.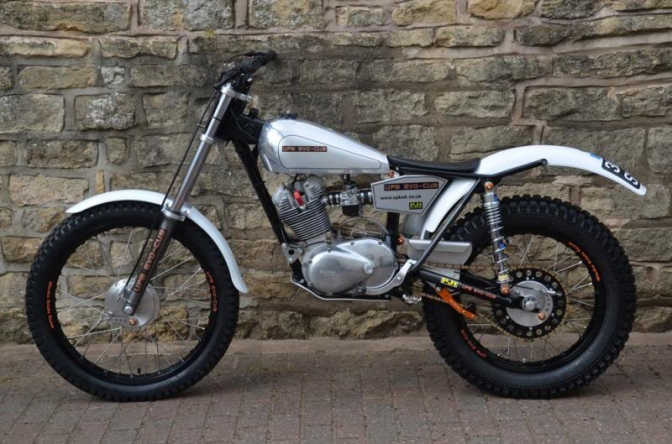 ***
This is a brand New 2015 built Triumph Cub? but in some quarters classed as Pre 65,Is that right?
OK. How I see what makes a machine Pre 65,and I am being lenient with some my rules to just use common sense on some counts.
Now this is my definition of what I think should be the "Rules". and this could be pushing them to far?
A British Trials bike based on a image of a machine built before the end of December 1964.
Now Image means,
A machine, using an engine and gearbox available at the time,unit or pre unit, or a derivative of this engine or gearbox (four speed, max). IE, As per the C15/B40 engine, The basic design, even though up rated over the years past 1964, was still a development of that basic design.
Carburettor,
Should be one available or under test before 1965, this lets in the Amal Mk1-1,1/2 carb, and also some Italian- Japanese carbs that were fitted to bikes before the threshold.
Frame,
Should be a silhouette of one built before 1965 but not necessarily one in production, a replica of a known frame, (with Proof) should suffice?
We know that most frames are now so-called copies of a frame produced before this 1965 time line.
Most are made of lighter and better quality tubing than was about at the time.
And most have had the swinging arm lowered,or altered at the pivot, and the under engine frame modified or removed.
Subframes have been reduced in width, and swinging arms lengthened and widened.
Brake drums, rims, etc should be ones available at the time no matter the nationality of manufacture, or sensible copies of the same.
An effort should be made to make the machine look as "British" as possible. IE, fuel tanks Etc.
Front Forks.
These should be of Pre 1965 appearance. and fitted with some protection for stanchions. Internals can be of later manufacture, but must be stated as so on the entry form. If the majority of the entry have internally altered forks, BSA/Triumph, Four stud forks will be allowed, along with other makes of fork available before 1972. If however an entry was made up of bikes fitted with genuine Pre 65 forks, the bikes fitted with the later 1971-2 forks would be able to compete, but with a penalty of 3 marks lost. Yokes to my mind can be any that are safe for the job in hand, no mater were the pinch bolts are.
Cycle Parts,
Ball ended levers (16mm) and folding footrests are a must. Bars should be no wider than 840mm. The throttle must return to its stop, and the cable be free running.
Brake arms-rods,and cables, should be adequate for the job.
If, or should I say when, we run our own club trials,
these rules will apply, to bikes I call Pre65 others up to the seventies with British motors will be known has "Britshocks"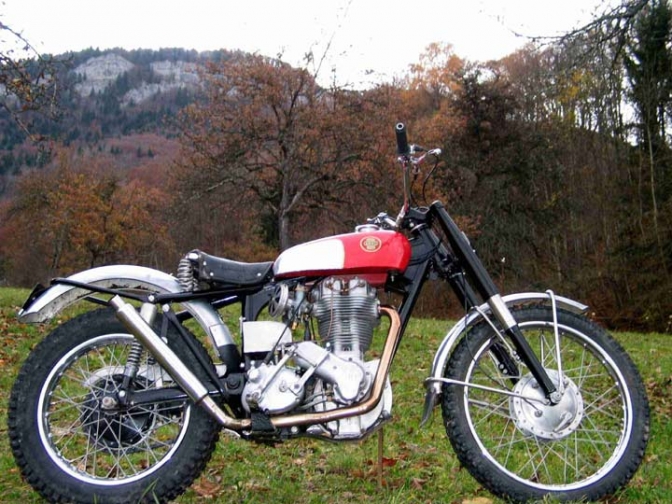 This or the one below or both?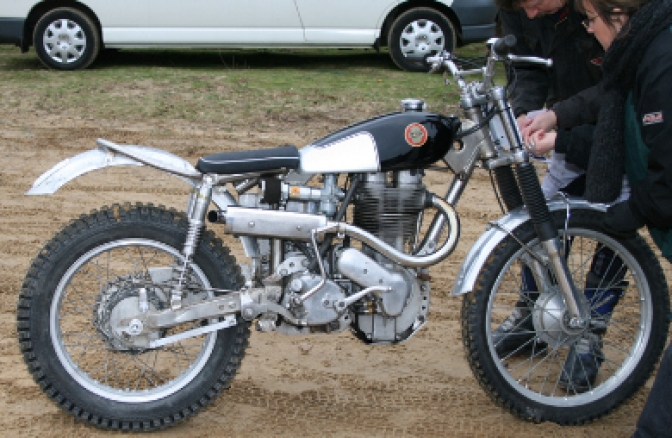 Disagree then let me know.
Well, I have received an unbelievable amount of interest in these rules.
And it has now spurned others with this way of thinking to try and persuade the ACU or AMCA. to set up a series for Club-men, with British Twin Shock machines up to 1970,with sections that are enjoyable to ride ,on a machine that has not cost the earth to put together, or is still near original.
We suggest that this series is named "Brit-Shocks".
If we have no joy with the bodies named, we will run our own trials for these bikes. Good Idea?
OK now the new "TRAD" rules that refers to the type of sections used before 1965.
This is the New or should it be Old, format, that we a going to try and get some forward thinking (or should that be backwards thinking?) Clubs to use to try and get more older machines and riders back out of the cobwebs.
Deryk should have written what he thinks later today, so I will update the page then
Here is some old 1960 trials footage which will give you some idea of the type of sections there were at that time.
I might add that I cant believe the lack of grip in the latter part of the film.
So you see you already have an advantage on us guy's back then, the tyres now-a-days "Grip".
Bring on the "TRAD" trials.
More Later.