Well Street Garage Buckingham.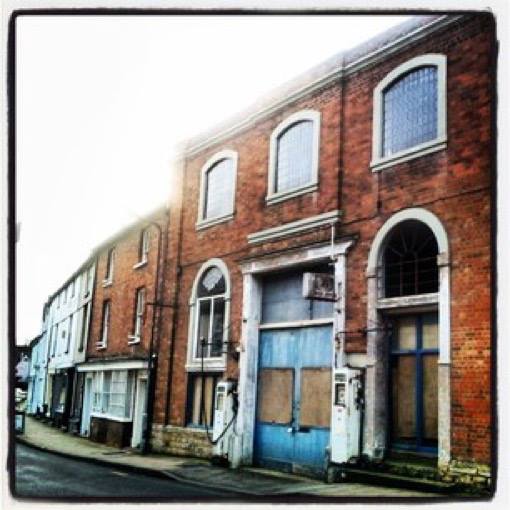 Well Street Garage Buckingham UK.
Well where do I start, do I add it onto the seventy years of me? or just tell the story of the history when I knew it.
From the beginning Year 1961.
Bert Shorey Dan's Dad had decided to enlarge his motorcycle garage empire, and to safeguard his future by buying Well Street Garage on his own, where as North Bar Garage in Banbury was jointly owned by himself and Bill Russell a long standing friend of Bert's and a shrewd businessman. But Bert and the family were left to run it without much interruption from Bill, although he did keep a tight check of the books.
So with much haggling with the previous owner of Well Street Garage. Bert took it over along with the fuel contract for the petrol pumps. Cleveland I think.
Dan was by this time in the summer months a semi professional motorcycle racer. Doing the "Continental Circus " of Grand Prix racing.
By this time I had forsaken my agricultural Engineering apprenticeship to work at North Bar garage, I had been enticed by the fact that I now every winter month spent most week ends as passenger in Dan's Ariel trials sidecar outfit. And was one hundred percent, into the motorcycle off-road sporting scene, and it was my intention to become a road racer as well, like Dan in the summer months.
But I digress. Bert now had the two garages to run, and as I say Dan was away most of the time.
So my brother had just left school, and was into the trials bikes like I was and had got to know Dan when he picked me up from the farm every weekend to compete in one National sidecar trial or another.
Brother had got fed up of milking the few cows, which my aunt had, and was looking for employment.
Dan suggested there was a job for a lad to help out in the New garage that father Bert had bought, but he would need to get into Banbury early, as the garage was at Buckingham and Bert would leave in enough time to open up at nine every day.
So little brother had to hitch a lift into Banbury every day with father, too early for me.
I left the farm at a leisurely pace either on my Greeves trials bike, or the Ariel Leader I had, that we purchased from a farm just up the road from the bridge used in the "Great Train Robbery".
This was while I was still at Young's Garage doing my Apprenticeship.
Don't forget that it was these guy's at Young's agricultural department that had got me big time into competition bikes.
Anyway within a short while the daily routine for bruv was to be dropped off at Well St Garage by Bert and left too run the place while Bert popped back to do his chores at the Banbury garage, and then later in the afternoon he would drive back over to Buckingham in his Austin A55 pickup in green, to pick up the now what he had become one of the youngest garage managers in the country.
And spent his days filling cars and bikes with petrol and chatting to all and sundry.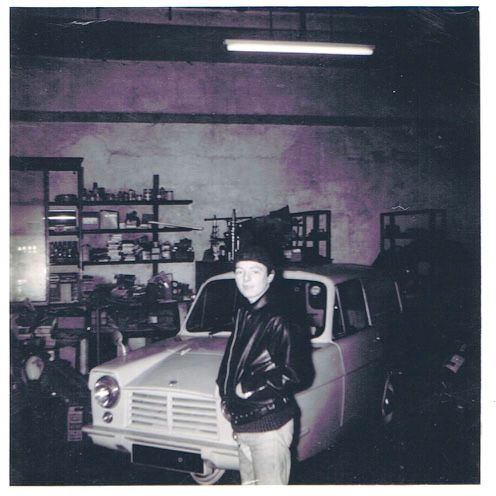 Franco who later worked at "Well Street Garage" with Bruv.
*******
This could have been the rolled Reliant?
*******
It was amazing how many characters became friends with that Garage, for the simple reason it was somewhat of a meeting place for not only the youth of the area that used to pop in to have there push bike fixed, as the garage was a cycle shop before Bert bought it.
But also being a Reliant garage now, the eccentric drivers of these little vehicles had to be characters just to drive them and most just bought the three wheelers because they could not get a car license.
Or they had swopped their sidecar combination for a dry seat in one of these very unstable little three wheelers.
Just adding to this while I think about it, there was one chap, can't remember his name until I ask bruv or Colin.
But he lived somewhere towards Bletchley and had to drive along the Stow straight as it was called, every day, I think he worked at Smiths Industries.
Anyway there is a sharp bend at the end of the straight, and he used to roll his red Reliant 325, into the ditch there on a regular basis.
Bert would drag it out with his pickup and load it onto the two-wheeled "Ambulance" that he had devised to drop the front wheel of the Reliant into, and tow it as a trailer.
The Glass fiber shattered remains of the Reliant was the dragged of back to the factory at Tamworth for repair.
Until getting back to the owner for another go the following week.
Can't remember how many times he rolled that car. But when it got to bad, he tried the same trick with a new one. And kept coming back for more. He never did get a car license.
Another case was the couple that had an immaculate Triumph tiger 110 sidecar out fit from Chipping Norton. Colin will know their name.
But they were both knocking on and they had decided to go the Reliant route, so swapped the outfit in for a nice little 325 saloon. They used to bring it back to Banbury or later to Buckingham to have it serviced on a Thursday at Banbury, Wednesday at Buckingham.
But the major problem was that Mr? Could just not reverse the Reliant he was shaky with the driving but could not park it unless he could drive straight out. And they both got out and pushed it like the sidecar if it was in a tight spot.
See what I mean about characters.
Back to the plot. But to another of these eccentric people that just seemed to accumulate at Well Street.
This chap had an old Austin A 40 van, and used to call in for a gallon of petrol a day and used to count the money out for it in usually coppers.
One day by accident brother or one of his mates that he always had hanging around lent on the back of the van, and one of the rubber mounted rear windows popped out of the seal and fell into the back of the van.
Owen Turney the driver of said vehicle was not amused, and fitted it back in while they watched, so this was too good a thing to miss, so they would wait until he had fueled up every day and got back into the van and revved up as he did for the off. Then one of them would nip around the back an push in the back window, Owen would shoot off towards the chip shop then screech to a stop throw open the drivers door go around the back of the van open the door and then slam it shut, gesture with his arms back up the street, and then drive off again at speed.
And this happened on numerous occasions and he just did not learn.
I might add that Owen Turney and he was a total eccentric became very good friends of both my brother and me and we had numerous deals with him over the years. But this needs a page of its own.
Owen was one of the first people I know that had a new fangled radio tape player in his van and always had the 1812 overture playing at full blast, so you knew he was coming before he even turned the corner into Well Street, or anywhere else come to that.
Enjoy this version and the right time.
*******
Back to the garage.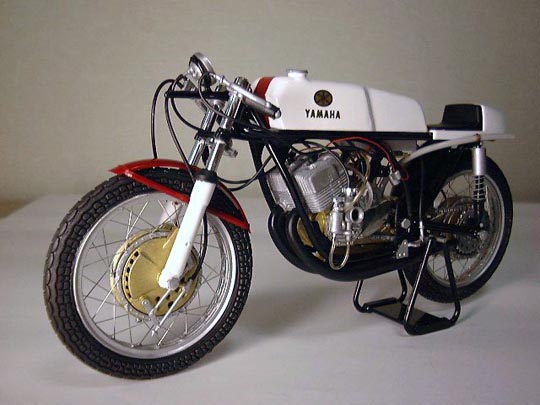 RD56 Yamaha 1963-65.
1963 and the little garage was ticking over nicely, and a slow trade as Bert used to say was continuing to grow, and the work sometime got to much for the bunch of tearaways and I used to be drafted in to help.
Anyway May 1963, saw the biggest attraction to the garage for some time,
The Japanese motorcycle industry had decided to have an all out assault on the Isle Of Man TT, and the works Yamaha team had decided to spend a week practising at Silverstone to get the bikes acclimatized and sorted.
Problem was that they need a workshop to work on the machines.
I take it Dan had arranged the use of Well Street Garage for them. So this was used for the base.
We had just not seen this sort of dedication to a cause before, and could not believe how many mechanics it needed to work on the bikes. Each had a job to do and got on with it with much chatter but we could not understand that anyway.
Rider Fumio Ito, was the only one that could put a few words of english together.
Each of them was decked out in clinically clean white overalls and white cotton gloves, and they were changing hot spark plugs with there hands, and changing tyres at a speed I had not seen before.
The garage was like a magnet to the town's people for that week and the chip shop down the street did a roaring trade.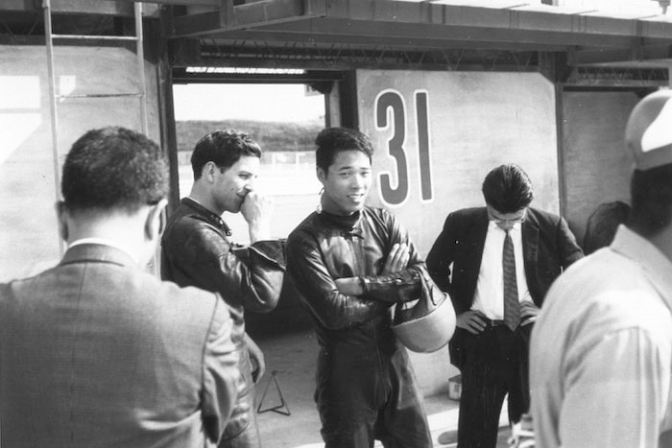 *****
Fumio Ito in the middle. the other rider on the left is our own Phil Read.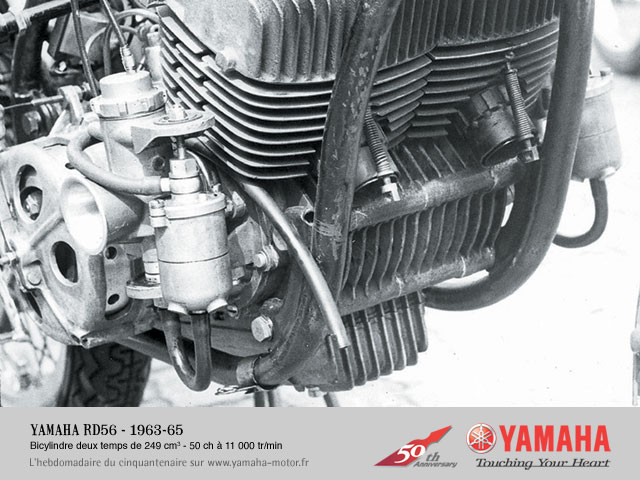 Fumio went on to finish second in the 1963 Isle of Man TT lightweight 250 race.
*******
The garage had seen top class racing machinery before in the fact that Dan kept his best racing Manx Nortons there, and one or two exotic machines at one time but these were stored upstairs out of prying eyes.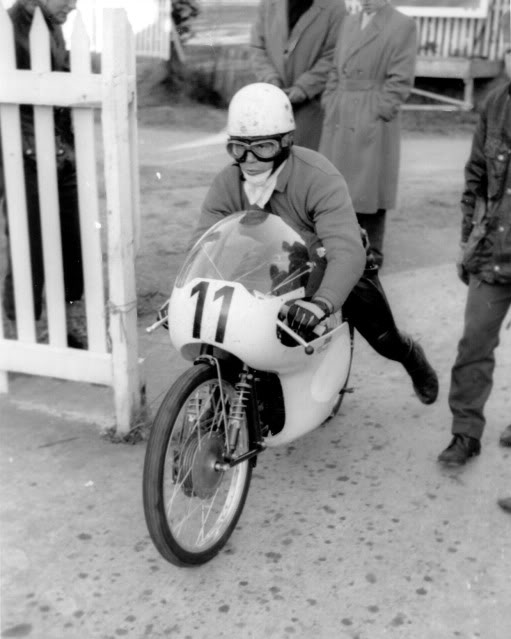 Dan with the works Kriedler 50 at the IOM TT.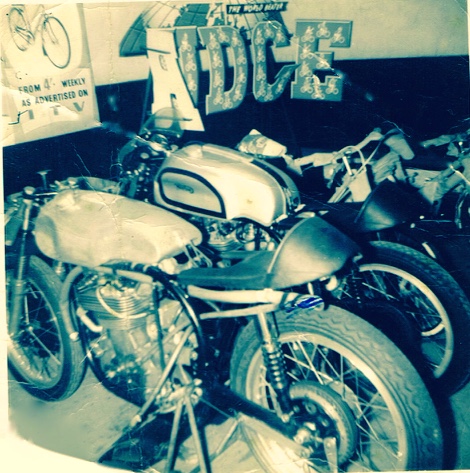 Two of Dan's Manx Nortons upstairs at Well Street Garage.
More later,
Today the Garage has been restored after standing for thirty plus years empty into a New swanky restaurant and wine bar.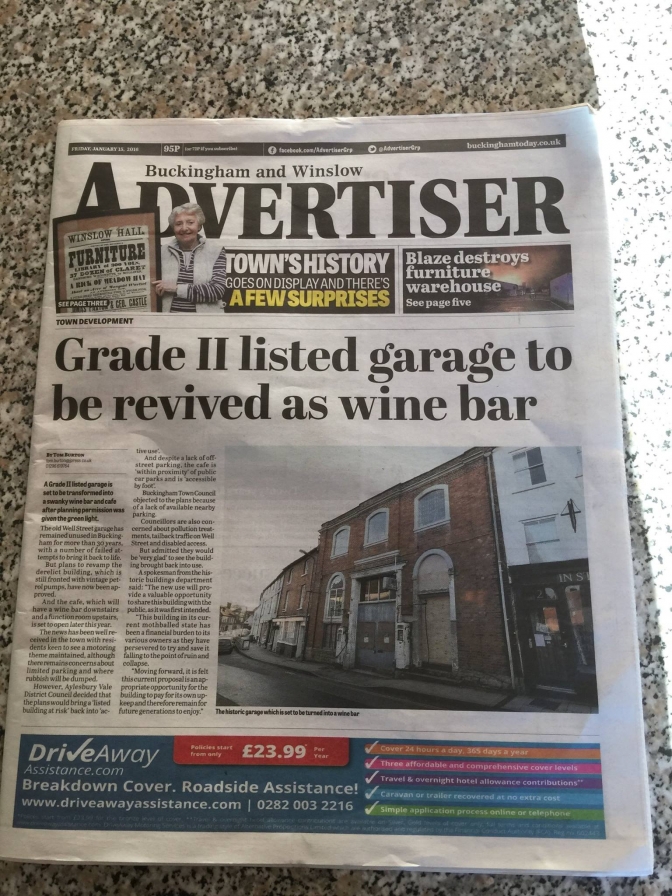 That was a long time shut.
Glad it is now back attracting people like it did in the past.
Work on conversion to keep it Grade two listed.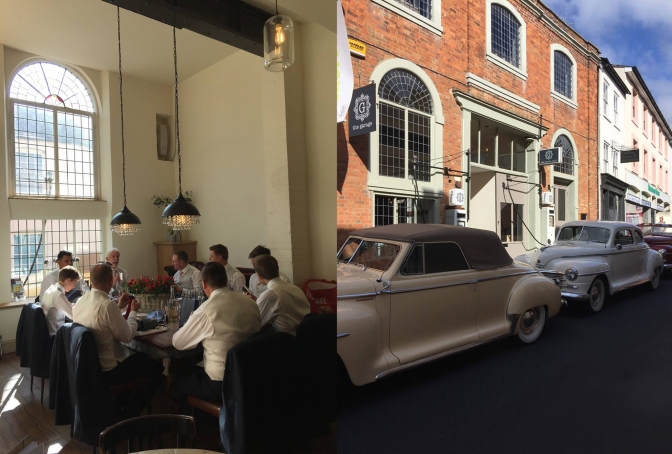 Time for lunch and check the old place out me thinks.
The pumps later became Jet as you will find out.