OK another year started already.
And I hope I can achieve my New year resolution ? To build the five bikes that I have frames for.
And catch up with some of the other projects in the pipeline. There may even be another Classic Trials Show this year.
First off then, I have written a page about My Mk 1 Faber framed "Otter" with help of the folder full of information I have received about the bike . Has you know this bike is now in the IOM being trialed by the determined minded Stuart Bedford. Just hope he has a good time with the bike until the Cub is ready.
15/01/12.
Hi, Well I have placed has you can see a new page on about Dave Wood's Mk3 Faber build, and I know when Dave has got this bike right, it will be a winner. Dave is a very underestimated rider, and I place him in the top flight.
Stuart has had a good first ride on the Mk 1 Faber Otter, despite having to manege with an old clutch lever from there outfit fitted as the replacments I sent them did not arrive in time.
I have decided to fit BSA/Triumph four stud forks on the Manic-cub, as you can now get new stanchions for these along with most other parts. I will when I get around to it do a page on these forks and the mods to the damping springs etc, that you can do.
I have been given a experimental BSA C15 camshaft from Nick in Ireland, that came via "Bonky" Bowers, the story will be on the Readers Page.
When the bearing's arrive for the engine builds I will begin, (Only three of them)
Just updated the Manic-Cub page and added a bit more to the readers page.
17/01/12.
Update from Dave on his testing ride at the weekend.
Ok Guys,
I have been checking my emails from you old and new and have just realised that for some reason I had by mistake switched of the engine build page, Well it is back on now.
Over the past couple of weeks I have been concentrating on the front forks for the Man-ic Cub. along with my friend Wayne Weedon from FDOS Design, Billetparts.co.uk
These are the BSA/Triumph four stud design, we will be making significant changes to these forks so I am working at this moment on a page for these.
Wayne has also sent me his Concentric carb adjusting kit to try and test, so I thought I would also work on a New Products for the "Otter" page as-well.
25/3/2012.
OK just an update and an excuse.
Well lots of things going on at the moment. Because of the Olympic Games.
I won't go into details at the moment, all be it to say, that I have swopped my engineering overhauls, for a carpenters apron for the next couple of months.
That does not mean that the "Otter" projects are shelved, but they may be a bit slow, as I will only be able to work on them when I can squeeze in the time.
Wayne has nearly finished some vented caps for the Triumph four stud forks, and when I get them I will finish the page on them and the new products page.
I have had a host of new guy's to the site asking questions, that I have tried to answer, And also now have a USA member looking out for the "Otter" community over there, when I get his coulomb inches I will publish them on here.
Stuart has continued to ride "Otter" 1 in the IOM and in his own words is getting better the more he rides the bike. And it is also helping him with balance for his budding racing career. (They all won't to be MGP winners over there).
Continuing with the Triumph/BSA forks, Stu managed to blow the fork seals on a huge drop-off. This is why Wayne and I are trying various ways to improve these forks, has you can still build a New pair a lot cheaper than even having a pair of stanchion tubes rechromed.
I have got the Hubbo frame headstock newly reinforced, and the frame is ready for sand blasting and painting? I have decided to paint the next couple of frames, in stead of powder coating them? In case new brackets etc need to be welded on, so seems sense not to ruin the powder coat until the bike is right. Nick's C15 "Trick" engine is nearly ready to fit back into the frame. And I would love to see how this bike runs before getting on with the "Ultimate" trials engine.
My mate Chris and I have been looking into the situation regarding Glass reinforced Plastic tanks and the E-fuel that they now have to put up with.
We have come to the conclusion that all GRP tanks should now be made using Novalac Vinyl-Ester resin. And Chris makes his tanks using this now.
There are I know several new "Otter's" in build, and a couple that have been dragged back out of the back of the shed to continue there builds. We would love to hear from you guy's and send us a few pictures in. I will put them straight into the gallery. Ok better get me apron on now. Keep Um coming.
OK The Triumph/BSA fourstud fork page is up, I will put a sequence of pictures on as I build a pair up so that you can see how simple it is, there is a bit more work and some updates to do on the page, I will try and sort it this week.
31/03/12.
OK ,just put a page on about GRP fuel tanks, should we use them or not? well to my mind they are just as reliable as a alloy tank costing twice as much. and both type of tanks have there problems? Alloy tanks show there damage more easily, and eventually wear through and or split. But then we have the trouble with to-days fuel with a GRP tank, the problem is supposedly being addressed, but is it ? read the page! the best thing about a GRP tank though is that it costs half of what a good alloy tank does. You decide.! I have this week heard of another new "Otter" B40 bike build and one that is being rebuilt, I have been asked if a Yamaha front brake is OK to use on a BSA "Otter"? Why not, I have one,and are about to use another.
I have added a New page on painting your "Otter" frame and will continue it this week.
16/05/2012.
Just a word to say I am still in the land of the living, just? with all the pressure that is on me at the moment.!
Just got the vented four-stud fork caps from Wayne, and they are now available from his web site.
Billet Parts UK.
I have now got, thanks to the Big Sports Event coming up in London, a zinc-Nickle plating kit, and very updated spraying equipment, for spraying our frames, So not all bad is coming from this little distraction for our cause. Back with you shortly, and an explanation,OK
19/6/2012.
OK here is a explanation why I have neglected this site for a while.
We have had the mammoth task over the past couple of months of designing and building all the elements for the show jumping coarse at the forth coming Olympics in London. This has been mostly great fun, although the presure is great, and it is not quite over yet. But what we have got through this challenge, is a lot more equipment that can be used to build parts for the bikes quicker and more efficiently. So out of every cloud, so to speak, and this is nearly true as one of the fences incorporates a rainbow from Abbey Road, and you know how famous that was in the sixties. I now have a variety of air-brushes and spray-guns, so you can make sure one of the bikes in build will be very colour full indeed.
Anyway back to the bikes within the next fortnight. And thanks for all the people that have contacted me through this site, and I hope I have maneged to answer your questions, and keep them coming.
18/7/12
Just had time to spend a little time on the site,after the last mad rush to get the Olympic stuff finished. I have just published a page about Etienne Willems "Otter" build, with more pictures in the gallery. I have other pages to put on shortly. and a interview with Ally Clift, after I have spoken with him. we have also another Foster bike that has come to light? one that Mr C Dommett has just sold. The interest in the site is increasing by the day, But we do need your "Otter" story to keep added intrest in the site. So keep them coming wont you.
Found a little time this weekend to try and update the website.. back on the bikes this week and then the eldest sons wedding, good luck Jo and Lee. He then tells me, when he is married he will be able to spend Sundays on the "Otter's", well there are several waiting to be ridden? If you think you would like to have a ride on one, you only have to contact me!!!
More pictures of bikes to be sorted and put on next week. and the Ally Clift story. so check back.
26/07/12.
Just added to the frame painting page if you are interested, Happy to be back on the bikes,
Had a visit form Mick Andrews and Alan Whitton. Intresting discustion! more later.
Alan took away the engine for the Man-Ic Cub, to perform his magic on.
I had desided that I have got too far behind with projects to do all of them myself, so the Cub engine has gone to the Man himself.
Mick was talking about his traveling plans, and you guy's in Canada can look forward to meeting the man shortly.
08/8/2012.
Picture tonight.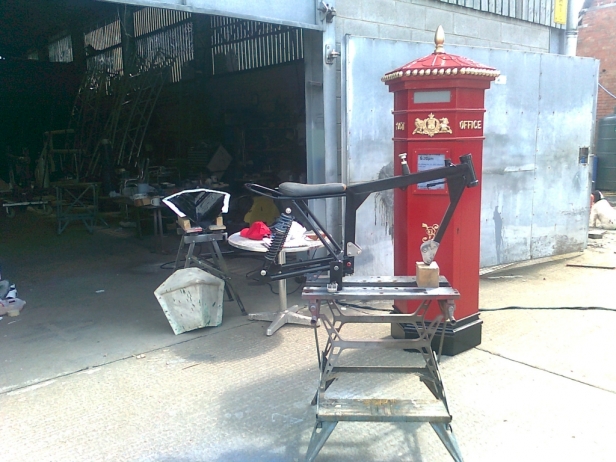 Well has you can see I have managed to finish painting the SQ frame. This had two good coats of black coach enamel before being finished with a further two coats of 2K polyurethane clear coat.
So why have I put the picture onto the 2012 News Page? Well I can't comment about the items in the background! Why?
Well you know when you look back and think I have just wasted seven months of my precious life doing something I enjoyed at the time, (when I could have been working on my "Otter" bikes). This is how I feel today.
I seem to have got tangled up in some kind of politics.
I was so proud of what I had achieved along with all the other guy's, who worked on the Olympic show jumps, that when asked to do a story of how they were built. I jumped at the chance.
The first page was published with a good response and even one of the team working with me left a comment on the site.
Then I received seven frantic phone calls. And was told to stop what I was doing, and put a self imposed press and publicity ban on myself until after a statement from the powers above next week.
Why I asked? We are not allowed to comment on our work without permission. Hang On, I said I have spent seven months working tirelessly on this project for no reward other than the pleasure it gave me at the time working on these elements. I could have easily put my feet up, or used my legal bus pass.
I developed new coatings for some of the fences, and put my health at risk, working with paint fumes and chemicals every day, during this period.
But the main thing is, I have not signed any contract to say that what I was involved with could not be passed on to the general public, if they were interested.And I did abide by what I was asked! not to divolge ,what they were like,until they were used at the Olympics.And last week was told that publicity would be good. So what has changed???
I have imposed the ban on myself, because of my respect to the person that asked me, but you can see I am not amused, and even after spending a lifetime with Horses (and Bikes) this will be the last show jumping fence I ever build, Shame.
I would like to dedicate the work I carried out on these fences to the memory of my late partner, Kate Crilley; I know she would have been over the moon, that the British Dressage Team won Gold. And she would have been So So proud at the work I had done on those fences. Are well Move On.
I have taken a mold from the Red "Ray Small" Glass fibre tank that had started to flake, and over the next week or so I will be taking my first vinylester moulded tank from this we hope it will prove to be OK after the post curing it will get.
09/8/12.
Hi Guy's
I just could not resist doing the New Page, to get it out of my system, and anyway Richard asked me for a page on DIY jumps, Well you could always start with one of these mate.
And dont all want NC bike lifts will you.
18/8/2012.
OK back to the real world.
The glitch in my last eight months, of life for the "sports world" is over, with little or no respect shown to what, we had achieved, and far less respect to the objects we created, with the amount of damage to them upon there return.
Anyway, This week has been brilliant for us "BSA Otter" owners?
I have spoken to Ally Clift, and had a good chat with him. Ally has sent me today, a twelve page story by Phil Ives about the "OTTER" With Pictures and addvertising information. All I now need to do is get it onto here for you guy's. Thanks Ally, brilliant mate.
Ian, Ally says your frame was number 18 from the first batch.
I have also contacted Scott Ellis for his story. He has said that 47 years ago is a long time to remember, when you dont think about that period every day. I am ringing him for a chat. and we will probably meet later, so that he has time to remember.the BSA years.
I have been working on the Four-Stud forks this week, and the Nick Draper engine. I will update these pages too. Looks like I wil be stuck behind this computor for a while to.
I will get the stories on as soon as I can. Keep your stories about Your own "Otter" coming to wont you.
Ally tells me one of the "Otter" frame kits went to the USA, Would love to know if that bike is still about?
20/8/2012.
Well I hope you enjoy the two new pages, and I again must thank Ally and Phil for their stories.
I have already had one reply about the "Otter" in the USA and I will follow it up. Hope we find it!
Now we now Know how many "Foster" Otters, there were built we must try and find a few more. Bet some are still in the corner of a shed waiting to get built, or rebuilt as the case may be.
After reading about the "Foster" frames, I now feel that I should realy try to find one,so that we have one for the site. If you know where there is a frame or bike whatever the condition please let me know.
Now you guy's that know Colin Dommett and bump into him regulary, must try to encourage him to get BOK228C put back together. It is such a shame that this piece of British trials history, is not on a pinicle, and displayed at events, Like one of the GOV132's are.
I will speak to him in the IOM in a couple of weeks about it. I have said that I would give him a hand, If it was needed.
I thought Harry should have a page for his bikes with the increased interest shown recently.
If you own the bike in the picture, please let me know, and the story about it.
07/09/2012.
Just got back from a Magical Week in the IOM. And I could not believe the number of BSA "Otter's" there were on that little island. Riders from Spain came over with several. The page for them is up.
Then there were the bikes from the IOM it's self. I am about to edit a page on these bikes. The IOM "Otter's". And then I met up with Dave Wood with his Mk 3 Faber bike, Story on that later and an update from Dave I hope. Also several other bikes from Britain, which I have pictures for and am tracking down the owners. Got another IOM fella, on one of my bikes, this is somone to ride out with Stu, and should, help with the competative edge. Stu did a lap of practice with a helmet cam fixed on and the filming was good, I will put it on when I receive it.
Loads of catching up this week, Tanks, Engines, Frames, Yes, may be building a Long Distance Trial "Otter" frame and one for a Honda Engine.
Dave Wood update with pictures now posted.
04/10/2012.
OK, An update, and the reason for being missing from the site for a few weeks.
Just when I thought we were back on a roll with the bikes, and the web site. My Old PC managed to pick up a virus. This stopped everything up until now.
I was forced to buy a new Ipad to use, up until now. Well forced perhaps not quite the right word! I was going to buy an I Mac, but was told to wait until the new version, out next week I am told. We will then go compleatly Apple, which should go a long way to improving matters.
Anyway, I have been busy with the bikes, a new GF tank has been made with the vinylester resin,and I am starting to make another today for the SQ framed bike.
The Postman has been knocking on my door most days delivering C15 engine parts.
I have built up the Nick Draper engine ready to go back in the Hubbo frame. The engine for the Eliss replica bike is in mid build, and I have most parts now for the C15 G engine that is going into the SQ frame. I have fitted "fourstud" forks to this, as this will be the development bike for these forks. The Fellas in the IOM still have trouble on there rocky down hill sections with the forks bottoming out, so we will see how we can improve that. I have loads of updates but, need time to catch up. when we go Apple it should be quicker.
21/10/2012.
Just a quick update, I have put new imformation on the GRP tank page, has I have been busy constructing a couple of new tanks over the past couple of weeks.
We still have trouble with the "Four-Stud" forks in the IOM so at the moment we are trying to resolve this problem. The engines for the three bikes in build are nearly ready,and I am going to do a pictorial page of the build up of these engines, and also list the spares that are now difficult to sorce. I recon I should think about having some new late type oil-pumps made?
More next week OK.
New Page up ,has you can see, I just can't help making myself more work? But I must try and finish the projects I have, as and when, parts can be found.
I have now bumped into an old friend who is now retired from work, and will help me in the spring with some of the bikes. We grew up together and worked at NorthBar Garage in Banbury at the same time, Old Bert Shorey gave us a good grounding on how to achive the best out of a motorcycle, and we have never forgotten that.
The SQ framed bike is now ready for the engine to be fitted in the next couple of weeks. And I now have to decide which bike to finish to take to the IOM at Christmas? It could be the one I failed to finish in time last year, has I would like to keep the SQ framed bike over here for me to play on for a while.
29/11/12.
Ok I have this week had an email from Marcia and Tony Beeching, rapping my knuckles, because I had not included anything about Harry and Carol Fosters expliotes on there suberb Triumph engined Outfit before Harry started to build the "Otter" frames.
I have put that right on Harry's page. Mail me Tony has your email address you sent me will not return my message to you?
I have also some pictures of this bike and some of the Sammy Miller "Otter" frame? I think only a few of these were made, the ones with the bolt on subframe.
I will do a page on these.
16/12/12.
OK Quick update ,
New page for you, and updated pictures on some pages and more to follow,
There is a picture of BOK228C on the Scott Ellis page? I knew I would find one of the bike one day, I hope Colin gets it rebuilt for Wrighties Show in Febuary, as Scott is a speaker at the event.