"The Draper Family".
With help from Deryk Wylde.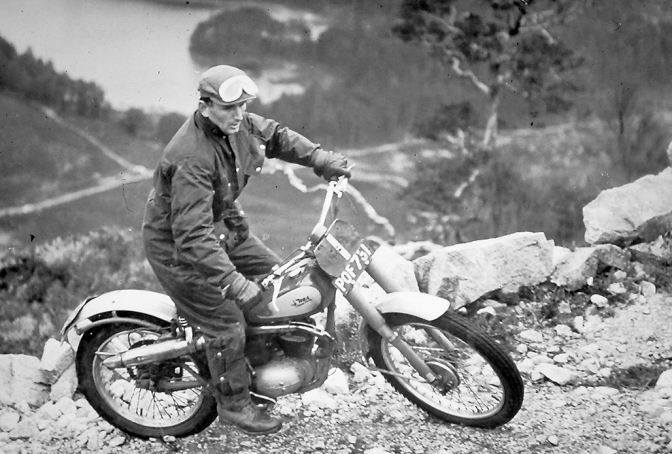 Photo Courtesy Deryk Wylde...
John Draper riding the Works BSA D3 Competition Bantam in the 1956 SSDT..
The Draper Family.
From the time John was old enough to sit on a motorcycle. The dynasty of British trials and scrambles riders had started, even by his father before him.
This family has done more to put Off-road motorcycle sport onto the map than most. And is a name respected and recognized throughout the Classic Motorcycle scene even today.
This family is also linked to BSA history more than most.
And these branches reach out to other people linked with the sport.
The family had the advantage of having their own farmland to practice their sport on at Lower Hill Farm Prestbury.
John's Sister Irene, was also a keen motorcyclist and a competent trials rider, riding her D3 BSA Bantam to many award results.
Jeff Smith was a frequent visitor to the farm to practice on his works BSA and met Irene at the farm;
They were later married in 1957, the day before the British round of the new World Moto Cross championship, so spent their honeymoon there at Hawkstone Park.
Continuing the success of the family, John's son Nick took over the mantle as a top class trials rider, gaining places in most National rated trials, and winning the prestigious Manx Classic Trial in the year 2000.
Below are images of the family on their bikes, Mostly BSA I might add.
These were given to me to use by Deryk Wylde, and the Offroad Archive.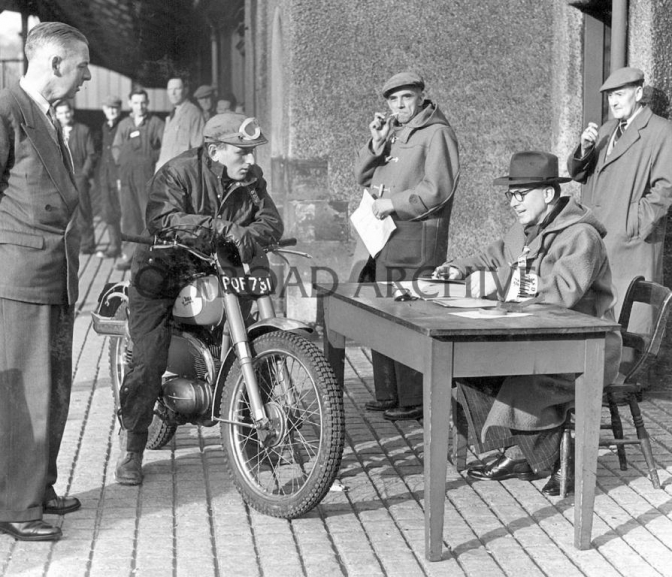 John Draper at the signing in for the Scottish Six Days trial, 1956. Reg No POF 731.
"Works"D 3 BSA Bantam, Competition...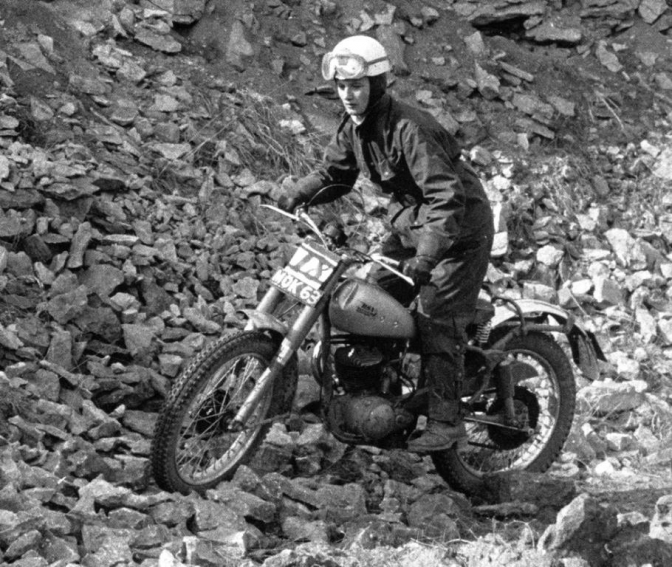 Irene Riding her D3 BSA Bantam Note: the Reg Number MOK 63.
It was thought that Irene rode the same BSA Bantam as brother John, but it was a different, machine.
For Irene's 60th Birthday husband Jeff Smith, with a little help from his friends, including Deryk, created a replica D3 Competition BSA
Bantam like this, and presented it to her for said Birthday.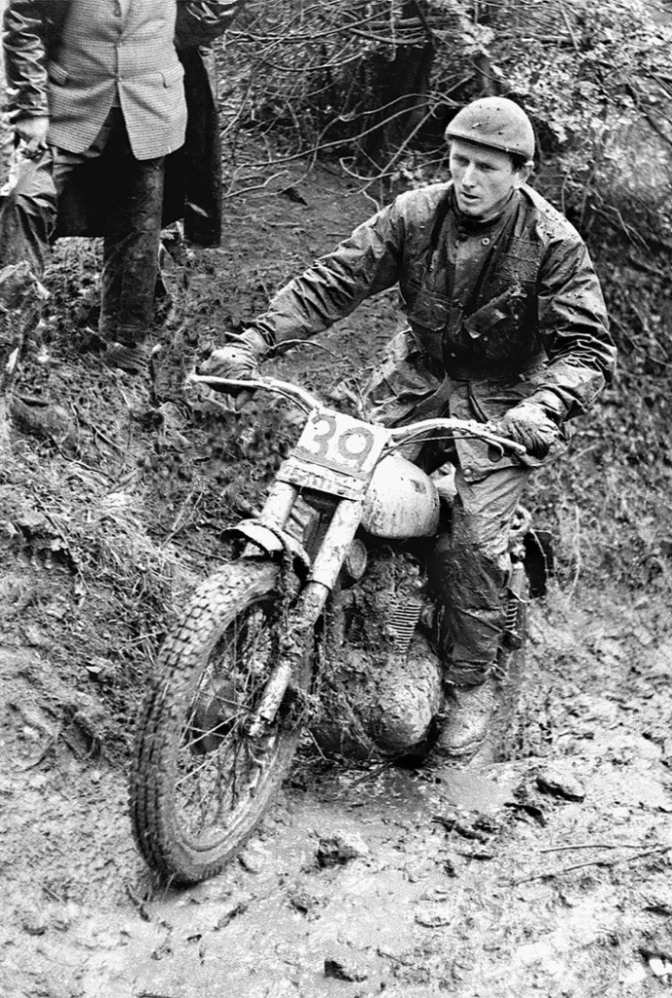 Johnie again Riding his Works C15T BSA in The 1964 Cotswold Cups Trial.
He looks slightly tired but he had probably been up early milking the cows, before he left for the trial.
John's bikes used to go back to the BSA comp dept for servicing, and new parts to be fitted, the chaps there attending to the bike, always had to fit a new alloy fuel tank, because there was always a semi-circular dent in it, just in front of the seat. And the same dent was there again on its next visit, and every time afterwards. The cause was eventually solved probably by Jeff Smith.
Well John used to collect the milk churns from the milk stand at the road side of the farm driveway, balancing the milk churns between him, and the fuel tank, and it was these that were causing the semi-circular dents.!!!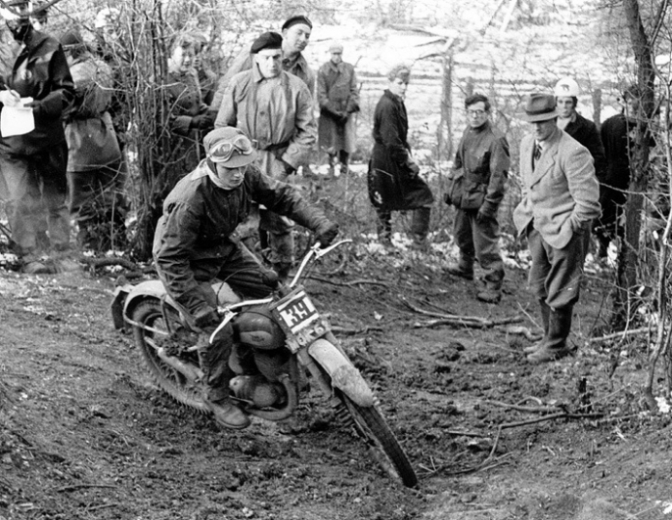 This is Irene riding her first bike derived from a D1 Competition BSA Bantam, by now it looks like it has the Plunger suspension at the rear, and also a D3 barrel. The Reg No of this bike is MOK 62.
Her father wearing the trilby and Wellington boots is making sure she is taking this trials riding lark seriously.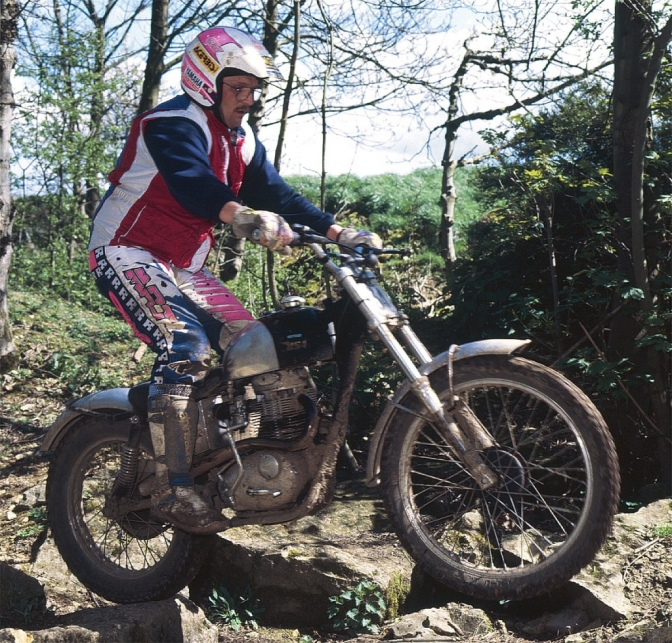 This is John's son Nick, riding one of the many variants of "Cotswold" BSA's...
I think this may be the bike that he rode to victory in the year 2000 Manx Classic Trial.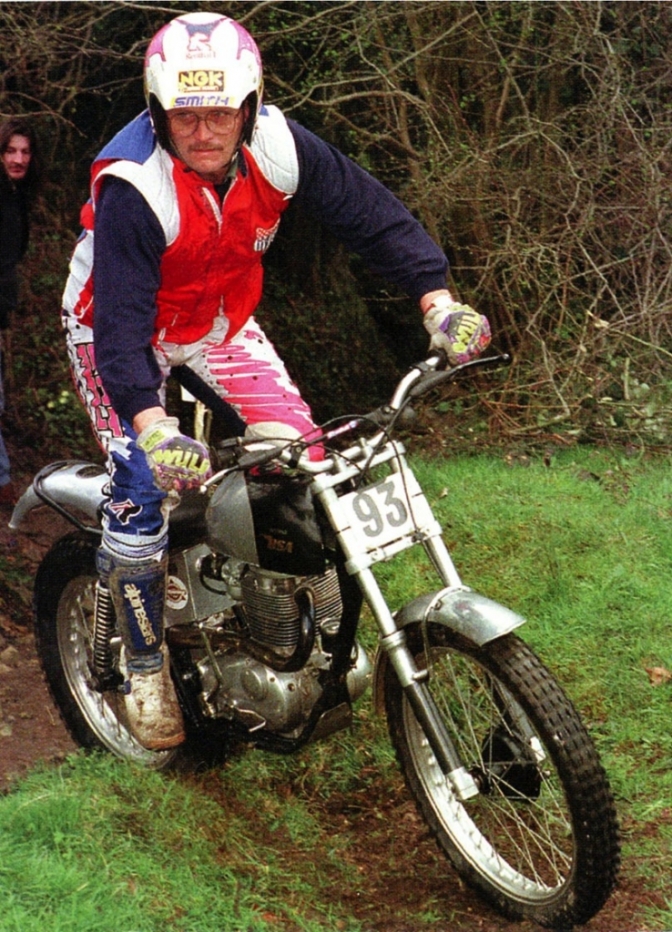 Here, Nick is on another version of the bike, with a BSA B25-B40 square alloy barrelled engine now fitted.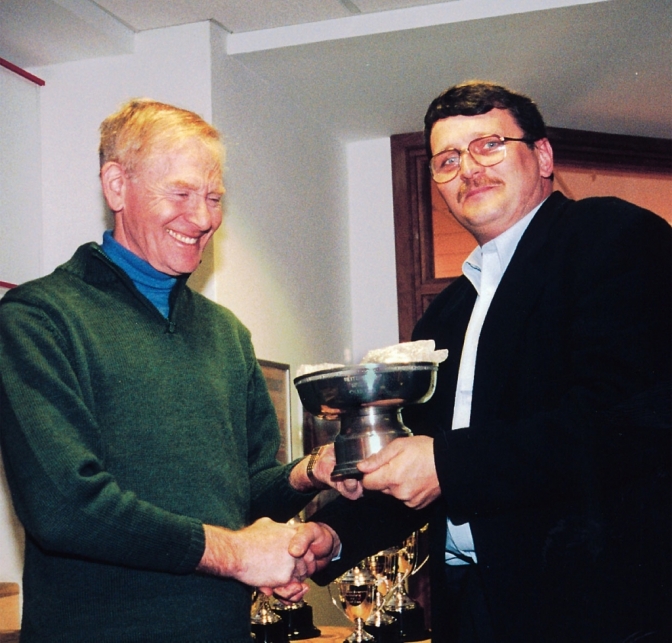 Nick receiving the Unit construction class Championship trophy from the sponsor of the ACU Sammy Miller series,
Sammy Miller.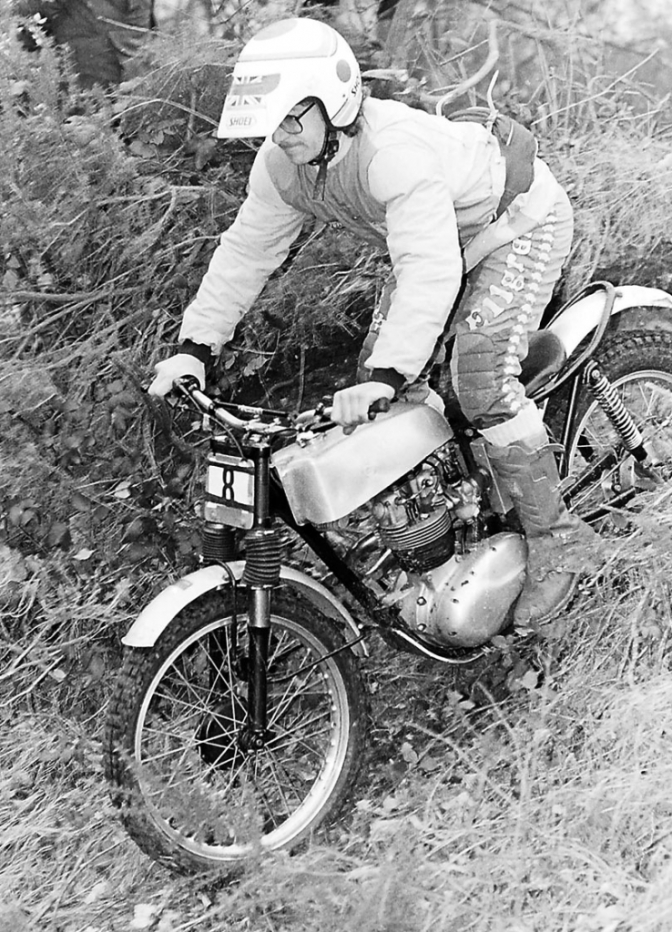 Again, Nick riding one of the earlier BSA based "Cotswold" bikes, this one with a Triumph Tiger Cub sub frame fitted. And BSA period front forks. If you are good enough of coarse, you can win on any machine you ride.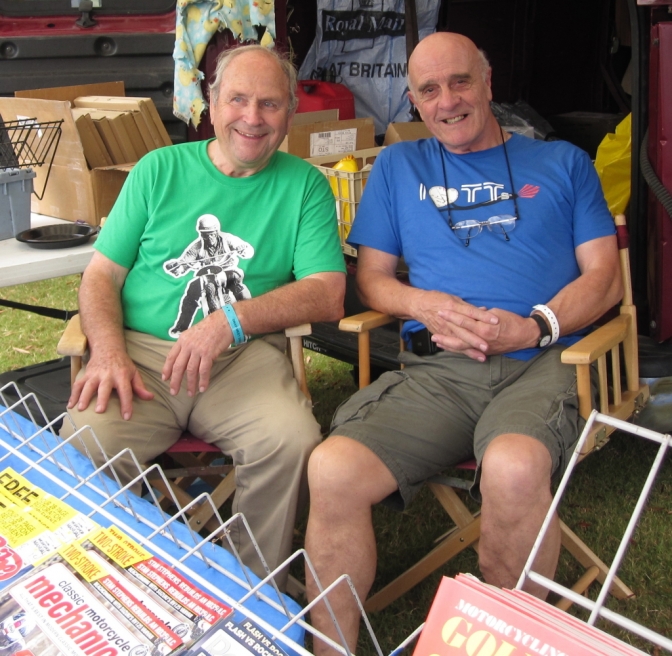 Photo Courtesy of Pat Slinn.
Yes, Jeff Smith, one of the Draper Family that he became when marrying Irene. Along with Mr "BSA", Pat Slinn.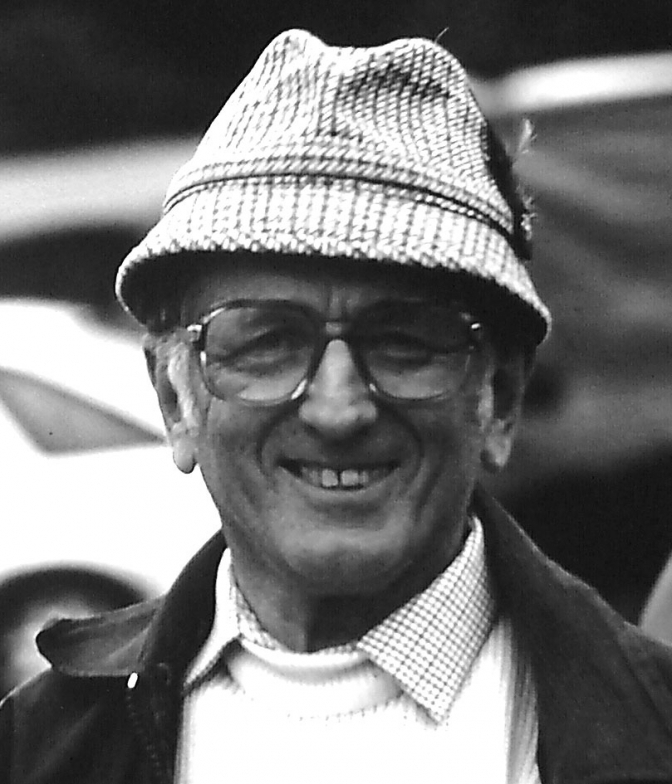 All Photos Are Courtesy of Deryk Wylde and Offroad Review exept where stated.
This smashing shot of "Drapes" sent to me by Deryk Wylde sums up the Draper family, always smiling and taking life has it should be, just has it comes.
Happy Days.
OK more wording and pictures in the next couple of days .
BIG thank's Deryk. Keep up ORR-e.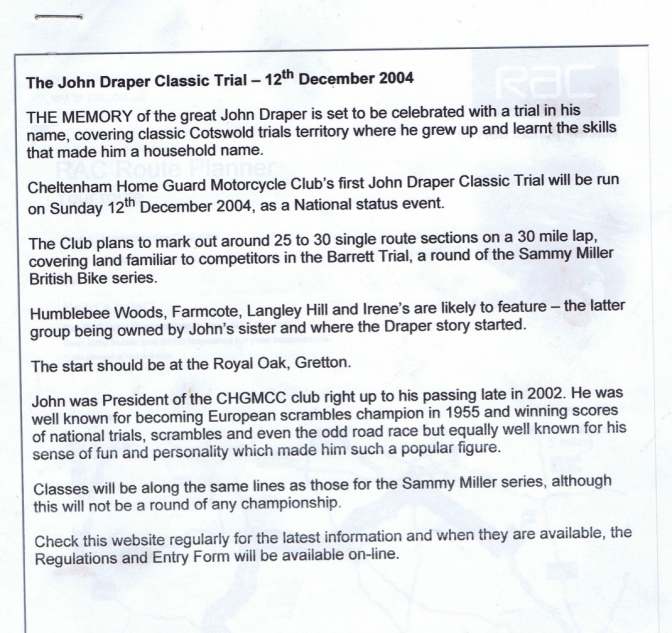 Come on Cheltenham Home Guard we need this trial Back.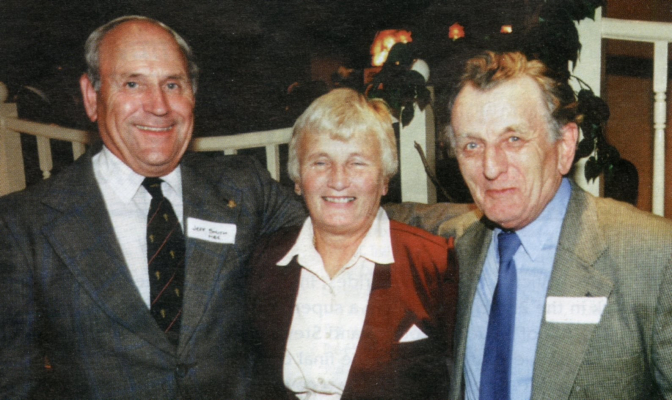 Photo Courtesy Deryk Wylde Trials Express...
Jeff and Irene Smith, with her brother John Draper, at the Memory Lane reunion in Barnstable in 1998...
More Later.
Updat2021...