A Conversation with Barry DeLong, and mainly with his time in the Midlands, Brum, as they call it there.
And also tales from other parts of the globe.
PIC 2.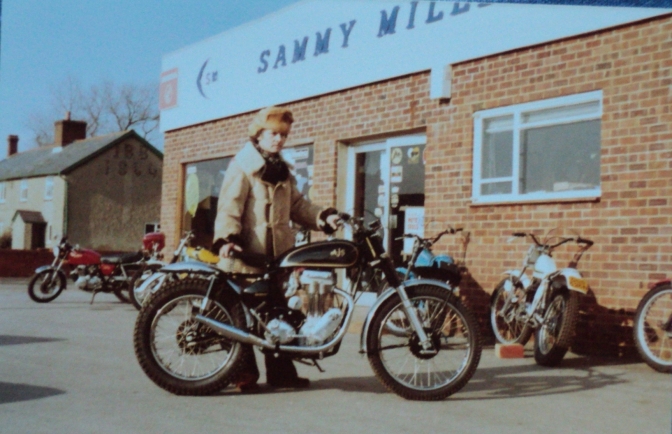 Photo Courtesy Barry DeLong.
Photo 2,
Barry with his Peter Pykett AJS, out side Sammy Millers Shop.
Sir- I stumbled across this site last night, and am now seriously overdosed on nostalgia. I suspect from the site that Pat Slinn is still upright and mobile....if at all possible, could you forward my E to him?
I'm originally Canadian, but lived in Brum from 1959 to 1964, Was a member of The Solihull M/C Club and rode trials with the Midland Center ACU ( and suitably disguised, also rode with AMCA Phoenix Club- please don't report me to Doris Taylor!) I rode Trials Cubs exclusively, one with a Pearson 232cc barrel set-up.
I worked for Girling on Kings Road Tyseley in Tech Service right around the corner from Small Heath. Tyrell Smith was my gaffer, and Tony Hemming was a pal as well from Girling's Comp Shop.
Pat and his brother Mick also were fellow members at Solihull Club. A particularly good friend from Solihull also was a member- one Lennie Watton. Len and I rode together until I returned to Canada. Bob Taylor who worked on fine-tuning Triumphs after road-testing was a mentor of Len's and mine, also a Member of Solihull. I hooked up with Len back in the late 1970's but have since lost track of him- might Pat perhaps still know Len? I believe he moved over to Stratford. I did try (without success) to see if Solihull Club was still active, but found nothing. I believe we met Thursdays at The Five Crowns in Shirley....I still have my aluminium Solihull Club badge for the car!
Phoenix Scramble,
Arthur Browning, Freddie Richardson, and Barry DeLong.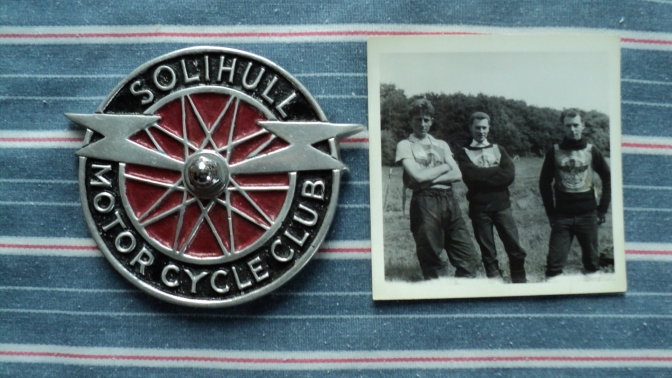 Photo Courtesy Barry DeLong.

Regarding off-spec frames back in the 1950-1960s- Ken Sprayson over at Reynolds made up quite a few back then. Our test hack at Girling was the prototype Norton Nomad given to us by Norton. Ken Sprayson built up a pair of leading-link front forks for it. Tyrell Smith gave it to me when I left to return to Canada, and as far as I'm aware, it's still in Ontario.
Another good friend from my Solihull days was the spark-plug of our Club; Percy Parsons. Surely he's no longer with us, but his daughter Peggy may still be in the area-
I knew Samuel Hamilton fairly well, and back in the 1970s, I bought one of Peter Pykett's AJS 350 Trials Bikes from him. It also is still up in Canada with another good friend.
A reconnection with my Solihull mates would be flat outstanding if possible.
Regards to you and all.....Barry DeLong POP548, 845NHA & 167PHA . Trials Cubs.
Charlie> Hi Barry,

I will pass on your mail to Pat,

I am sure some of who you have mentioned are still with us.

I will if you allow me to publish your letter on the BSA Otter site, a lot of people now read this on a daily basis, so some could get back to me.

And I am sure Pat will.

Thank you for mailing me this is why I started the web site, now all those years ago.

Thanks heaps, Charlie. I'm suffering from a serious overdose of nostalgia today. Those were just absolutely superb years for me.....
As I read more, even more of my pals surfaced. I mentioned that I also rode with the Phoenix Club. Arthur Browning and I were good friends, as were Norman Hanks and his brother. I always thought it was kind of sad that Doris Taylor had such a hate on for AMCA and Ec Hyland of Hyland-Crowe. Arthur worked at Amal back then, so between the two clubs, were had renegade reps from the entire industry across the two clubs-
I read a note about SHM using our Girling gas dampers on both GOV132's. We built up quite a few, but no approach to the Commercial Market yet...Tony and I put a pair on our Trials Cubs, mounted upside down as SHM's. When we were asked about them at Midland Centre Trials, we just said "If they work for Sammy, they must be really good...." We said nothing about the gas-cells inside, though.
Three photos FYI-if you wish to put them on your site, let me know and I'll have much better ones made for you.
1.Phoenix Scramble- Arthur Browning, Freddie Richardson and self.

2. My Pykett AJS at Sammy's Shop (I was working in Russia at the time, so hat and coat was necessary!)

Photo 3. Peter Pykett at Sam's .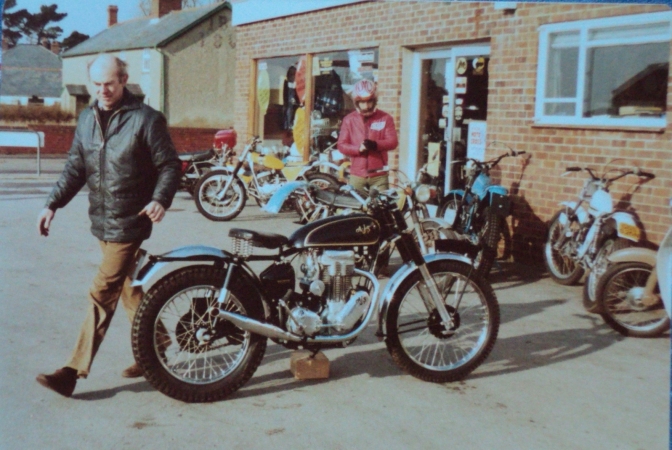 Photo Courtesy Barry DeLong.
Charlie> Hi Barry,

Look with what you have sent me you have a Page for yourself. Can you think of a title? I have one in mind " DeLong way home"

And if you wish to build on it even better.

Give me a day and I will get it up and published.

Thank you so much for getting a bit more history out there.

l get in touch with Pat this weekend if I can.

Sounds like a fine idea, Charlie! The term "Home" has no real meaning to me any more.
I first escaped from Canada in 1959 when I was nineteen, when I quit my job and moved to Brum on a one-way boat-ride.
Flat out loved it there, but even when I left Girling in 1964, I recall that my weekly wage-packet contained thirteen guineas!
Did not want to leave, really.
Went over single, returned to Canada with a Shropshire lass and a son Gary, named after Socks (Hocking).
Got a real solid background in Welding NDT and Metallurgy, then moved to USSR back in 1973 with our International Branch.
Son was in school in Wales for four years.
After Russia, went to Basrah Iraq for two years, then to Hamilton NZ for almost three years.
Rode with Ginger Malloy and bought his Factory Bultaco Pur Sang.
Bought my riding bike from Hugh Anderson.
Were I to believe in a heaven, it would either be North Island New Zealand or the north of Thailand!
After that, moved to Eastern Province of Saudi Arabia for another three years plus.
Always found time to get back to Brum, though.
Multi vacations found me in Douglas at TT time.
Home since 1995 has been in the Smoky Mountains in SE Tennessee.
Not my Midlands (now a different place altogether!) but not bad!
Another good pal from Solihull Club was Johnnie Smethurst (Factory James Trials rider) any news of him?
Also: Roger Hovey from Brum (rode an Ariel HT)
What is the old saying "You can never go home again"?
Best regards
Barry
Are you in the same boat as nearly all of my friends who also got into bikes as youngsters and are still there?

Charlie>.
Yes Barry involved from a early age and once I was hooked even with short breaks in between, the calling was still there, and will be for the rest of my days.
Once a "Biker" always a "Biker" they say don't they.
More Later Just the start of a DeLong Conversation.
15/07/ 2017.
Greetings from deep in Dixie, Charlie
Following the site still- pure nostalgia, but were I still in Brum, I'd still be riding today.
I have a friend from Ontario coming over to the Midlands in September, and I'm still hoping to connect with a few of my old pals from Solihull Club. Roger Hovey and in particular, my best mate Lennie Watton from Shirley.
Any way you could either connect me with Pat Slinn, or forward my E to him for a response? Might you (or Pat) even know if The Solihull Club still exists today?
Another wild card was my pal from Girling Tony Hemming- he also was from Tech Service and rode a Cub in ACU Trials only (I tried to get him in with Ec Hyland's AMCA Trials, but the thought of Doris Taylor calling at his door was enough to stop that nonsense!)
Trust all is well with you and yours-
Barry the Wandering Brummie.

More of an update later...