Jacek Swider's 1956 Zundapp 200S trials bike...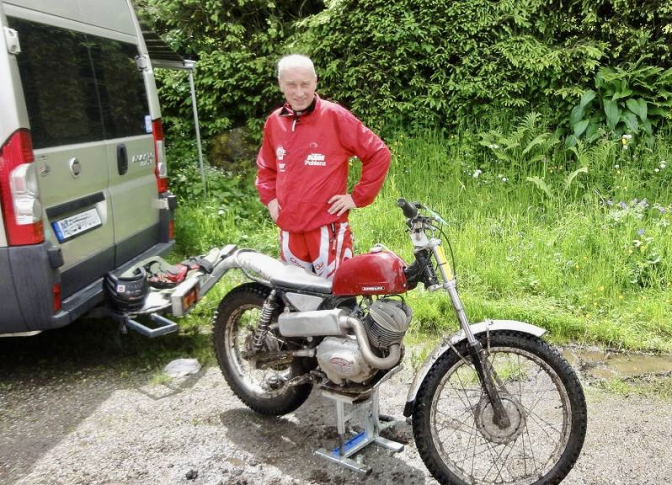 Photo Courtesy >>>Trials Club...
±±±±±±±
The Zundapp bike that is very nice is belonging to German rider, Jacek Swider I met guy after trial in Italy in which I rode and after trial in rainy weather quite late I just took static photos as I loved that bike. Too long distance and costly to
drive to Germany to test it.....!
But from short ride I had already in night, I LOVED this bike.
There was a reason Gustav Franke won title on such machine....!!!
Justyn Norek Jnr…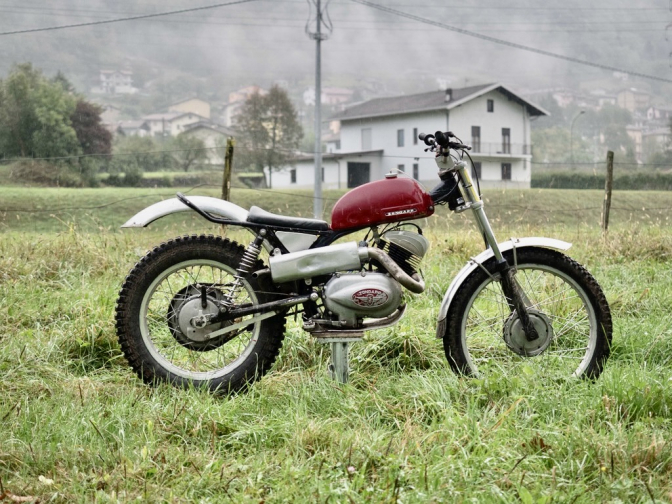 Photo's Courtesy Justyn Norek Jnr...©...
Well I know it is three years later but we are still struggling with the disruption that world wide Sars-2 Covid epidemic caused…
Up until then The Justyn's Norek were on a roll with the trials tests they were doing on a regular basis, and we enjoyed the reports and the riding by young Justyn and also the superb photo's of the magic surroundings that most of the tests were taken at… and captured by Justyn Norek Snr, and wife Bogdana...
Since these times the Norek's have not been able to arrange new tests …we will say yet… as young Justyn has been away working as a ski instructor and other dare devil jobs that you would expect from him… the long story is that he has to work as not enough money can be generated from these reports etc, to sustain an income for his life style, and to finance new machines for his trials bike collection… and the Norek's do more than most to collect Classic Trials Bikes to make sure part of the trial history is retained…
So it was a chance meeting at the end of a Classic Pre 65 trial in Italy that Justyn Jnr met the Polish rider 67 year old Jacek Swider…Jacek lives in Germany so Justyn says it is too difficult to arrange a test there and too costly at the moment…But as you can read that the short ride that Justyn had on the Swider Zundapp he already fell in love with the little machine… The Zundapp 200S machine was built in 1956.. and has been kept up to date by Jacek as he has been riding it for years with great success… and still puts up a good show today…
We have the photos of the Zundapp 200S taken after that trial in 2016 in Italy on a darkening damp evening, so I will use them and any more information I can find about the bike and its specification… Jacek Swider may even read the page and give us the full story … you never know… Thank you for the photos Justyn and we await the test on the Ossa you have bought…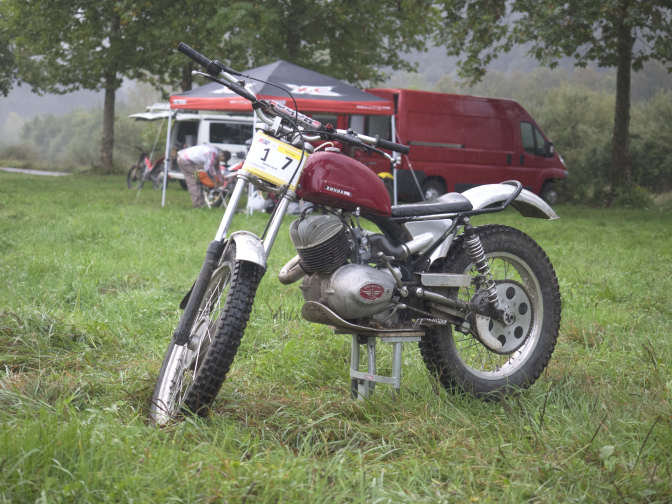 All Photo's Courtesy Justyn Norek Jnr ...©...
Bit of history...
Zundapp was founded in 1917 by Fritz Neumeyer as firstly a weapons detonator manufacturing company and then moved like a lot at the time into motorcycle manufacture for machines for the working masses… after WW2 manufacture of motorcycles was now down to small capacity machines with two-stroke engines, and new scooter design, remember that Bella box like scooter.. I worked on them…Anyway from the late fifties the company realised that sponsoring works riders in the offroad competition sector helped sell the thousands of road bikes they were now manufacturing. And into the sixties they were sponsoring at most times twelve works trials riders, at least six of them worked in the very secure competition department and had a free hand to build their trials bikes how they wished out of the stock of parts there was, and even cast in the factory cylinder heads and barrels to their own design . This was a way of developing top performing trials machines in the country Germany, and many championships were won with the Zundapp works bikes.. the prominent name that springs to mind is Gustav Franke… Like all motorcycle companies in the early eighties laws had been changed for the use of small capacity motorcycles and the more fancied motorcycles from Japan were making their mark, and Zundapp had to cut production that eventually in 1984 led Zundapp to bankruptcy.. another trials bike breed biting the dust…
Gustav Franke was one of the twelve trials riders supported by the Zundapp factory and was their leading exponent winning German and World and European Championships from the early sixties. (the 1965-6 FIM World championship was named the (Challenge Henry Grouters)…and later became the (European Trials championship) Gustav was German trials champion from 1965 until 1971 and only loosing the title for one year…
His main rival in the now named at that time European Trials Championship was our own UK's Don Smith and his works Greeves…and they juggled the title between them for several years… Gustav Franke is now 86 years young and still telling tales about his explites in the trials field… One good one told recently was when in a British trial he fell and broke his foot… along came the one Sammy Miller and stopped to help Gustav retrieve the Zundapp bike an help him and the machine to the road and then fire the bike up for Gustav… Mr Miller thought that was the end of the trial for Gustav and one of his opponents out of the trial…Instead Gustav Frank went onto win the trial, from Sammy Miller and you could say Sam was not amused…
±±±±±±±
So below are the photos taken by Justyn Norek Jnr of the Zundapp that he straight away fell in love with after a short ride in the overcast and wet evening paddock...
2016 ACup trial...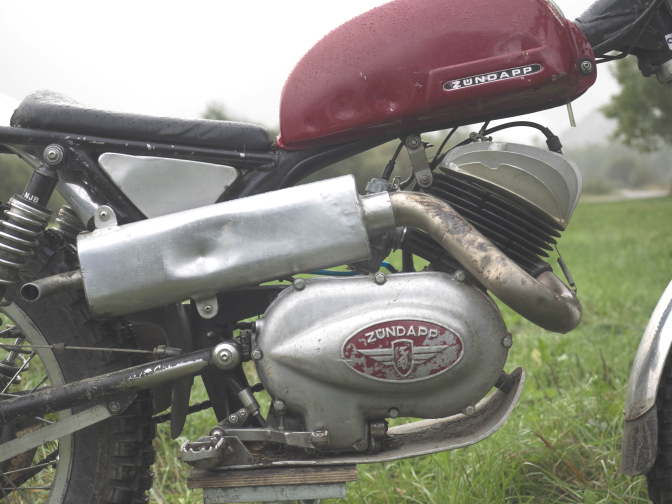 Zundapp Workman like simplisity...
Updated fuel tank and what a good shape...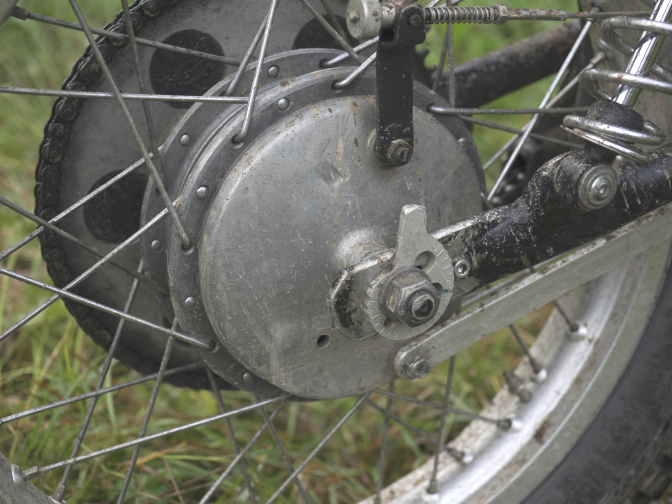 All components for the Zundapp's were cast on site, and only rims and spokes were bought in by the factory...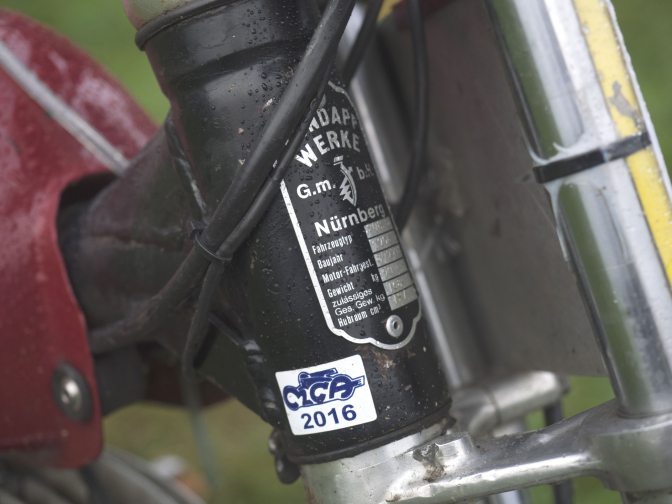 Zundapp 1956 200S... and kept as a working machine by Jacek Swider... well done Sir...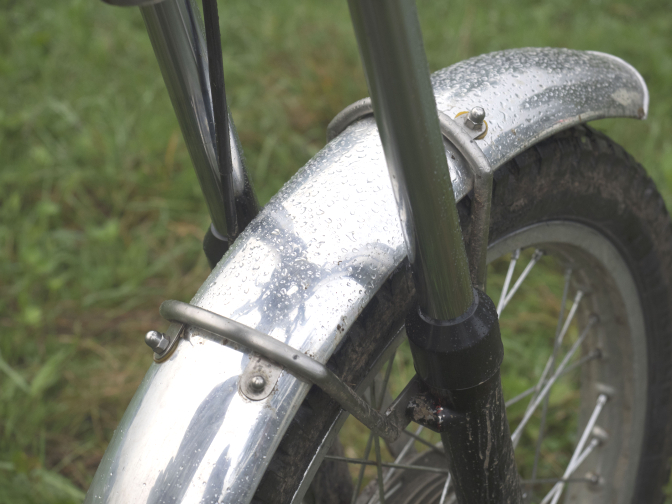 Most Pre 65 machines in Europe still are fitted with alloy guards...
even though updated...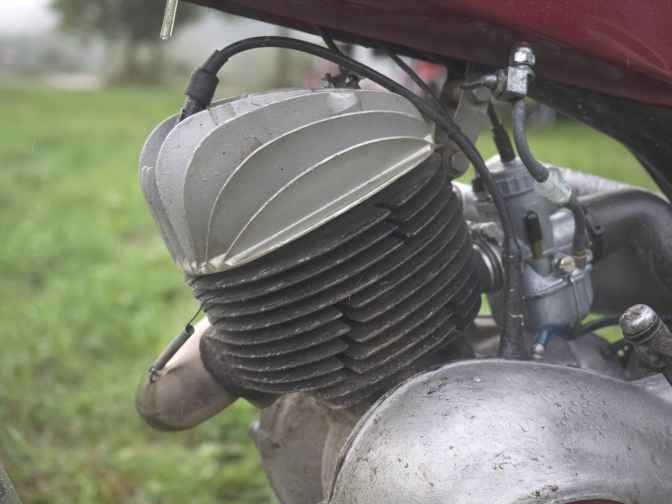 This machine has the radial finned cylinder head that were cast in the factory to individual design by the works riders of the time... note still steel barrel and these were also cast at the Zundapp factory...
And the Bing carburettor fitted...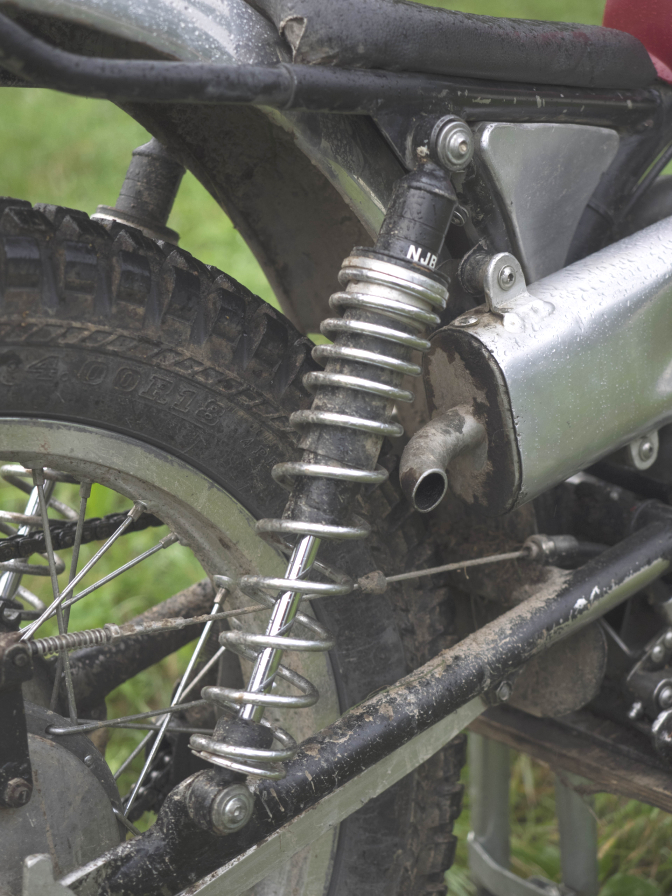 Jacek is using NJB Expert Shocks on the little Zundapp good selection for a light weight machine...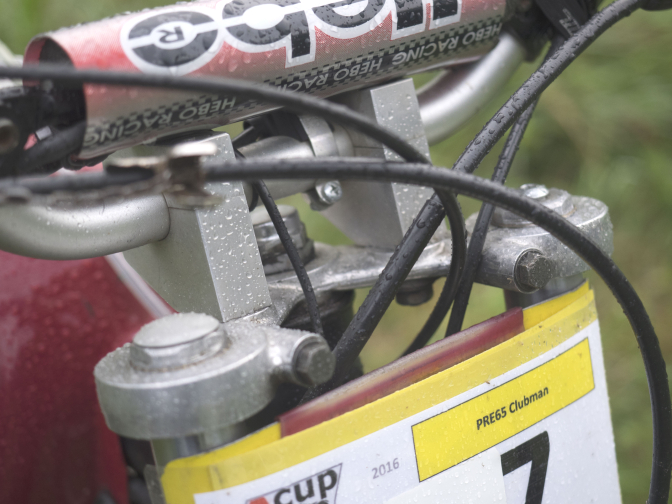 A nice pair of what looks like hand crafted handlebar riser blocks. and capped end fork stachion holders on the top yoke...
....
You can just see the kickstart that runs through the centre by the gearbox sprocket in this shot...
More photo's later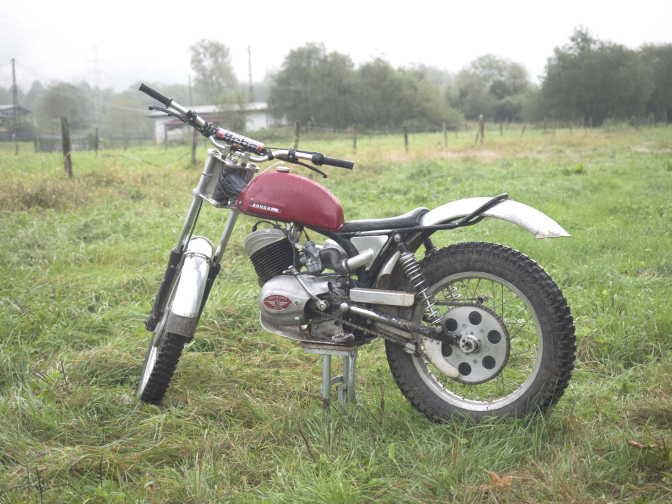 Photo's Courtesy Justyn Norek Jnr...©...
What a workman like little trials bike it is....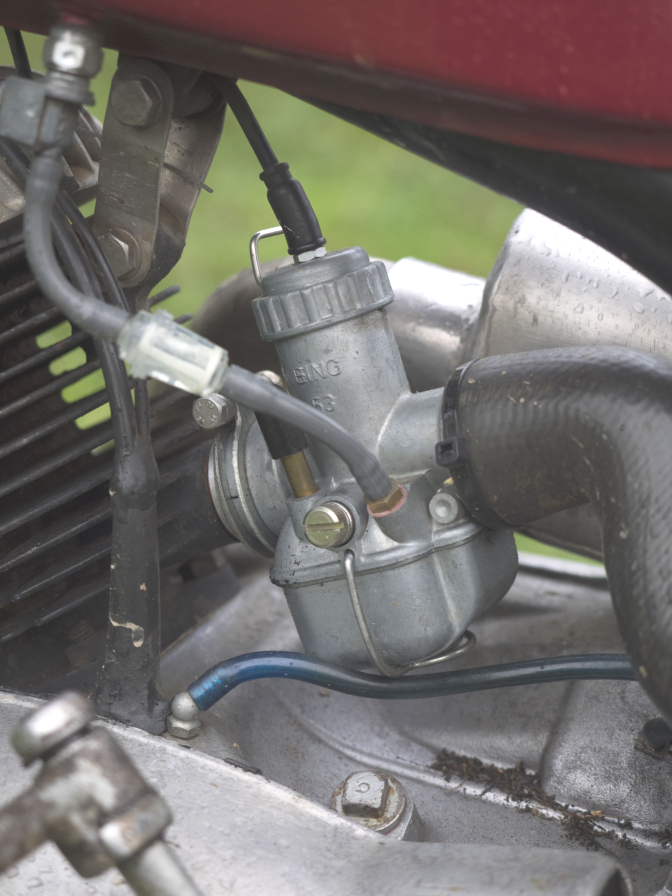 ...
A good close up of the BING carburettor used, and these were fitted on the production motorcycle range too...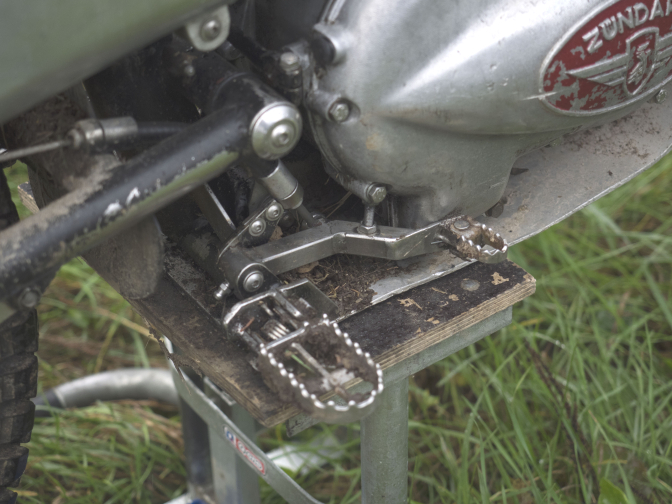 ...
You can see that Jacek has updated the footrest and rear brake pedal assembly into a very neat unit...and again workman-like...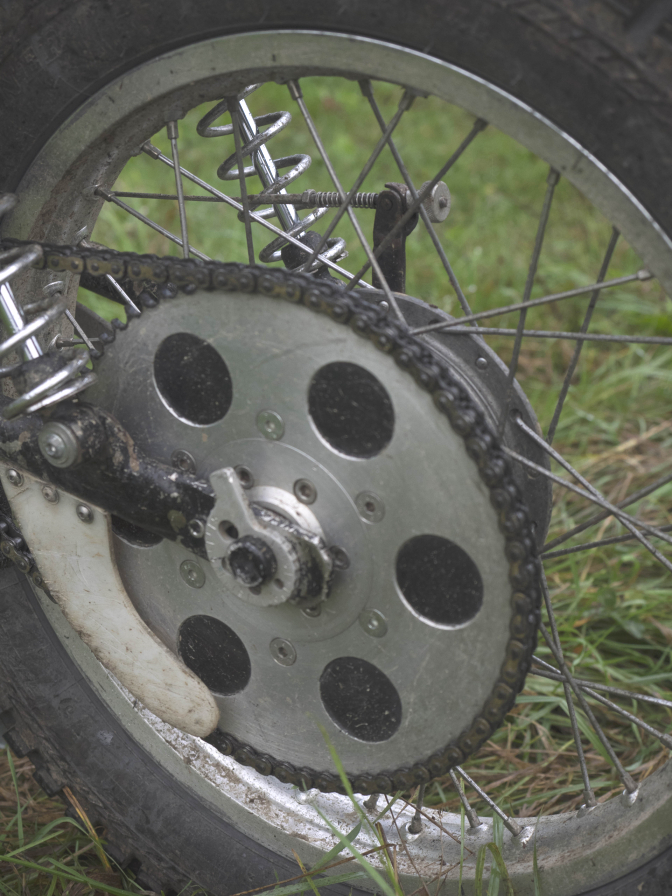 ...
A very neat rear sprocket assembly using a machined centre hub flush with the line of the 60 tooth sprocket ...note the "sharks fin" protector that is compulsory in off-road motorcycle sport in Europe...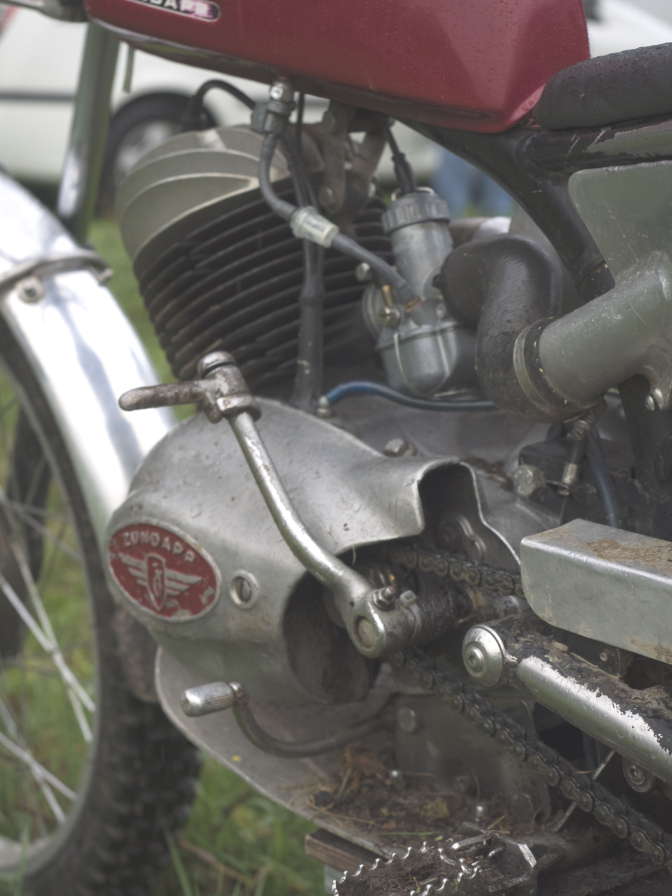 ...
Here a better shot of the kickstart side of the engine and that cottered centre shaft design...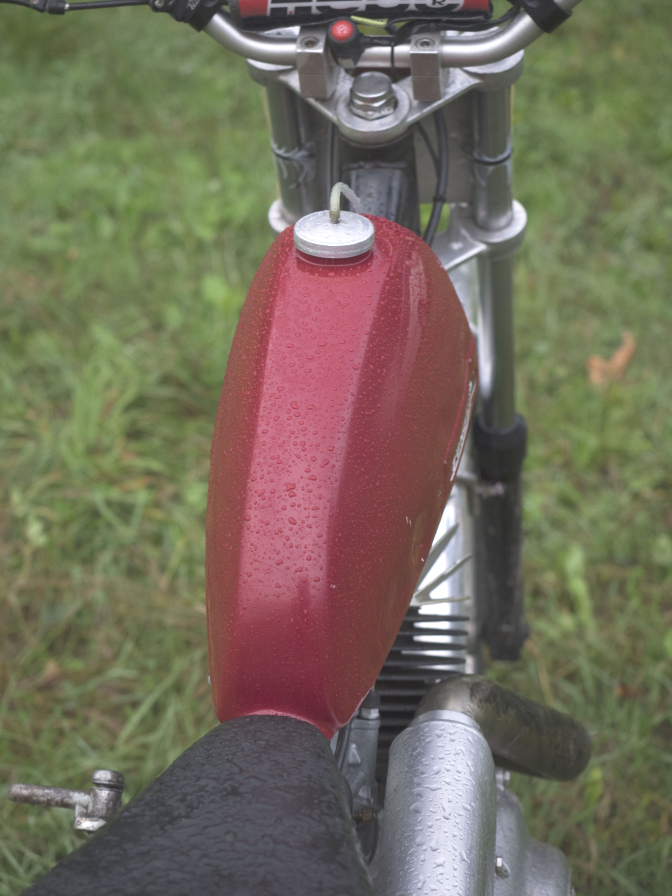 ...
Cockpit view of the little Zundapp 200S...
I also like this little bike very much and you know what I think of
"TWO STROKES"...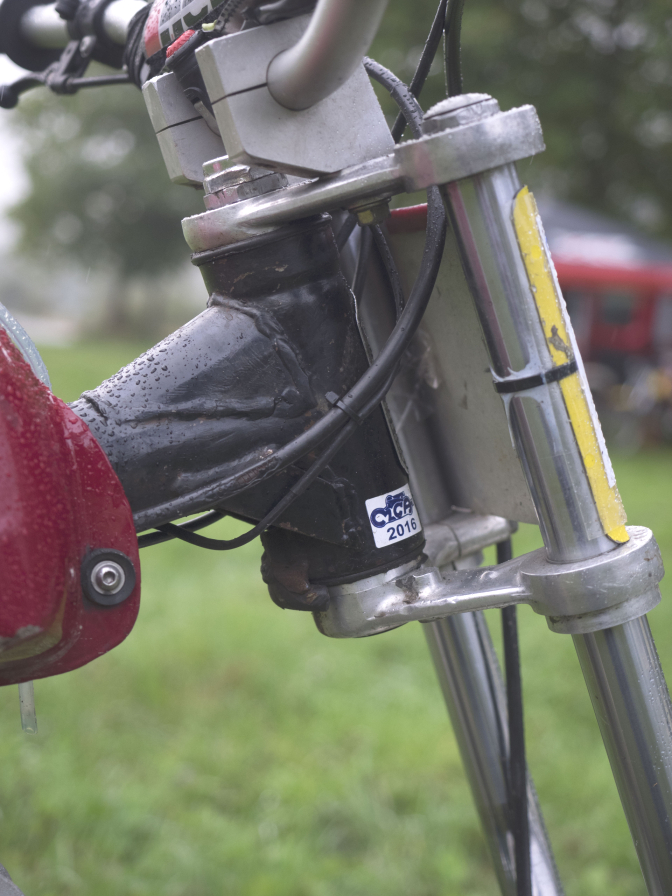 ...
The simple design of the large section spine type tube'd frame was one of the hallmarks of the Zundapp motorcycle range...And you know we like the large section tubed frames IE, BSA Otter...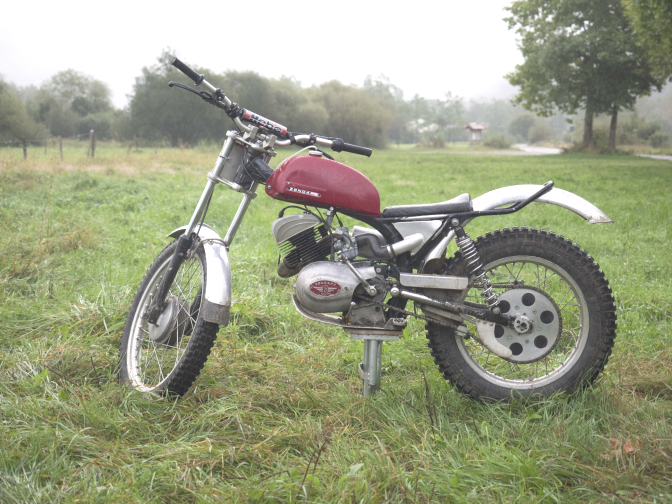 ...
One last shot of the Jacek Swider Zundapp 200S...
...
...
Jacek riding the Zundapp 200S in 2012...
...
Another Trials story brought to you by Justyn Norek Jnr, and "Otterman"...

More information on the little ZUNDAPP 200S Later...
2023...05...