The "Burian" Trial's Machine…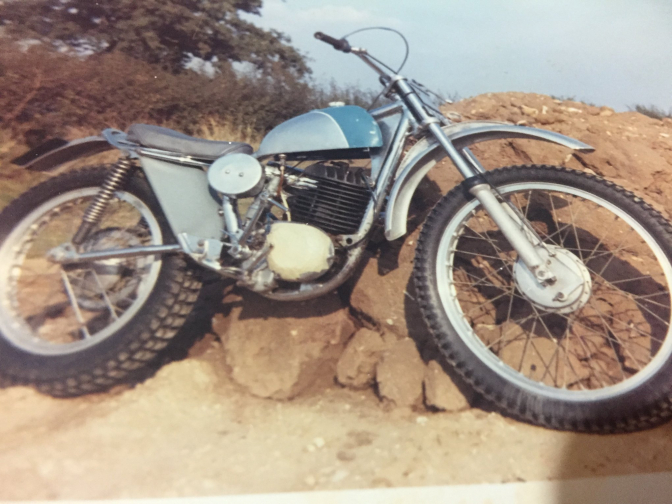 Now this is one rare trials bike. One of only two ever built.
These were the creation of international world class scrambles works rider from the sixties John Banks.
John built the two machines in his workshop in Bury-St-Edmunds in Suffolk in 1965.
The bikes name Burian (Berry-un) came from the name of the town Bury-St-Edmunds where you were classed as a "Burian" if you lived there, and more so if you went to the King Edward VI grammer school at the time...
The Old Burian's in tune?
John built the two bikes, one with the Villiers engine that Simon Hatcliffe is now the proud owner, and knowing that he will do a first class job of restoring the bike.
The other was built for star trials rider Doug Theabald, this bike had a BSA Bantam engine fitted.
Simon asked me what I thought the frame was about a month ago, I said it looked a lot like a Cheney creation but did not think it was.
Then Simon placed the same photos of the bike onto a well known trials page on Facebook, and Bingo the bike got recognised by our old friend Trevor Kemp of BSA fame……. Who was at the time working on his own trials bike from the John Banks garage, has was the next owner of the machine Alan Garrett. The engine was somewhat special and made from parts that were selected to build a superior Villiers trials engine. And Alan Garrett proved this later with the results he got. The BSA Bantam engined machine also worked very well for Doug Theabald, with a stream of results at the time.
I would think that John Banks commitments to his Moto-Cross career stopped him building any more machines… But with shear luck the Villiers engined machine has fallen into the right hands, and will now be brought back to life by the dedicated Simon Hatcliffe.
We will follow the rebuild with dedication too…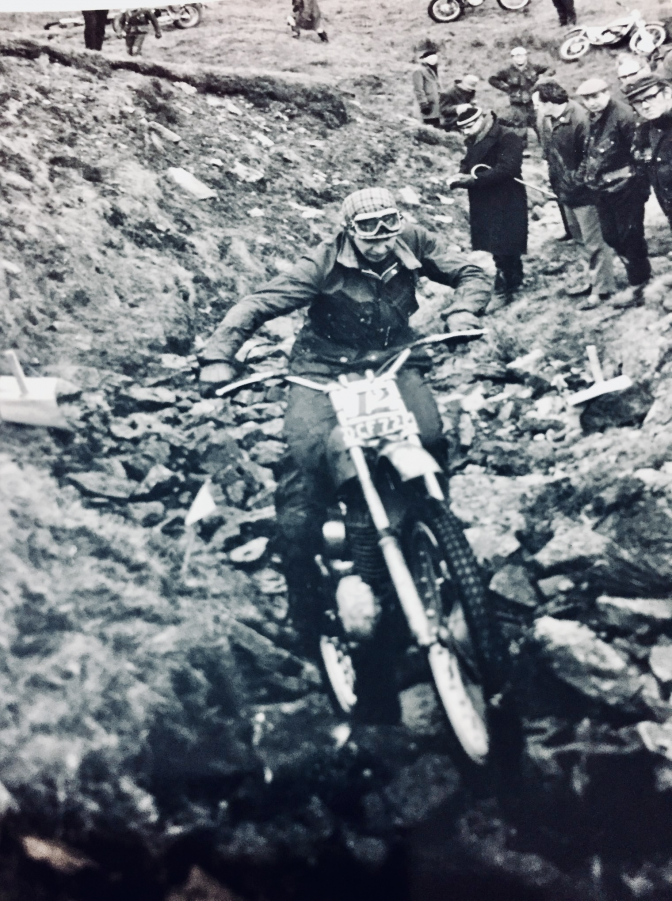 Photo Courtesy Alan Garrett...
Alan Garrett aboard the "Burian" trials machine.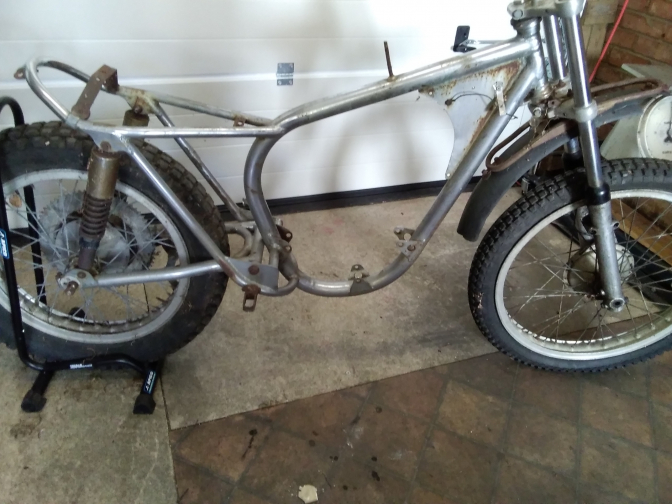 Photo Simon Hatcliffe.
The "Burian" Simon now has to restore.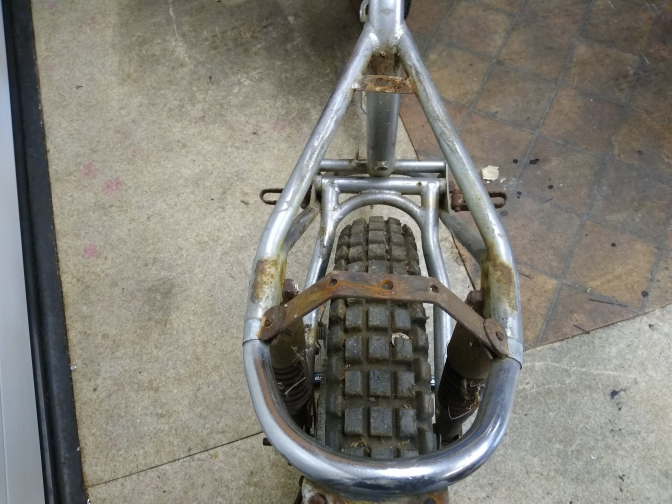 Tail-end details...
Nice use of the tube-bender on this machine...
and in 1965....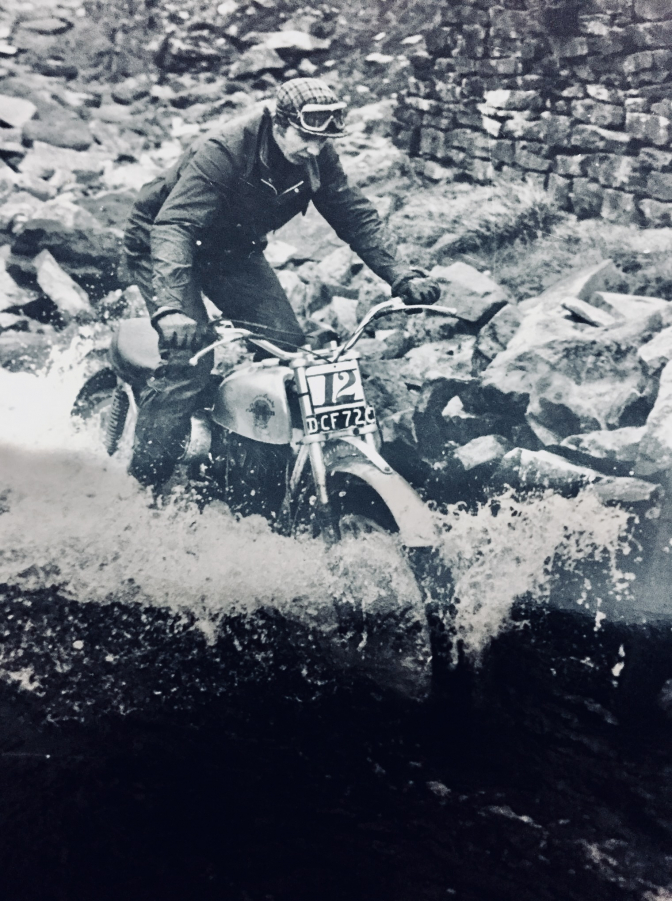 Another fine shot of Alan Garrett ploughing on through the stream on the
John Banks built "Burian-Villiers" machine.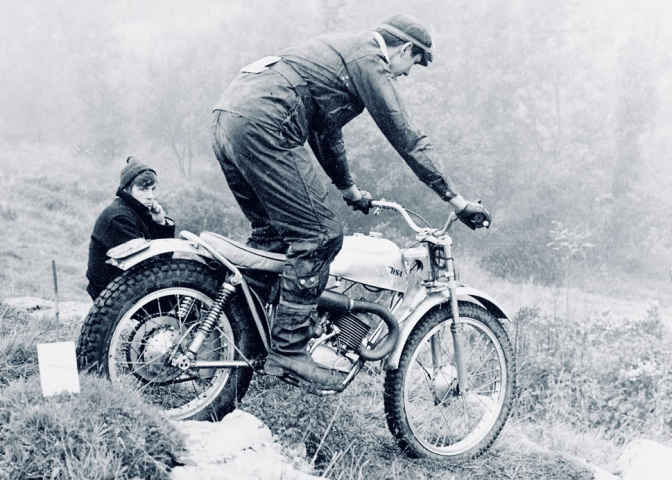 Photo Courtesy Deryk Wylde...
Doug Theabald tests the front alloy conical brake as he enters the section.
Doug had great success riding the little Bantam engined "Burian" in 1965-6...
If you remember one of Doug's later machines was a BSA Otter from Ally Clift.
Alan Garrett...
That is correct, Trevor Kemp and myself spent many hours with John Banks while he made this bike in his garage. We were working on our own bikes at the time. I went on to own the Burian-Villiers from John.
Point of interest, John is clever at engineering and loved making bikes that were different. The Burian had a 36A bottom end, Greeves Challenger barrel (re-shaped), ignition was one set of points running two coils, two condensers and two plugs that were machined into the Challenger cylinder head.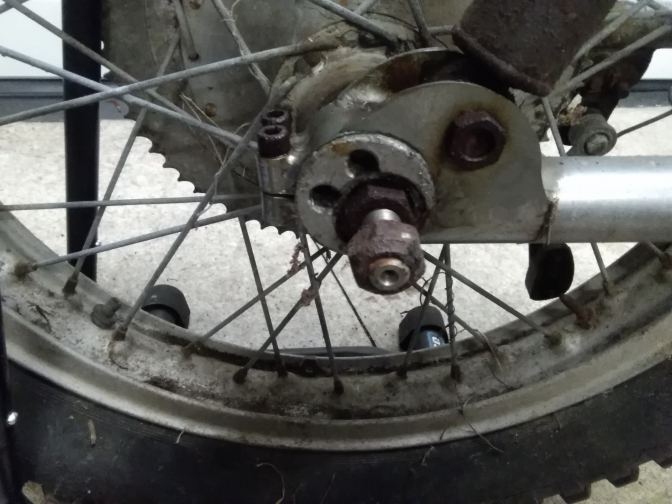 Chain adjustment is by a concentric clamped spacer with what looks like three wheel spindle positioning holes, later copied by another frame builder.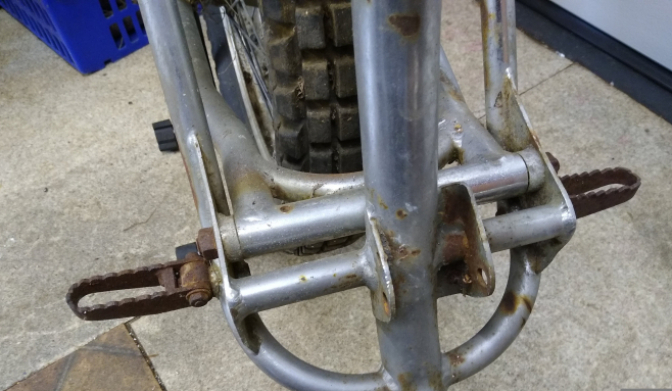 Another shot of the neat bent seat tubes holding the spindle and footrest plates...
A very tidy frame for a "Two"off... and in 1965...
The later owner of the Burian was Trevor Andrews, and he may have fitted the later 1980's folding footrests...
15/08/2021...
Just got the update from Simon on the rebuild of the little bike, and he is doing a splended job on it..
Simon...
Hi Charlie, hope you are keeping well.Update on Burian I have cleaned up the frame and it looks good, checked swing arm bearings and fitted new headstock bearings. Rebuilt the Ceriani forks, new seals and polished sliders. I have tried to keep as many original parts as possible.
I stripped the wheels and rebuilt with original rims, they were a bit marked but cleaned up ok, I polished and skimmed the hubs and they look great, fitted new bearings and relined brake linings, new tyres, tubes, and rim locks. Fitted new alloy rear gas shocks as old ones were seized up with rust.
Also fitted new wider folding footrests.
Seat is for Yamaha TY which I had to modify to fit, new alloy guards fitted, and front as originally fitted high up, as I wanted to keep as the photo from
Alan Garrett
.
I started on engine, stripped to check clutch and fitted new plates, and lighter clutch springs. Barrel is away being vapour blasted and rebored, and I have got a Greeves Challenger cylinder head which is being cut down to match the origanal barrel as it was missing when I got the bike.
New Electrex world ignition arrived and ready to fit when barrel is ready.
So good progress made, Simon...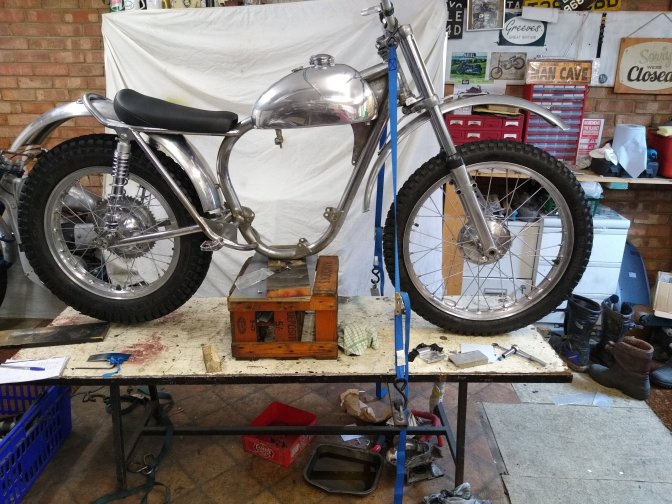 What a change, you can see the work Simon has put into this re-build.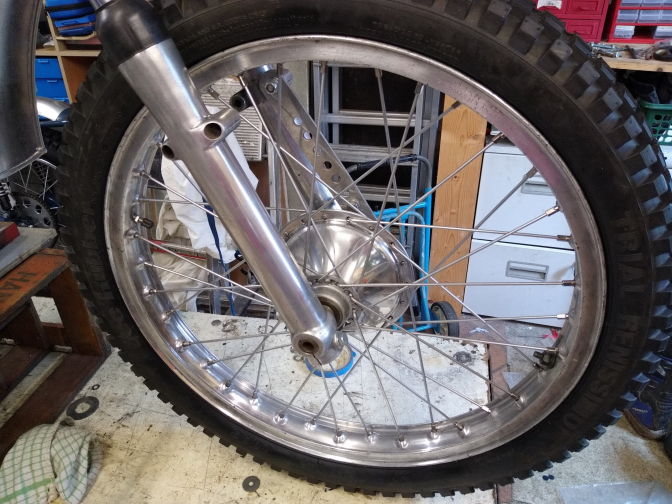 Looking good and the effort well spent...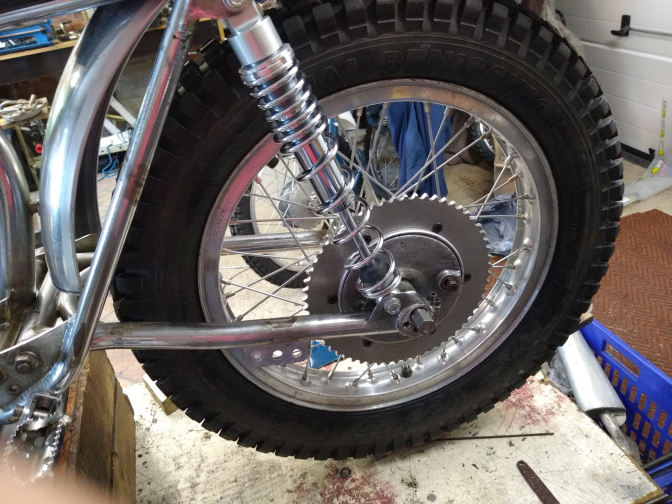 The new back units, footrests, and new tyres nudge the bike into 2021...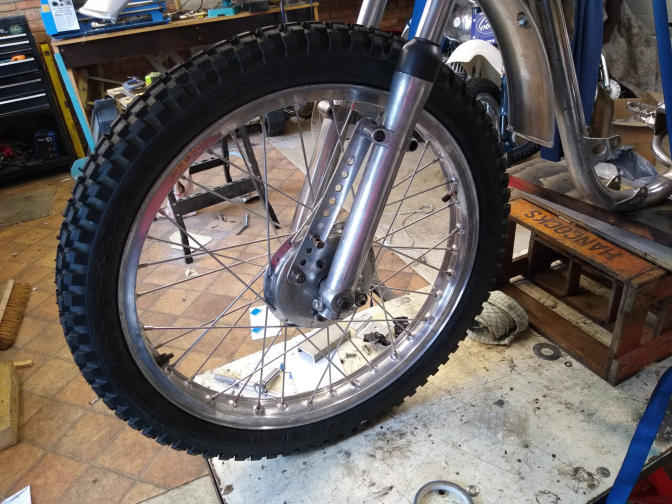 When you are working on a "One-Off" must make the work all the more sweeter...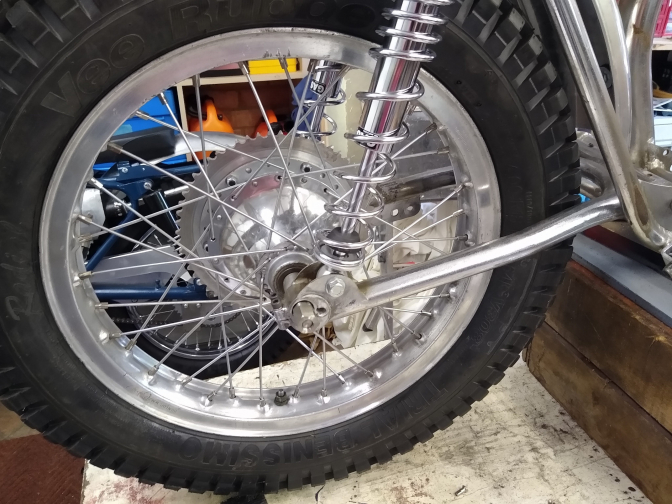 The small battle scars on the rims portray the Burians past history...
Well done Simon...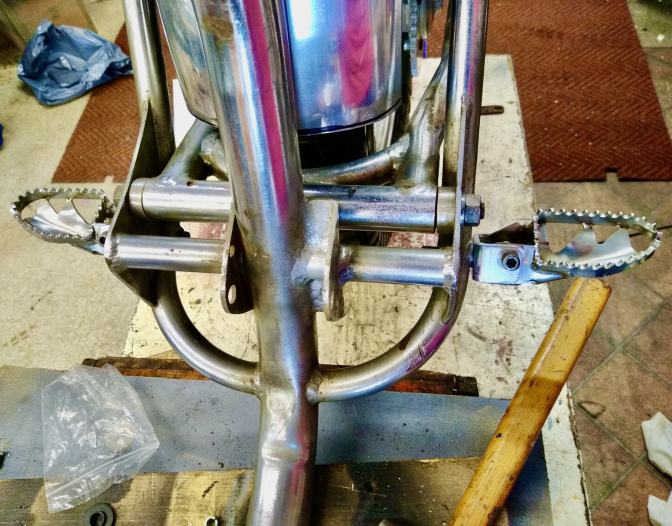 A better photo of the footrests, and a few more battle scars on the frame...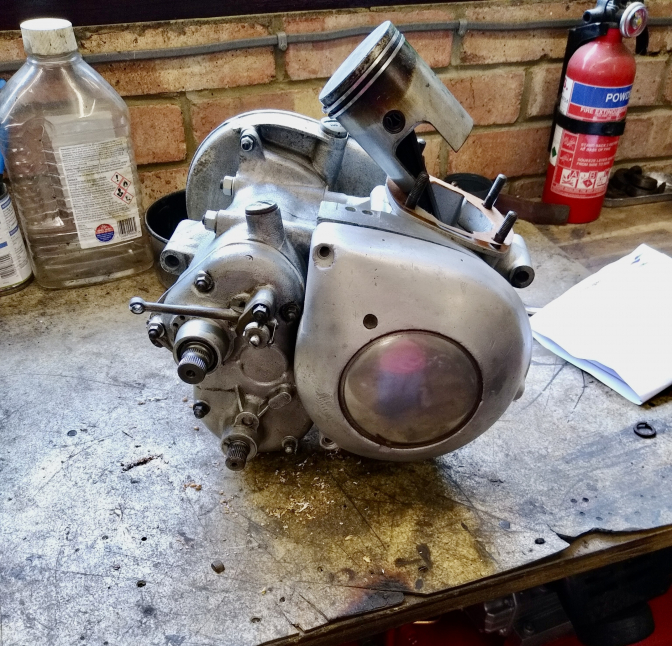 The original Villiers 36A engine bottom end, and piston that is to be replaced because of the rebore.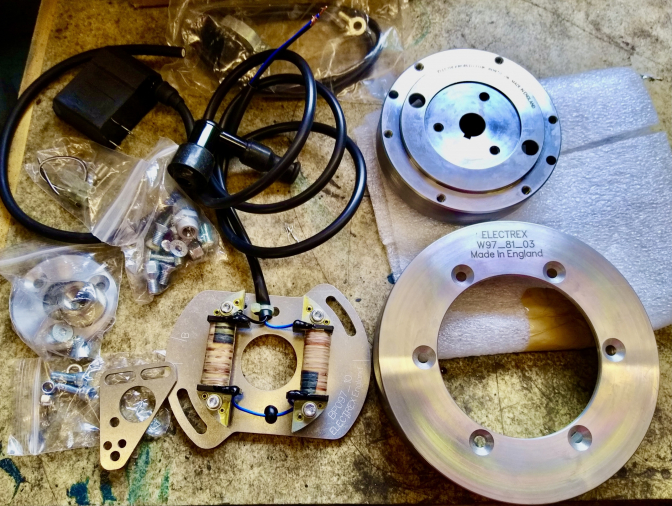 And the Electrex ignition that is to replace the period one set of points and two condensers and coils set up, to make it more reliable and bring the Burian into 2021..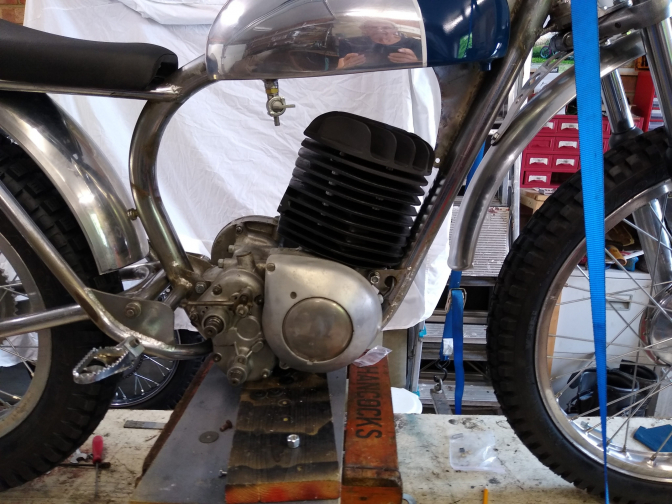 Simon has now fitted the trimmed down Challenger cylinder head to match the barrel, and also the Electrex World ignition...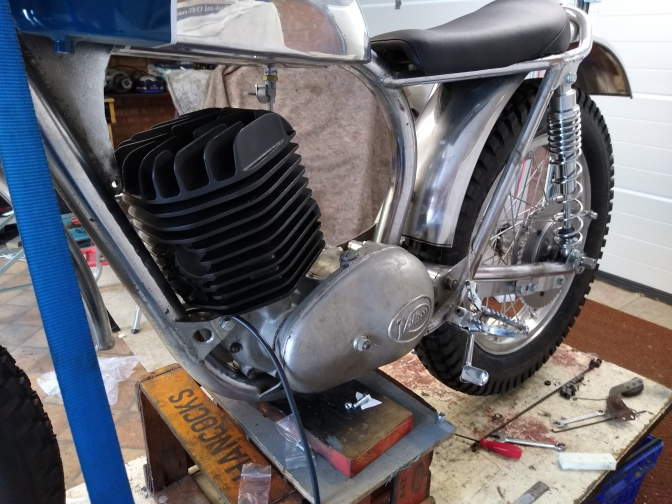 What a super job you are doing Simon... Looking good...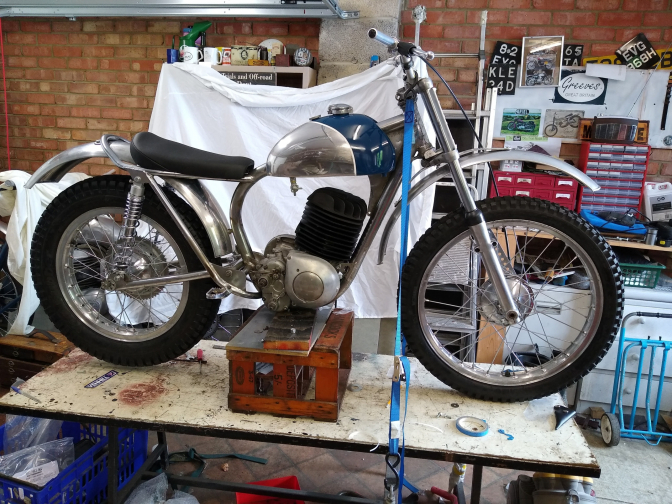 Hi Charlie hope you are well, update on Burian. I have had barrel rebored and new piston, cut down the Challenger head to match barrel and fitted Electrex world ignition, and fitted the engine into frame. Now I am going to get one of the Amal superlight premier carbs and sort out exhaust system .




Regards Simon.......




Just a start to this page.
You know how they grow now...