Triumph-Greeves...
or "Grumph"... Trials bikes...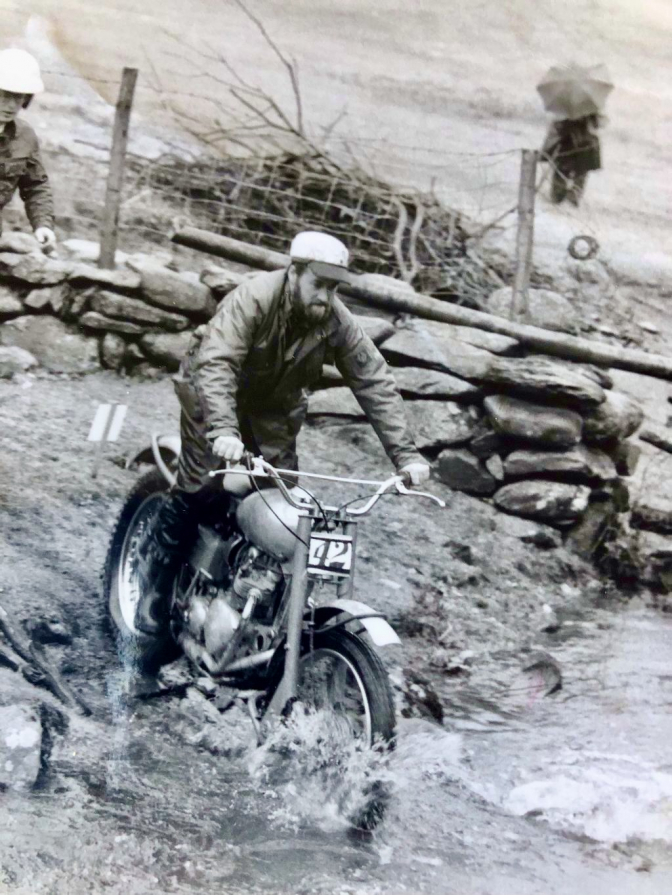 Photo Courtesy Deryk Wylde, and Phil Hyde...
The Late Harry Foster aboard his Triumph engined Greeves...
We take a look at a what some people at the time in the early to mid sixties thought was a good combination of engine unit and frame for a trials bike, and it was, but perhaps a bit late in happening as by this time most budding trials riders wanted the new wonder machine the Bultaco.. Greeves were still in production just, but both owner's wanting to retire it took a fire in the factory in 1968 to finally close the doors on production. And with now no more replacement Villiers engines to be sourced a lot of Greeves trials bikes of the early sixties production got retired to the back of the shed. And by the seventies you had to have a Spanish, Japanese, or Italian trials bike to now be on the front page, and but a few British built trials bikes were still used.
Trials riders from the sixties were now quite mature in years, and most had given up the what was fast becoming changing format of modern trials. Sections were increasingly becoming more difficult to ride and were suited to a more agile type of machine.
A few old boys that could not afford a modern day trials bike, with growing families and vast mortgages, decided to haul a few of the long since redundant old British built bikes out of the shed and organise their own format trials that had sections a lot like the ones from the past. After a few such events the word was getting around about this at the time new movement to knock the cobwebs off of any old bike and ride it on a Sunday morning for the fun of the ride. Even the motorcycle trade got interested and wanted to run a series of events, they needed a name for this… And our old friend Deryk Wylde who had be one of the instigators of the movement coined the phrase Pre year 1965 for the events, and for the sections to be used and not the machines.
We know the rest, we got the Pre65 movement that evolved over following years with ever changing rules.
Anyway back to the plot… A very good combination for a trials machine to fit the bill now in the eighties for this so named Pre65, was to buy a Greeves trials bike from the sixties that probably had an engine that was way past its best, and fit a reasonably priced Triumph unit twin engine into the frame. What a good combination, I have always thought, and to be honest can't believe that a lot more were not built. Or even now in 2021.
We know of a couple of examples that are already on these pages Justyn Norek's Triumph-Greeves "Black-Sheep", and the rigid framed one built by Jon Griffin… So when Phil Hyde sent me a photo of the Harry Foster version and said he had been into this breed since the eighties and had photos of a few, I said yes please we would like them, and perhaps I should build this page…
Philip Hyde...
Thanks for the opportunity to submit some Triumph-Greeves pictures.
I became interested in Triumph-Greeves machines in the early eighties. At the Talmag, a couple of machines belonging to observers started it all off. They had been built as a pair, based around Greeves TFS/TES frames. Both guys were friendly and imparted a few snippets of information regarding the fabrication of engine plates.
Both pictures taken at the 1985 Talmag Trial, Hungry Hill, Aldershot...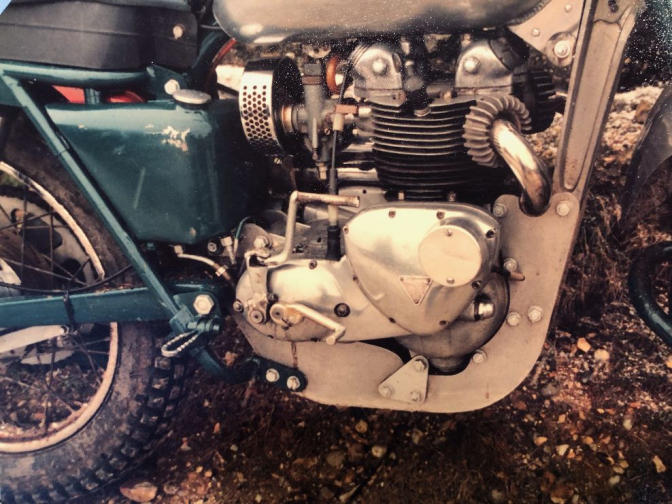 Seen at the TALMAG in 1985...
24/01/2023...
Can you please pass this message on to

Phil Hyde...

Do you have any more info about the Triumph

-Greeves

pictured at

1985

Talmag Trial

( blue

green

one)...
I have owned this bike for 20-plus years and often wondered who built it ... Do you know please...

John Sawney...
Charlie ~0o>

John

I will ask

Phil

for you...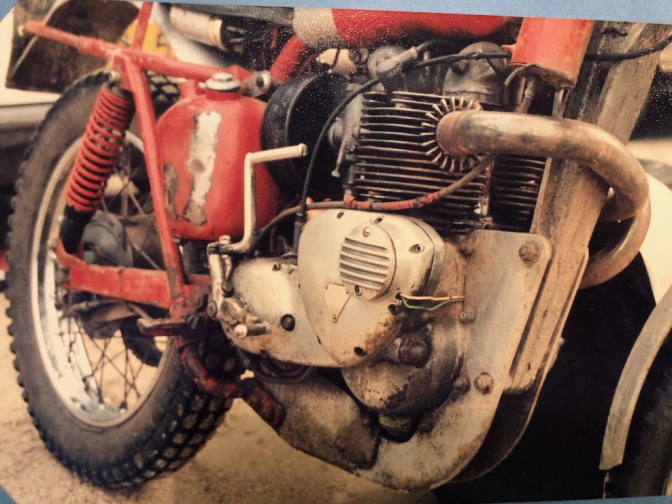 And the second machine at the same trial...
Having acquired a 1965 TFS rolling chassis I set about designing and fabricating my own engine plates.
Freshly out shopped, Spring 1986.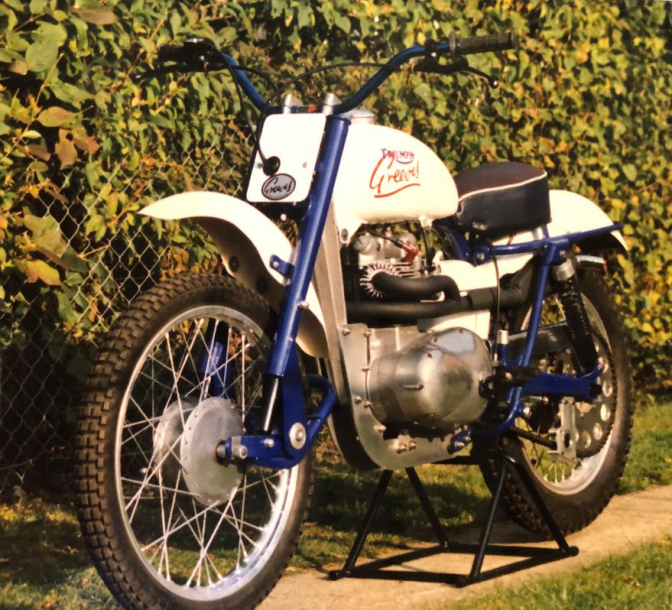 Triumph-Greeves has built by Phil Hyde in 1986...
Having ridden, developed the bike throughout the nineties and naughtiest I refreshed the machine in 2021. It now looked like this.
More pictures to come.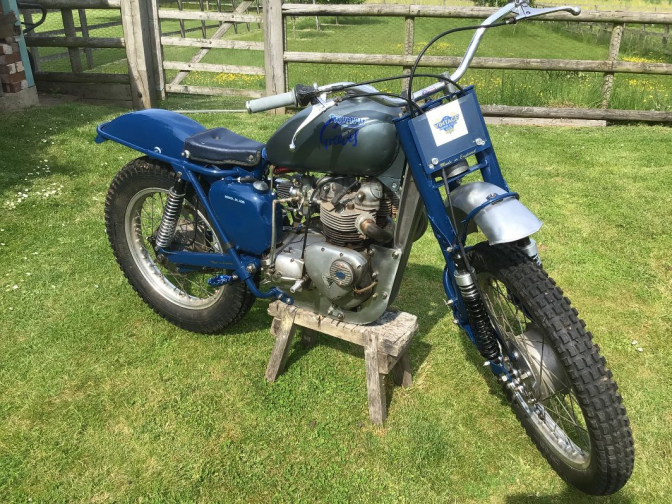 Note: That Phil has now fitted Greeves Anglian forks to the machine. Nice job Hey...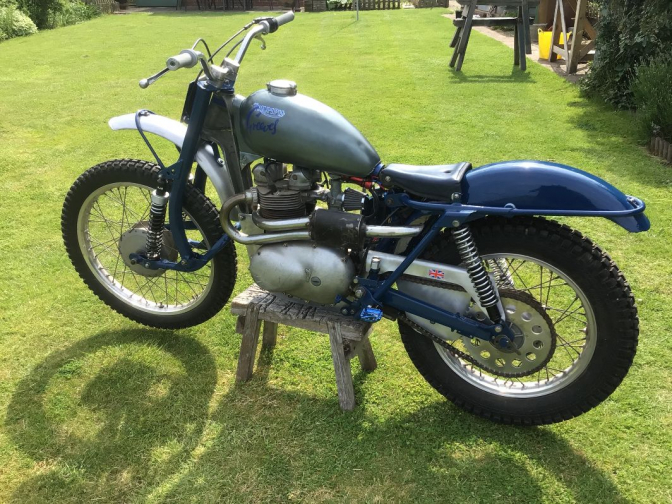 I still find it hard to believe that so few of these machines were constructed... perhaps I am wrong, and there are more about than I know about... More photos and information about Triumph-Greeves from Phil Hyde later...
January 2022...
This is the initial stage of making engine plates using 6mm plywood. The frame is a Greeves Anglian.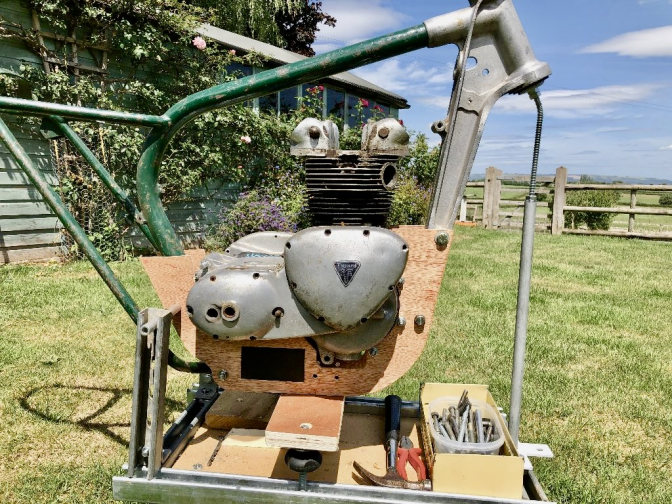 Plates cut out and drilled. I stick two pieces of aluminium plate together with double sided tape. Cut the shape on the bandsaw and drill the holes before separating. I use 6082 T6 aluminium plate, 6mm or 1/4" thick. The trolley is just a convenient way of working...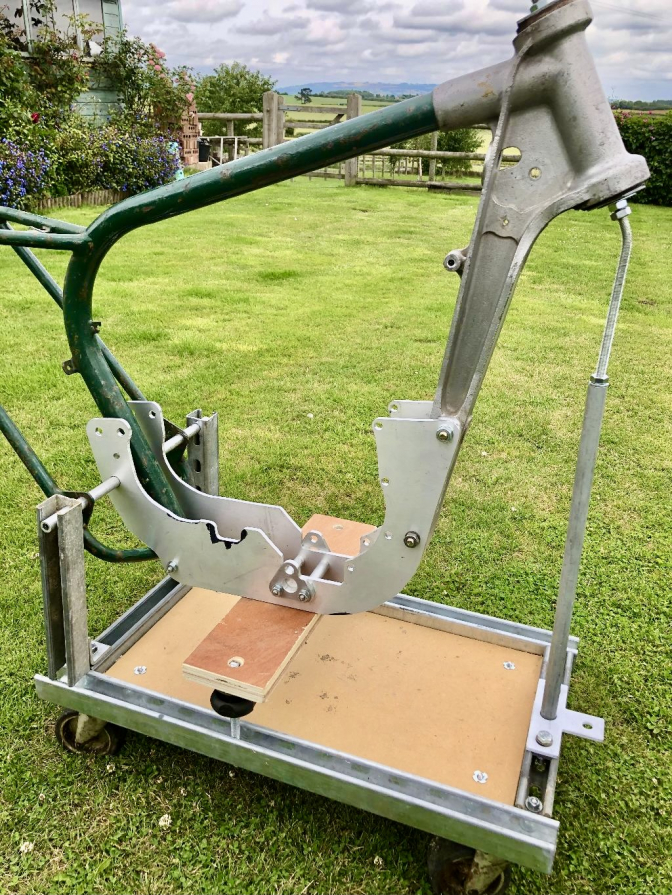 Below is Phil Hyde's engine plate kit with the full set of spacers you need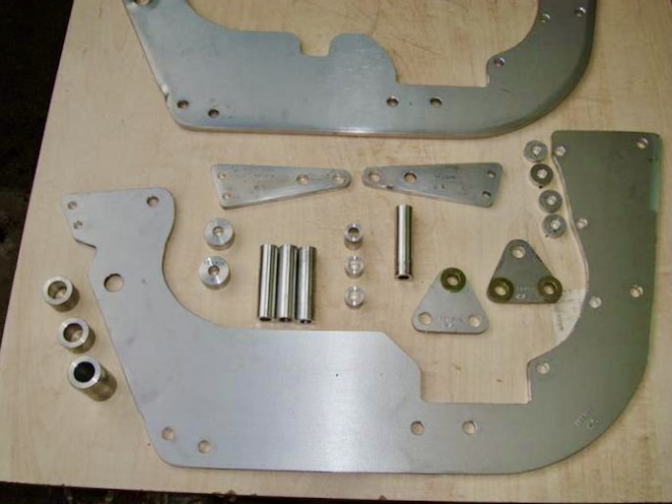 ~~~~~~
And the same set of plates fitted to Tony's bike... this
Triumph-Greeves was built up for a long distance trials bike...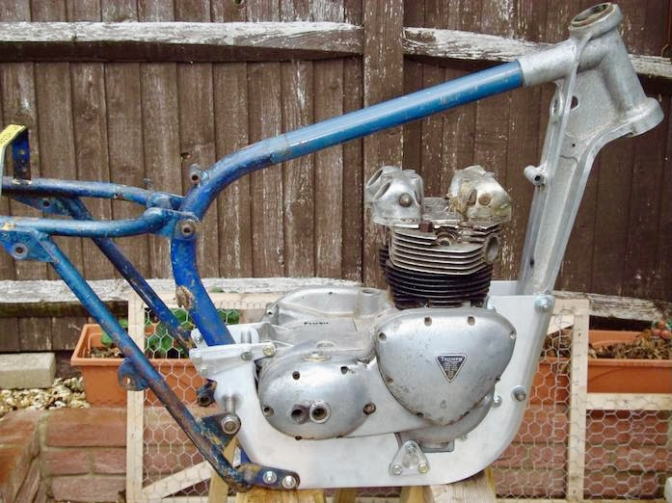 Below is another Triumph-Greeves, sold at auction some time ago and it was cheap...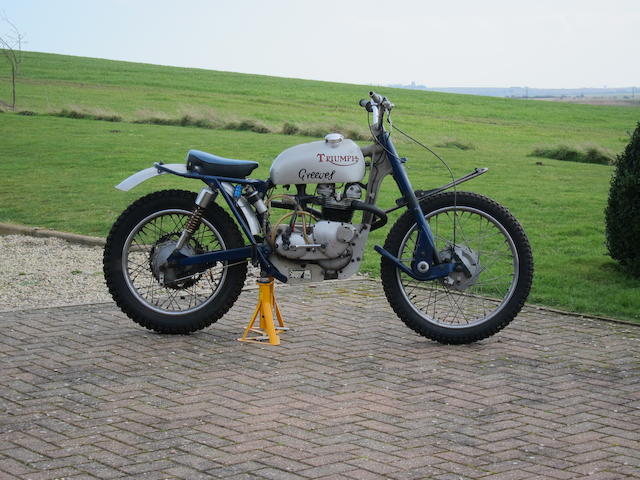 Photo credit Bonhams...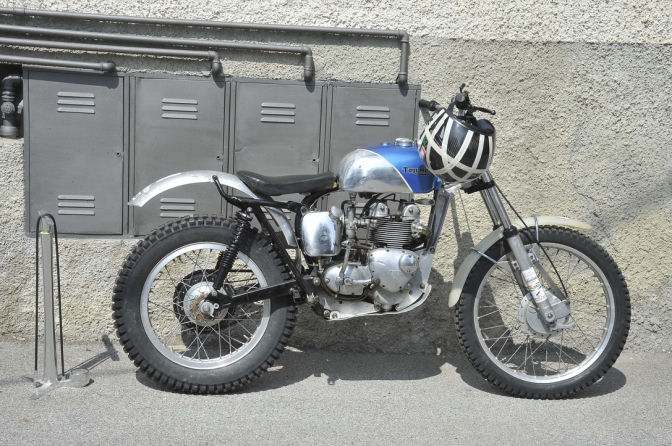 New photos of the Justyn's Norek...Triumph-Greeves...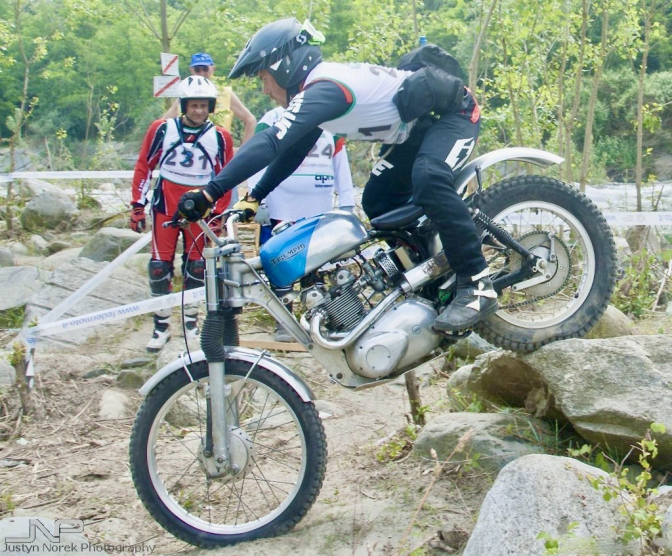 Photo's Courtesy Justyn Norek Snr...
Justyn Norek Junior, aboard his "Black Sheep" Triumph-Greeves...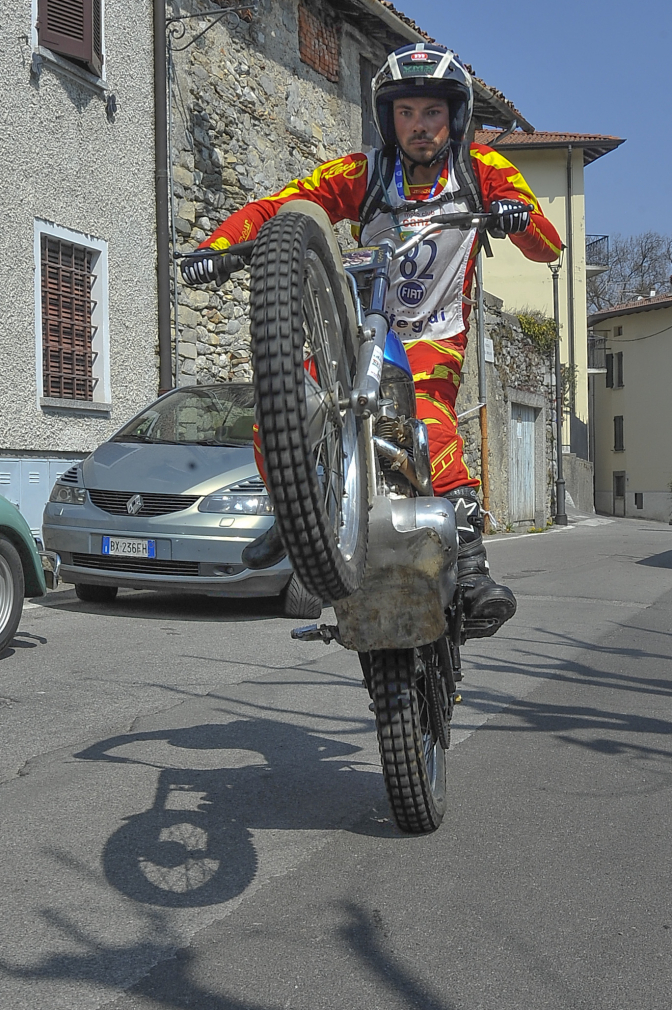 And the style in which the young man rides all of his bikes...
~~~~~~~
Back to Phil Hyde...
Here are a couple of photos of the Dave Hardy bike that used my engine plate patterns...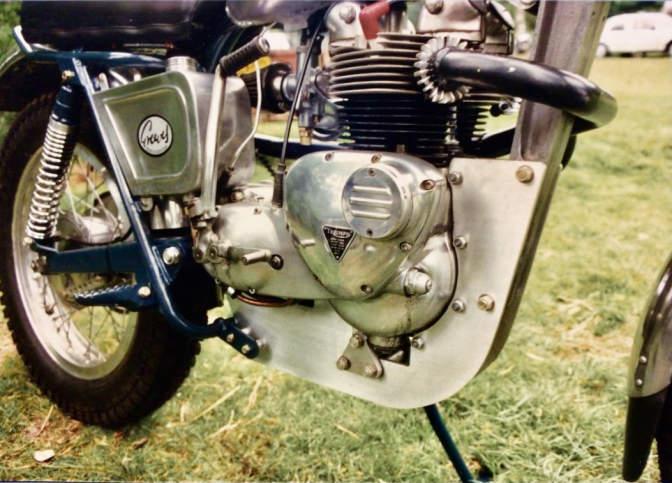 Dave Hardy's

500cc

Triumph

-

Greeves

pictured at

Frensham

in

1988...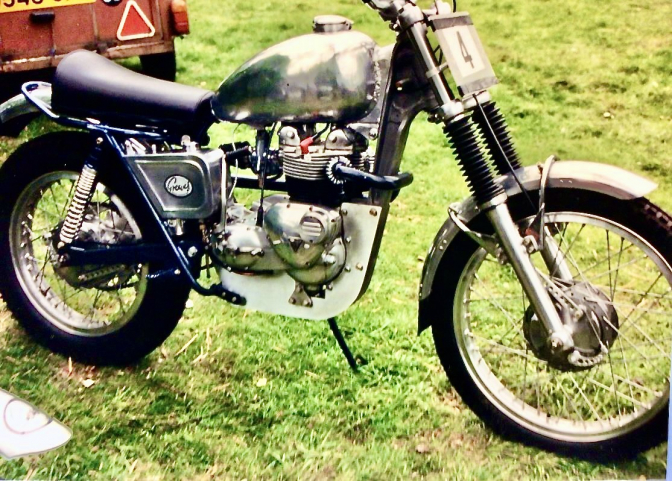 Dave Hardy's Triumph-Greeves...
So how do we go about fitting a Triumph engine into a Greeves rolling chassis?
Best thing is that the Greeves already had steel engine plates to hold in the Villiers engine… This was of course a structural part of the frame.
So the Triumph unit engine needs to be positioned in what you think is going to be the right position to distribute the engine weight in the right position, to get the balance of the bike correct, both height wise, and fore and aft, and to get chain line right… Like Phil Hyde said the old school method is the best, even now, don't go cutting up alloy sheet yet, a good plywood pattern needs making for both sides and the small bottom engine attachment point if you look at Phil's plates. And these patterns need to fit the engine and frame perfectly… Just hope you got your engine sat in the right position in the frame first time or you will be doing this exercise again later. With the extra engine power you are going to put through the chassis I think I would go for 6mm Dural plate for the material used for these plates. Phil will put me right. So you fit your engine into the frame and you get the chain line right first time, after making all of those alloy spacers, well done. Now you need to make a head steady at the top of the engine of some kind. Again I will ask for the best option. Next you need an oil receptacle to hold engine oil. A modified Triumph tank seems to have been the norm in the eighties, but I do like what looks like a custom built Terry Weedy tank on the Hardy bike. Take a look at the Mike Waller's Triumph Otter build video and see what he constructed for that machine, I must say I enjoy making oil tanks, so might you. Exhaust system next and your world is your oyster on this one, just make or get made what suits you… More later with finishing sprockets etc…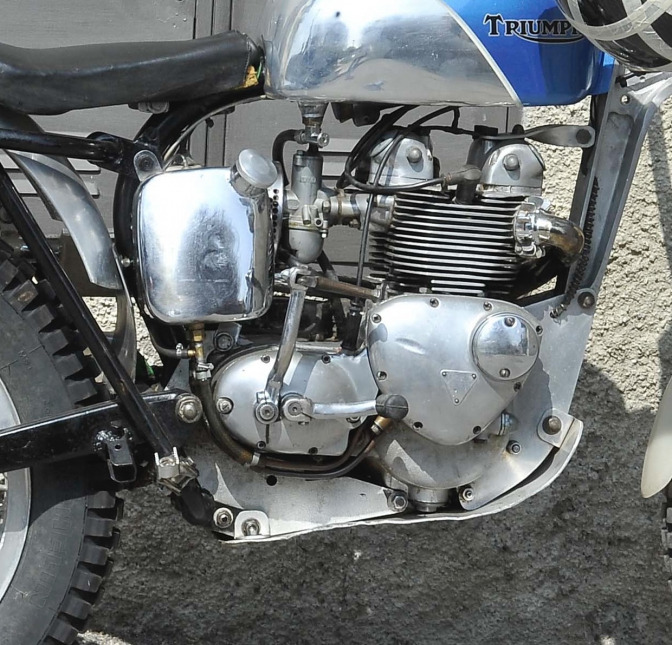 Photo Justyn Norek Snr...
If you look at the close up of the Justyn Norek's engine plates you will see that the constructor of that machine used four engine plates and not two, this means that the engine is taking more of the loaded stress than with the two plates, and there is a chance of more engine movement, although the flimsy sump-guard fitted would help... I think I would go for the two engine mounting plates for more rigidity.
Much more later to this page... And if you have a Triumph-Greeves...
We would like photos and information about your machine...
Great page for Christmas 2021...
23/01/22...
You can now buy ready made laser cut cnc'cd engine plates for this conversion...
https://www.ebay.co.uk/itm/194756775395?hash=item2d58688de3:g:wY0AAOSw94Vg~wC1
More Later... on this page don't forget to take a look at the Justyn Norek "Black-Sheep" Triumph-Greeves page...
updat2023...