Bob Forrest.
Has had is Faber MK3"Otter" Stolen.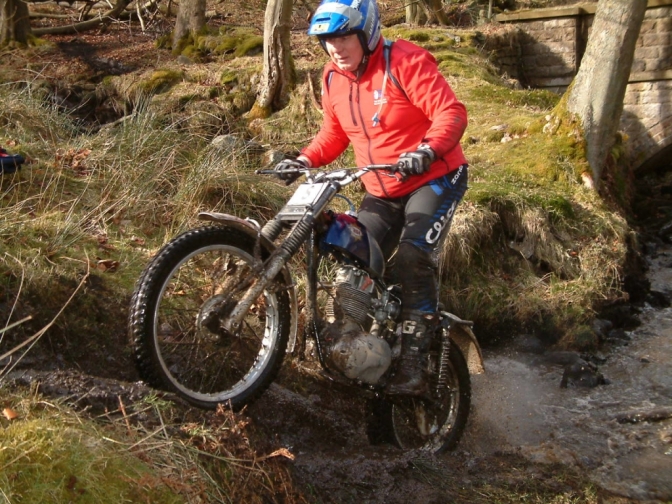 Bob at the Captains trial aboard the B40 Faber Mk 3 Otter.
7 April 2013.
******
Bob Forrest.>
I am the one that has had my two bikes stolen. The B40 is housed in a Otter mk 3 frame supplied by Howard Fawkes in December 2012 took me a 9 months to get it but a beautiful job.
It had a new Sammy Miller alloy tank painted blue , with gold pinstripe new alloy mugaurds with the same blue and gold pinstripe. Ceriani forks , Cub rear wheel, Rickman type hub front wheel ,Armac (Black) billet yokes, Alloy side panels with own design air box /filter, Talon footrests. Frame Painted black with (made in britain)gold lettering.
Engine BSA B40 GB with Electrex-World sparks and Pete Kirby diapraghm clutch and belt drive.
If you hear of anything along these lines being offerred please let me know . A just completed 2 year project gone in a flash lets try and catch these evil bastards.
Charlie,> Bob was best not pleased at the time and I bet he is still fuming inside today, you can't just wipe a build like this out of your head, the machine gets to be part of you as you build it.
And is almost like a loss in the family.
This page was started a long time ago now. April the Seventh 2013.
But the big problem with stolen bikes goes on, and Classic bikes are an easy way to make money as there are collectors of these machines that don't seem to bother where they have come from, and know that the-value of them are still rising.
So anyone, and I do mean any one. should consider measures to deter these thieves.
ONE.
Is to consider building a strong steel cage to keep your bikes in not unlike an old "Westerns" Jail.
Bolt together is fine as long as you spoil or weld the threads on the nuts.
This can be built into a garden shed if need be.
But another hundred £100 to build the cage as got to help you sleep better, as long as the shed is near your house.
Even battery angle grinders make a noise.
TWO
You should also consider having some sort of tracking device fitted to the machines.
there are now quite a few on the market.
(we will look at these later.)...............
The thing is with our depleted Police force here in the UK. all you can expect is a crime number, with no follow up unless the thieves have be spotted on your security camera. You have got one of them haven't you?
You know the bird boxes that are made to look like speed cameras!!!
well they do there job very well, to passing motorists,
so the same set up for a security camera is a deterrent.
THREE...
And if you find where the bike is, publish it quickly on social media, and get in touch with your mates from the rugby club. don't wait to let them get away. depleted force again. But only confront them until a Bobby arrives.
We will look at other measures later,
and I will build a security frame from scrap steel to prove that you don't have to spend vast amounts of money.
Let me know if you think any other measures would work.
One other BIG thing is don't show pictures of your bikes on Social Media sites with the numberplate emblazoned. it is a simple case with a phone typing in this number and finding a address and also if it is taxed and when the MOT runs out.
Also don't say "well we are away on our twice yearly cruise for the next fortnight", you can guarantee when you get back, you wont be riding your bike to work or in a trial the next weekend.
So if you put a picture of a bike on any site blank the registration plate out,the old fashion way with a rag, or do it with your photo editing page erasing tool on your computer.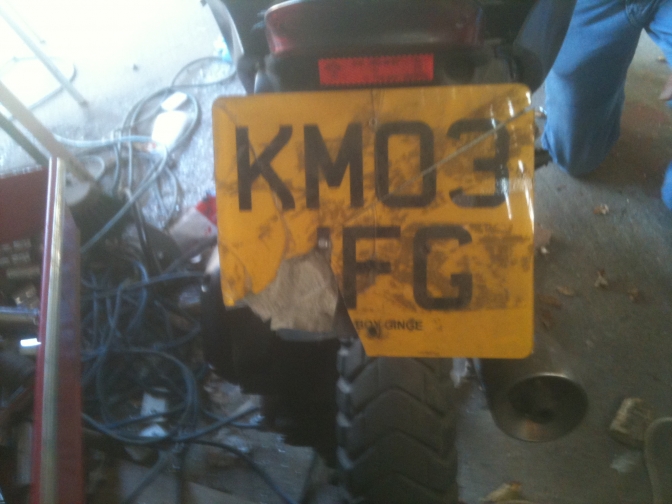 And the same for street signs, and sign posts, even church spires. And I am not joking .
More Later
11/11/2017.
From a email received today from a
Mr B Lockum from Upminster.
Firstly is there any reason for not having an off road bike registration scheme?

Central database

which holds all details of bikes registered on the scheme and registration would be FOC and would entail provision of solid proof that the person registering was the true owner of the bike. Anyone could check details of a prospective purchase using the database, but obviously address where bike was registered would not be disclosed.
To make this worth their while there would be a need to pay for a

registration document

which would need to be shown by anyone taking part in organised competition when entering events.
Obviously that's not going to prevent bikes being shipped out of

U

K

(a lot are probably going to

Eastern Europe

) or being broken for parts, but it would make it a lot less easy to sell a comp bike to buyer in another part of the country.
Cables or chains through ground anchors only slows a thief down, and most can be cut in seconds with a big pair of bolt cutters.
I think something with floating hardened steel bars within sq section tubing, with the void filled with some sort of liquid which would emit a choking noxious gas on contact with air if the outer tube was cut would be far more effective.
Possibility of being charged by Police

if a thief got harmed in some way, but not sure any jury would ever convict someone of such an offence?
Regards the registration scheme, the best thing would be to draft a proper proposal and put it to all organising bodies and bike importers.
I think the responses will make interesting reading.
A Scheme along those lines would make it very difficult to compete on a stolen bike.
Some good points there

Bill,
I am sure if other people took an interest in the scheme we could draft something, and turn it into a

PDF file

that could be passed around to clubs and the relevant authorities.
Just need the E-mails to come in to make it worth my time spending on it.
It is perhaps a good time to take a look at the

Trees

and not the

Forest

as far as this subject is concerned.
A Competition Motorcycle register

would help but I can't see that happening as the workload for the

ACU

and

AMCA

seems to to much to add anything new.
So unless some independent company was to set one up and try and get the governing bodies of

off-road motorcycle sport

roped in to helping the scheme somehow, it will not happen.
The cycle industry seem to have one that is know doubt a deterrent to handling stolen cycles.
This Page is for Bob Forrest who unfortunately has just had the bike stolen by a person or persons that just don't understand the work that goes into these machines and how much you get attached to them, Evil is the only word to describe someone that can do this deed to a fellow human being.
Lets see if we can't find the bike for Bob!
This is the description of the two bikes Bob has had stolen.
Hi Charlie.
Unfortunately didn't get time to get some detailed pictures but here is one that was taken at the Captains trial in Yorkshire.
Will send you a story of the build soon with as many details as I can
Details are As follows.
BSA B40
Immaculate just restored
Black Faber Mk 3 frame # FAB1235
New Alloy tank painted Blue/silver with Gold lining.
New alloy mudguards with blue and gold pinstripe.
Ceriani Forks
Rock Shocks rear suspension
Arcam billet yokes anodized black.
Talon alloy foot pegs
Renthall silver Handlebar with domino levers & twist grip.
Alloy side panels c/w unique own design air box/filter
Rickman type front hub.
Cub style rear hub and brake.
BSA B40 GB engine
Alloy coloured barrel.
Valve lifter of own design.
Head drilled to suit special exhaust
Special inlet manifold.
Unique Stainless steel Exhaust system with swept back (gold star style) pipe with spring fasteners and straight through silencer.
Only one of its type.
Pete Kirby Diaphragm Clutch and belt drive.
Brand New IRC rear tyre.
Honda TLR 200
Immaculate
Frame # TLR2005100653
Engine # TLR2005002502
Red frame c/w Gold wheels and Handlebar
Shedworks one-piece tank/set unit colored red/white/blue with clear protective film
Shedworks frame protectors.
White mudguards
Latest Alloy 2 piece exhaust c/w bomb front pipe
Blue grips
(Engine a bit smoky for a Honda) and fitted with an exhaust valve lifter.
Also taken
Two Trials helmets
One blue Wulf Sport as in photo with PJ1 sticker on visor
One Black Hebo with retractable eye shield.
One back hydration/ tool pack with gloves and spares.
Best Regards
Bob Forrest.
OK £5000, this is the only thing the thieves were worried about, how much they can get for their haul?
Keep your ears and eyes, open. And also think about where your prize "OTTER" is kept.
I do.
One good tip when you are rebuilding your engine stamp your name and Postcode inside the Chain case and even crank cases, someone one day will strip said engine and may investigate
These names and numbers. (My engines have names stamped by the engine numbers too).
Then have a sticker made saying that this machine is secretly marked and chipped and stick it on the Tank.
I even weld lettering into the outside of BSA Chaincases.
OTF Paul Beswick, writing about Bob's Bike.
Bob Forrest a member of the trials fraternity has sadly had his garage broken into in the early hours of this morning Saturday
6th April. He was at home in Leeswood near Mold, North Wales and heard a
Bang but didn't realize what was happening.
His newly completed Faber framed B40
And his immaculate TLR with 1 piece tank/seat unit were
... Stolen together with two helmets, his trials bum bag and many hand and power
Tools.
Please keep your eyes open and let Bob aka Rob 07810 301980 or
rgforrest@btinternet.com or let the police know if you suspect you've seen them...
updat2023...06...
I don't think these bikes were ever found but they must be still out there even if they were both stripped for parts...