Bob Forrest.
Has had is Faber MK3"Otter" Stolen.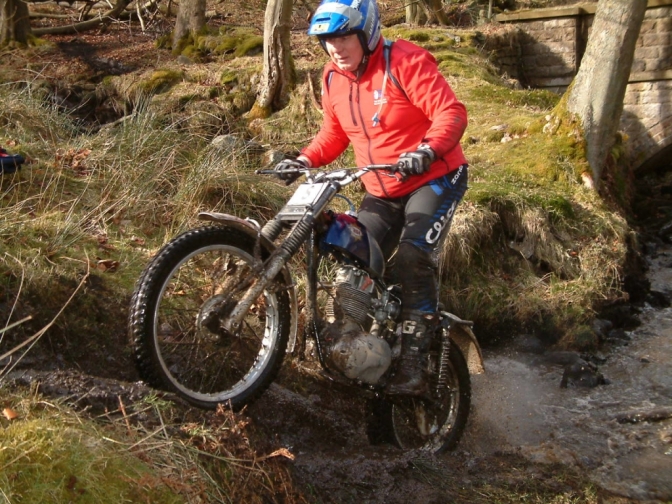 Bob at the Captains trial aboard the B40 Mk 3 Otter.
This Page is for Bob Forrest who unfortunately has just had the bike stolen by a person or persons that just don't understand the work that goes into these machines and how much you get attached to them, Evil is the only word to describe someone that can do this deed to a fellow human being.
Lets see if we can't find the bike for Bob!
This is the description of the two bikes Bob has had stolen.
Hi Charlie.
Unfortunately didn't get time to get some detailed pictures but here is one that was taken at the Captains trial in Yorkshire.
Will send you a story of the build soon with as many details as I can
Details are As follows.
BSA B40
Immaculate just restored
Black Faber Mk 3 frame # FAB1235
New Alloy tank painted Blue/silver with Gold lining.
New alloy mudguards with blue and gold pinstripe.
Ceriani Forks
Rock Shocks rear suspension
Arcam billet yokes anodized black.
Talon alloy foot pegs
Renthall silver Handlebar with domino levers & twist grip.
Alloy side panels c/w unique own design air box/filter
Rickman type front hub.
Cub style rear hub and brake.
BSA B40 GB engine
Alloy colored barrel.
Valve lifter of own design.
Head drilled to suit special exhaust
Special inlet manifold.
Unique Stainless steel Exhaust system with swept back (gold star style) pipe with spring fasteners and straight through silencer.
Only one of its type.
Pete Kirby Diaphragm Clutch and belt drive.
Brand New IRC rear tyre.
Honda TLR 200
Immaculate
Frame # TLR2005100653
Engine # TLR2005002502
Red frame c/w Gold wheels and Handlebar
Shedworks one-piece tank/set unit colored red/white/blue with clear protective film
Shedworks frame protectors.
White mudguards
Latest Alloy 2 piece exhaust c/w bomb front pipe
Blue grips
(Engine a bit smoky for a Honda) and fitted with an exhaust valve lifter.
Also taken
Two Trials helmets
One blue Wulf Sport as in photo with PJ1 sticker on visor
One Black Hebo with retractable eye shield.
One back hydration/ tool pack with gloves and spares.
Best Regards
Bob Forrest.
OK £5000 ,this is the only thing the thieves were worried about, how much they can get for their haul?
Keep your ears and eyes, open. And also think about where your prize "OTTER" is kept.
I do.
One good tip when you are rebuilding your engine stamp your name and Postcode inside the Chain case and even crank cases, someone one day will strip said engine and may investigate
These names and numbers. (My engines have names stamped by the engine numbers too).
Then have a sticker made saying that this machine is secretly marked and chipped and stick it on the Tank.
I even weld lettering into the outside of BSA Chaincases.
OTF Paul Beswick, writing about Bobs Bike.
Bob Forrest a member of the trials fraternity has sadly had his garage broken into in the early hours of this morning Saturday
6th April. He was at home in Leeswood near Mold, North Wales and heard a
Bang but didn't realize what was happening.
His newly completed Faber framed B40
And his immaculate TLR with 1 piece tank/seat unit were
... Stolen together with two helmets, his trials bum bag and many hand and power
Tools.
Please keep your eyes open and let Bob aka Rob 07810 301980 or
rgforrest@btinternet.com or the police know if you suspect you've seen them.