Justyn Norek Junior's,
Triumph 350 engined Greeves.
"Black Sheep"...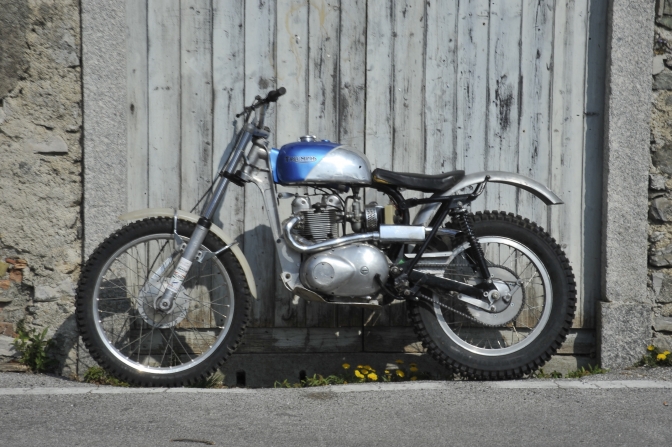 Triumph 3TA engine unit fitted into a Greeves TFS 1964 Frame.
Fitted with Metal Profile forks and yokes,
Rickman hub in the front, Bultaco hub in the back wheel.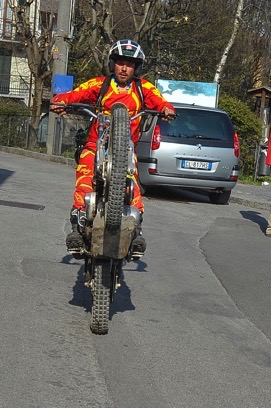 Boys will be boys, but this young man knows how to ride two wheeled machines, with pedal, and engine power.
And mostly on the back wheel on both types.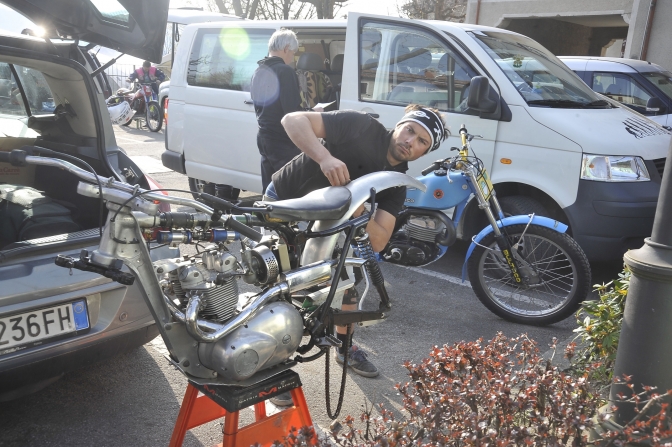 Photo's Courtesy Justyn Norek junior...©...
It amazes me that not more Classic trials bike home constructors have not used this combination of frame components and engine more.
It seems like they were actually designed for one another. And with the Villiers engine being fitted into steel engine plates as original, by removing this unit it leaves a simple modification to fit a Triumph or even a BSA unit construction engine.
~~~~~~~
The two photos above and below, just shows how much Justyn loves his trials machines.
I know he rides them most days, one or another, and there are a few in his stable. But to put the effort in to get a machine to a trials venue like this, shows the dedication he has for the sport of offroad machines.
~~~~~~~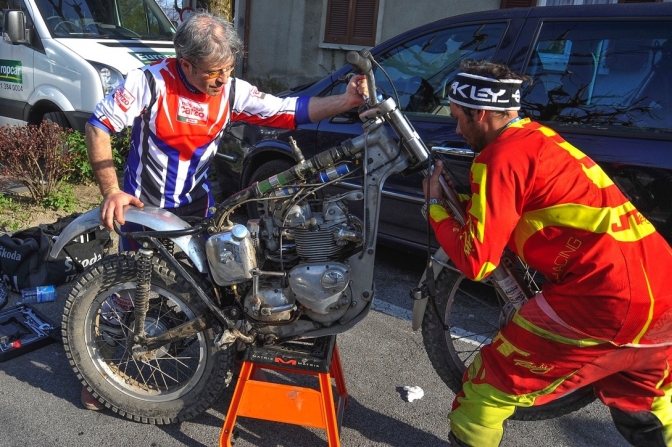 It does seem like a lot of hard work to have to rebuild a motorcycle to ride in a trial, on the start line.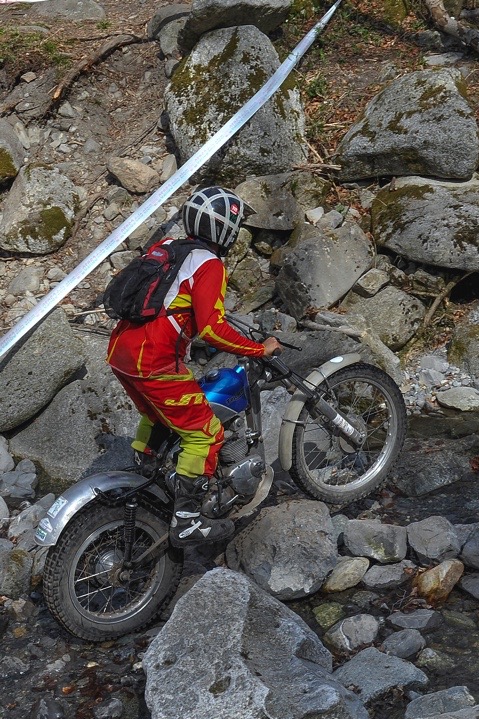 And sometimes doing this, things do fall off...
Justyn's seat is now in his back-pack, take note.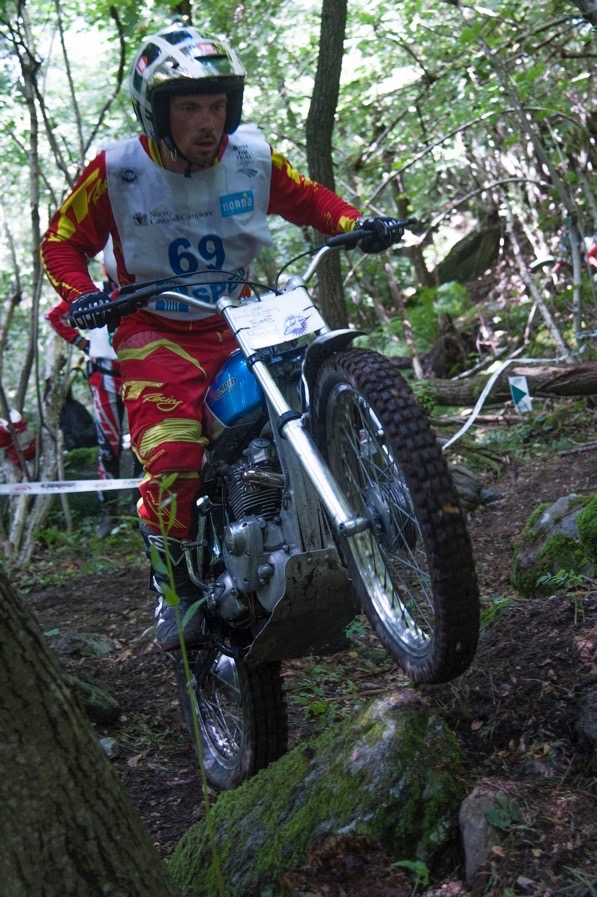 You need determination and grit to ride a "Big" bike in a Classic trial, and the expression on the face says it all.
~~~~~
Like I say though, why are there not more of this combination of engine unit and frame built?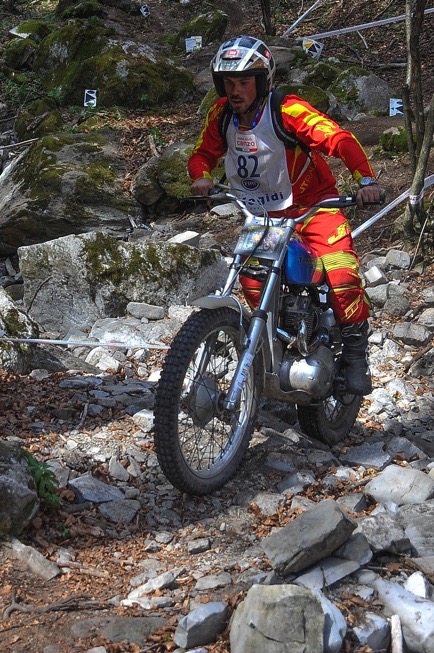 If you note on the two above photo's the front wheel has been changed from the original Rickman type to one from an Honda C90 step through that was before 1965.
Justyn...
TRIUMPH-GREEVES IS MY BIKE, I HAVE BOUGHT IT SOME MONTHS AGO.
I USE IT IN PRE65 TRIALS.
I HAVE PROBLEM WITH FRONT BRAKE AND LOOK FOR SUITABLE HUB...
ALSO ENGINE BURNS OIL WHEN COLD...Justyn.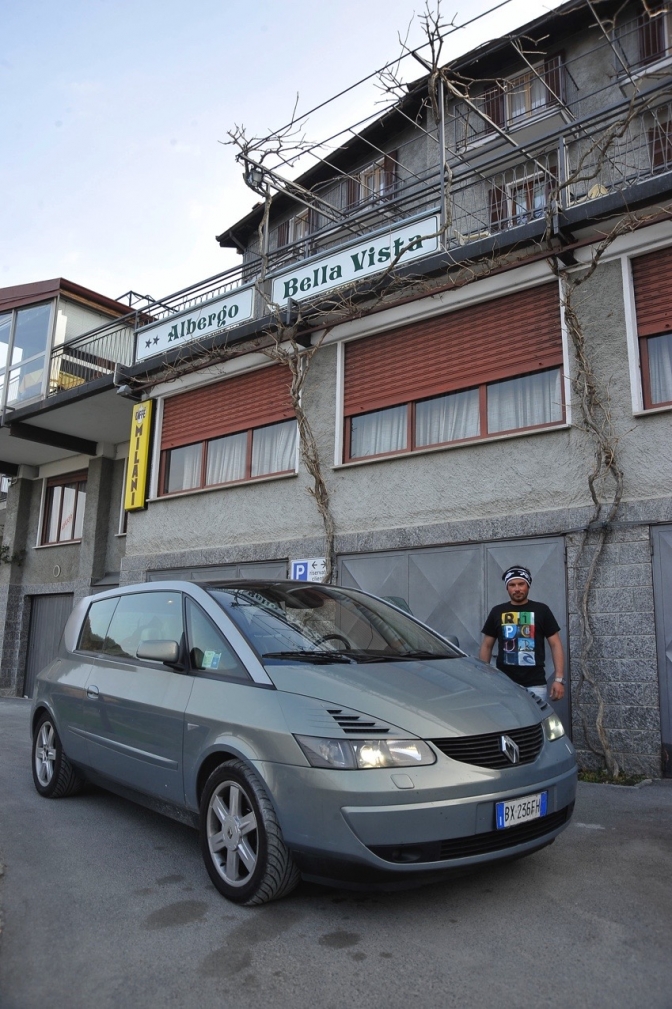 After the trial has ended and you just want to go home.
Justyn has to strip down his Triumph-Greeves and load it back into his favourite car, a 2003 Renault "Avantime", before he can take the long trip home.
I USE AS TRANSPORT RENAULT AVANTIME, SO I DISASSAMBLE WHEELS AND FRONT FORKS EVERYTIME...
THERE IS ALWAYS LOT OF INTEREST WHEN I WORK ON BIKE !
Justyn.
The Renault Avantime has the advantage of having No door pilars so makes a large volume load space, with its unique construction using quite a lot of polyester mouldings.
I do love the shape of this very rare Auto-mobile.
A designers car no doubt about it. And probably worth the effort of stripping the bike for the ride.
~~~~~~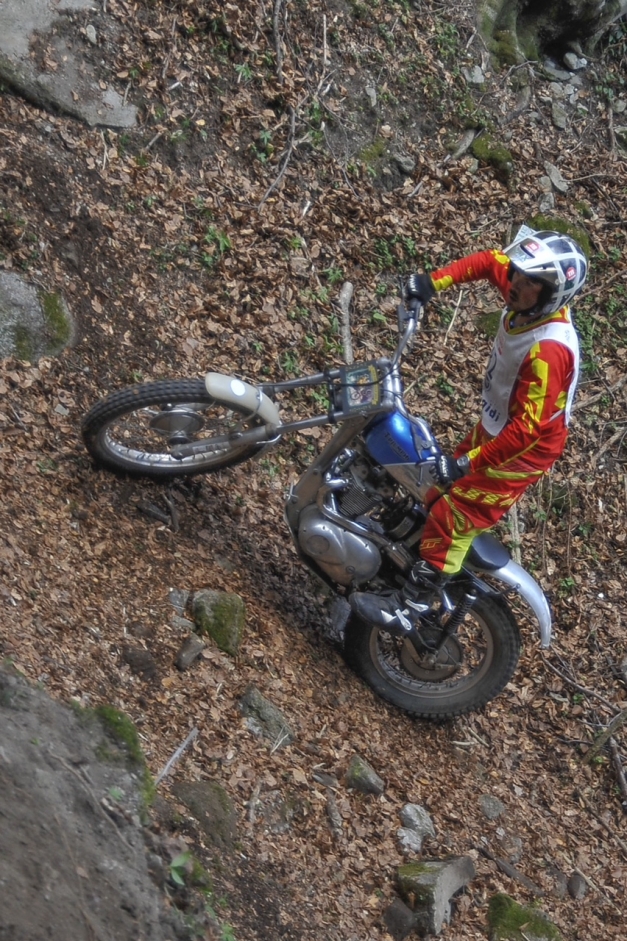 You never run out of steam with a Triumph twin if there is grip there, the motor keeps on growling .
Nice shot too.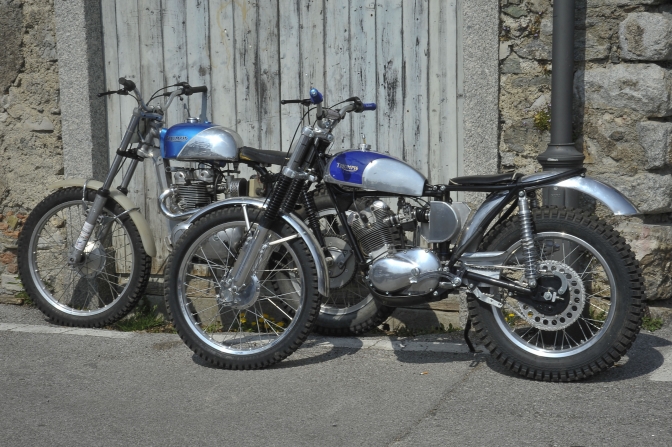 Two machines in the true spirit of Classic Pre65
More later with Ride impressions.
The story of why Justyn searched for and then bought the bike.
The Justyn's, father and son, had longed to own a proper Pre65 machine to ride in not only Italian Pre 65 events but also to hopefully get a ride in the 2018 So called Scottish Pre 65 trial.
So Justyn Jnr started to put adverts into the Italian motorcycle press asking for suitable Pre 65 machines.
There were emails and pictures sent to him of many what looked like suitable machines, from Ariel, AJS, Triumph Cubs, and even two stroke James, and DOT machines, but there was a ping one day and the photograph of this strange high-bred machine with a mix of Triumph engine and Greeves trials frame.
Justyn and the photo of the bike clicked, hairs stood on the back of his neck, this was the bike he wanted, something different to the norm.
Then like we all get from time to time, thinking we would not get the item or machine unless we moved fast, and someone else would buy it first...
So frantic discussion with his father they both decided this could be the machine for them.
So early the next morning Justyn Jnr rang the phone number,
and we again have all been there, and the phone the other end rang and rang, but with no answer for a long period, and hands and head getting more covered in sweat by the minute.
At last a gentleman's vice answered the call.
A tongue tied Justyn spluttered out the words "Is the trials bike in the photos you sent me still for sale", and with a long pause as the gentleman thought,"Oh yes the Triumph you mean, yes it is still for sale".
Justyn sighed a sigh of relief, and hurriedly arranged a viewing of the machine the next day, the bike was about 100 miles away from where Justyn lives in Italy.
So after a sleepless night both Justyn Senior and Junior set of to look at the machine.
Upon arriving at the address and meeting the gent who was selling the bike, and he told them he had rode trials bikes in his prime, but now in his sixties had the task of selling the collection of machines from the estate of Trials rider, journalist, and author of several books on Italian trials machines, Giulio Mauri.
"Black Sheep" as it was going to be known, was there in front of them, and just waiting for a new home, where someone would look after it.
And both of the Justyn's wanted that machine, even before starting it.
With nervous appriention young Justyn took a few hefty kicks on the starter, and the motor burst into life growling like a huge lion.
Instantly putting broad grins on all three faces...
Justyn climbed aboard and did a few circles to warm the motor up, before pulling a few of his trade mark wheelies, and even broader grins appeared, eventually after the owner realised the young man could actually ride a bike..
This machine is mine he was saying, to himself, before even cutting the throttle.
Negotiation about the price were few, the boys just paid the asking price and were so glad to get the machine of their dreams.
~~~~~~~
After riding the Triumph-Greeves "Black Sheep" in several rounds of Italian Classic trials. Justyn has found a few improvements want doing before his ride in the Scottish trial, suspension is at the top of the list, and has he says above the bike does smoke a bit, and also a better front brake is needed, ( and now needs to comply with Scottish regulations) which the Honda C90 one should).
Bultaco on the back though will also have to be changed... (Why)?
The clutch is also heavy for someone that rides using the clutch like a modern machine, he needs a Pete Kirby clutch and belt drive to cure this...
The major thing Justyn needs to get used too is the width of the engine compared to is modern Honda, and this means riding "over" rocks in a stream and not around them.
But like he says this machine finds grip with its low-down torque like no other bike he has ridden...
All we can say is, I hope Justyn has a ride in the Scottish trial on a True Pre65 High-bred machine.
What a shame Greeves and Triumph had not got together in the Sixties.
before it was to late.
Data on the machine is
Weight 112 kgs.
Wheelbase 1330 mm.
Ground clearance 290 mm.
Width. Wide.
The Alloy fuel tank by the way is from a BSA C15T the old Loaf tank.
~~~~~~~
It Would be really interesting if we could find out who really built the machine in the first place.
I would say In Great Britain, and late sixties, by a man that liked to hear his trials bike Growl.or should it be Baa...
~~~~~~~
Now a New page for Triumph-Greeves or (Grumph) trials bikes for Christmas 2021...
Another "Norek" Trials bike test brought to you by...

Updat2023...08...