A Triumph Twin... is the New In thing...
We Take a Look at the current Crop of Winning Trials machines.
And even some of the older ones.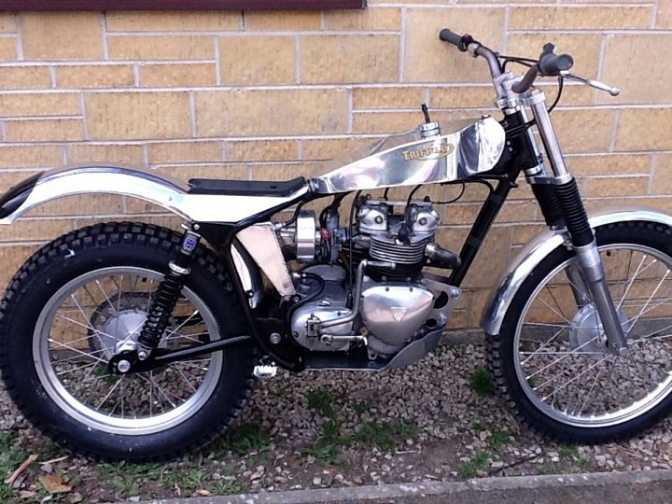 Steve Saunders Scottish Pre 65 trials winning "Trifield"
Since Steve Saunders, and Rob Bowyer's, wins in the Scottish two day Classic trial, the Triumph twin engined unit trial machine seems to be the way forward, with other bikes winning the Classic Trials on a yearly basis.
Now James Harland has been winning on a yearly basis too, and the Major two Classic Trials Year in year out. There must be something in it.
James uses a Jackson Ariel type frame, that is not that dissimilar to one of the Foster Triumph "Otter" frames or the Faber "Otter" one used by young Jack Butterworth.
But a continuing trend is also to use a Royal Enfield Crusader Sports frame, with a little modification.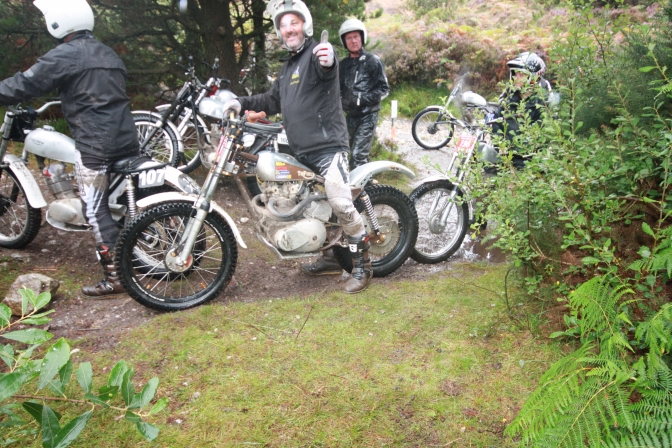 Photo Courtesy "Otterman"...
Here Mark Stokes gives us the thumbs up, even in torrential rain at the recent Manx Pre 65 Two Day Classic Trial 2016, on his TriField.
One other thing about a Triumph Twin is that they not only grip, but they also make the right noise, The Grooooowwwwwl.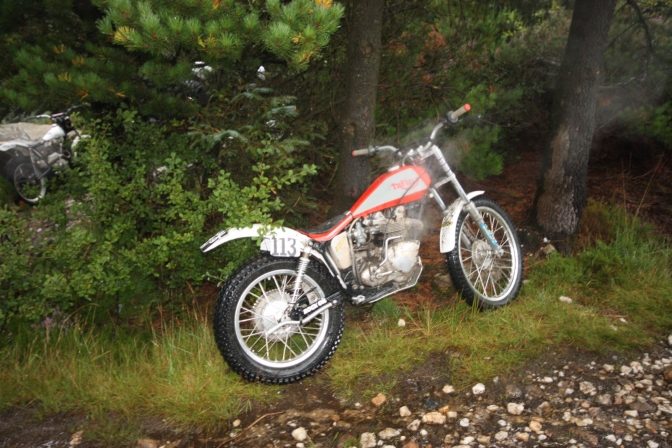 Photo "Otterman"...
Darren Palmer's "Trifield" steaming in the rain.
Manx Classic 2016...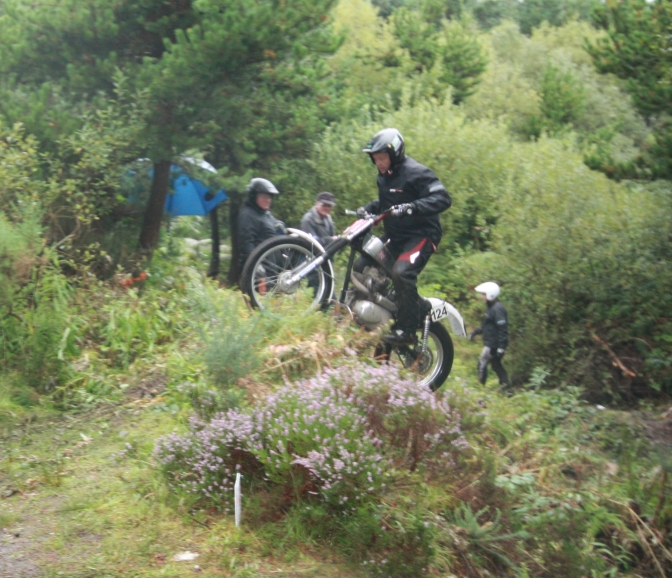 Photo "Otterman"...
Here Nick Shield, a first timer at the Manx Classic, enjoys his ride in the wet, on his Triumph Trifield.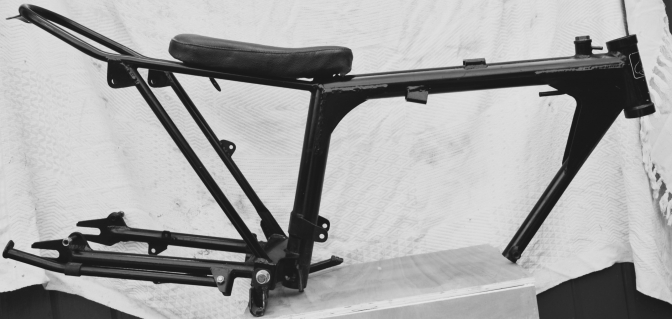 Photo Courtesy Ian Ballard.
This is the last "Foster Triumph Otter" frame that is now in build.
But we may build some of these if there is interest next year, now we are using the Foster Jig.
Ian is now in 2018 just about to start the build up of this Triumph Foster Otter.
Ian's Foster Triumph now has it's own page.
I hope we can do the same shortly.
~~~~~~~
Back to the plot.
I am not saying that a Triumph twin is a New thing.
Two and only TWO of the Triumph works boys of the sixties had them, after dumping their Triumph TR20 Tiger Cubs.
Roy Peplow was the first to build a bike, from the stores bins at Meriden, and soon after John Giles showcased his Triumph Twin 350 in 1963. And later, Ray Sayer rode one, Gordon Blakeway, also built one for himself.
Did Henry Vale agree to the builds?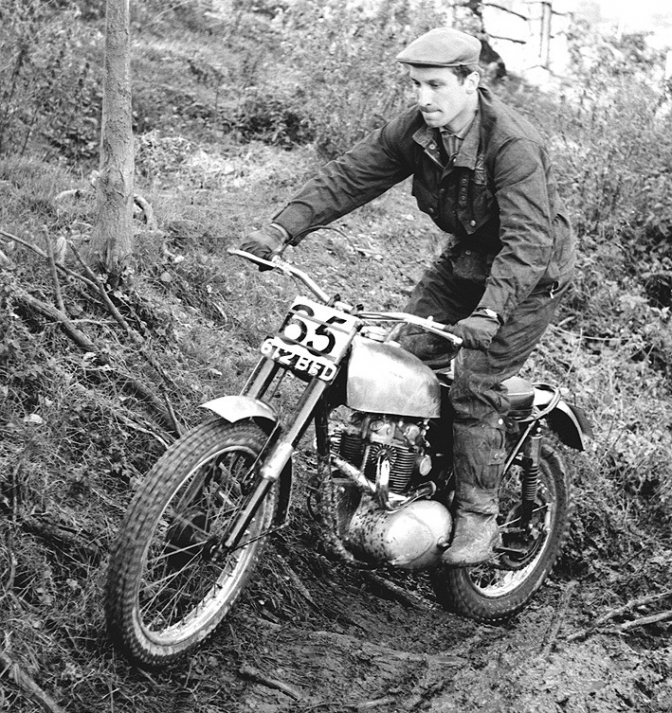 Photo Courtesy Deryk Wylde"ORR" and Gordon Francis.
Roy Peplow on the Works Triumph.
~~~~~~~
I stand to be Corrected?...
Deryk,>
Hi Charlie,
Have had a look at your

Triumph twins

page and noted you say

Roy

Pep's

twin was built from the spares bins at

Meriden

! Sorry, not so. Neither his or

Johnny Giles

bikes had anything to do with

Meriden

- they each built their own, in spite of factory orders.

Roy's

came from a crashed

Sports Twin

that was totalled by the insurance after it had been collected from the accident site by

Roy's

shop - the local

Triumph

specialist.
The factory never went down the unit twin route, they issued them with works

Cubs,

but they both had trials where they could do better on the

Triumph

unit Twins

, than on the

Cub

..........
I still think the

Triumph Competition Department

knew about the machines, and also encouraged the builds. And there is evidence of them being worked on at

Triumph.
Just like

BSA

they only acknowledge they existed when the bikes won, and then the Photo's of the machines were all over the motorcycle press-in adverts for
Triumph Twins
"The Ones That Wins".

..
These motors ran high compression pistons, which where said to make the engines better at plonking.
Each to their own, and I do agree that I find these pistons also run very well in a unit single BSA.
The engine size today probably favoured by many is four hundred cubic centimetres,
these are said to use a couple of Triumph Cub 199cc pistons.
Gearing well there is a few special low bottom gears floating about, but like every thing that is scarce you will have to pay the price for these, have you seen how much BSA B40GB gears are now a days.
The gears, or even the engine best suited was from the "Bath-Tub" Triumph Twenty One.
But most of these have now been snapped up by trials enthusiasts.
~~~~~~~
Clutches, well again some are using Pete Kirby's belt drive unit, and also the chain driven NEB, very nice clutches thank you, but again you pays your money and makes your choice.
Firstly before all that you have to lay your hands on a engine anyway, these are now getting just has scarce as the BSA B40 GB WD engines, and again you have to pay the price, if you can find them.
One easy-way out is to re-mortgage your house, and buy a complete gem of a machine from Dave Varley, and hope that it makes more interest than having a savings account.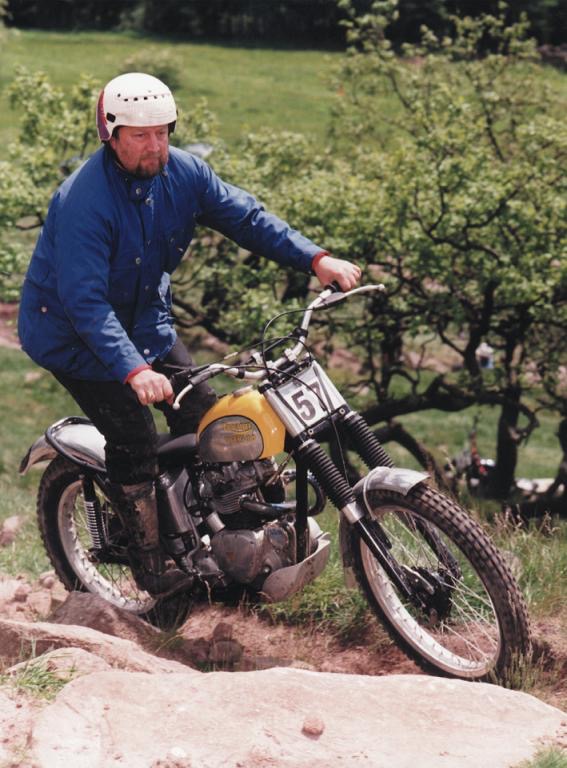 Photo Courtesy Deryk Wylde ORR.
Here is Dave riding one of his first D & C Classics creation Triumph's.
But most of you unless-you have a motor stashed in the loft from way back then, will just have to spend the hours of time trawling through endless auction site pages trying to find the parts of your dream, and hope you don't get hit with a family crises, taking your cash before your dream is made a reality.
Enough of this rambling, a picture tells a thousand words and all that.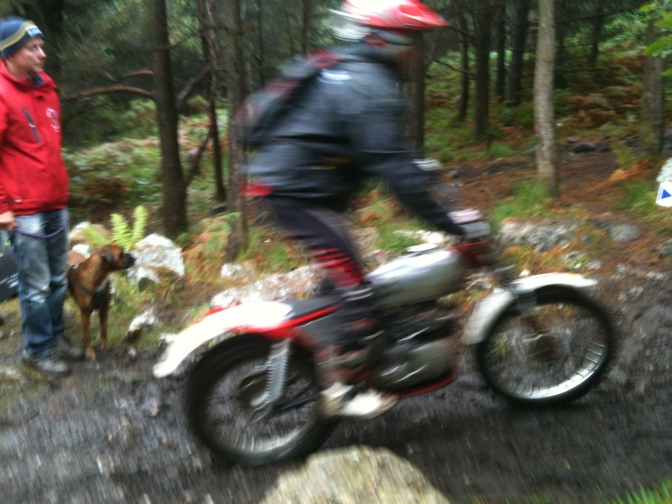 Photo "Otterman"
Young Jack Butterworth at speed on his Faber Framed Triumph "Otter".
In the Manx International Classic Trial 2016.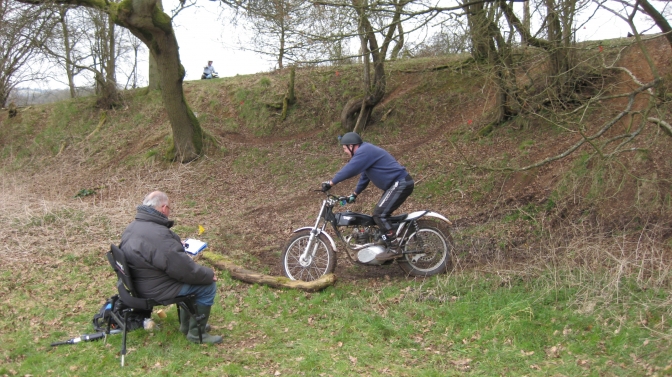 Photo Courtesy Lee Prescott...
BMCA trial at Ullenhall, Class Winner on his sweet sounding Triumph twin,
Joe Owen...
I lost the GRRRRowl.
~~~~~~~
In 1963-4 or 5,
I along with the other guy's at North Bar Garage in Banbury, built up two Triumph Twin based bikes, one was a solo to be ridden by owners son,
Dan Shorey, and the other a sidecar plot to join the Revolution that was at that time "Sidecar trials".
The sidecar fraternity were big into anything with the right power then, and the Triumph motor fitted the bill very well.
Both bikes were built out of customers crashed bikes, well you could ride anything if you had a provisional licence then.
Dan's bike got sold to George Greenland as a solo.
ABW 176A was a nice machine, I loved it.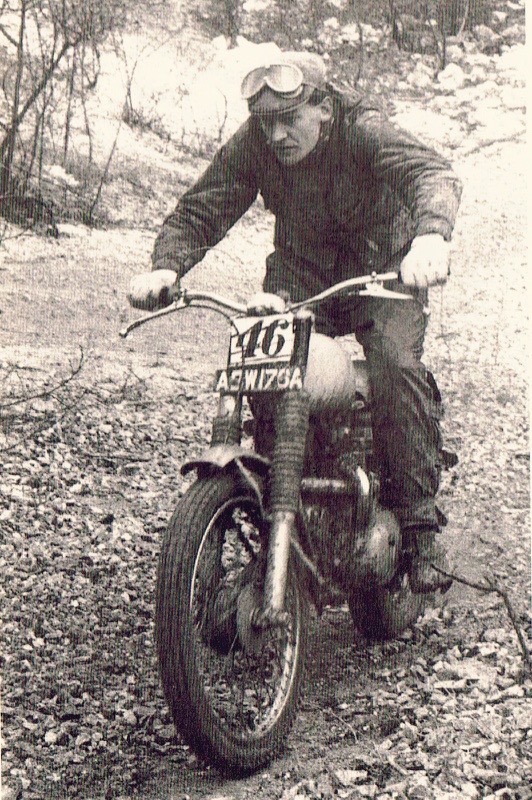 George Greenland Photofrom Deryk Wylde...
This the bike ABW176A now sporting Norton forks and James front hub,
and could be a Greeves modified tank, but with the frame built out of small guage steel tubes by George... and to be honest a bit flexable....
The sidecar plot was also good, we tried every which way with that machine.
I built the sidecar with any tube that was available, most of it from sawn up push-bike frames.
I was into "Glass-fibre" in a big way by then, the new wonder material that you could build any shape from.
And I was not wrong, just look at what the Carbon variety as done for the motor-sport industry and others now.
We had Fun with that Groowwling Triumph. And I wish I still owned that machine.
But it looks like others are now doing the same and that makes me Happy.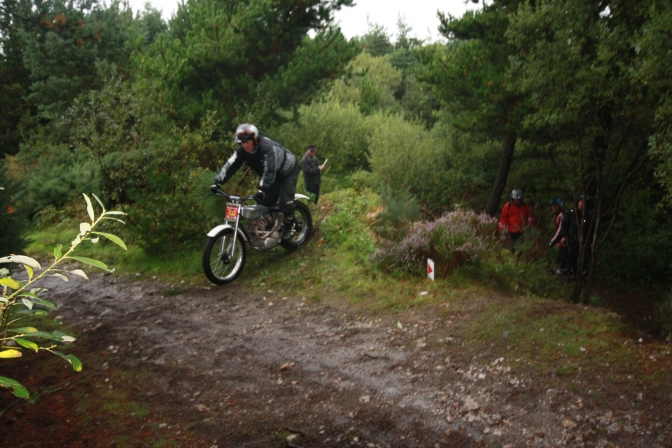 Photo "Otterman"...
Eddie Aitken 350 EAM Trifield at the Manx Classic "Old Stoney Mountain" sections on the Saturday 2016.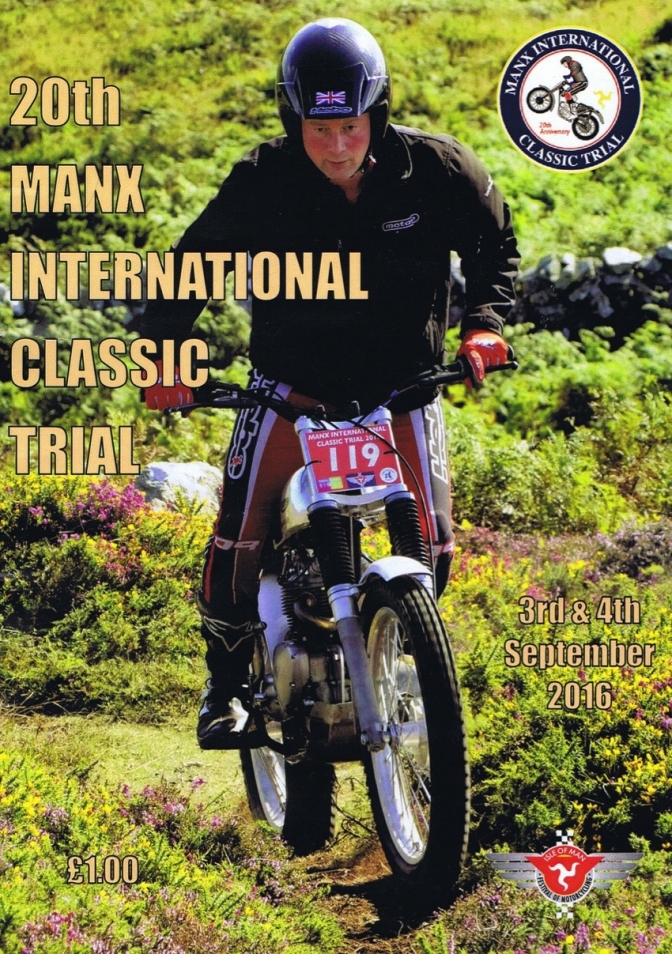 James Harland once again a Winner in 2016...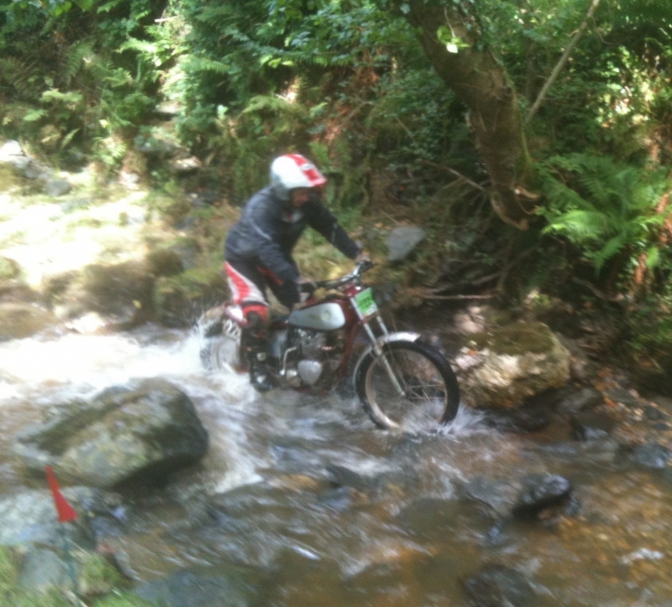 Photo "Otterman"...
Rob Bowyer Triumph Twin 500, Splashing in the Mountain Stream in the 2012 Manx Classic on the 2nd September.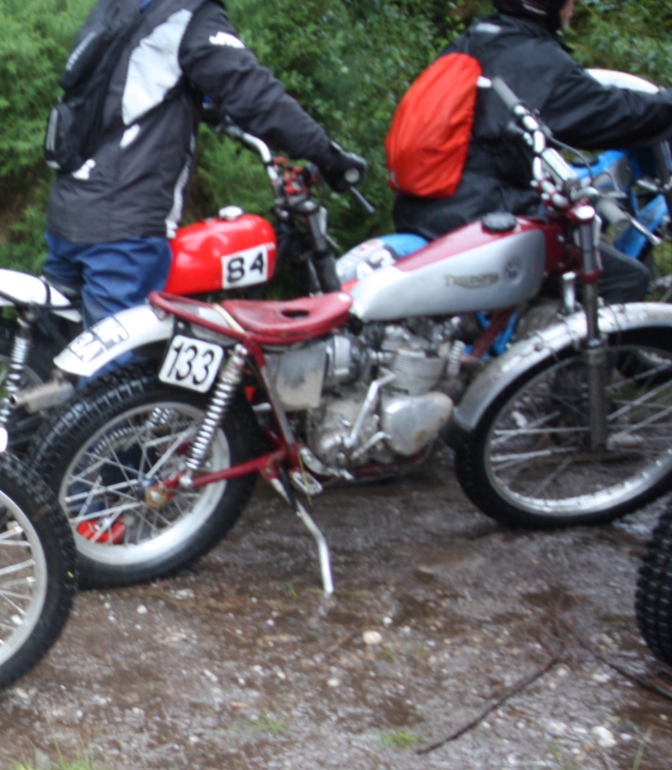 Photo "Otterman"...
Here is Rob's same machine, in the very wet, Saturday at the 2016 Manx Classic.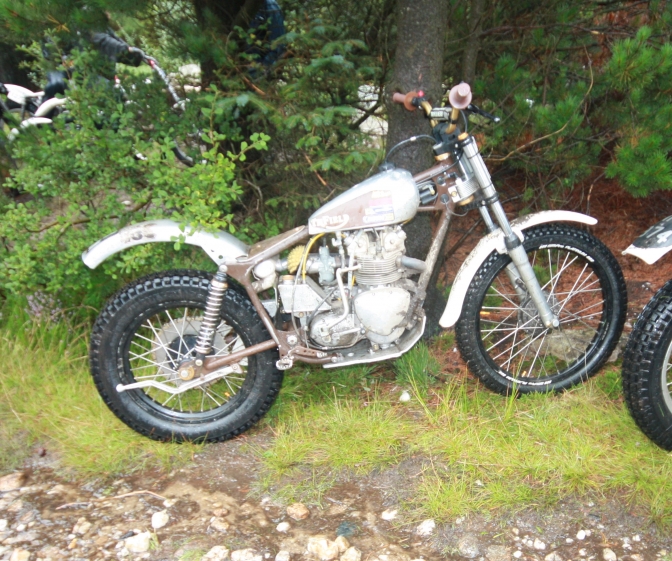 Photo "Otterman"...
Mark Stokes's Trifield.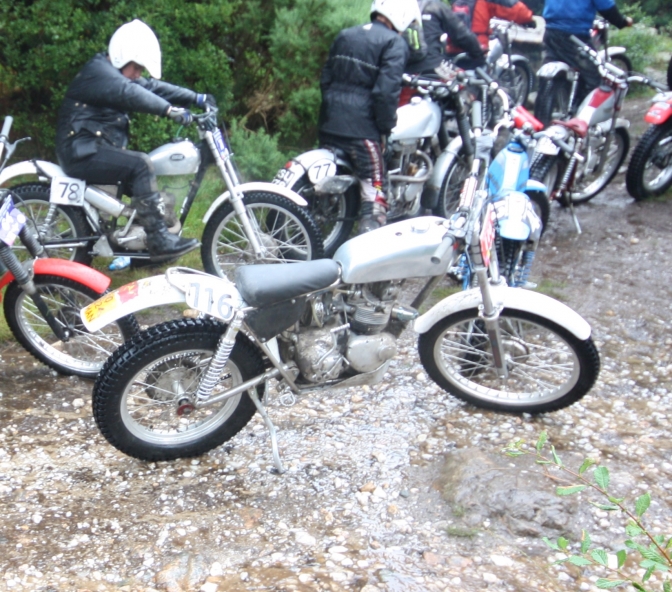 Photo "Otterman"...
Steven Lace's 500 Triumph Twin from the Isle Of Man.
~~~~~~~
Martin's Canadian built Triumph twin.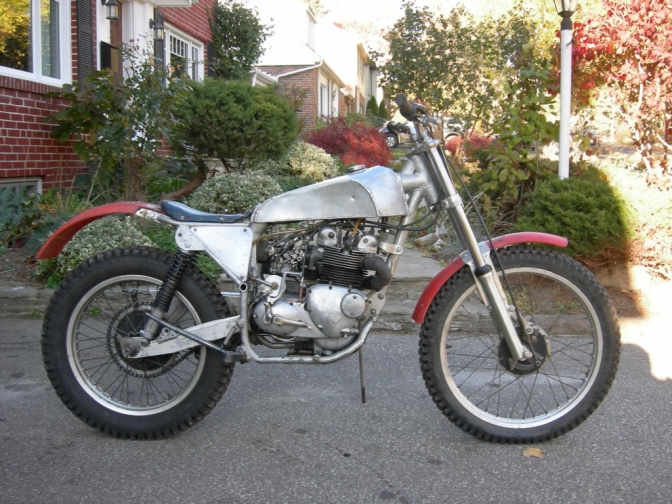 Photo Martin Dervaise...
I ride a 500 Triumph twin in Canadian vintage trials, but since nobody else around here rides one, I have had to fumble through design mods and improvements myself, which in turn has usually meant doing it myself at next to no cost. Also since our trials have fairly tight sections, the engine has to have really good low speed running performance.
As far as the engine is concerned, I have found that using standard cams (E3134 inlet) and rotating the inlet cam gear relative to the idler gear such that the valve opens around 30 deg BTDC (I think it was 2 teeth, but easy to check), the low speed running and pick up was better, and it was less prone to stalling.
I left the exhaust valve timing as standard.
Quick response from idle comes from an old Keihin carb with accelerator pump, it no longer coughs and stalls when quickly opening the throttle after a long descent.
My electronic ignition system using an ignition box from a Yamaha twin and a pick up coil that I have made to fit where the contact breakers are normally mounted. I use just a 12v battery without charging system since our trials are multiple laps and long distance rides are not an issue and this has left space for an external flywheel to be put on the end of the crankshaft where the alternator normally is.
This gives a marginal improvement in bottom end power and seems to give more grip in the mud. I made the frame myself and found that handling was very sensitive to the fork angle and trail. I probably cut the steering head off at least 5 times before getting it right. A little front axle lead of 3/4 inch (i.e. axle in-front of fork centreline helped keep the steering light, but too much caused the wheel to turn in on itself on down hill turns.
The wheel base is 51 1/2 inches similar to modern bikes so it turns as well as a TY 250.
Wheels, forks, and shocks come from old Honda/Yamaha trail bikes which keep costs down (sometimes even free).
Instead of buying expensive rear shocks I have found that for slow sections over rocks and trees it rides well with no damping, the weight of the bike probably provides sufficient damping effect.
Worn out shocks are not collector's items so you should be able to get them fairly cheap. It probably wouldn't be so good for a flat out in third hill climb over rough ground but then unfortunately we don't have any sections like that.
Although it wouldn't qualify as a pre 65 bike, I don't feel guilty since I have to ride it against Yamaha's, Bultaco's, Sherco's, Fantic's, and Honda's.
Over the years I have probably only spent about 1000 dollars on it
(£500 pounds).
I am shocked at the high prices of some of the bikes and parts in the UK and I would hate to think of the cost if I had to buy parts from the UK and shipped them over here.
I did once try to buy some Triumph 3TA cams once from a well known southern UK dealer (not Sammy) and I was mailed a pair of cams that must have been sitting on a wet metal shelf and were badly corroded and obviously useless, so I get nervous ordering parts from overseas and prefer to do/make things myself.
~~~~~~~
A Triumph Twin in Bantam frame
It Has to be a Drayton.
And they are like the smaller engined bikes, breeding like flies in these frames.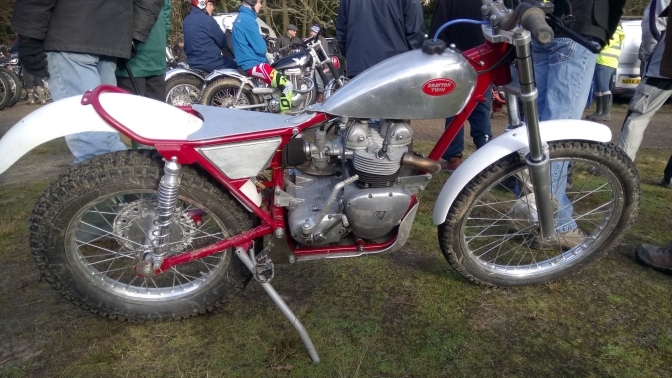 This

Drayton

Triumph

one seen at the

2018

Talmag Trial

.
Justyn

N
orek's

,
Tr
i

umph-

Greeves.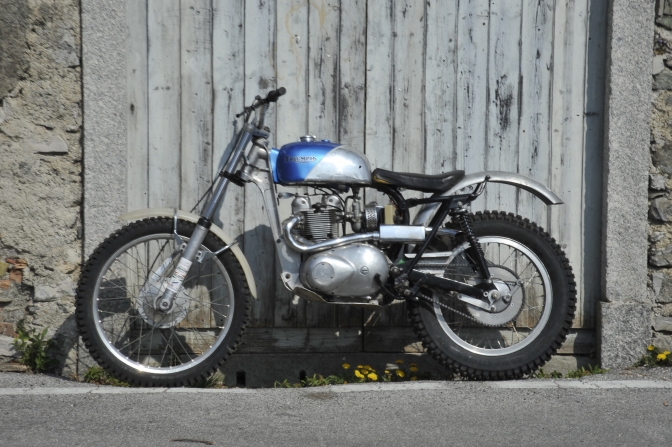 Photo Justyn Norek Senior.
This Machine has a page of its own and an interesting story.
Alloy

Triumph

Barrel for a lighter and more responsive engine anyone?

03/02/2021...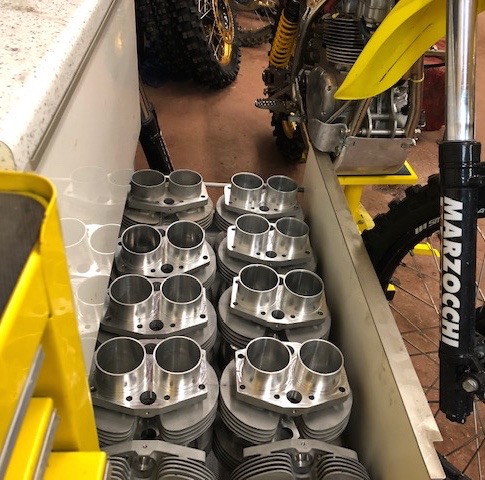 Martin Perrett is your man, if you feel that the ultimate is what you need for your machine.
These barrels have been used over the past eight years, as Martin purchased the original Triumph barrel moulds...
Martin says...
I have sold several barrels for Classic Trials Triumph's 350 and 500.
At the moment the foundry are casting a batch soon, which I will then CNC machine, then send for Nikasil plating.
They are all one piece LM25 alloy heat treated including the liner.
Prices are : Barrel machined ready to Nikasil £320.00
With Nikasil plating completed £520.00
With pair of alloy cam blocks £599.00
All plus VAT / postage where relevant.
I can confirm they are bullet proof as I have raced them for 8 years in my PDS Triumphs, recently winning the Farleigh Castle'King of the Castle' against the best twin shocks. You can contact Martin by eMail.......
Mike Waller has one of these fitted to his Triumph Otter build...
You can see how these Triumph Twin alloy barrels get tested...
Go Jeffro Go...
Much more later only a Start.
On Triumph Twins the Ones That Win's...
updat2023...09...