A Triumph Twin is the New In thing.
We Take a Look at the current Crop of Winning Trials machines.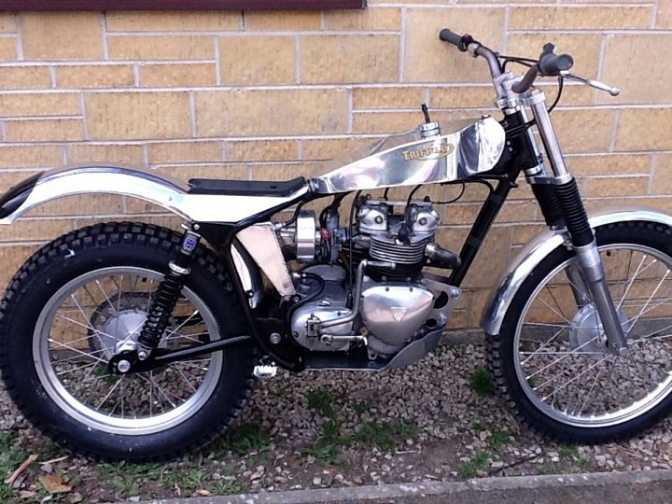 Steve Saunders Scottish Pre 65 trials winning "Trifield"
Since Steve Saunders and Rob Bowyer's wins in the Scottish two day Classic trial, the Triumph twin engined unit trial machine seems to be the way forward, with other bikes winning the Classic trials on a yearly basis.
Now James Harland winning on a yearly basis too, the Major two Classic trials Year in year out. there must be something in it.
James uses a Jackson Ariel type frame, that is not that dissimilar to one of the Foster Triumph "Otter" frames or the Faber "Otter" one used by young Jack Butterworth.
But a continuing trend is also to use a Royal Enfield Crusader Sports frame with a little modification.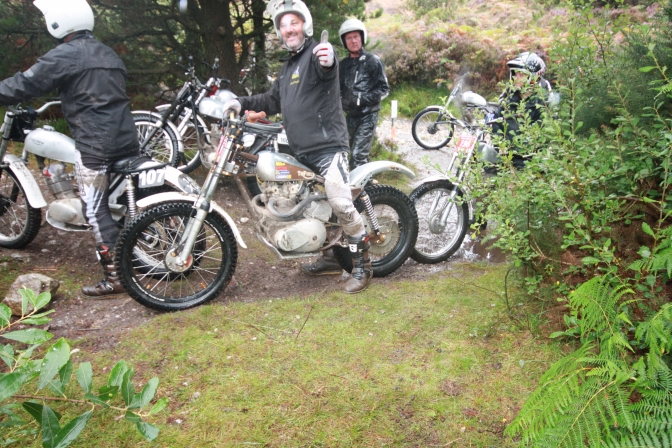 Photo "Otterman"
Here Mark Stokes gives us the thumbs up even in torrential rain at the recent Manx two day Classic trial 2016.on his TriField.
One other thing about a triumph Twin is that they not only grip but they also make the right noise.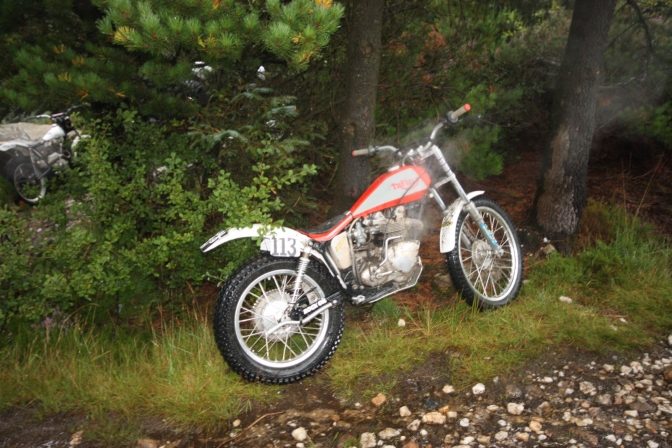 Photo "Otterman"
Darren Palmer's "Trifield" steaming in the rain.
Manx Classic 2016.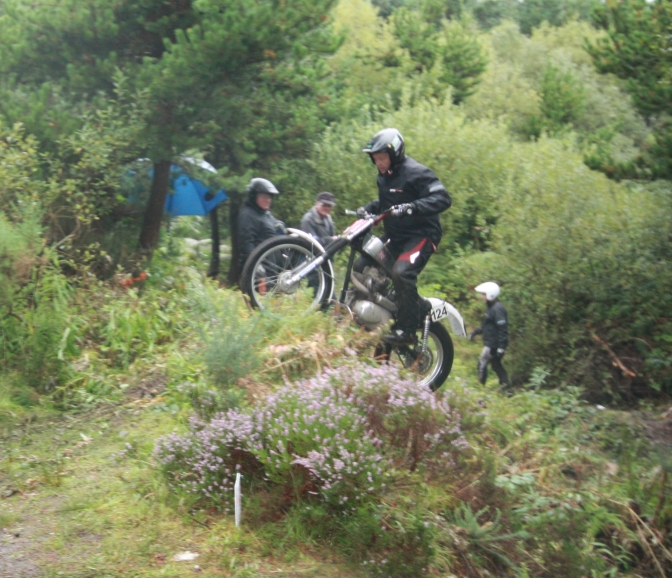 Photo "Otterman"
Here Nick Shield a first timer at the Manx Classic enjoys his ride in the wet, on his Triumph Trifield.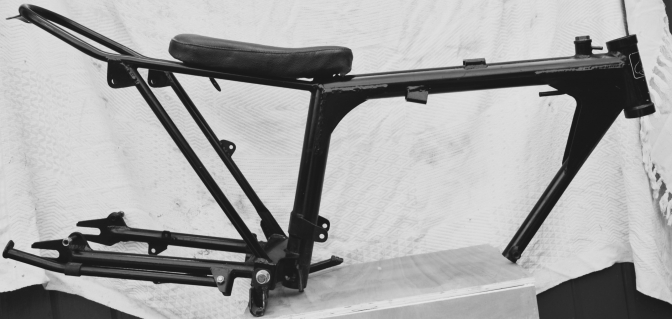 Photo Courtesy Ian Ballard.
This is the last "Foster Triumph Otter" frame that is now in build.
But We may build some of these if there is interest next year, Now we are using the Jig.
Back to the plot.
I am not saying that a Triumph twin is a New thing.
Two and only TWO of the Triumph works boys of the sixties had them after dumping there Tiger Cubs.
Roy Peplow was the first to build a bike, from the stores bins at Meriden,and soon after John Giles showcased his Triumph Twin 350 in 1963. and later, Ray Sayer rode one, Gordon Blakeway, also built one for himself.
Did Henry Vale agree to the builds?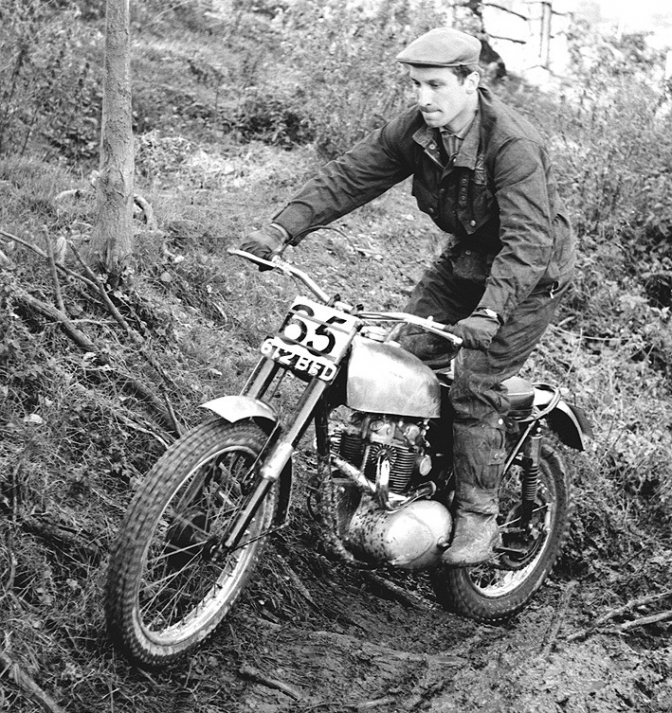 Photo courtesy Deryk Wylde"ORR" and Gordon Francis.
Roy Peplow on the works Triumph.
I stand to be Corrected.
Deryk,
Hi Charlie,
Have had a look at your Triumph twins page and noted you say Roy Pep's twin was built from the spares bins at Meriden! Sorry, not so. Neither his or Johnny Giles bikes had anything to do with Meriden - they each built their own, in spite of factory orders. Roy's came from a crashed Sports Twin that was totalled by the insurance after it had been collected from the accident site by Roy's shop - the local Triumph specialist.
The factory never went down the unit twin route, they issued them with works Cubs, but they both had trials where they could do better on the unit twins, than on the Cub..........
These motors ran high compression pistons which where said to make the engines better at plonking.
Each to there own and I do agree that I find these pistons also run very well in a unit single BSA.
The engine size today probably favoured by many is four hundred cubic centimetres.
these are said to use a couple of Triumph Cub pistons.
Gearing well there is a few special low bottom gears floating about, but like every thing that is scarce you will have to pay the price for these, have you seen how much BSA B40wd gears are now a days.
Clutches, well again some are using belt drive and also the chain driven NEB very nice clutches thank you, but again you pays your money and makes your choice.
Firstly before all that you have to lay your hands on a engine anyway, these are now getting just has scarce as the BSA B40 wd engines. and again you has to pay the price.
One easy-way out is to re-mortgage your house and buy a complete gem of a machine from Dave Varley, and hope that it makes more interest than having a savings account.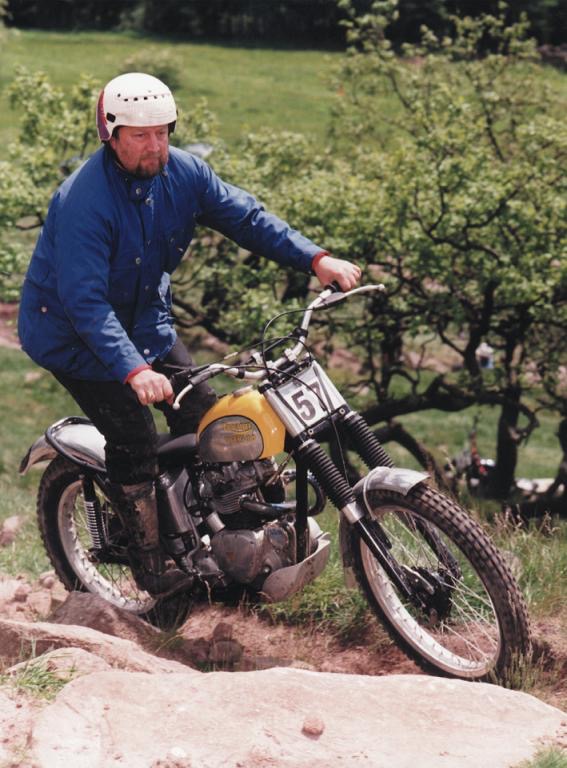 Photo Courtesy Deryk Wylde ORR.
Here is Dave riding one of his first D & C Classics creation Triumphs.
But most of you unless-you have a motor stashed in the loft from way back then, will just have to spend the hours of time trawling through endless auction site pages trying to find the parts of your dream, and hope you don't get hit with a family crises, taking your cash before your dream is made a reality.
Enough of this rambling, a picture tells a thousand words and all that.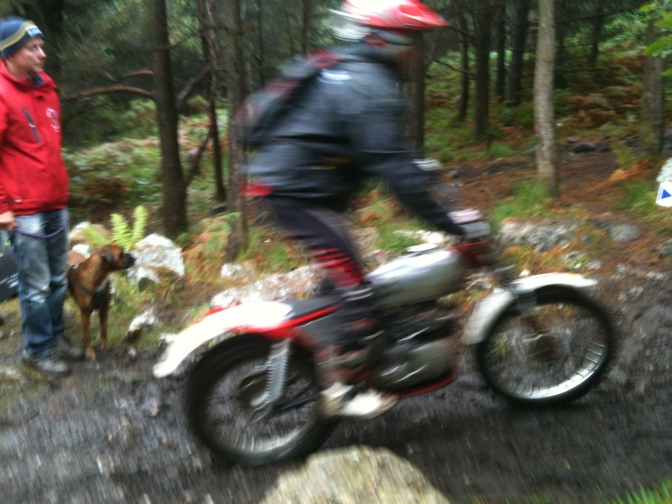 Photo "Otterman"
Young Jack Butterworth at speed on his Faber Framed Triumph "Otter".
In the Manx Classic 2016.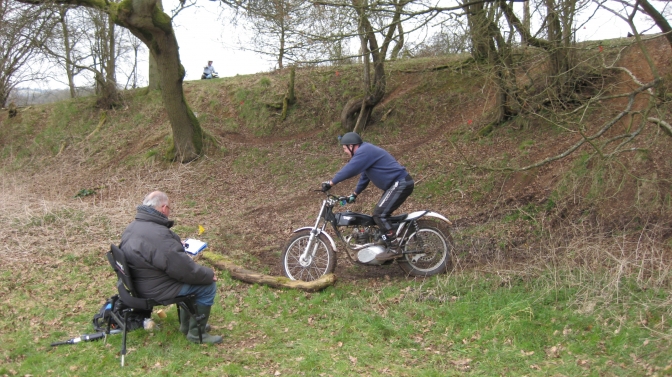 Photo Lee Prescott.
BMCA trial at Ullenhall Class Winner on his sweet sounding Triumph twin
Joe Owen.
I lost the GRRRRRowl.
In 19-63-4-5,
I along with the other guy's At North Bar Garage in Banbury built up two Triumph Twin based bikes, one was a solo to be ridden by Owners son Dan Shorey and the other a sidecar plot to join the Revolution that was at that time "Sidecar trials"
The sidecar fraternity were big into anything with the right power then, and the Triumph motor fitted the bill very well.
Both bikes were built out of customers crashed bikes , well you could ride anything if you had a provisional licence.
Dan's bike got sold to George Greenwood as a solo.
ABW was a nice machine, I loved it.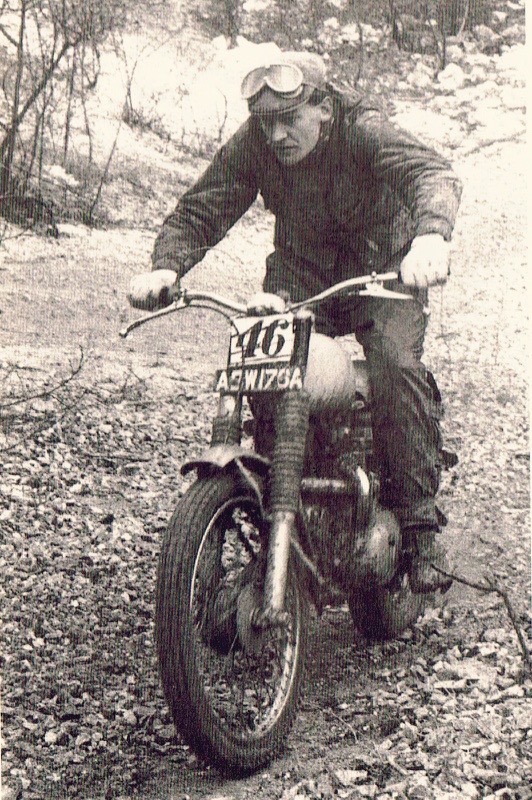 GG Photo
This the bike ABW176A now sporting Norton forks and James front hub.
and could be a Greeves mdified tank.
The sidecar plot was also good we tried every which way with that machine.
I built the sidecar with any tube that was available, most of it from sawn up push-bike frames.
I was into "Glass-fibre" in a big way by then, the new wonder material that you could build any shape from.
And I was not wrong just look at what the Carbon variety as done for the motor-sport industry and others now.
We had Fun with that Groowwling Triumph. and I wish I still owned that machine.
But it looks like others are now doing the same and that makes me Happy.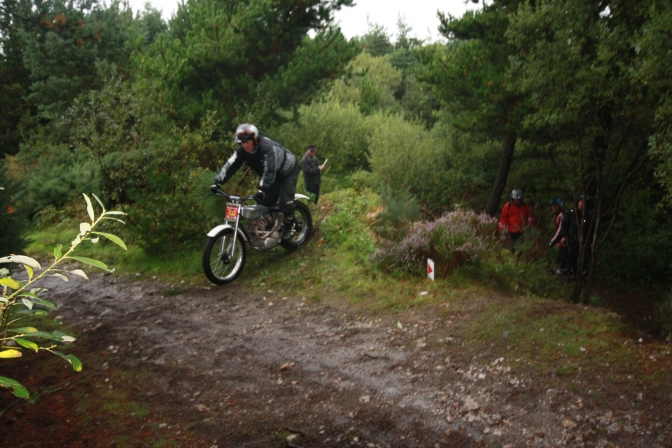 Photo "Otterman"
Eddie Aitken 350 EAM Trifield at the Manx Classic "Old Stoney Mountain" sections on the Saturday.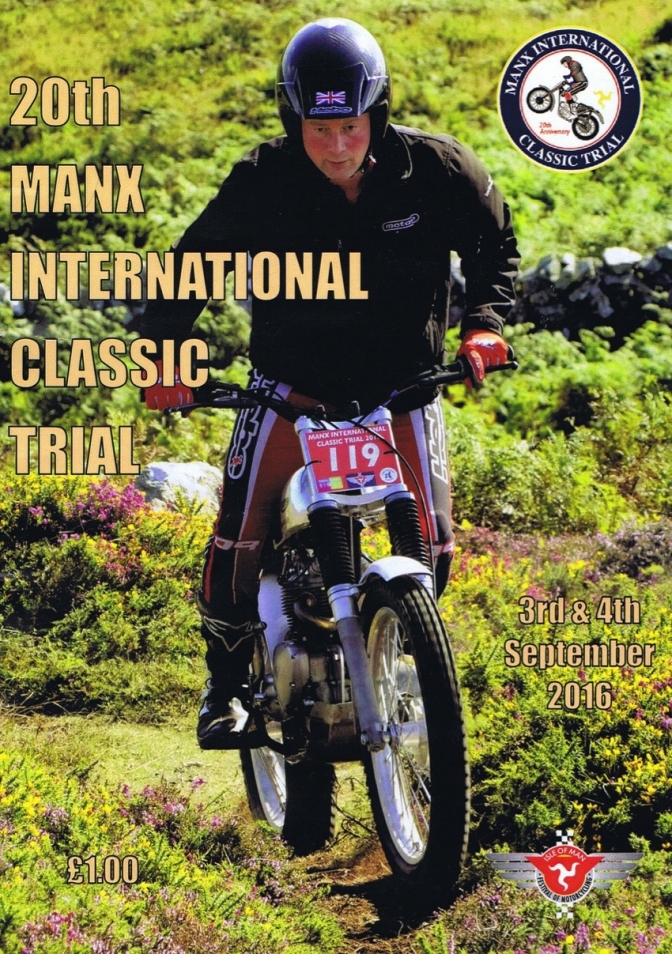 James Harland once again a Winner in 2016.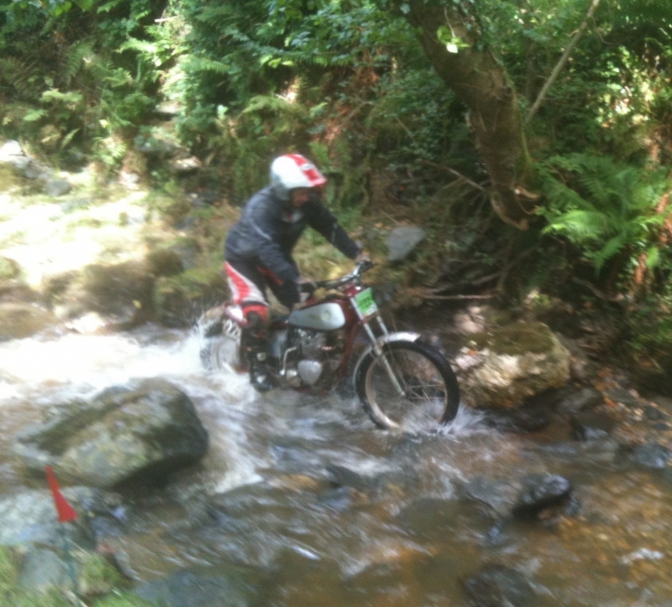 Photo "Otterman"
Rob Bowyer Triumph Twin 500 Splashing in the Mountain Stream in the 2012 Manx Classic on the 2nd September.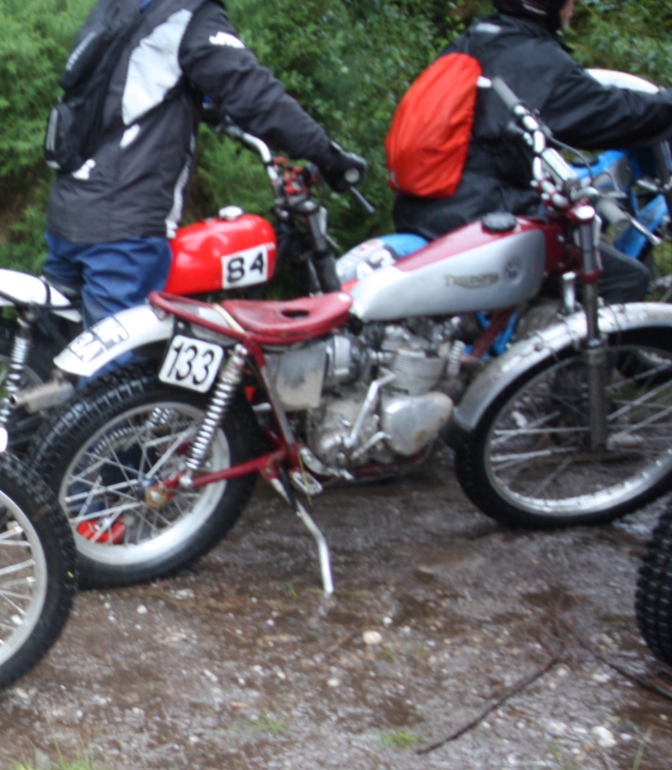 Photo "Otterman"
Here is Rob's same machine in the very wet Satuarday at the 2016 Manx Classic.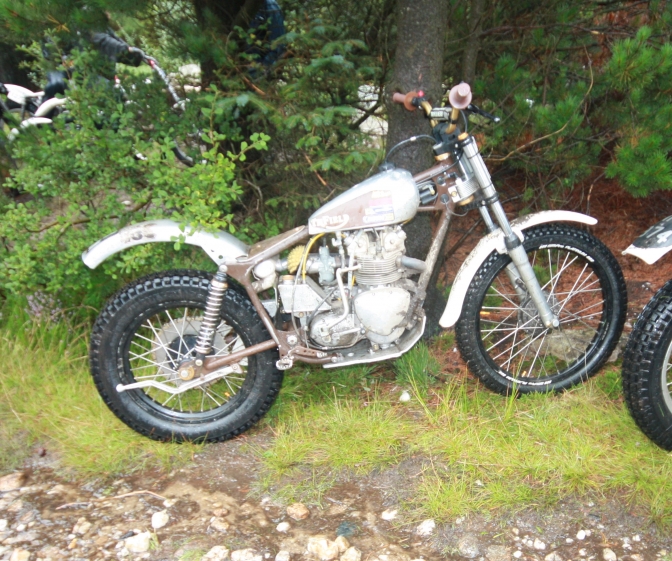 Photo "Otterman"
Mark Stokes's Trifield.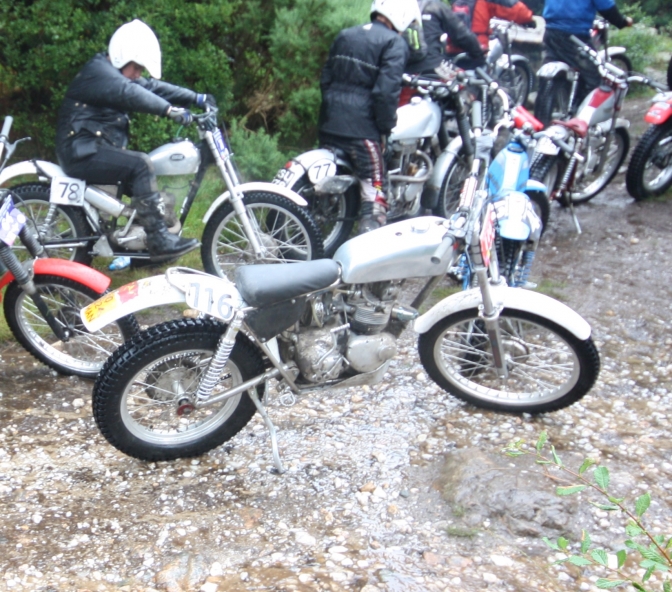 Photo "Otterman"
Steven Lace's 500 Triumph Twin from the Isle Of Man.
***
Much more later tomorrow only a Start.